Nothing stirs nostalgic Christmas dinner memories more than a brown sugar-glazed ham at the center of a holiday table. While it is a tempting shortcut to buy a pre-made spiral cut ham for your next holiday feast, making a delectable, delicious one at home is easier than you think and always more satisfying!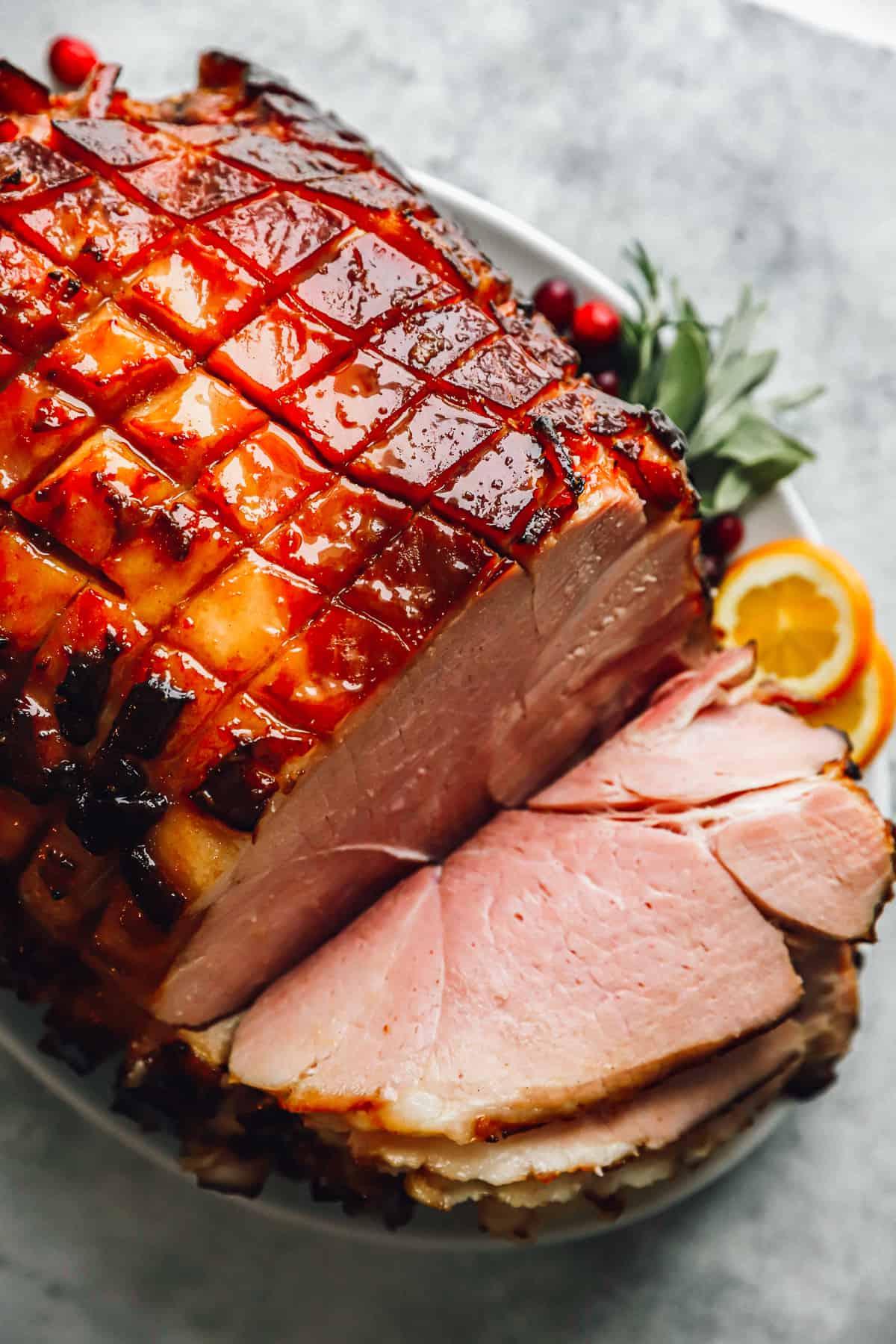 Brown Sugar Glaze for Ham
From the easy prep to the fantastic aromas wafting from the oven, homemade brown sugar glazed ham is a dream recipe I look forward to making every year. A whole ham – roasted and covered in the sweetest, tangiest glaze ever – makes the juicy, tender, and perfect ham my family craves.
Why You'll Love this Brown Sugar Ham Glaze Recipe:
Beautiful Centerpiece: The diamond pattern and thick brown sugar glaze make for an impressive presentation on your Christmas table!
Great Recipe: I love all ham glazes, but the one in this recipe with the honey and Dijon mustard may be my all-time favorite!
Leftover Ham: With any ham leftovers (if you are lucky!), you can make yummy sandwiches the next day.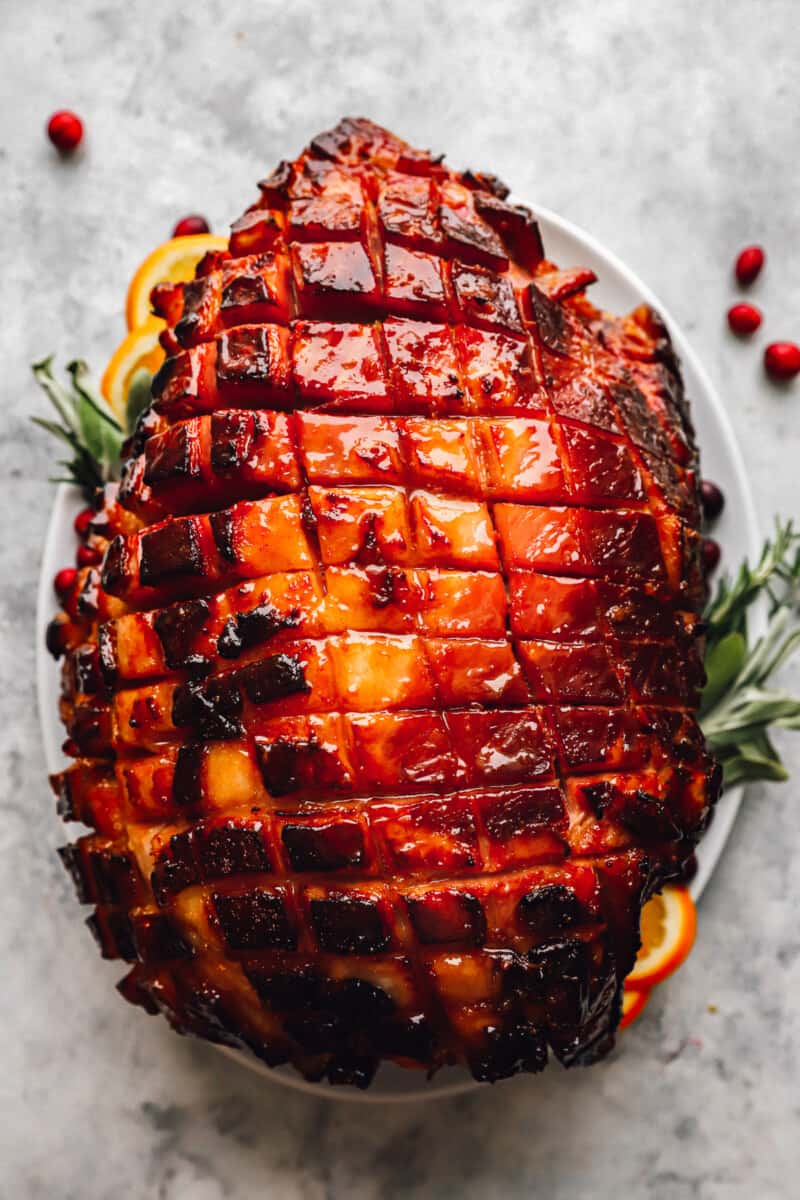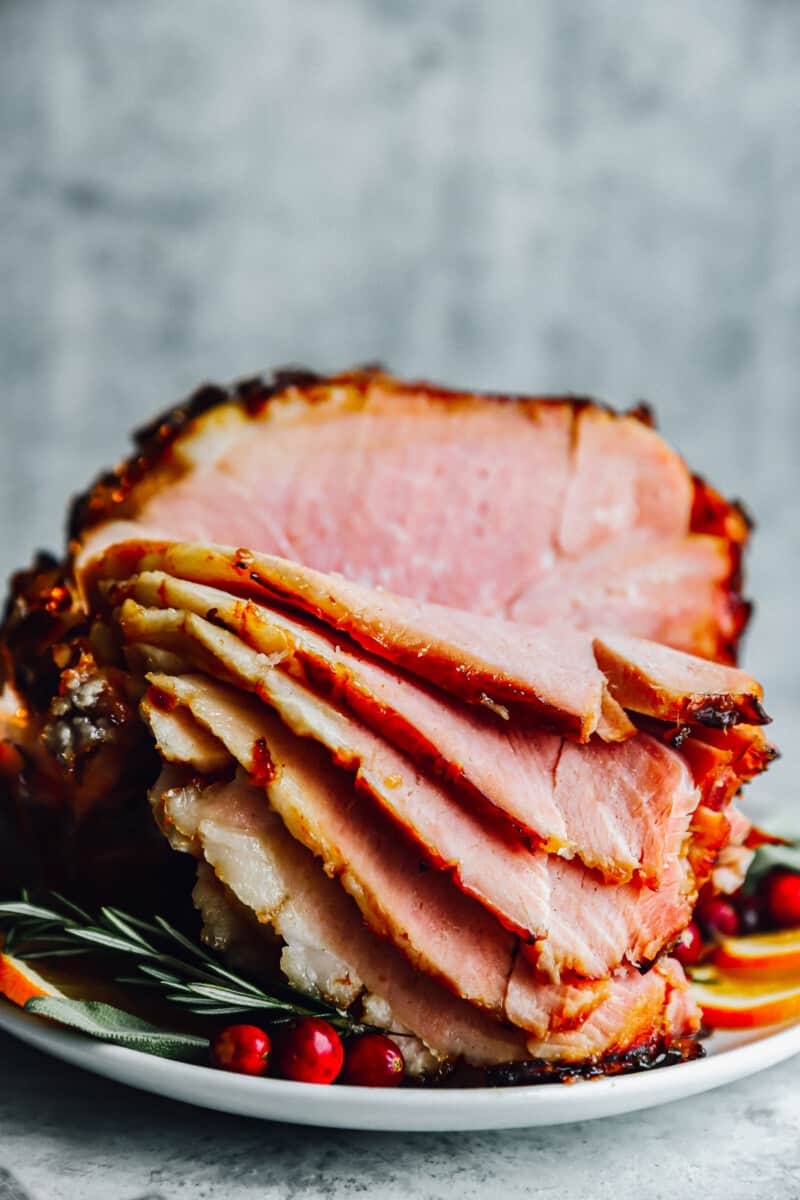 How to Make Brown Sugar Glaze for Ham
You can jump to the recipe card for full ingredients & instructions!
After preheating the oven, prepare the ham with diamond pattern cuts.
Roast the ham with water in a pan covered in foil.
Prepare the glaze.
After removing the ham from the oven, spread it with a third of the glaze.
Return the ham to oven and continue to cook uncovered.
Remove ham again, add more glaze, and finish roasting.
After removing the fully cooked ham, cover with the remaining glaze.
Let the ham rest before carving and serving!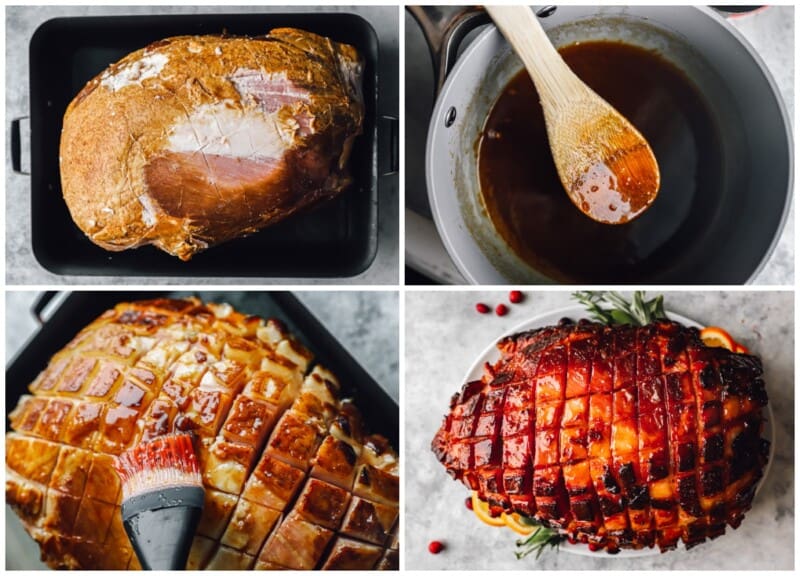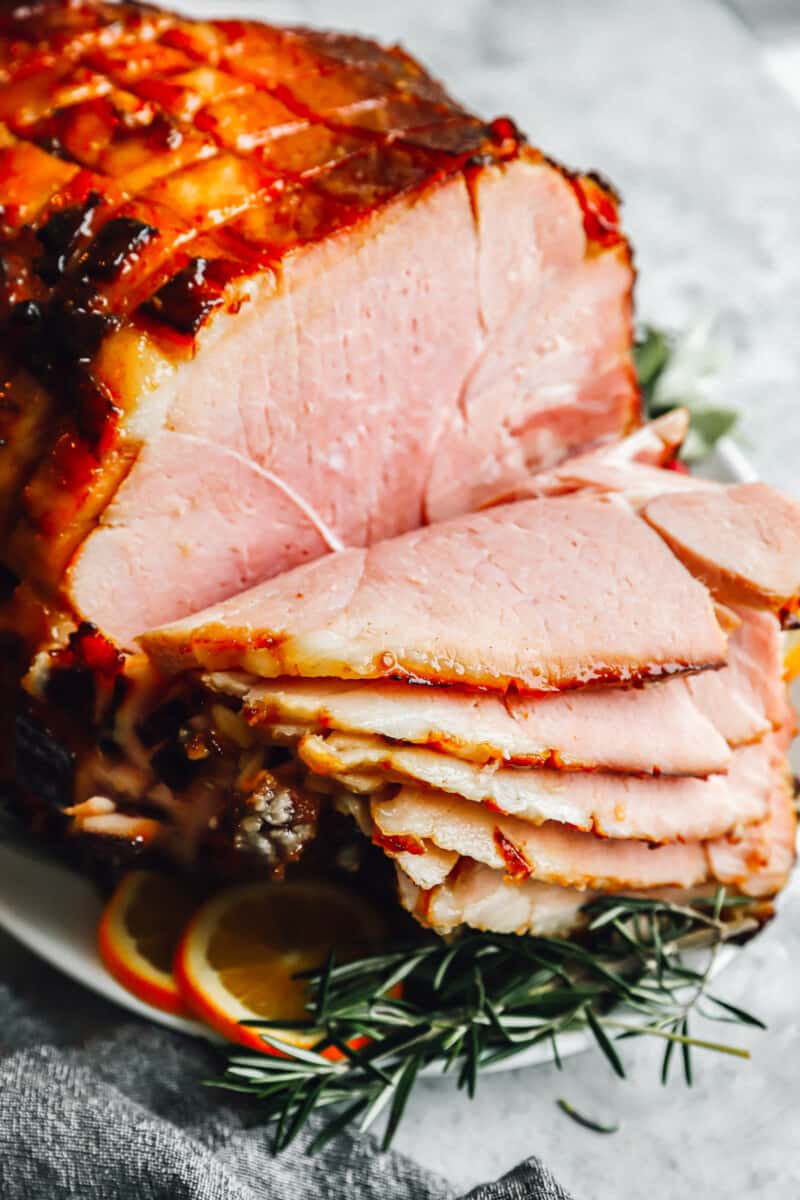 Why should I glaze a ham?
If you are planning on serving a ham during the holidays, it's well worth the small effort to glaze it. Glazing adds color, texture, and flavor to the meat, and it's as simple as heating all of the ingredients on the stovetop. It's so impressive to serve to the table, and it's one of the most traditional of festive foods.
What kind of ham should I use for brown sugar glazed ham?
For the juiciest ham, you'll want to look for a bone-in ham. Leaving the bone in will help keep the meat moist and flavorful throughout the cooking process. I recommend looking for a solid piece of ham rather than a spiral-cut one.
How much ham should I plan on per person?
If you're using a bone-in ham, you'll want about ¾-pound per person. So, a 15-pound ham will serve about 20 people.
When should I put the brown sugar glaze on my ham?
I recommend using a basting approach for this ham. After the first hour of cooking, baste the ham with ⅓ of the glaze, then let it cook for another hour and baste again. You should do this three times total over the course of cooking, then let the ham continue to cook all the way through. At the end of cooking, spread the remaining glaze over top.
How long does brown sugar glazed ham take to bake in the oven?
Fully-cooked ham needs to reach 140°F, which will take about 10-14 minutes per pound. For a 15-pound ham, that will take 2½-3½ hours.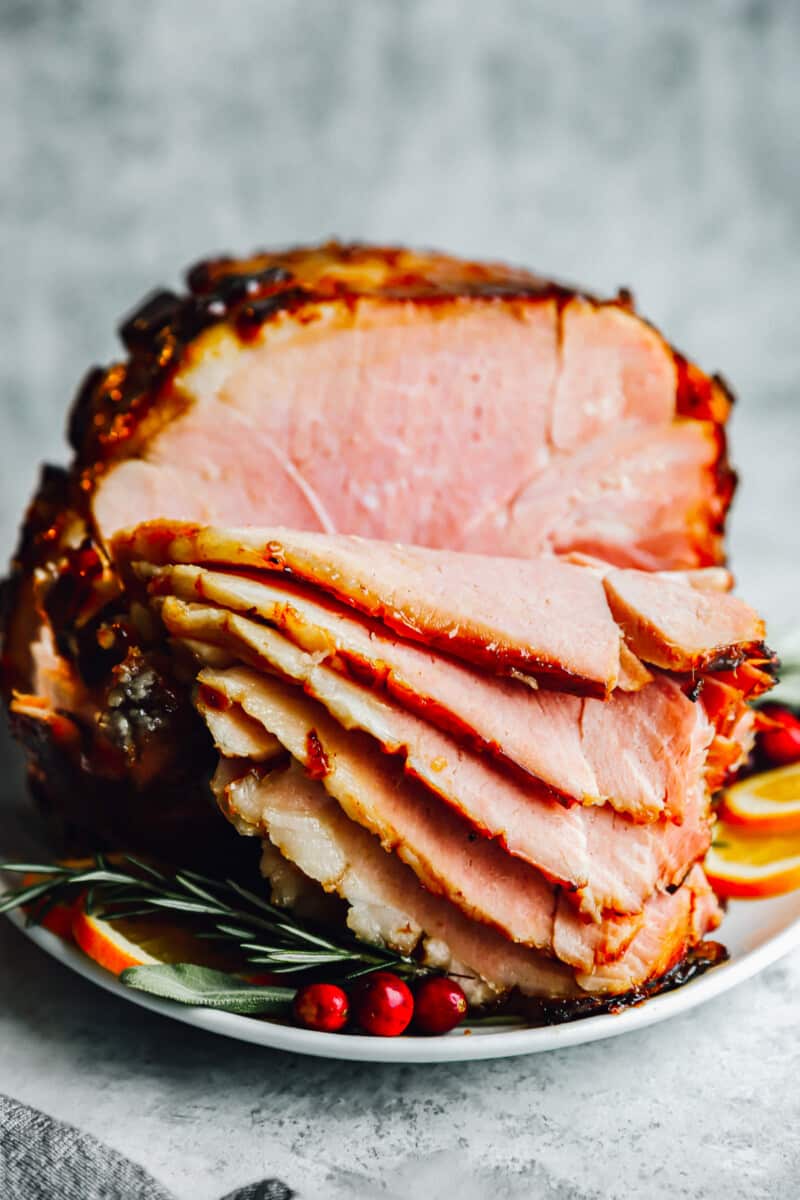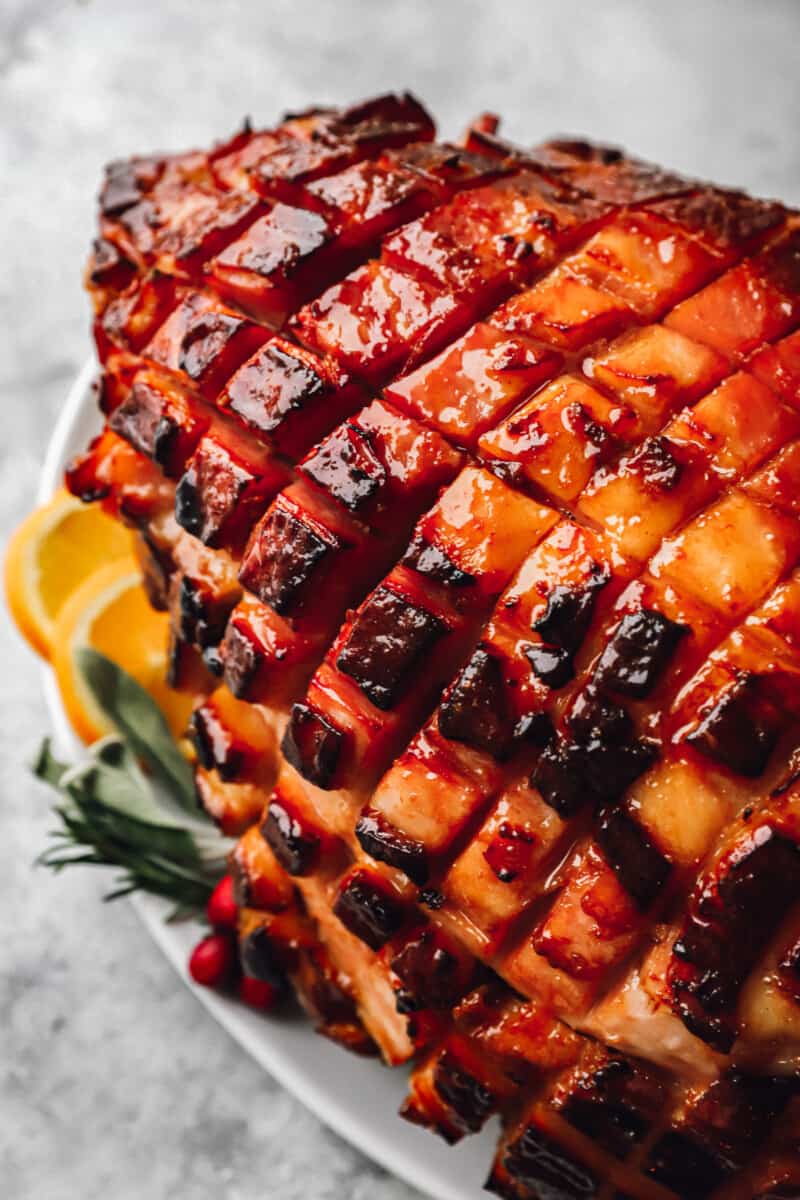 Storage Instructions
Store leftover brown sugar glazed ham in an airtight container in the refrigerator for up to 4 days. Enjoy cold, at room temperature, or reheated in a 325°F oven until warmed through.
Freezing Instructions
Freeze brown sugar glazed ham in individual portions in Ziplock bags for up to 3 months. Leet thaw overnight in the refrigerator before serving.
Tips for the Best Brown Sugar Glazed Ham
To avoid overcooking the ham, insert an instant-read thermometer into the thickest part without touching the bone. It should read 140°F.
If using a spiral ham, take extra care not to let it dry out.
Don't simmer the glaze for too long; otherwise, it will turn into a hard caramel once cooled.
Tent the baked ham with foil to keep it warm and moist.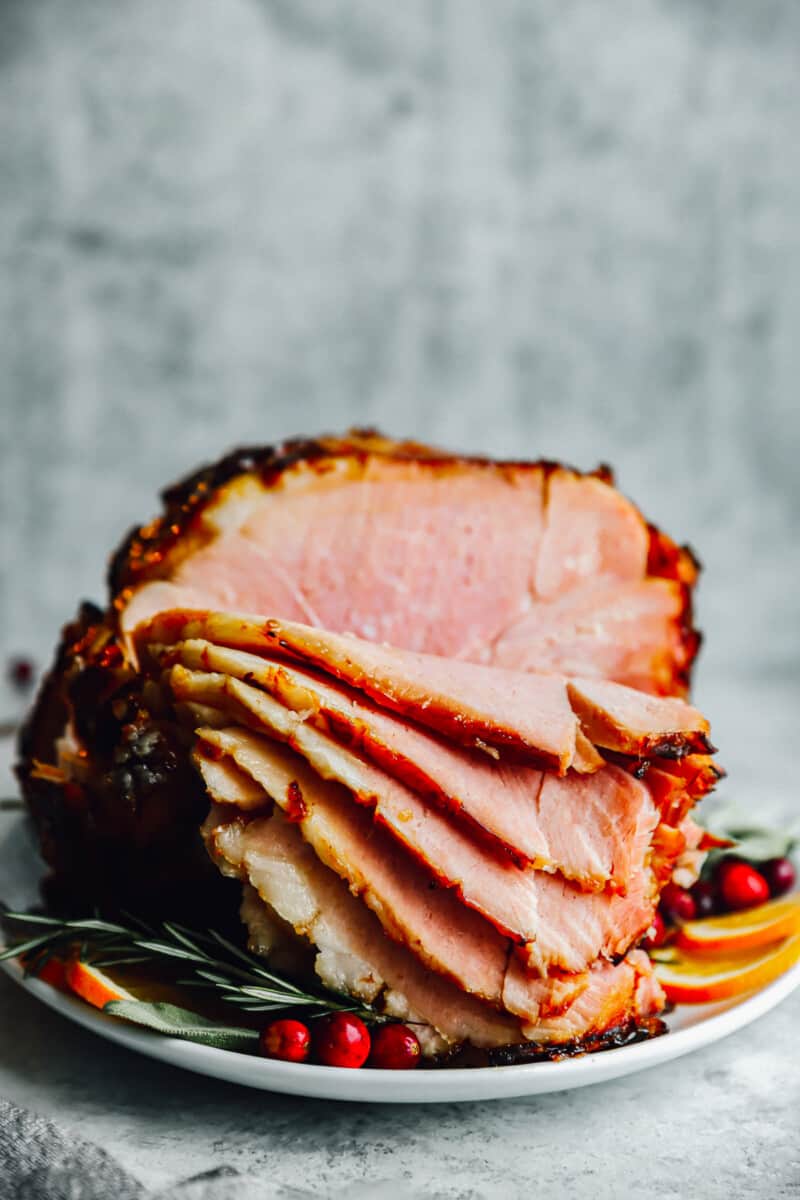 Brown sugar glazed ham is a special recipe for special occasions. After you make it once, it will quickly become an annual Christmas tradition in your house too!
If you make this recipe be sure to upload a photo in the comment section below or leave a rating. Enjoy! You can also jump to recipe.