This Brown Sugar Glazed Ham recipe is easy, flavorful, and perfect for any holiday dinner. The simple ham glaze is made with brown sugar, honey, Dijon Mustard, and a couple other ingredients. Spread it over ham, bake in the oven, and it will come out super juicy and tasty. This baked ham will look beautiful at the center of your Easter, Christmas, or Thanksgiving table!
What's in Brown Sugar Glaze for Ham?
You only need a few ingredients to make the best ham glaze! The mix of brown sugar, honey, and mustard makes for something sweet, savory, and tangy. Be prepared for one of the best Easter ham recipes ever!
Ham: I recommend using a whole, bone-in ham for this recipe. It's going to be extra juicy and flavorful when baked in the oven, especially aftering scoring and glazing it!
Brown Sugar: Brown sugar is the star of this ham glaze recipe. Feel free to use a dark brown sugar for added richness (it has more molasses than regular/light brown sugar).
Honey: Honey adds more sweetness to the glaze. Agave syrup makes a good substitute.
Dijon Mustard: This adds more creaminess to the texture of the glaze, but more importantly, it adds a sharp, tangy flavor. Stone ground or grainy mustards are the best substitute.
Butter: Use unsalted butter. This creates a richer, deeper flavor.
Apple Cider Vinegar: This adds a tangy, acidic element to the ham glaze which balances out the sweetness. You can use a white wine vinegar instead, but this is quite neutral in flavor and lacks the sweet element of apple cider vinegar, so add a splash of apple juice if you have it.
Garlic: A couple cloves of minced garlic adds some savoriness into the mix.
Spices: A bit of cinnamon and ground ginger rounds out the complex flavor of the glaze
Water: Water goes directly into the pan with the ham. This creates steam to keep it moist while baking in the oven.
If you prefer to use a pre-cooked spiral ham, you can still use the brown sugar honey mustard glaze. Just be sure to adjust the cooking time and process to fit. Check this spiral ham recipe for guidance!
What else can I add to this baked ham glaze recipe?
This simple brown sugar glaze for ham is perfect as it is if you ask me, but it's an easy recipe to change up. In general, you only need a few main parts for a glaze: something sweet to complement the savory pork, something tangy or acidic to balance it out, and something to add a bit more flavor.
Some other things you can add: maple syrup for more sweetness; ground mustard, garlic powder, or onion powder; nutmeg, cloves, or another warm spice; pineapple or orange juice for something fruity and acidic; or aromatic and savory herbs like rosemary or oregano.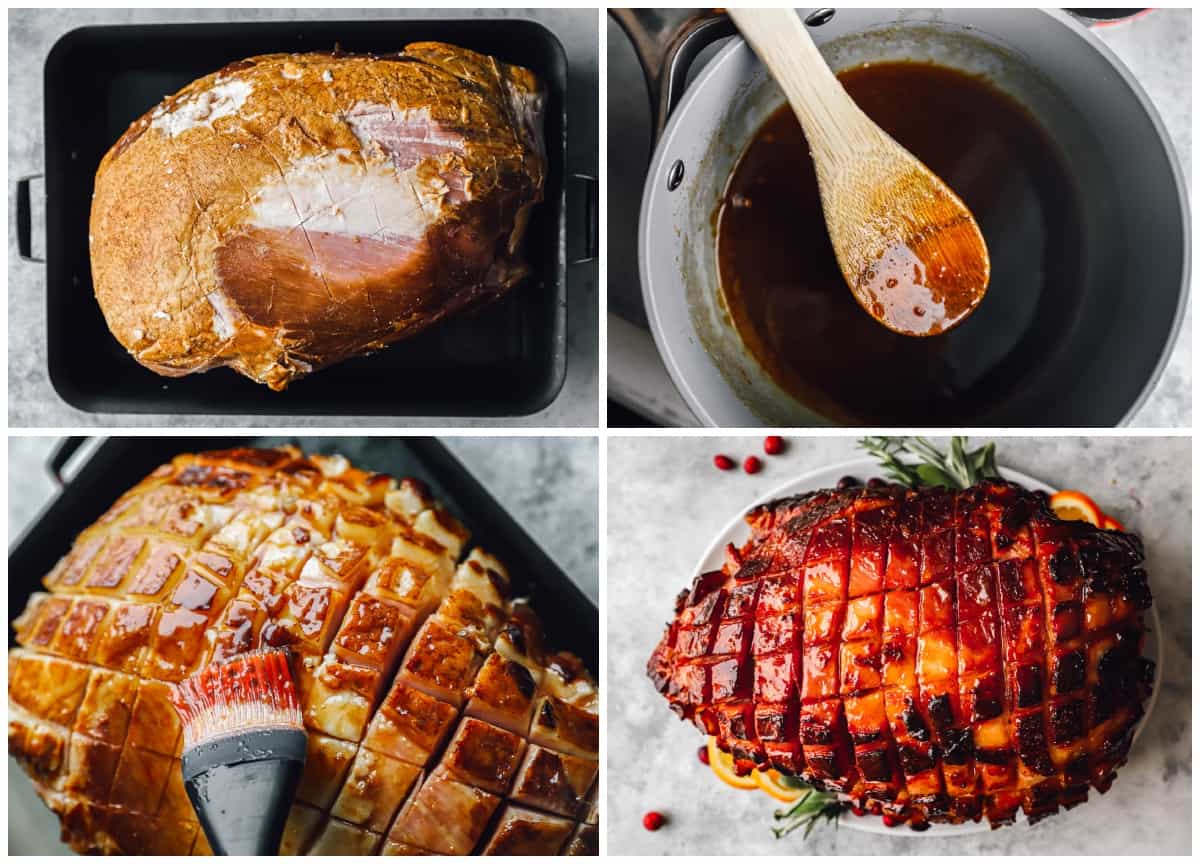 Why should I glaze a ham?
If you are planning on serving a ham during the holidays, it's well worth the small effort to glaze it. Glazing adds color, texture, and flavor to the meat, and it's as simple as heating all of the ingredients on the stovetop, and glazing while baking.
What kind of ham should I use for this glazed ham recipe?
For the juiciest ham, you'll want to look for a bone-in ham. Leaving the bone in will help keep the meat moist and flavorful throughout the cooking process. I recommend looking for a solid piece of ham rather than a spiral-cut one. A whole ham is great for a larger crowd, while a half ham is usually fine for a small family or group.
How much baked ham should I plan on per person?
If you're using a bone-in ham, you'll want about ¾-pound per person. So, a 15-pound ham will serve about 20 people.
When should I put the brown sugar glaze on my ham?
I recommend using a basting approach for this ham. After the first hour of cooking, baste the ham with ⅓ of the glaze, then let it cook for another hour and baste again. You should do this three times total over the course of cooking, then let the ham continue to cook all the way through. At the end of cooking, spread the remaining glaze over top.
How long does glazed ham take to bake in the oven?
Fully-cooked ham needs to reach 140°F (it will rise to 145F after resting). For this recipe, it will take about 10-14 minutes per pound at 325F. For a 15-pound ham, that will take 2½-3½ hours. In general, for a whole, bone-in ham (10-16 pounds) estimate 12-18 minutes per pound. Smaller (half hams) and boneless hams will need slightly longer per pound. Pre-cooked hams will need less time per pound. Check this ham cooking guide for more details.
Should I cover a ham when baking with a glaze?
You will bake the ham both covered and uncovered at different points in the cooking process. Be sure to cover the pan with foil for the initial cooking period. Once you start glazing the ham, continue roasting uncovered. The direct heat will help to caramelize the brown sugar glaze and cook it into the pork.
How do you thicken a ham glaze?
The mix of ingredients in this recipe leads to a great consistency when simmered for a few minutes. You don't want it to be too thick or cook too long, so don't panic if it seems a little runny while cooking. It will thicken as it cools.
How do you score a ham?
Use a sharp knife to score the top of the ham before baking and glazing. Place the ham on a cutting board and cut parallel lines about ½-inch deep and 1 inch apart across the entire ham. Turn the ham, and then repeat this process, cutting lines across the previous lines to create small diamond shapes. Scoring the ham allows the glaze to seep in for a more flavorful result.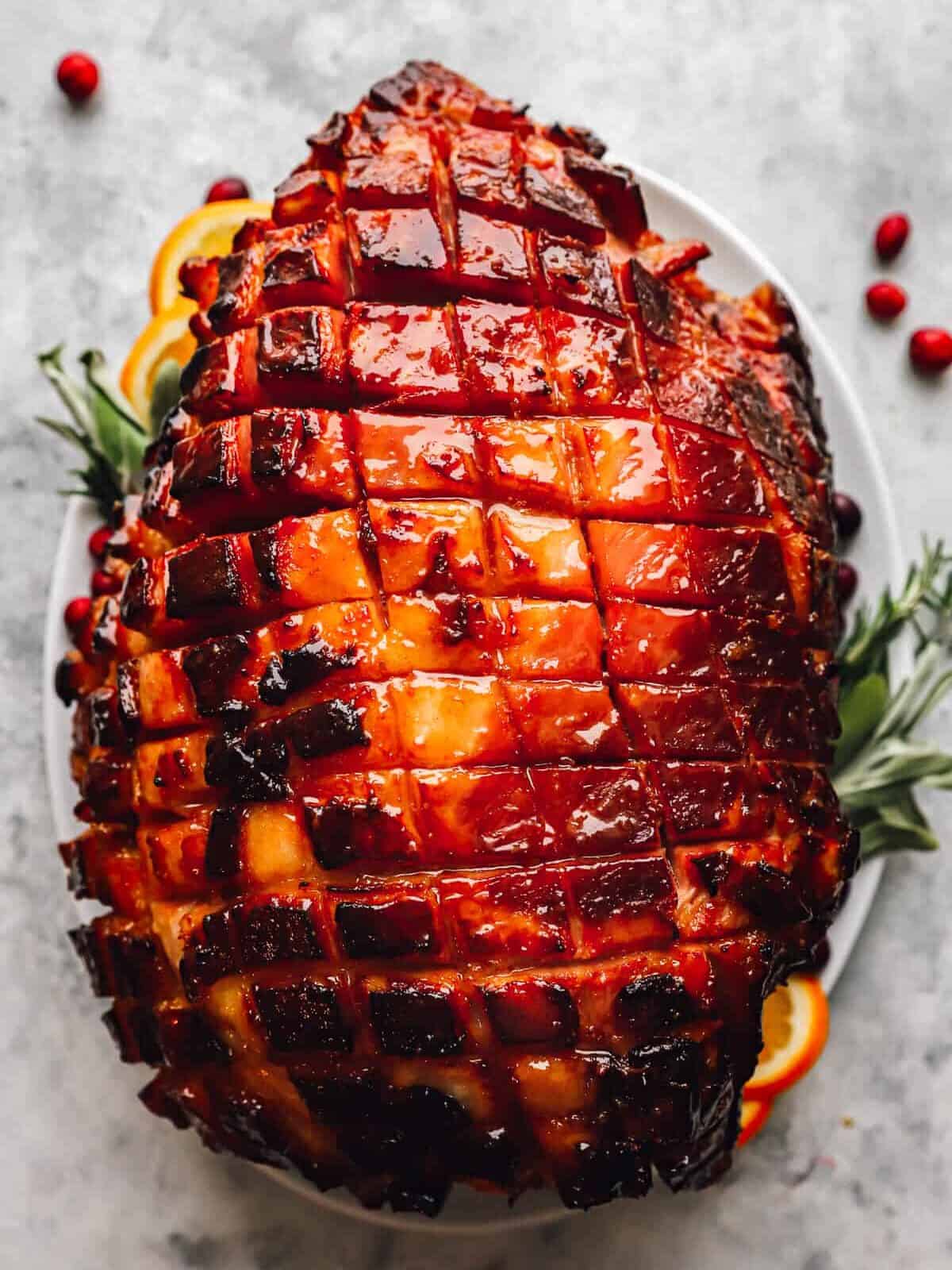 How to Store and Reheat Glazed Ham
Store leftover brown sugar glazed ham in an airtight container, resealable bag, or wrapped in foil, in the refrigerator for up to 4 days. You can wrap the whole/partial ham in layers of aluminum foil, or cut it into slices before storing.
Enjoy cold, or reheat in the oven at 325°F until warmed through.
If you have extra ham glaze, store it in an airtight container in the fridge up to 3 days. You can gently reheat it on the stovetop and use it with your leftover ham.
How to Freeze Baked Ham (and Brown Sugar Glaze for Ham)
Freeze slices of baked ham in a freezer-safe resealable bag, for up to 3 months. Let it thaw overnight in the refrigerator before reheating and serving.
If you're freezing just the brown sugar glaze for ham, properly store in an air-tight container and then freeze until ready. Once ready to thaw, here are a few suggestions:
In the refrigerator: Place the glaze in a covered container in the refrigerator and let it thaw overnight.
In the microwave: Place the glaze in a microwave-safe bowl and microwave on low for 30-60 seconds at a time, stirring in between, until thawed.
At room temperature: Place the glaze in a bowl and let it thaw at room temperature for a few hours.
Once the glaze is thawed, you can use it as directed in your ham recipe.
What to Serve with Brown Sugar Ham
With this easy glazed ham at the center of your holiday table, whether it's Easter, Christmas, or Thanksgiving, you're going to want lots of delicious side dishes. Serve it up with roasted Brussels sprouts or green beans with molasses, Crockpot glazed carrots, and roasted potatoes or mashed potatoes.
And of course you'll need dinner rolls or homemade Hawaiian rolls. For something fresh, start with this cucumber apple salad. For something extra sweet, add this ambrosia salad or jello salad to the table.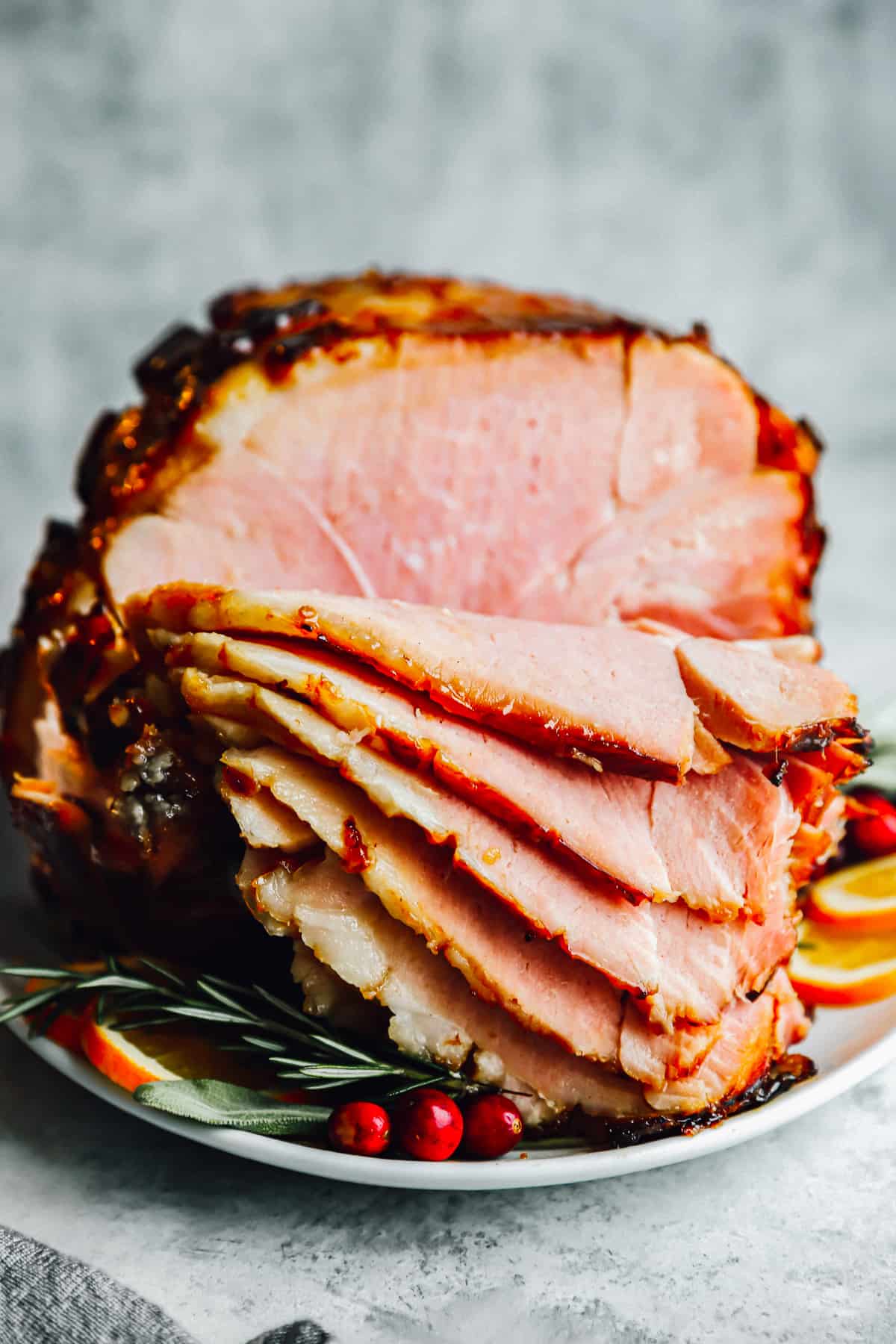 If you make this recipe be sure to upload a photo in the comment section below or leave a rating. Enjoy! You can also jump to recipe.
More Glazed Ham Recipes We Love