These MINI FRENCH ONION DIP BREAD BOWLS are the perfect cute and DELICIOUS appetizer for the Super Bowl! Wow your party guests with French Onion Dip inside mini bread bowls and topped with melty swiss. BEST DIP EVER!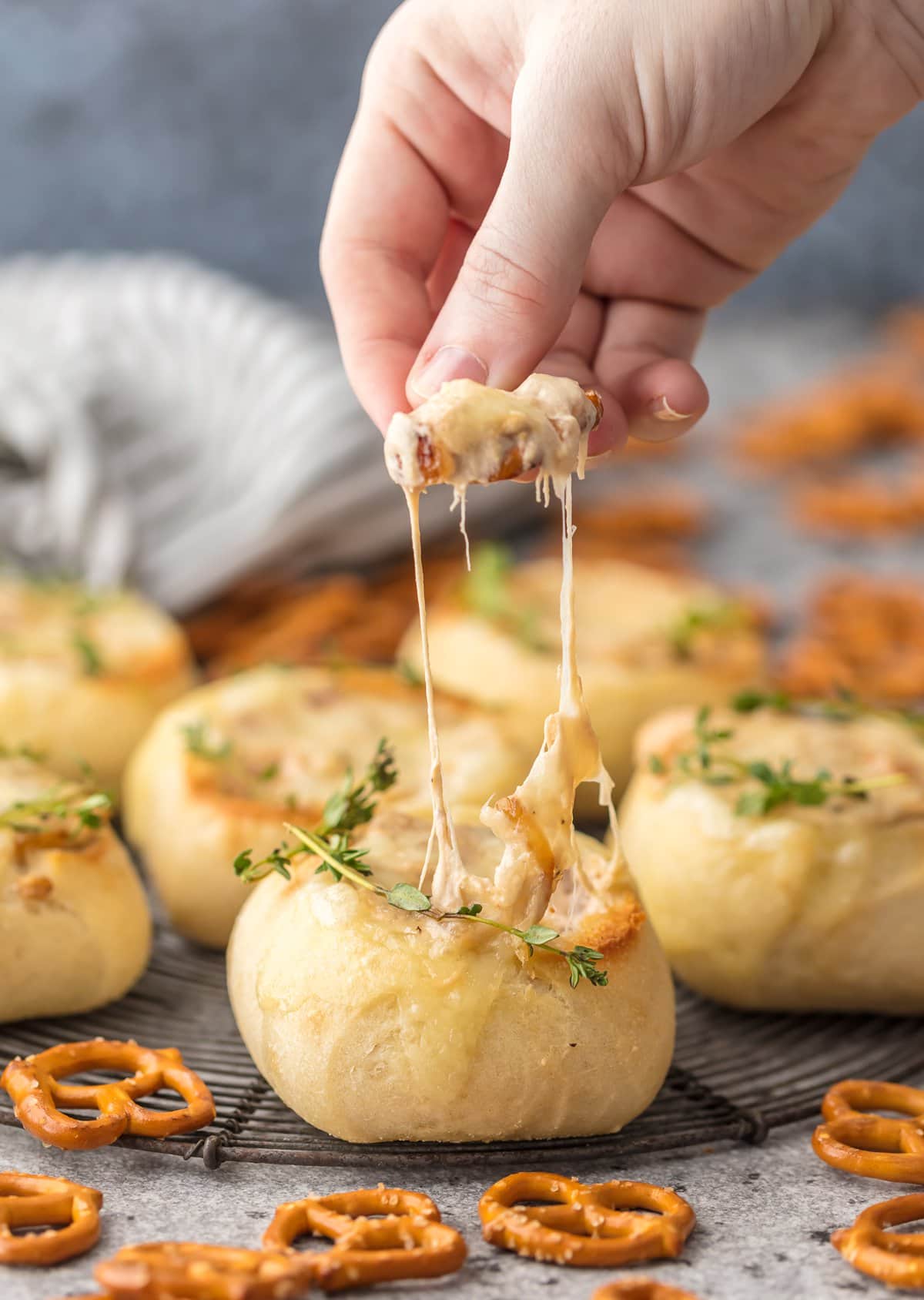 How is the Super Bowl just a week away? How is it 2017? HOW DID THIS HAPPEN! The year is already flllllying by and I'm in a flurry of baking all my favorite appetizers and dips in preparation for my favorite foodie party day of the year! Tailgating is the ultimate day for party food, and these MINI FRENCH ONION DIP BREAD BOWLS are the ultimate fun app! Any football party that serves this French Onion Dip is automatically kicked up a notch; and your guests are sure to thank you from the bottom of their hearts/stomachs. Aren't they so cute?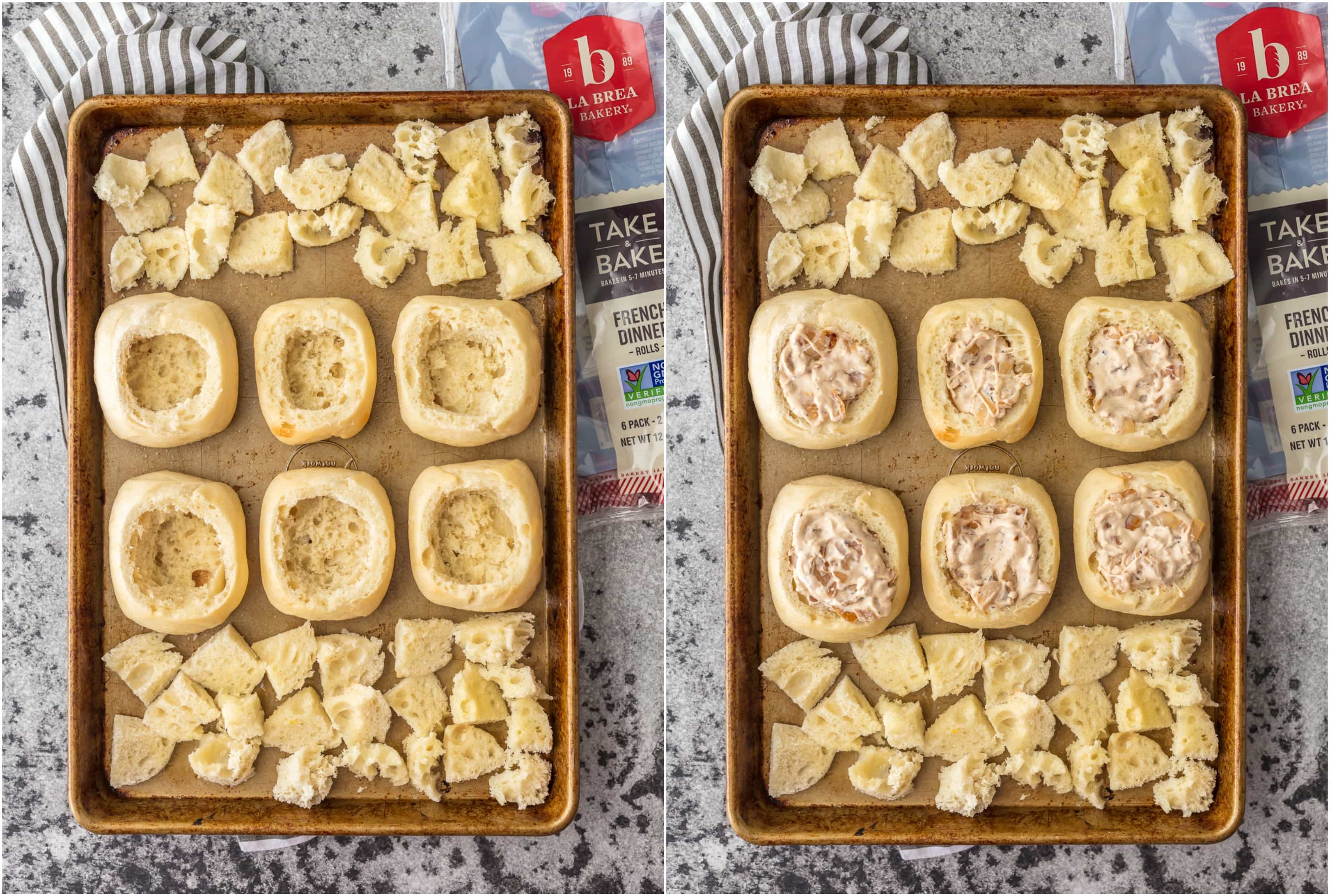 The most important part of these Mini French Onion Dip Bread Bowls is good quality bread. My absolute favorite when cooking at home is La Brea Bakery! You might know their name if you've ever been to their amazing stores in California (DOWNTOWN DISNEY!), but did you know you can also buy their amazing bread at your local grocery stores (and even Walmart!)?! Their Take and Bake French Dinner Rolls are my favorite bread to use as a side dish, and even in Super Bowl appetizers! You have simply got to try them! They were the perfect size for this mini appetizer. You can fill them with any of your favorite hot dips, but I'm of course partial to this French Onion Dip! The cutest and the most delicious appetizer at any football party next weekend.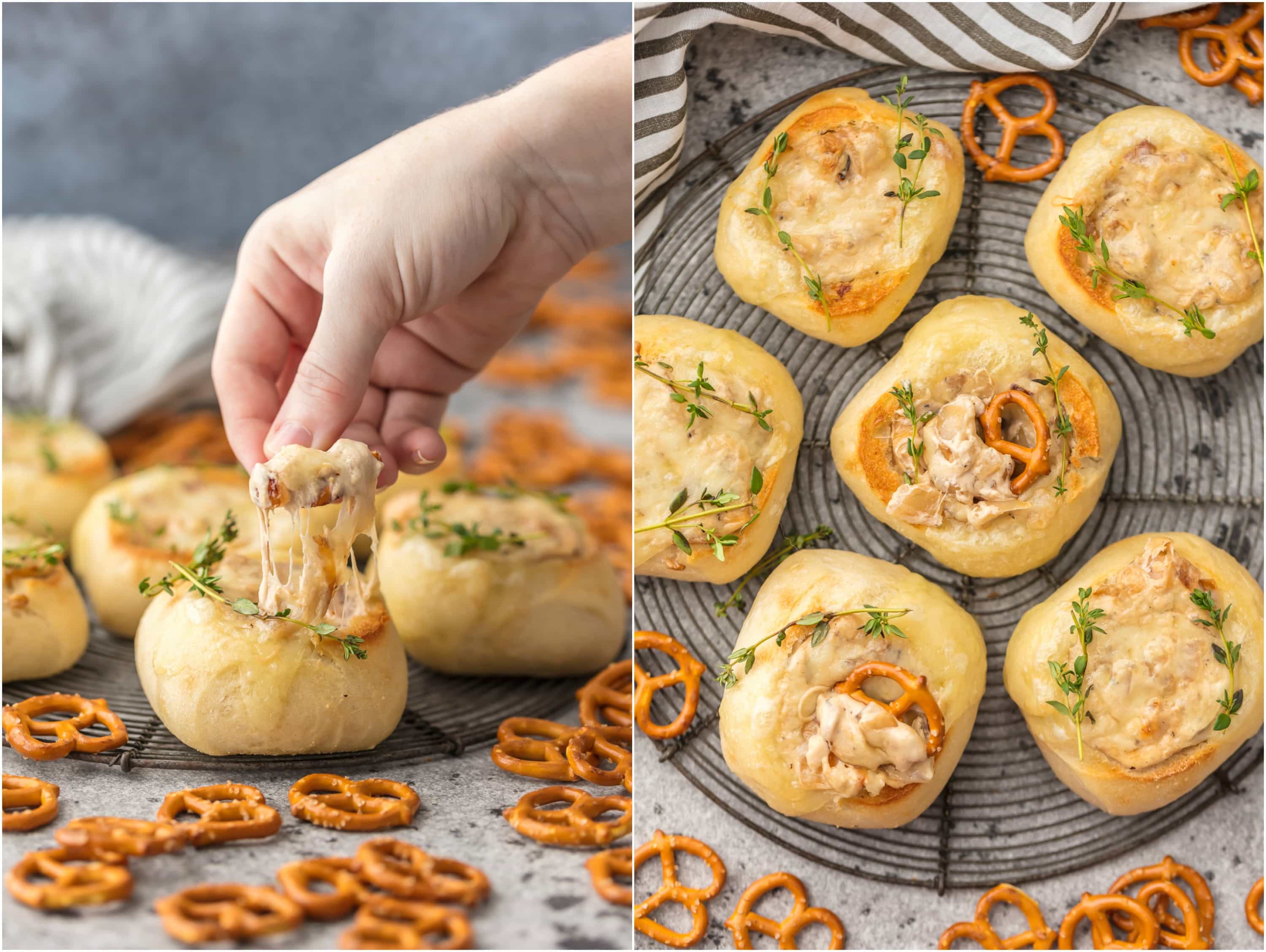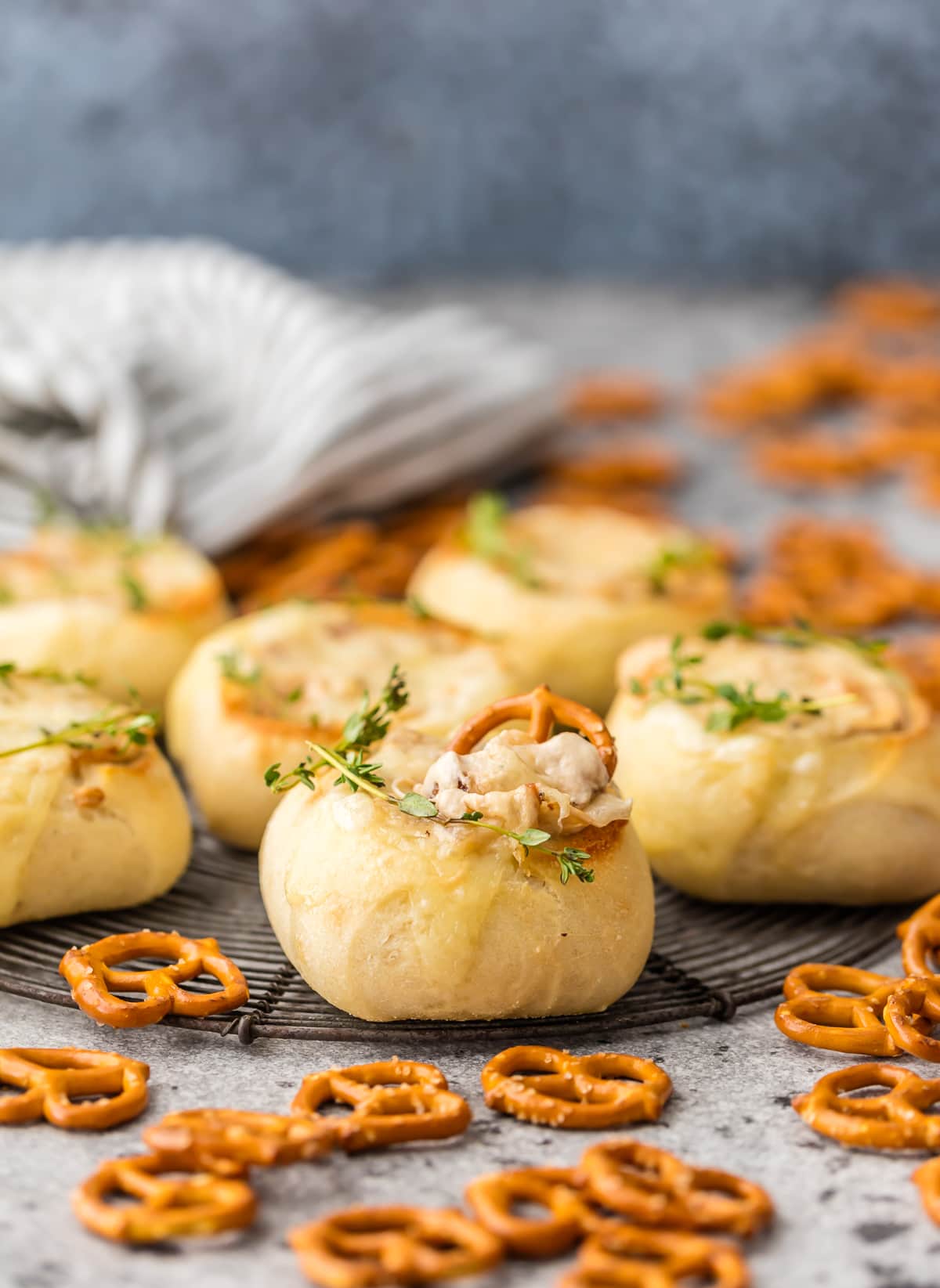 The French Onion Dip stuffed inside these Mini Bread Bowls is loaded with caramelized onions, garlic, mozzarella, beef broth, and even a little WINE! Top it all with a slice of swiss cheese and let it all toast up together, pure bliss. It tastes JUST like the soup! I'm pretty proud of this one. I'm so glad there's a reason to tailgate year round; although nothing tops the Super Bowl. Are you ready to win whatever party you attend by bringing these bread bowls???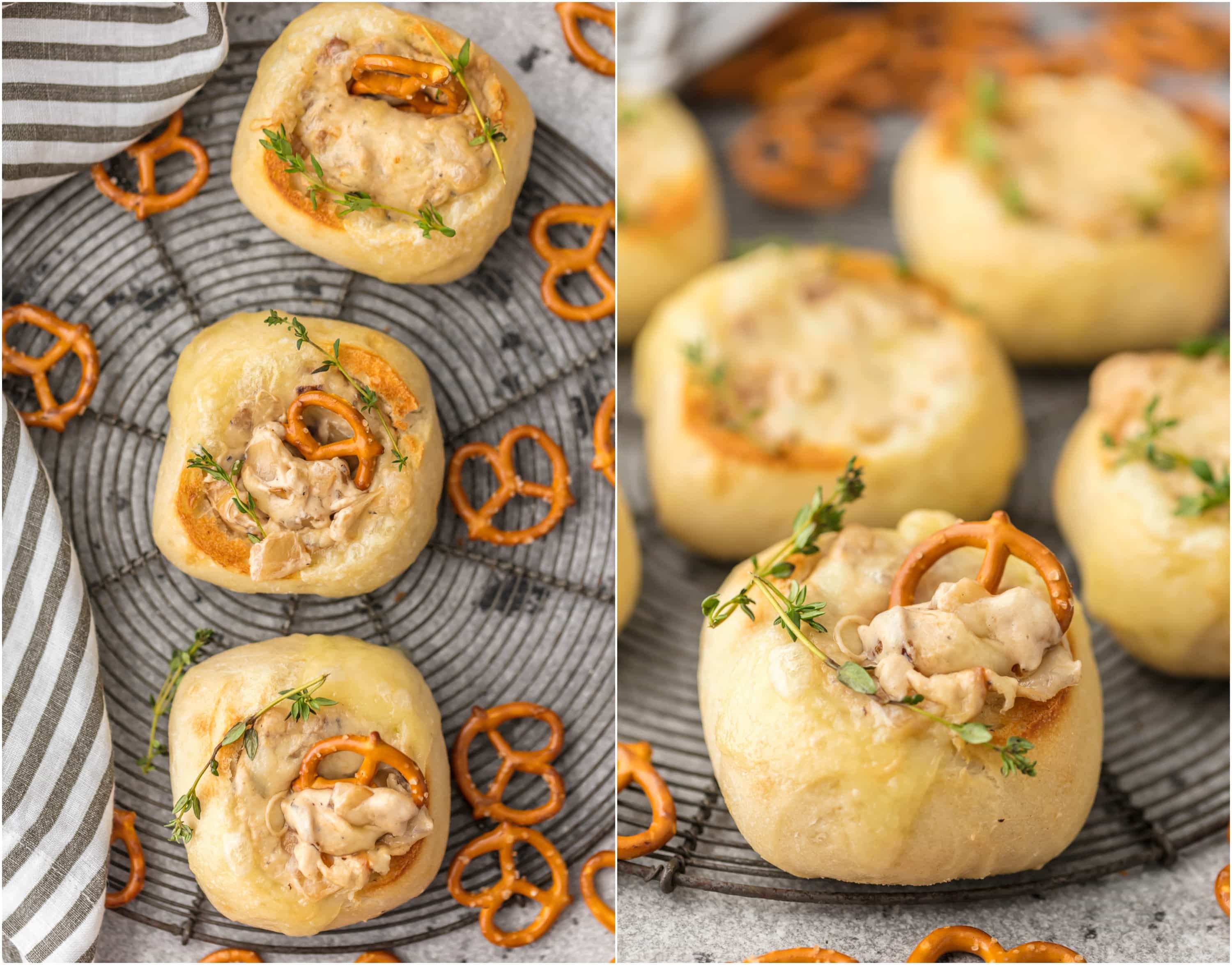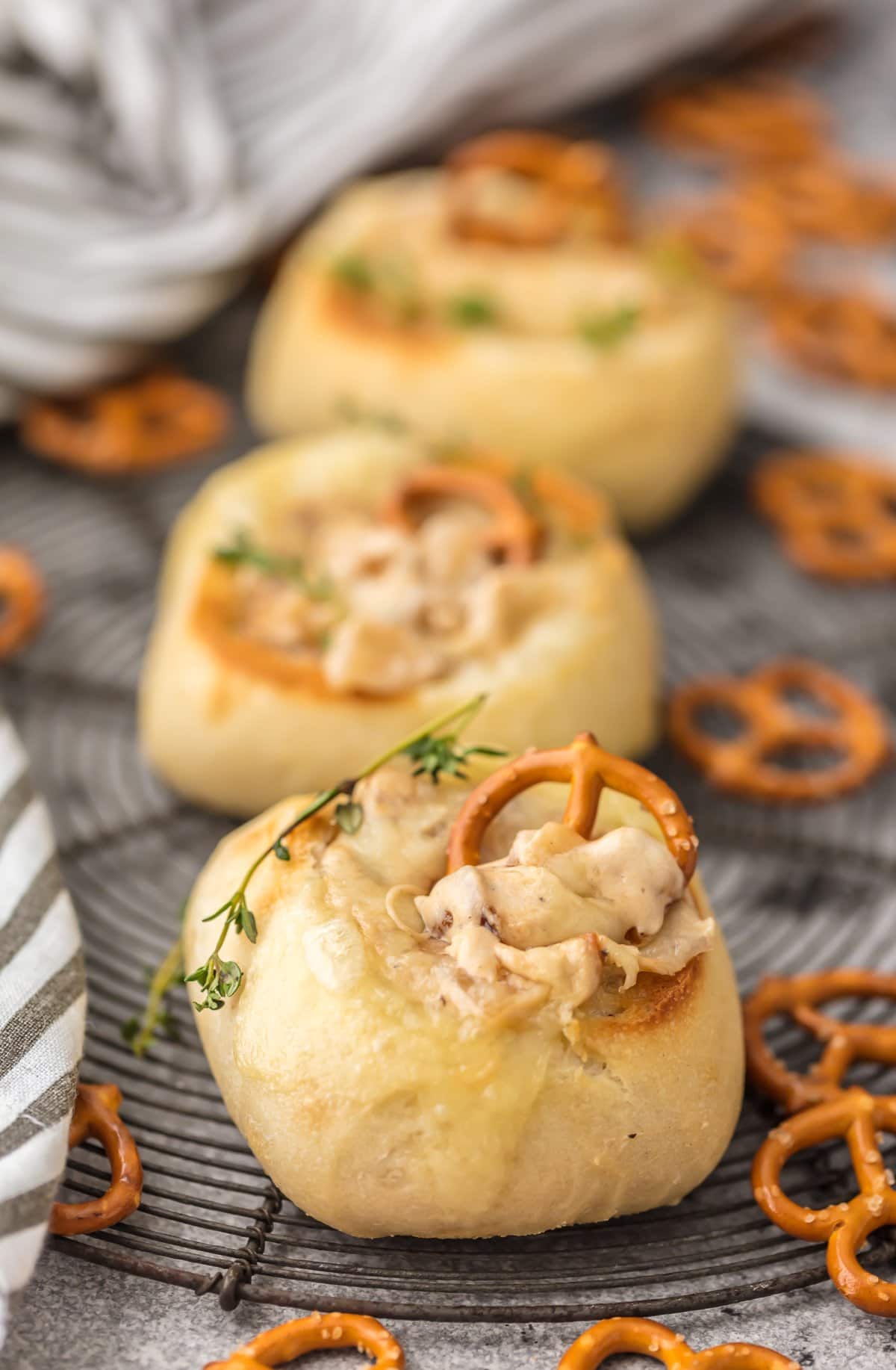 Pat, who HATES onions, even loved this dip. I don't think he realized onions were in it…which says a lot about his foodie credentials. But regardless, he was a fan and I hope you are too!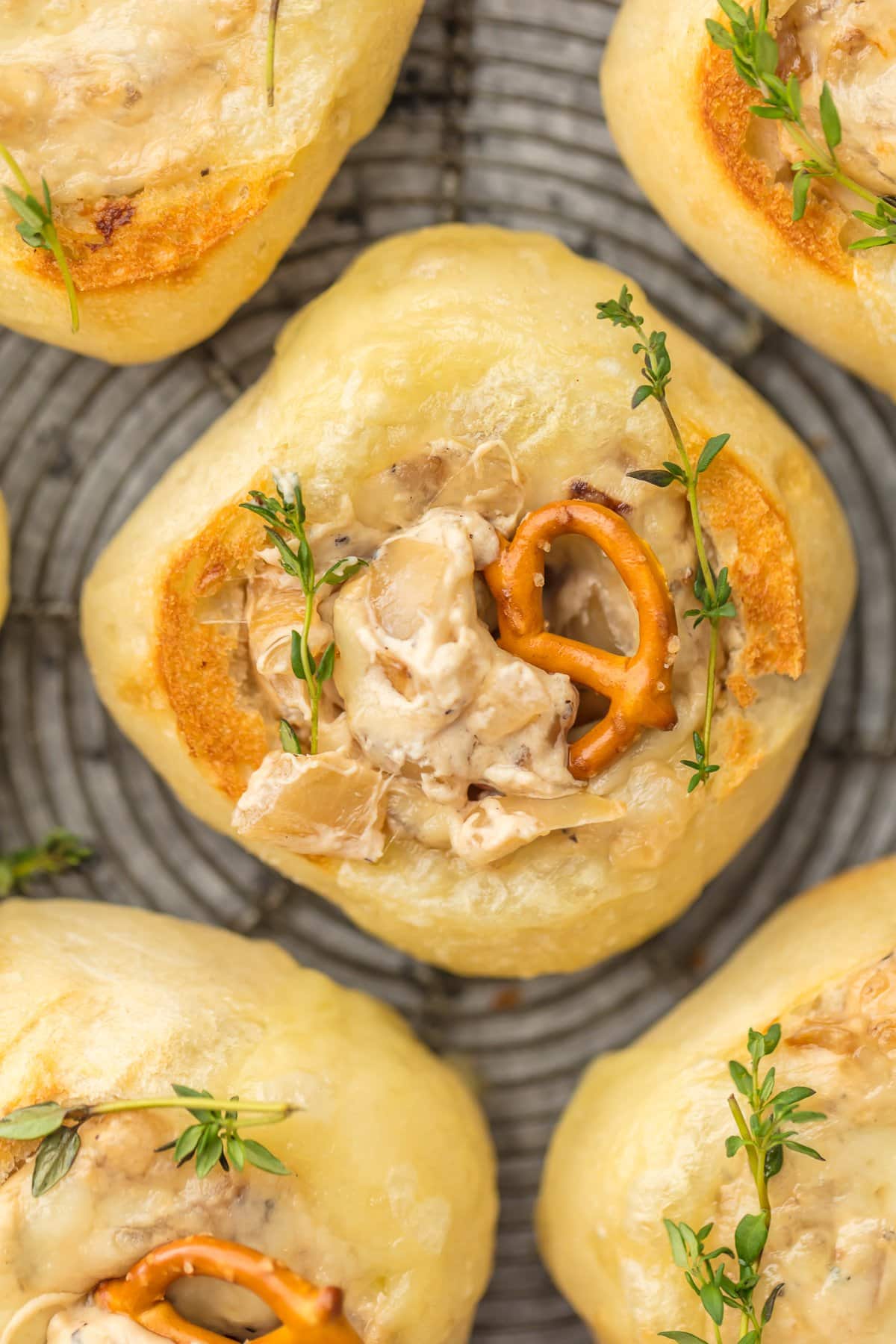 Be sure you hop over to La Brea Bakery to find out where you can buy these Take and Bake French Dinner Rolls!
Enjoy!
Mini French Onion Dip Bread Bowls
10 minPrep Time
25 minCook Time
35 minTotal Time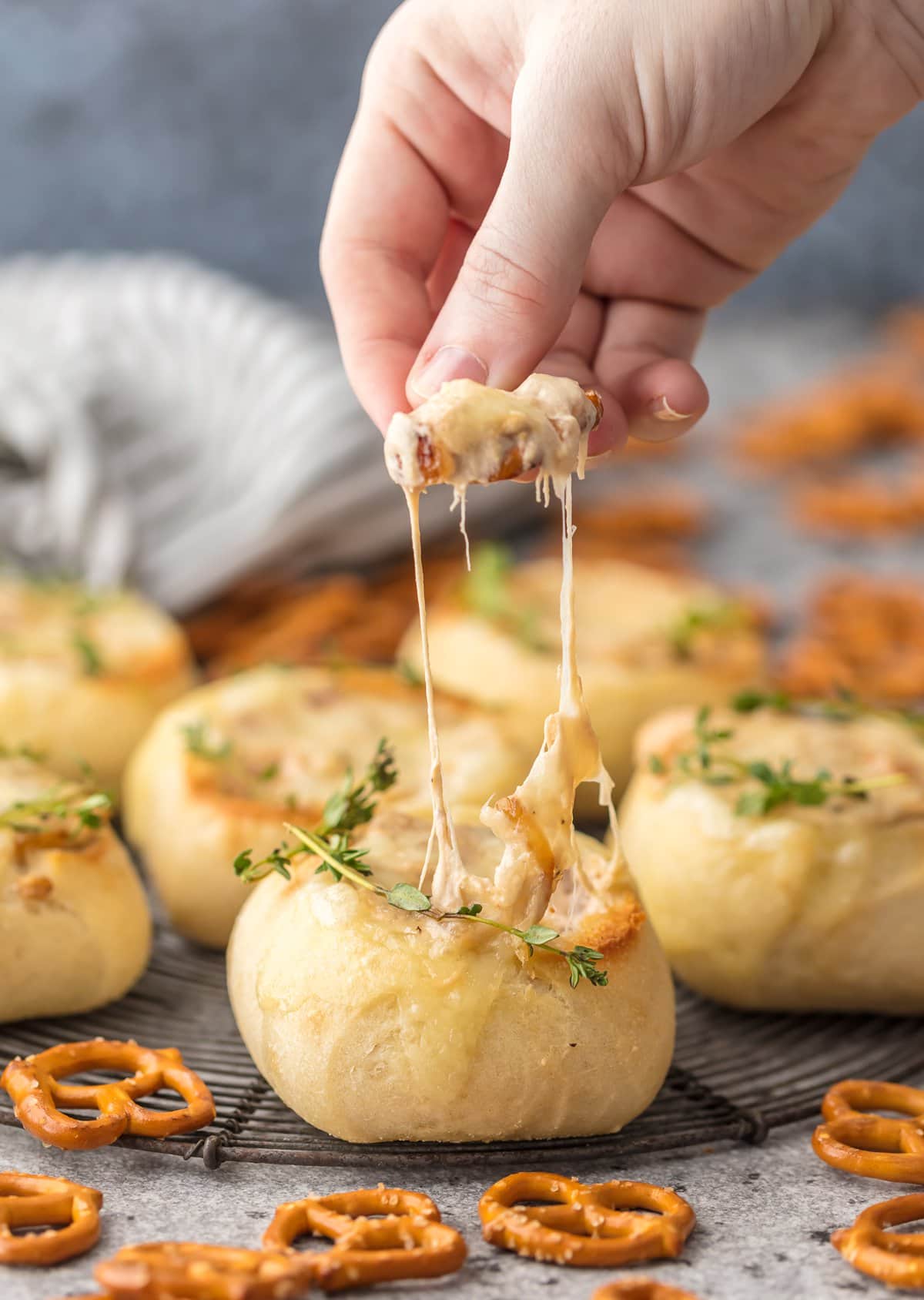 4.3 based on 4 review(s)
Ingredients
2 packages La Brea Take and Bake French Dinner Rolls (12 rolls total)
1/4 cup salted butter
1 large white onion, chopped
2 cloves garlic, minced
1/4 cup beef broth
2 tablespoons red wine
4 ounces cream cheese, room temperature
1/2 cup low fat sour cream
3/4 cup shredded mozzarella cheese
salt and pepper to taste
6 slices thin swiss cheese, cut in half
pretzels for dipping
Instructions
Preheat oven to 350 degrees F.
Carefully cut the top of each roll off, about 1/2 inch down from the top. Leaving a 1/2 inch border, hollow out each roll, saving the inside and cutting into cubes. You can also cut the top of each roll into cubes. Lay the rolls on a large baking sheet as well as the cubed insides. Spray with olive oil spray or drizzle with olive oil and set aside.
Melt butter in a large skillet over medium high heat.
Add the onions and garlic to the butter and stir to coat. Cook, stirring occasionally, for about 15 minutes or until the onions are fully caramelized and translucent. (MMM THAT SMELL!)
Add the broth and wine to the onions and stir to combine. As soon as its all simmering, reduce the heat to low.
Stir in cream cheese, sour cream, mozzarella, and salt and pepper. Remove from the heat.
Spoon the onion dip mixture into each bread bowl, about 2 tablespoons per roll. The dip should be just slightly higher than the top of the opening.
Bake uncovered for 5-6 minutes.
Remove from the oven and place half a slice of swiss over the top of each bread bowl.
Return to the oven and switch to broil. Broil for 2-3 minutes or until the swiss is bubbly and the bread is slightly browned/crisp.
Serve immediately with the toasted bread cubes and extra pretzels for dipping.
Enjoy!
7.6.7
2371
https://www.thecookierookie.com/mini-french-onion-dip-bread-bowls/
This post was written in partnership with La Brea Bakery. As always, all opinions are 100% my own. Thanks so much for supporting the brands that help support The Cookie Rookie.