FRENCH BREAD PIZZA BITES are the easiest and tastiest cheesy appetizer! These mini french bread pizzas are loaded with garlic butter, cheese, and all of your favorite toppings. They make a great appetizer (the perfect party food), but we may just eat them as an entire meal!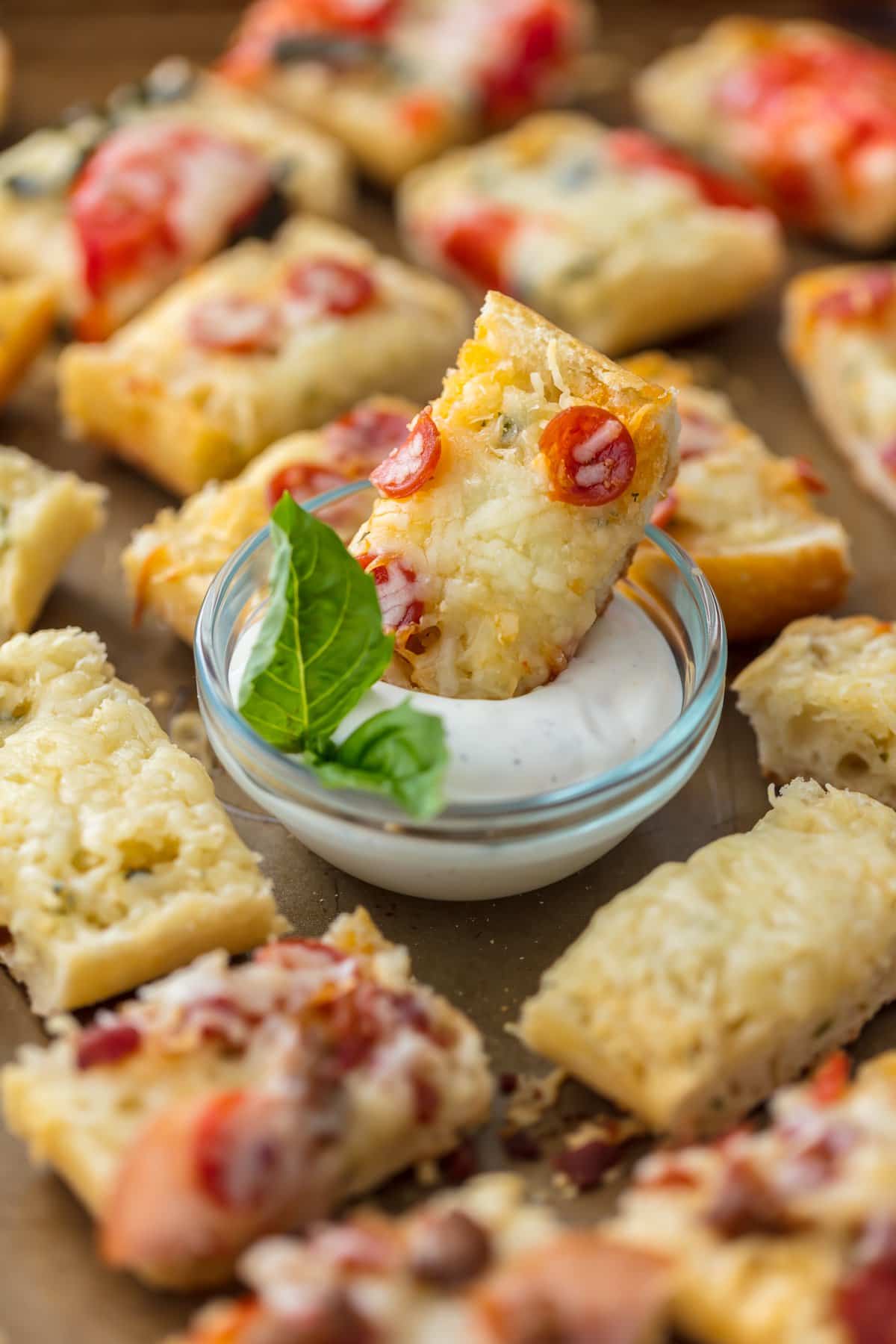 French Bread Pizza
French Bread Pizza Bites are the perfect party food or appetizer. These mini pizzas are slathered in garlic butter, topped with the best toppings, and slices into bite-sized pieces. Yum!
As a full-time food blogger, I'm ashamed to admit how often we order pizza. What can I say, it's just a weakness! But as much as we like pizza, it's really the cheese bread that we crave most. I always manage to fill up on cheese bread before I even get started on the pizza. I mean, I guess that means more leftovers for later, but still what a shame!
Well instead of ordering pizza tonight, we are just making cheese bread at home. GARLIC BUTTER FRENCH BREAD PIZZA BITES actually! It's cheese bread amped up with lots of toppings, LOTS of garlic butter, and cut into (almost) bite-sized pieces. They're so good and they're perfect for dipping. It's like having a mix of pizza and cheese bread in one, so you don't have to decide which one to fill up on. Just eat pizza bites!
You could keep them whole and just eat these as mini french bread pizzas for a meal. No one will know the difference! But cutting them into pizza bites is so much fun. It makes them easier to eat, easier to share, and easier to dip! Serve them with ranch dressing or marinara sauce to really kick them up a notch.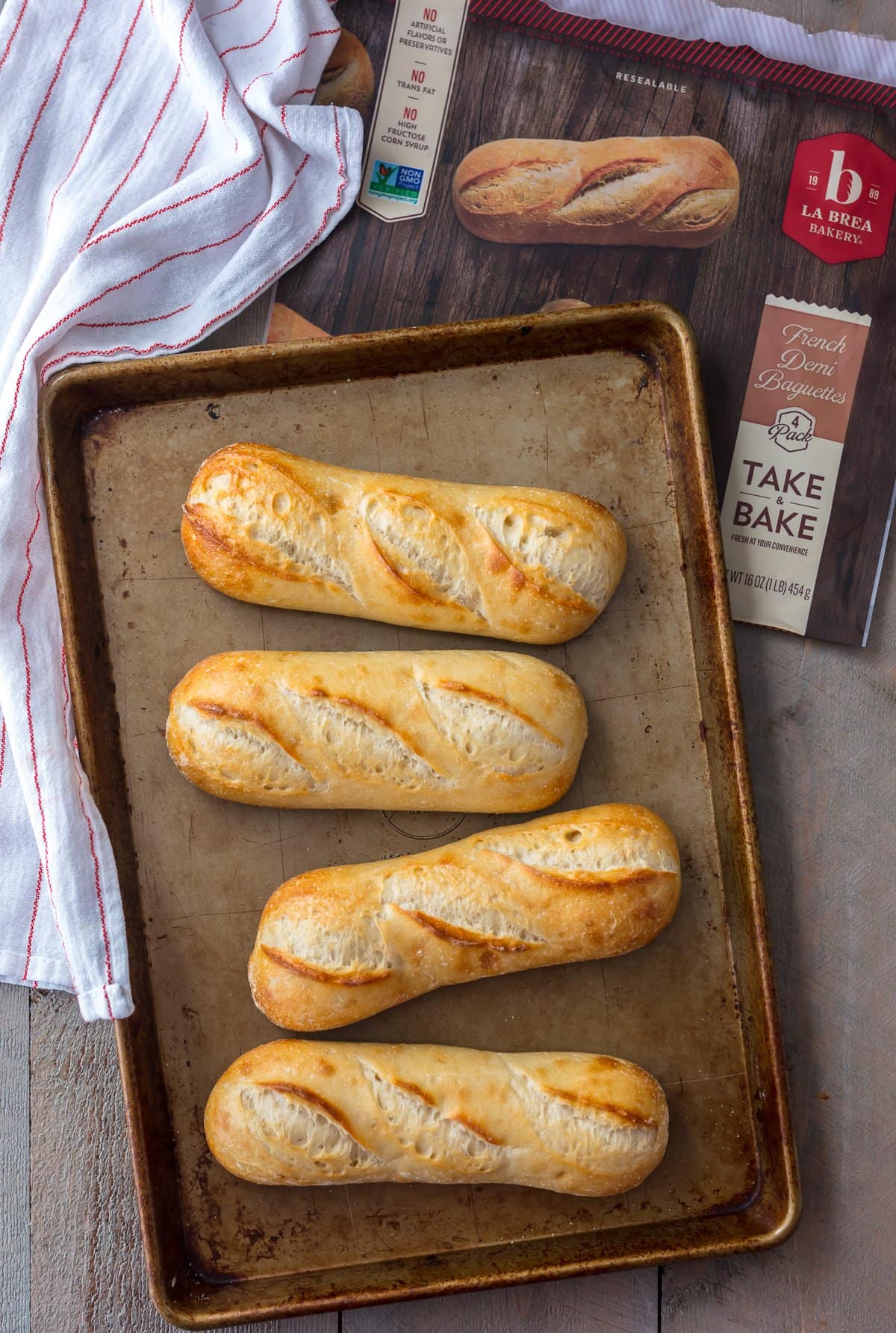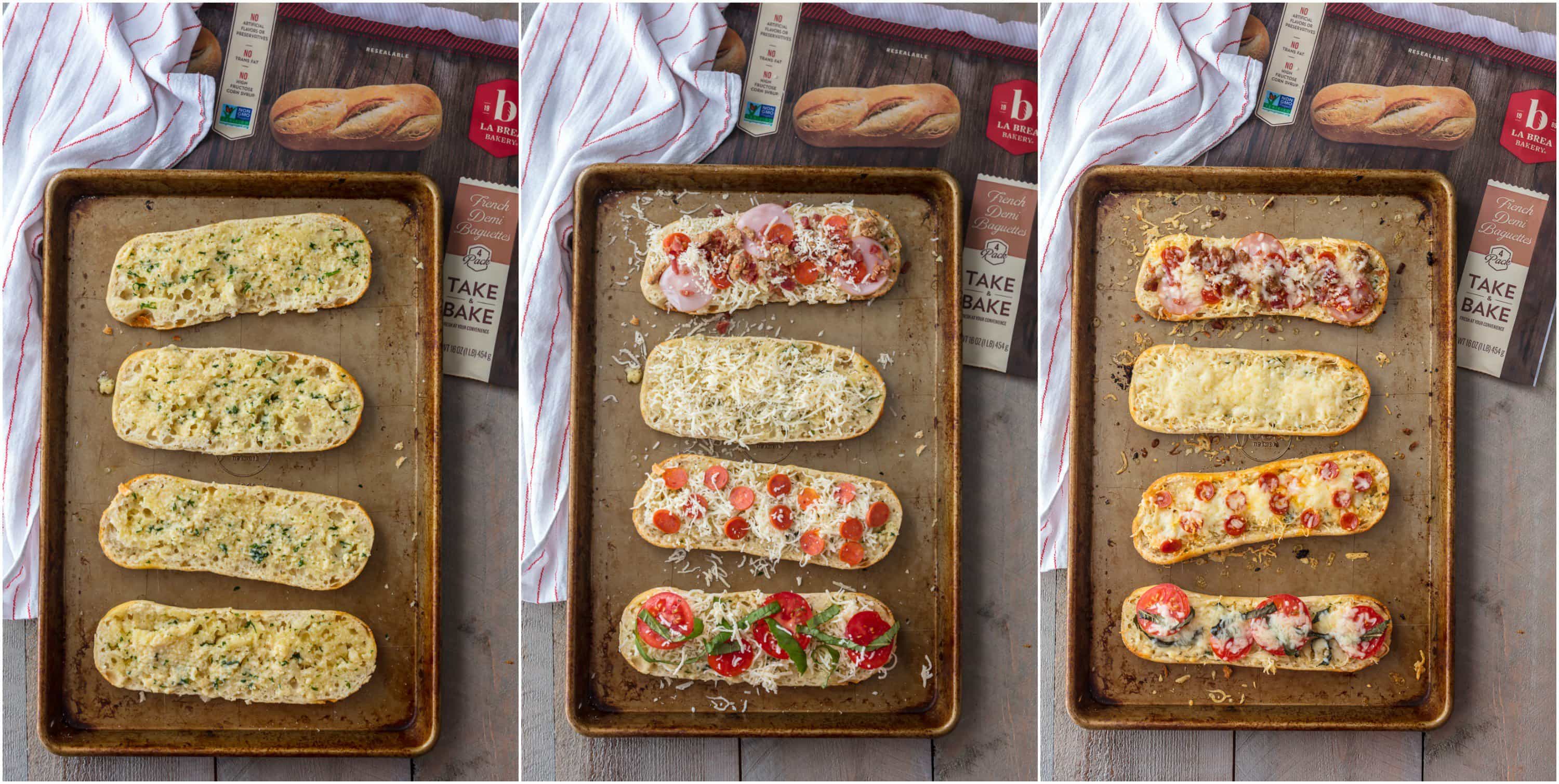 The Best French Bread
The most important part of great Garlic Butter French Bread Pizza Bites is good quality bread. My absolute favorite when cooking at home is La Brea Bakery! You might know their name if you've ever been to their amazing stores in California (DOWNTOWN DISNEY!), but did you know you can also buy their amazing bread at your local Walmart?!
Their Take and Bake French Dinner Rolls and their Take and Bake Demi Baguettes are both available in the frozen aisle at Walmart and I just couldn't be more excited. They took our run of the mill homemade cheese bread from normal to FABULOUS just like that. You have simply got to try them!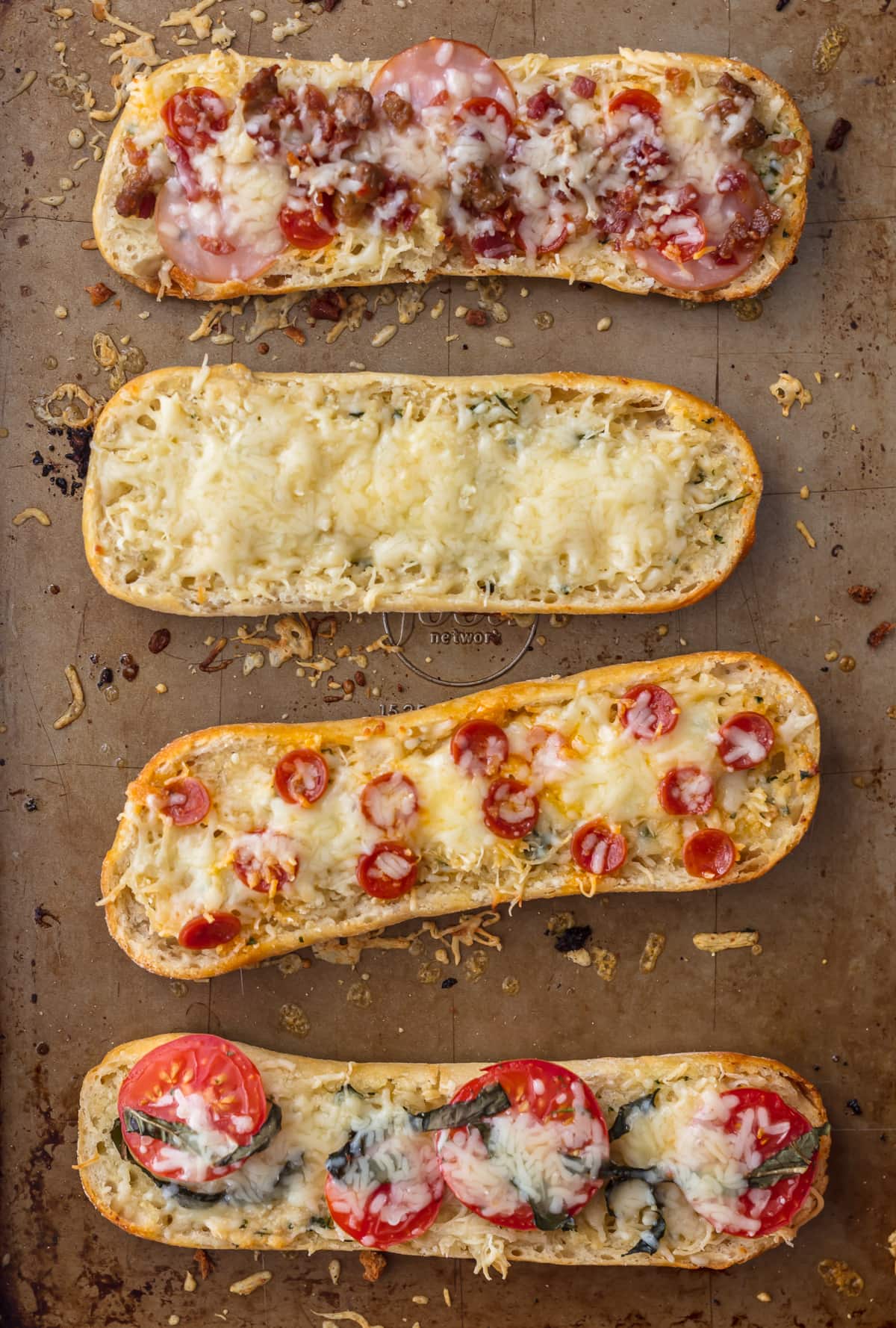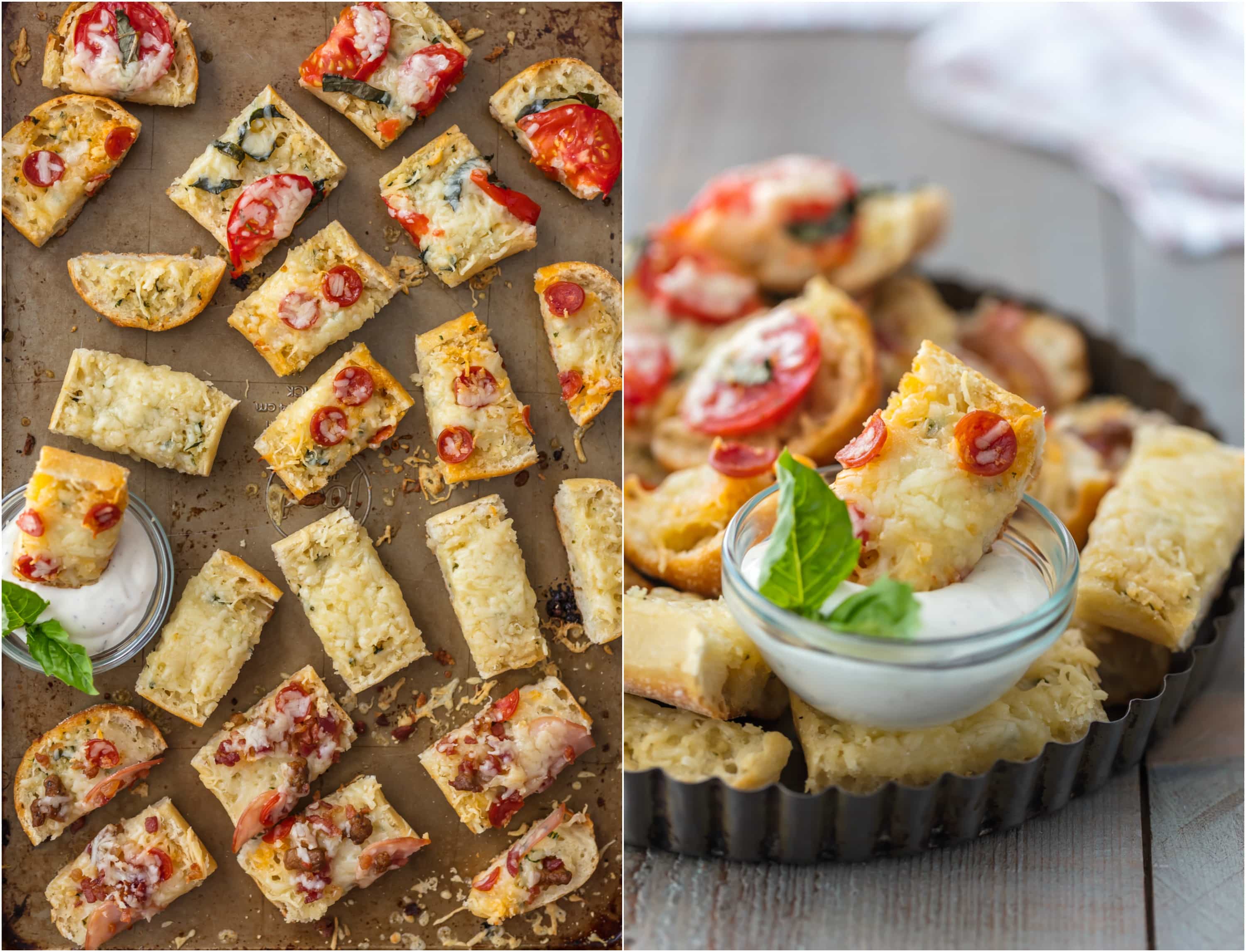 French Bread Pizza Toppings
Because variety is the spice of life, I like to make my French Bread Pizza Bites with lots of different toppings. You can choose whatever flavors you like best, but I made Meat Lover's, Pepperoni, Simple Cheese, and Margherita. The Margherita was my favorite and the Pepperoni was Pat's favorite (he's a man of simple tastes). But what really makes these delicious is that layer of garlic butter. YES PLEASE!
Here are some fun topping ideas to try!
Meat Lover's Pizza: Crumbled Sausage, Canadian Bacon, Pepperoni, Cheese
Margherita Pizza: Tomatoes, Basil, Cheese
Veggie Lover's Pizza: Peppers, Mushroom, Olives, Onion
Ultimate Cheese Pizza: Mozzarella, Cheddar, Parmesan, Asiago
Wow, I'm getting hungry. The topping options are limitless with these mini french bread pizzas. Go crazy and make your favorite pizza in bite-sized form, or keep it classic with cheese. The garlic butter base is my favorite part of this recipe, and I think that's what really makes these so good. No sauce to interfere with the cheese and other flavors.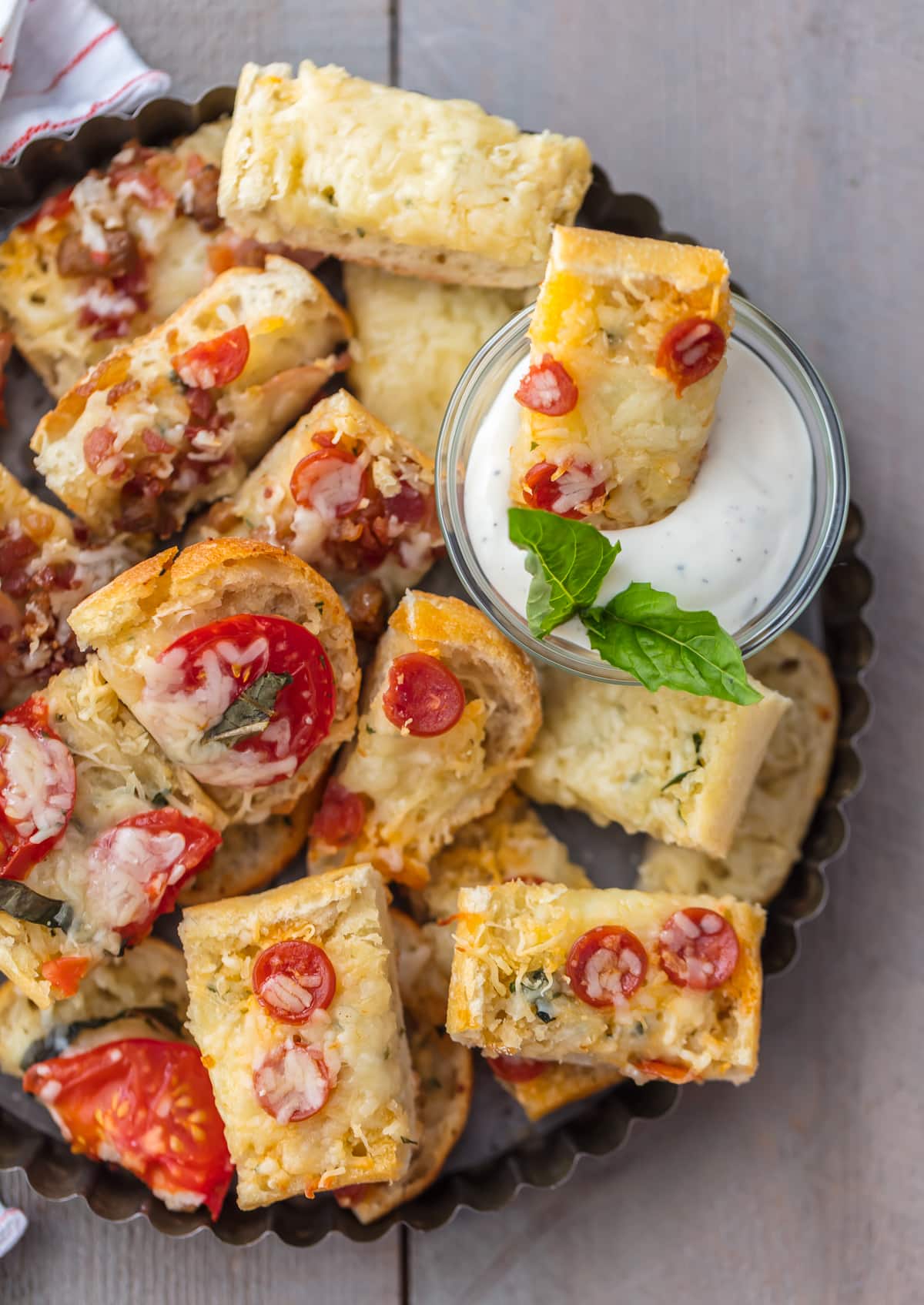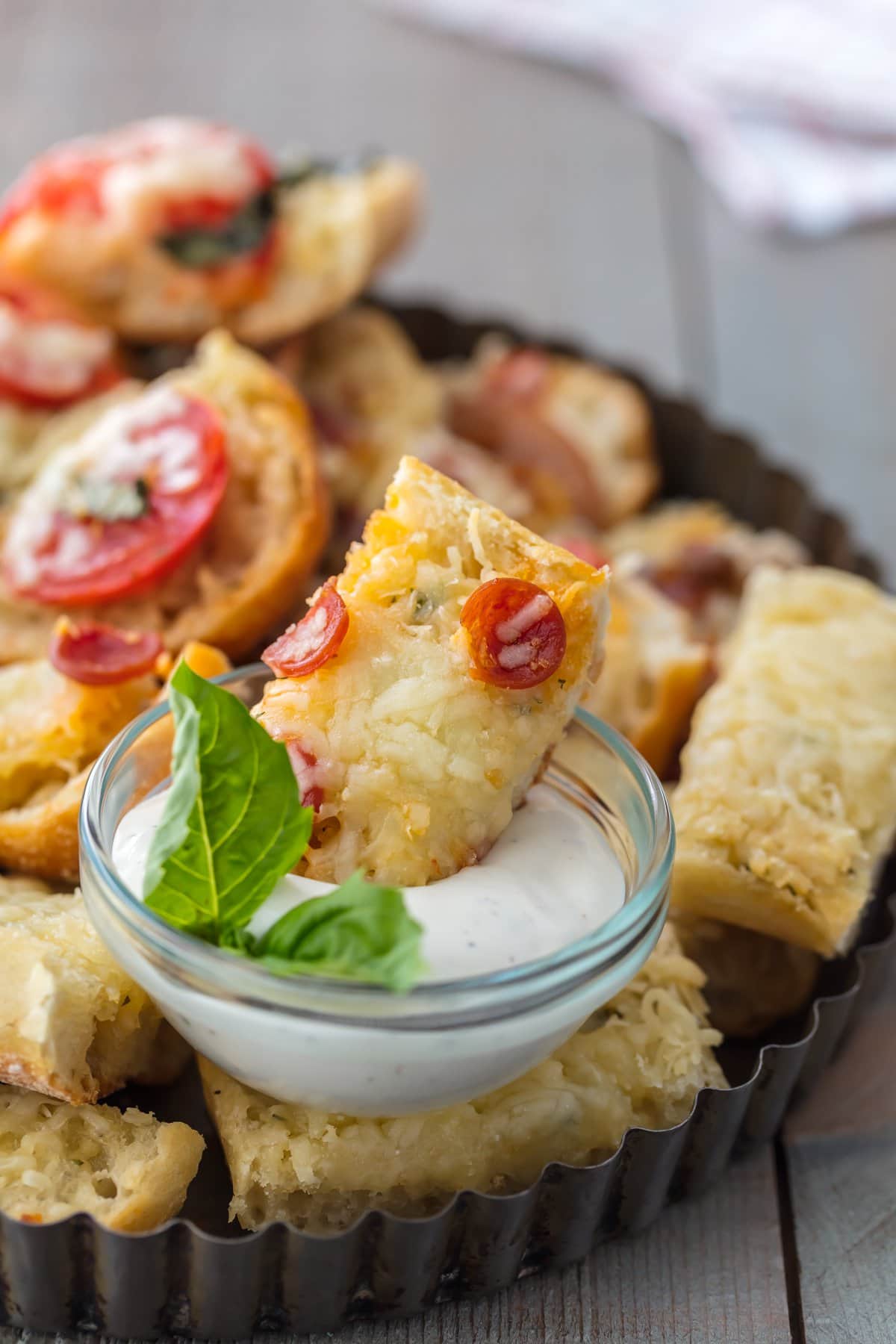 How to Make French Bread Pizza Bites
French Bread Pizza Bites are so easy to make, you'll want to make them ALL the time. They really make the perfect little appetizer or party food for casual occasions. These french bread pizzas work just as well for a quick dinner too. Make the pizzas, and then leave them as is instead of cutting them into small bites. Simple and delicious!
How to Make Mini French Bread Pizzas:
Bake the french bread for about 9-10 minutes at 385°F (or according to package instructions; you want them to just start getting brown and crispy, but not fully cooked). Then cut the bread in half length-wise.
Mix garlic, butter, and olive oil in a bowl, and microwave it for 1 minute, stirring to combine. Then mix in the parsley and Parmesan.
Brush the inner side of the bread with the garlic butter (add as much as you want!)
Sprinkle on the shredded cheese and any other toppings you choose to make your pizzas.
Bake the french bread pizzas for about 5-7 minutes, until cheese is melted.
Once your pizza are done, you can serve as is, or you can cut them into small slices to make mini pizza bites. The pizza bites are perfect for dipping, so serve with marinara sauce, ranch dressing, or any other dip you like!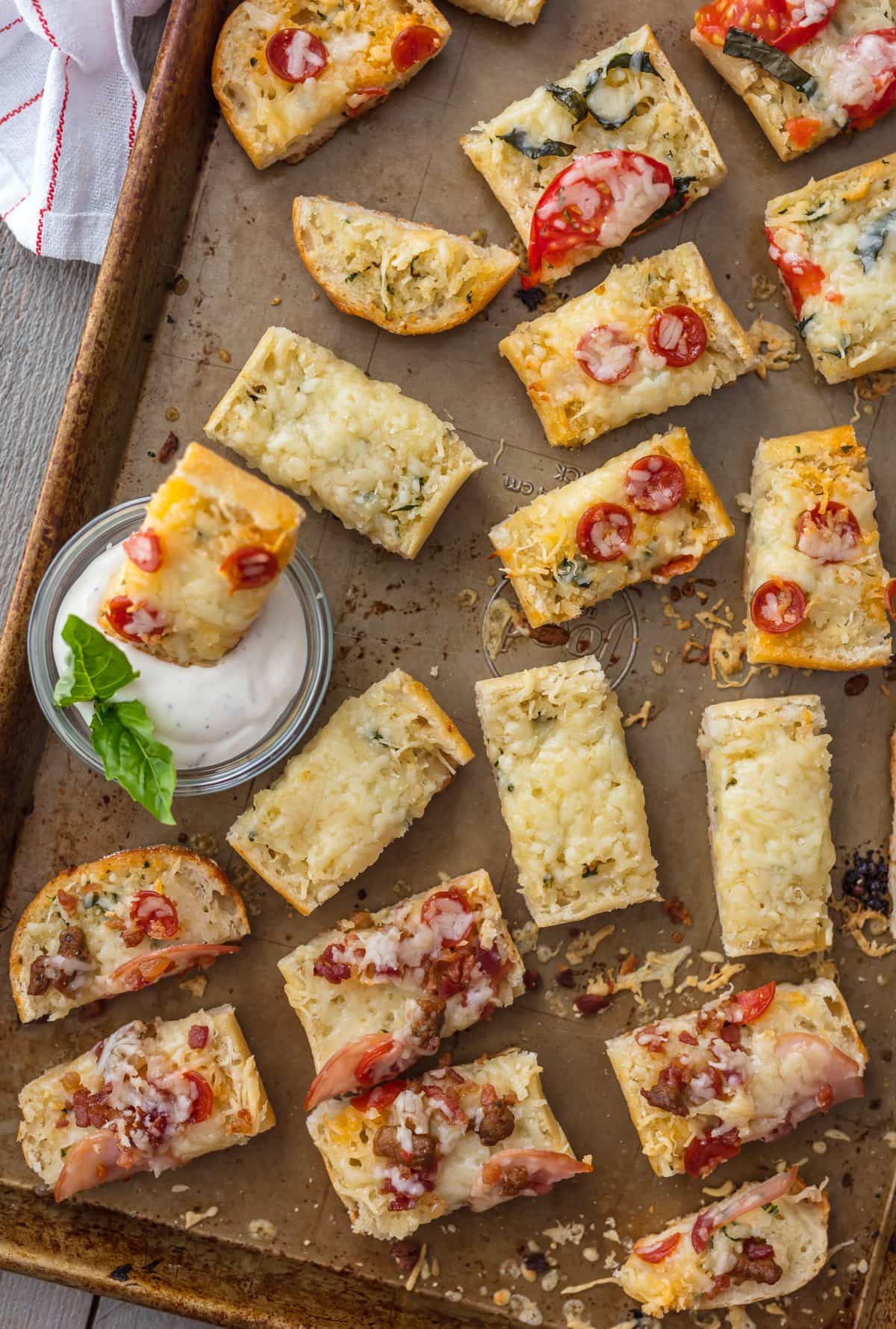 I know you're going to love these tasty French Bread Pizza Bites as much as we do. They are such a simple and fun party food! Don't forget to grab your coupon for La Brea Take and Bake Bread at your local Walmart, and click HERE to find out where to buy. Let me know how you like it! I know you'll be just as addicted as we are.
If you like these pizza bites, try these other fun appetizers too: