This BEST EVER CHILI RECIPE has been in our family for years. Chili with beans recipe that is A MUST MAKE recipe for every family! Whenever I need comfort food, this is what I make.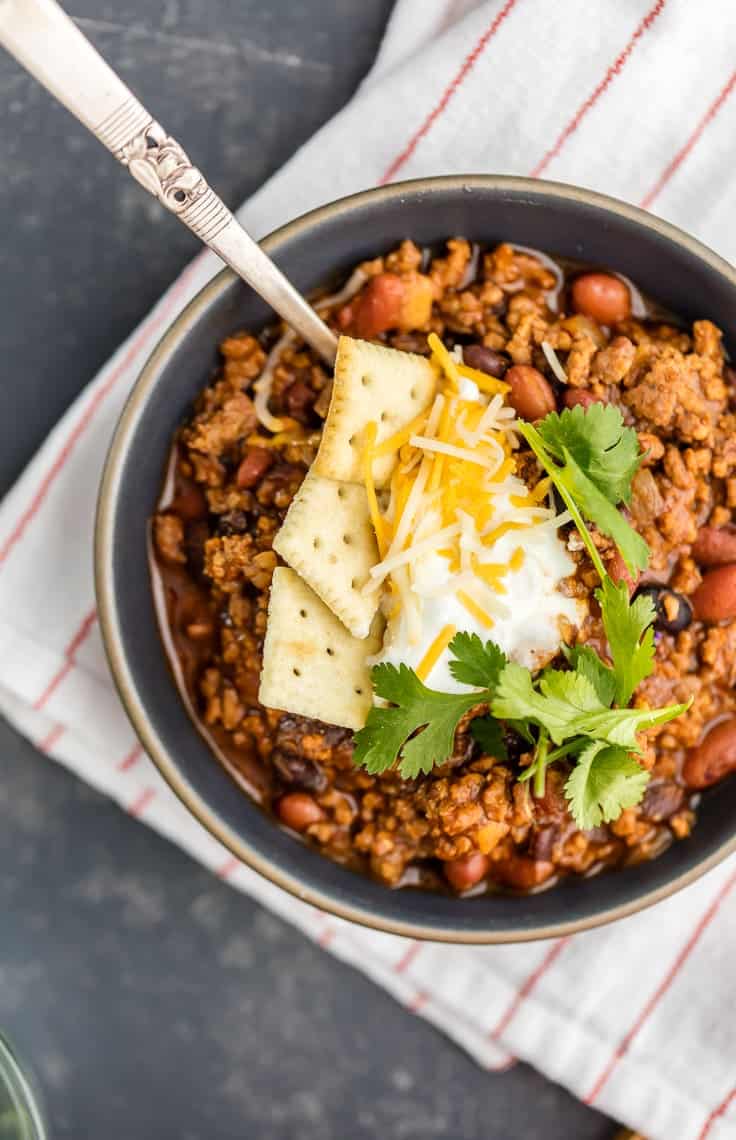 I was blessed to grow up in a family with Susie from Simply Sated as my mom. Lucky…girl. She spoiled us nightly with delicious meals and I can hear my dad saying "Everyone who thinks Mom made a great meal, hold up your hand!" I'm ashamed to say that I never learned how to cook as a young person, because I just preferred to eat what my mom was fixing rather than learn for myself. I mean, can you blame me? Have you SEEN her site?
Anyway, one of my all-time favorite meals from mom is her famous Best Ever CHILI! Nothing makes me think of home more than mom's hearty and delicious chili. You guys are in for a treat today! (If you're looking for the best ever White Chicken Chili, we also have that recipe for you!)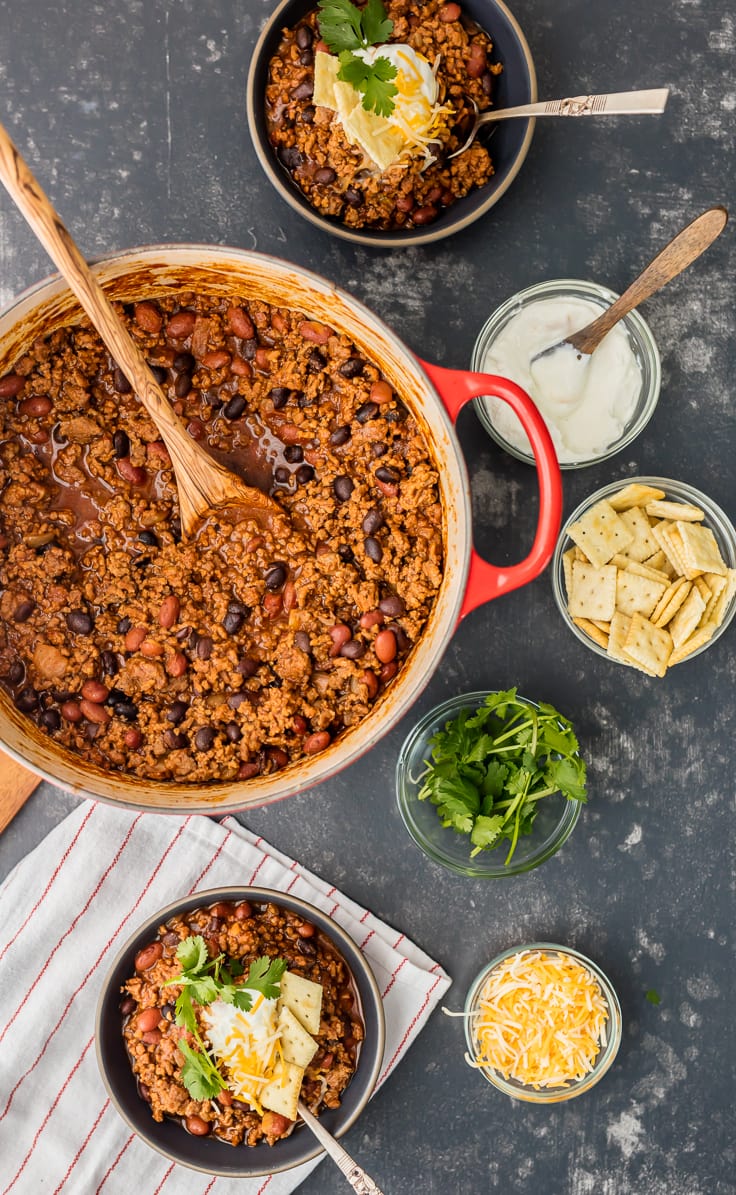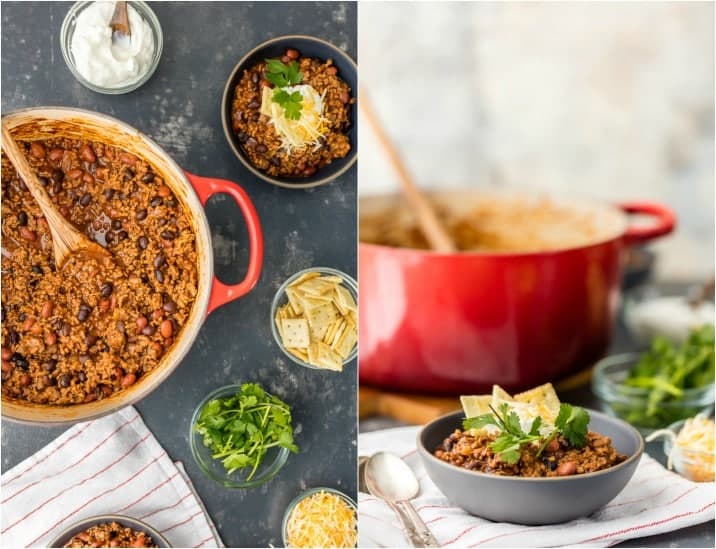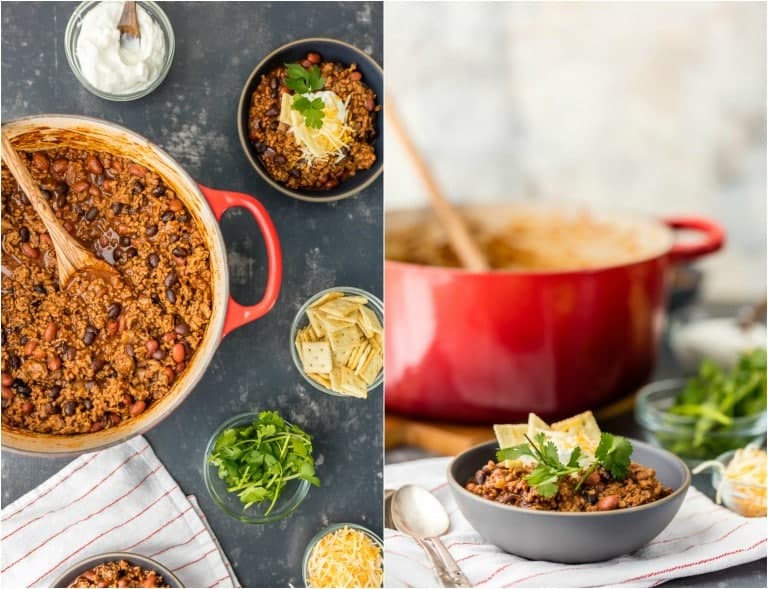 Versions of the best chili recipe have been in our family since my Great Grandma Lil would make it on Christmas Eve. It's still a tradition in the Adee family today. When I decided I wanted to FINALLY learn to cook (cough…at age THIRTY…cough), my mom drove from Kirksville to St. Louis to teach me the staples, and of course this BEST EVER CHILI RECIPE was on the list. We laughed at my lack of knowledge as she taught me her best tips and tricks, and she left my freezer full of all the best meals. There were many Tupperware containers filled with this chili. It got me through months of being a single social worker! (THANK YOU, mom) It was a weekend that inspired a life change, a passion, a new career, a LOT. Pretty awesome looking back on it.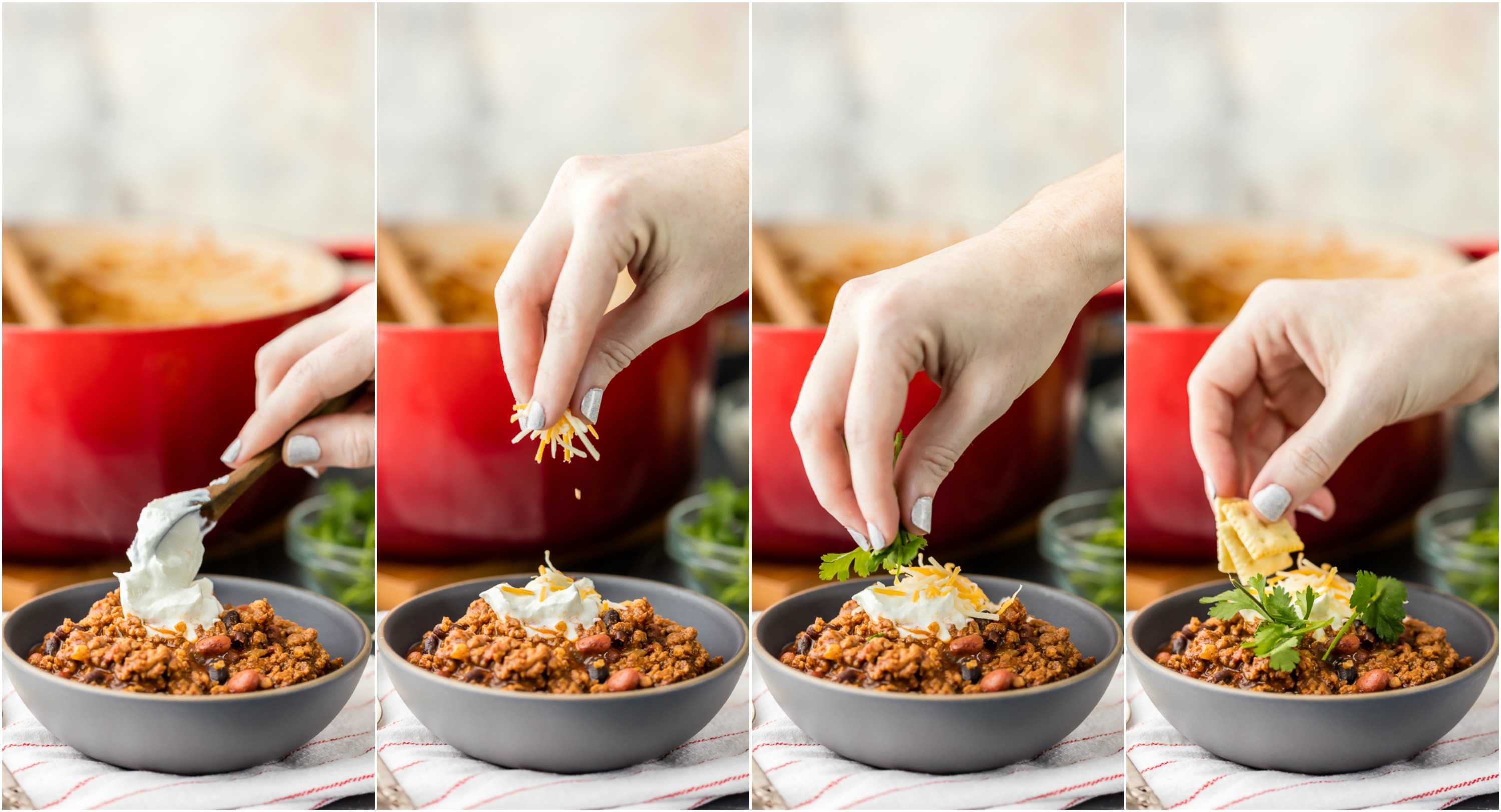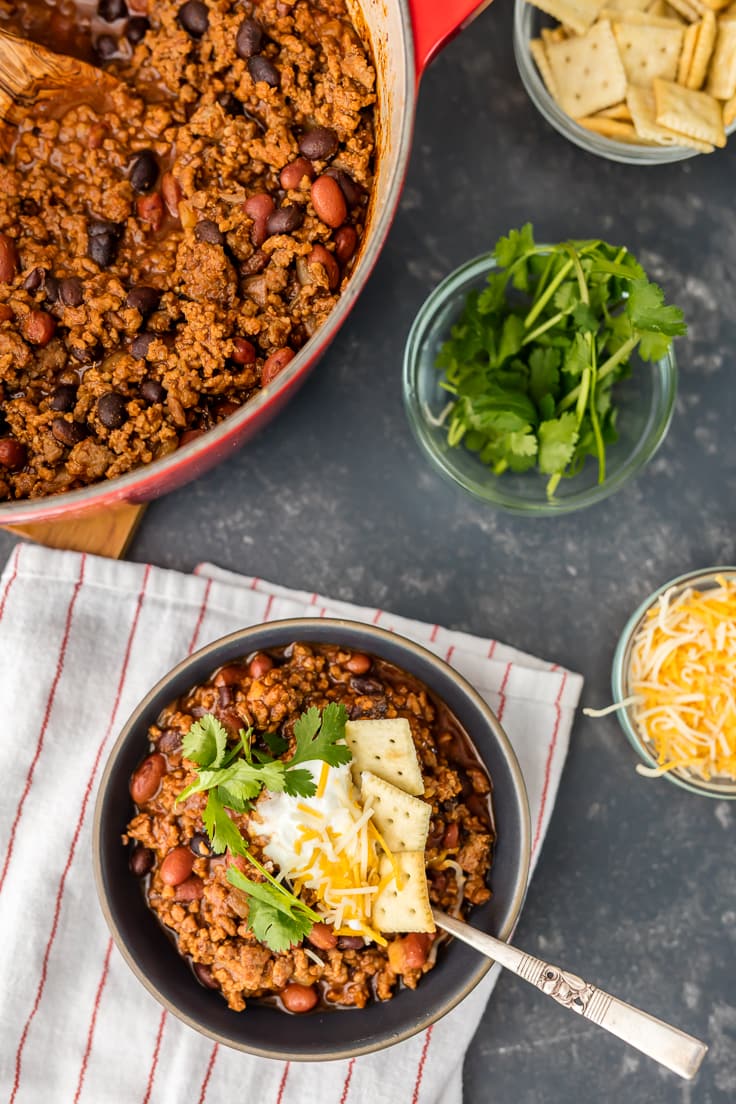 Like all family recipes, it's every generation's job to put their own spin on the classics. I called mom to discuss this, because it's very serious business. We both agreed that sausage would be a great addition. This chili now calls for ground chuck as well as crumbed sausage, adding a delicious depth of flavor and heartiness. To quote my mom, "Delicious! If I do say so myself!" I used Jimmy Dean Sausage, because, is there anything better than Jimmy Dean? It's what I grew up on and it's a brand that I can trust for quality. What more can you ask for?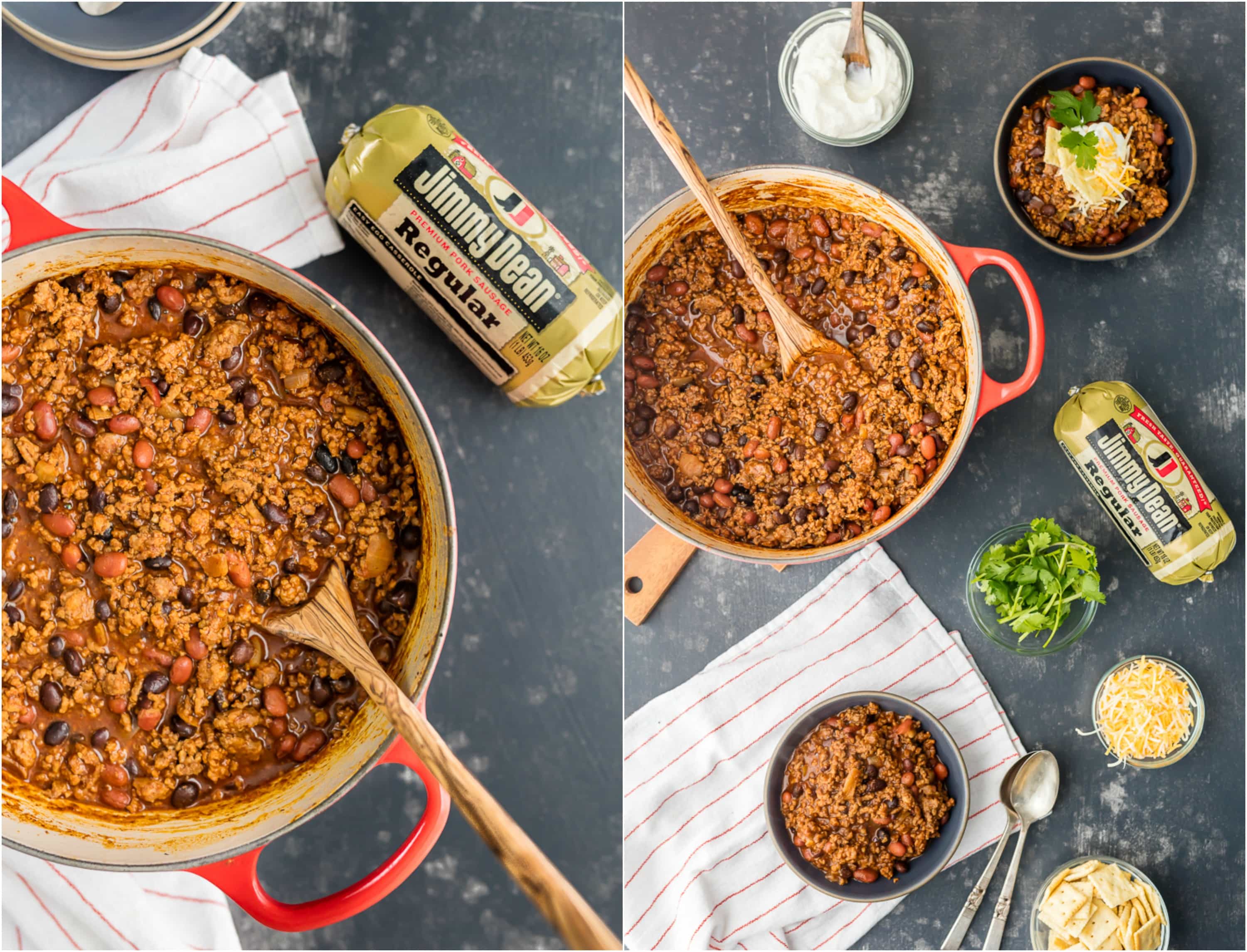 This BEST EVER CHILI RECIPE has been made for holidays, week days, date nights, and every day in between. It's even been made while tailgating at the Royals 2015 ALDS Championship game. I made fun of mom for cooking chili dogs in Kauffman's parking lot, but they sure were tasty. Could it be the reason we won it all??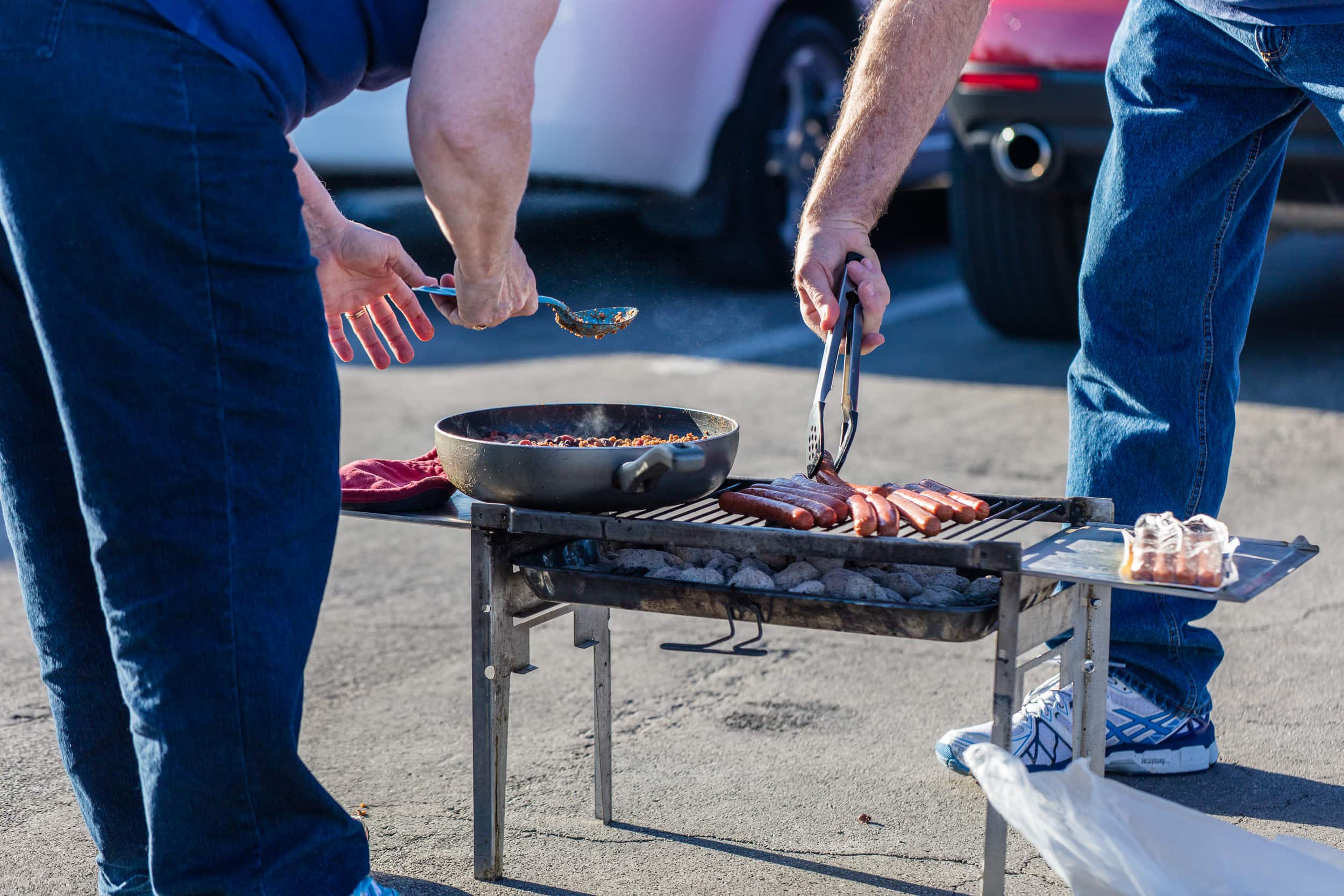 I hope your family enjoys this recipe in the future as much as ours has for years. It really is the best ever. Click HERE to see my post over on Jimmy Dean, and click HERE to see more blogger's favorite family recipes!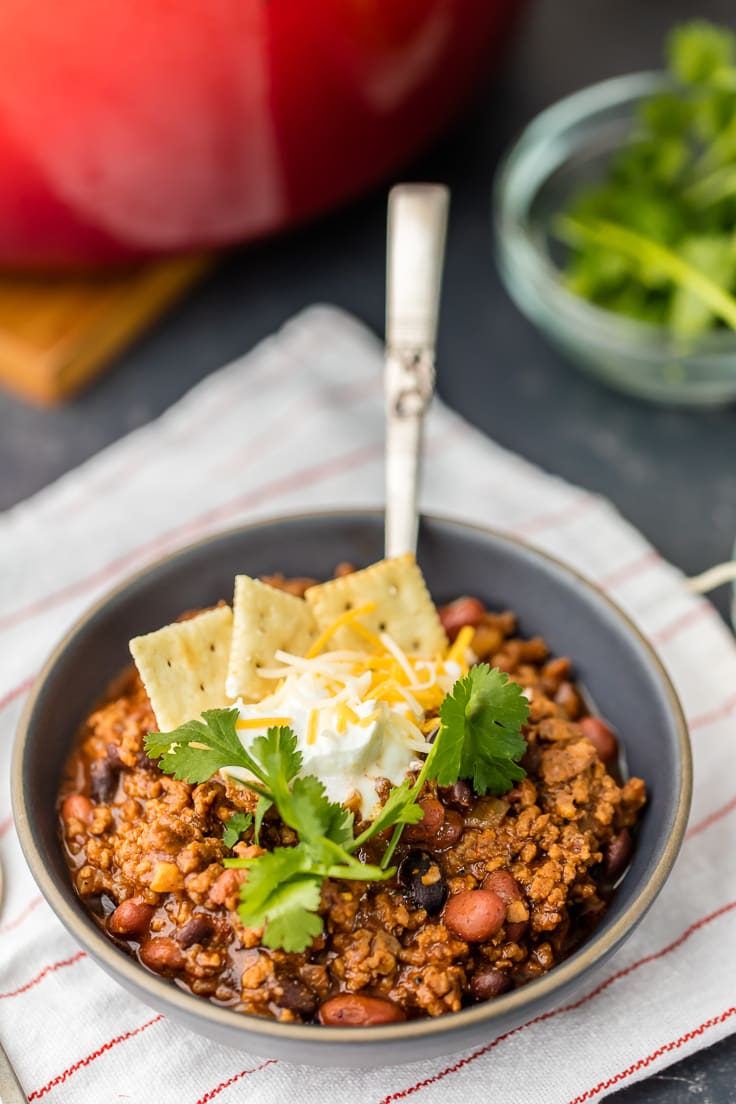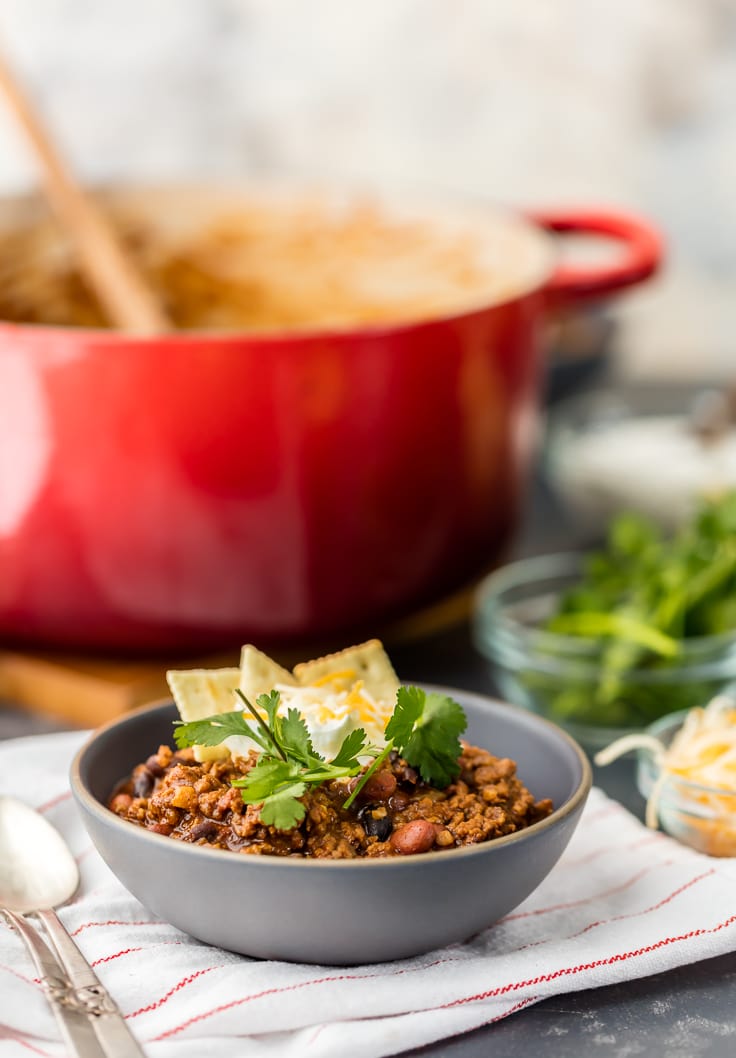 The best ever chili recipe deserves a place in your recipe box and the chili deserves a place in your stomach!
Best Ever Chili Recipe
20 minPrep Time
60 minCook Time
1 hr, 20 Total Time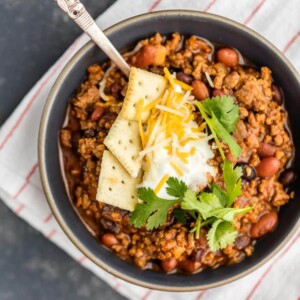 Ingredients
1 (16 ounce) package Jimmy Dean Sausage Roll (any flavor will work, we like spicy!)
1/2 cup sweet yellow onion, chopped
1 clove garlic, minced
2 pounds ground chuck (plus water for cooking)
1 can (8 ounces) tomato sauce
1 can (14.5 ounces) petite-diced tomatoes, undrained
1 cup water (this is an ingredient. The water above is just for the chuck prep)
1 can (15 ounces) black beans, drained
1 can (15 ounces) red beans, drained
2 teaspoons cider vinegar
2 teaspoons Worcestershire Sauce
1 package (1 ounce) Original William's Chili Seasoning
1/4-1/2 cup ketchup
1 tablespoon prepared yellow mustard
1/2-1 teaspoon salt or to taste
1/2 teaspoon ground black pepper
Possible toppings: chopped onions, hot sauce, sliced jalapenos, shredded cheese, crackers, sour cream, cilantro, or whatever you love!
Instructions
Heat a large skillet over medium-high heat. Add the sausage and crumble as it cooks. When almost fully browned, add the onion and garlic. Saute until onion is translucent, about 2-3 minutes. Drain oil if necessary and set aside.
Place ground chuck in a Dutch oven and use a wooden utensil to crumble. Cover completely with water. Bring water to a boil and boil the meat until brown. Drain the beef in a colander and return to the dutch oven.
Add the sausage and onion mixture to the ground chuck and stir to combine.
Mix in the tomato sauce, diced tomatoes, both types of beans, vinegar, Worcestershire sauce, chili seasoning, ketchup, mustard, and salt and pepper to taste.
Mix well and cook the chili, stirring often, over medium-low heat at least 1 hour or until chili has thickened and flavors meld. If it cooks down too much, you can add a bit more water.
Serve with favorite toppings such as chopped fresh cilantro, chopped onions, cheese, crackers, hot sauce, sliced jalapenos, or a topping of your choice.
7.6.7
1998
https://www.thecookierookie.com/best-ever-chili-recipe/
 Thank you Jimmy Dean for sponsoring this rendition of one of my all-time family favorites. Thank you readers for always supporting the brands that help support The Cookie Rookie! As always, all opinions are 100% mine. 
YOU KNOW WHAT CHILI WAS MADE FOR?? CHILI DOGS!!!