This is the BEST Chili Recipe EVER! I've had a lot of chili in my life, and this is hand's down the WORLD'S BEST CHILI recipe I have ever tasted. It has two types of meat, lots of beans, and it's loaded with cheese, sour cream, crackers, and more. You will want to eat this year round, not just during the cold months.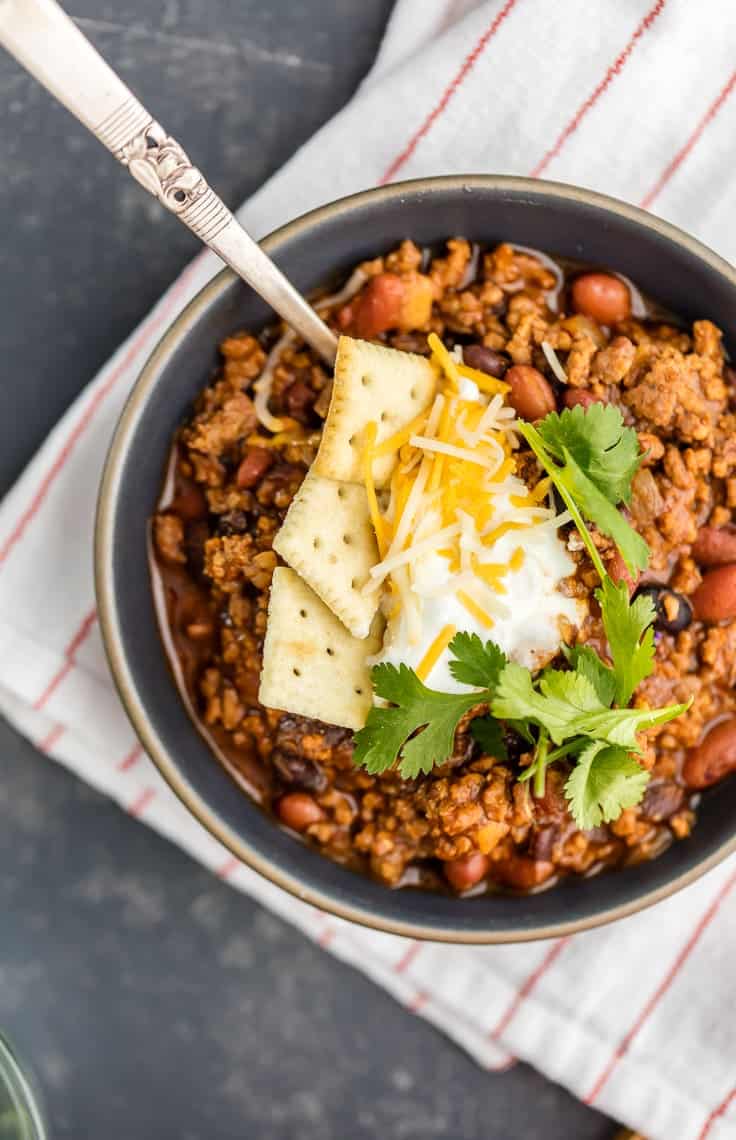 Best Chili Recipe
Looking for the world's BEST chili recipe? Then you've come to the right place! This recipe has been in our family for years, and it's truly the best of the best.
This isn't just a good chili recipe, it's the BEST Chili Recipe EVER. I was blessed to grow up in a family with Susie from Simply Sated as my mom. She spoiled us nightly with delicious meals and I can hear my dad saying "Everyone who thinks Mom made a great meal, hold up your hand!"
I'm ashamed to say that I never learned how to cook when I was younger, because I just preferred to eat what my mom was fixing rather than learn for myself. I mean, can you blame me? Her recipes are SO good.
Anyway, one of my all-time favorite meals from mom is her famous chili (aka World's Best Chili Recipe)! Nothing makes me think of home more than mom's hearty and delicious chili. You guys are in for a treat today! (If you're looking for the best ever White Chicken Chili, we also have that recipe for you!)
Get ready for the World's Best Chili with one of my favorite recipes. Everyone will love this one, and you'll be making it for every occasion.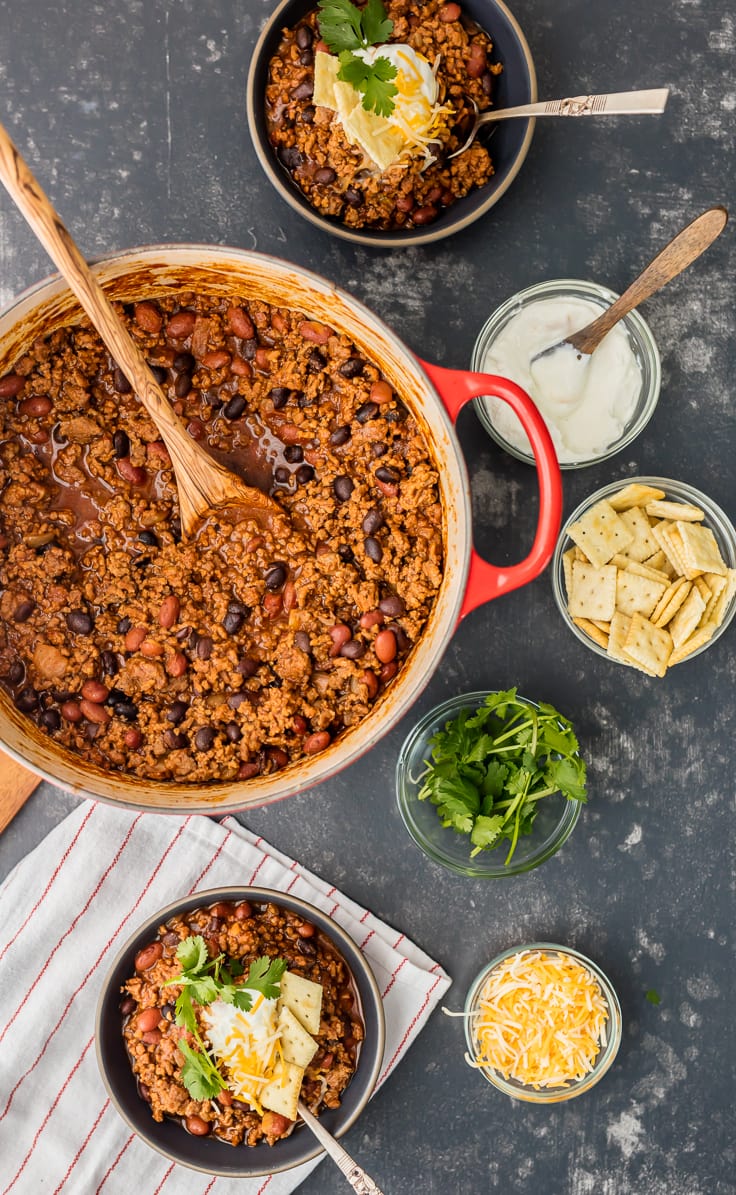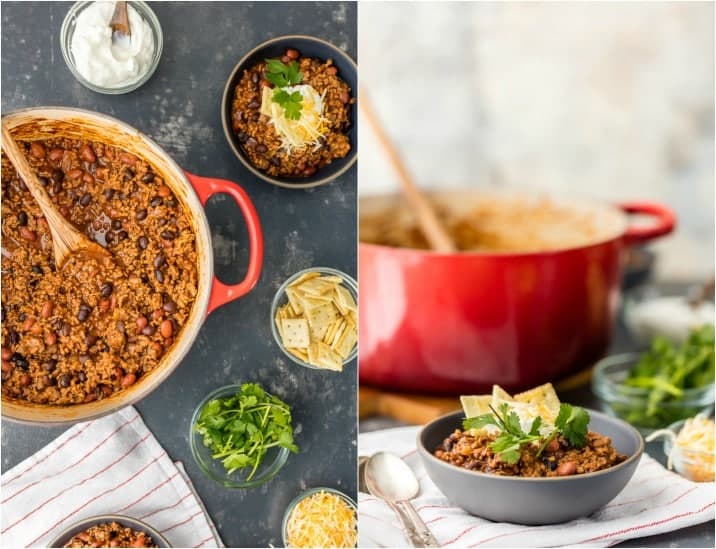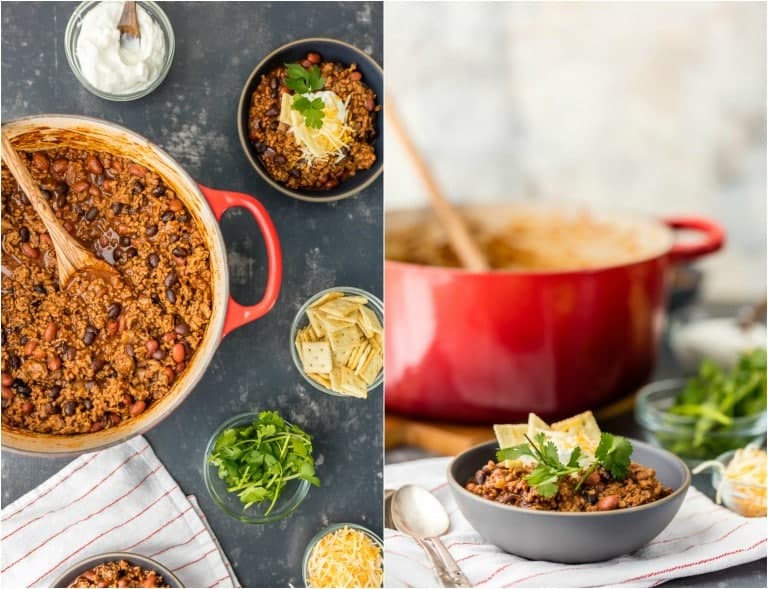 World's Best Chili Recipe
aka My Mom's Chili Recipe!
Different versions of this amazing chili recipe have been in our family for decades. My Great Grandma Lil used to make it on Christmas Eve, and it's still a tradition in the Adee family today.
When I FINALLY decided I wanted to learn how to cook, my mom drove from Kirksville to St. Louis to teach me the staples. Of course the BEST CHILI RECIPE was on the list of recipes I needed to learn right away.
We laughed at my lack of knowledge as she taught me her best tips and tricks, and she left my freezer full of all the best meals. There were many Tupperware containers filled with this chili. It got me through months of being a single social worker!
It was a weekend that inspired a big life change, a passion, a new career, a LOT. Pretty awesome looking back on it. And to think it sort of started with this chili recipe…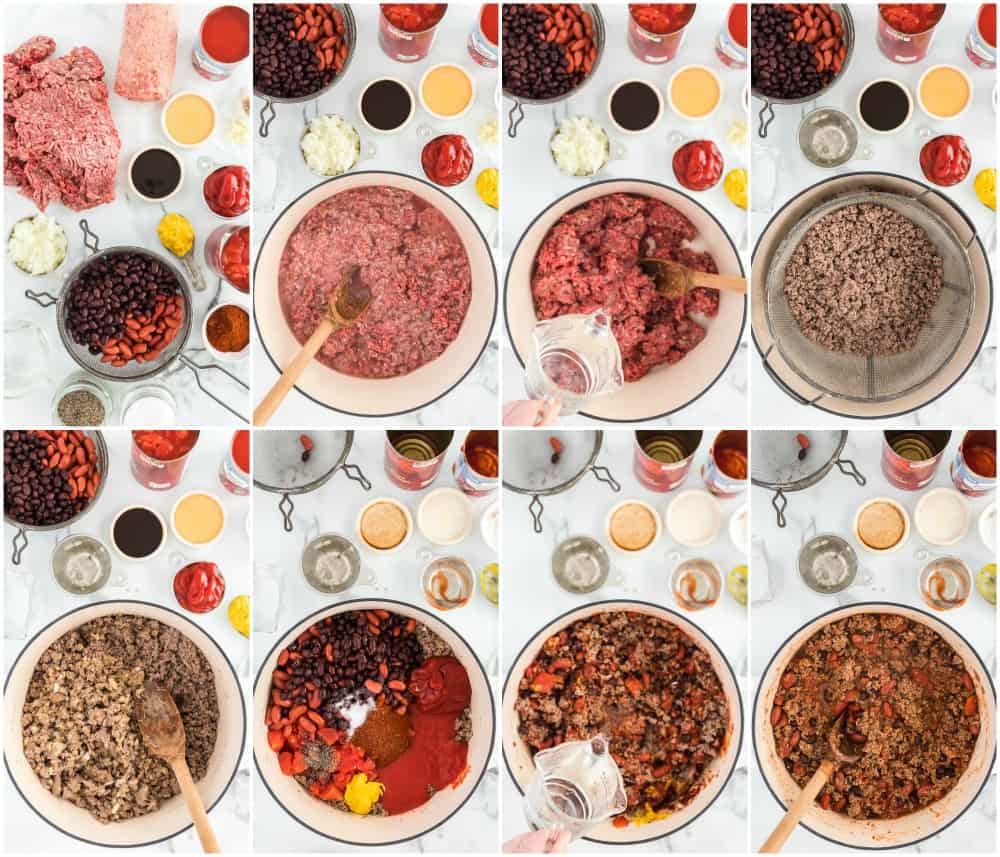 Best Chili Ingredients
This wouldn't be the world's best chili without the best chili ingredients. I love the mix of different beans, plus there's beef AND sausage. Talk about delicious!
What's in this recipe?
Ground Chuck
Sausage Roll
Tomato Sauce
Diced Tomatoes
Yellow Onion
Garlic
Back Beans
Red Beans
Worcestershire Sauce
Cider Vinegar
Water
Ketchup
Yellow Mustard
Salt & Pepper
And of course I love adding a few toppings to each bowl after cooking. My favorite topping are sour cream, cilantro, a but of shredded cheese, and some crackers. Just perfect!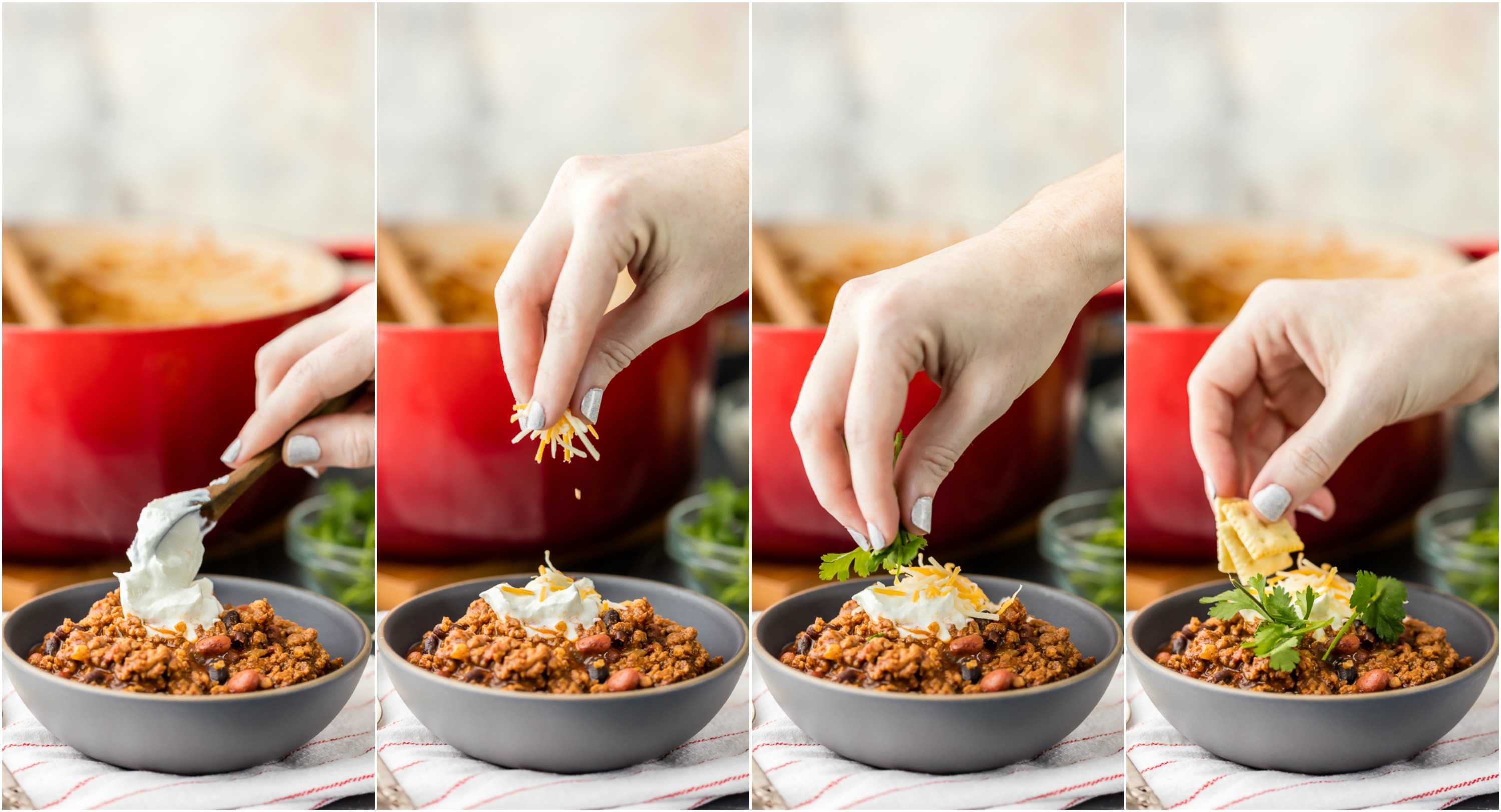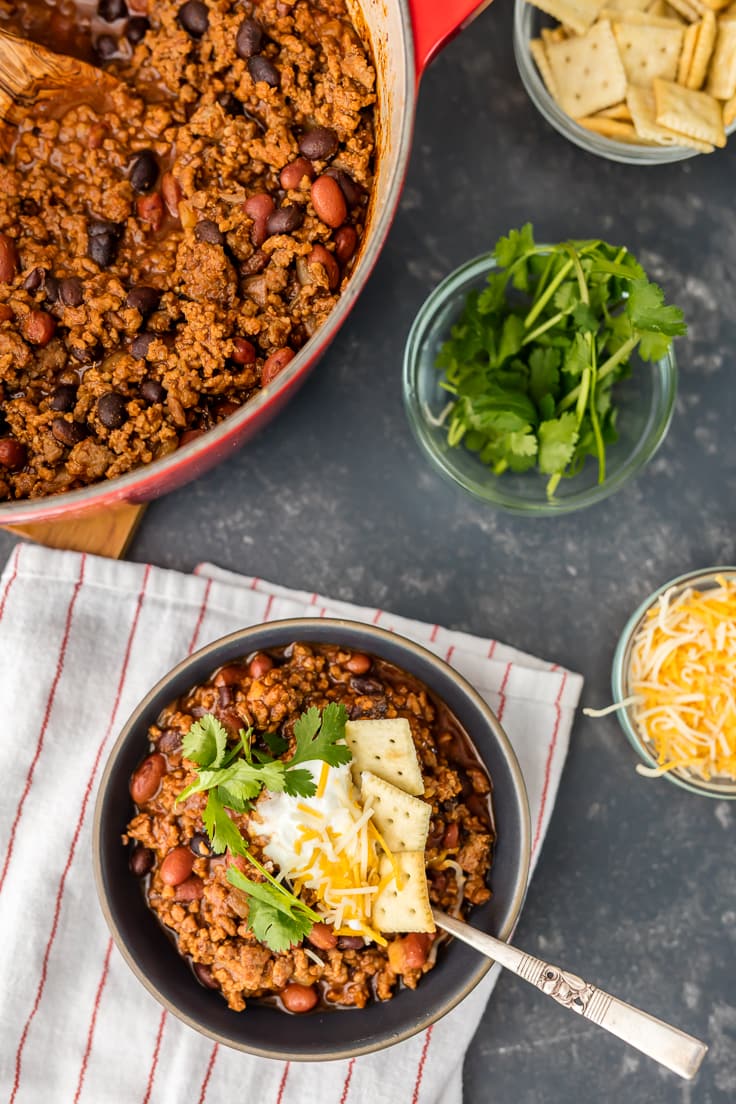 How to make this Chili Recipe
Like all family recipes, it's every generation's job to put their own spin on the classics. I called mom to discuss this, because it's very serious business. We both agreed that sausage would be a great addition!
This chili now calls for ground chuck as well as crumbed sausage, adding a delicious depth of flavor and heartiness. To quote my mom, "Delicious! If I do say so myself!"
There's always room to add new ingredients to chili, and I love that I can add to our family's traditional recipe to make something new and delicious!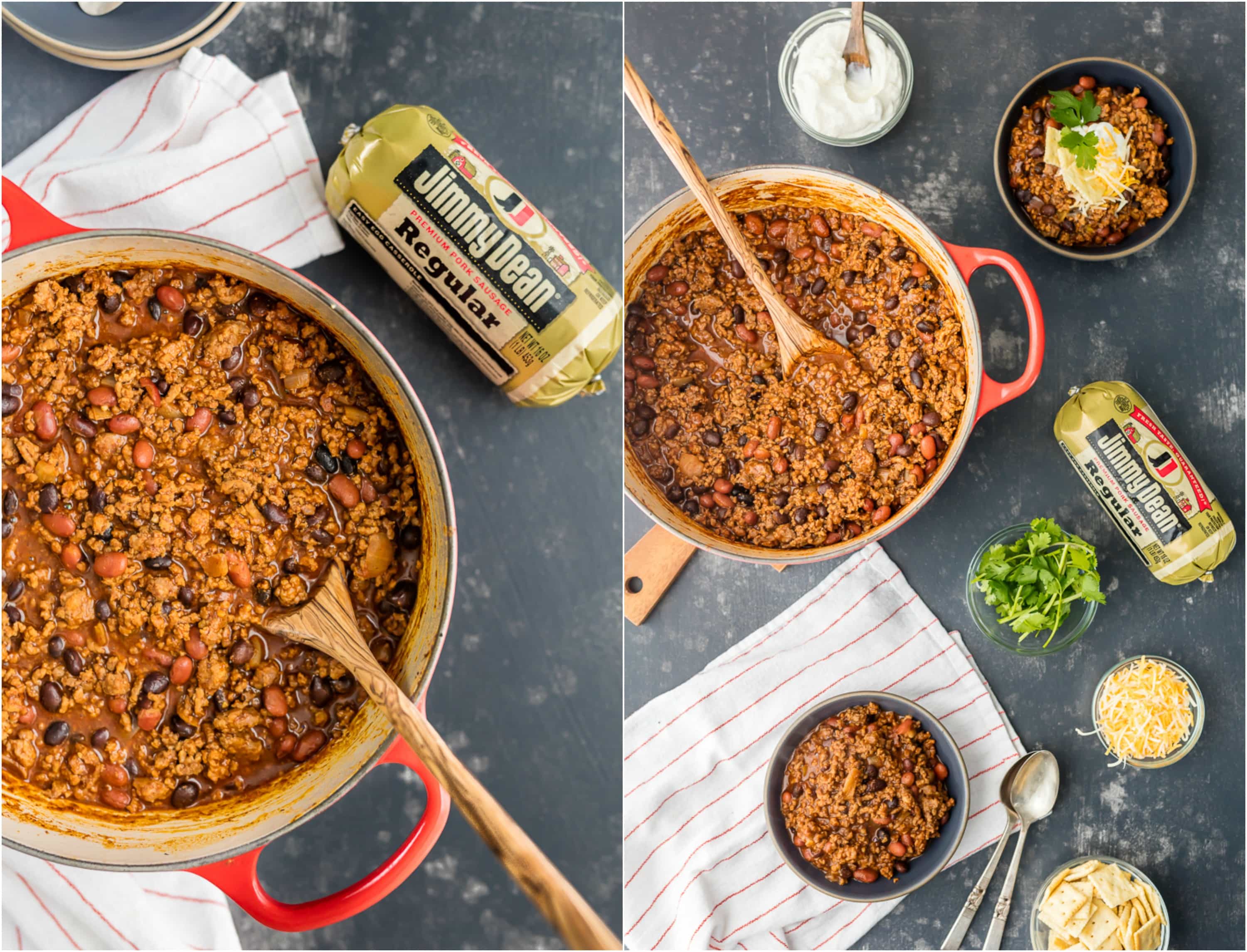 Easy Recipe for Every Occasion
This easy chili recipe has been made for holidays, week days, date nights, and every day in between. It's even been made while tailgating at the Royals 2015 ALDS Championship game (Some of the best memories of my life!). I made fun of mom for cooking chili dogs in Kauffman's parking lot, but they sure were tasty. Could it be the reason we won it all??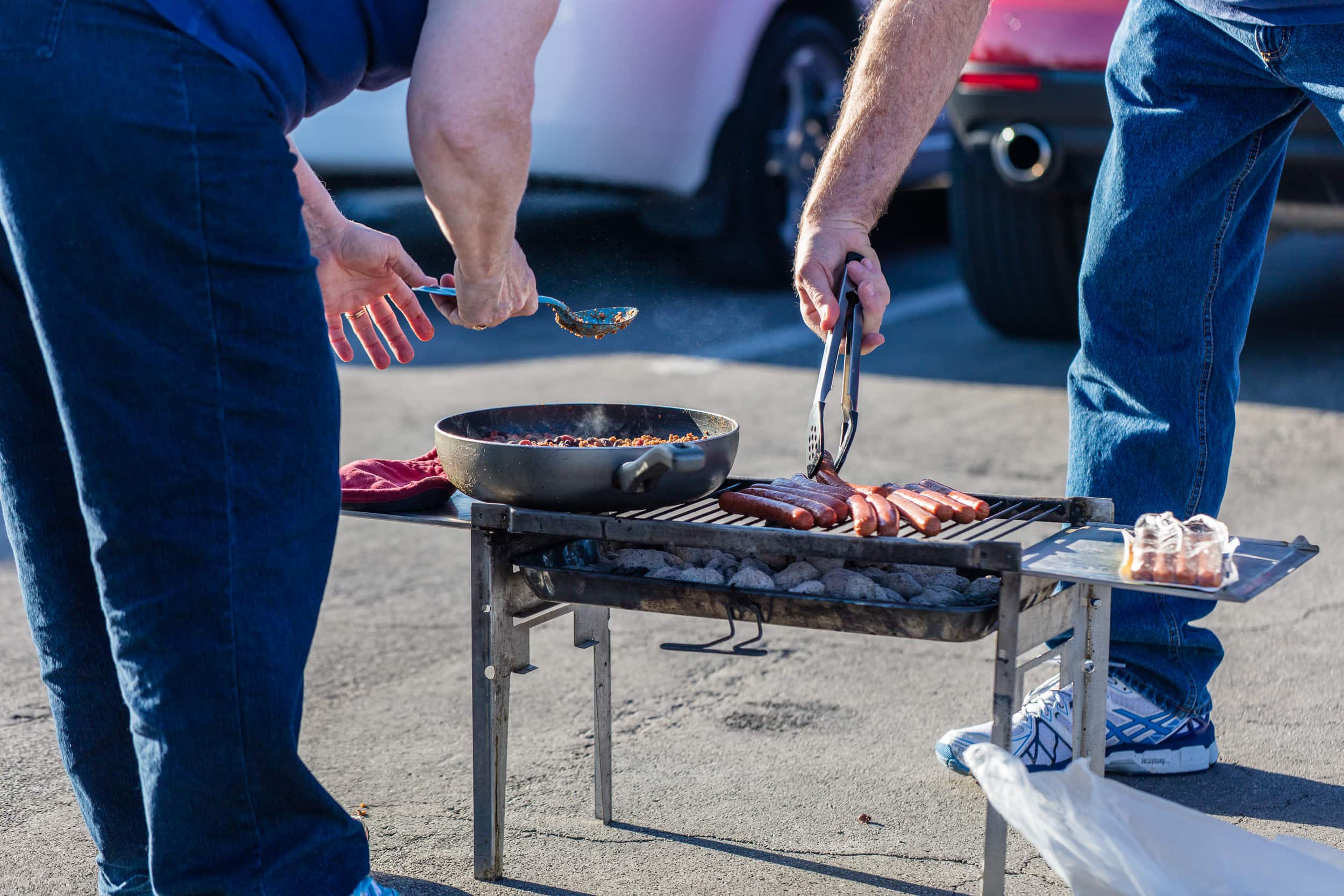 How do you make chili thicker?
To make chili a bit thicker, just add a few tablespoons of corn starch or flour and some hot water. Thicken it to your liking and allow it to simmer while stirring. So easy!
What are the best kinds of beans to make chili?
We use black beans and red beans in this BEST Chili recipe, but you can also use pinto or kidney beans. I love the added flavors, colors, and protein.
How long will chili keep in the fridge and freezer?
If not eating, you should freeze or refrigerate chili within 2 hours of cooking. It will keep in the fridge in an airtight container for 3-4 days, or in the freezer for 4-6 months. Awesome, right?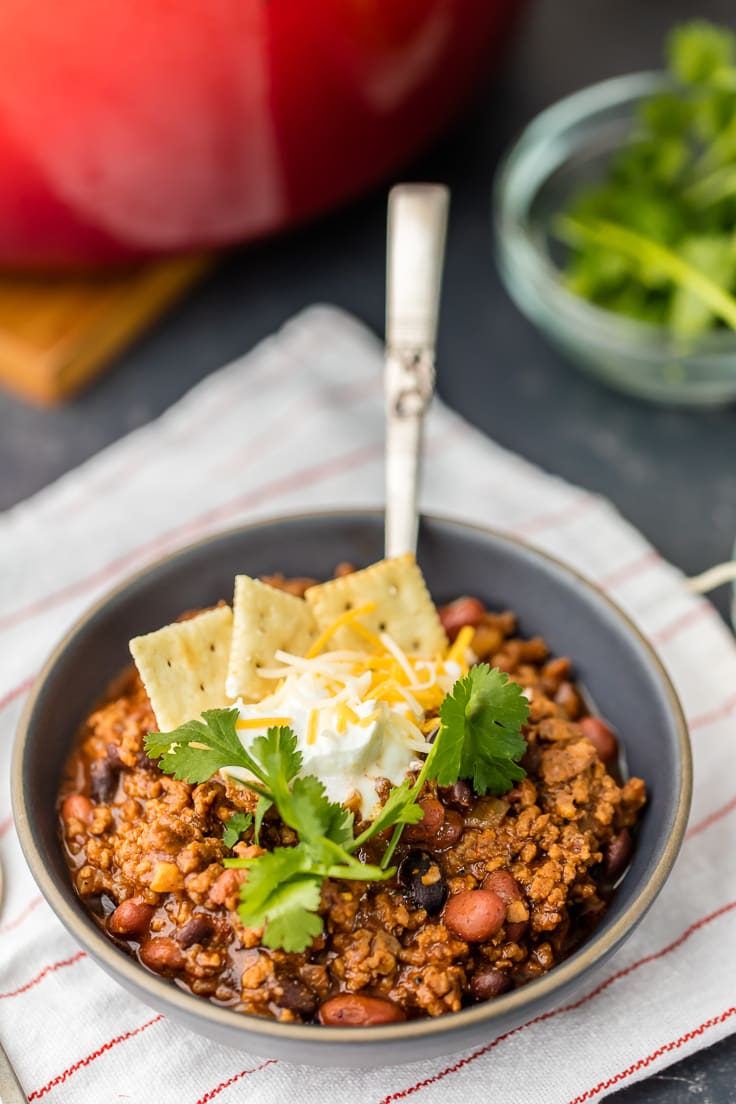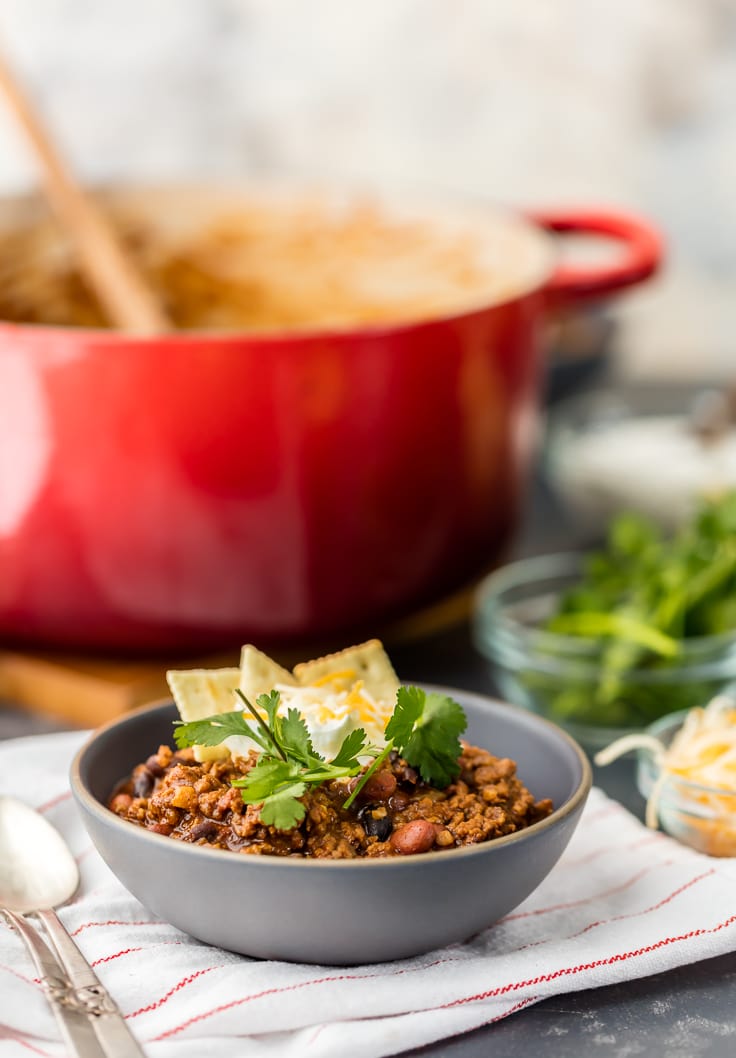 I hope your family enjoys this recipe in the future as much as ours has for years. It really is the best ever. If you're wondering what to pair with the World's Best Chili, we recommend Oatmeal Molasses Rolls, or going all the way and making the BEST CHILI DOG RECIPE ever as a special treat!
The best chili recipe deserves a place in your recipe box and the chili deserves a place in your stomach!
Watch the Video and See the recipe card for details on How to make the Best Chili Recipe Ever. Enjoy!
We love chili around here, so try some of these other good chili recipes: