This is the best chili recipe ever! It has both beef and pork, lots of beans, and it's loaded with cheese, sour cream, crackers, and more. You will want to eat this year round, not just during the cold months.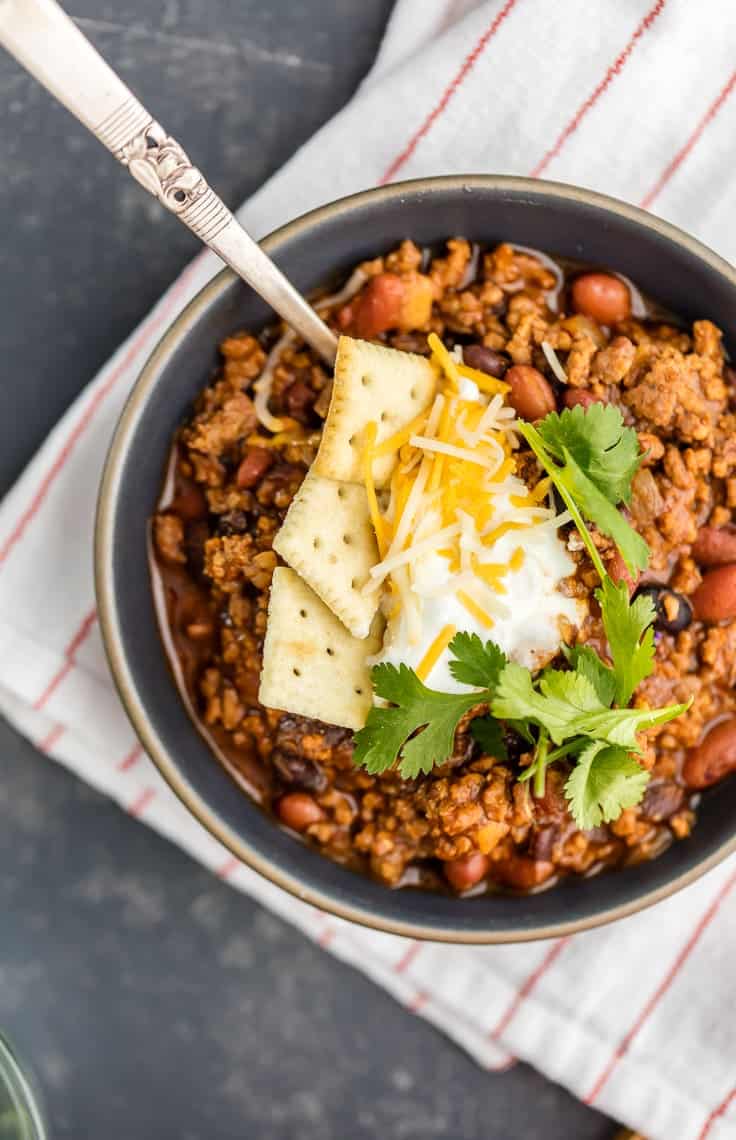 The Best Chili Recipe
Looking for the world's best chili recipe? Then you've come to the right place! This recipe has been in our family for years, and it's truly the best of the best.
This isn't just a good chili recipe, it's the best Chili Recipe ever. I was blessed to grow up in a family with Susie from Simply Sated as my mom, and when she shared this recipe with me, I knew it would be something I made over and over again.
Anyway, one of my all-time favorite meals from mom is her famous chili! Nothing makes me think of home more than mom's hearty and delicious chili. You guys are in for a treat today!
Why You'll Love this Chili Recipe:
Best Chili: This recipe is easy and award-winningly delicious! Everyone will love this, it never disappoints.
Freezer Friendly: You can easily freeze this chili to save for later. Make a big batch and freeze it for future meals.
Crowd Ready: Feed any hungry crowd with this hearty chili. Whether you make it for game day, a party, or just a hungry family, this will fill everyone right up!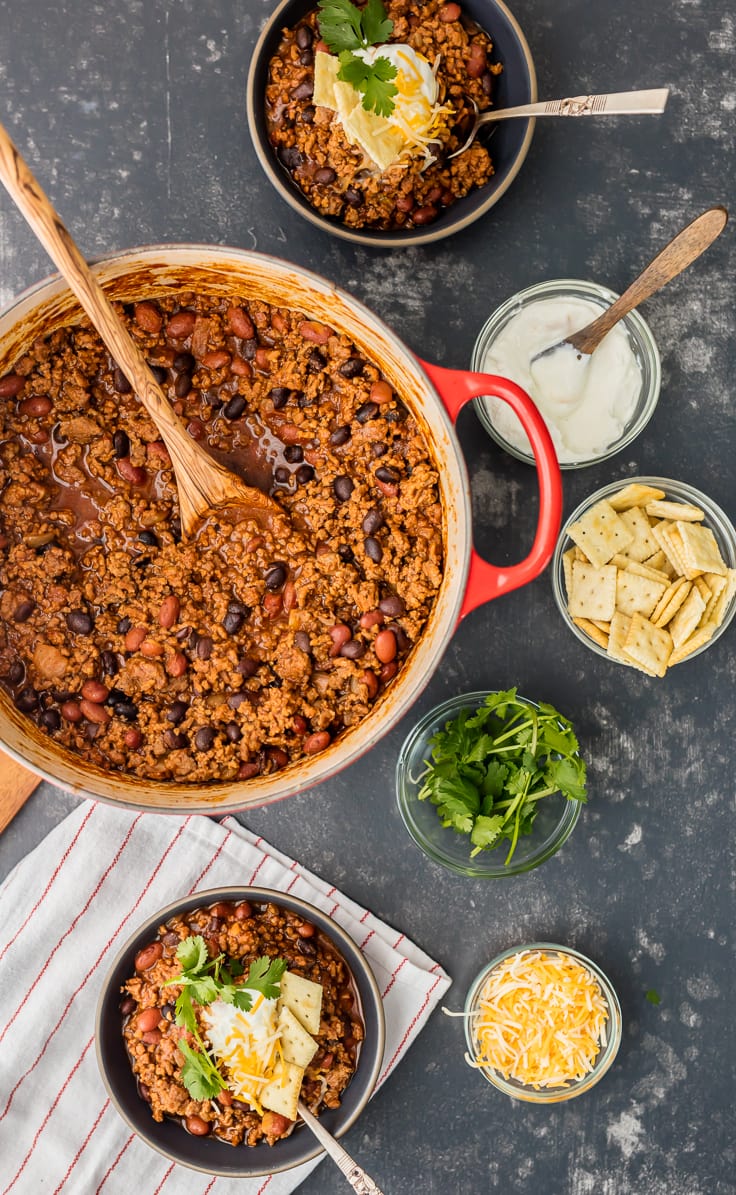 How to Make Chili
Be sure to see the recipe card below for full ingredients & instructions!
Brown the sausage, and saute along with the onion and garlic. Then drain and set aside.
Boil the ground beef and drain. Then combine the beef and sausage mixture in the pot.
Add in the rest of the ingredients.
Cook chili on medium-low heat, and simmer until it thickens.
Serve with your favorite toppings and enjoy!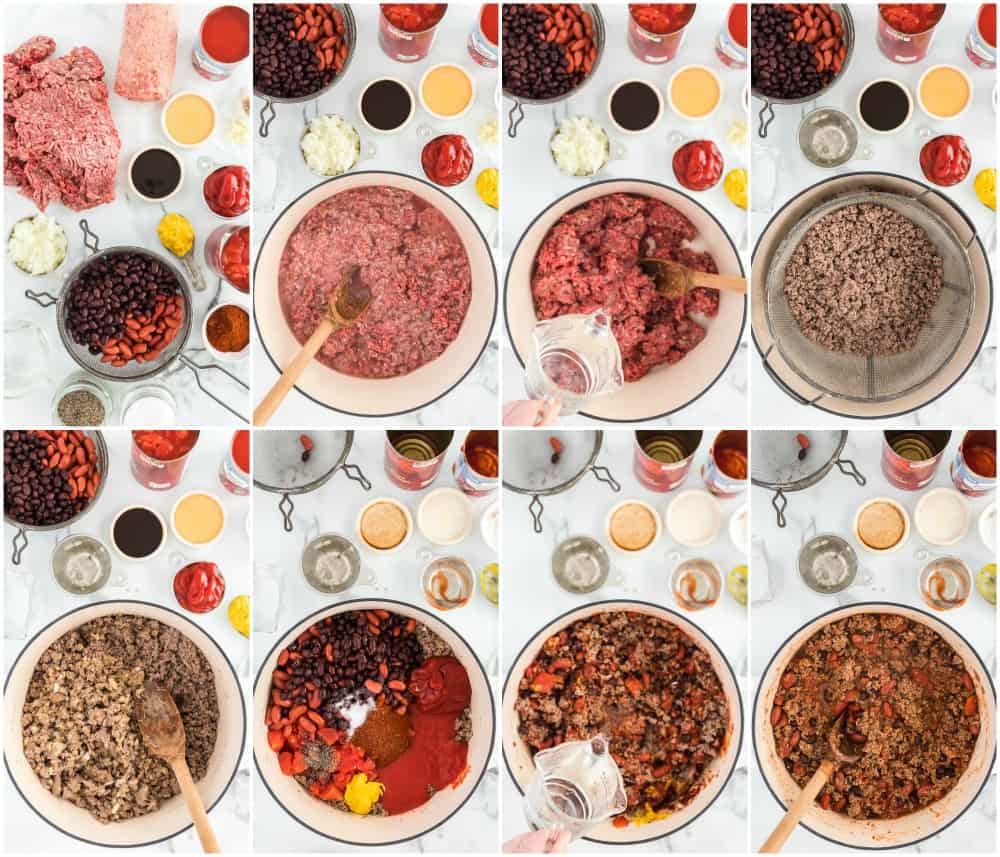 Chili Ingredients
Ground Chuck
Sausage Roll
Tomato Sauce
Diced Tomatoes
Yellow Onion
Garlic
Black Beans
Red Beans
Worcestershire Sauce
Cider Vinegar
Water
Ketchup
Yellow Mustard
Salt & Pepper
What toppings are best on chili?
A bowl of chili may be filled with tons of delicious ingredients, but it still isn't complete without the toppings! You can add whatever you like here, but here are my favorites.
A dollop (or two) of sour cream.
Sprinkle with some cilantro or parsley.
Chopped onions (or even caramelized onions) make a great topping.
Add plenty of shredded cheese (I love how it melts on top).
Crackers, croutons, or torn up pieces of bread.
Jalapenos or hot sauce can add some extra spice.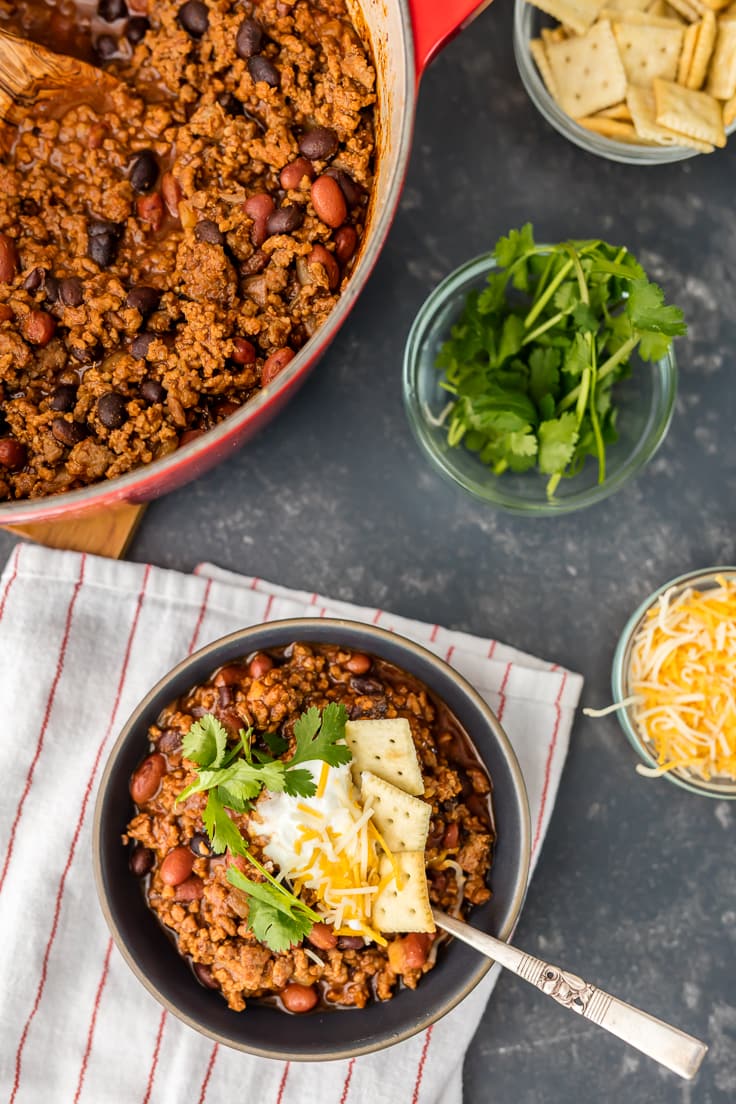 Is this chili spicy?
This recipe really isn't spicy. While the chili seasoning adds a small kick, it's pretty mellow. If you want something spicier, use a spicier chili mix, add more cayenne, or you could simply add peppers as a topping (jalapenos taste great with chili).
What kind of meat should I use in this recipe?
I recommend using ground chuck (beef) and sausage roll (pork). The mix of both makes a really savory, hearty, protein-packed chili. But you could just use one or the other, or even leave the meat out if you want a vegetarian version.
Is chili better the longer it cooks?
The longer chili simmers on the stove top, the thicker it will get and the more the ingredients will meld together. That means, yes, a longer cook time means more flavor. But usually an hour is plenty of time, or until it reaches your desired consistency.
Can you make chili ahead of time?
Absolutely! Chili actually gets better in the fridge if you ask me, so make it up to a couple days ahead of time and reheat. Or make it and freeze to keep it even longer.
Should I drain beans before adding them into chili?
Yes, you definitely want to drain the beans first. Otherwise all that extra liquid will thin out the chili too much.
Do you cook chili with the lid on or off?
Let chili simmer with the lid off. This allows liquid to escape as it cooks down and thickens. The lid would keep extra moisture in, which could lead to watery chili.
Serving Suggegstions
A big bowl of chili is hearty enough to serve on its own. It will fill you right up, no problem, so you don't really need any side dishes here. But I do LOVE having some crusty bread or cornbread for dipping and scooping, and a salad might be nice for the sake of balance. And it pairs well with lots of foods (sliders, wings, burgers) for game day!
I love making up a big batch and freezing it so it's ready to reheat any time I'm craving it. It's perfect for chilly nights at home, when you just need a comforting dinner. And it really makes the best chili recipe for game day, because everyone will love it!
Tips!
Make sure you brown the pork and boil the beef before adding it. Do not add raw meat directly into the chili.
Simmer with the lid off until it reaches your desired consistency.
Be sure to add lots of toppings to add even more flavor and texture.
Make a double batch of this chili so you can freeze some for later!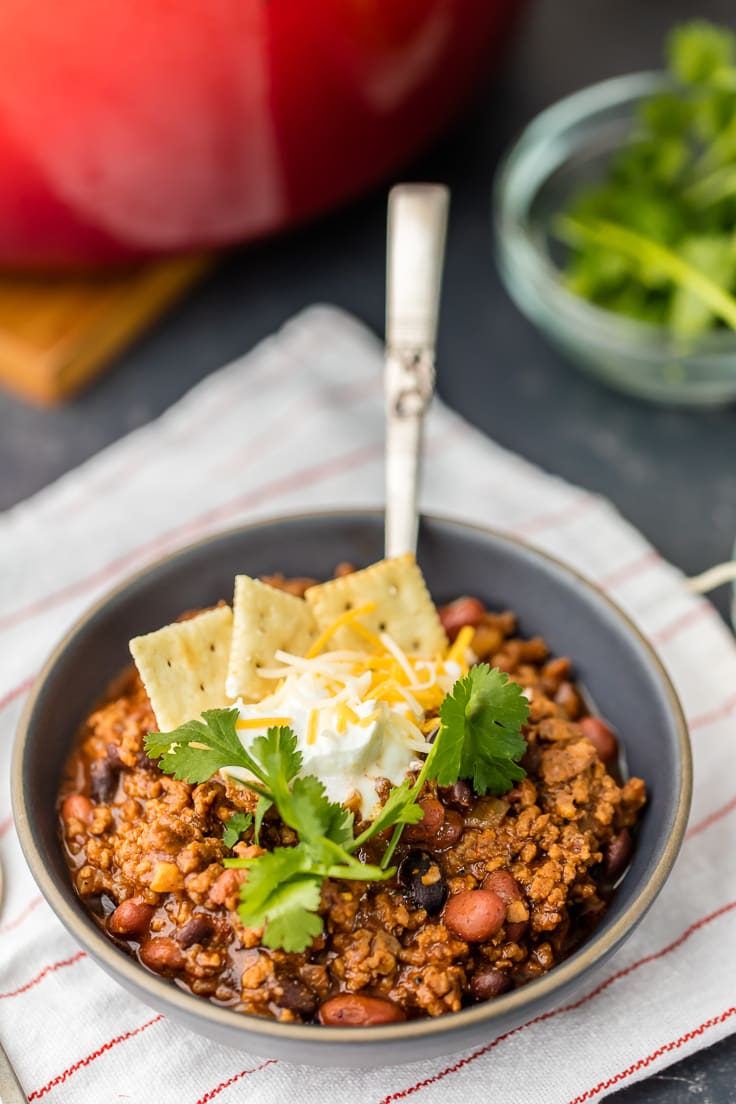 How do you make chili thicker?
We want our chili to be nice and thick! So keep simmering until it really thickens up.
If it's still too watery and thin after about an hour, add a flour or cornstarch slurry to thicken it up. To do this, mix corn starch or flour with cold water, and then mix that into the pot of chili.
What are the best beans to make chili?
We use two types of beans in this chili recipe: black beans and red beans. I love the color and flavor these beans add into the mix, and two kinds means plenty of protein.
If you prefer, you can another type of bean. Try pinto or kidney beans, or whatever you have in your pantry.
How long will chili keep in the fridge and freezer?
Leftover chili can be stored in the refrigerator or freezer. Let it cool first, but put it away within 2 hours of cooking. It's a great recipe to make ahead of time and freeze!
Refrigerator: Place it in an airtight container and keep it in the fridge for 3-4 days. Reheat it in the microwave or stove top to eat.
Freezer: Place in airtight, freezer-safe containers (or a freezer-safe resealable bag to freeze flat). It will keep in the freezer for 4-6 months. Thaw it in the fridge and then reheat to eat!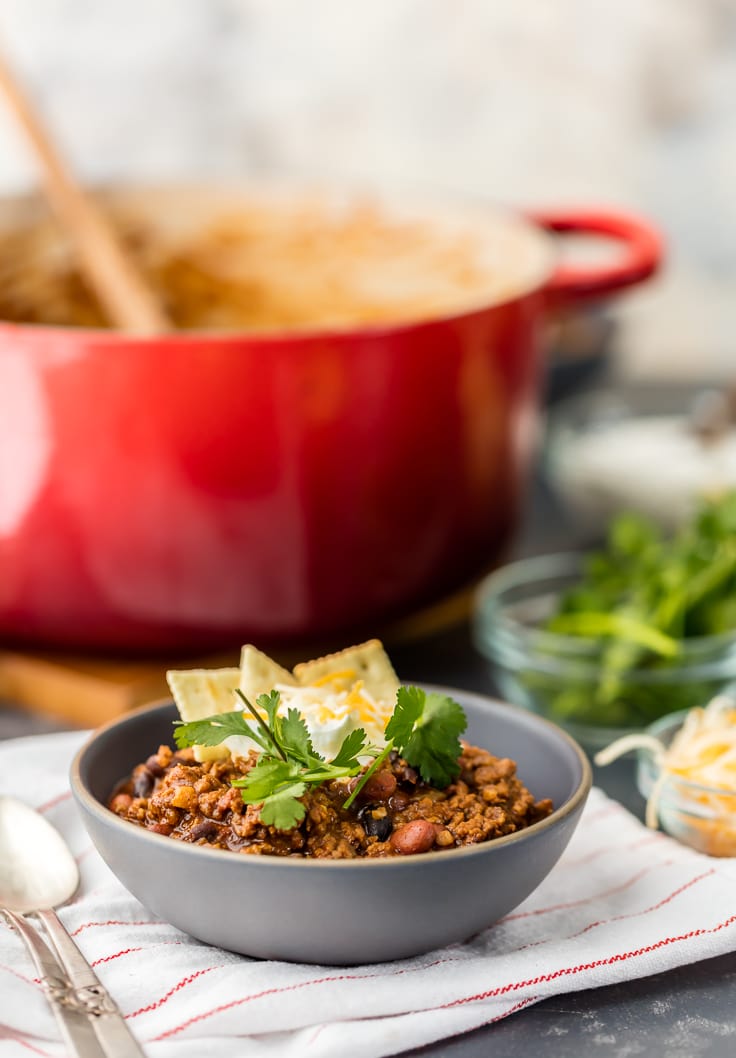 The world's best ever chili recipe deserves a place in your recipe box. And it definitely deserves a place in your stomach! Everyone will love this, and I hope you get as much use out of it as our family has for years.
If you make this recipe be sure to upload a photo in the comment section below or leave a rating. Enjoy! You can also jump to recipe.