This edamame recipe is the perfect easy and healthy appetizer. Ready in just 15 minutes this tasty snack is a real crowd pleaser! Edamame beans are coated with homemade Everything Bagel Seasoning for a treat that's actually good for you! Vegetarian, vegan and gluten-free.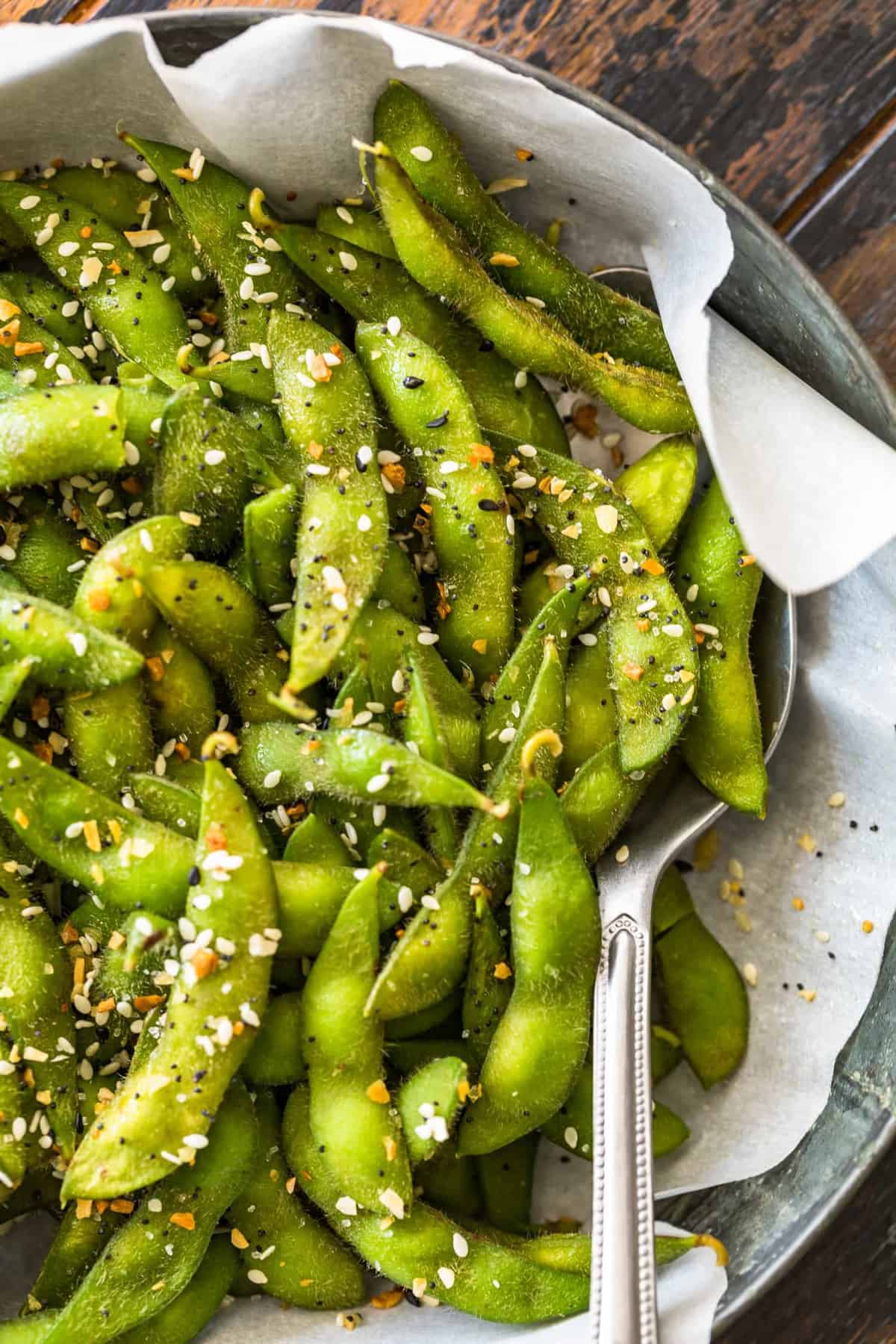 Game day Sunday's are well and truly here, and as much as it's a great excuse to splurge on the food, I do like to serve up a healthy snack too! This edamame recipe is so quick and easy to make and it's so yummy too!
How to Make This Everything Edamame Recipe
Be sure to see the recipe card below for full ingredients & instructions!
Heat the Everything Bagel Seasoning in a small dry skillet over medium heat. Heat for 2-3 minutes or until fragrant. Remove from heat and set aside.
Boil the Edamame pods in slightly salted water for 8 minutes, or until tender.
Drain and pat dry.
While still hot, spray lightly with olive oil spray, tossing while you spray.
Toss in the Everything Bagel Seasoning and serve warm. Enjoy!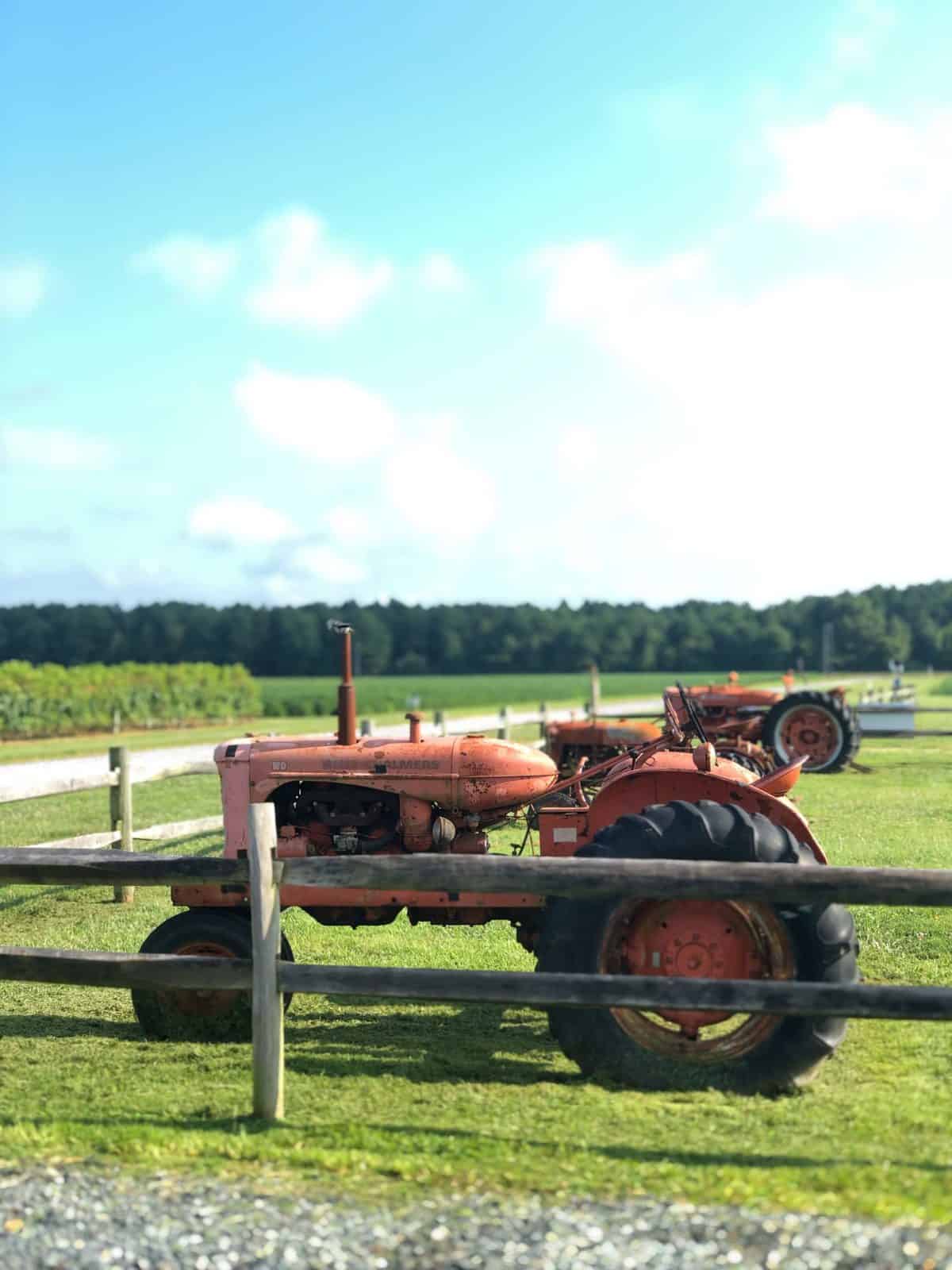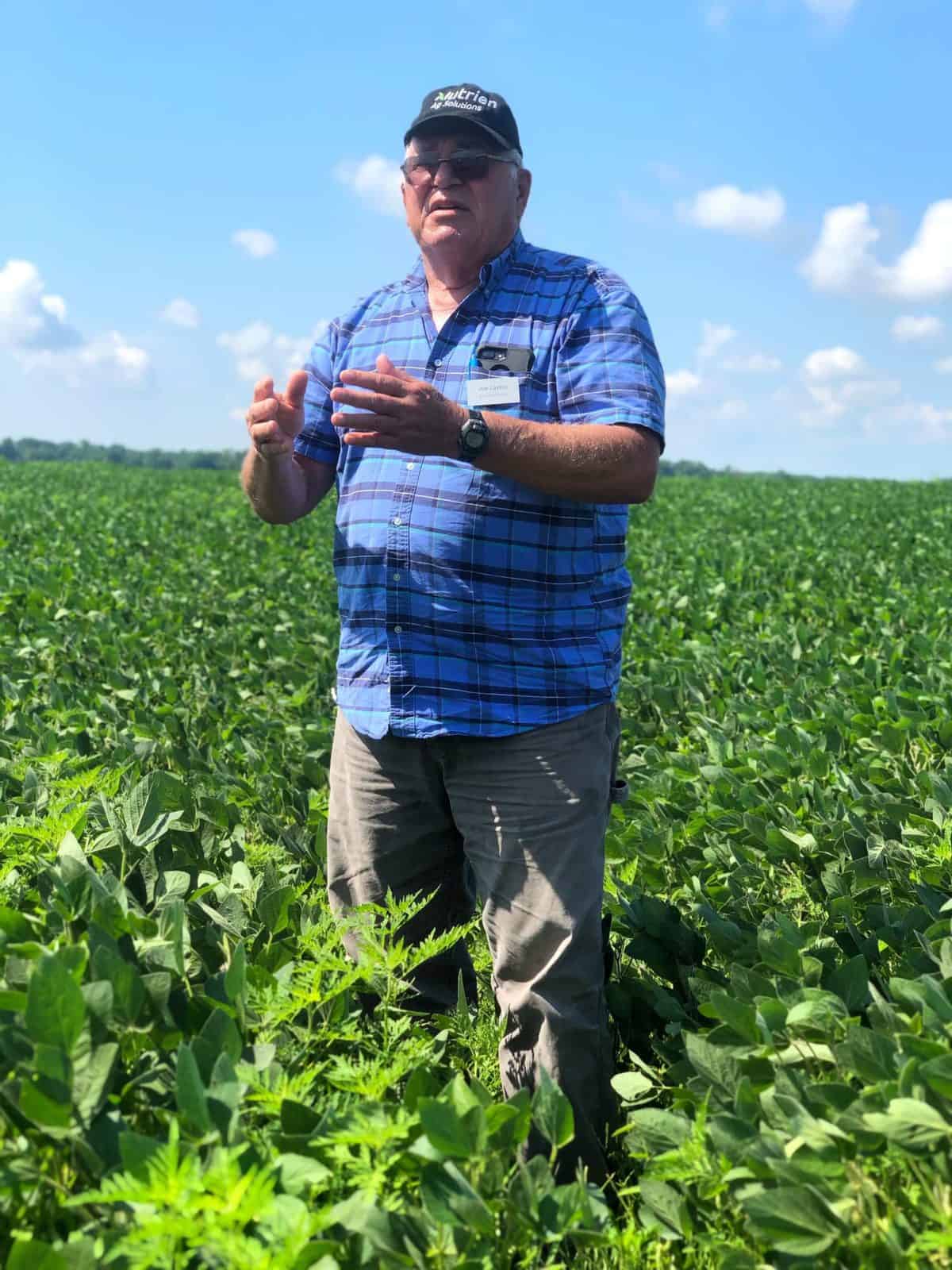 My trip to Maryland to learn about Soybean Farming
If you follow me on Instagram, you know that I recently went on an amazing trip to Maryland to learn all about Soy. One of the best resources on the internet for information about the foods we eat, Best Food Facts, brought some bloggers out to tour a Soybean farm (Lazy Day Farm was so gorgeous and amazing. They also have an on-site winery, so if you're ever in the area you must visit!), go to a Soybean Crush Plant, eat amazing food, and learn learn learn! It was such a good time, but more importantly, I learned A TON.
I'm not proud to admit that I truly knew very little about Soybeans, what products are derived from Soy, and the health benefits before my trip. My mind was BLOWN and I'll never look at a little soybean plant the same way again. Soy is such an under-appreciated source of vitamins and minerals, and has zero cholesterol. It's truly heart healthy, and is so much more than just Soy Sauce.
I'm always blown away when I visit farms in person. We are so lucky that farmers put their heart and soul into putting food on our tables. Farmers like Joseph and William Layton from Lazy Day Farm and Layton's Chance Winery care so much about sustainability and the environment, not just because it's their livelihood, but also because the Earth is their absolute passion. It shows.
Health Benefits of Soybeans
Soybeans are heart healthy: Soybeans are actually the ONLY natural source of protein that is also heart healthy, with zero cholesterol. Soybeans are one of the only vegetables high in protein. It's a super food in my eyes!
Soybeans are sustainable: The soybean plant is truly amazing; it even makes its own fertilizer! It's a great plant for soil, making it great for the environment, something we all need to care about these days.
Soy is in so many products: If you pay attention, you might see soy everywhere you go. A shortlist of products made from soy includes; makeup, sauces (like miso and soy sauce), vegetable oil, chicken and other animal feeds, dairy alternatives like soy milk, tofu, tempeh, and more! Lucky for us, you can also eat the entire whole bean, like we are doing with this Edamame recipe!!
Every part of the soybean is used: We had the opportunity to visit a soybean crush plant where we saw the soybean transformed, with literally every part being used for something. It's great that this plant has absolutely zero waste. It's one of a kind!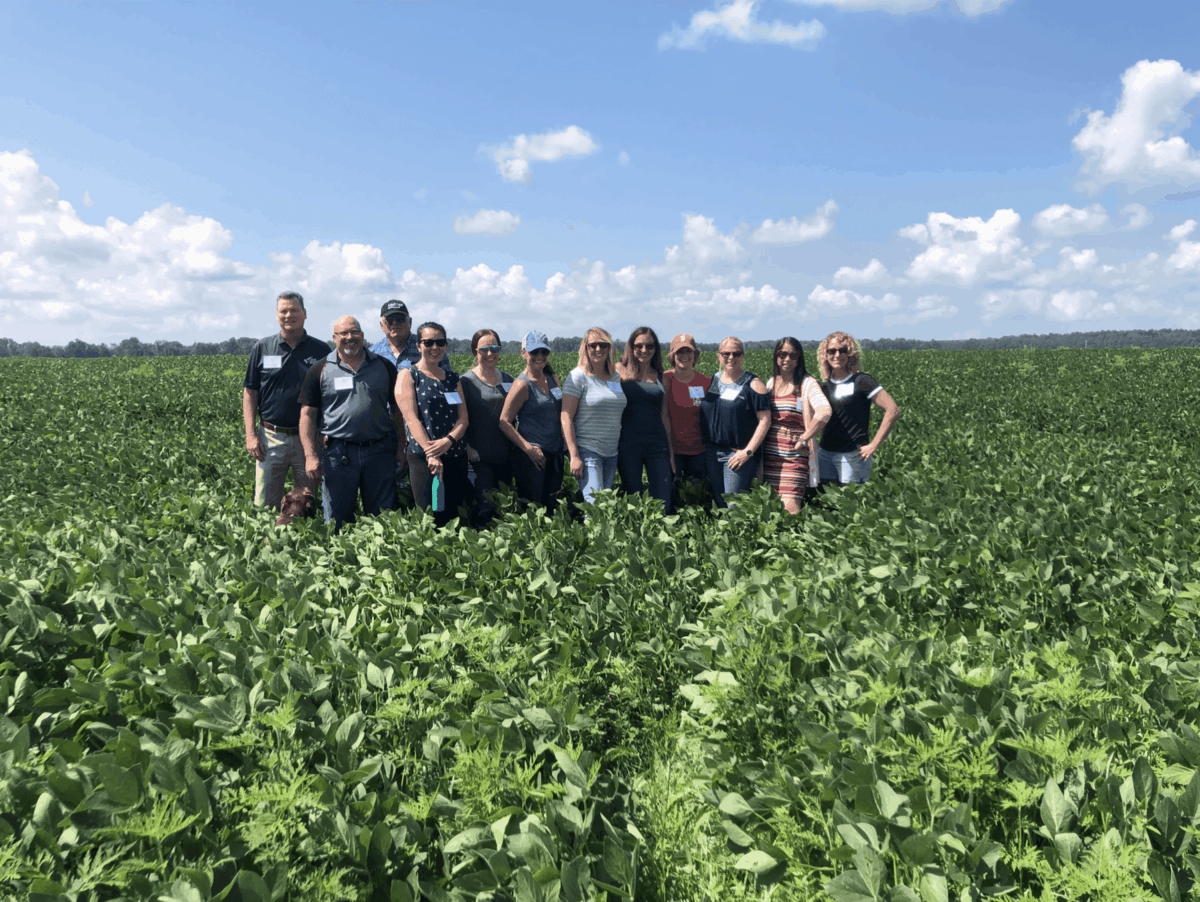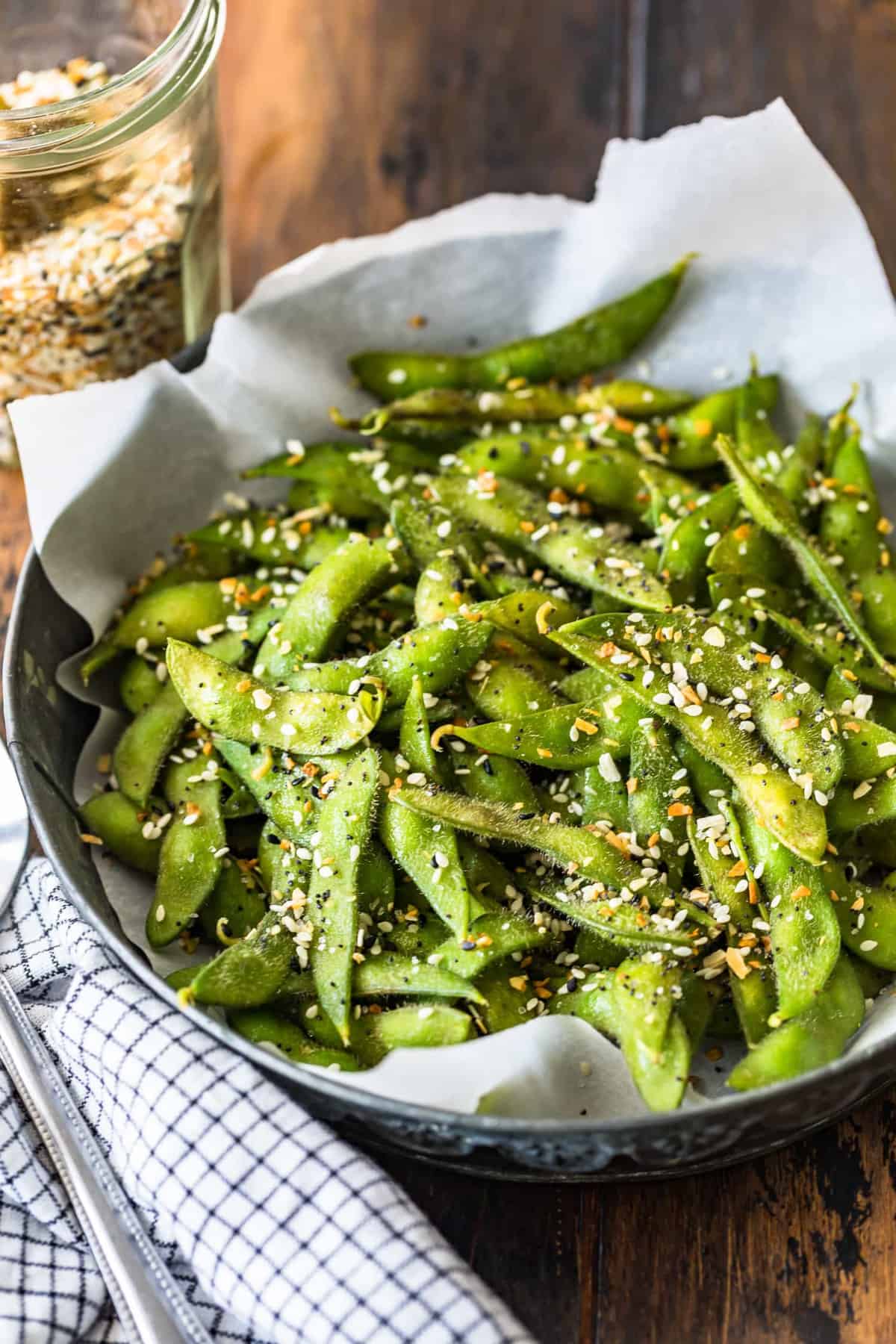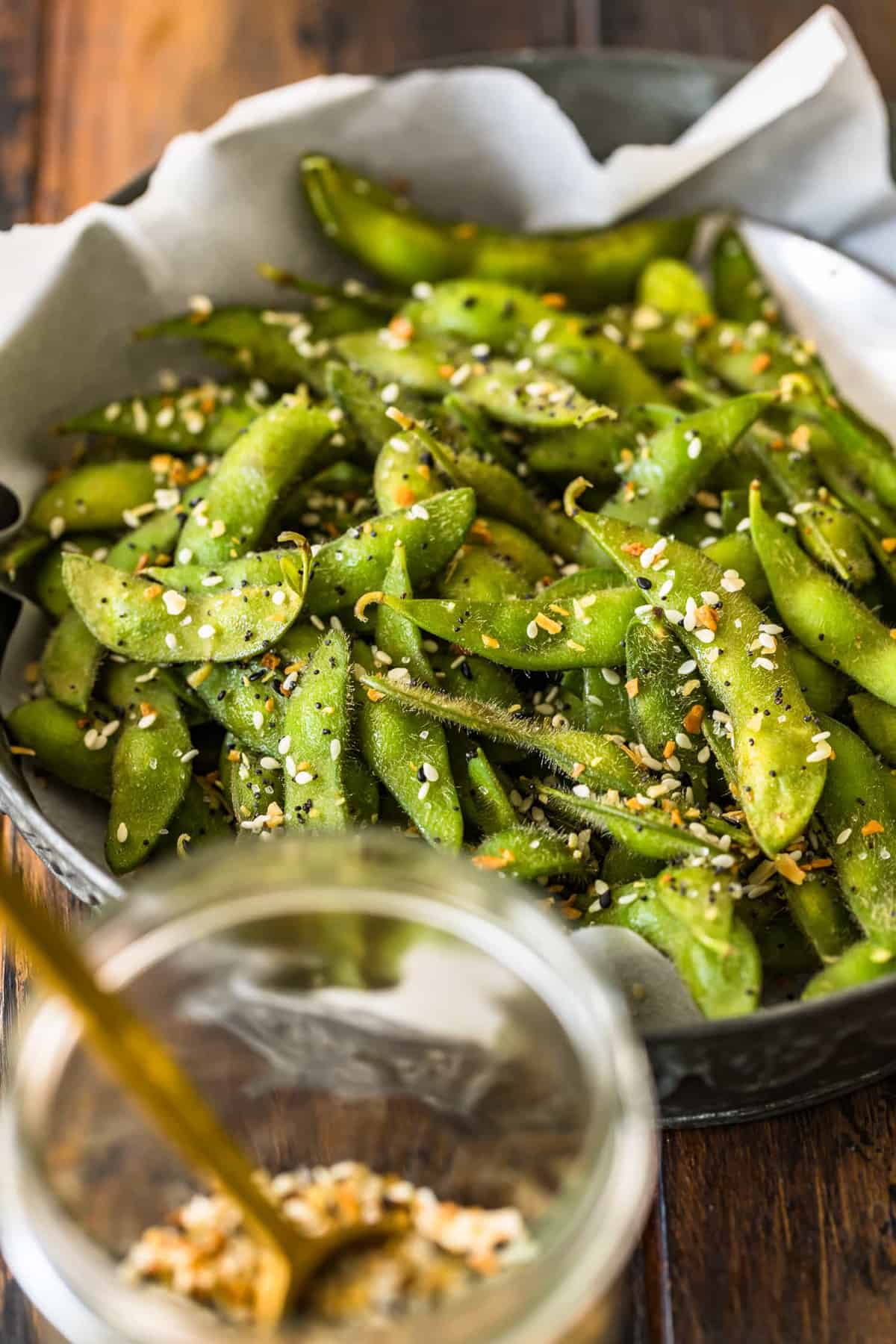 Are edamame recipes good for you?
Edamame is a young soy bean and they are a great vegetable to incorporate into your diet. It is low in calories and are a great source of vitamin C, iron, protein and calcium and contain no cholesterol. Edamame is super easy to prepare and are great for snacking and easy to incorporate into meals. If you haven't tried it before, this edamame recipe is for you!
How do you eat edamame?
The pods of the edamame are not edible, it's the tasty beans inside that you eat. The beans are removed easily – just pop a pod in your mouth and slide them out with your teeth. You can of course remove the beans from the pods separately, but then you wouldn't get all of the delicious flavor from the Everything Bagel Seasoning in this recipe!
Everything Bagel spice mix is made up of ingredients you probably already have in your pantry:
Poppy seeds
White and black sesame seeds
Dried minced garlic
Dried mince onion
Coarse sea salt
The seasoning was originally made to top bagels (hence it's name) but it can be used in so many ways – it really makes this edamame recipe something special!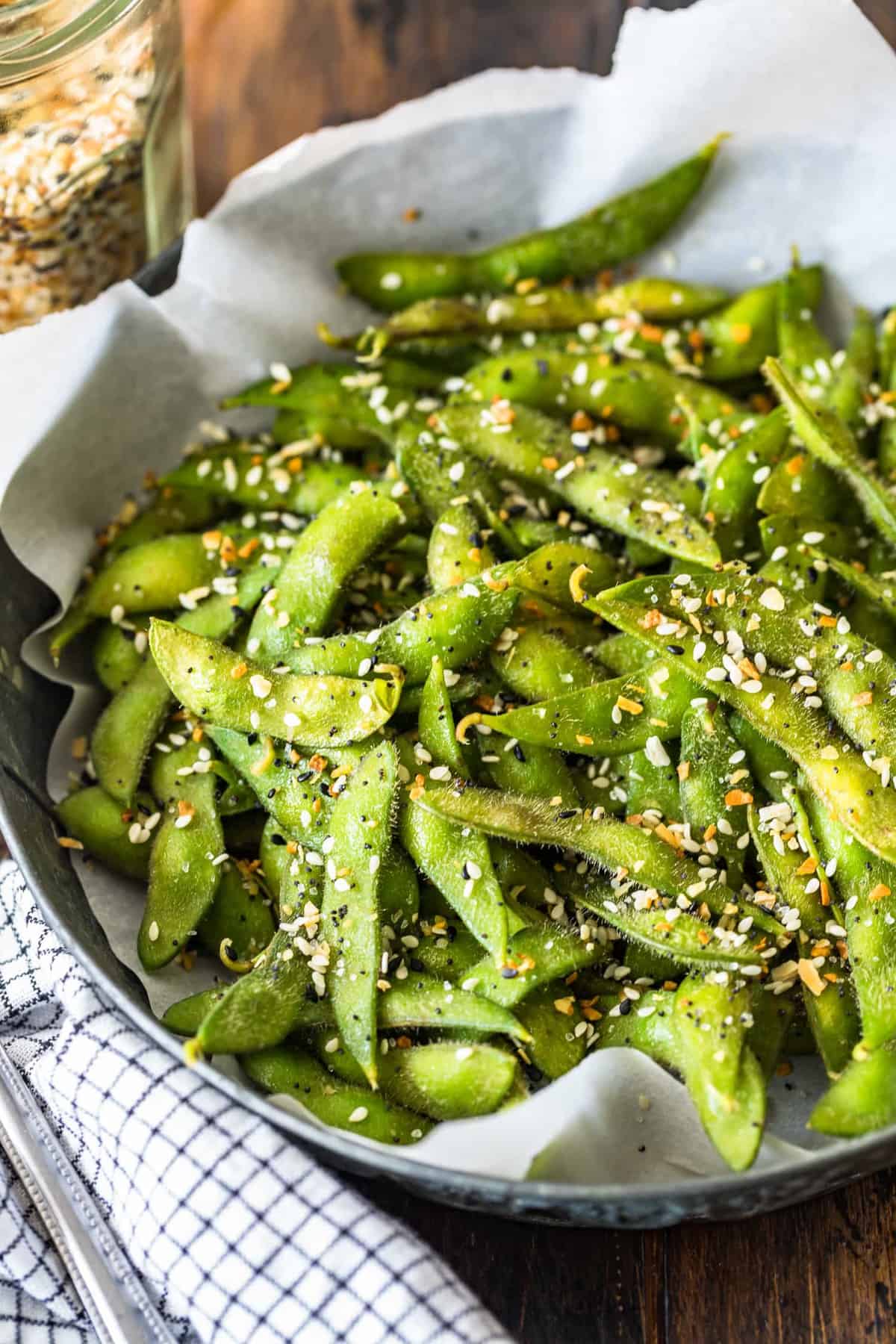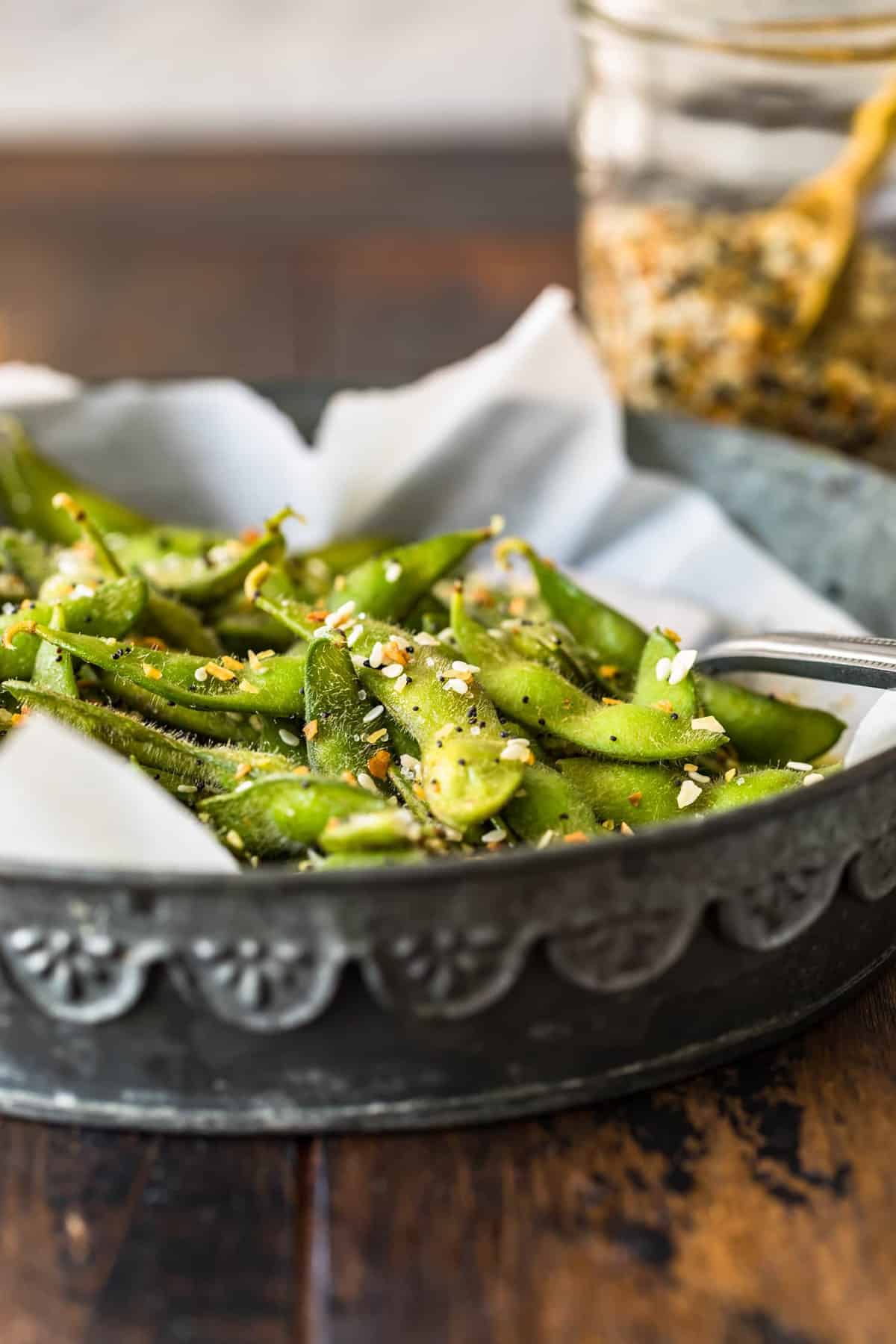 Top tips to make this edamame appetizer recipe
Don't skip the heating of the seasoning – it really helps bring the flavors alive!
Be sure to pat the edamame dry after boiling them to remove the excess moisture.
Serve the edamame immediately (and maybe make a double batch!)
Serving Suggestions
Edamame makes a great snack or starter. Serve them up fresh along with Miso salmon, honey chicken, ramen, or these P.F. Chang's lettuce wraps!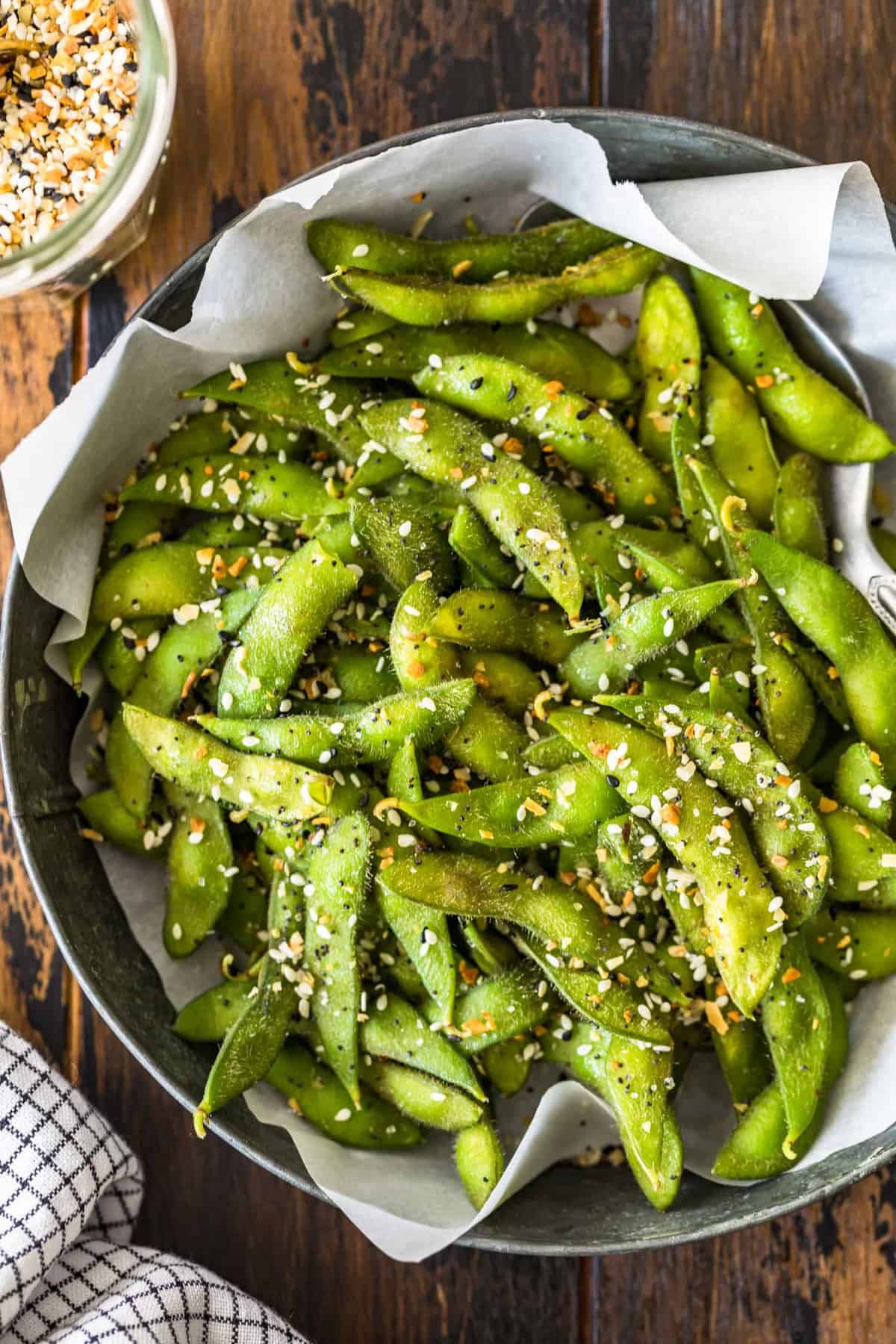 Be sure to check out these other easy appetizer recipes!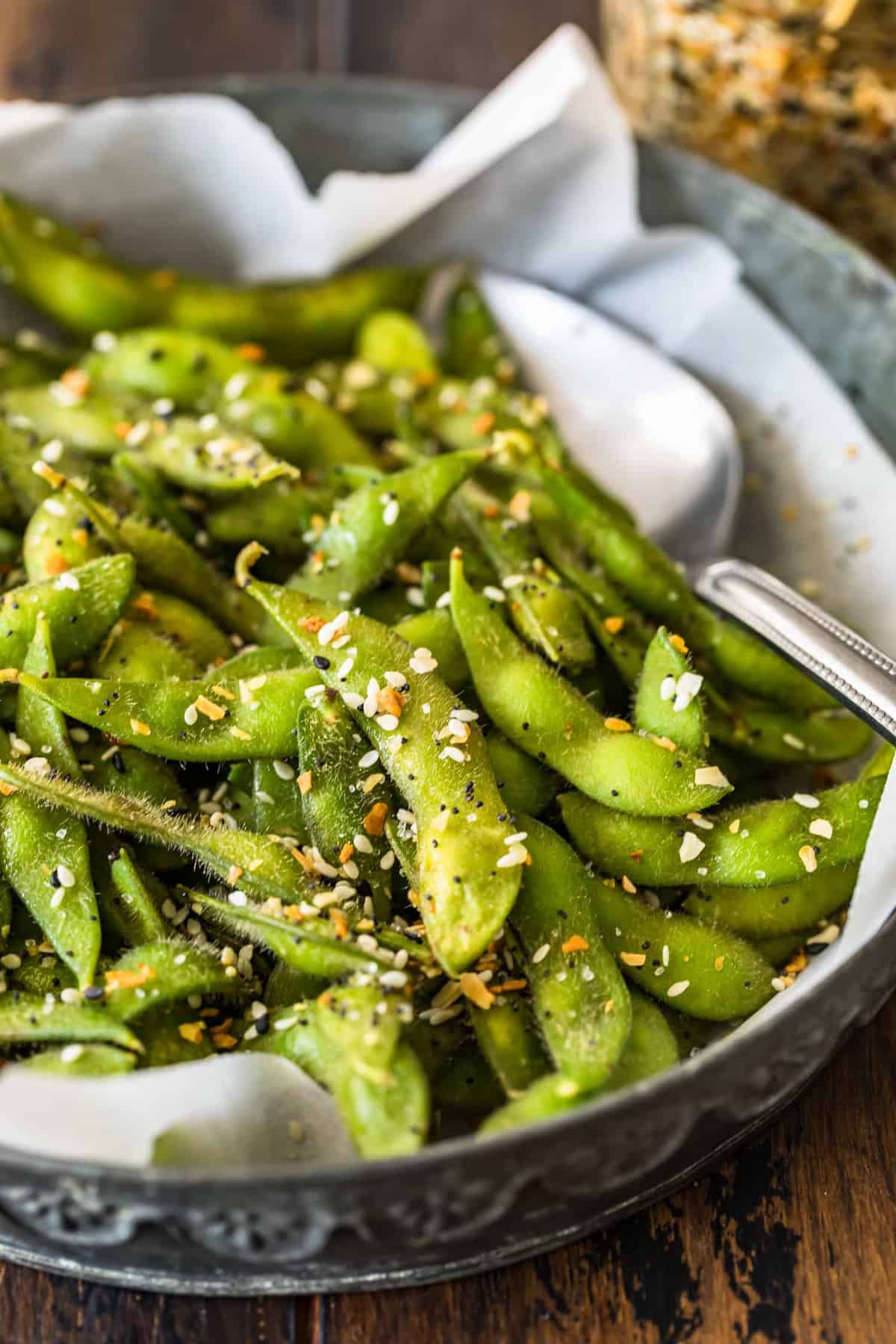 Want to know more about soybeans and all the health benefits of soy? Check out this great article about everything SOY on Best Food Facts. Enjoy!