This delicious Pesto Cavatappi is rich, creamy and packed with bold flavors! It's a super easy pasta recipe that's ready in less than 30 mins. Perfect for a weeknight dinner.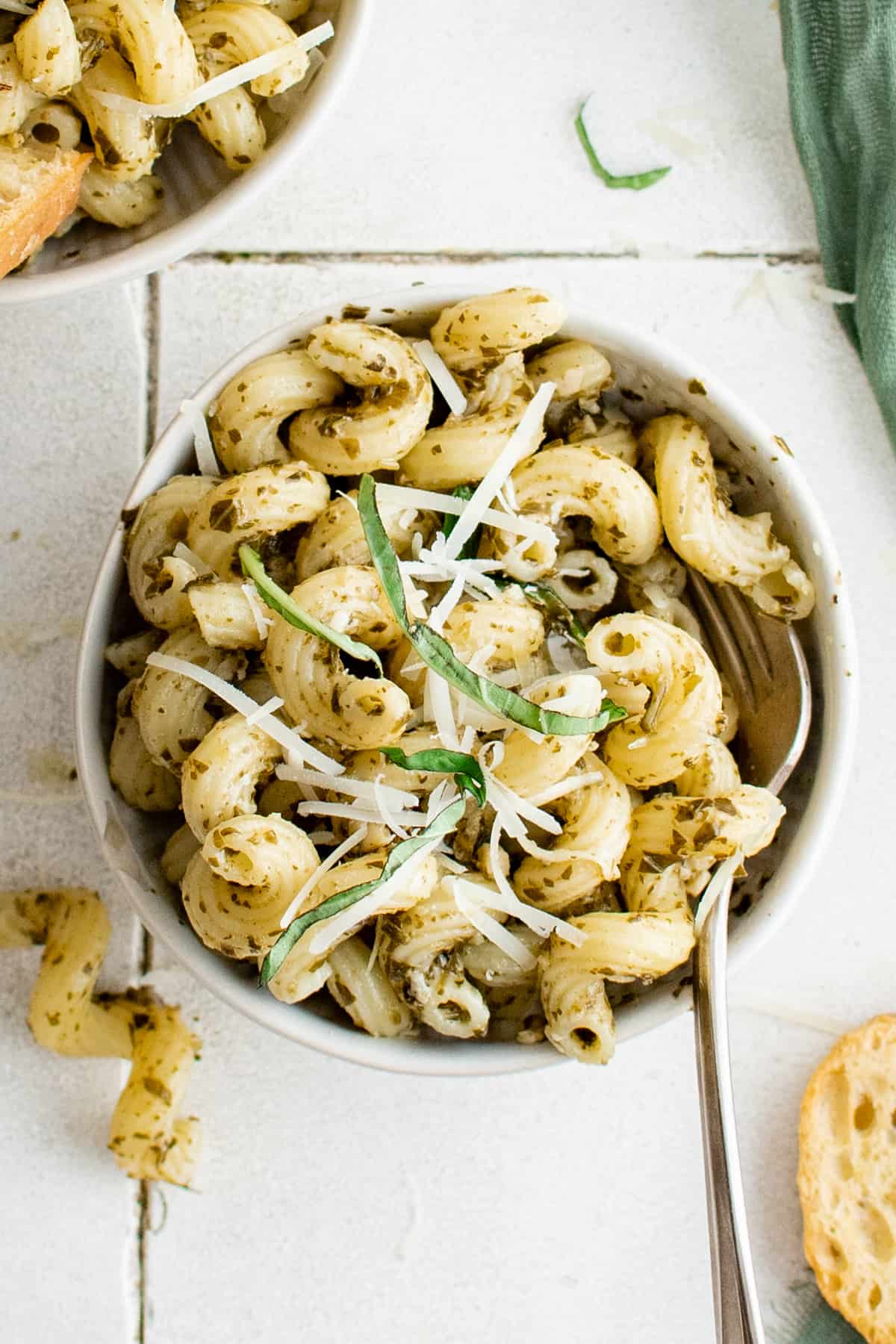 Copycat Pesto Cavatappi
This creamy pesto cavatappi recipe is quick to make, and just so delicious!
Cavatappi is corkscrew shaped pasta, perfect for scooping up the divinely creamy pesto sauce. It's such a quick and easy dinner! This delicious dish is a hearty meat free meal which both kids and adults will love!
Looking for more pasta recipes? Why not also try my Italian Stuffed Shells or my Vegetarian Lasagna
Why You'll Love this Pesto Pasta Recipe:
Kid Friendly: With its curly whirly pasta shapes and flavorful sauce, this scrumptious pasta dish will be a hit with the little ones.
Easy Pasta Recipe: This dish only needs a handful of kitchen staples and comes together in less than 30 mins.
Vegetarian: This meatless pasta dish can be loaded up with veggies or kept simple – either way it's super satisfying and so delicious!
You'll be blown away by the big flavors of this pesto cavatappi, made from just a few simple ingredients!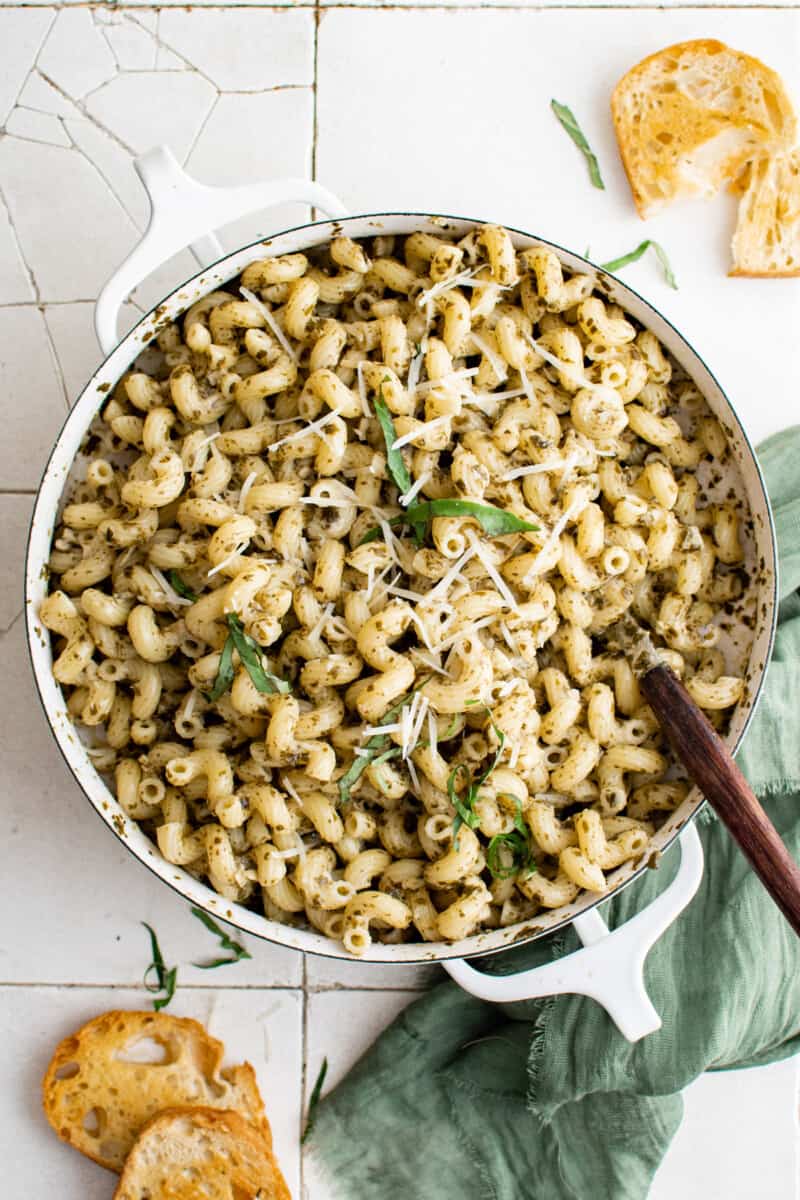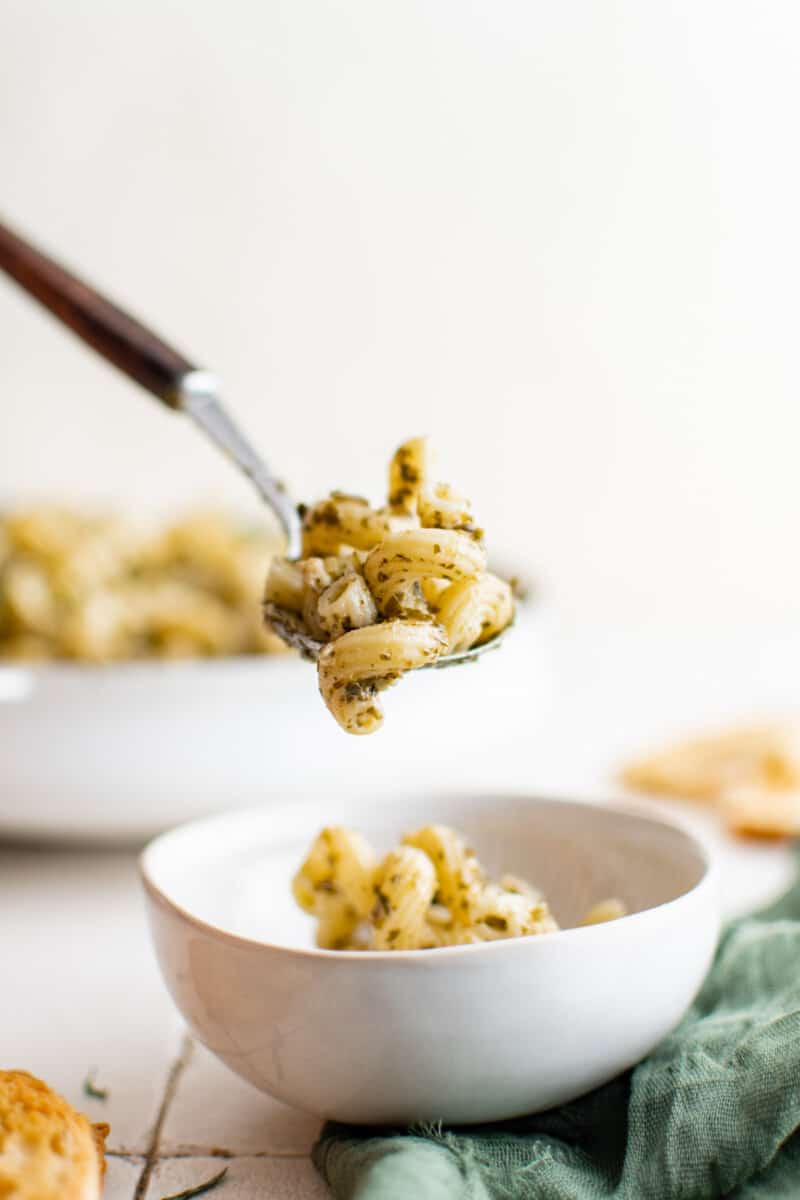 How to Make Pesto Cavatappi
You can jump to the recipe card for full ingredients & instructions!
Cook the pasta al dente according to package directions.
While the pasta cooks, mix your creamy pesto sauce in a skillet.
Add pasta and toss to coat.
Serve with Parmesan cheese and basil.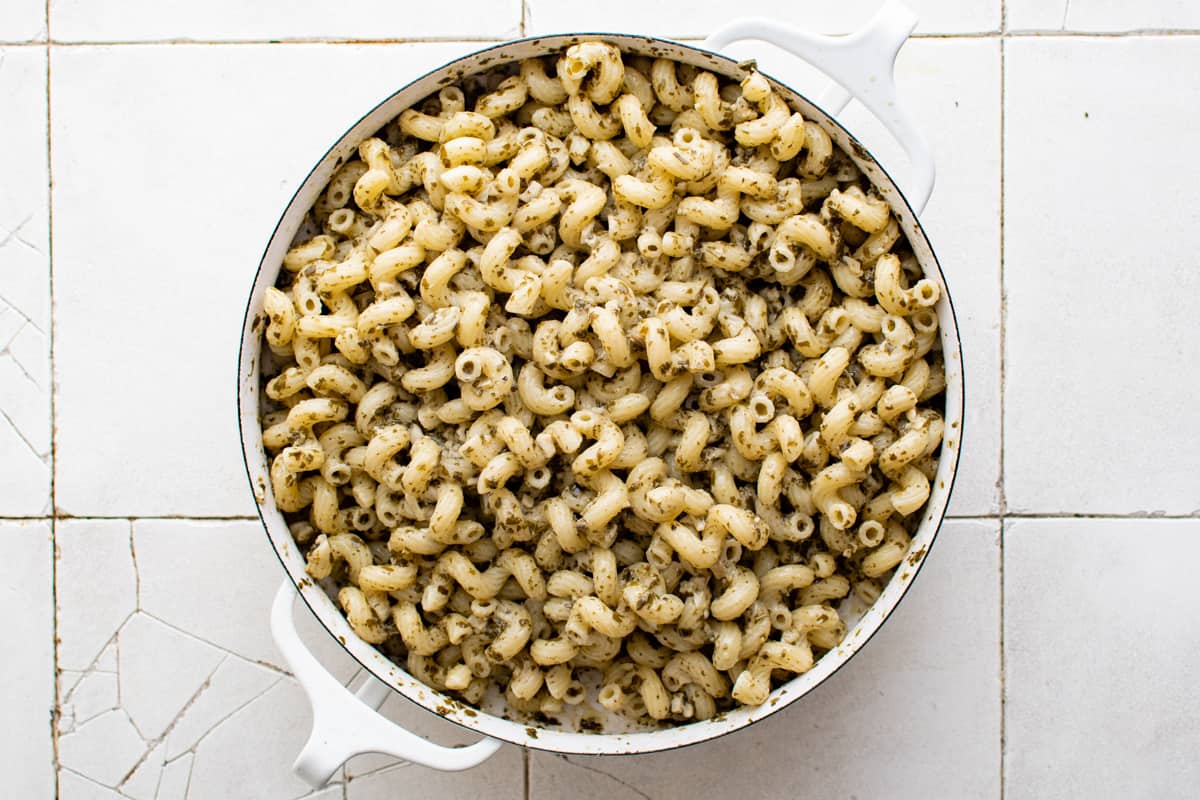 Can I use any type of noodle?
Classic pesto cavatappi from Noodles & Company is made with cavatappi noodles, but you can certainly use your favorite kind of noodle or whatever you have on hand.
Can I use zucchini noodles?
Definitely! For a healthier alternative, use zucchini noodles. Add them to the sauce in step 6. Mix together and heat until warmed through.
What kind of pesto should I use?
Any store bought or homemade pesto works great. I love this homemade pesto recipe – it adds so much fresh flavor!
Can I add protein?
Yes! I love serving this pesto pasta with chicken or shrimp. Add your cooked protein of choice to the pan in step 6. Mix to combine with the pasta and heat until warmed through.
Serving Suggestions
This is a great meal on its own but you can always add tasty sides for a bigger feast! Here are some favorites:
You are going to love this cavatappi pasta recipe, only 8 ingredients!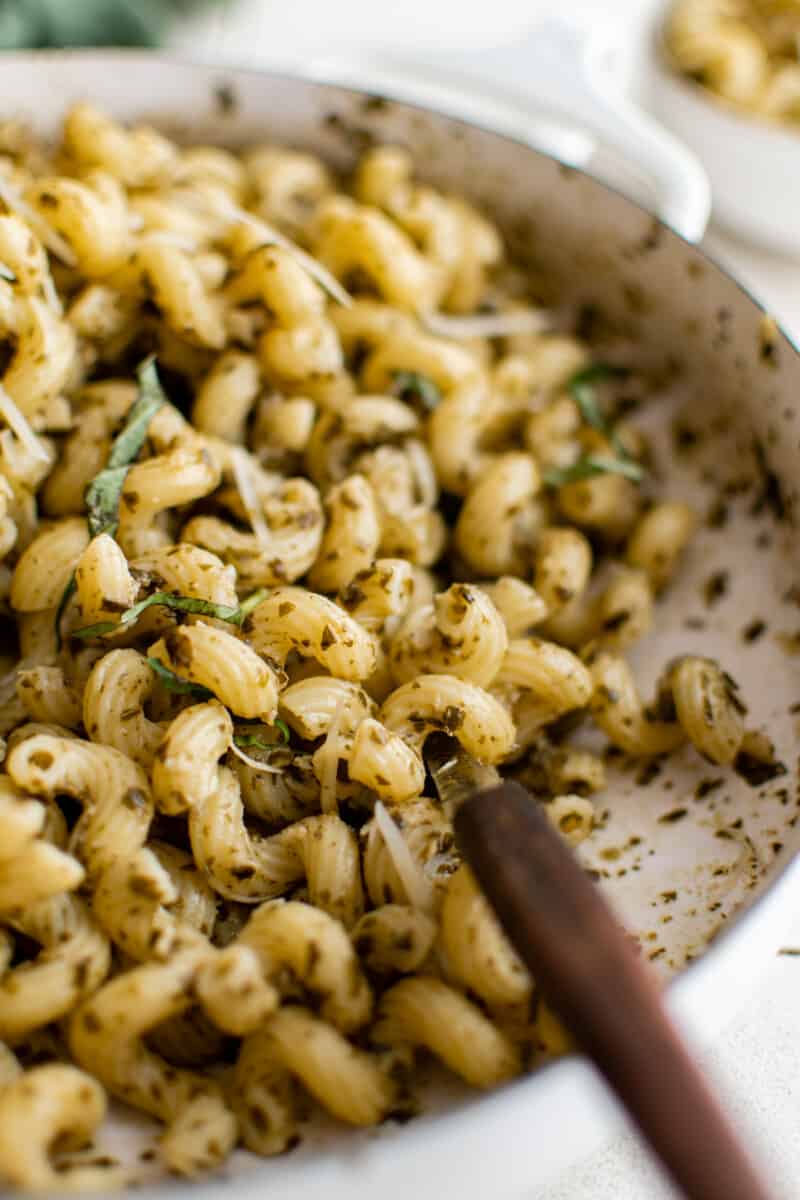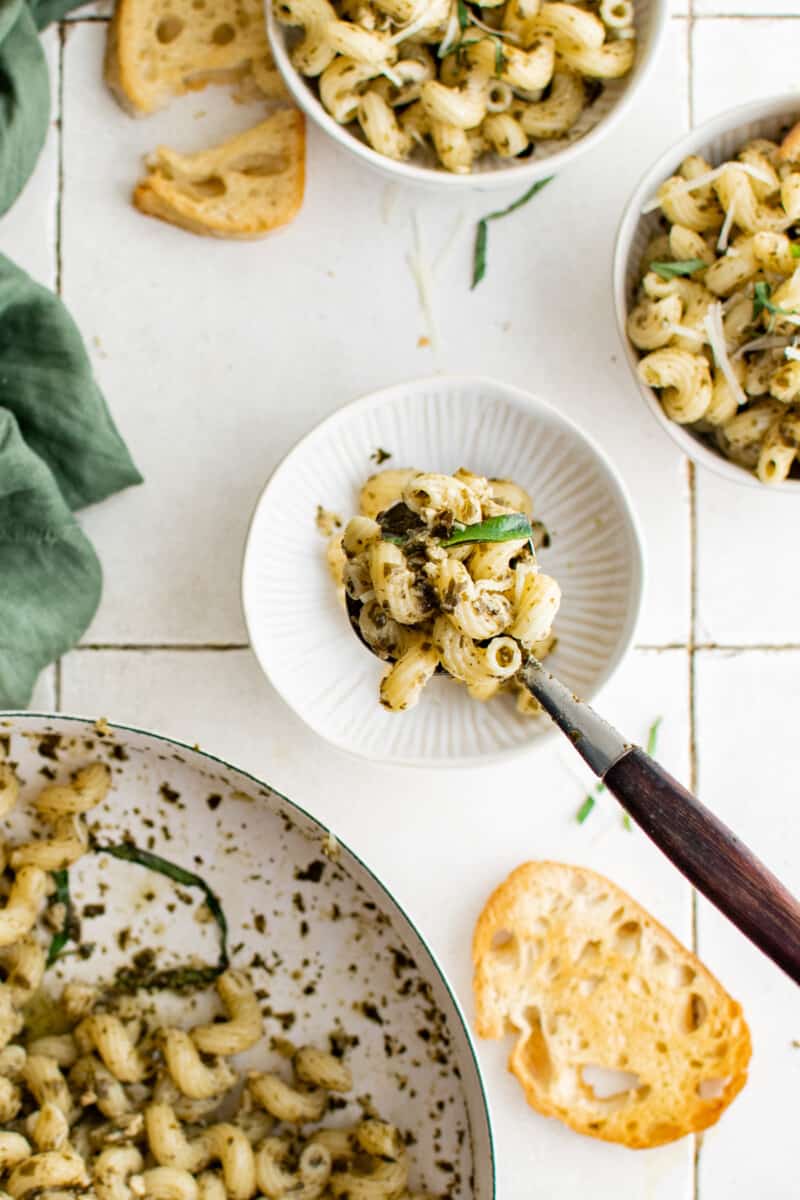 Tips!
Wait until the water comes to a rapid boil before adding your pasta. Placing pasta too early can make your pasta gummy and sticky!
You want the pasta to feel firm and slightly springy when you bite into it. If it sticks to your teeth while chewing, it isn't ready yet.
Store pasta in an airtight container in the refrigerator for up to 3 days.
This pesto cavatappi is a super satisfying meal to whip up after a hectic day – so easy!
How can I make this pasta recipe gluten free?
Use 1 pound of your favorite kind of gluten free noodles and make sure the pesto you choose is certified gluten free.
Can I add tomatoes or other vegetables?
Absolutely! Add sun-dried tomatoes in step 2 or mix in halved cherry or grape tomatoes right before serving. Sliced mushrooms are also a delicious addition – add to the pan in step 2.
Can I make this without the cream?
Yes you can! It will of course not be as creamy, but still delicious. Simply reserve an extra half cup of pasta water and pour into the skillet when mixing your pesto and pasta.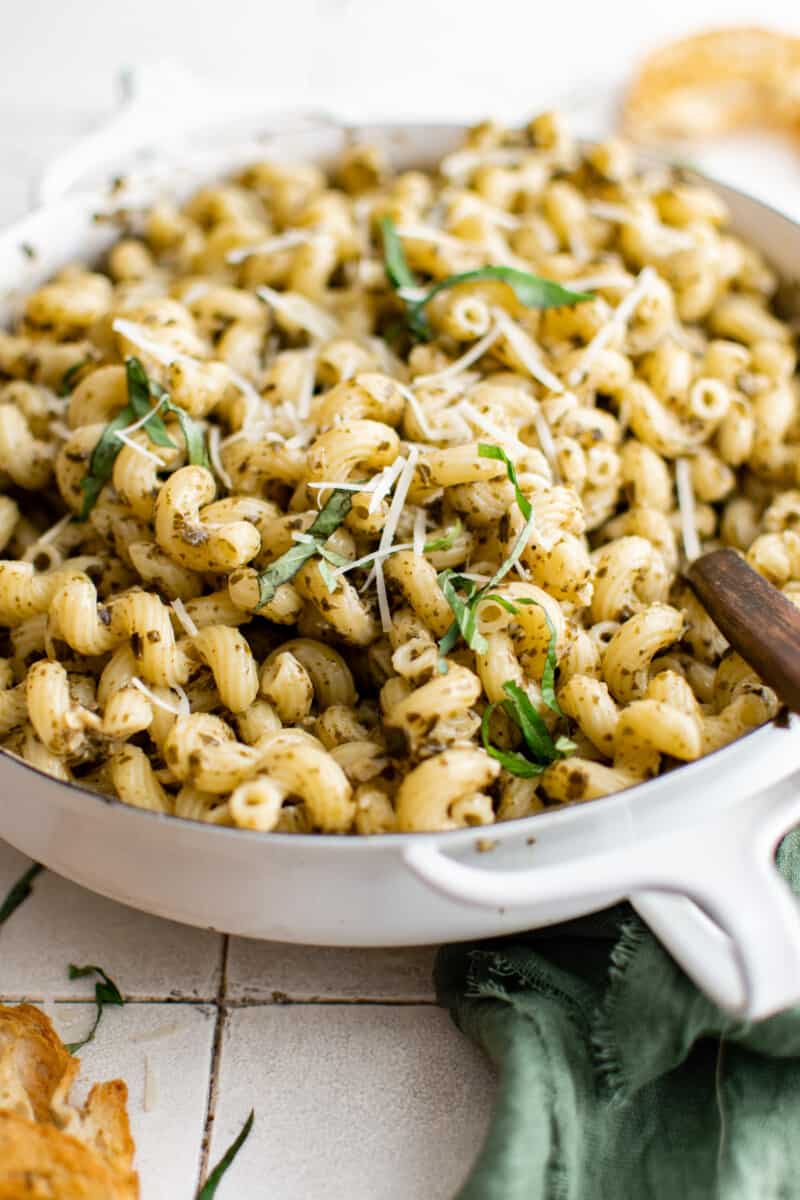 It takes less than 30 mins to whip up this delectable and satisfying pesto cavatappi. It's a sure fire crowd pleaser that's packs a flavorful punch!
If you make this recipe be sure to upload a photo in the comment section below or leave a rating. Enjoy! You can also jump to recipe.