Celebrate the spooky season with this devilishly good Poison Apple Martini! This fun martini recipe features sour apple liqueur, lime juice, an optional splash of simple syrup, and the perfect amount of vodka. It's a sweet and tart take on a green sour apple martini that's made festive with dry ice!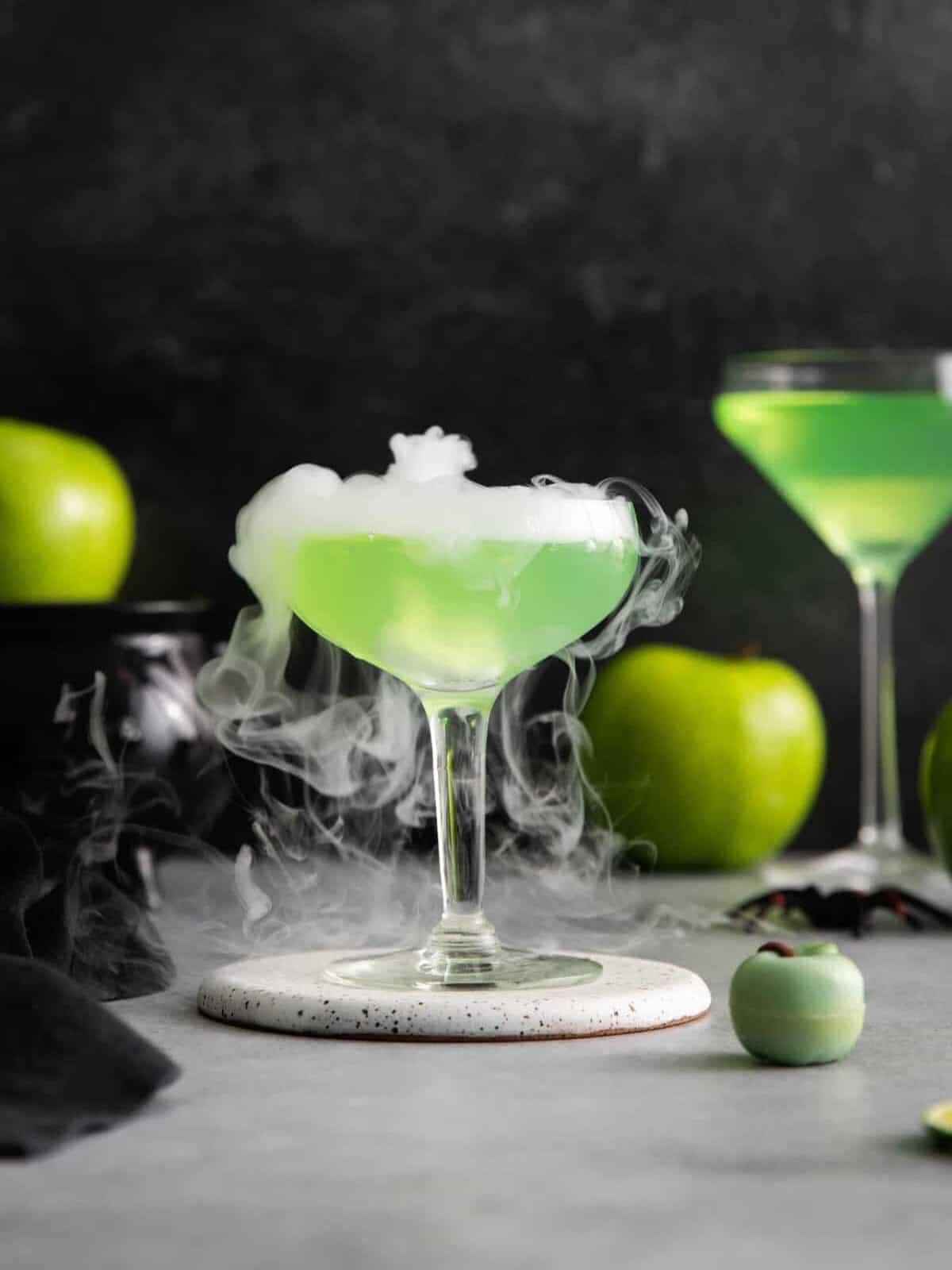 What's in this Sour Apple Martini recipe?
Mirror mirror on the wall, what's the best Halloween cocktail of them all? This bright green Poison Apple Martini that's made with just four ingredients, of course!
Vodka: This is the base of our apple cocktail. Any good quality, unflavored vodka will work.
Sour Apple Liqueur: Adds both the tartness and apple flavor to the martini.
Lime Juice: Adds a bit more acidity to the cocktail. Lemon juice would also work! Freshly squeezed lime juice is highly recommended for the best flavor.
Simple Syrup: This adds a bit of sweetness to balance out the tartness from the sour apple liqueur.
Pro Tip: Always handle dry ice with caution! Use temperature-proof gloves and never handle dry ice with your bare hands. Store dry ice in an area with plenty of ventilation. Do not eat dry ice. Consult a safety data sheet for complete safety protocols.
Halloween Martini Variations
You can replace the vodka in this poison apple martini with a similar clear spirit, such as gin, white rum, tequila, or sake. Note that this swap will change the flavor.
For a lower-alcohol apple martini, swap the sour apple liqueur for apple juice or apple cider.
For a different take, swap the sour apple liqueur for apple brandy.
You can swap the lime juice for lemon juice, cointreau, or triple sec instead, if you prefer.
To make your own simple syrup, combine 1 cup sugar and 1 cup water in a saucepan, boil for 1 minute, then cool and refrigerate!
What is an appletini?
An appletini, also known as an apple martini, is a tart and sweet cocktail that features vodka, sour apple liqueur, simple syrup and lime juice. This spooky Halloween version also includes some dry ice for a fun smoky effect!
What does an appletini taste like?
This drink is meant to taste like sour apple candy! It will be crisp and juicy, with a mouth-puckering sour taste!
Can I make it without dry ice?
Absolutely! The dry ice is only included here for the fun visual effect of smoke rising from the glass. While it's a huge hit at any Halloween party, you certainly don't need to use it if you don't want to.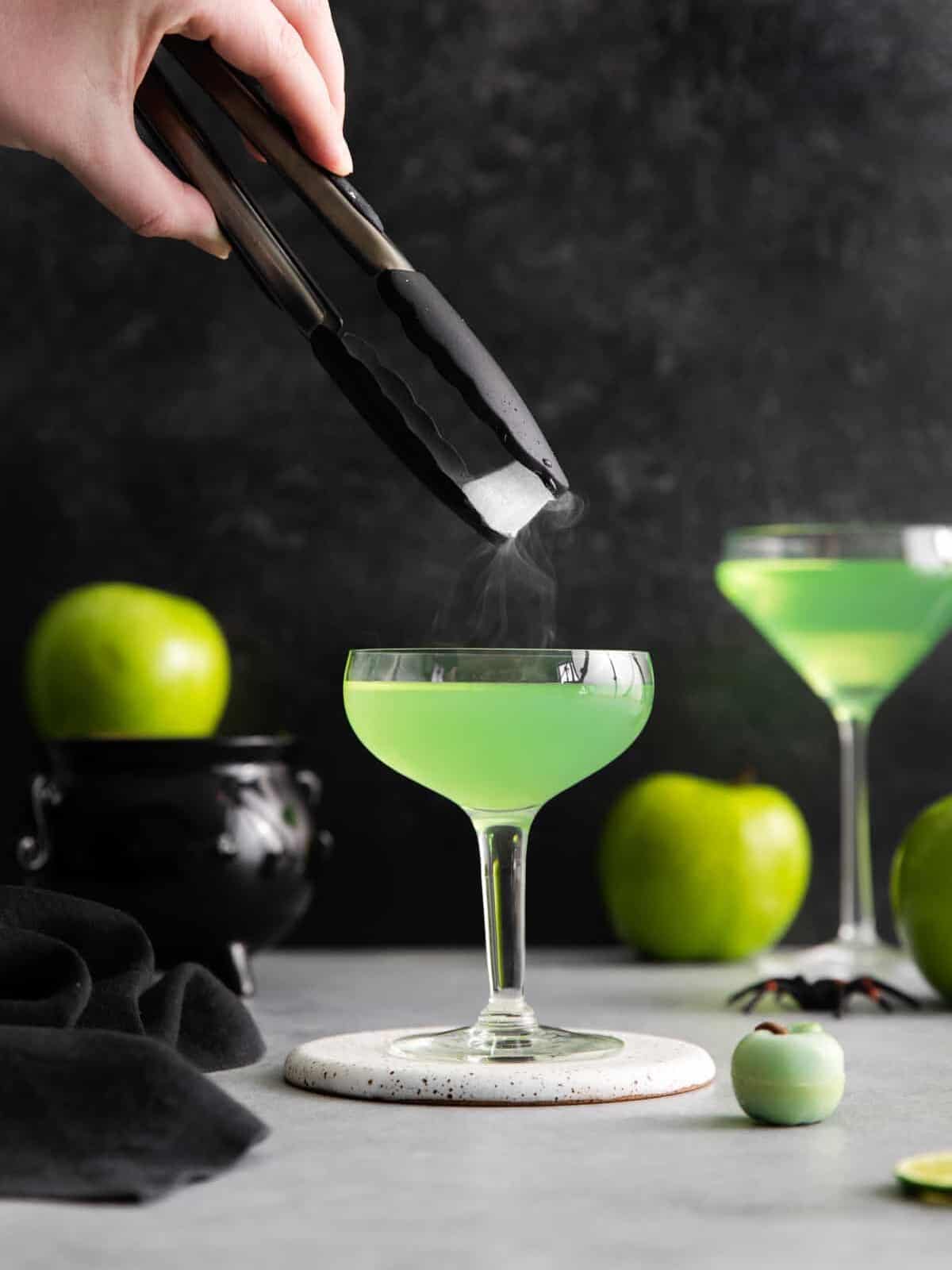 How to Store
Store leftover poison apple martinis in an airtight container in the refrigerator for up to 2 days. Enjoy cold.
Serving Suggestions
No good Halloween party would be complete without fun treats to accompany the cocktails! Enjoy some of my favorite ghoulish recipes like Halloween Chex Mix, Halloween Graveyard Cupcakes and Oreo Spiders.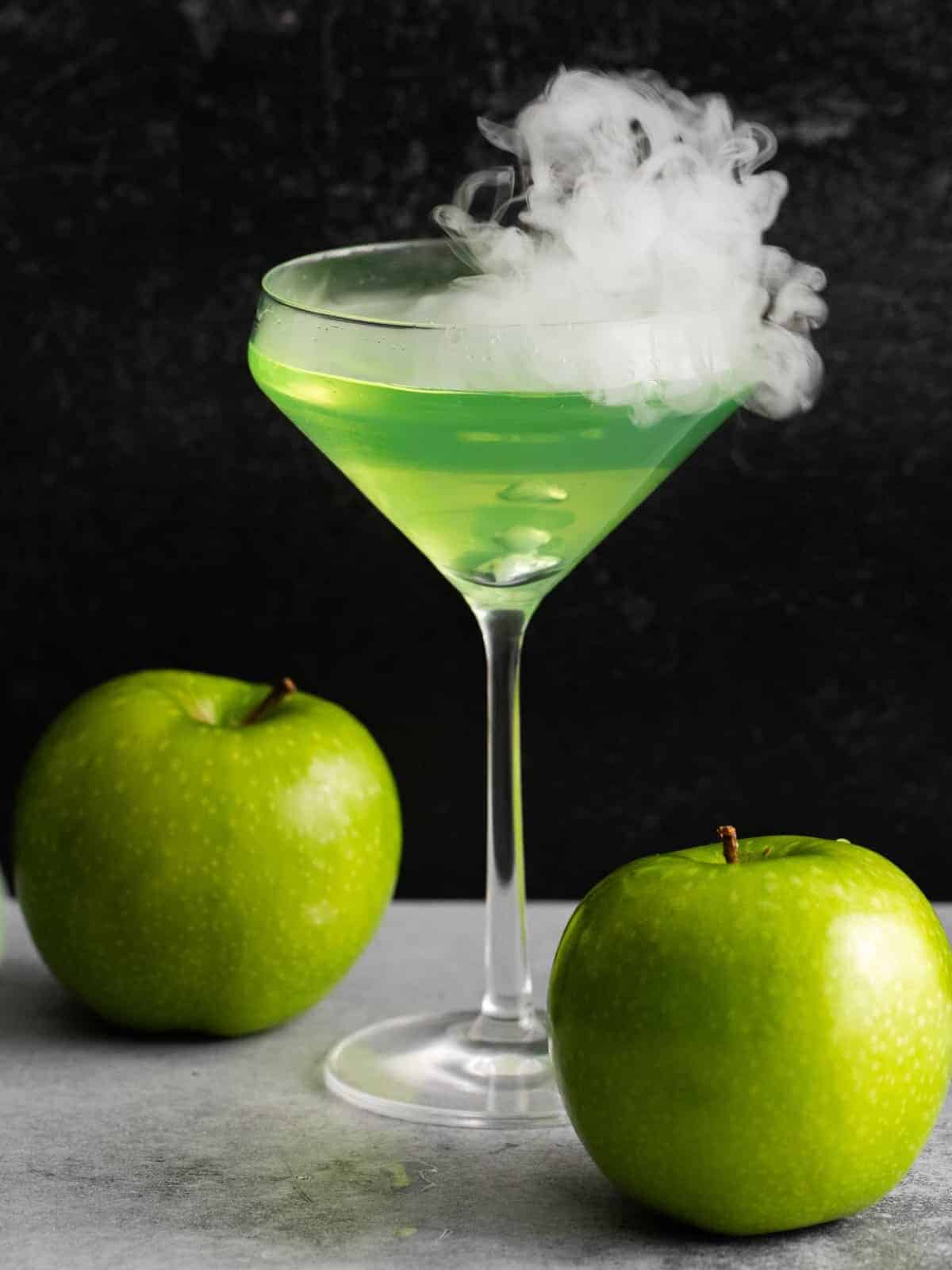 More Halloween Cocktail Recipes We Love