SPARKLING APPLE PIE ON THE ROCKS is the perfect Fall cocktail! Cinnamon Apple Cider mixed with Caramel Apple Simple Syrup and topped with bubbly champagne. This apple cider cocktail is the best holiday drink ever!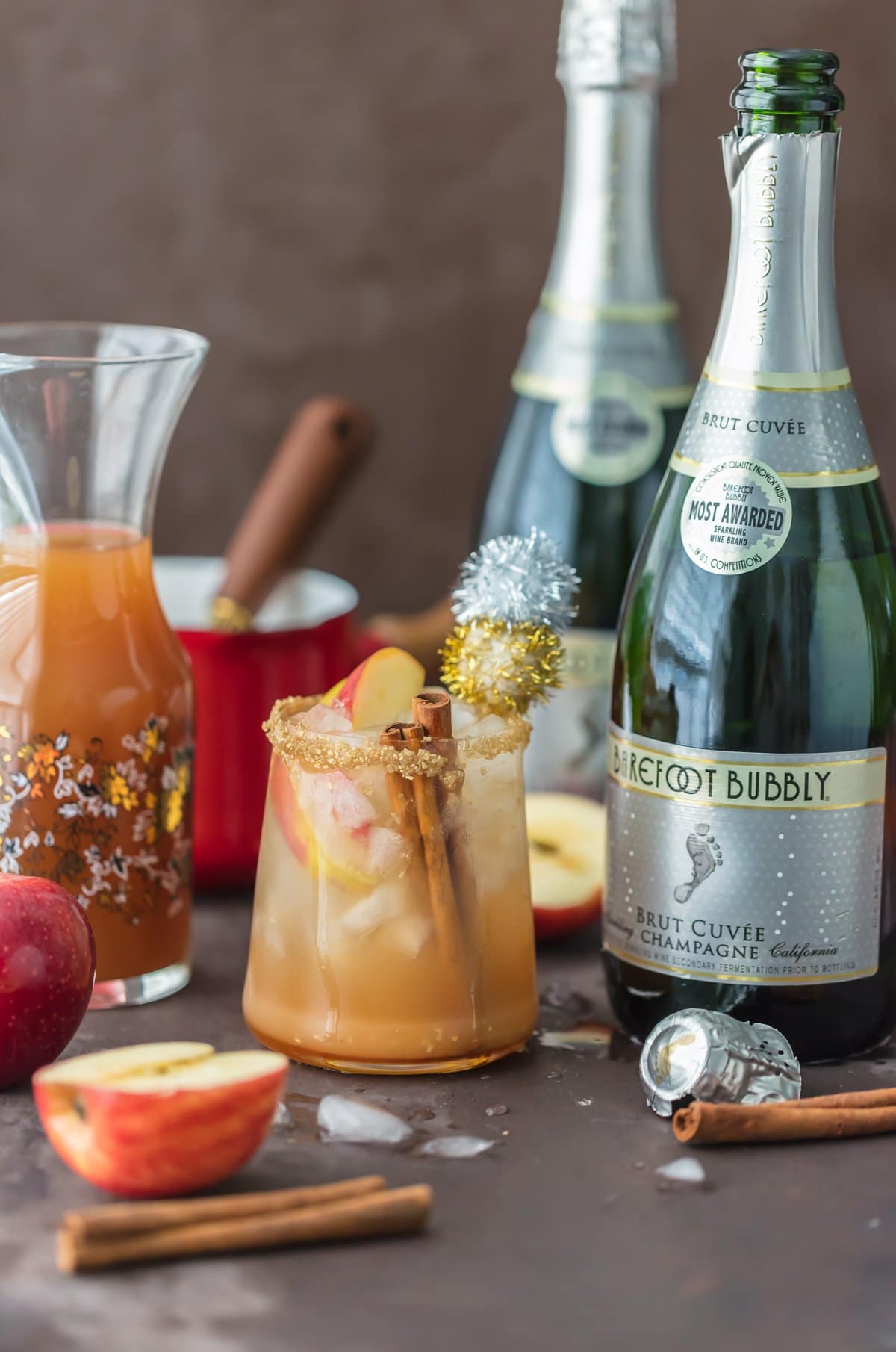 Sparkling Apple Pie Cocktail
This apple cider cocktail is a new favorite to add to the list. Sparkling Apple Pie on the Rocks combines apple cider, caramel apple syrup, and champagne. So delicious!
Every Fall/Winter, my very favorite cocktails seem to center around Apple Cider. I try to innovate the idea every year, because I simply can't get enough. It started with Apple Pie Sangria, transformed into Apple Pie Punch, and even took a stop around Homemade Caramel Apple Cider. There's just something so cozy about apples, cinnamon, and a refreshing cocktail twist. They're some of the most popular recipes on my site, and for good reason. But this year, this apple cider cocktail is my favorite!
This Sparkling Apple Pie on the Rocks is quite possibly the simplest of all the apple cocktails I've made, and also quite possibly the most delicious. And there's one major reason for that…CHAMPAGNE! It's made with a delicious (and way too easy) Caramel Apple Simple Syrup, Apple Cider, and some bubbly to finish it off. Doesn't that just sound like a dream?!
This apple cider cocktail is perfect for the fall season, and even more perfect for Christmas and New Year's Eve. What are you waiting for, make some already!
Need a new drink to try out this season? This apple cider cocktail is perfect for the fall, winter, and holiday seasons!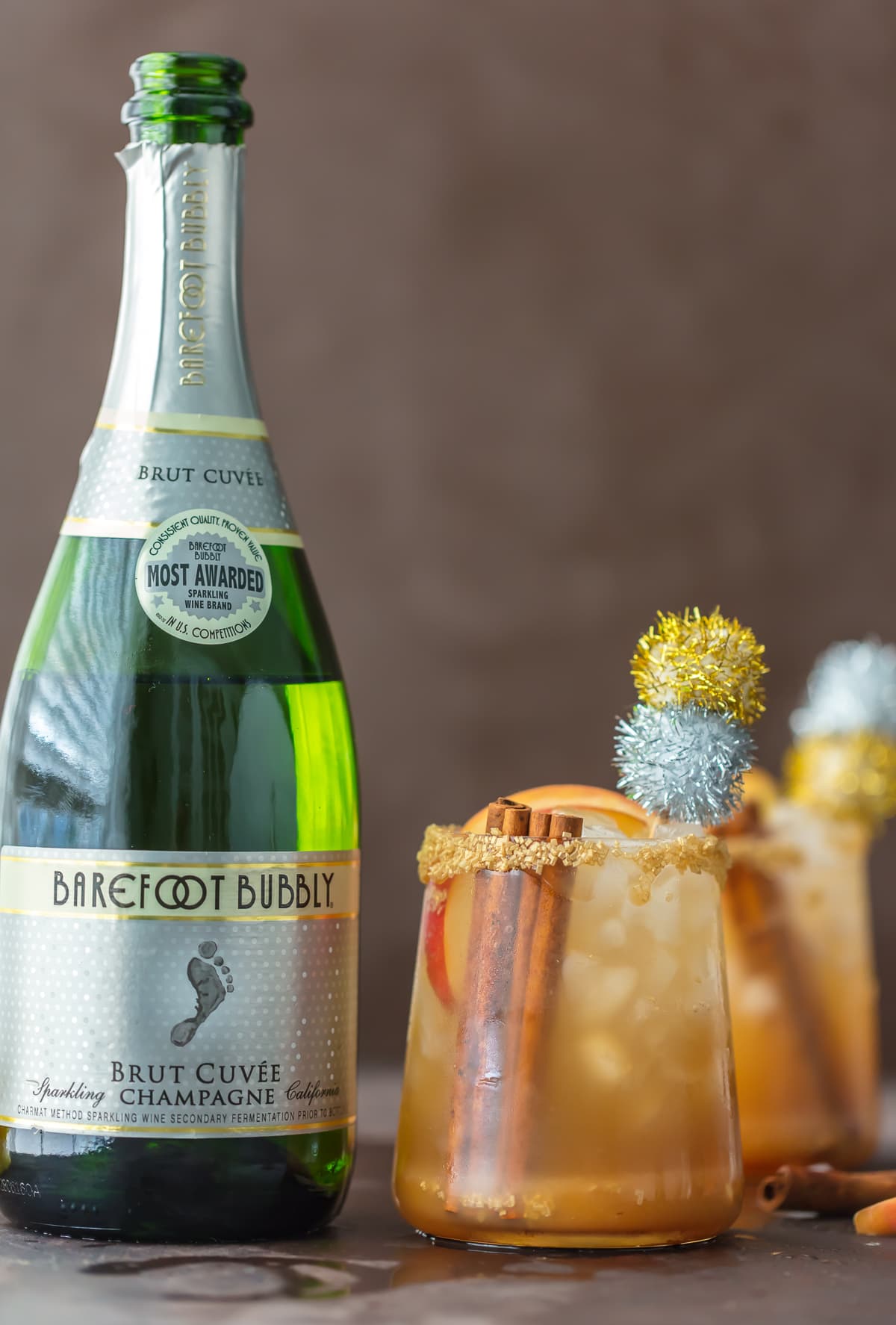 Apple Cider Cocktail Recipe
This Sparkling Apple Pie on the Rocks just wouldn't be possible without my absolute fave Barefoot Bubbly Brut Champagne. You can see right there on the neck of the bottle…"Most Awarded Sparkling Wine Brand in US Competitors". For good reason. It's got an amazing price point, a crisp and delicious flavor, and all the bubbles. I'm hooked.
I also love that its so widely available so I never have to go without my Barefoot! It's the perfect simple compliment to this delicious apple cider cocktail.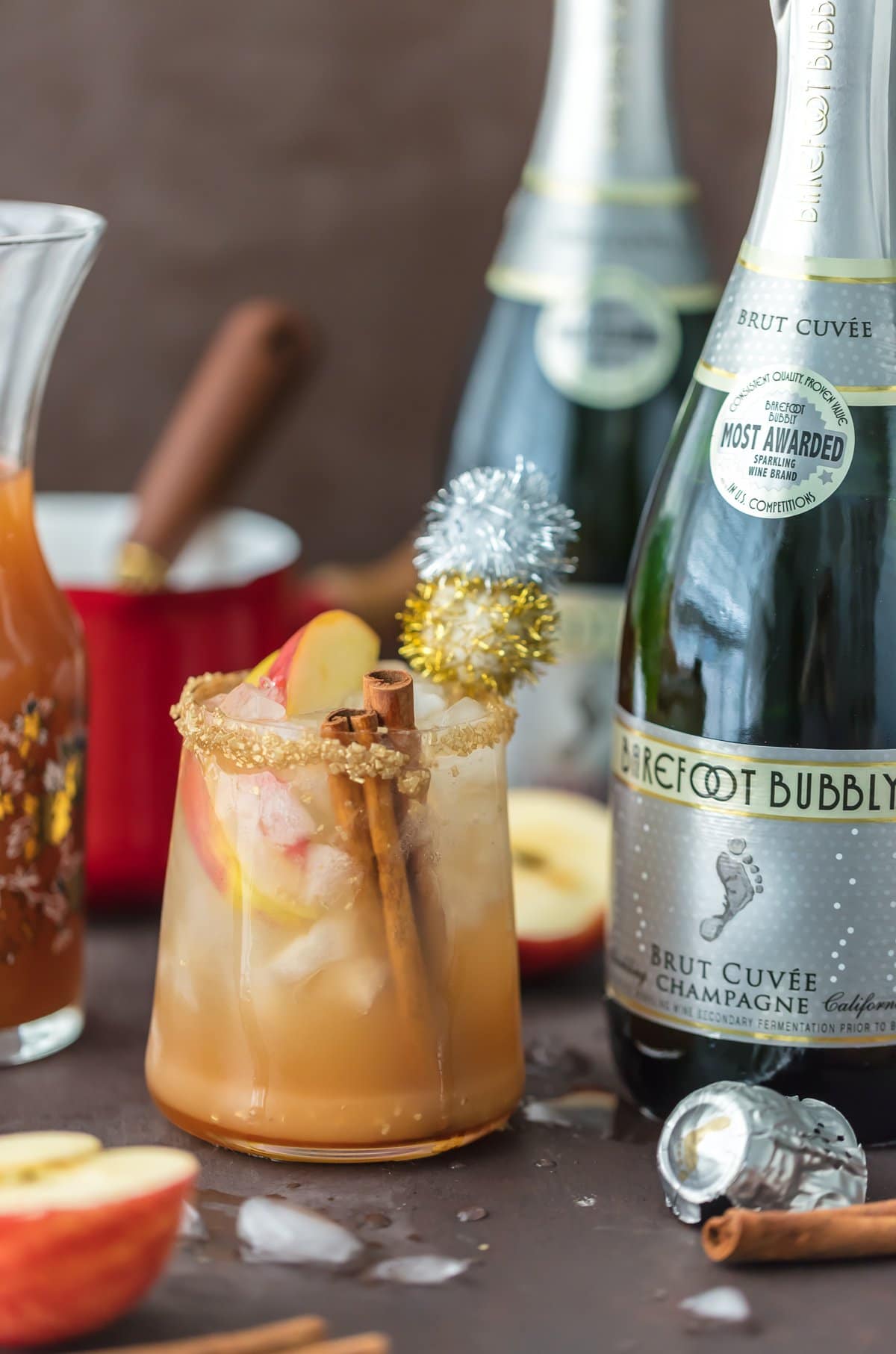 How to Make Caramel Apple Simple Syrup
This apple cider cocktail starts off with a special caramel apple simple syrup recipe. It's easy to make, and it's the perfect way to add that festive flavor to this sparkling drink. It's made with cinnamon apple cider, cinnamon sticks, ground cinnamon, and caramel ice cream topping. Lots of cinnamon and caramel in there to make it absolutely delicious!
All you have to do is combine the ingredients in a saucepan and let it simmer. Once it's done, you can make the drinks.
How to Make Sparkling Apple Pie Cocktail
Sparkling Apple Pie on the Rocks is the perfect combination of apple cider, champagne, and that tasty caramel apple syrup we made. It's so easy to make, you'll be making it for every occasion this season.
Start by making the caramel apple simple syrup.
Dip the rim of your glasses into caramel sauce and gold sprinkles (optional, but this is such a fun and festive addition to the drink!).
Fill glasses with ice.
Pour 1 shot of the caramel apple syrup into each glass.
Top it with 1/2 cup of apple cider, and then fill the rest of the glass with champagne.
If you want, garnish the drinks with cinnamon sticks and apple slices.
I love this apple cider cocktail! The flavor is so perfect; It reminds me of apple pie but it's not overwhelming. Make this drink for Christmas or any holiday celebration!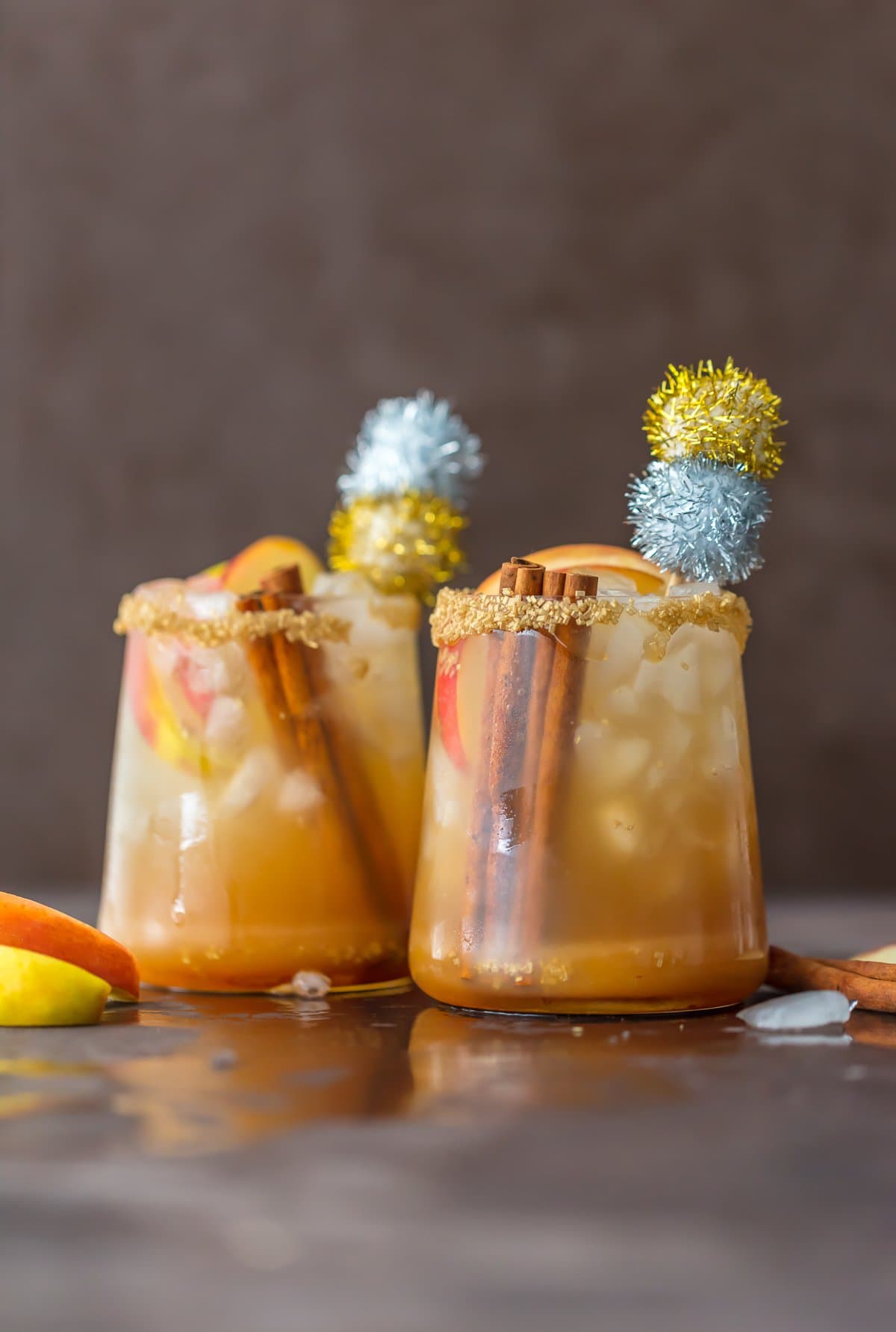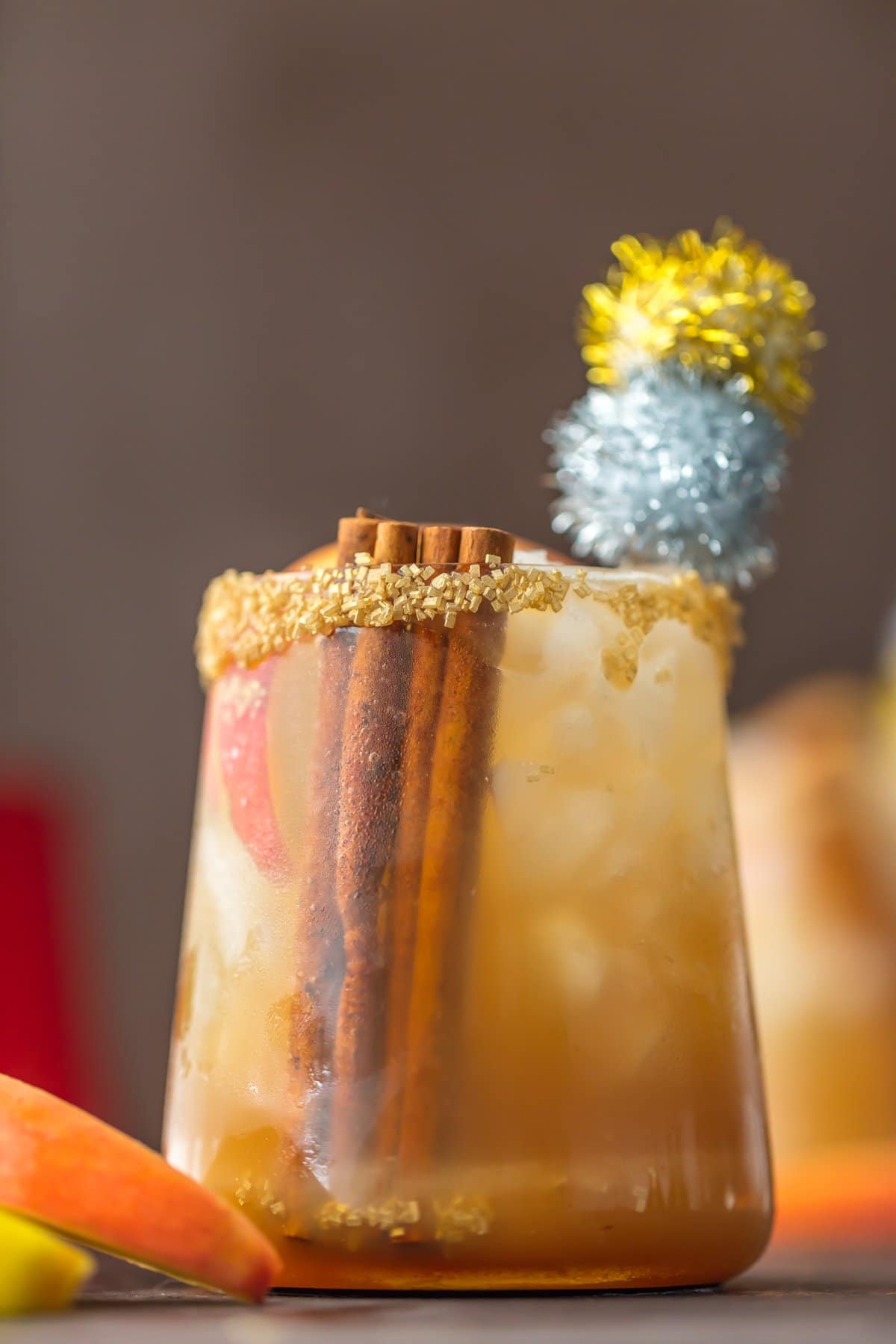 Apple Pie was meant for the holidays and the holidays were meant for Apple Pie. You should have it in as many forms as possible when celebrating with friends and family around Christmas and ringing in the New Year. This Sparkling Apple Pie on the Rocks is the perfect way to cheers with loved ones, don't you think?
Be sure to click HERE to see where you can find Barefoot Bubbly, and check out my other favorite holiday cocktails HERE. ENJOY FRIENDS!
Try these other delicious cocktails this fall: