SPARKLING APPLE PIE ON THE ROCKS is the perfect Fall cocktail! Cinnamon Apple Cider mixed with Caramel Apple Simple Syrup and topped with bubbly champagne! BEST HOLIDAY DRINK EVER!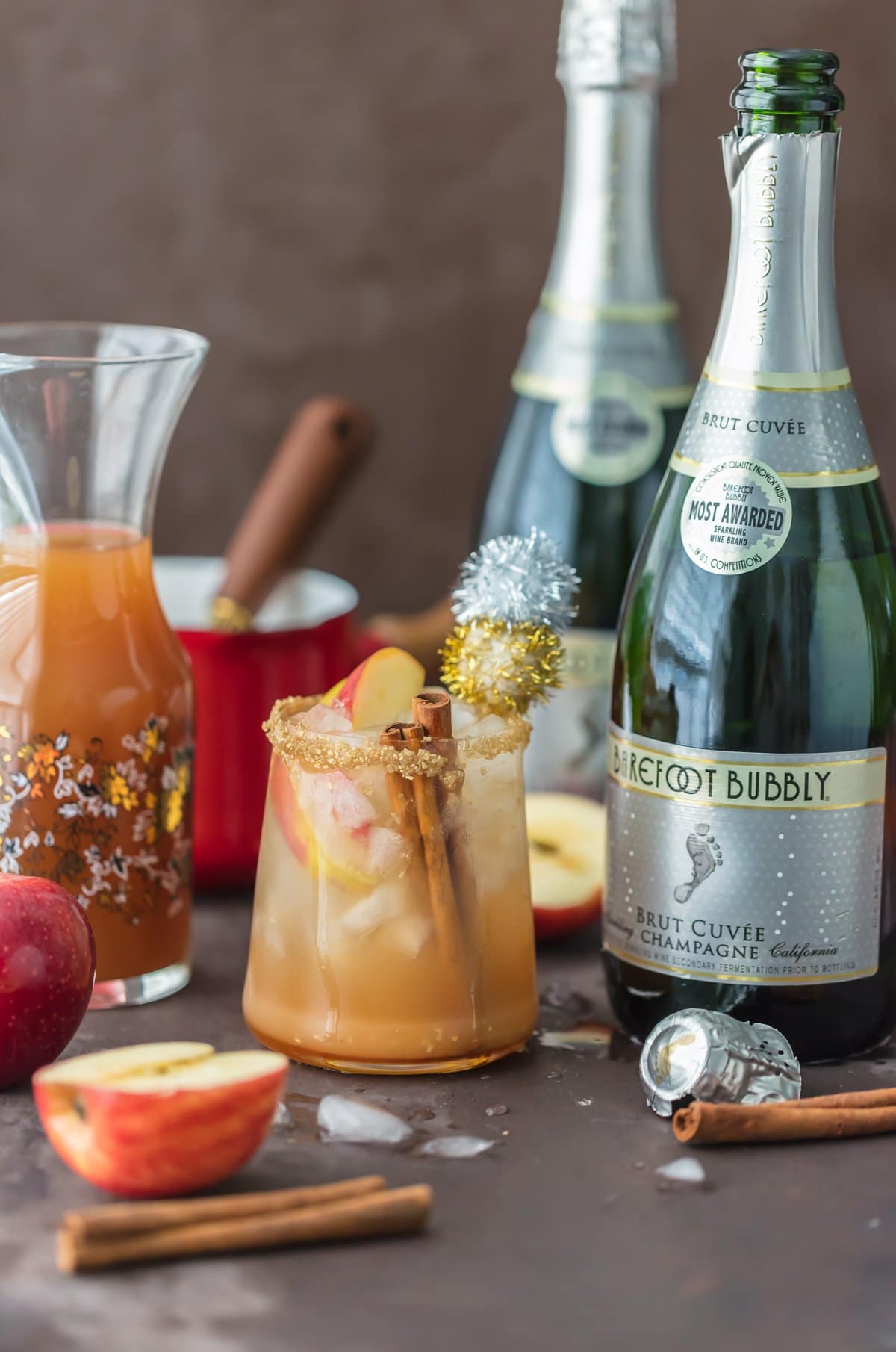 Every Fall/Winter, my very favorite cocktails seem to center around Apple Cider. I try to innovate the idea every year, because I simply can't get enough. It started with Apple Pie Sangria, transformed into Apple Pie Punch, and even took a stop around Homemade Caramel Apple Cider. There's just something so cozy about apples, cinnamon, and a refreshing cocktail twist. They're some of the most popular recipes on my site, and for good reason. But this year, this cocktail  is my favorite.
This Sparkling Apple Pie on the Rocks is quite possibly the simplest of all the apple cocktails I've made, and also quite possibly the most delicious. One reason…CHAMPAGNE! It's made with a delicious (and way too easy) Caramel Apple Simple Syrup, Apple Cider, and some Bubbly. Doesn't that just sound like a dream?! What are you waiting for, make some already!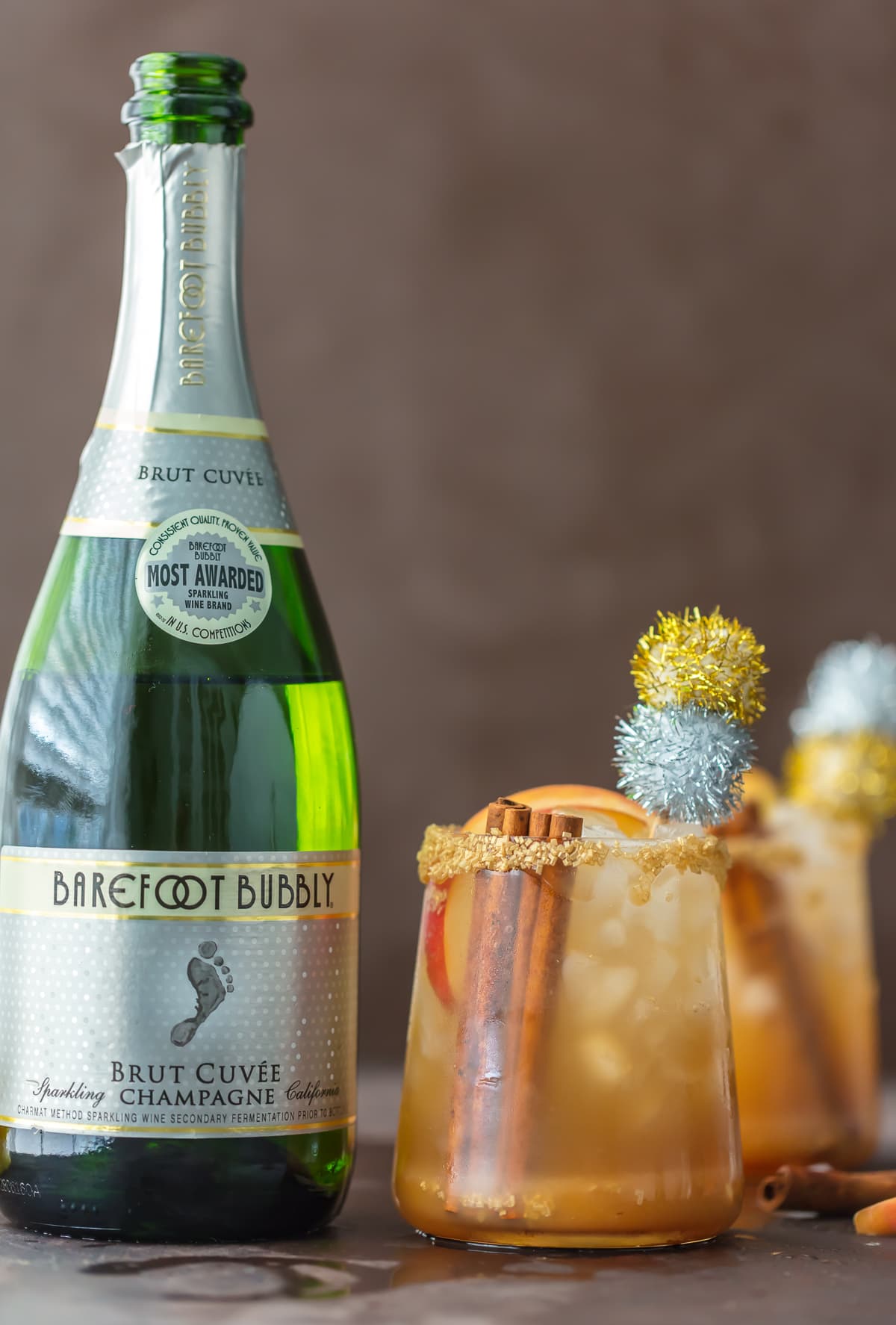 This Sparkling Apple Pie on the Rocks just wouldn't be possible without my absolute fave Barefoot Bubbly Brut Champagne. You can see right there on the neck of the bottle…"Most Awarded Sparkling Wine Brand in US Competitors". For good reason. It's got an amazing price point, a crisp and delicious flavor, and all the bubbles. I'm hooked. I also love that its so widely available…I never have to go without my Barefoot! It's the perfect simple compliment to this favorite holiday cocktail.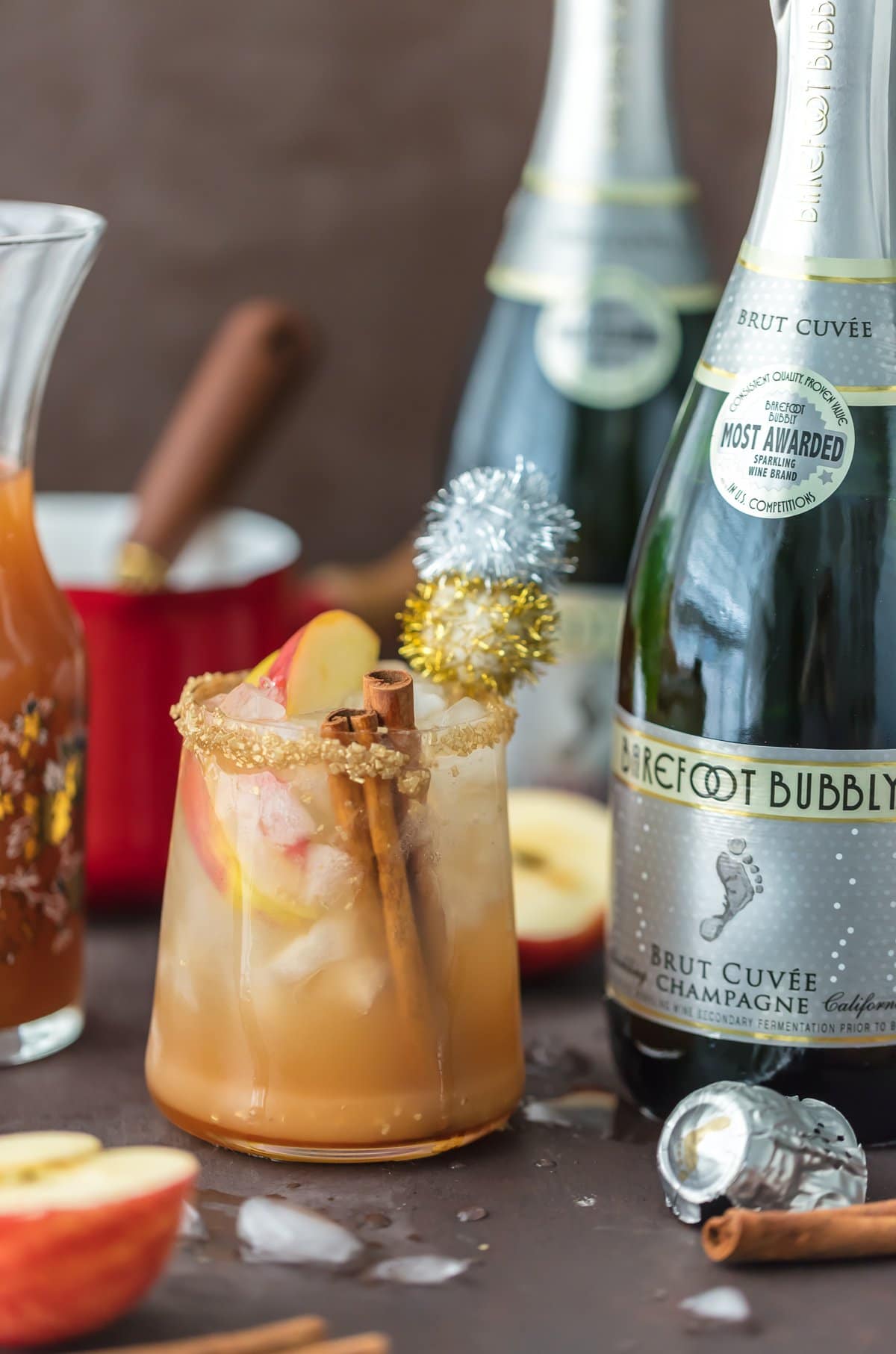 Apple Pie was meant for the holidays and the holidays were meant for Apple Pie. You should have it in as many forms as possible when celebrating with friends and family around Christmas and ringing in the New Year. This Sparkling Apple Pie on the Rocks is the perfect way to cheers with loved ones, don't you think?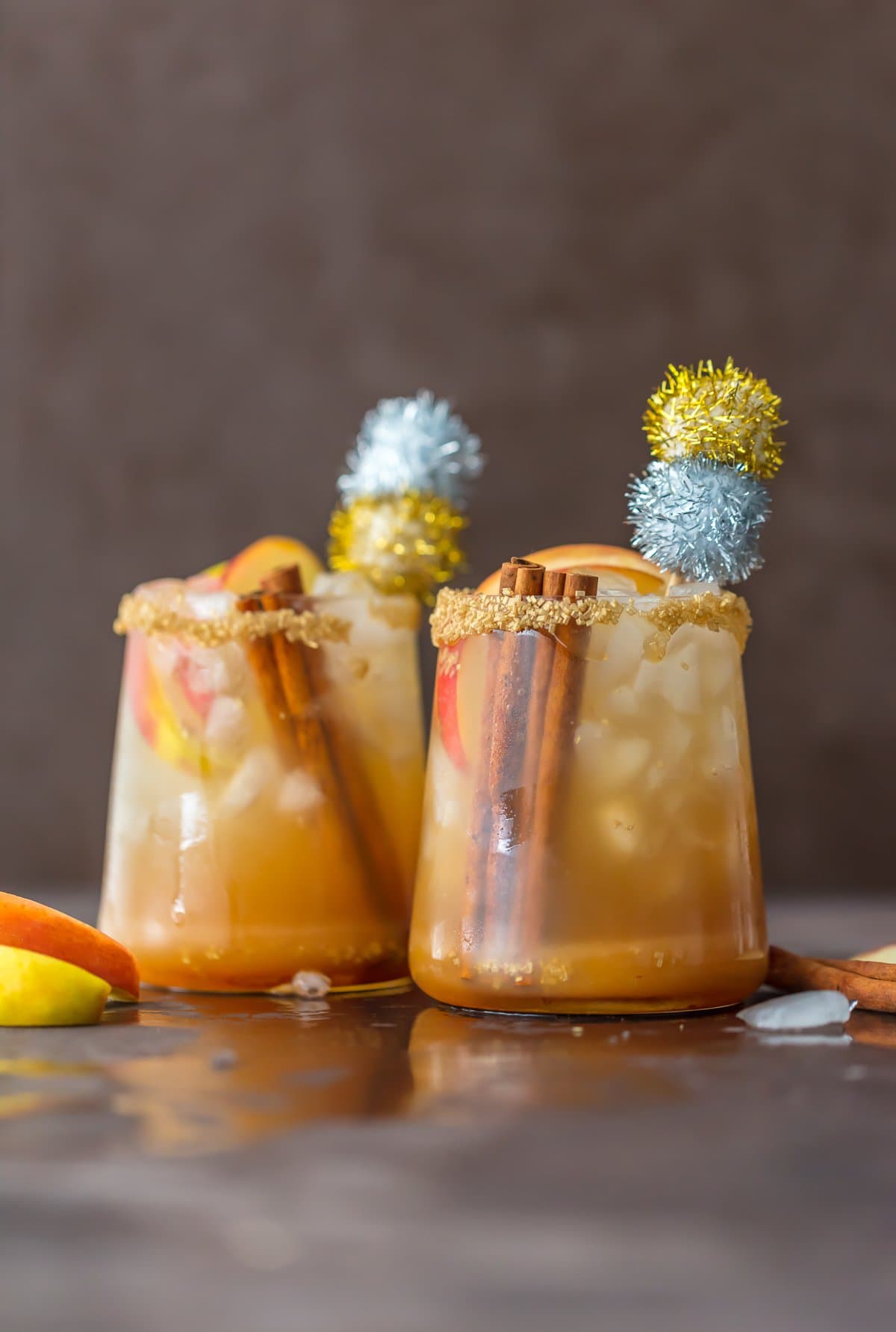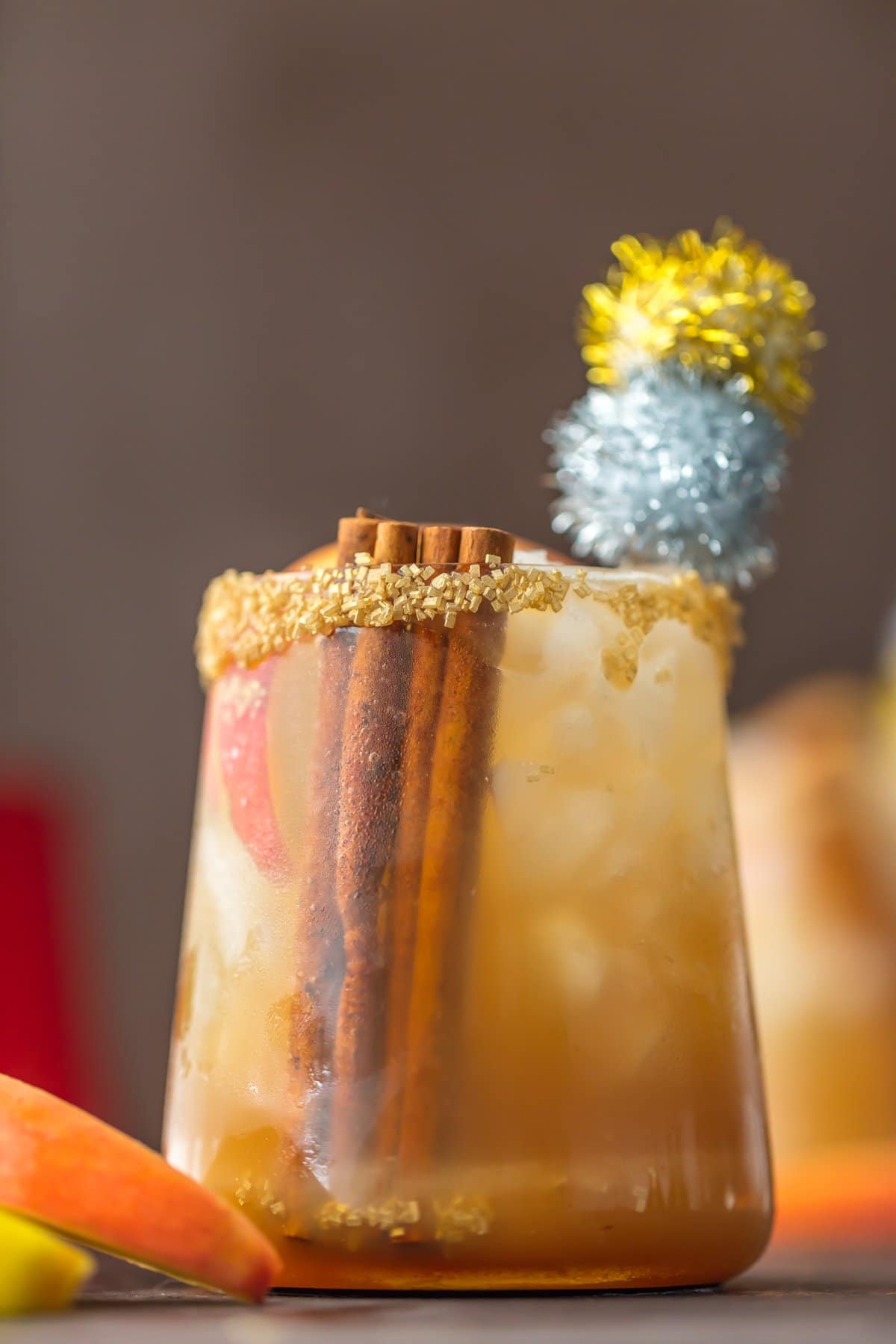 Be sure to click HERE to see where you can find Barefoot Bubbly, and check out my other favorite holiday cocktails HERE. ENJOY FRIENDS!
Sparkling Apple Pie on the Rocks
15 minPrep Time
15 minTotal Time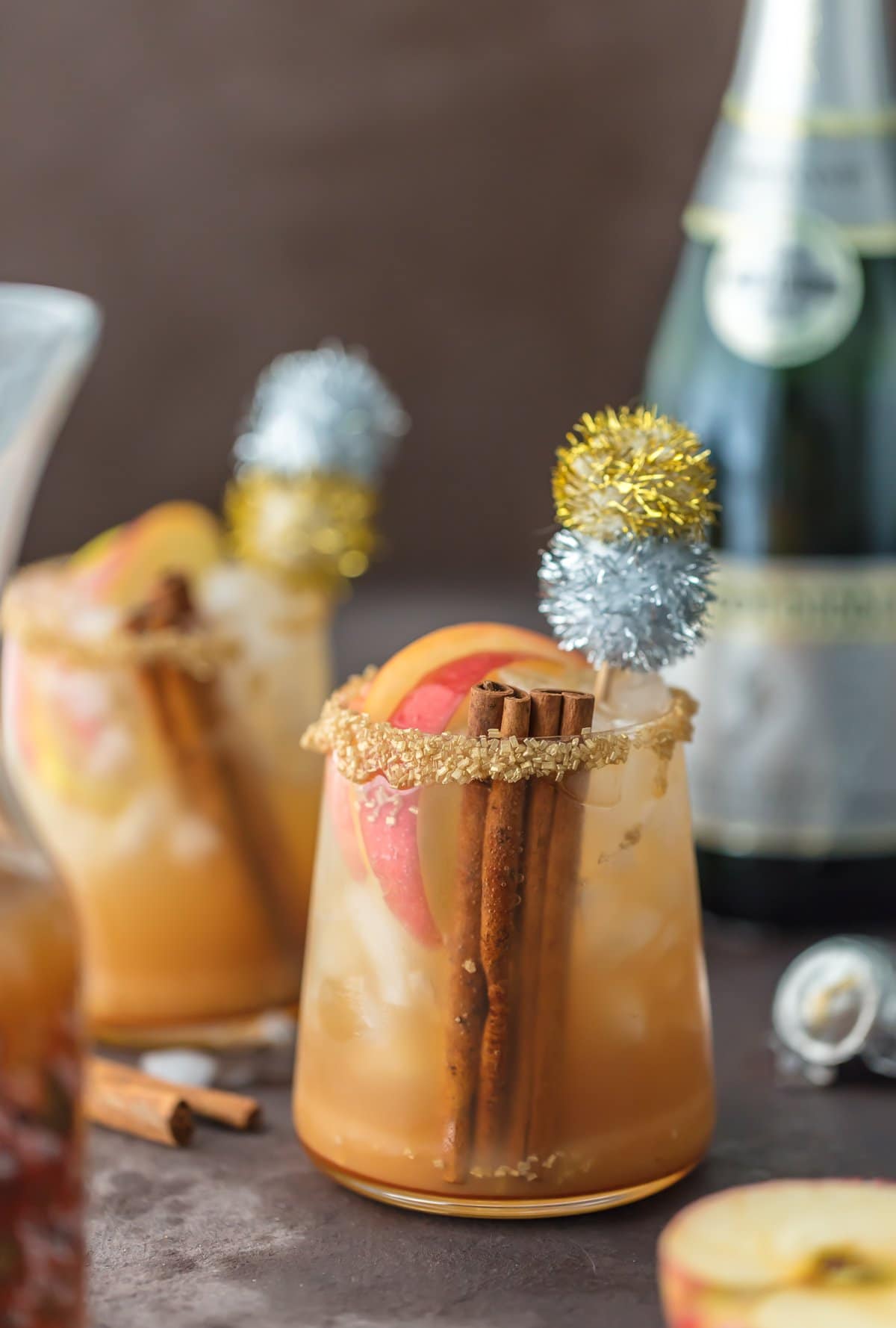 5 based on 2 review(s)
Ingredients
For the Caramel Apple Simple Syrup

1 cup Cinnamon Apple Cider
1 cup caramel ice cream topping
1 teaspoon ground cinnamon
2 cinnamon sticks

For the Sparkling Apple Pie on the Rocks

1 cup Caramel Apple Simple Syrup
2 cups Apple Cider
1 bottle Barefoot Bubbly Brut Champagne
Apple slices, caramel, gold sprinkles, and cinnamon sticks for garnish (optional)
Instructions
For the Caramel Apple Simple Syrup

In a small saucepan over medium/high heat, stir together 1 cup apple cider, 1 cup caramel ice cream topping, the ground cinnamon, and 2 cinnamon sticks. Bring to a boil, then reduce to a simmer. Stir to combine.
Allow to reduce by half, simmering for about 10-15 minutes. Remove cinnamon sticks. Remove from heat and set aside.

To assemble the Sparkling Apple Pie on the Rocks

Dip the rim of your glasses into caramel sauce and then into gold sprinkles.
Fill glasses with ice.
Pour 1.5 ounces (1 shot) of the Caramel Apple Simple Syrup into the glass.
Top with 1/2 cup Apple Cider, and then fill to the top with Champagne
Garnish with cinnamon sticks and apple slices.
Enjoy!
7.6.8
2350
https://www.thecookierookie.com/sparkling-apple-pie-on-the-rocks/
This post is written in partnership with Barefoot Bubbly Wine. As always, all opinions are 100% my own. Thank you so much for supporting the brands that help support The Cookie Rookie!