Celebrate the fall season with this sweet, creamy Pumpkin Spice White Russian Cocktail! This classic white russian recipe features a pumpkin spice twist that makes it perfect for Halloween and Thanksgiving festivities. It's a smooth cocktail that's easy to make and even easier to sip on!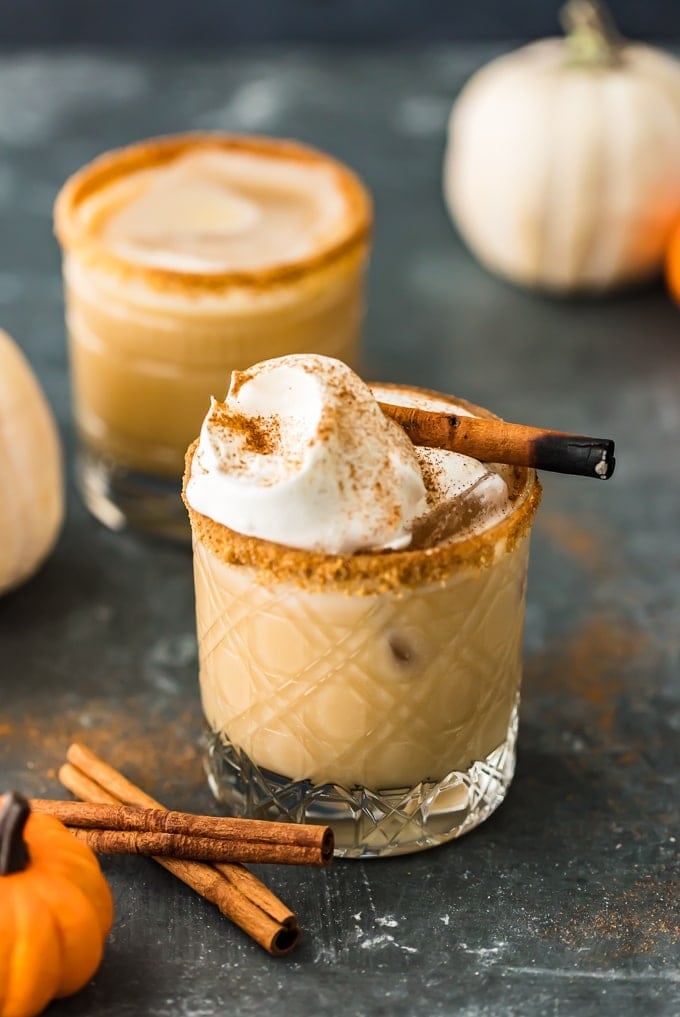 What's in a Pumpkin Spice White Russian
This white russian cocktail puts a fun twist on a classic drink. Add pumpkin spice creamer to make it a pumpkin white russian, and enjoy a tasty fall cocktail!
Vodka: Try to use a good quality or middle of the road vodka. A good rule of thumb is that your cocktails will only ever be as good as your liquor!
Pumpkin Spice Creamer: Any brand works! You can use a plant-based creamer as well, most stores have plenty of options.
Kahlua: This liqueur adds a subtle coffee flavor that's SO good!
Garnishes: Pumpkin pie spice and whipped cream really seal the deal on that sweet fall flavor.
PRO TIP: Want a more classic version of this drink? Try our Skinny White Russian recipe too!
How do I rim the glass?
Dip your glasses in water first. Then, dip them in a mixture of graham cracker crumbs, sugar, and pumpkin pie spice.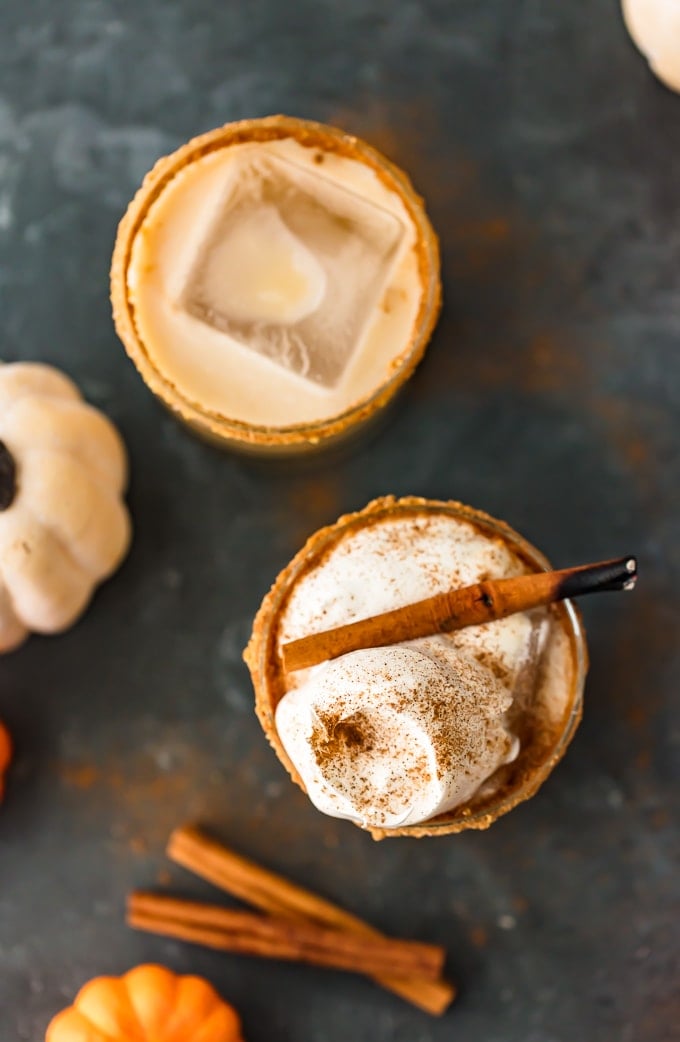 What makes this white russian taste like pumpkin?
Pumpkin spice creamer is what gives this white russian its pumpkin flair! Typically, white russians feature cream, but pumpkin creamer is the star of the show in this autumnal recipe.
Does a pumpkin white russian have caffeine?
Yes, but not a lot. 1.5 oz of Kahlua has approximately 5 mg of caffeine. For comparison, your average cup of coffee has about 200 mg of caffeine.
Can I make it dairy free?
Yes! Just use plant-based pumpkin creamer.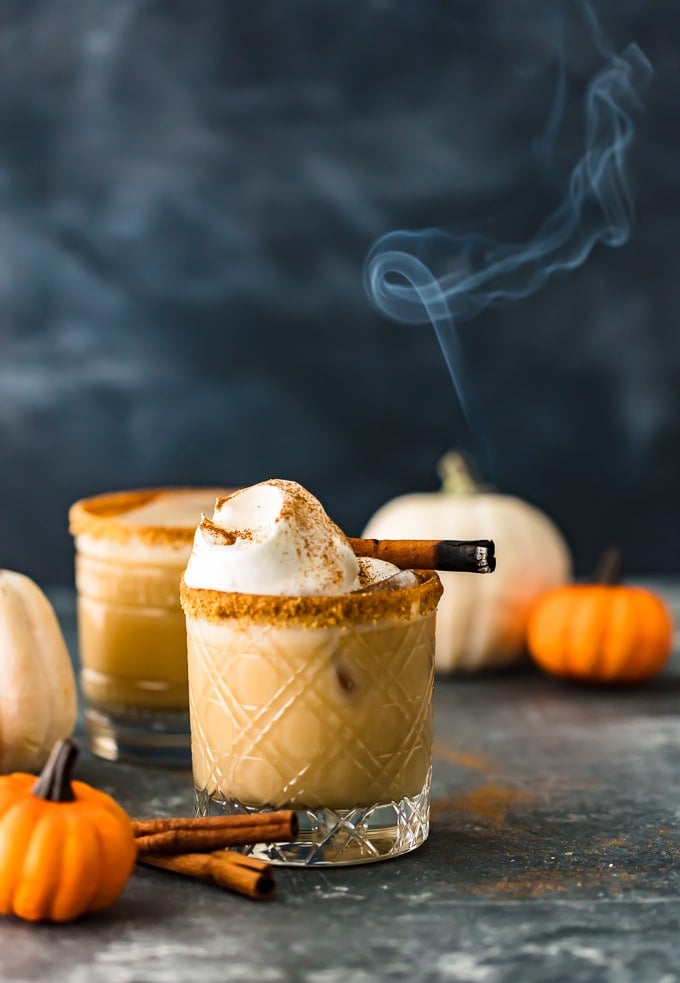 Serving Suggestions
Cocktail hour might just be my favorite time of day. Serve these pumpkin spice white russians with some of the best fall finger foods like Halloween Chex Mix and Sweet Potato Souffle Cups.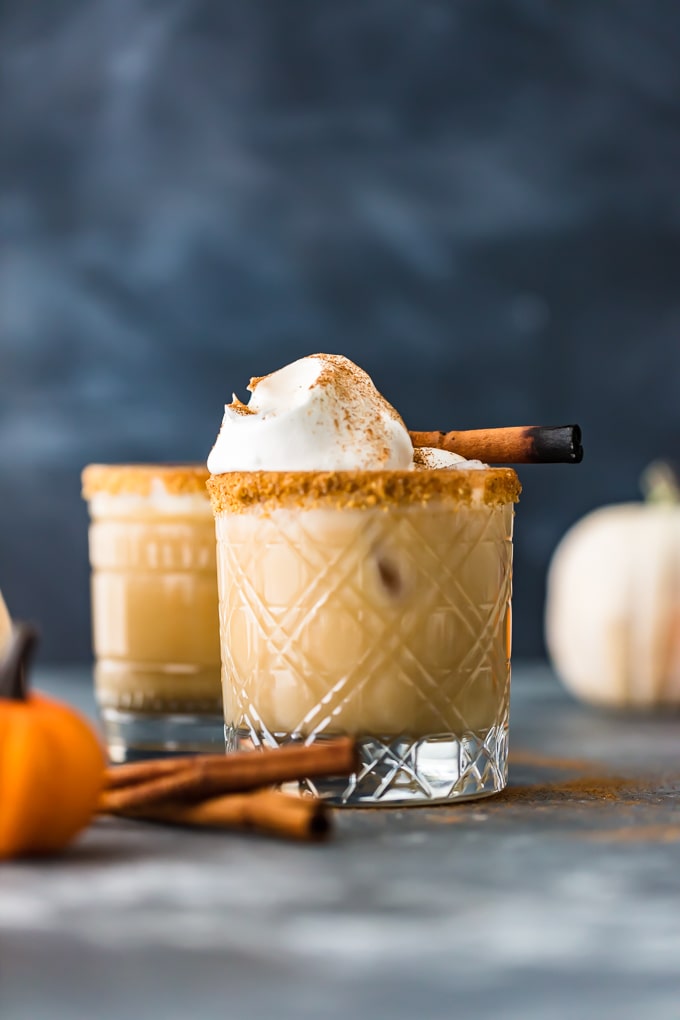 5-Star Review
"Delicious and easy to make… 3rd time this season that I have made them and everyone raved about them." – Fran
More Fall Cocktail Recipes We Love