Sweet, salty, and crunchy, this super easy-to-make Halloween Chex mix is the perfect snack mix to make with kids. Featuring a warm, brown sugar drizzle, crunchy cinnamon apple Chex, and chewy candy corn, it's the perfect fall dessert that everyone is sure to love!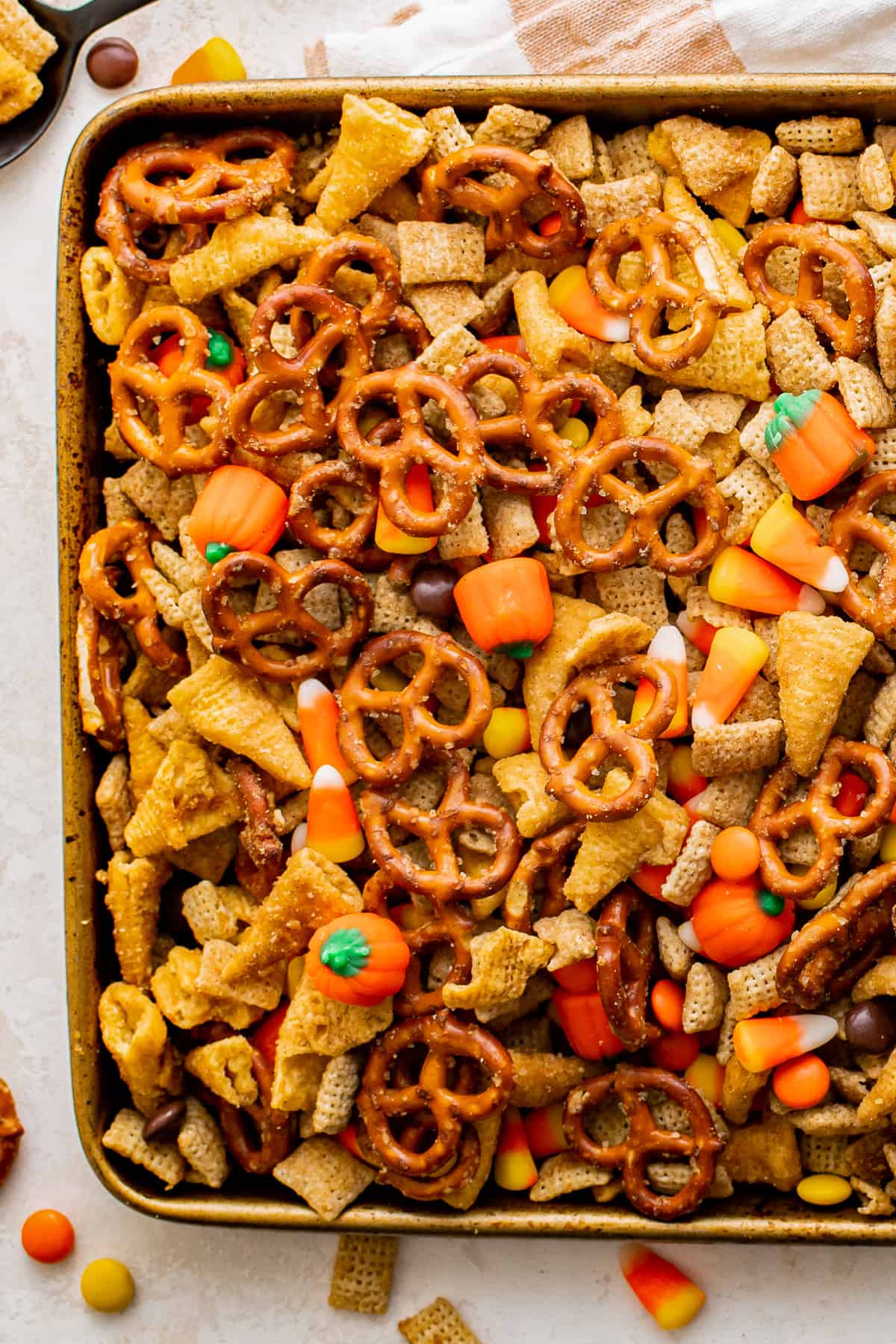 Chex Mix for Halloween
This Halloween Chex Mix recipe is irresistible! The perfect combination of sweet, salty, and crunchy means everyone will be eating handful after handful.
You'll find everything you love in this snack mix, including apple cinnamon Chex, Bugles, pretzels, candy corn, Reese's Pieces and more, all coated in a brown sugar drizzle. Make multiple batches to ensure there's enough for everyone, because this will go fast.
Why You'll Love this Halloween Snack Mix Recipe:
EASY: This easy recipe couldn't be simpler and results in an explosion of rich flavor in every bite! It's sure to be a family favorite and a hit at Halloween parties!
SWEET AND SALTY: The salty and crunchy pretzels paired with the decedent taste of chocolate will send your taste buds into a tailspin. So much flavor!
PARTY SNACK: This Chex mix is great for parties. It's easy to make ahead of time, and you can double or triple batch it to make sure there's enough.
Trademark Note: In the spirit of transparency, I want to note that some of these ingredients are trademarked products. General Mills, Brach's, and The Hershey Company are proprietary brands that I want to acknowledge and give credit to.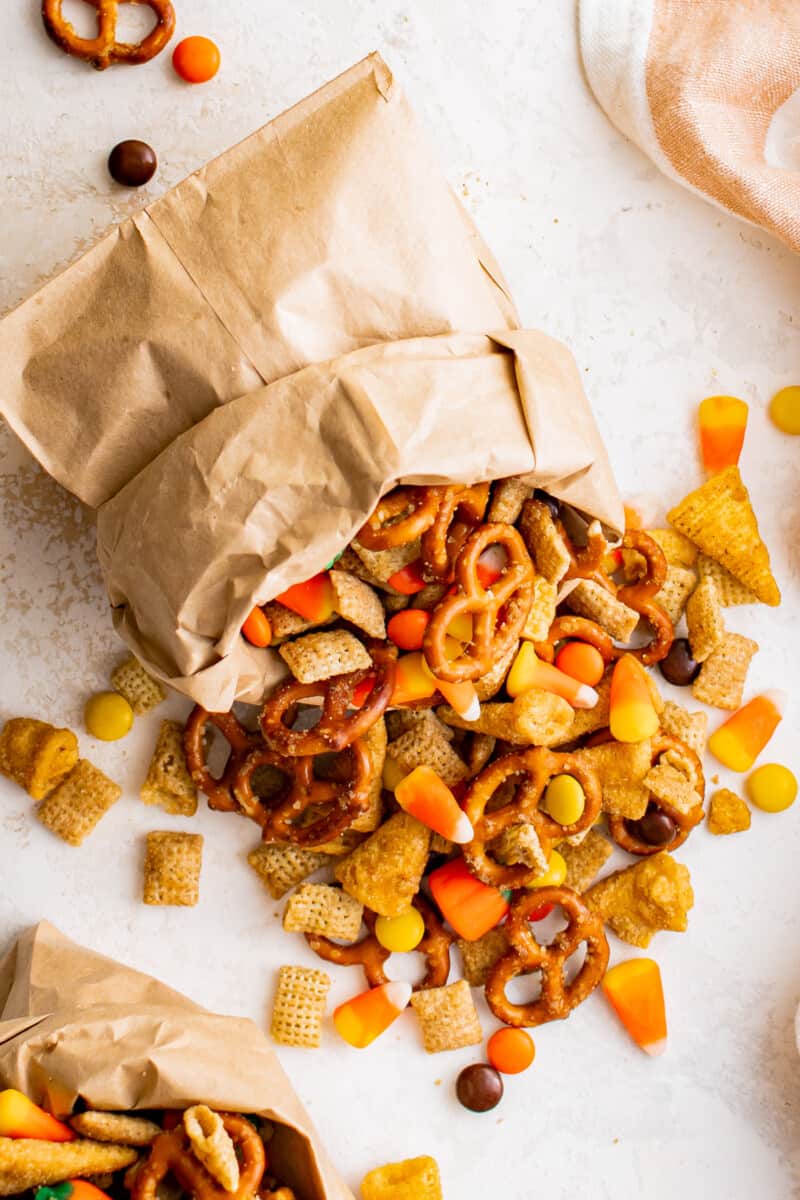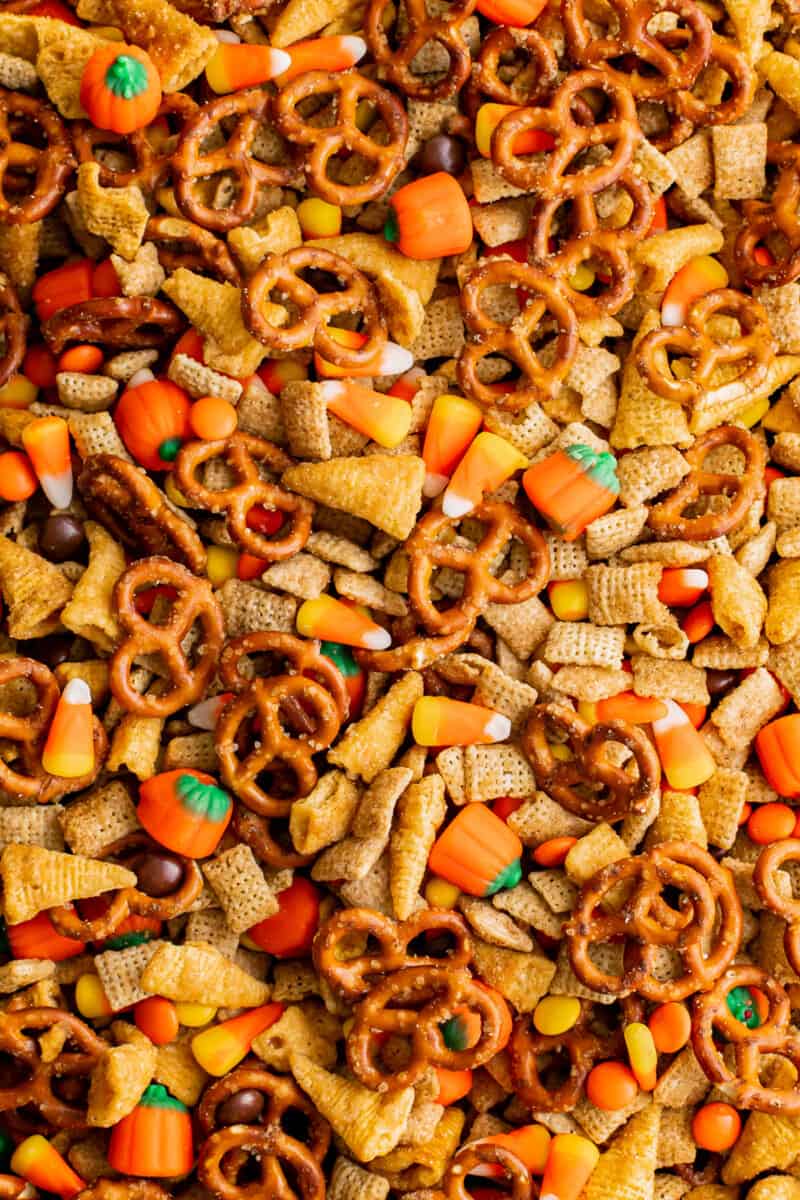 How to Make Halloween Chex Mix
Be sure to see the recipe card below for full ingredients & instructions!
Combine the butter, brown sugar, and pumpkin spice.
In another bowl, combine the Chex, Bugles, and pretzels, then drizzle the butter mix on top and toss to coat everything.
Spread out the snack mix on a baking tray in an even layer, and bake.
Let it cool completely, then toss in the candies.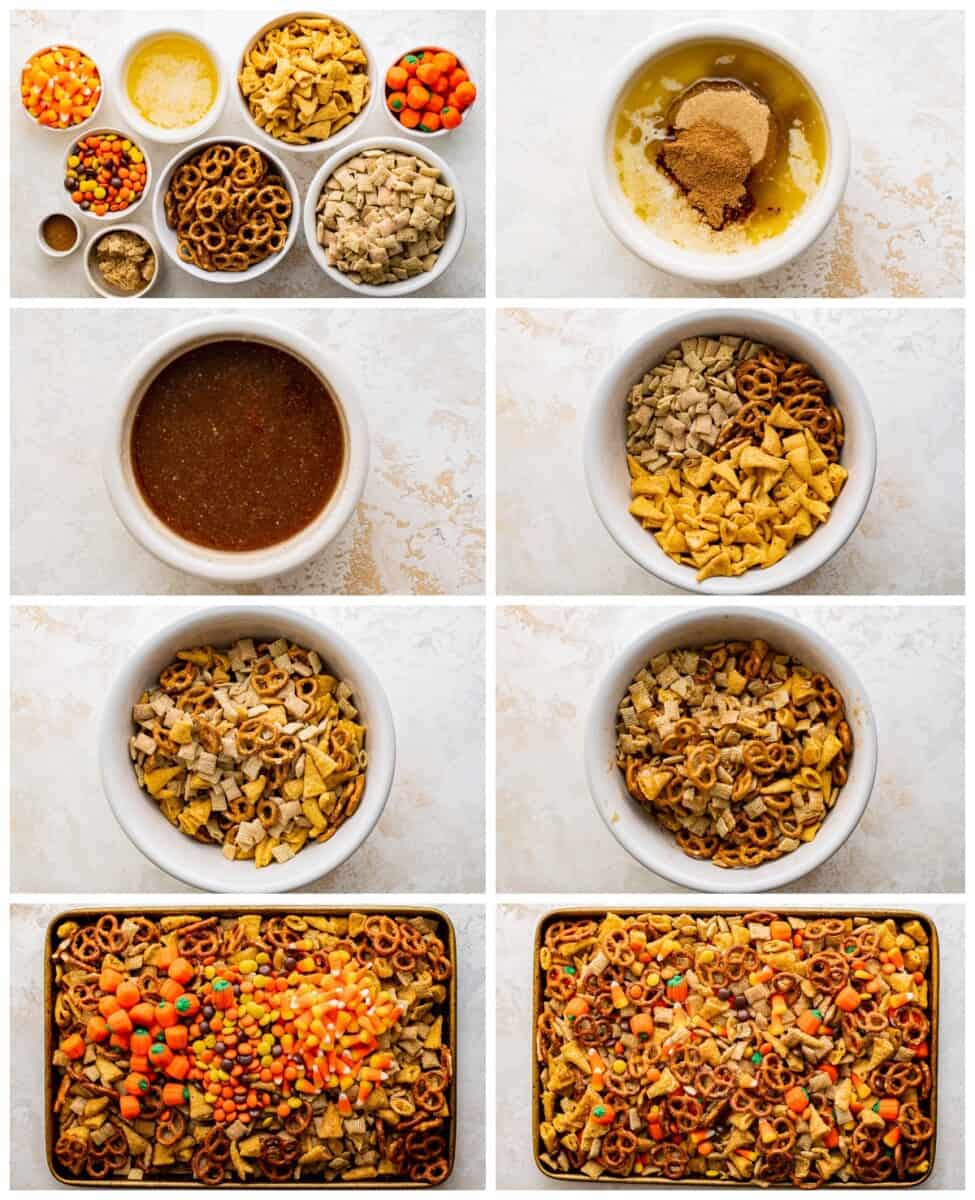 What kind of Chex cereal do I need to make Halloween Chex mix?
I recommend Apple Cinnamon Chex for this recipe to add to the sweet and savory taste, but you could also use peanut butter, cinnamon, honey nut, corn, or rice Chex!
Is Halloween Chex mix gluten-free?
Everything in this Chex mix is gluten-free except for the pretzels. To make it fully gluten-free, use gluten-free pretzels!
Can I leave the candy corn out of Halloween Chex mix?
You sure can! Candy corn is a fun treat, but not to everyone's taste. You can simply omit the candy corn or replace it with an equal amount of something else such as M&M's, peanuts, candy eyeballs, Milk Duds, Halloween sprinkles, caramel corn pieces, or black licorice!
While I love this easy Halloween Chex mix recipe as it is, feel free to switch out any of the ingredients. Use M&Ms, your favorite candy corn, different candies, or opt for plain Chex or Bugles if that's all you can find. No matter what you use, it's going to taste amazing!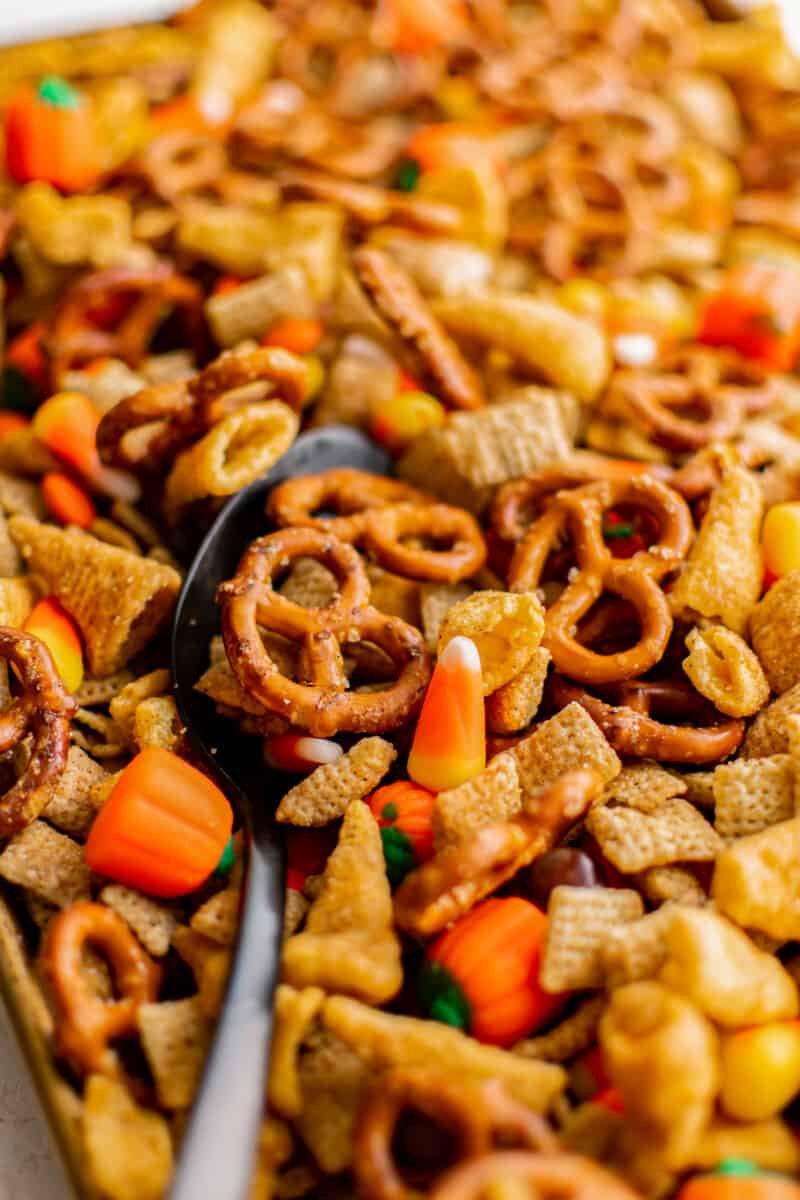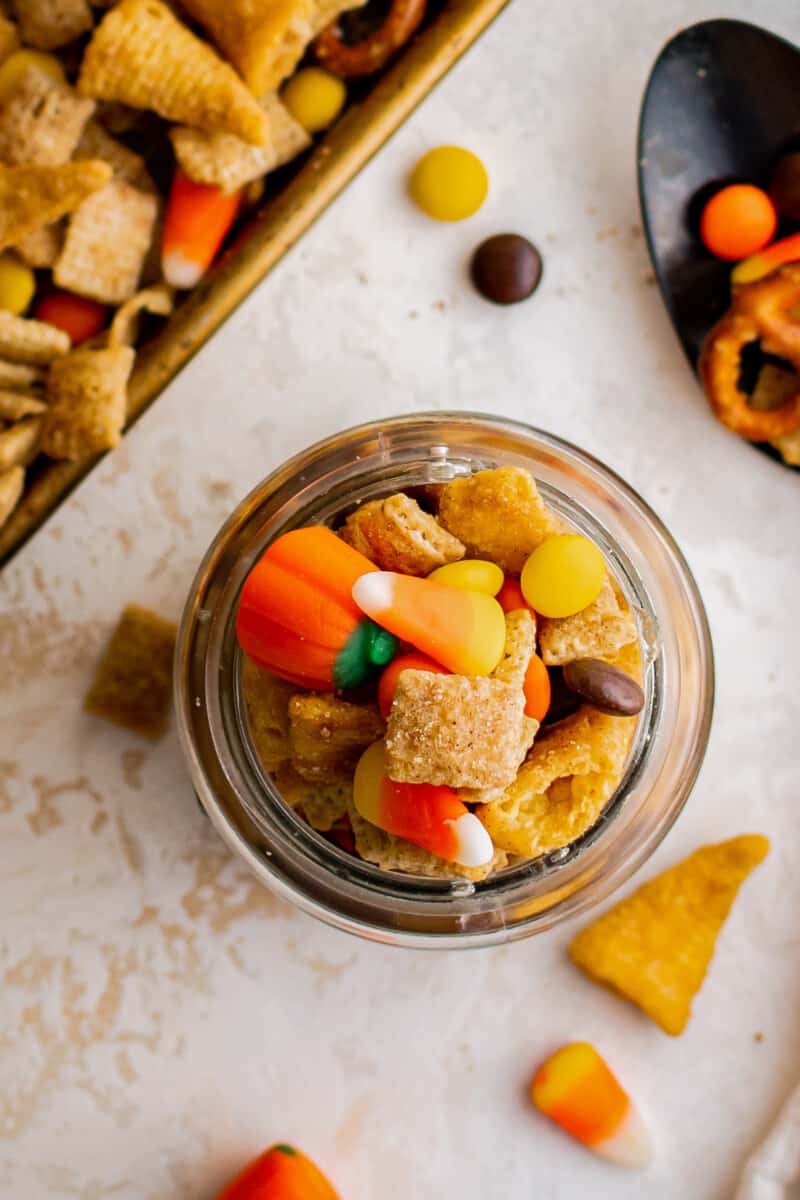 If you're having a Halloween gathering, consider placing scoops of this snack mix into small Halloween-themed packaging bags so everyone can take home their goodies!
Make Ahead Instructions
This Halloween Chex mix can be made up to 1 week in advance of when you plan to serve it. Store it in an airtight container or Ziplock bag at room temperature until ready to serve.
Storage Instructions
Store leftover Halloween Chex mix in an airtight container or Ziplock bag at room temperature for up to 2 weeks.
Freezing Instructions
Freeze Halloween Chex mix in an airtight container or Ziplock bag for up to 3 months. Let come to room temperature before serving.
Substitutions
This Chex mix can be made with unsalted butter; simply add ½ teaspoon of kosher salt.
I used light brown sugar in this recipe, but you could also use dark brown sugar.
In place of the pumpkin pie spice, you can use a mixture of 3 tablespoons ground cinnamon, 1 tablespoon ground allspice, 2 teaspoons ground nutmeg, 2 teaspoons ground ginger, 1 teaspoon ground mace, and ½ teaspoon ground cloves. Store the remaining pie spice in an airtight container for future use.
Feel free to use whatever flavor of Chex cereal you like in place of the apple cinnamon flavor. I recommend peanut butter, cinnamon, honey nut, or a mix of corn and rice Chex.
You can use caramel corn pieces in place of the caramel Bugles for a similar flavor.
Feel free to omit the candy corn/pumpkins, or replace them with a different candy, such as M&M's, peanuts, candy eyeballs, Milk Duds, Halloween sprinkles, or black licorice.
You can use mini Reese's Cups or M&M's in place of the Reese's Pieces.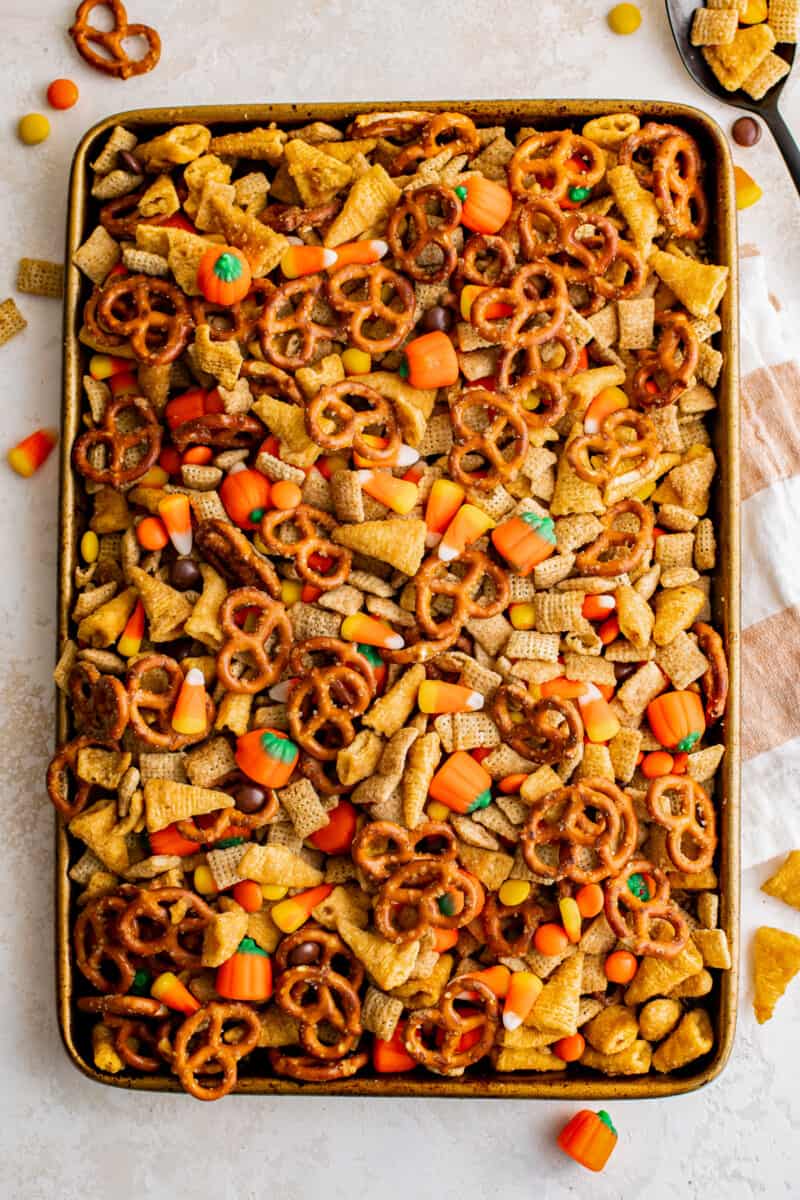 Whether you're hosting a Halloween party for kids or adults (or just making it for a night in), all are sure to love this delicious Halloween Chex Mix recipe. Enjoy this sweet and salty snack mix and have a Happy Halloween!
If you make this recipe be sure to upload a photo in the comment section below or leave a rating. Enjoy!