Garlic Cheese Bread Roll Ups are a fun and cheesy recipe that you can serve with any meal. These little garlic rolls are easy to make and so darn delicious!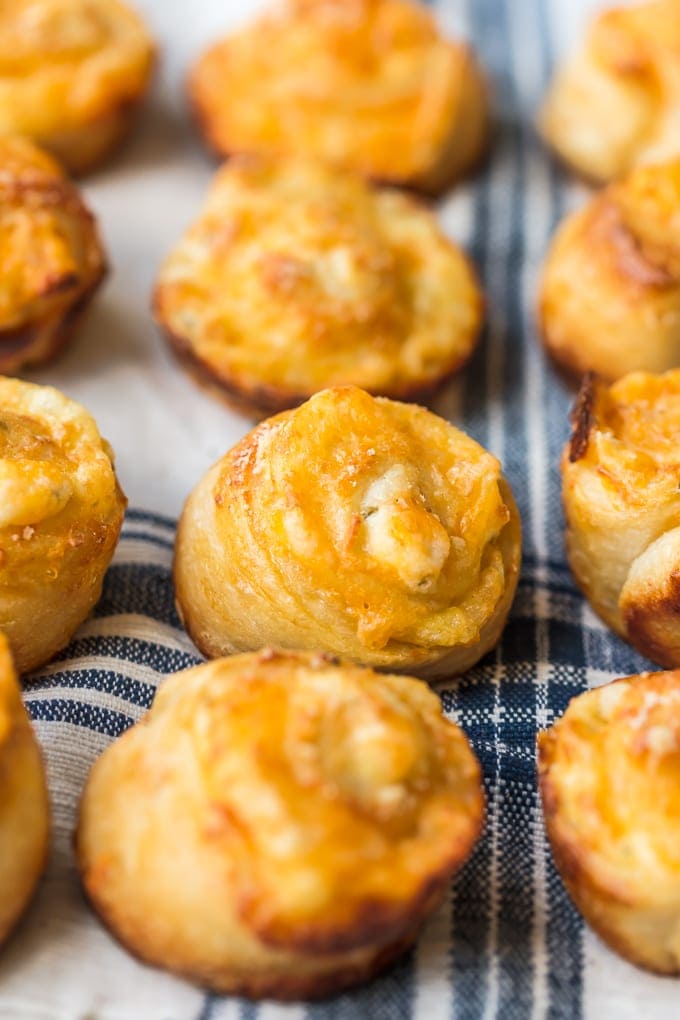 Garlic Cheese Bread Roll Ups
These garlic cheese bread roll ups (as I'm calling them) are soooo cheesy and delicious. I'm always a fan of using pre-made ingredients to create something new and tasty. There's so much you can do with pre-made dough, for example, outside of what it's made for.
That's how I came up with these fun cheesy garlic roll muffins. I started with refrigerated bread stick dough, but I wanted to make something different with it.
Add a garlic cheese spread and lots of shredded cheese, and turn the bread stick dough into these cute little muffin rolls! It's basically just garlic cheese bread in a different shape. I baked them in muffin tins to make them the perfect size!
This recipe is super easy and super fun. I can never have enough cheese in my life, and this is the perfect way to add it into a meal. Make these up to serve with any dinner. You'll love how they taste!
Make these Garlic Cheese Bread Roll Ups to serve with your next weeknight dinner. They're so cheesy and delicious!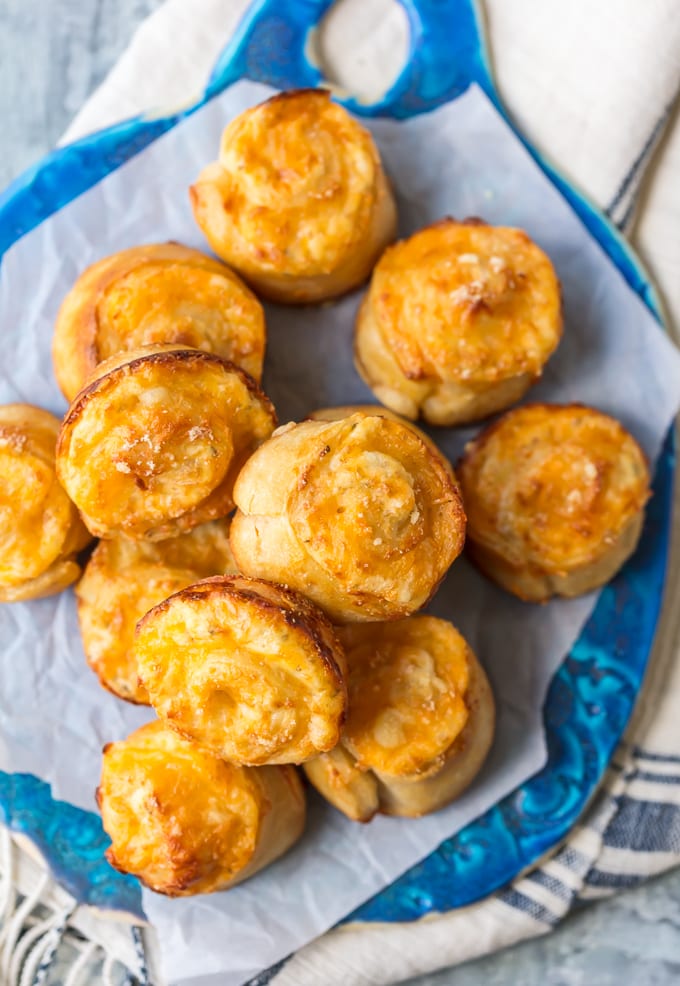 Garlic Roll Muffins
These aren't really muffins, they're not what you'd think of when you hear rolls, but they're not bread sticks or biscuits either…I used bread stick dough and rolled them up like pinwheels, then baked them in muffin tins.
These garlic cheese bread roll ups are their own category of bread, so they deserve a unique name to go with it!
Whatever they are, they are SO tasty, so cheesy, so crunchy, and so crave-worthy. These garlic rolls should be on your dinner table or even on your holiday table!
Make a batch or two of these to serve on Christmas, Easter, or Thanksgiving and your guests will devour them. I know I could eat quite a few of these cheesy garlic parmesan rolls any time!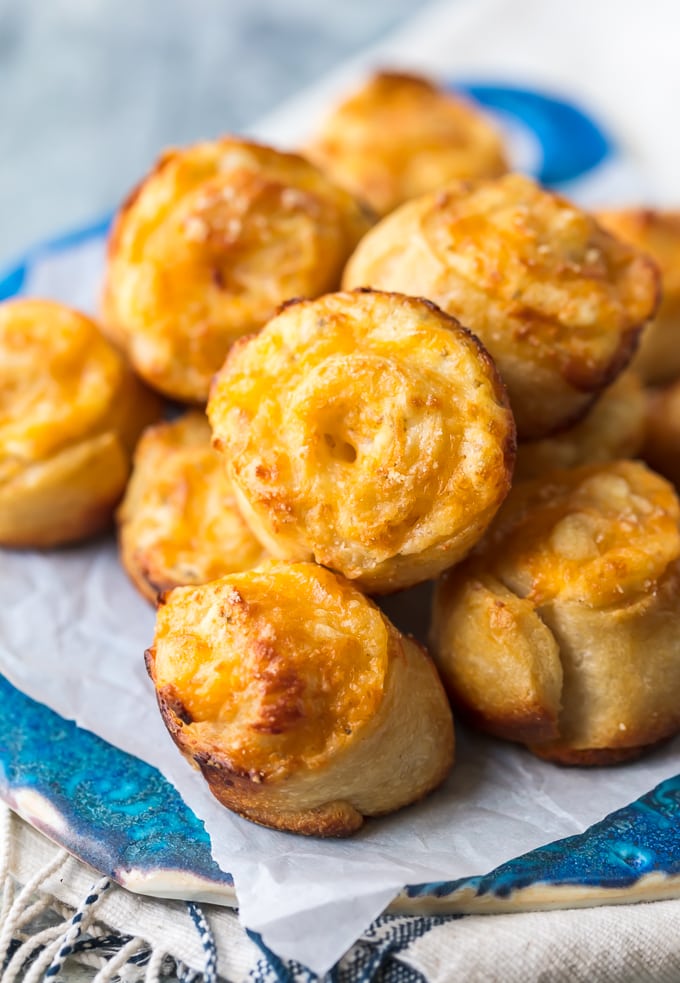 How to Make Garlic Cheese Bread Roll Ups
These garlic cheese bread rolls are super easy to make with the help of pre-made dough, and they take around 20 minutes to cook. You end up with a perfectly crunchy, cheesy roll that tastes so good with just about any meal.
Mix together the Colby Jack and Italian cheeses in a bowl
Unroll the bread stick dough onto a lightly floured surface, and press perforations to get rid of them (we won't be using them)
Work dough into a 12×8 inch rectangle and then cut in half lengthwise
Spread half the garlic cheese spread and half the shredded cheese mix onto each half of the dough
Start from the long side of the rectangle, and roll up the dough, then cut the roll into 1 1/2 inch slices to create individual rolls
Place the egg (lightly beaten) in one bowl, & shredded Parmesan cheese in another bowl
Dip each roll into the egg and then into the Parmesan, and place cheese-side up into the muffin tin
Bake 18-22 minutes at 375°F until golden brown
They'll come out hot, cheesy, and crispy! These garlic cheese bread roll ups are just so delicious. I can't wait to serve these at every meal. See the recipe card below for full instructions.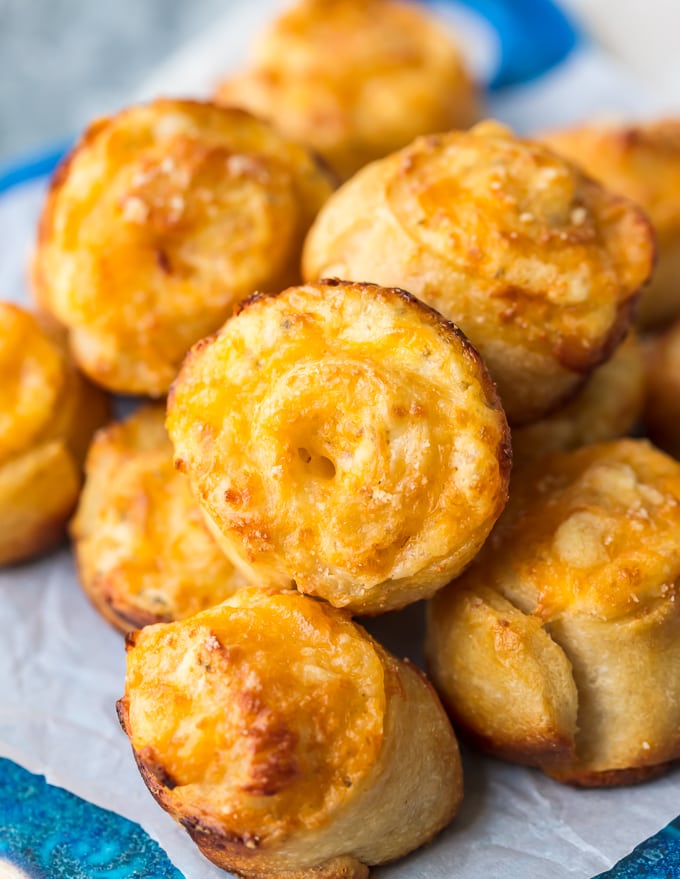 Make Your Own Garlic Cheese Spread for this Garlic Cheese Bread
This recipe calls for a garlic herb cheese spread to fill the garlic cheese bread roll ups. You can use any kind you like, but I recommend using Boursin Cheese.
You can make your own using my Homemade Boursin Cheese recipe! It's easy to make, it's creamy, herby, and delicious. Feel free to add in a bit more garlic to the recipe if you're using it specifically to make these roll ups to get that garlicy flavor. It's up to you!
There are so many other ways you can use the Boursin Cheese too. Use it as a dip for crackers and vegetables, or spread it onto your favorite breads and bagels.
You can also use it in various recipes to make salads, pastas, and chicken dishes. The possibilities are endless with this cheesy spread!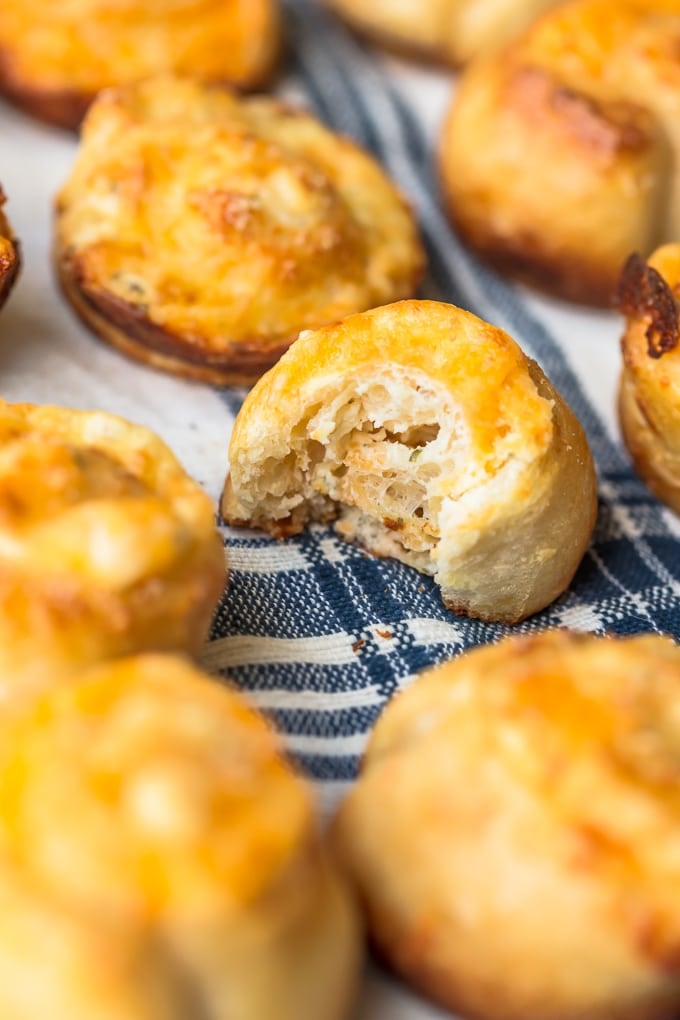 I just love these crispy little Garlic Cheese Bread Roll ups! The taste is amazing and they go with every dinner you can think of. Pastas, chicken recipes, holiday meals…anything! I know you'll love them as much as I do.
If you like these cheesy garlic rolls, try these other recipes too:
If you make this recipe be sure to upload a photo in the comment section below or leave a rating. Enjoy! You can also jump to recipe.