Pizza Cupcakes are easy to make appetizers, perfect for game day or any other party you have planned! Store bought dinner rolls are filled with marinara sauce, topped with cheese and pepperoni, then baked to perfection in just 15 minutes.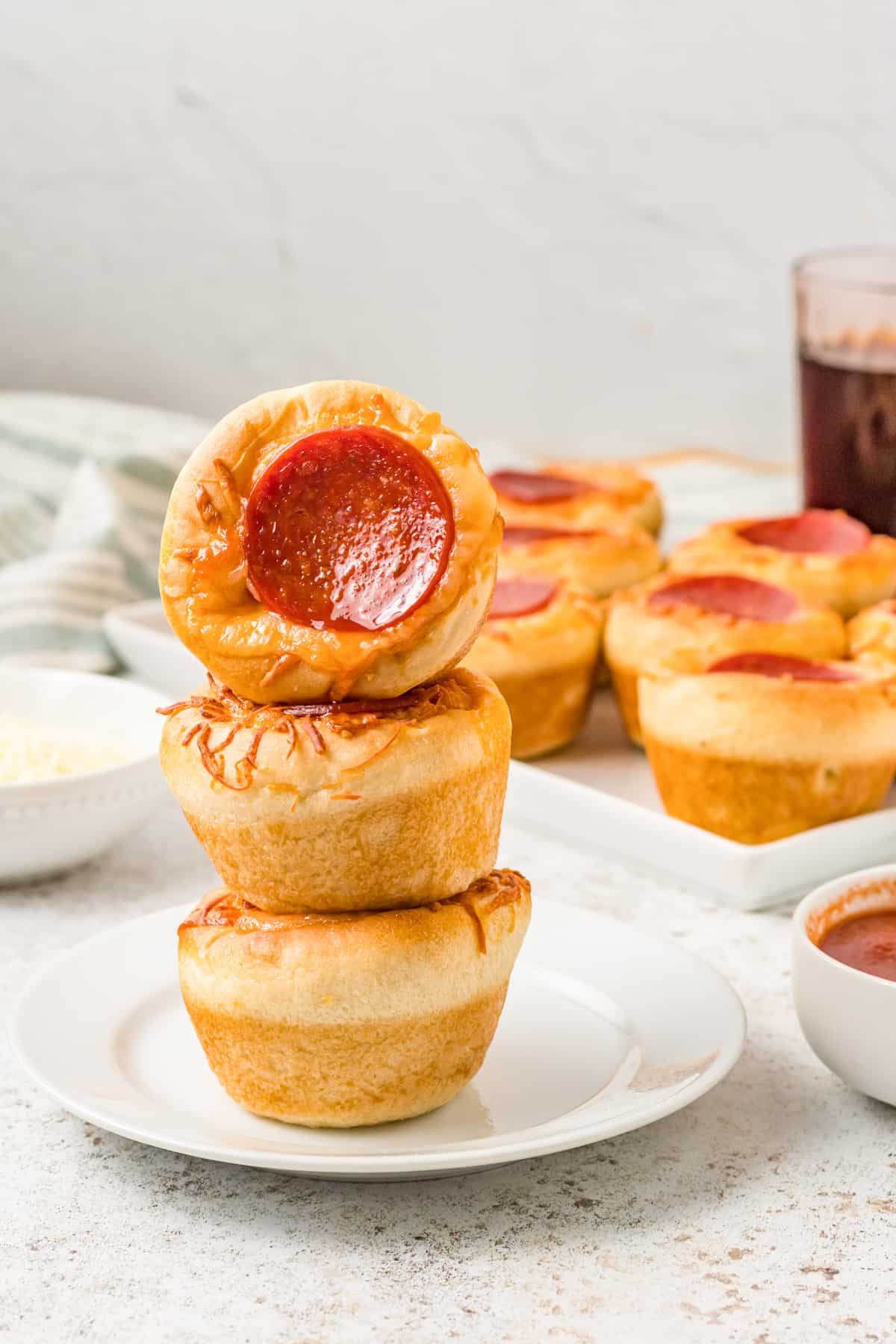 Pizza Cups
These handheld Pizza Cups might just be the best party food recipe! Everyone loves pizza and everyone loves food they can carry in one hand while they're mingling or watching the big game.
Plus, you'll love making these quick and easy mini pizzas in muffin tins! You only need 4 inexpensive ingredients and about 10 minutes of prep time to whip them up.
These are perfect as an after school snack, and they're the definition of kid-friendly! In fact, your kids might even like helping you make these quick and easy appetizers!
Since they're so delightfully simple (and quick), you can easily make a batch of Pizza Cupcakes right before the party starts. Just don't forget to let that dough thaw so it's ready to go when you are!
Why You'll Love this Pizza Cupcakes Recipe:
Kid-Friendly: Marinara sauce, cheese, pepperoni…all of these delicious pizza ingredients can make any kid smile!
Insensitive: You only need 4 ingredients to make this budget-friendly recipe. Frozen dinner rolls, marinara sauce, shredded mozzarella, and pepperoni – that's the whole shopping list.
So Easy: Let the dough thaw, fill it with sauce and cheese, then top it with pepperoni and bake. It's SO easy to make these mini pizza cups!
Whether you serve these as a special after-school snack, at a game day party, or just because you're craving them, they're always a huge hit with friends of all ages! You may want to consider doubling this recipe if you're serving them for a crowd because they tend to go pretty fast.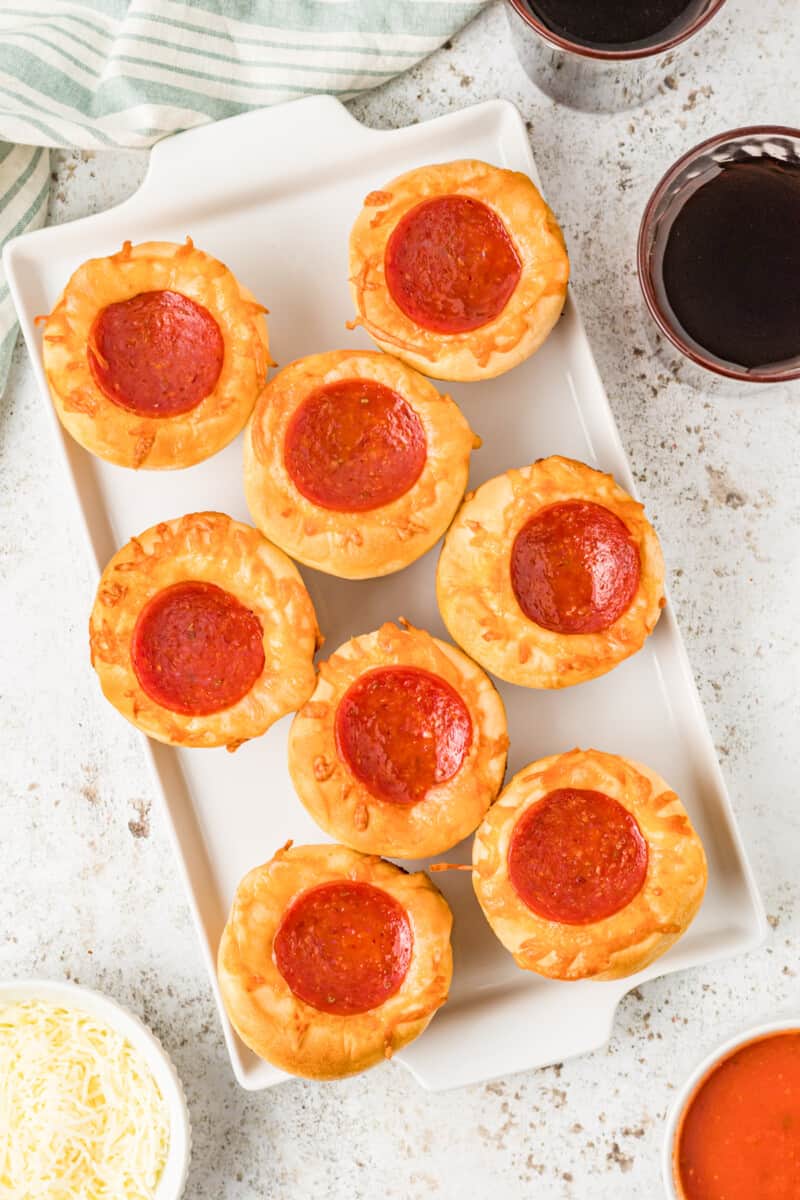 How to Make Pizza Cupcakes
You can jump to the recipe card for full ingredients & instructions!
Thaw the frozen dinner rolls in a muffin tray.
Preheat the oven to 375°F.
Press the middle of the dough to create a pocket.
Then fill the dough with sauce, cheese, and top with pepperoni.
Bake for 15 minutes and serve!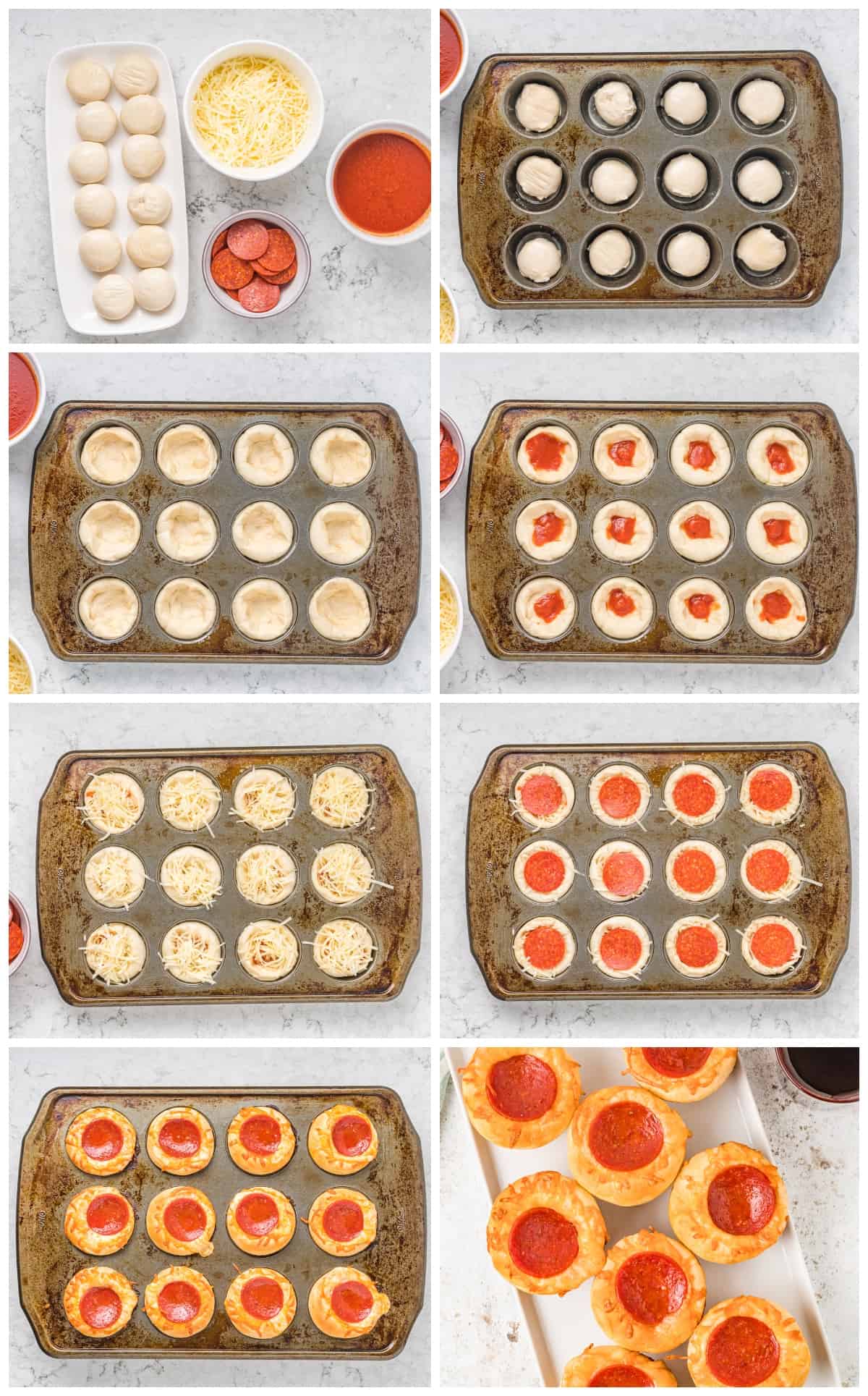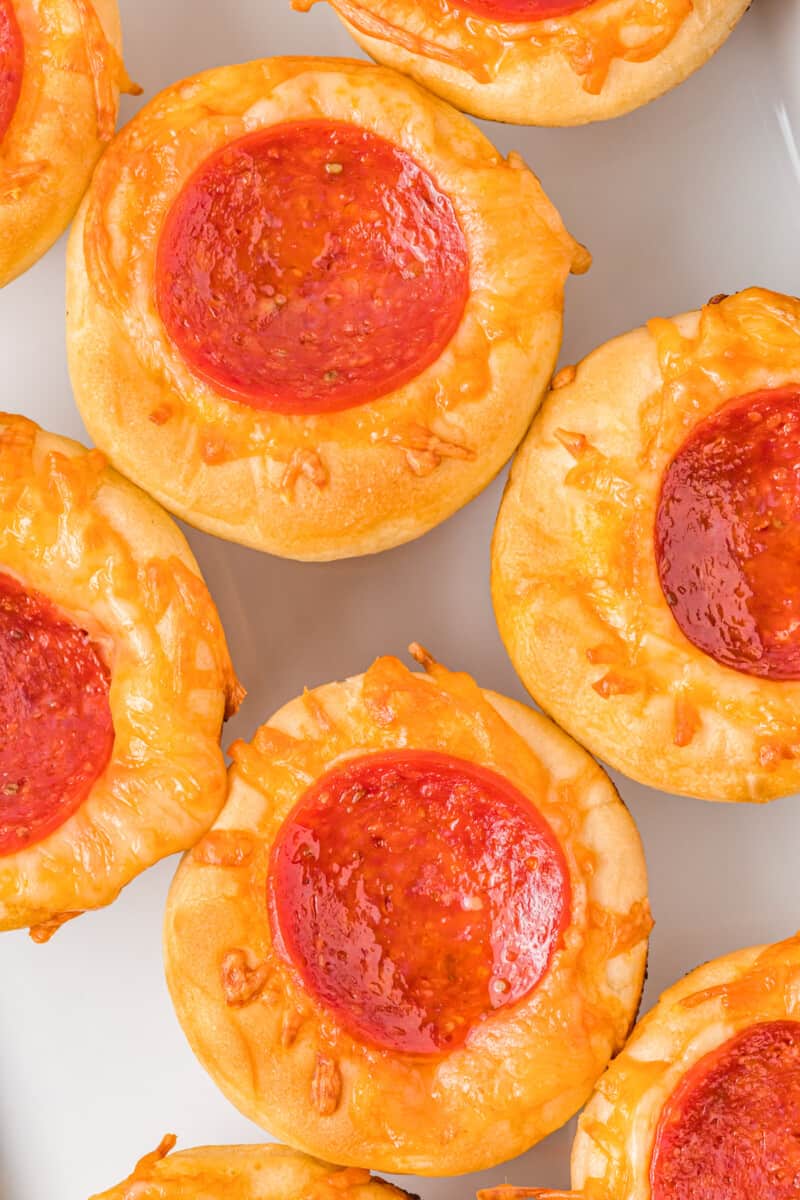 What are Pizza Cupcakes?
Pizza Cupcakes are a simple game-day appetizer made from frozen bread roll dough shaped into little cupcakes in a cupcake tin, filled with marinara sauce, and topped with cheese and pepperoni.
Can I make Pizza Cupcakes with homemade dinner rolls?
Absolutely! You could make these Pizza Cupcakes with dinner roll dough, or you could use store-bought or homemade pizza dough! Simply bring the dough to room temperature and divide it into 12 pieces.
What other toppings can I add to Pizza Cupcakes?
Feel free to get creative! You could add chopped-up bacon or ham, crumbled sausage, diced onions, peppers, or any other toppings you love! You could even swap the marinara sauce for alfredo sauce!
I always like to serve my Pizza Cupcakes with extra marinara sauce on the side for dipping! After all, you can never really have too much sauce, right? They'd also be great with a side of ranch dressing!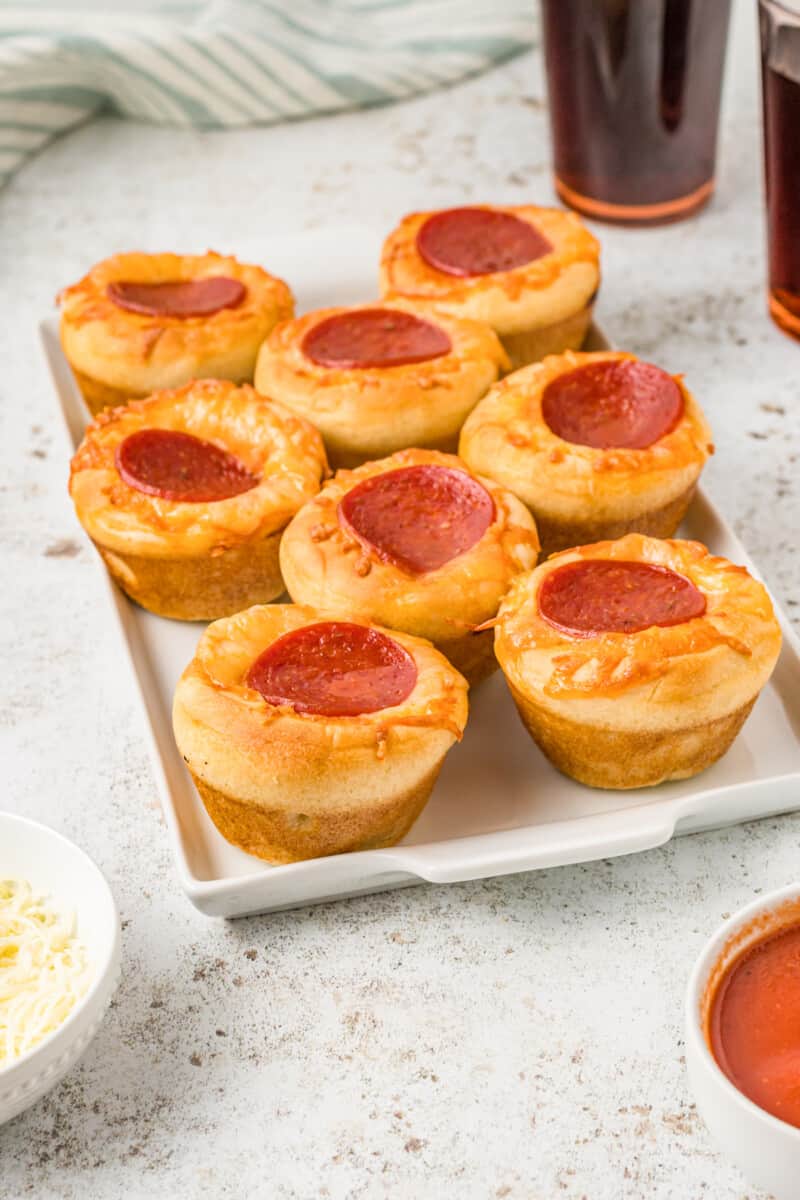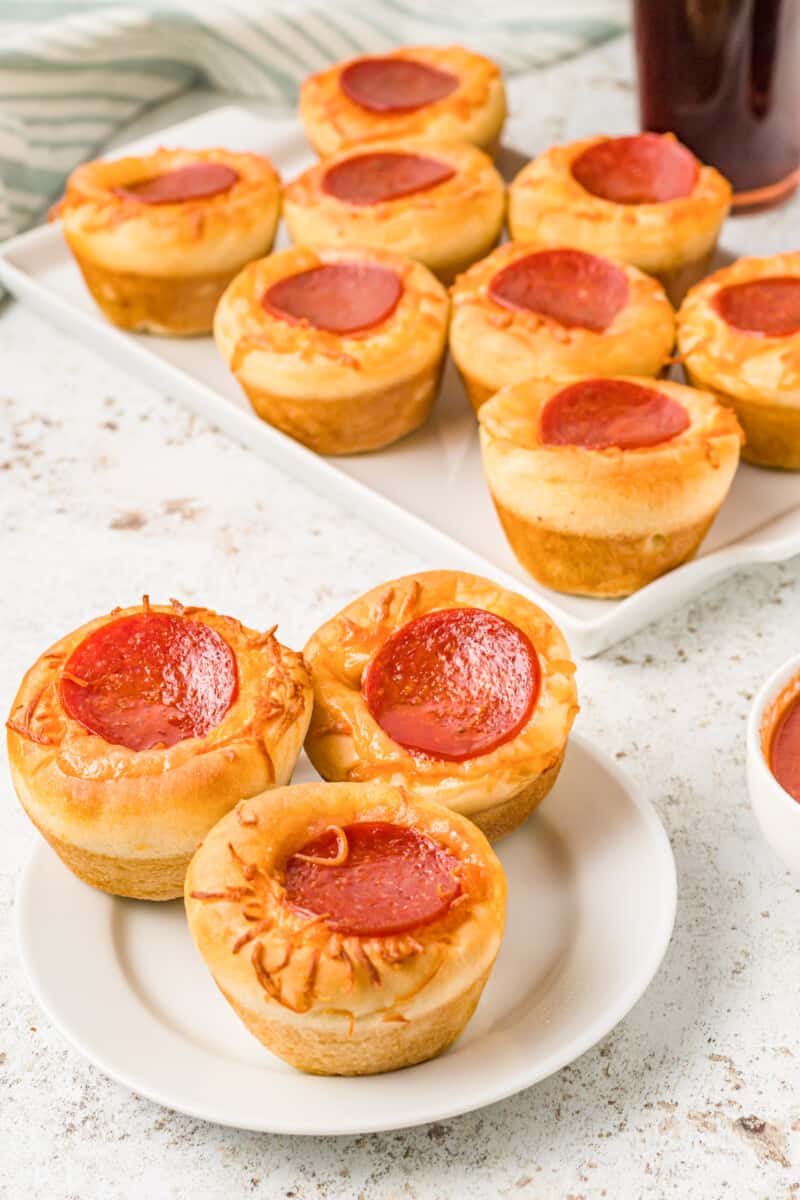 Make Ahead Instructions
I recommend thawing your rolls fully according to the package instructions in advance of beginning this recipe to save time. You could also thaw them overnight in the refrigerator so they're ready to go when you are.
Storage Instructions
Store leftover pizza cupcakes in an airtight container in the refrigerator for up to 4 days. Enjoy cold or warmed in a 350°F oven for 5-7 minutes, until warmed through.
Freezing Instructions
Freeze pizza cupcakes in a single layer on a lined baking sheet until solid, about 1-2 hours. Transfer to an airtight container or Ziplock bag to store for up to 3 months. Reheat directly from frozen, adding 1-2 minutes to the final bake time.
Substitutions
You can use any frozen dinner rolls you like. Just make sure to grab the bake-and-serve kind, not the prebaked ones!
You can also use homemade dinner roll dough or store-bought or homemade pizza dough instead!
Instead of marinara sauce, you can use store-bought pizza sauce.
Feel free to use any cheese you like on these pizzas; I like to use fresh mozzarella balls sometimes.
Use any of your favorite pizza toppings, such as diced bacon or ham, crumbled sausage, black olives, mushrooms, or diced veggies.
Scaling Up
These rolls are easy to scale up. Simply double the recipe to make 24 cupcakes. I always make a double batch and freeze half for later!
When it comes to party food, nothing's better than something you can grab and go! Pizza Cupcakes check all the right boxes – they're perfectly portable, easy to make, inexpensive, kid-friendly, and SO delicious! All pizza lovers will enjoy this scrumptious and simple finger food.
If you make this recipe be sure to upload a photo in the comment section below or leave a rating. Enjoy! You can also jump to recipe.