Homemade Pizza Bagels are better than anything you can buy frozen! You only need 3 ingredients (mini bagels, pizza sauce, and cheese) plus your favorite toppings to make these. It's the perfect lunch for kids, appetizer for game day, or quick 15 minute snack for when you're craving a bite of pizza!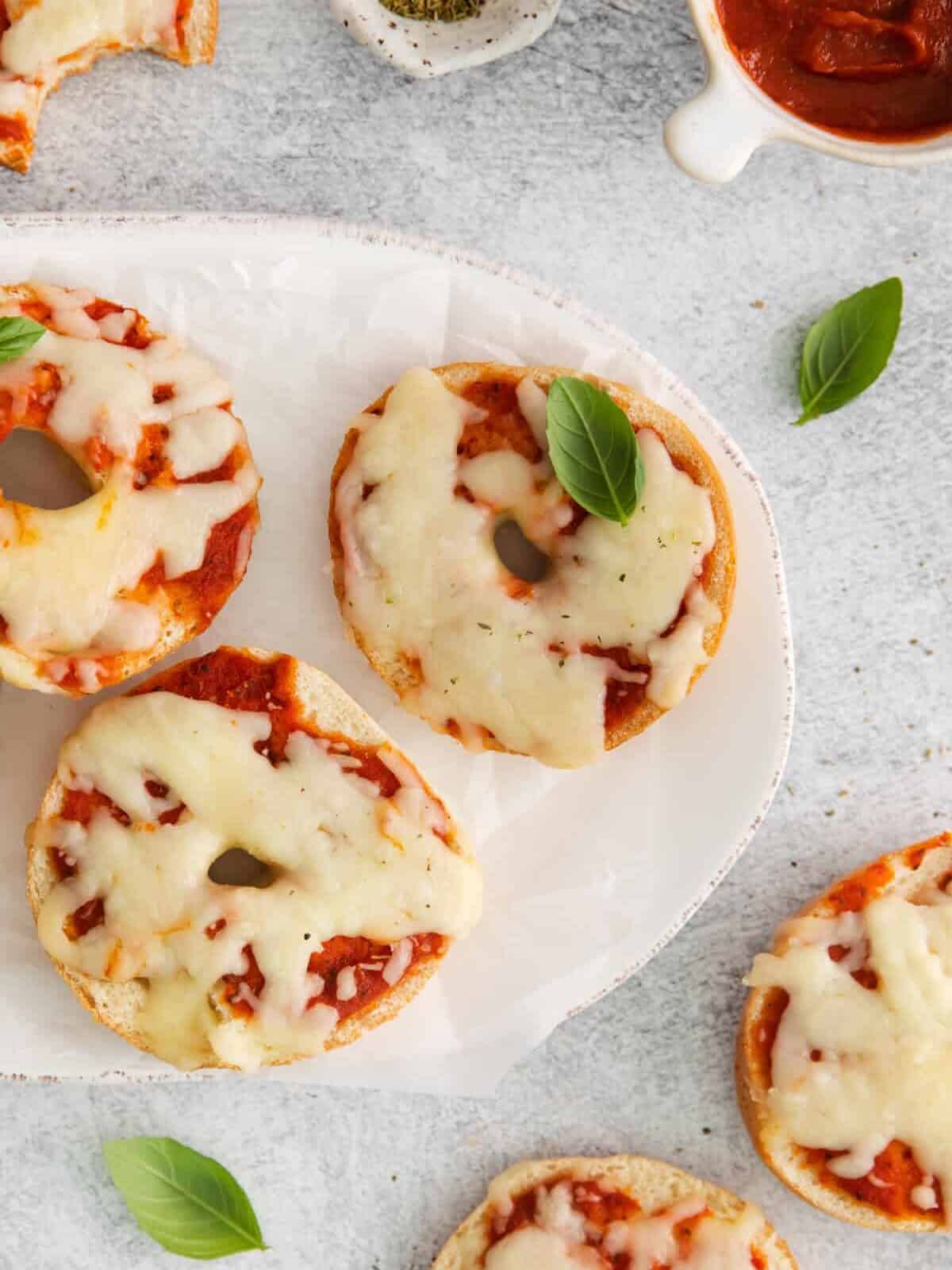 What's in a Homemade Pizza Bagel?
All you need are mini bagels, sauce, and cheese to make your very own pizza bagels at home. You'll never go back to store-bought once you see how easy this recipe is!
Mini Bagels: Gives these that classic "bagel bite" look. You can use regular-sized bagels if you prefer.
Pizza Sauce: I used store-bought pizza sauce, but homemade marinara sauce will also work.
Mozzarella Cheese: Gives the perfect cheese pull. I recommend using freshly shredded for the best results, but pre-shredded will also work.
Toppings: You can leave your pizza bagels plain, or feel free to add whatever toppings your heart desires.
Pro Tip: If your sauce is a little too plain, mix in some Italian seasoning to add even more pizza flavor!
Variations on Mini Bagel Pizzas
There are so many ways to change up this pizza bagel recipe. Try swapping out plain bagels for onion, everything, rye, asiago, or multigrain. You could also switch out the pizza sauce for marinara, pesto, Buffalo sauce, BBQ sauce, or alfredo sauce. Swap out the mozzarella for cheddar, Parmesan, or pepper jack cheese! And top your bagels with anything your heart desires, such as pepperoni, sausage, pineapple, olives, basil, tomatoes, Buffalo chicken, barbecue pork, or even garlic shrimp!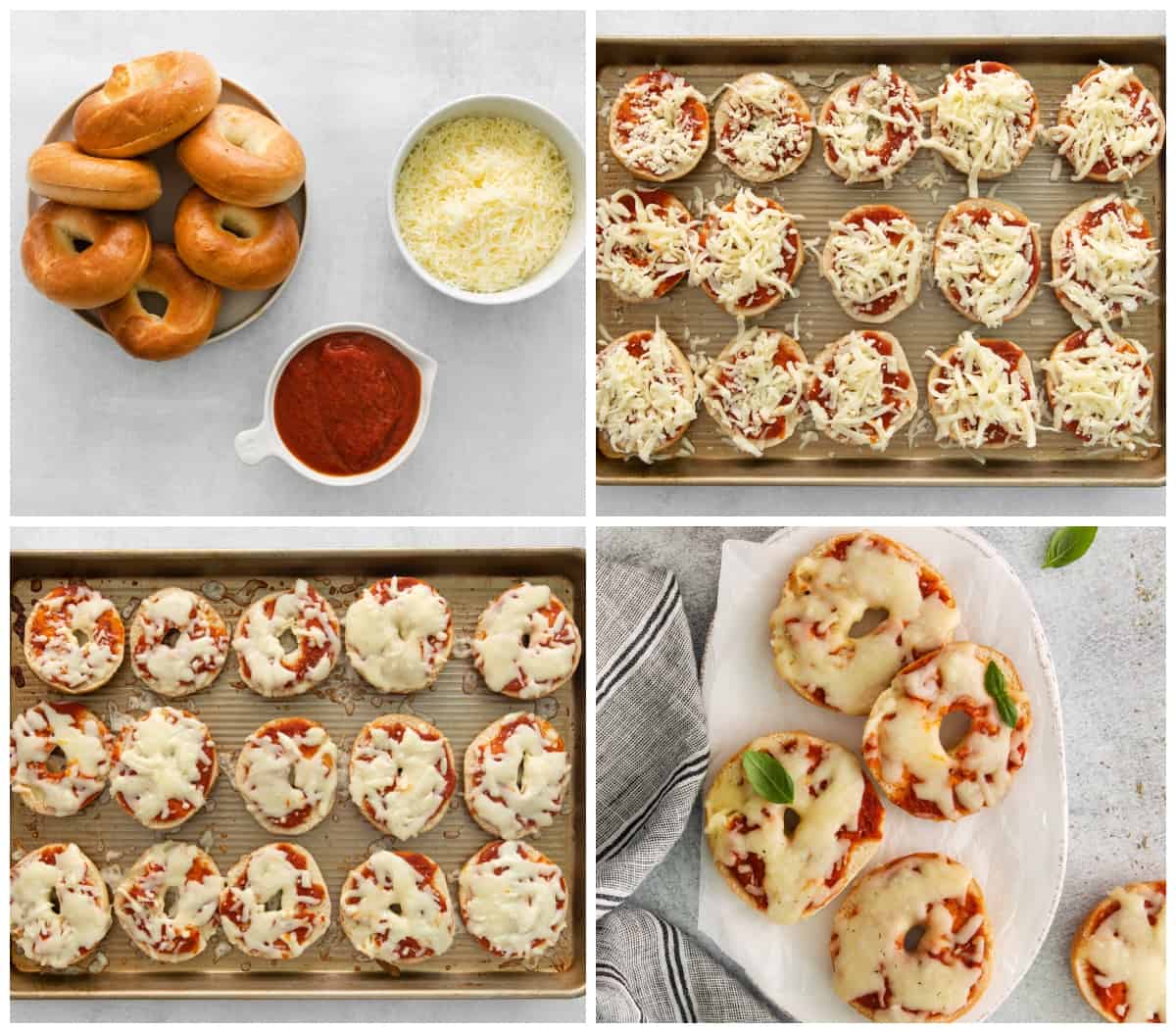 How long do you cook pizza bagels?
These mini pizza bagels take just about 10 minutes to cook in the oven. Talk about fast!
Do pizza bagels need to be refrigerated?
Pizza bagels are best served hot from the oven, but if you have leftovers, they will need to be refrigerated to keep them from spoiling.
How do you keep pizza bagels from getting soggy?
We toast these bagels before adding any sauce to prevent them from getting soggy.
Can you freeze pizza bagels?
You sure can! They will keep well for up to 3 months in the freezer.
How to Store and Reheat
Store leftover pizza bagels in an airtight container in the refrigerator for up to 3 days. Reheat in a 350°F oven for 5-10 minutes, or until the cheese has melted.
How to Freeze
Freeze homemade pizza bagels in a single layer on a lined baking sheet until solid, about 1-2 hours. Transfer to an airtight container or Ziplock bag to store for up to 3 months. Reheat directly from frozen in a 350°F oven for 10-15 minutes.
Serving Suggestions
These mini bagel pizzas are the perfect easy dinner for kids or game day appetizer. Serve them alongside Velveeta queso, jalapeno poppers, mozzarella sticks, cheese fries, ham and cheese sticks, meatball subs, tortilla roll ups, or Reuben egg rolls. Dip them in ranch dressing for a classic pizza pairing!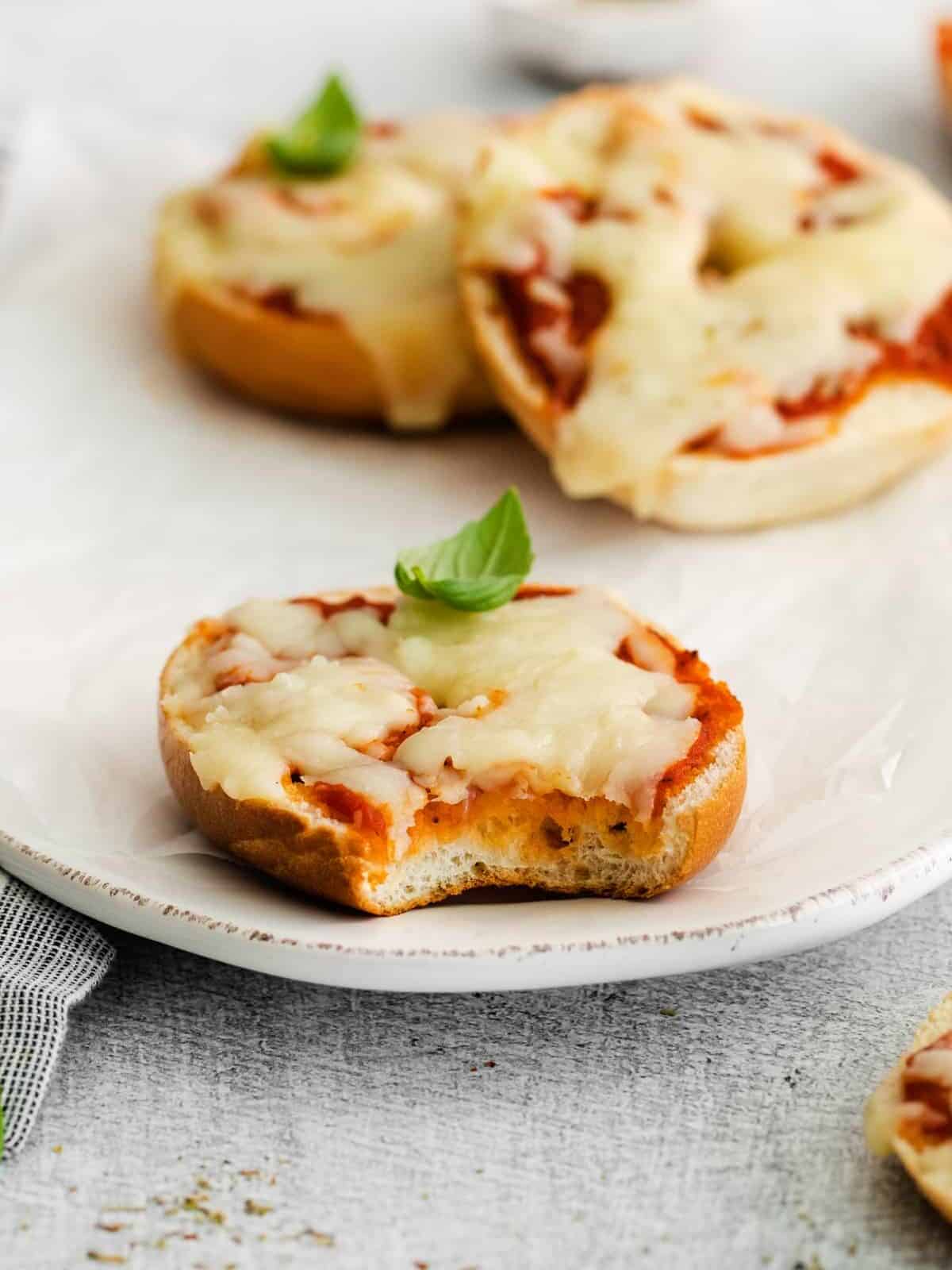 More Pizza Appetizers We Love