This homemade Nacho Cheese Sauce recipe is so quick and easy, you'll only need 4 ingredients and 5 minutes! It has the best cheddar cheese flavor, with a little bit of spice thanks to pepper jack and hot sauce. You're going to love the creamy and cheesy consistency. Use it to dip nachos, fries, and pretzels, or slather it on top of tacos, fajitas, and anything your heart desires!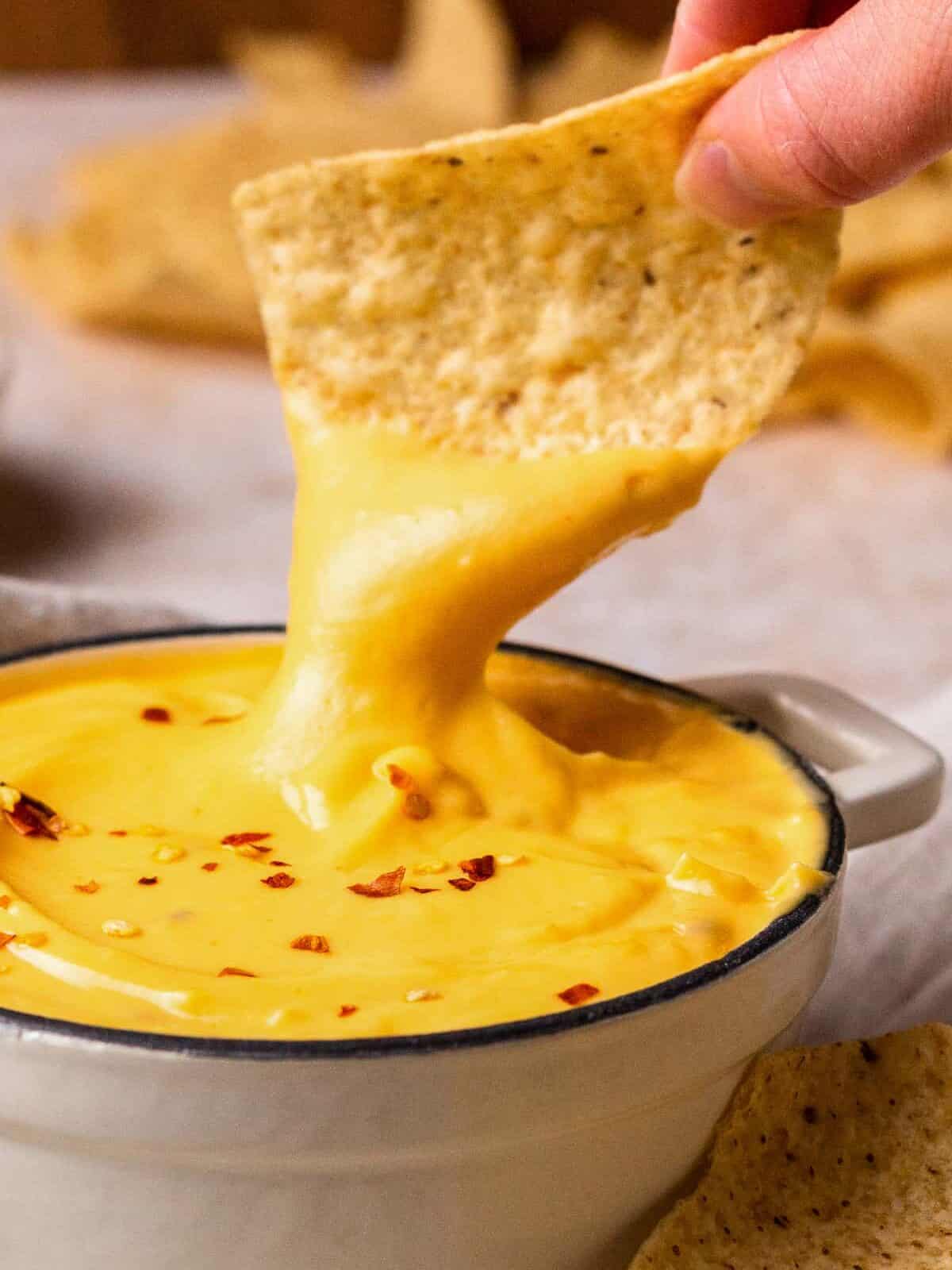 What's in this 5 Minute Nacho Cheese recipe?
This easy nacho cheese sauce is so dippable and so easy. You'll be able to whip this up any time, for any meal or snack, game day, or Cinco de Mayo. Don't forget the tortilla chips!
Shredded Cheese: Shredded cheese is easy to melt evenly. I recommend using sharp cheddar cheese, and pepper jack for a little bit of spice. Freshly-shredded cheese will melt best.
Evaporated Milk: Evaporated milk is thick and creamy, which lends to the perfect texture for our cheese sauce. Use unsweetened milk.
Cornstarch: Cornstarch is used here as a thickening agent. I prefer it over flour since cornstarch simply has more thickening power.
Hot Sauce: Use any hot sauce you like. Something classic like Frank's works great. You can leave this out if you don't want any heat, but it's delicious.
Pro Tip: You can substitute flour in place of the cornstarch if you need to, but you will need more of it to achieve the same result. So slowly add more in and stir until you get the desired consistency.
What toppings can I add to nachos with cheese sauce?
This sauce makes a great dipping cheese for nachos, but you can also use it to make a regular plate of nachos. Spread out tortilla chips on a tray or plate, pour the cheese sauce on top, and add any toppings you like (make sure ingredients are already cooked, heated, or prepped as desired).
You can add ground beef, shredded chicken, jalapenos, barbacoa beef, black olives, sour cream, simple guacamole, easy salsa, green onions, caramelized onions, and more.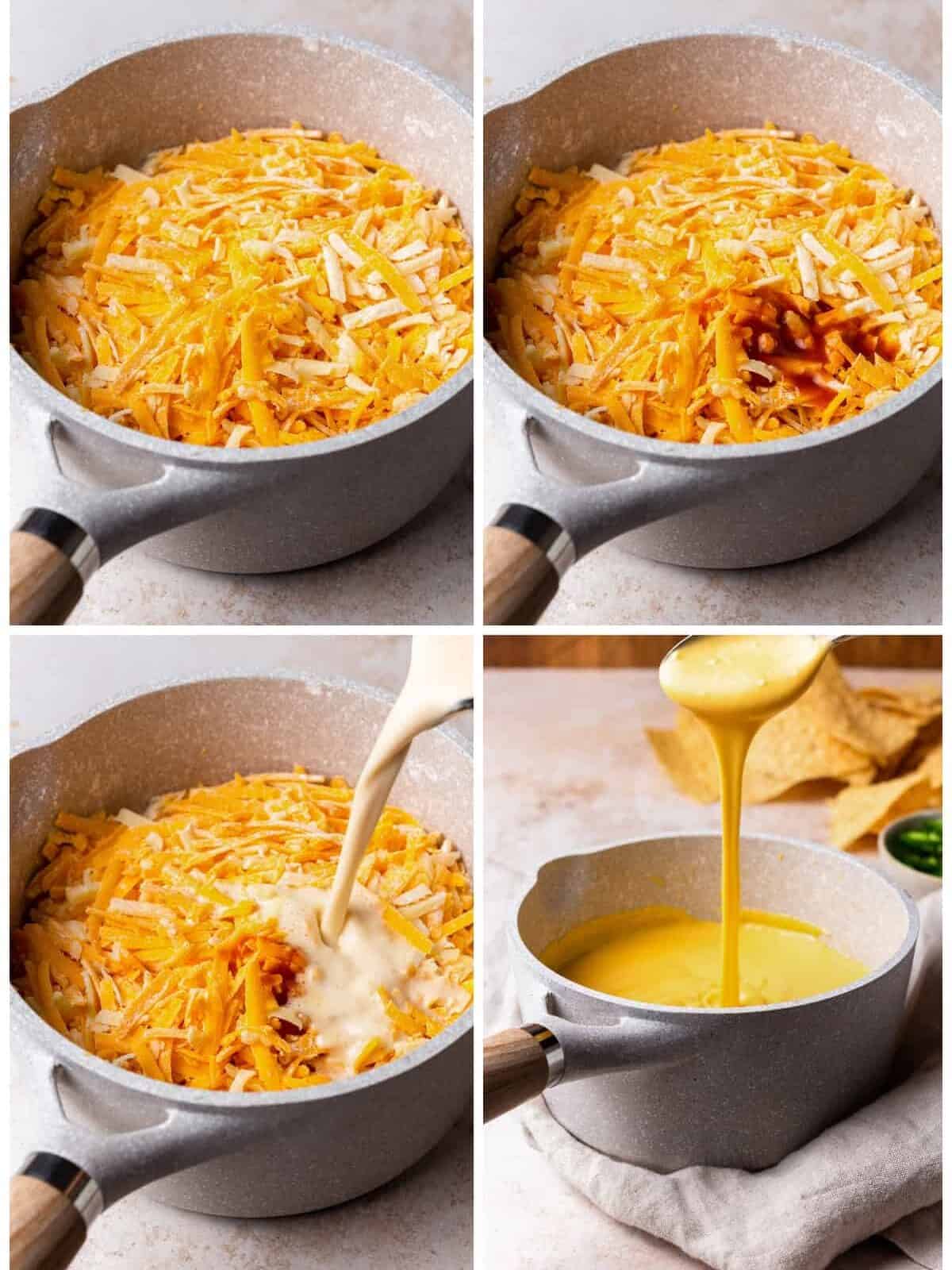 What kind of cheese is best for nachos?
Cheddar cheese is the best option for that classic nacho cheese flavor and it melts well. You could use monterey jack or colby instead. And the pepper jack adds a little bit more spice, which I love!
Why is my cheese sauce clumping?
You need to make sure all ingredients are mixing and melting evenly to avoid clumping, so it's important to whisk constantly until everything is fully combined and melted.
How do you keep nacho cheese warm and creamy?
As soon as the cheese starts to cool, it will harden and change texture. You can keep it over low heat and continue stirring regularly. But you may need to stir in more milk once it's started to harden, to refresh it's creamy texture.
How do you thicken nacho cheese sauce?
Add more cornstarch (just a little bit at a time), and continue heating and stirring until it reaches your desired consistency.
How do you thin out cheese sauce?
Add more evaporated milk (a little bit at a time), and continue heating and stirring until it reaches your desired consistency.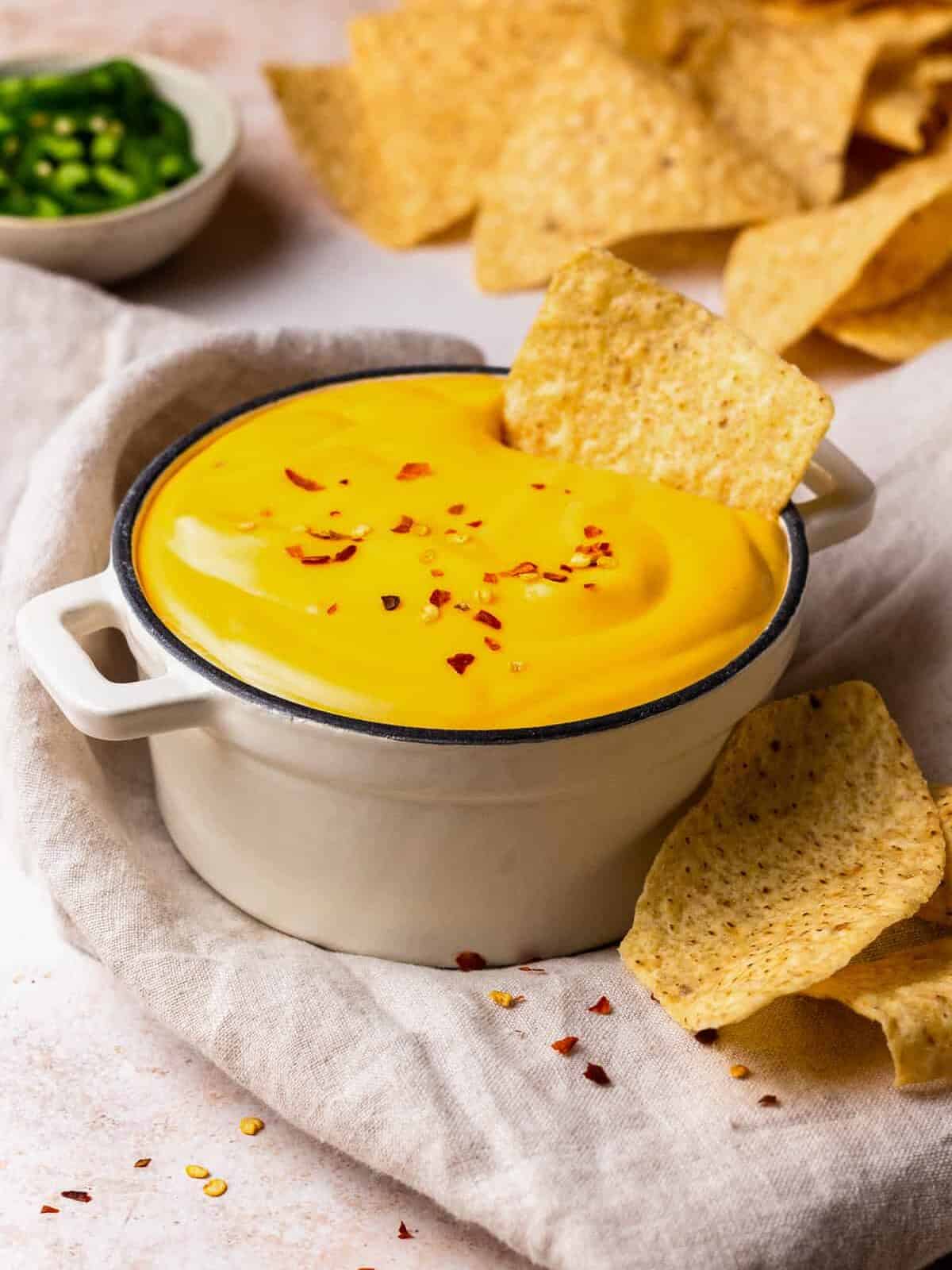 How to Store and Reheat
This nacho cheese sauce is best consumed fresh and hot, because the texture will change when it cools. But you can store leftovers in an airtight container, in the refrigerator for 2 days.
Reheat in a pan on the stovetop over low heat. Add small amounts of evaporated milk to help freshen it up, and stir until fully heated through.
I do not recommend freezing this recipe.
How can I use this homemade cheese sauce?
There are so many ways to use this quick and easy nacho cheese! Of course it's ideal for dipping nachos, but that's not where it ends.
Use it to dip chips, pretzel bites, French fries, tater tots, taquitos, and any number of things in it. Pour it over beef enchiladas, your favorite tacos, chicken fajitas, or rice.
I also use it for this Pretzel Crust Pizza. You'll find so many ways to use this 5 minute cheese sauce, it'll be your new go-to for Cinco de Mayo food, football food, and quick snacking.
If you make this recipe be sure to upload a photo in the comment section below or leave a rating. Enjoy!
More Cheese Dips We Love