Monkey Bread is a fun and tasty treat perfect for breakfast or dessert! This Pumpkin Pie Monkey Bread Recipe tastes just like pumpkin pie, making it the ultimate Thanksgiving breakfast. I love this ooey gooey monkey bread made with biscuit dough. It's so easy and so delicious!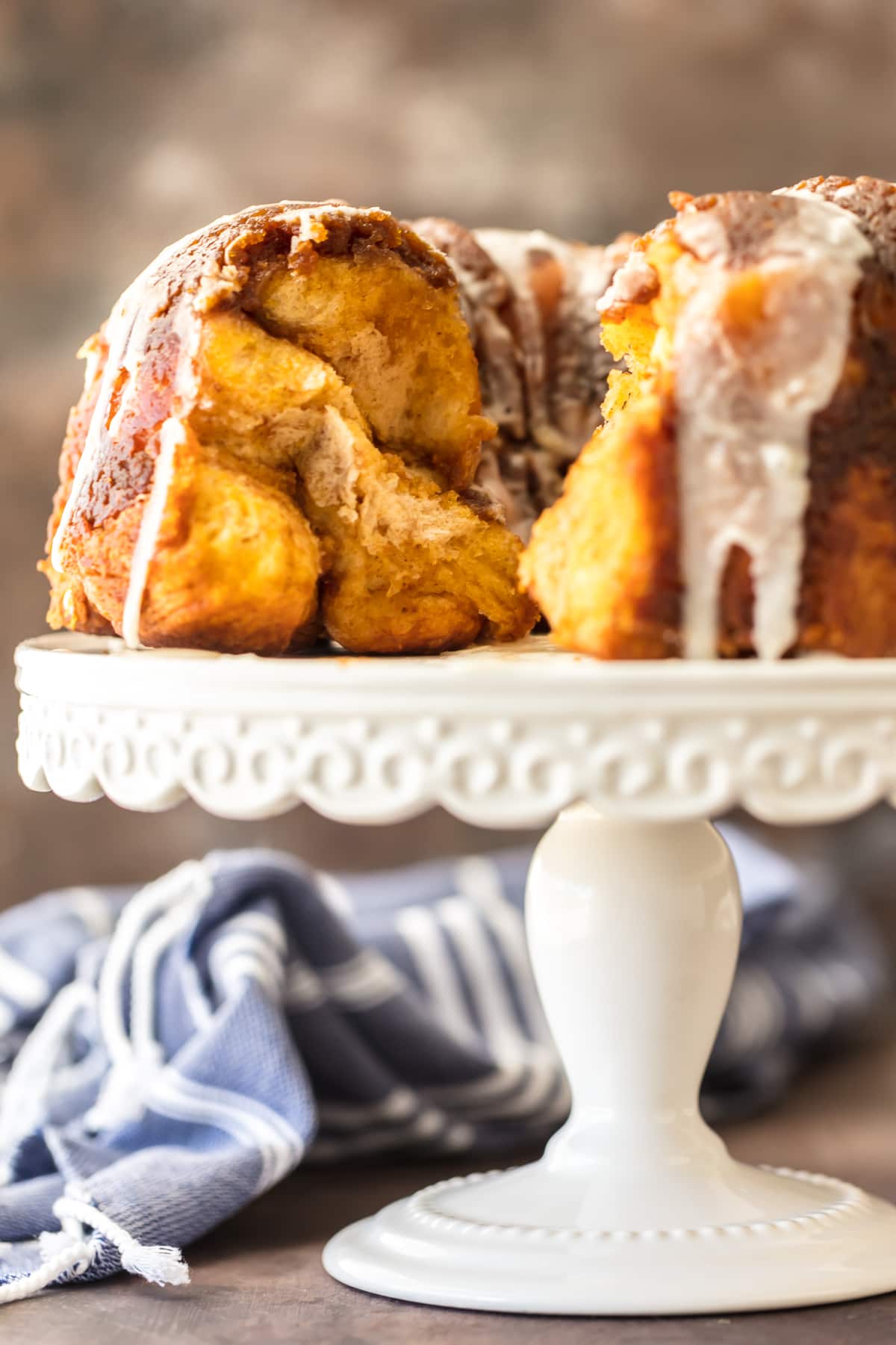 Pumpkin Pie Monkey Bread
This Monkey Bread recipe is the perfect fall treat. Pumpkin Pie Monkey Bread is so tasty and just begs to be made as a holiday breakfast!
Breakfasts need to be pretty darn good to get me out of bed early. HOLIDAY breakfasts need to be AMAZING! I look forward to Thanksgiving and Christmas breakfasts year-round, always looking for something special to make to get the day started on a festive note. Holiday gatherings are a non-stop blur of fun, family, and FOOD and you need a good solid breakfast to get you through all the festivities!
This PUMPKIN PIE MONKEY BREAD recipe is not only delicious, it's super easy to make. It tastes just like pumpkin pie in gooey biscuit form. Doesn't that just sound like heaven? It's the absolutely perfect breakfast for Thanksgiving or Christmas morning. Who doesn't want to start the day with something this good?
This easy monkey bread recipe is made with biscuit dough and covered in a pumpkin pie mix that adds SO much flavor. It comes out perfectly moist and ready to eat. Grab a piece and share it with family and friends!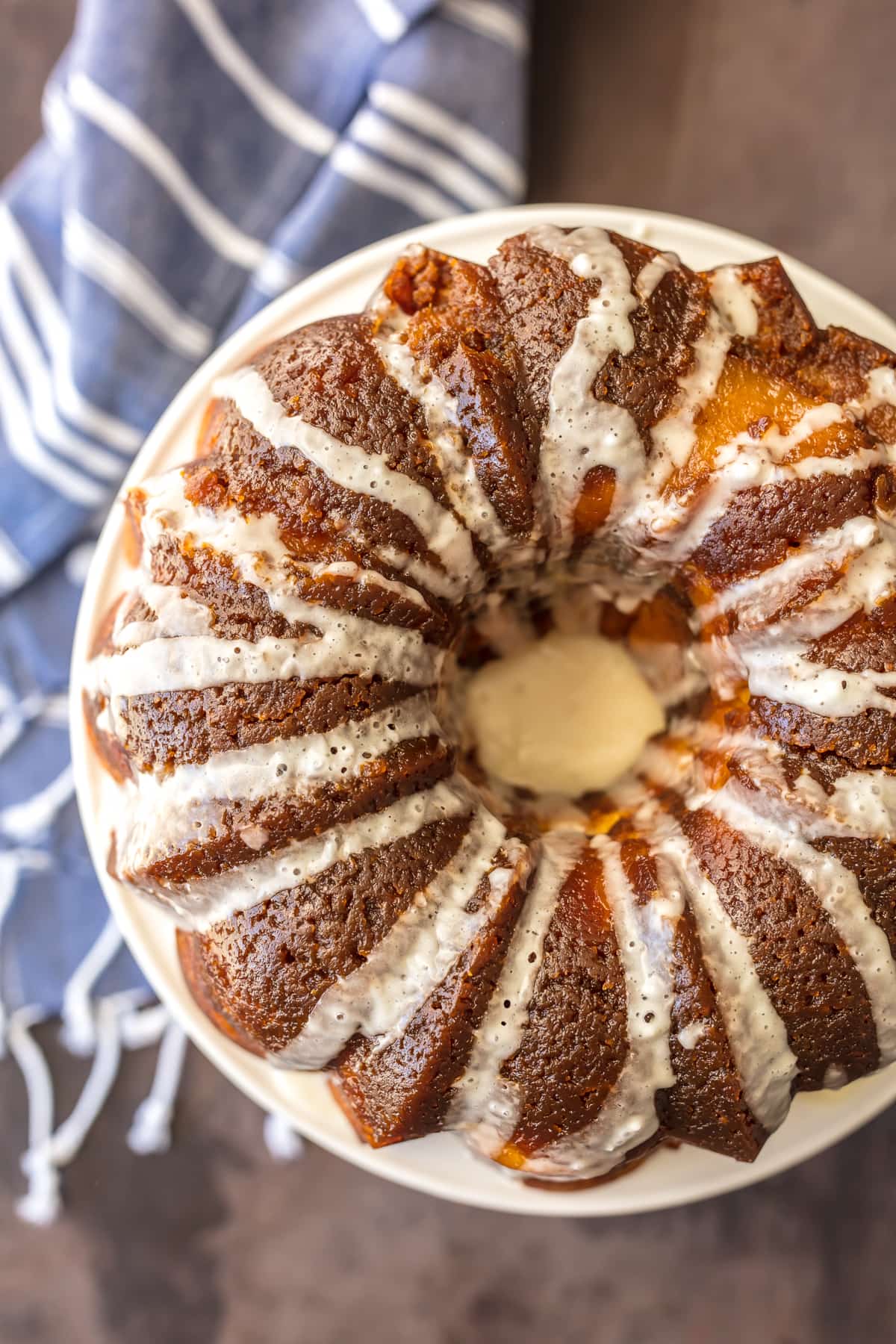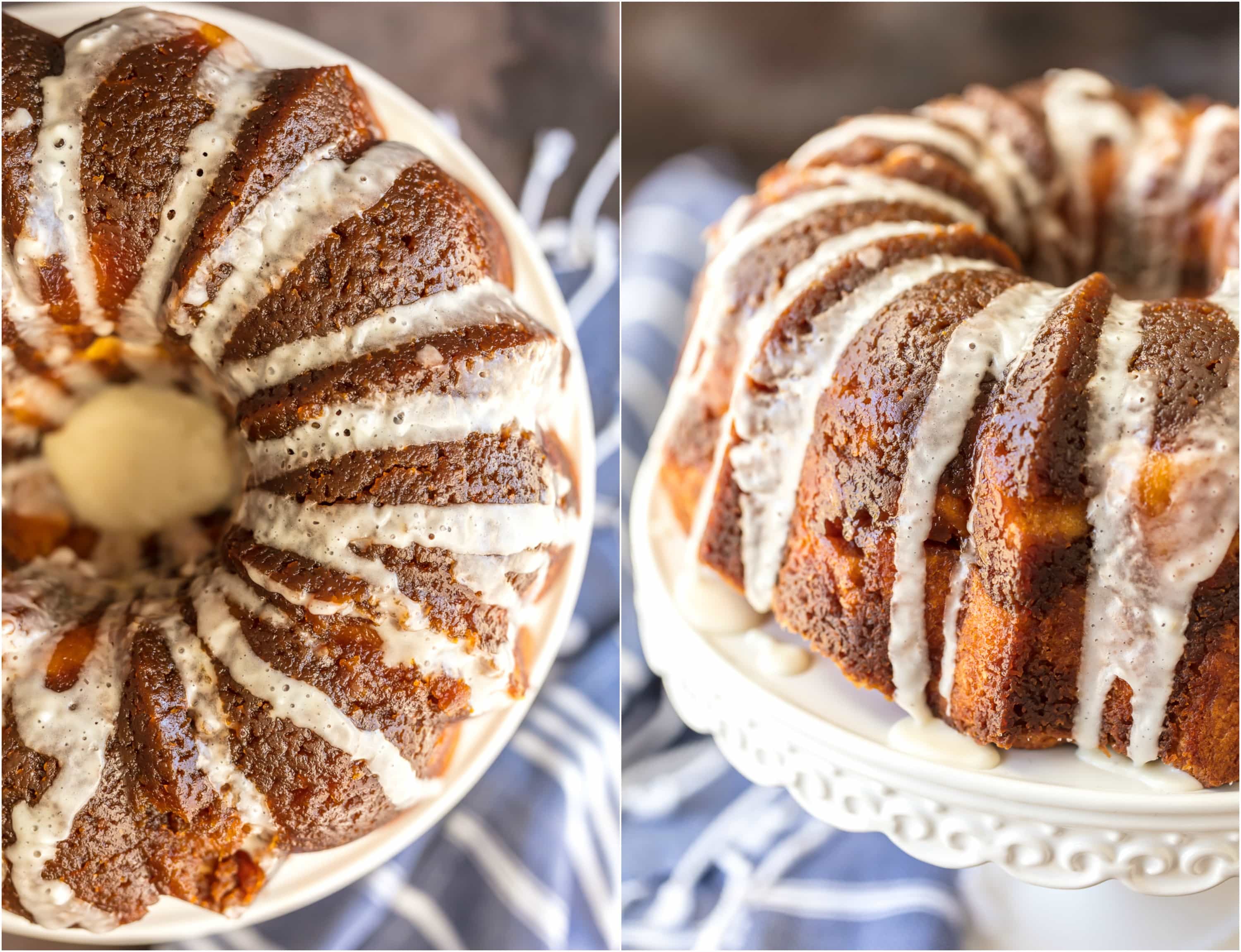 Easy Monkey Bread Recipe
I just LOVE anything pumpkin (remember the Caramel Macadamia Nut Pumpkin Pie Bars!), so this easy pumpkin pie monkey bread recipe is right up my alley. I say it's great for Thanksgiving and Christmas, but don't be afraid to make it year-round. These flavors never go out of style in my humble opinion! It's too easy to buy a can of pumpkin in the Summer and keep making this easy monkey bread recipe.
I have a feeling I'll be making this recipe about once a month. Can you blame me? It's made with pre-made biscuit dough so it's really so simple!
Why do they call it monkey bread?
What is monkey bread anyways? If you don't already know, then you are in for a treat! Monkey Bread is a delicious pastry treat that is soft, moist, sweet, and a little bit sticky. It looks like a cake (and is usually baked in a bundt cake pan), but it's more like a sweet bread.
It's like balls of dough squished and baked together, then topped with a sticky sweet icing or glaze, or oftentimes just cinnamon sugar. It's a pull-apart bread that is meant to be eaten with your hands, which is why they call it monkey bread!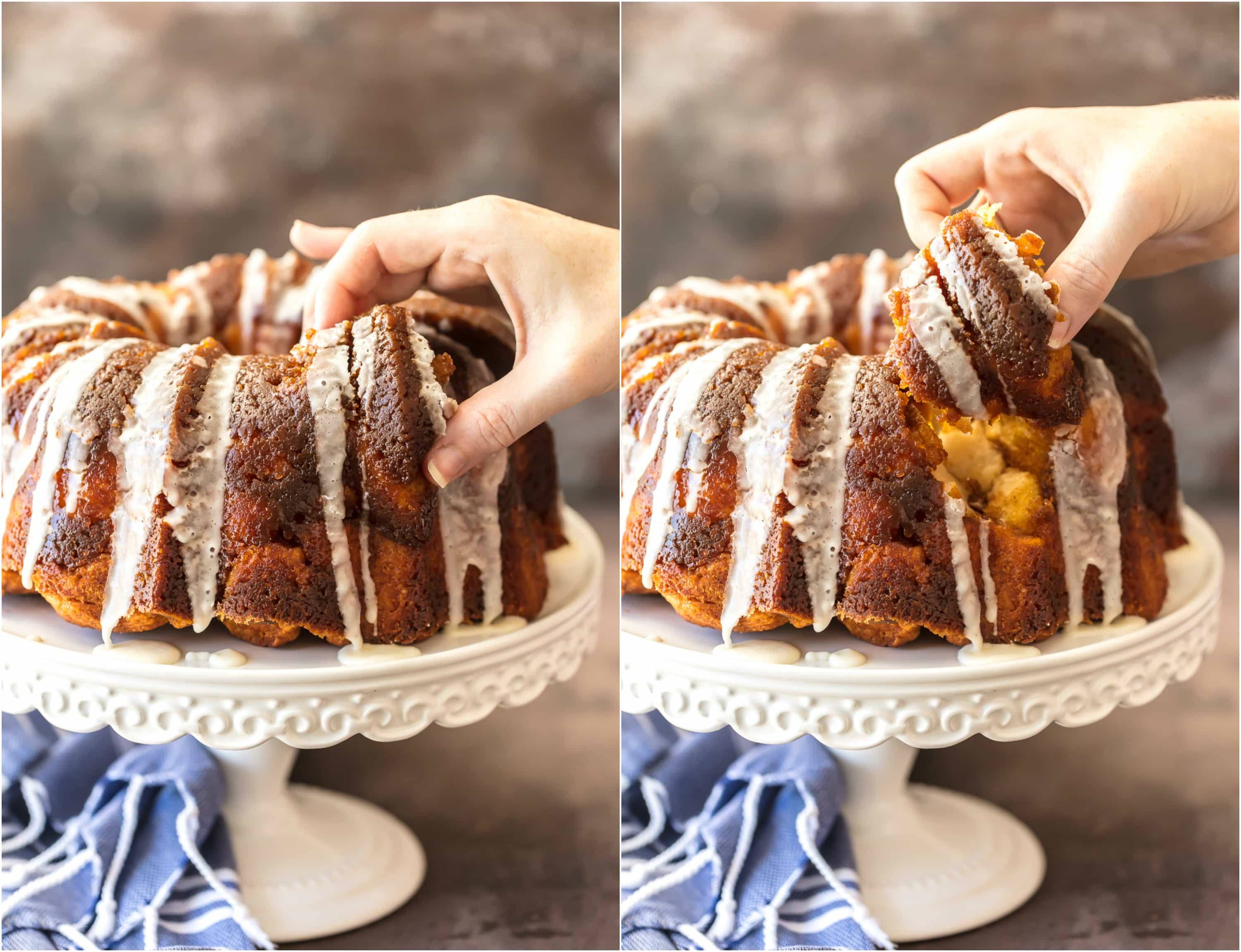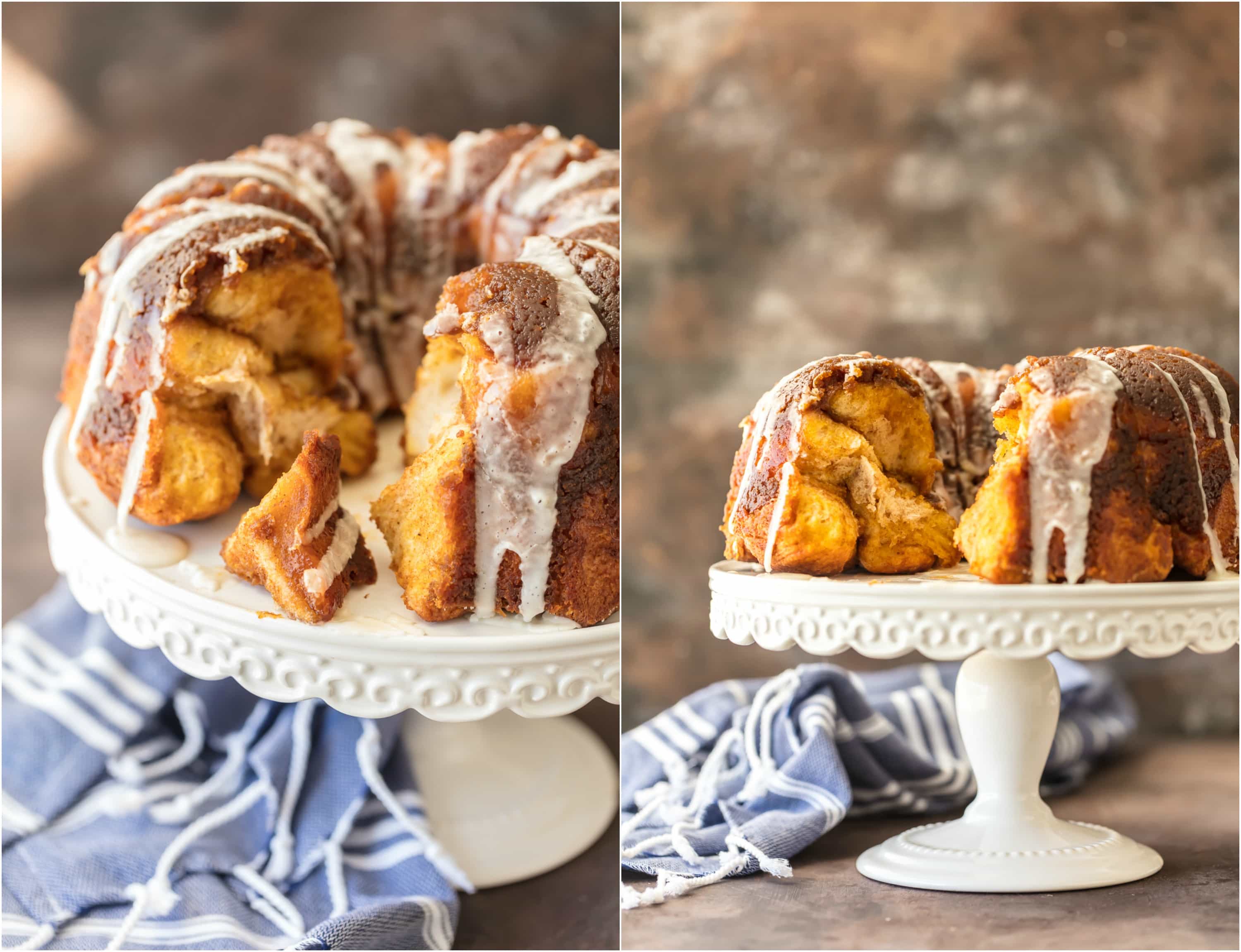 How to Make Pumpkin Pie Monkey Bread
This easy monkey bread recipe is soooooo delicious, I just can't stop thinking about it! Luckily it just takes a handful of ingredients, including pre-made biscuit dough and a can of pumpkin puree. In less than an hour, you can have this amazing pumpkin pie monkey bread ready to serve!
All you have to do is give the biscuit dough that pumpkin spice flavor, make up the pumpkin pie mixture to slather onto the biscuits, place the biscuits in the bundt pan, make a brown sugar/butter icing to pour on top, and then bake.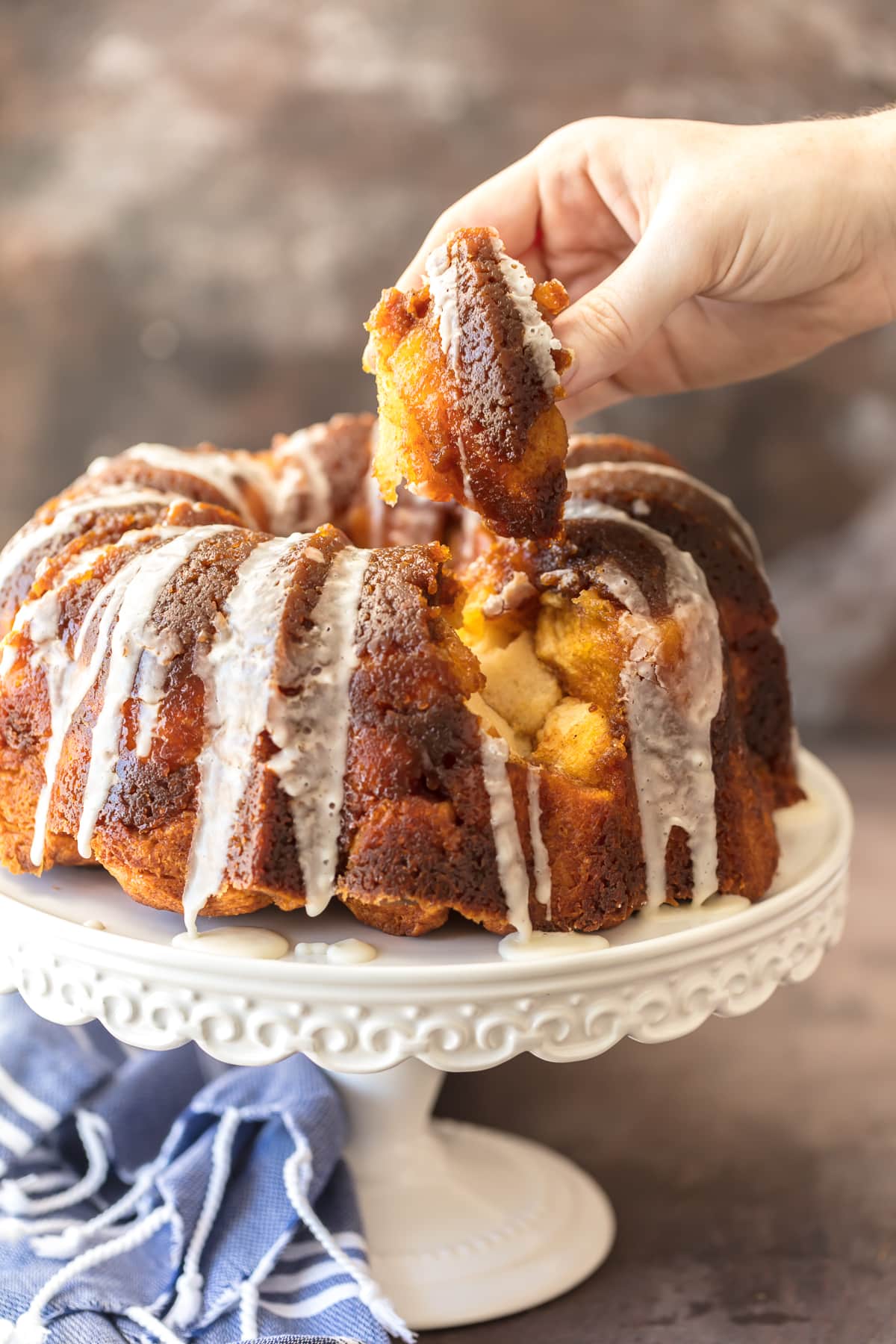 I'm making this Pumpkin Pie Monkey Bread recipe for you just in time for you to buy the ingredients and make it for your family on Thanksgiving morning. It's a guaranteed hit and sure to please. What kind of person wouldn't love Pumpkin Pie Monkey Bread?? I just can't fathom it. We added a simple glaze that is optional, but again, who doesn't love a little icing in their life. Be sure to dig in while it's nice and hot, ooey and gooey. THE BEST!
See the recipe card below for details on how to make this Pumpkin Pie Monkey Bread recipe. Enjoy!
If you like this monkey bread recipe, try some more easy pumpkin recipes:
Be sure to try these Savory Monkey Bread and Butterscotch Monkey bread recipes too!