Pumpkin Pie is a must make for Thanksgiving. This Homemade Pumpkin Pie Recipe is an elevated classic by using Brown Sugar! If you've wondered How to Make Pumpkin Pie and thought it was too difficult for you, today is the day to learn. This Pumpkin Pie Recipe is delicious and SO EASY! Don't miss out.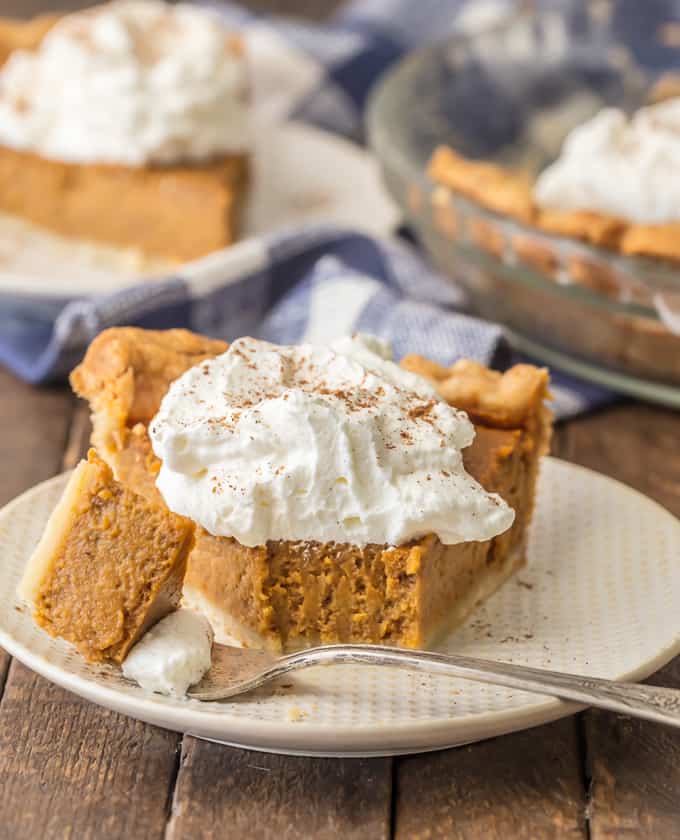 Homemade Pumpkin Pie Recipe
It's not Thanksgiving without Homemade Pumpkin Pie! This Brown Sugar Pumpkin Pie Recipe is sure to please.
This Homemade Pumpkin Pie Recipe is one of my prized possessions. It's utterly DELICIOUS, virtually fool-proof, and sure to wow even the pickiest eaters. I can't get enough of this Brown Sugar Pumpkin Pie recipe!
TWO PIES IN ONE DAY?! Can you blame me? I just hit publish on that Butterscotch Pie and then I realized that Thanksgiving is just a week and a half away so I better post this amazing HOMEMADE PUMPKIN PIE RECIPE as well! It wouldn't be Thanksgiving without Pumpkin Pie, but that doesn't mean you have to do the same old same old. This small tweak on a classic, using brown sugar, makes all the difference. Top it with this homemade whipped cream for the perfect touch!
Get ready to taste the best pumpkin pie recipe of your life!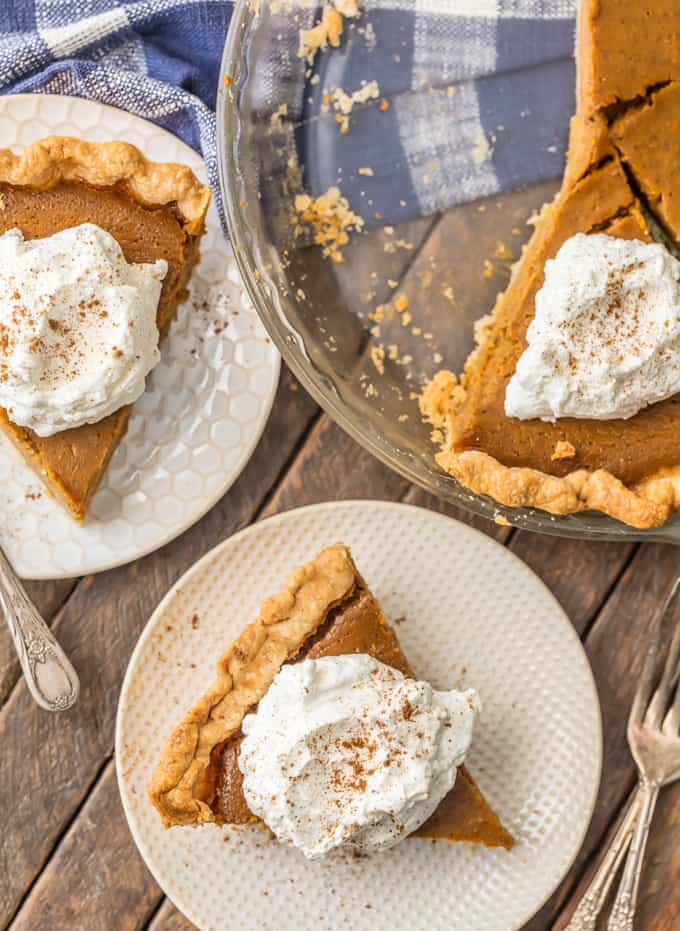 How to Make Homemade Pumpkin Pie
Pumpkin Pie has always been my favorite for the holidays but I've never found a homemade pumpkin pie recipe that I just LOVED. I would always rely on someone else to bring the dessert and hope that they made the perfect pie.
This Brown Sugar Pumpkin Pie Recipe has changed all that. Once I realized how to make homemade pumpkin pie, I'll never go back. You can count on me bringing this every year from here on out. It's just right. I can't wait for you to try it! This pumpkin pie recipe has the most amazing flavor, the perfect consistency, and is fool-proof. What more can you ask for from a Thanksgiving recipe?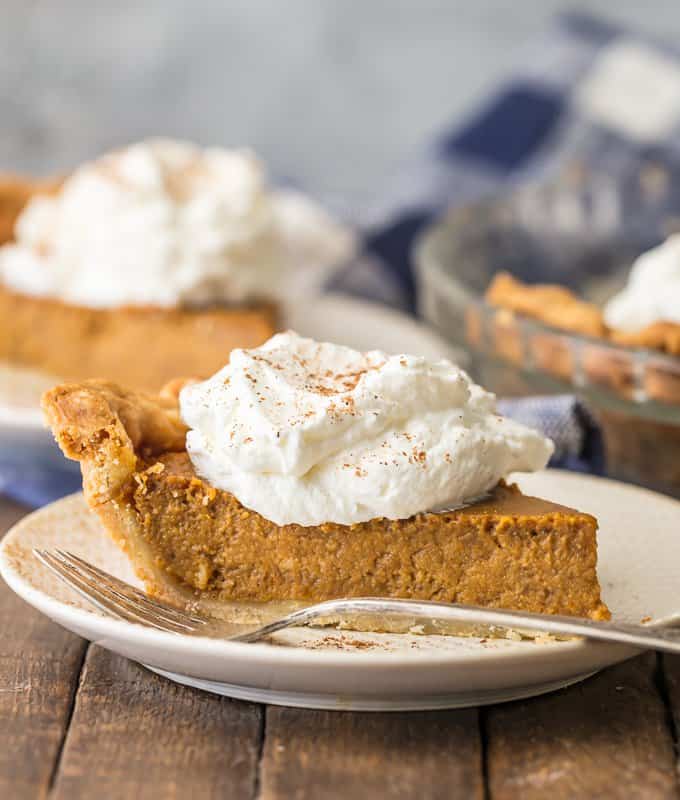 How do you make Pumpkin Pie Spice?
Pumpkin Pie Spice consists of ground cinnamon, nutmeg, ginger, allspice, and cloves. You can buy it at the store or make it at home in bulk. I use my own Homemade Pumpkin Pie Spice recipe!
Can I use milk in this Homemade Pumpkin Pie Recipe?
We prefer heavy cream for this recipe, but if you want to use milk you can. You should add 1 tablespoon of cornstarch to make sure your pie sets up correctly.
How long does Pumpkin Pie keep?
The Pumpkin Pie experts (at Betty Crocker and Libby) suggest covering your Homemade Pumpkin Pie loosely with plastic wrap or foil and keep in the fridge. It should keep for 3-4 days.
With Thanksgiving creeping up, this Homemade Pumpkin Pie Recipe is an absolute must.
Be sure to check out our other holiday favorites like Mini Sweet Potato Souffle Cups, Bacon Goat Cheese Mashed Potatoes, 3 Cheese Asparagus Gratin, and Holiday Party Punch! We have all the (EASY) recipes you might need to make this Thanksgiving simple, unique, DELICIOUS, and fun. No slaving in the kitchen all day for us!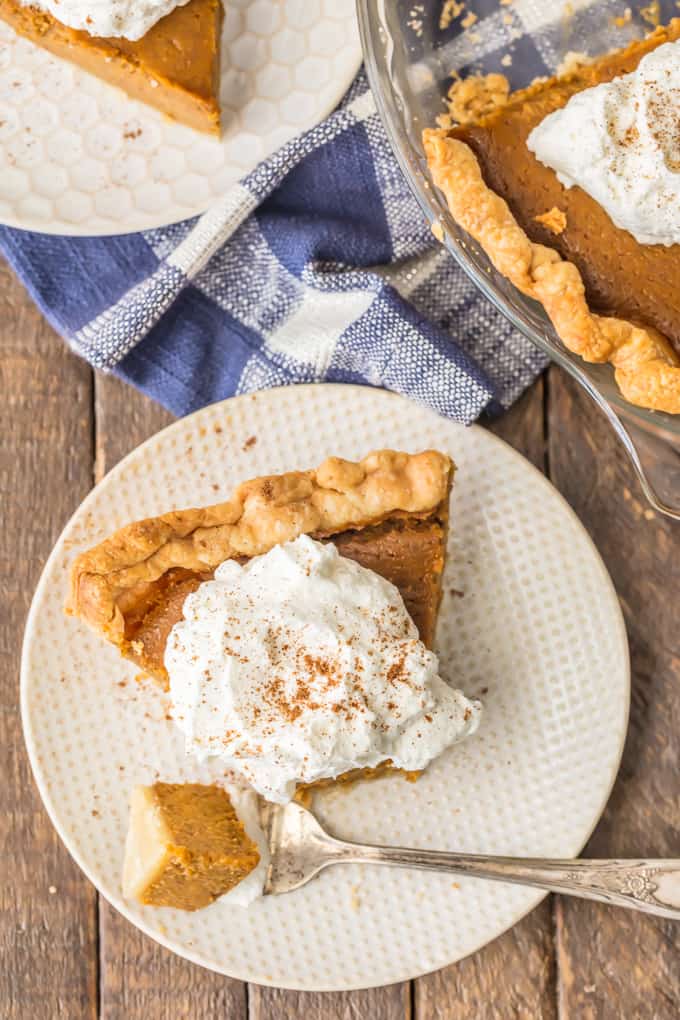 Okay, I've got to run. Lucky for me I still have half a French Silk Pie and half this Brown Sugar Pumpkin Pie in the fridge. I think I'll have a contest and see which one tastes the best when eaten for dinner. And by that I mean both of them.
Be sure to check out all of our favorite pies and tarts, including Key Lime Pie, Easy Pear Tart, and Slow Cooker Pecan Pie.
See the recipe card below for full details on How to Make Pumpkin Pie. Enjoy!
Try these other easy Pumpkin Pie Inspired Recipes:
FIND ALL THE RECIPES YOU NEED WITH MY EASY HOLIDAY RECIPES E-BOOK. OVER 130 RECIPES FROM APPETIZERS TO SIDE DISHES TO DESSERTS AND MORE!