Elevate a classic with BROWN SUGAR PUMPKIN PIE! Utterly delicious and just begging to be the star of your Thanksgiving menu. Favorite pie EVER.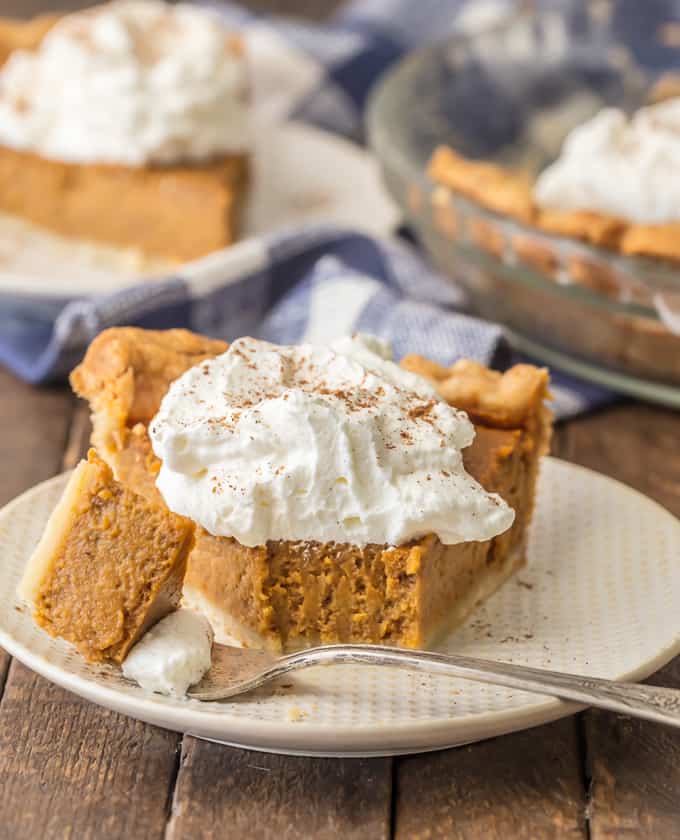 TWO PIES IN ONE DAY?! Can you blame me? I just hit publish on that Classic Butterscotch Pie (!!!!) and then I realized that Thanksgiving is just a week and a half away so I better post this amazing BROWN SUGAR PUMPKIN PIE as well! It wouldn't be Thanksgiving without Pumpkin Pie, but that doesn't mean you have to do the same old same old. This small tweak on a classic makes all the difference. Get ready for the best pumpkin pie of your life!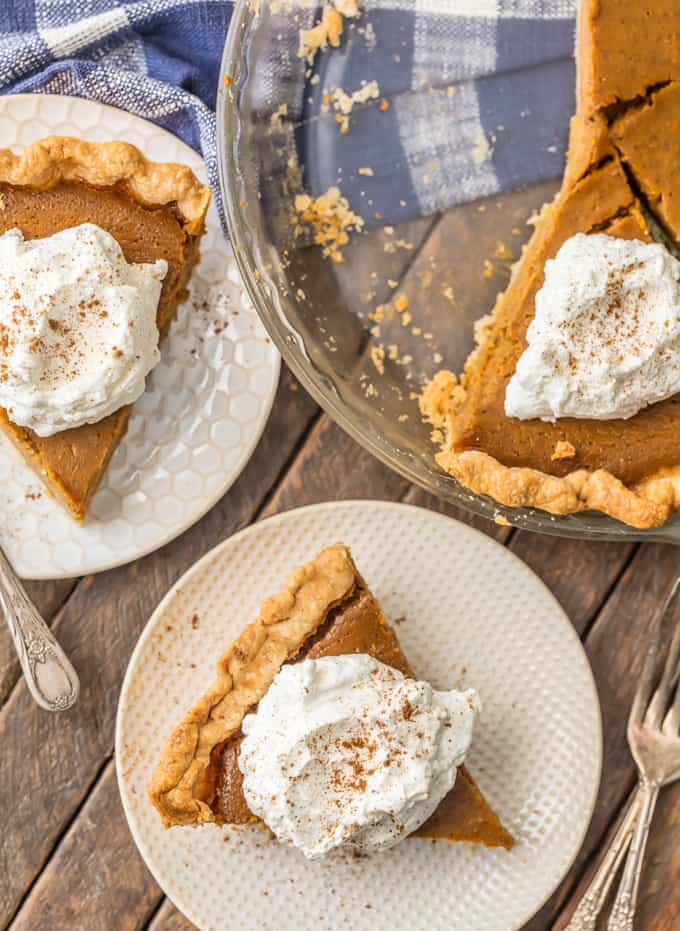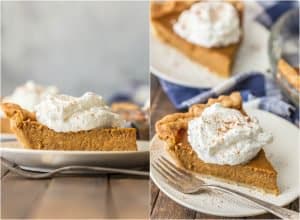 Pumpkin Pie has always been my favorite for the holidays but I've never found a homemade recipe that I just LOVED. I would always rely on someone else to bring the dessert and hope that they made the perfect pie. This Brown Sugar Pumpkin Pie has changed all that. You can count on me bringing this every year from here on out. It's just right. I can't wait for you to try it!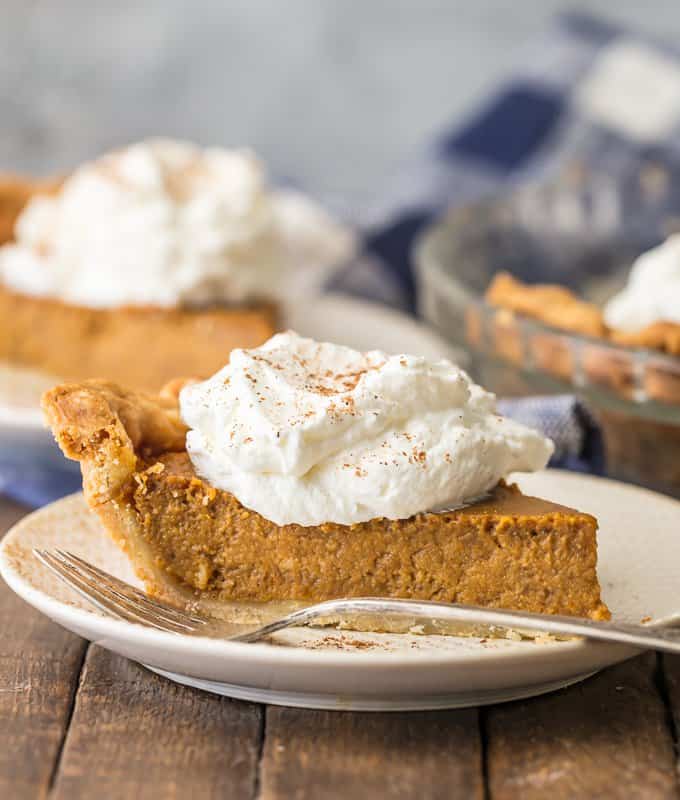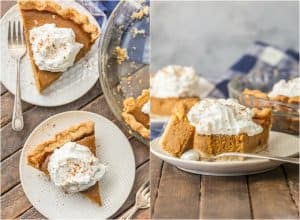 With Thanksgiving creeping up, this Brown Sugar Pumpkin Pie is an absolute must. It's the little things that make the celebration extra special.
Be sure to check out our other holiday favorites like Mini Sweet Potato Souffle Cups, Bacon Goat Cheese Mashed Potatoes, 3 Cheese Asparagus Gratin, and Pumpkin Pie Punch! We have all the (EASY) recipes you might need to make this Thanksgiving simple, unique, DELICIOUS, and fun. No slaving in the kitchen all day for us!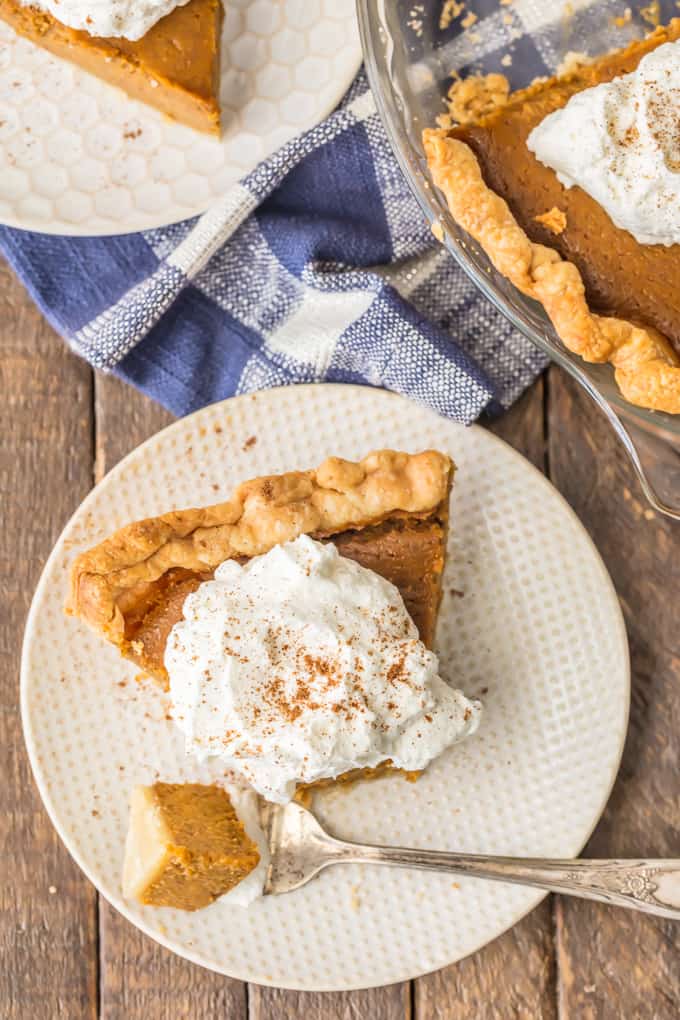 Okay, I've got to run. Lucky for me I still have half a Butterscotch Pie and half this Brown Sugar Pumpkin Pie in the fridge. I think I'll have a contest and see which one tastes the best when eaten for dinner. And by that I mean both of them.
Enjoy!
Brown Sugar Pumpkin Pie
Elevate a classic with BROWN SUGAR PUMPKIN PIE! Utterly delicious and just begging to be the star of your Thanksgiving menu. Favorite pie EVER.
10 minPrep Time
1 hrCook Time
1 hr, 10 Total Time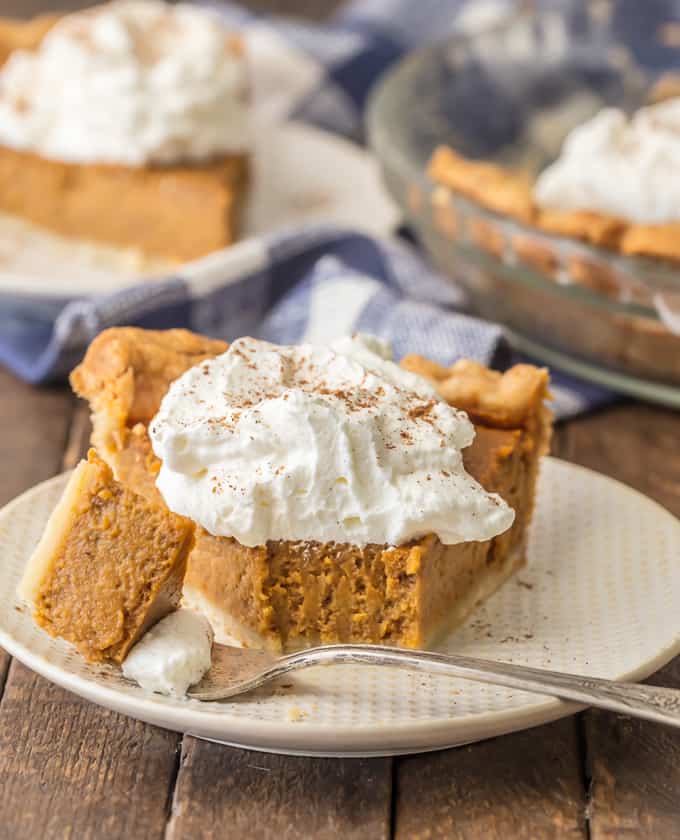 5 based on 2 review(s)
Ingredients
Piecrust:

1 single piecrust, homemade or storebought

Pie Filling:

1 cup packed dark brown sugar
2 eggs
½ teaspoon table salt
1 teaspoon ground cinnamon
¾ teaspoon ground ginger
¼ teaspoon ground cloves
½ teaspoon ground nutmeg
1 (15 ounce) canned 100% Pure Pumpkin / Pumpkin Purée
1 cup heavy cream

Whipped Cream:

1 cup heavy cream or whipping cream
½ teaspoon vanilla extract
2 tablespoons confectioner's sugar (powdered sugar)
1 tablespoon dark rum or bourbon, optional

Garnish:

Honey Roasted Pecans, optional
Instructions
Piecrust:

Preheat oven to 425°F, and place a baking stone (if available) on the middle rack.
Roll out piecrust and place it in a 9-inch pie plate. Blind bake (or prebake) the piecrust 10 minutes by covering the inside and outer edges with foil and filling the foil with sugar – this will keep the crust in place during baking. Place the crust in the preheated oven and bake for 10 minutes. After 10 minutes, place the crust on a cooling rack, and very carefully (sugar will be hot), transfer the foil with the sugar to a heat-proof bowl. Cool the crust completely.

Pie Filling:

In a large mixing bowl, place brown sugar, eggs, salt, cinnamon, ginger, cloves and nutmeg. Whisk together and add the pumpkin purée and heavy cream. Whisk until ingredients are well incorporated. Pour the pumpkin pie filling into the cooled piecrust. Place the pumpkin pie in the 425°f oven, on the baking stone, and cook for 15 minutes. Reduce the temperature to 350°F, and bake another 40-50 minutes or until a knife inserted in the center comes out clean. (*Note: If the crust is browning too quickly, cover the outer crust with foil or with a piecrust shield.)
Transfer the cooked pie to a cooling rack, remove the piecrust shield, and cool at least 2 hours before slicing. Serve immediately topped with whipped cream or refrigerate.

Whipped Cream:

Pour the whipping cream into a cold mixing bowl. With the mixer set on LOW, beat the cream until it thickens slightly. With the speed still on LOW, add the powdered sugar, vanilla extract and rum (or bourbon). Turn the speed to MED-HIGH and beat the cream until medium peaks form.

To Serve:

Garnish each piece of pie with whipped cream and honey roasted pecans (if desired).
Enjoy!
7.6.7
2466
https://www.thecookierookie.com/brown-sugar-pumpkin-pie/