This Easy Pumpkin Pie is a must-make for Thanksgiving. We put a twist on this simple pumpkin pie recipe by adding brown sugar and a delicious maple whipped cream on top. Making pumpkin pie is a breeze with store-bought crust and pumpkin puree!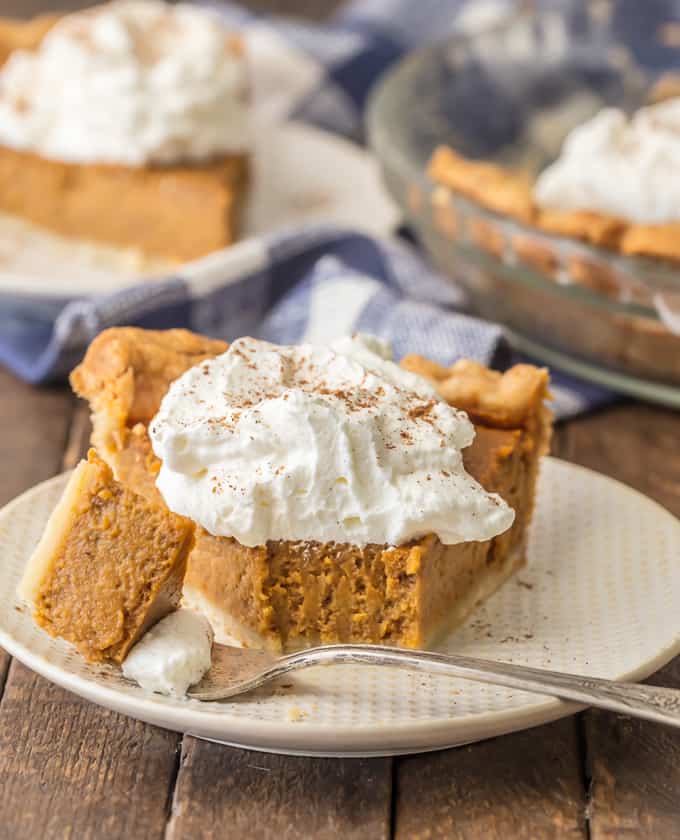 What's in this Easy Pumpkin Pie Recipe?
This brown sugar pumpkin pie pie is so simple and doesn't really have that many ingredients. I start with a pre-made pie crust because getting the filling right is what I'm focused on. But you can also use this homemade pie crust recipe if you want to make it fully from scratch.
Pie Crust: Like I said, store-bought crust works great here and takes out a whole bunch of steps and prep time, making this recipe super easy!!
Dark Brown Sugar: Adds a warm, sweet flavor with molasses undertones that complement the pumpkin and spices so well.
Eggs: Gives the filling structure.
Kosher Salt: Enhances the pumpkin flavor and balances the sweetness of the pie.
Spices: Ground cinnamon, ginger, cloves, and nutmeg give this pie its classic warm spiced flavor. To make things even easier, you can use pre-mixed pumpkin pie spice!
Pumpkin Puree: Make sure to use 100% pure pumpkin, not pumpkin pie filling! Pumpkin pie filling already has sugar and spices added to it, so it will cause your pie to turn out too sweet!
Heavy Cream: Adds moisture to the pie and helps create a smooth, creamy texture. It also forms the base of the delicious maple whipped cream!
Pro Tip: We prefer heavy cream for this recipe, but if you want to use milk you can. You should add 1 tablespoon of cornstarch to make sure your pie sets up correctly
Maple Whipped Cream
This delicious addition is a must for this easy pumpkin pie recipe. You saved all that time making a homemade pie crust, so now you've got a few extra minutes to whip this together! I promise, it's worth the effort and only takes about 2 minutes! All you need is:
Heavy Cream: Forms the base of the delicious maple whipped cream, creating a light and voluminous texture!
Vanilla Extract: Adds a touch of warm sweetness to the whipped cream.
Maple Syrup: Sweetens the whipped cream without making it gritty and adds a warm maple flavor. Make sure to use 100% pure maple syrup, not table syrup!
Dark Rum or Bourbon: Adds a warm spicy flavor that enhances the flavor of the pie. This is optional and can be left out if you're not a fan (or serving to children!).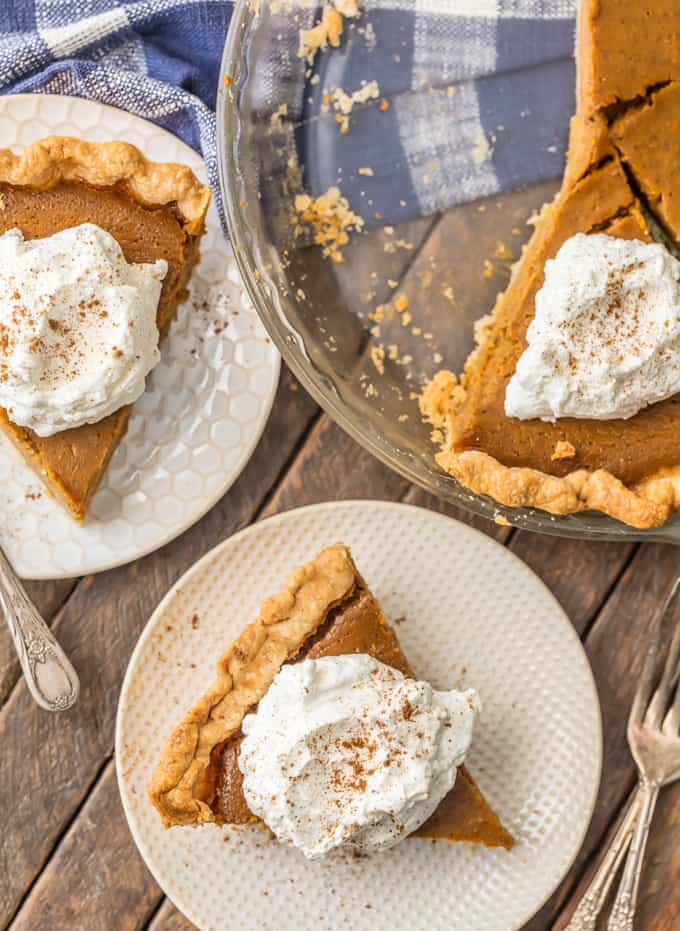 Is canned pumpkin better than fresh for pie?
Personally, I think there's a time and a place for both! I have a classic pumpkin pie recipe where I would recommend taking the time to make your own puree, but for this easy pie, I won't tell if you use the canned stuff (I sure did!).
Is heavy cream or evaporated milk better for pumpkin pie?
I like to use heavy cream in this pie because it creates a super creamy filling. I sometimes find that evaporated milk leaves a bit of an aftertaste.
Should I poke holes in the bottom of my pumpkin pie crust?
I recommend weighing the crust down with sugar. It's the method I used in this recipe, and it leaves you with a wonderfully flavorful toasted white sugar that you can use for other recipes later on. However, if you don't have enough sugar to do this, you can either use pie weights, dried beans, or simply dock the crust with a fork.
How do you make pumpkin pie without a soggy bottom?
Pre-baking the crust should help ensure the pie doesn't become soggy! Make sure the crust is fully cooled before filling it to ensure no extra moisture is created.
Is it better to make pumpkin pie the day before or day of?
This pie is such a good make-ahead dessert! In fact, the flavor develops even more as it sits in the refrigerator, so feel free to make it up to 2 days in advance of Thanksgiving. Just make sure to keep it in the fridge until you're ready to serve it!
Should pumpkin pie be covered when refrigerated?
Yes! I like to press plastic wrap onto the surface to keep it the freshest, but you can also wrap it in foil. Wait to top with whipped cream until just before serving!
Can you freeze pumpkin pie?
Absolutely! It will keep well for up to 1 month in the freezer!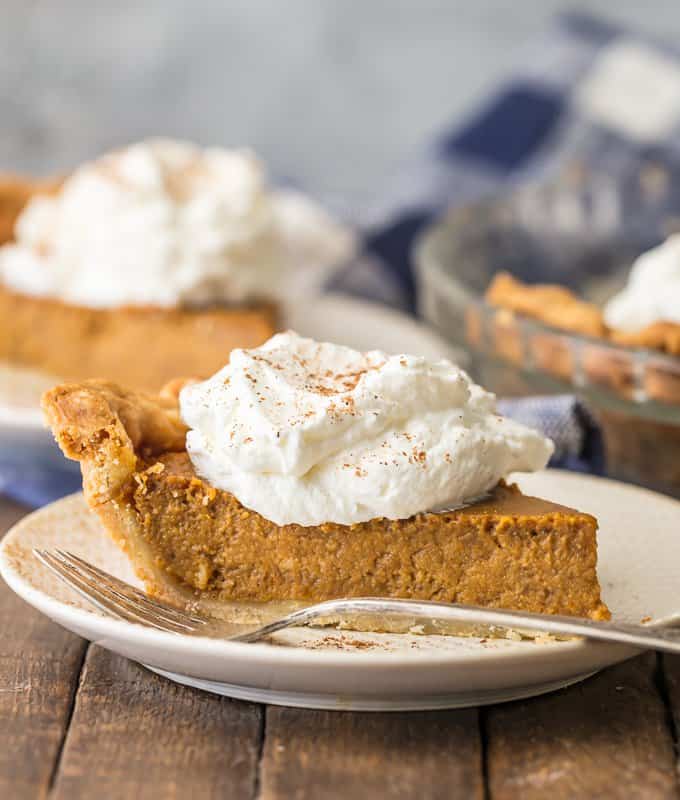 How to Store
Store leftover easy pumpkin pie covered with plastic wrap or aluminum foil in the refrigerator for up to 4 days. Enjoy cold, at room temperature, or reheated in a 350°F oven for 15-20 minutes.
How to Freeze
Freeze this easy pumpkin pie whole or cut into individual slices tightly wrapped in 2 layers of plastic wrap and 1 layer of aluminum foil for up to 1 month. Let thaw overnight in the refrigerator before reheating and topping with whipped cream.
Serving Suggestions
Serve this easy pumpkin pie topped with delicious maple whipped cream and honey roasted pecans, or try pumpkin spice whipped cream, pumpkin ice cream, shaved chocolate, or a drizzle of chocolate sauce or caramel sauce.
Enjoy with a warm pumpkin spice latte, slow cooker pumpkin hot chocolate, or a boozy pumpkin spice white Russian or pumpkin pie punch.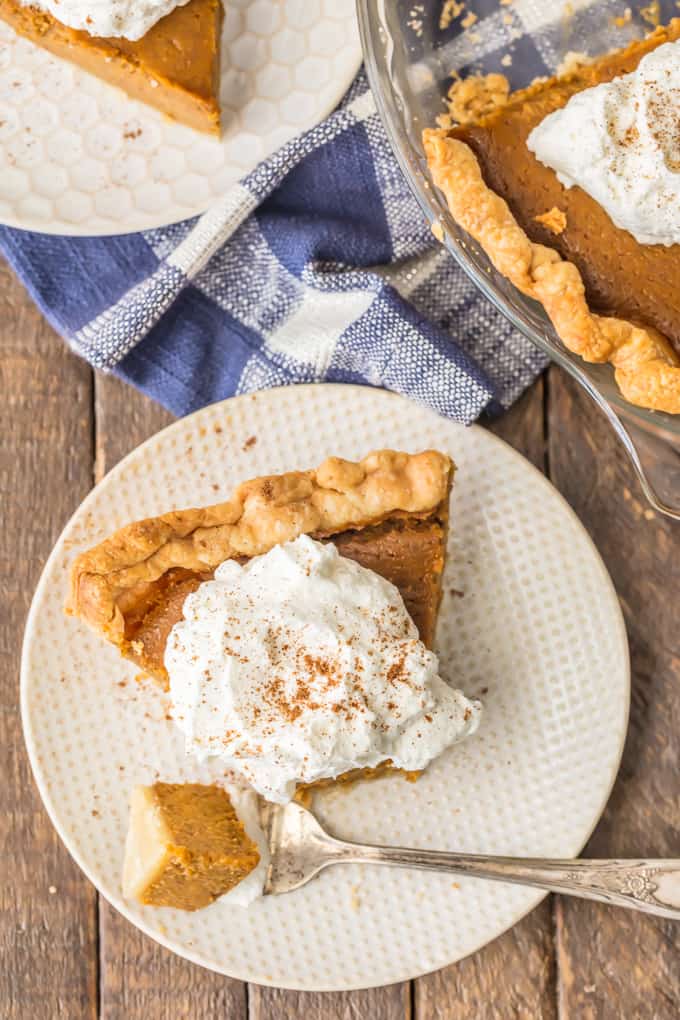 5-Star Review
"Wow! I stumbled across this recipe because I didn't have granulated sugar and searching brown sugar pumpkin pie I found this! Wow! So so amazing! The best pie I've ever made! Thank you so much for sharing this amazing recipe! I will never make it any other way now!" – Casey C
More Pumpkin Pie Recipes We Love