Pumpkin recipes are my favorite things to make during the fall season. Whether they're sweet or savory, a dessert or a cocktail, these easy pumpkin recipes are so fun, so easy, and so delicious. I'm so excited for autumn (aka pumpkin season)!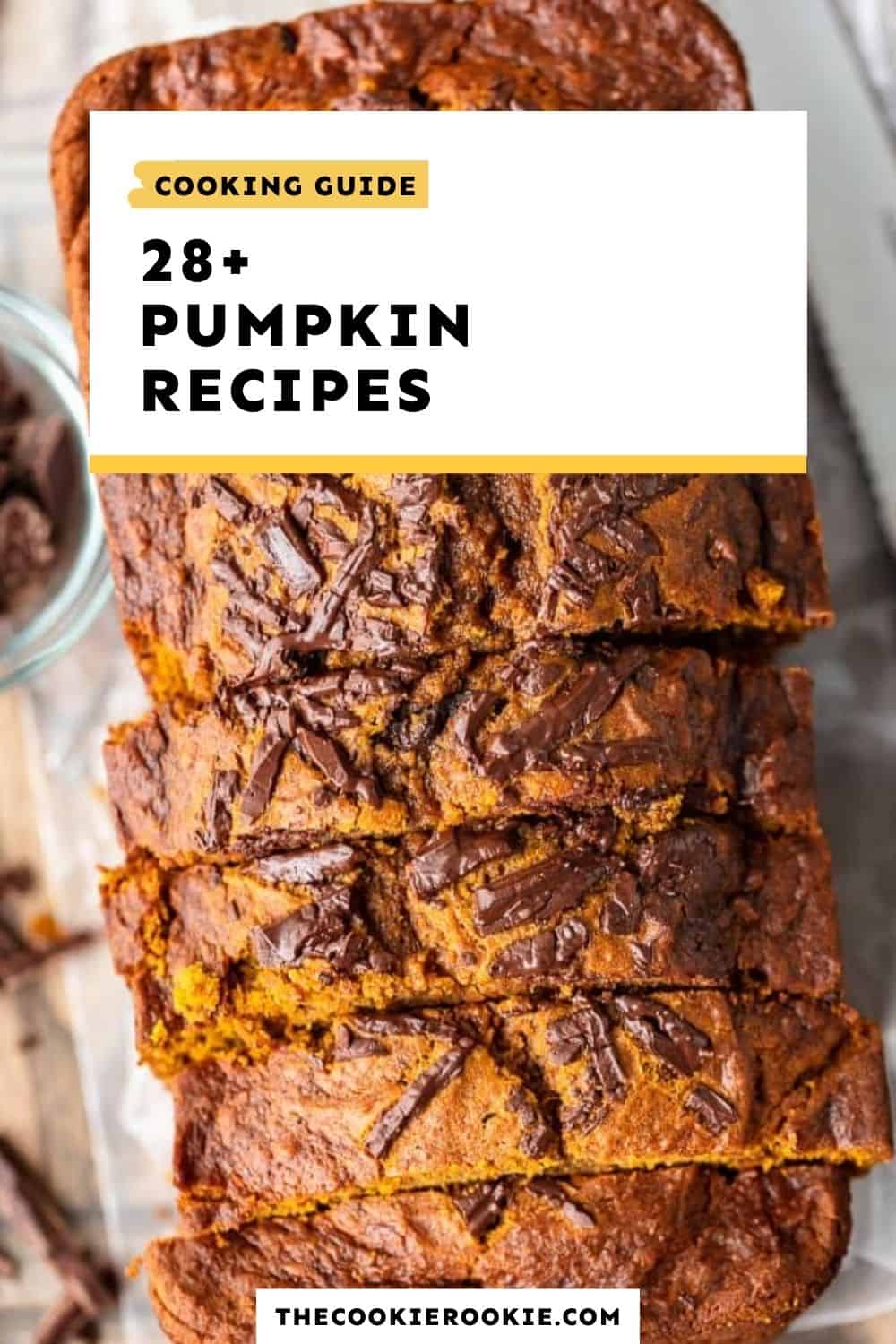 Welcome to Pumpkin Spice Season!
Fall is here, which means one thing: it's time for all the best pumpkin recipes! Everyone seems to get pumpkin crazy this time of year, including myself.
With Halloween and Thanksgiving on the way, October and November are prime time for pumpkin spice everything. But I know we're all ready for it by September, maybe even by August.
Best Pumpkin Recipes
Whether you're sipping on a pumpkin spice latte, spending weekends at the pumpkin patch, or preparing the perfect pumpkin pie recipe for Thanksgiving, I know you've got pumpkin on the brain too.
I've shared so many easy pumpkin recipes and ideas here on the blog over the years because I just can't get enough of it. I love pumpkin dessert recipes for a sweet treat, savory pumpkin recipes for a warm and delicious dinner, and pumpkin flavored drinks for all of the fall holiday parties.
Ingredients You'll Need for Pumpkin Recipes
These are some of the typical ingredients you can expect to be using in the easy pumpkin recipes below.
Pumpkin Puree (canned, or make homemade pumpkin puree)

Pumpkin Seeds

Pumpkin Pie Filling

(different than puree)
Lots of spices (

Nutmeg

,

Cinnamon

,

Allspice

,

Ginger

)

Walnuts or other nuts
What's the difference between pumpkin puree and pumpkin pie filling?
While many people assume pumpkin puree and pumpkin pie filling are interchangeable, they are not!
Canned pumpkin, which is typically just pumpkin puree, is exactly that. Pumpkin is mashed up and pureed without seasoning or spices added to it, so it's just pure pumpkin (and pure pumpkin flavor).
Pumpkin pie filling already has spices in it, so it's ready to use to make pumpkin pie and other desserts. It's sweetened and has things like cinnamon, allspice, and more in it.
So be sure you pay attention to which one you're picking up at the grocery store, because it can make a big difference in your recipe. A quick check of the ingredients will make it clear what you're getting.
What can I cook with fresh pumpkin?
Most people are used to baking pumpkin recipes by using a pre-made pumpkin puree. So how do you cook with an actual pumpkin?
The good news is that you can take a fresh pumpkin and make your own puree to use in all of your dishes (check the recipe below). Just choose smaller, "sugar" pumpkin varieties that are intended for eating, rather than the large pumpkins you get at the pumpkin patch. While you can eat those big ole' pumpkins, they're usually not as sweet and flavorful.
Or you can cut your pumpkin in half and bake it the same way you would bake other winter squash varieties (like butternut squash).
Is pumpkin healthy?
Yes! Eating pumpkin has a lot of health benefits. It might get lost in some of the sugar-filled desserts, but pumpkin is actually really good for you, with nutritional benefits similar to other types of squash.
It's high in Vitamin A and beta-carotene.

Pumpkin is also nutrient-rich while being low in calories, so fresh roasted pumpkin would be a great thing to eat to aid in weight loss.
Now I know we're all eating the sweet pumpkin recipes around here, so the healthy benefits are a little different than eating straight up pumpkin. But let's just focus on the healthy part, okay?
What flavors go with these pumpkin recipes?
Pumpkin recipes tend to fall on two very different sides of the flavor coin: they're either sweet desserts and drinks, or they're savory dishes.
On the sweet side, pumpkin pairs well with chocolate, caramel, cream, cranberries, cinnamon, pecans, maple syrup, and all kinds of stuff.
On the more savory side, pumpkin dishes pair well with things like sage, cilantro, rosemary, bacon, butternut squash, and cheese.
You can really do a lot more than you think with pumpkin!
How to roast pumpkin seeds
While you're digging out your pumpkins to make puree or jack o'lanterns, don't throw out the seeds. You can roast pumpkin seeds for a tasty and healthy snack!
They're easy to make, and you can change up the flavor too. Keep it simple by baking them in olive oil and sea salt, or make a sweeter version by baking them in sugar and pumpkin pie spice.
How to roast pumpkin seeds:
Toss and coat them in your chosen seasonings

Lay them out in a single layer on a baking sheet

Bake at 350°F for 10-12 minutes.

Check

this post

to get a sweeter recipe.
Easy Pumpkin Recipes
Wondering what to make with pumpkin? Whether you're using fresh pumpkin or pumpkin puree, here are some of the best desserts, drinks, snacks, and more to make this fall season.
All Pumpkin Recipes
I hope you love all of these delicious pumpkin recipes as much as I do. There's so much to make this fall, so it's time to get started!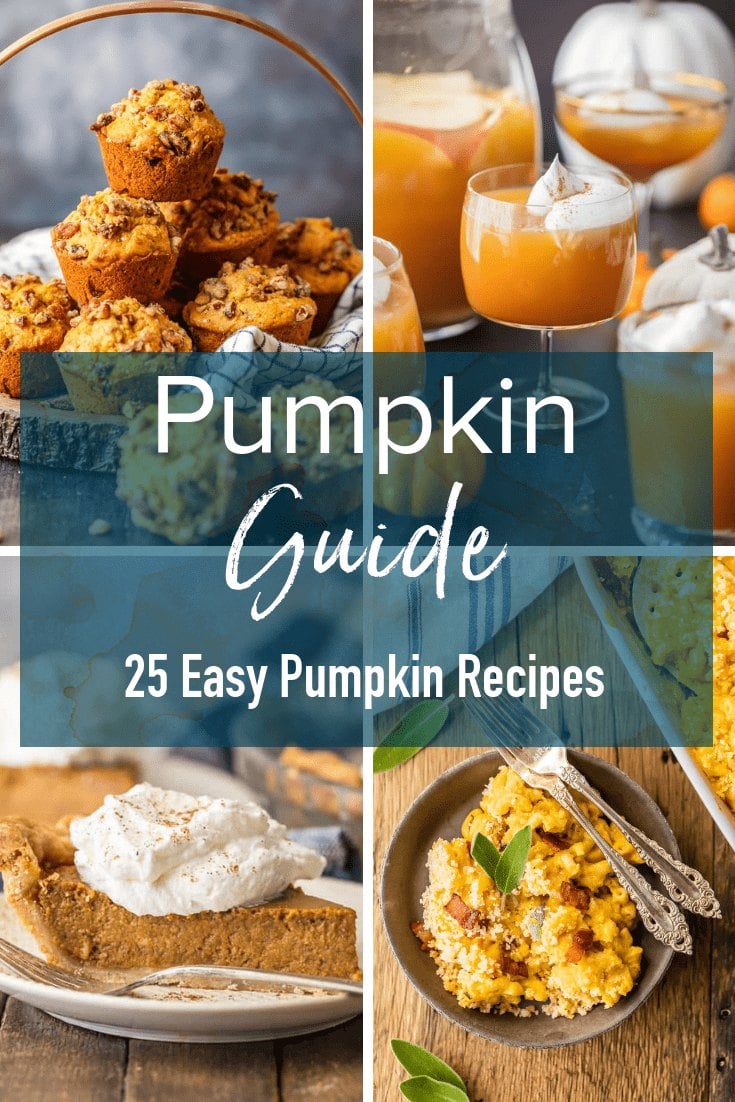 If you want to make your own pumpkin puree for any of these pumpkin recipes, you can certainly do that. Here's a recipe!