Nugget ice makers produce pellet-style ice that's soft and chewable. We researched the best nugget ice makers to keep your beverages perfectly chilled.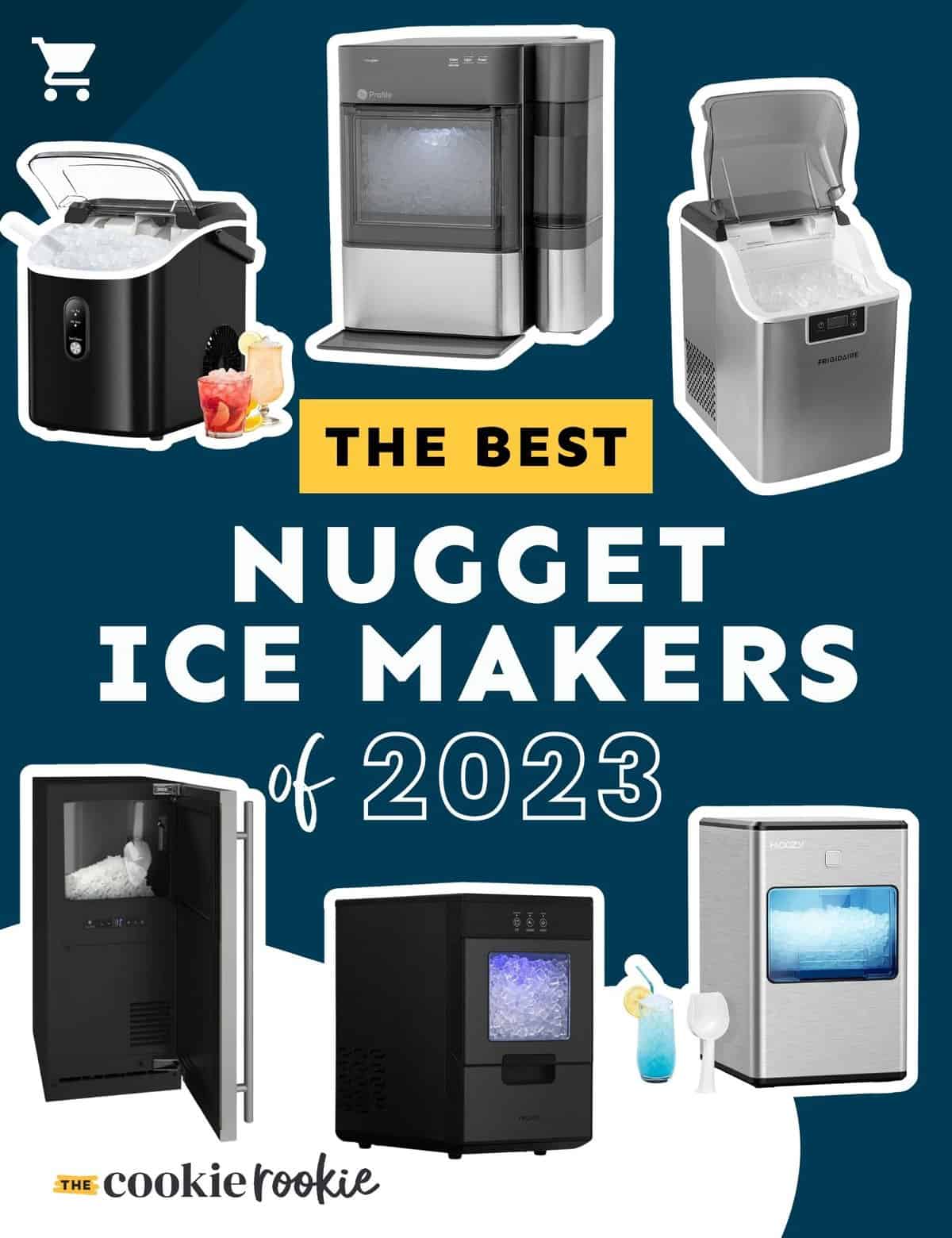 Nugget ice makers bring a whole new level of enjoyment to making and sipping your favorite drinks. Unlike traditional ice makers or ice cube trays, nugget ice makers produce ice that's known for being small and chewable. Sometimes called Sonic ice, pellet ice and pebble ice, these coveted cubes are typically used at fast-food chains and people love them because they're crunchy, yet also airy and light.
These appliances create ice by compacting ice flakes, resulting in a unique texture that is perfect for cocktails, mocktails, and other refreshing drinks. Owning a nugget ice maker offers several advantages, the biggest of which is having a constant nugget ice at your fingertips! Depending on the model, nugget ice makers can work quickly and make pounds of ice a day so you have plenty for parties, gatherings, or everyday use.
Buying a nugget ice maker is an investment. They're more expensive than the typical countertop ice maker, but Investing in one of these best nugget ice makers will help elevate every drink you make.
Our Top Nugget Ice Maker Picks:
In this article you'll find our favorite nugget ice makers as listed below. Click the title to read all about it, or check out the price if you know which one best fits your needs!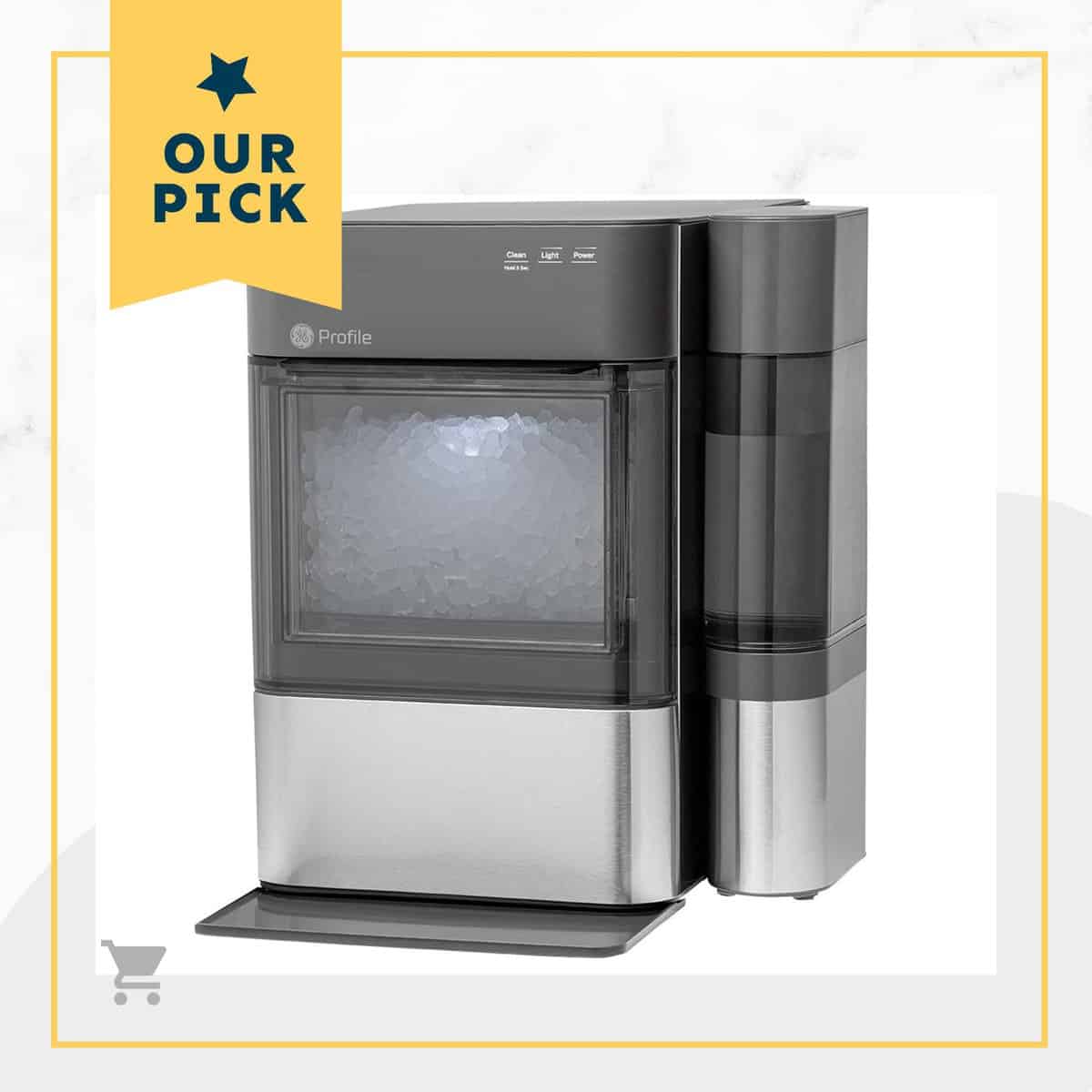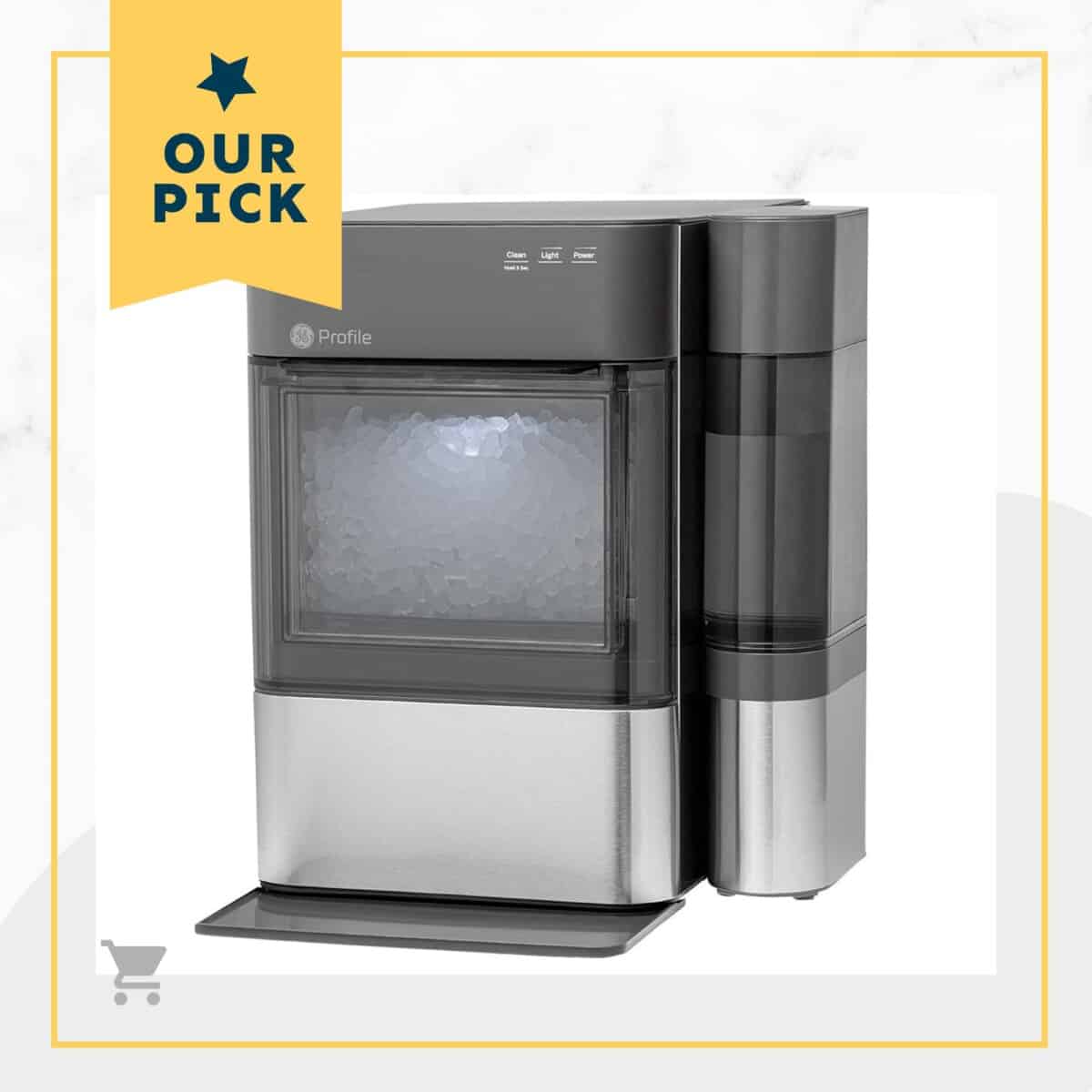 Best Overall Nugget Ice Maker
Best Overall: GE Opal 2.0 Countertop Ice Maker
Pros
Side tank holds extra water
Large bin capacity
Integrated water filter
Wi-Fi connectivity
Cons
Expensive
Takes up a lot of counter space
Slow production speed
When it comes to nugget ice makers, the GE Opal 2.0 Countertop Ice Maker is widely considered the gold standard and for good reason. It yields high-quality nugget ice that's crunchy, chewy and, most importantly, uniform in size.
A built-in water filter and high-tech UV light ensure that the ice tastes great, too. The large capacity bin holds up to three pounds — it can make up to 24 pounds daily — and this model has a 0.75-gallon side tank that allows for easy refilling and extra water storage.
While there's one that comes without a side tank, the price difference is small enough that the upgrade is worth it. The only downside? It takes at least 20 minutes to make the initial batch of ice, making the Opal one of the slower ice producers.
That means you'll either have to plan ahead to have ice ready for your pitcher of lemonade or take advantage of the ice maker's Wi-Fi capabilities, which allow you to schedule start times via a smartphone app.
| | |
| --- | --- |
| Dimensions: | 17.5 x 13.43 x 16.5 inches |
| Weight: | 38 pounds |
| Ice Bin Capacity: | 3 pounds |
| Water Tank Capacity: | 1 gallon |
| Ice Making Speed: | 10 minutes |
| Warranty: | 1 year limited warranty |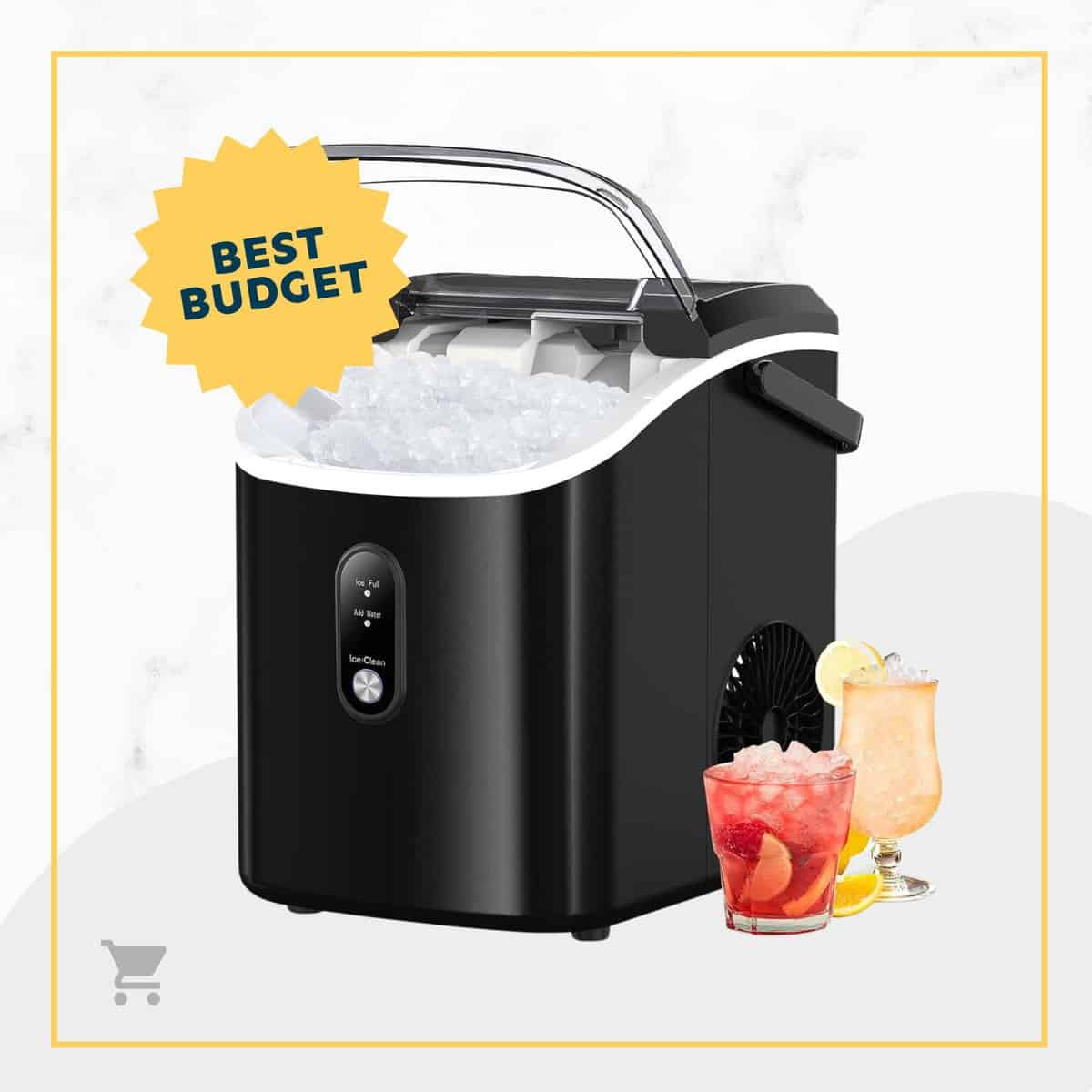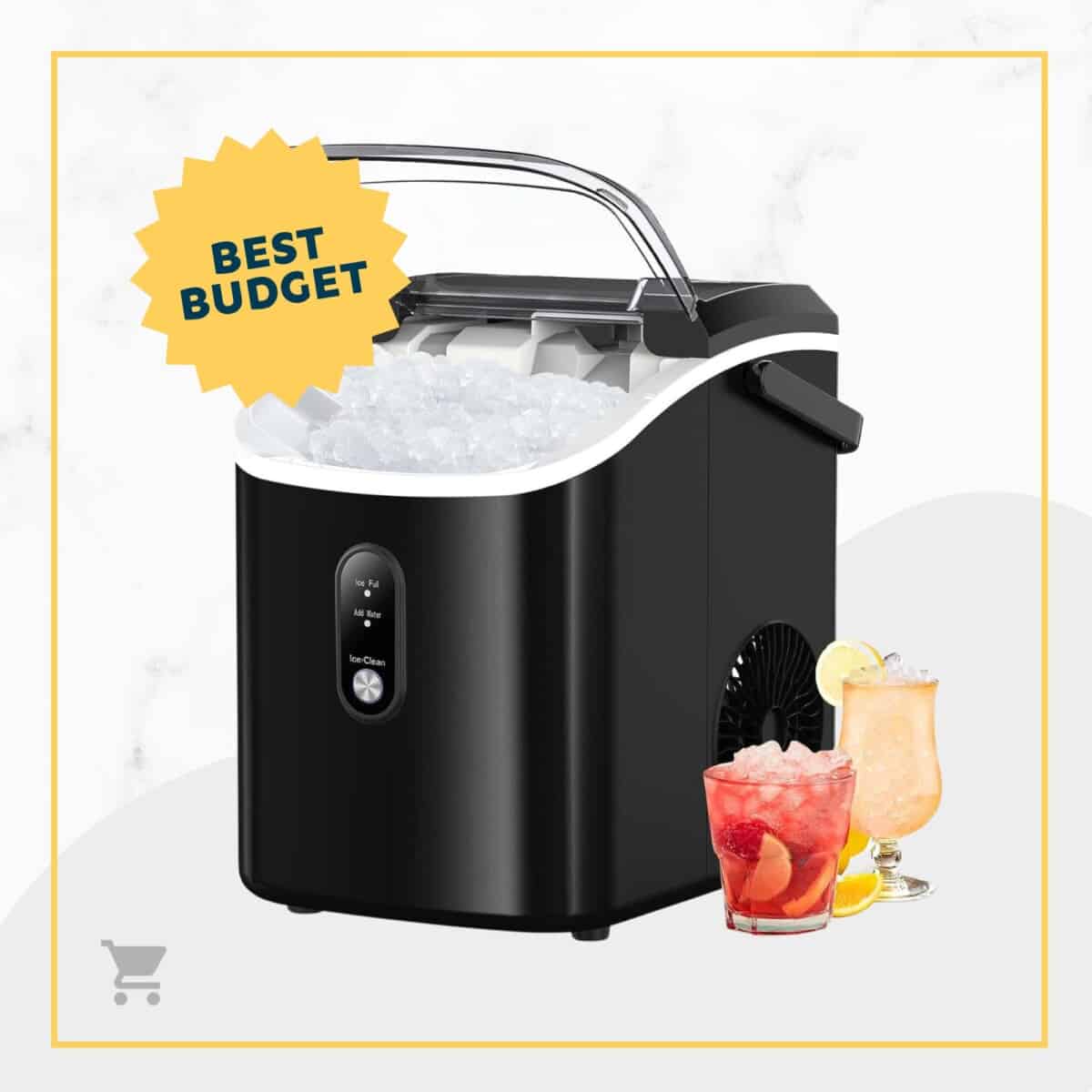 Best Budget Nugget Ice Maker
Best Budget: Kndko Nugget Ice Maker
Pros:
Budget price (Under $300)
Self-cleaning function
Portable handle
Cons:
Ice cubes are on the larger side
Ice production not as uniform
Small ice bin
For those who want an affordable, no-frills nugget ice maker, then this is the one. At under $300, the Kndko Nugget Ice Maker is more budget-friendly than most models and produces the same soft, chewy ice — though not always at the same consistency.
Reviewers have noted that, although this machine is speedy, the ice sometimes comes out in sheets. Otherwise, the ice maker is fairly straightforward to use; ice production starts with the push of a single button and there are two handy alerts, one for "Ice Full" and another for "Add Water."
It can produce up to 100 pieces of ice in four minutes, but since the bin only holds 1.5 pounds, so this is a better option for smaller households who may only need ice for glasses of daily cold brew or orange juice. The machine also has a self-cleaning function, which is a great perk given its relatively low price tag.
| | |
| --- | --- |
| Dimensions: | 11.3 x 8.6 x 12.6 inches |
| Weight: | 21.85 pounds |
| Ice Bin Capacity: | 1.5 pounds |
| Water Tank Capacity: | 1.1 liters |
| Ice-Making Speed: | 14 minutes |
| Warranty: | 1 year limited warranty |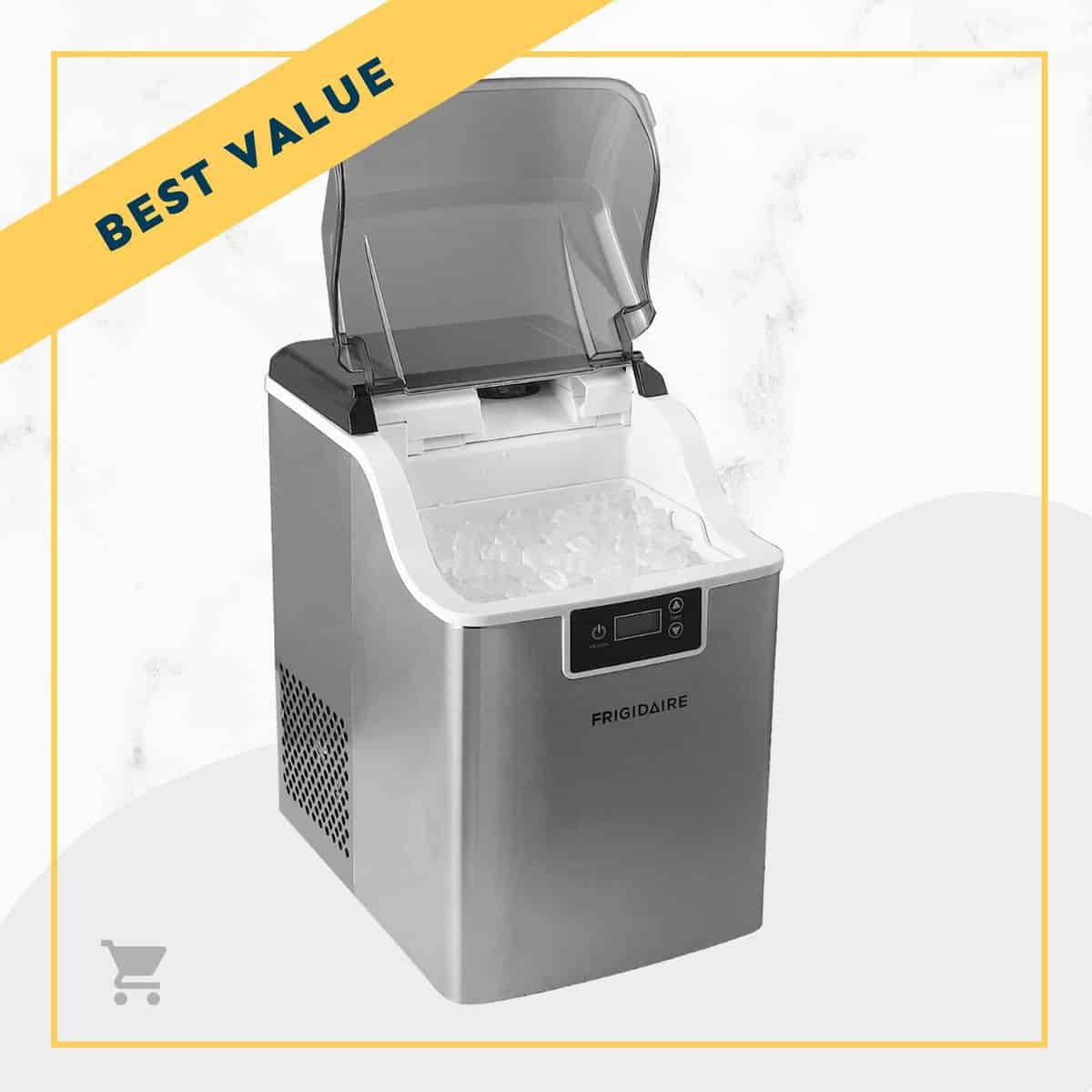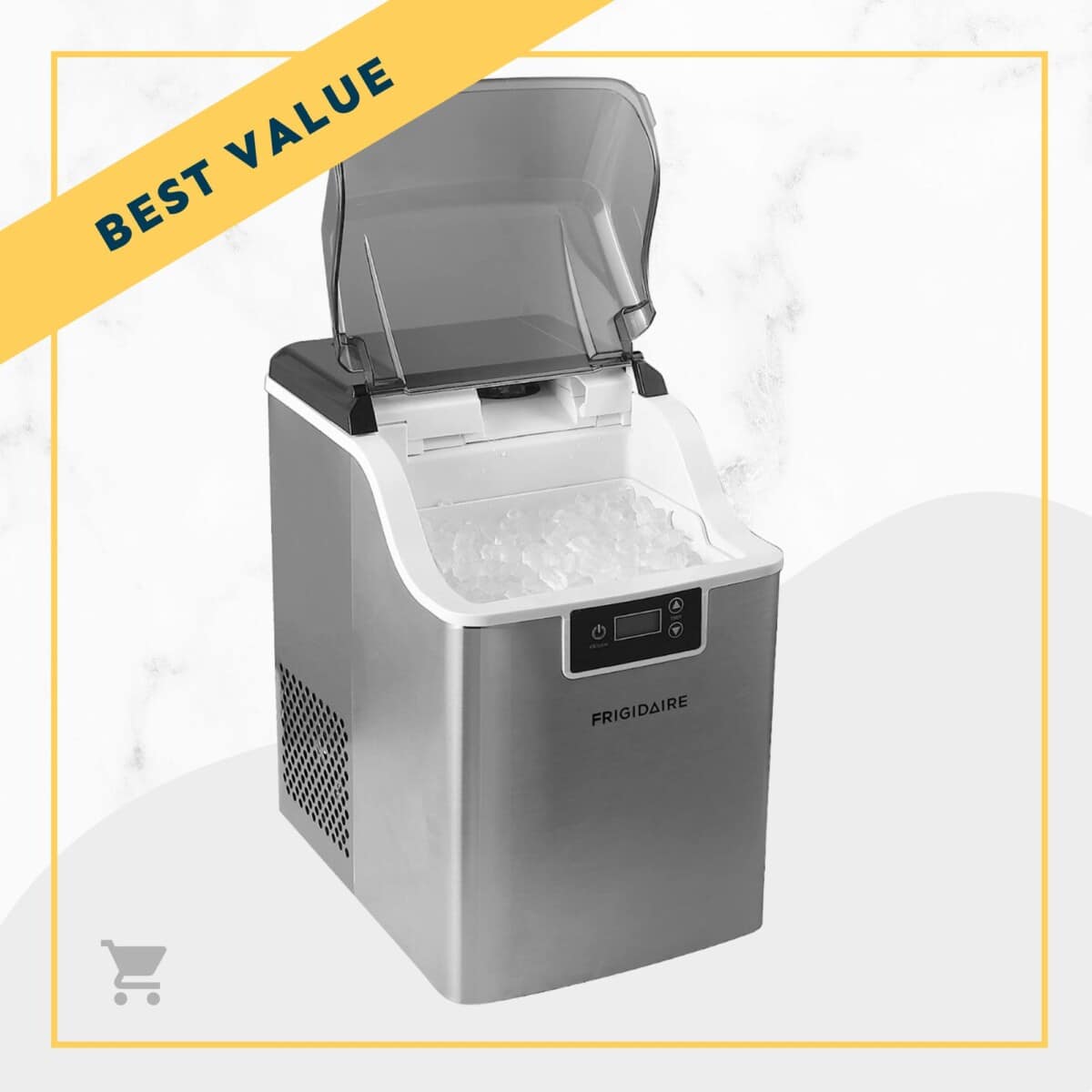 Best Value Nugget Ice Maker
Best Value: Frigidaire Countertop Nugget Ice Maker
Pros:
Mid-range price
High-capacity production
Durable stainless steel exterior
Cons:
Can be loud
Flip-top lid may not work under cabinets
Not the best-looking appliance
This newer generation of the popular Frigidaire EFIC235-AMZ Countertop Nugget Ice Maker has all the great capabilities of its predecessor with an additional improvement: a polished stainless steel shell instead of plastic. That upgrade puts it in line with the GE Opal 2.0, though the overall design is still not quite as sleek.
The Frigidaire is also missing some of the high-tech bells and whistles, but its ability to do the basics, along with a lower price tag, makes this a best value nugget ice maker. The machine can yield up to 44 pounds of soft, chewy ice daily — three pounds can fit in the storage bin at a time — and your first batch is ready in 10 to 15 minutes.
Another nifty feature that stands out: As the ice starts to melt, the water goes back into the reservoir for future ice so you'll have plenty to use for pitchers of mojitos or pineapple agua fresca.
| | |
| --- | --- |
| Dimensions: | 10.2 x 8.1 x 11.4 inches |
| Capacity: | 2 quarts |
| Settings: | Air fry |
| Weight: | 5.7 pounds |
| Non-Stick Coating: | Yes |
| Wattage: | 1000 watts |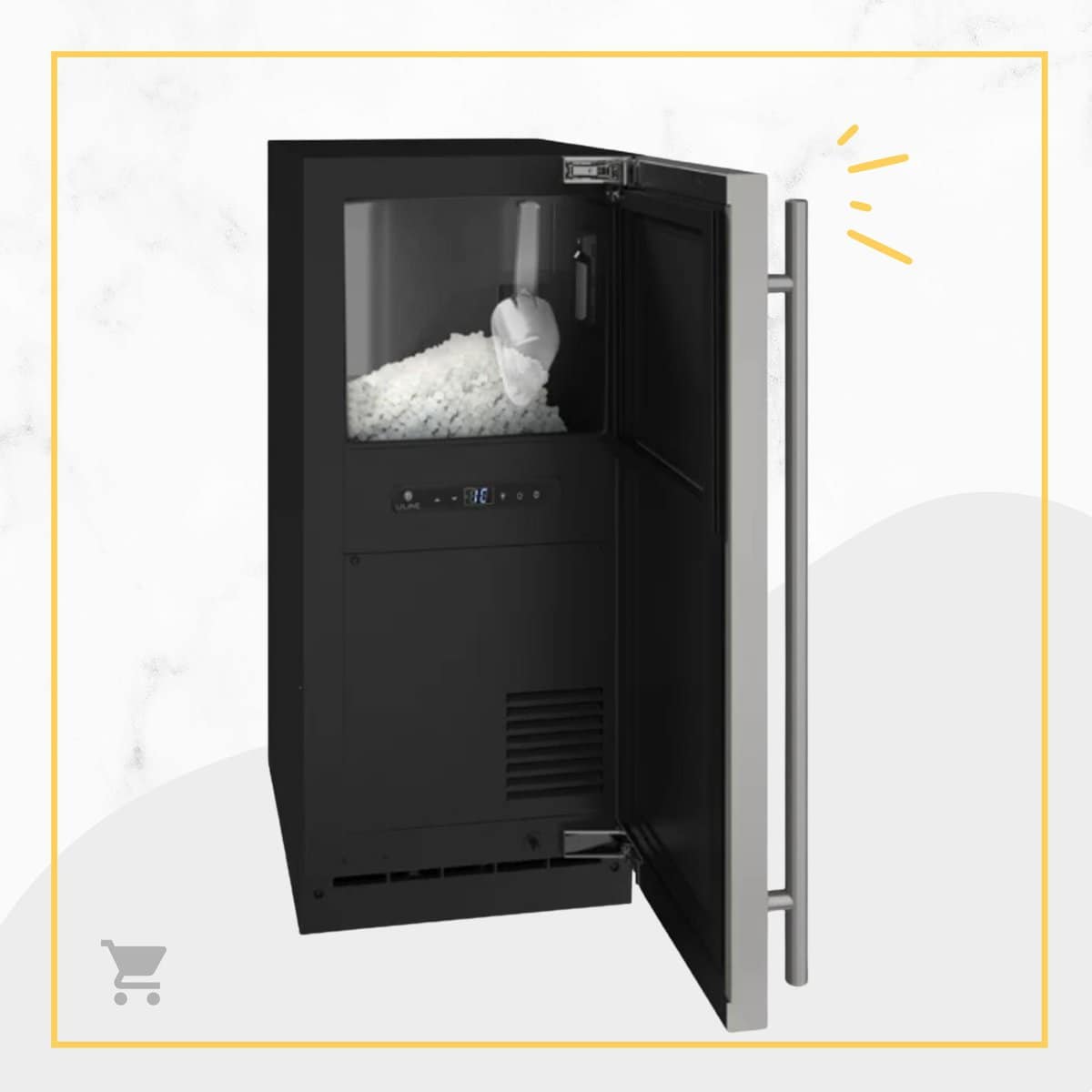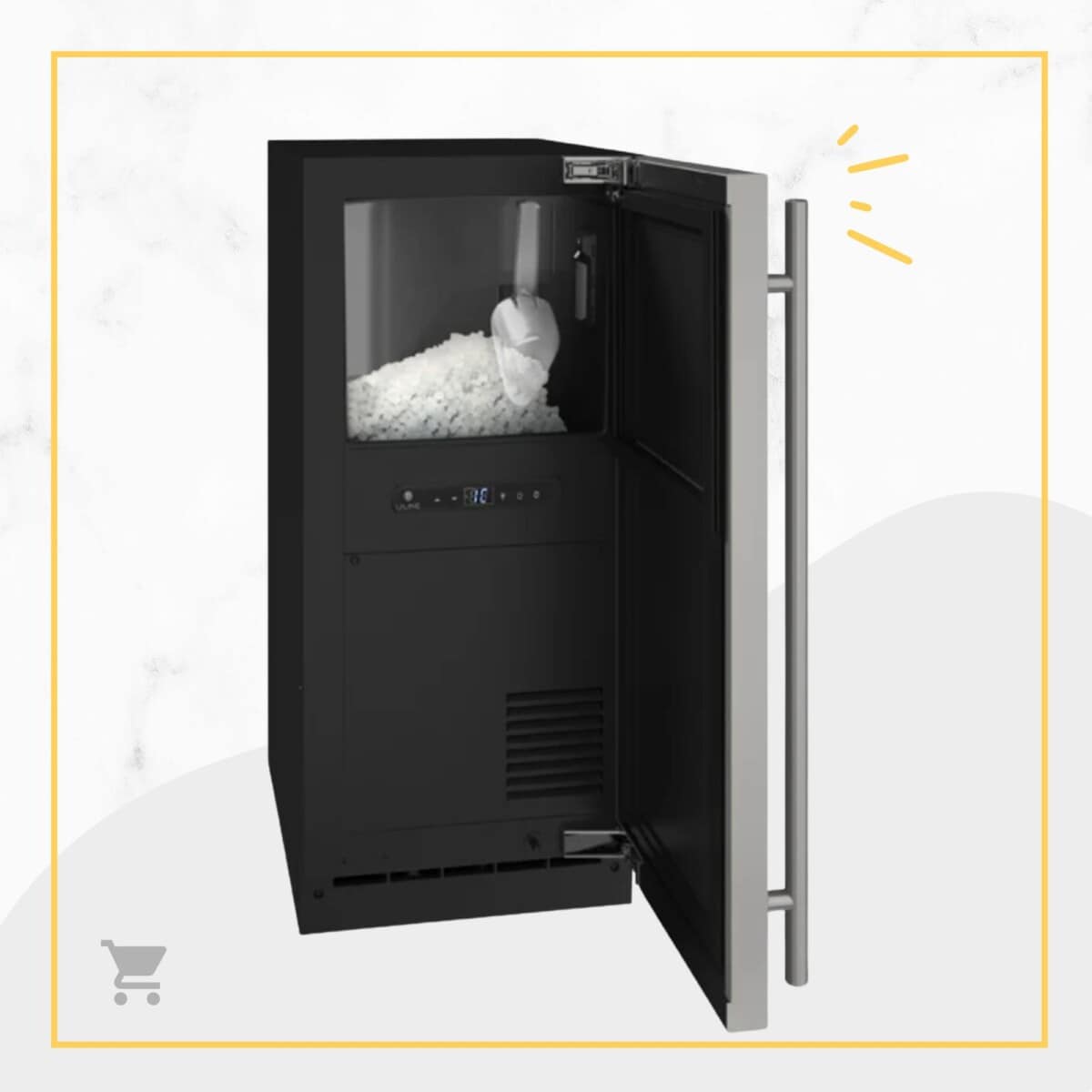 Best Under Counter Nugget Ice Maker
Best Under Counter Ice Maker: U-Line 15-Inch Freestanding Nugget Ice Maker
Pros:
Fast and efficient
High capacity production
Soft-close, reversible door
Cons:
Expensive
Takes up an entire cabinet's worth of space
Requires servicing if parts break down
U-Line has been a trusted manufacturer of refrigerated appliances since 1962, so it's no surprise that the company makes an excellent under-counter nugget ice maker. Like other under-counter and freestanding models, this behemoth of a machine requires a water line hookup, but that means you get a constant supply of ice.
The bin holds 30 pounds and the machine can deliver up to 90 pounds a day while keeping it cold. One of this ice maker's most unique features is the "U-Choose" function, which allows you to select from five levels of ice density, ranging from soft and chewy to hard and crunchy.
Other enhancements include a built-in water filter and dispenser, adjustable LED lighting and a soft-close door. To make the most of your premium purchase, don't forget to register the ice maker online to get a free cleaning kit.
| | |
| --- | --- |
| Dimensions: | 22.93 x 33.68 x 14.93 inches |
| Weight: | 112 pounds |
| Ice Bin Capacity: | 30 pounds |
| Water Tank Capacity: | N/A |
| Ice Making Speed: | Minutes |
| Warranty: | 1 Year Limited Warranty |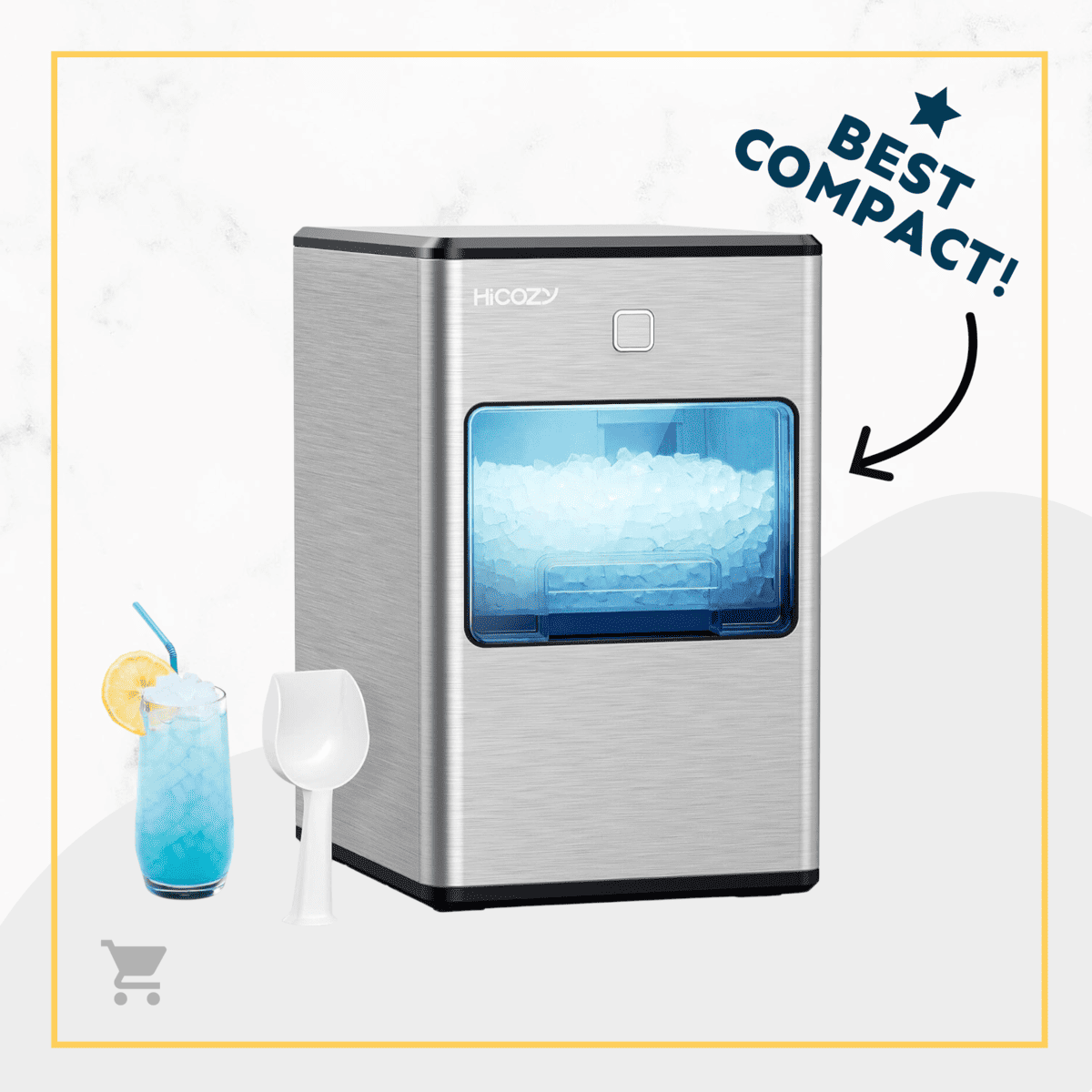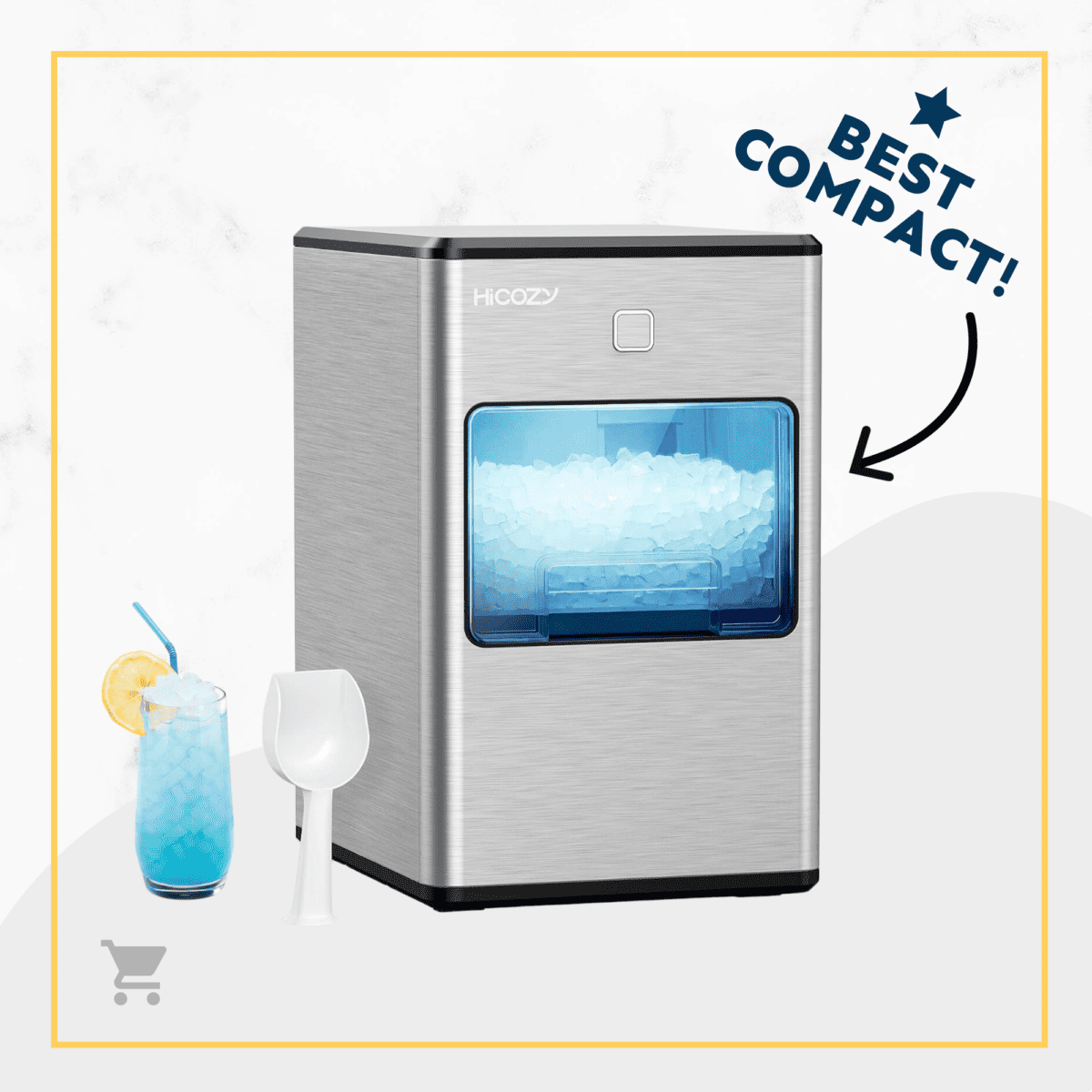 Best Compact Nugget Ice Maker
Best Compact Ice Maker: HiCOZY Dual-Mode Nugget Ice Maker
Pros
Relatively small footprint
Fast production
Two ice-making modes
Cons
Can be noisy
Light can't be turned off
Controls aren't intuitive
Nugget ice makers aren't known for being space-saving appliances, the reason being there are many pieces of machinery needed to create the pellet-like ice in the first place. The HiCOZY Dual-Mode Nugget Ice Maker is on the smaller end of the spectrum, but still has all the parts needed to make good nugget ice.
Despite its compact size, the machine is highly efficient and starts producing ice in a mere five minutes, a big plus if your morning iced espresso ASAP. The bin is — not surprisingly — smaller, able to hold only 2.5 pounds at once. One of the HiCOZY's more interesting functionalities is the two modes.
Under Eco mode, the ice maker will stop when the bin is full; with Cycle mode, it runs continuously to replace ice that's being used. It also has a water line hook-up, which, if you have one available, means no constant refilling of the water tank is needed.
| | |
| --- | --- |
| Dimensions: | 14.2 x 9.6 x 16 inches |
| Weight: | 28 pounds |
| Ice Bin Capacity: | 2.5 pounds |
| Water Tank Capacity: | 2 liters |
| Ice-Making Speed: | 5 minutes |
| Warranty: | 1 year limited warranty |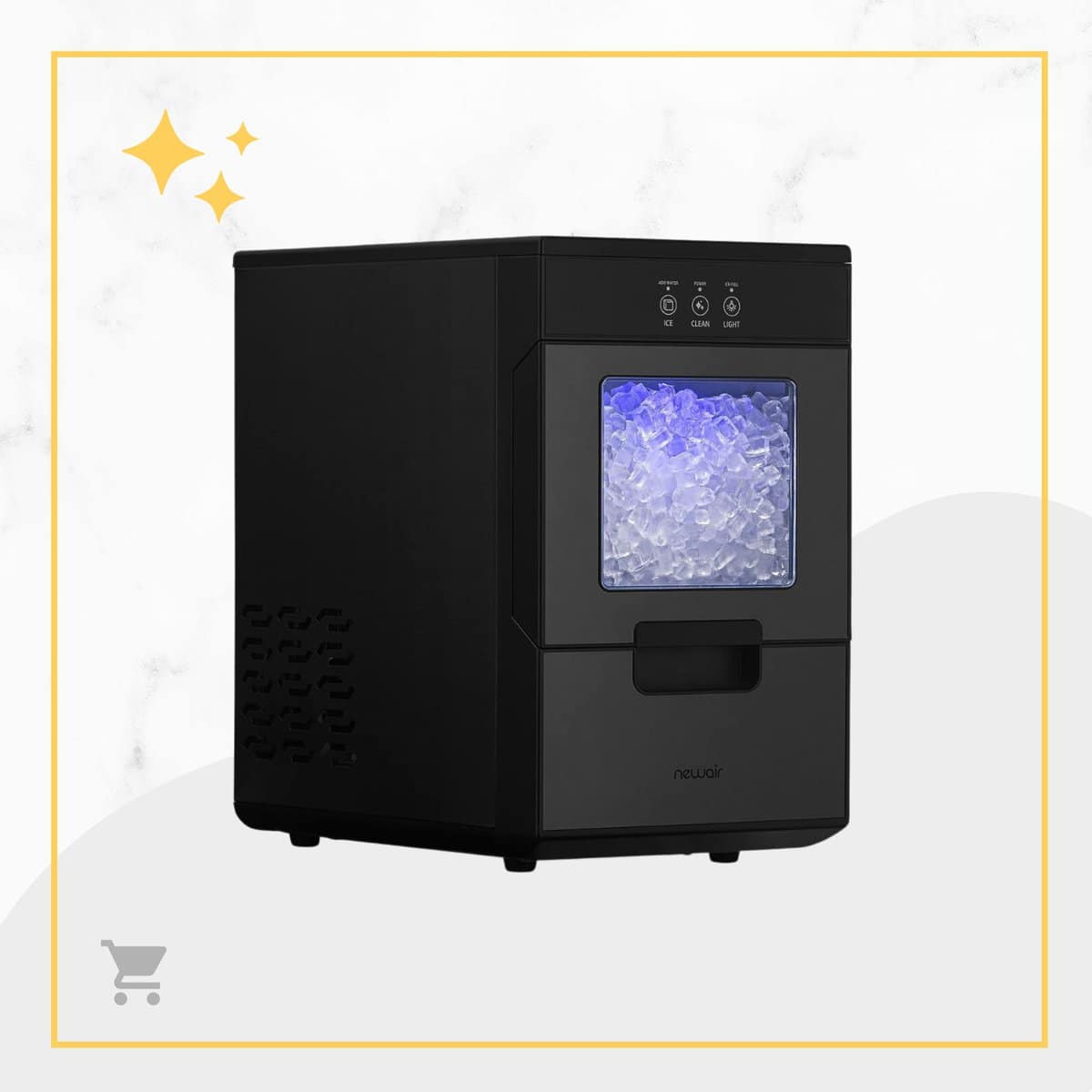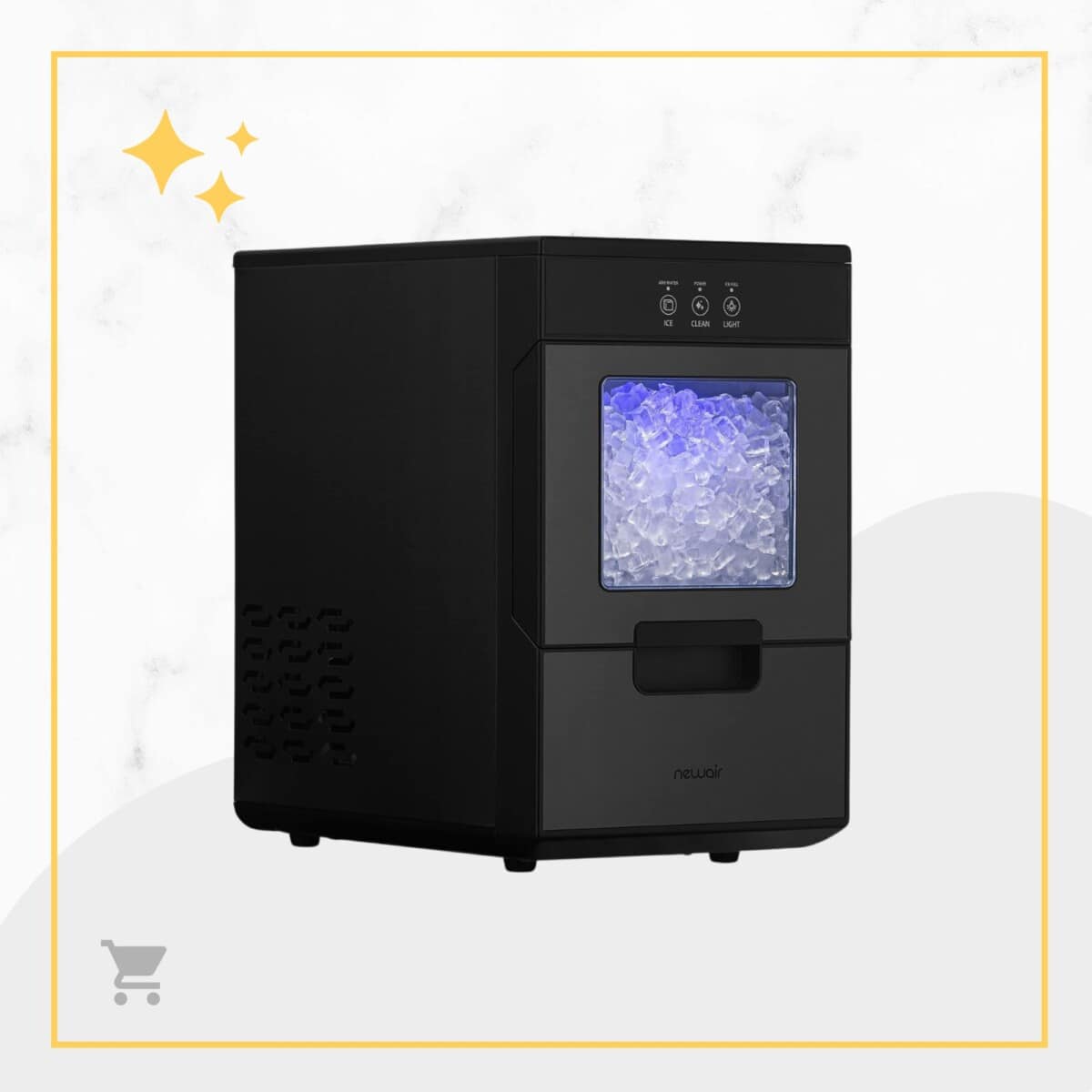 Best Ice Maker for Large Groups
Best Nugget Ice Maker for a Crowd: NewAir Nugget Ice Maker
Pros
Fast and efficient
More affordable than most
Self-cleaning function
Sleek design
Cons
Can be noisy
Bin isn't insulated
No water filter
When it comes to feeding or entertaining a large group, two features always make life easier: speed and volume. That goes for selecting recipes — like mixing up a margarita pitcher instead of individual glasses or making a crowd-pleasing large batch skillet mac and cheese — and appliances, too.
If you have a big, ice-crunching family or love having friends over for cocktails, then the NewAir Nugget Ice Maker is the one for you. Not only can it produce an impressive 44 pounds of ice a day, but the bin holds over three pounds, making it one of the higher capacity countertop machines, plus ice is ready in 10 minutes.
The black stainless steel exterior is also a welcome change from the typical gray and the transparent window has a blue LED light that makes this one of the sleekest-looking nugget ice makers on the market. This model is great for making large amounts of ice and it's guaranteed to become a
| | |
| --- | --- |
| Dimensions: | 17 x 10 x 17 inches |
| Weight: | 34.2 pounds |
| Ice Bin Capacity: | 3.3 pounds |
| Ice Making Speed: | 10 minutes |
| Warranty: | 1 year limited warranty |
The Bottom Line…
When it comes to shopping for a nugget ice maker to use at home, there are a number of features — capacity, production, ice quality, price — to keep in mind and one that checks off all the boxes: the GE Opal 2.0 Countertop Ice Maker. But if you have special considerations to take into accounts, like compact sizing or a small budget, then there are other great nugget ice makers to choose from as well.
Features to Consider When Buying a Nugget Ice Maker:
Ice Quality: The ability to produce ice with good texture is by far the most important feature to look for when shopping for a nugget ice maker! Since this type of ice is ideal for refreshing beverages, the cubes should provide a satisfying crunch and chew to enhance the overall drinking experience.
Production Capacity: Consider the nugget ice maker's production capacity to make sure it can meet your ice demands. A higher capacity means more ice can be produced, making it suitable for parties or gatherings where a continuous supply of ice is needed.
Speed: Some ice makers are faster than others. Faster production ensures a steady supply of ice, reducing the waiting time between batches and keeping your drinks cool and enjoyable without unnecessary delays.
Ease of Use and Maintenance: Choose a nugget ice maker that is user-friendly and easy to maintain. Look for features like intuitive controls, removable parts for cleaning or even a self-cleaning function. This simplifies the ice-making process and ensures a smooth operation, allowing you to enjoy your ice hassle-free.
How We Chose the Best Nugget Ice Makers:
We carefully selected the best nugget ice makers based on several key factors. First, we considered the overall production capacity to make sure the appliances could meet the needs of both big and small households.
We also reviewed the speed of ice production, checking to see how long it takes the machines to generate ice. Ease of operation and cleaning were two other critical points of consideration so we looked for ice makers with straight forward controls and parts.
Why Trust The Cookie Rookie
We're all about making cooking and entertaining as easy as possible here at The Cookie Rookie. When it comes to appliances such as nugget ice makers, we know what qualities and features to look for that will help make your favorite drinks, from boozy summer sangrias to your morning glass of cold brew, taste even better. You can rely on our thorough research and expertise to help find the perfect nugget ice maker for you.
How Much Do Nugget Ice Makers Cost?
As with all small appliances, the cost of a nugget ice maker can vary widely, but there are options for a range of budgets. Entry-level models start around $200 and there are high-end ones that can exceed $500. Consider your desired features and how much you want to spend to find the right balance between cost and functionality.
How Do I Clean a Nugget Ice Maker?
Cleaning a nugget ice maker is a straightforward process. Start by unplugging the machine and removing any remaining ice. Wash any removable parts, such as the ice bin and scoop, with warm soapy water. Wipe down the interior and exterior surfaces, and allow all parts to air dry before reassembling. Models with self-clean options will also run water through the entire system.
What's the Difference Between Pebble Ice, Sonic Ice and Nugget Ice?
None! Pebble ice, Sonic ice and nugget ice are all names for the same thing. They're each used to reference the small, chewable ice that's often available in fast food restaurants (like Sonic), cocktail bars and eventually, your local Starbucks. Other names for it include pellet ice and hospital ice.
Which Refrigerator Brands Have Models With Nugget Ice?
At the moment, no trusted refrigerator brands have models that make nugget ice. Samsung markets its Smart 4-Door Flex Refrigerator as one that makes "nugget style Ice Bites," but they're simply smaller versions of regular ice and not true nugget ice.
Why is My Nugget Ice Maker Making Noise?
If your nugget ice maker is making unexpected noises, it could be due to several reasons. The most common causes are components that are misaligned, ice cubes getting stuck, or the machine vibrating against the surface. Check for any obstructions, tighten loose parts, and ensure the unit is properly leveled to minimize noise.