An easy Red Sangria recipe is the perfect cocktail for all year round! Fruity, refreshing, and lightly spiced with cinnamon, it's a gorgeous drink that's great for gatherings, parties or just relaxing on the porch!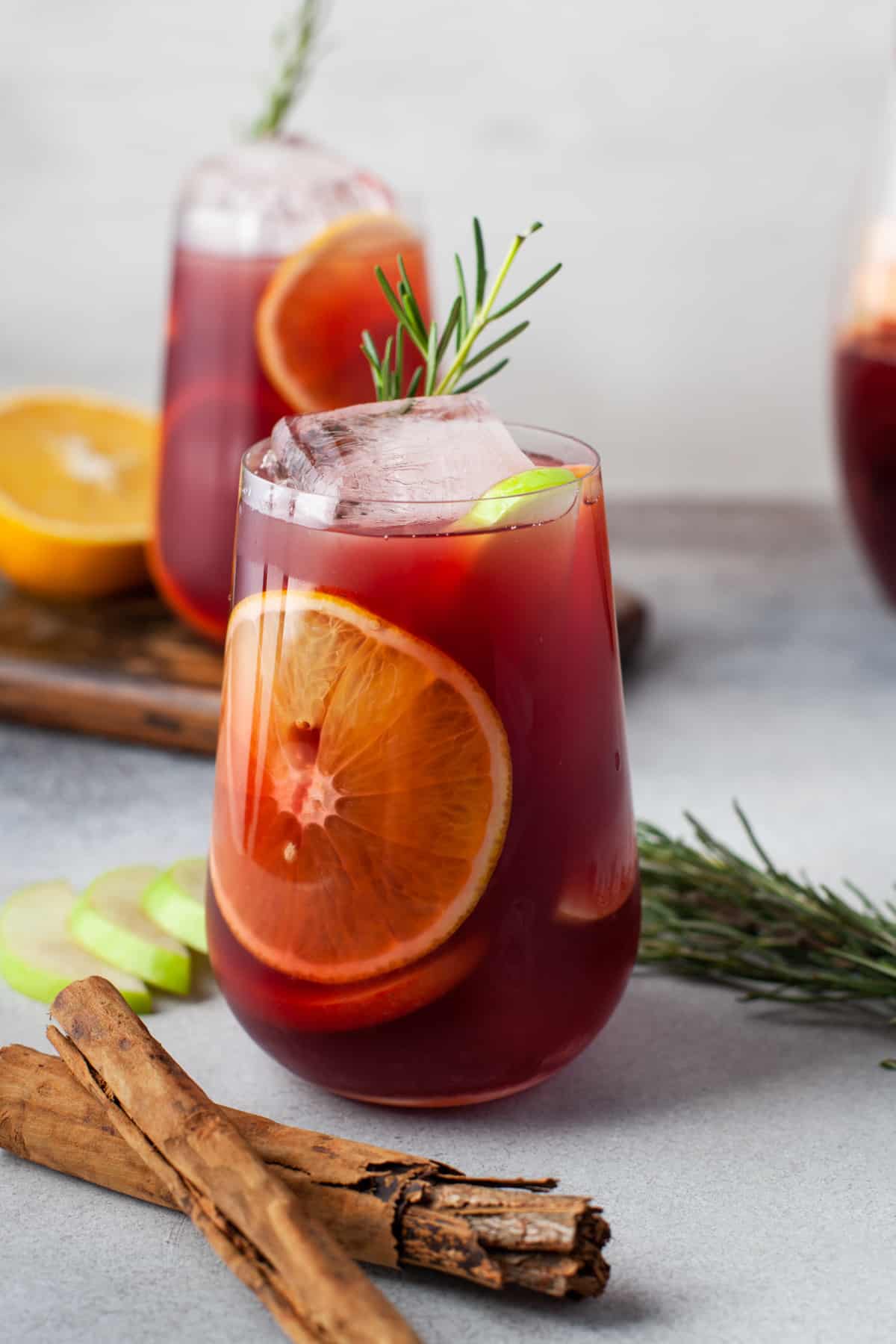 What's in Red Wine Sangria?
This sangria recipe is a perfectly sweet cocktail that blends red wine, brandy, and orange liqueur with apples, oranges, and cinnamon for a sumptuous cocktail that's great for sharing! This is a boozy punch that's packed with flavor.
Red Wine: My go-to is pinot noir, but you can use your favorite fruity red wine.
Brandy: Adds an extra fruity and sweet flavor.
Orange Liqueur: Adds a citrus kick. Use cointreau, triples sec, or whatever you have on hand.
Orange Juice: Because you can't have too much tangy citrus in sangria.
Apples: One red and one green for a flavor twist.
Oranges: Thinly sliced to release the juices.
Cinnamon Sticks: Add complex spice.
Sugar: Finishes off the round, sweet taste of the cocktail.
Ingredient Swaps
Double the cointreau instead of brandy! If you don't have any brandy on hand and you love that zesty orange kick, simply add an extra 1/3rd cup of your favorite orange-flavored liquor in place of brandy. You might find that it's more reminiscent of a margarita!
Use simple syrup for a smoother finish. If you don't have a lot of time for your red sangria to absorb the sugar, try using simple syrup instead! About 3 ounces will ensure the sweetness is evenly dispersed throughout this delicious, fruity drink.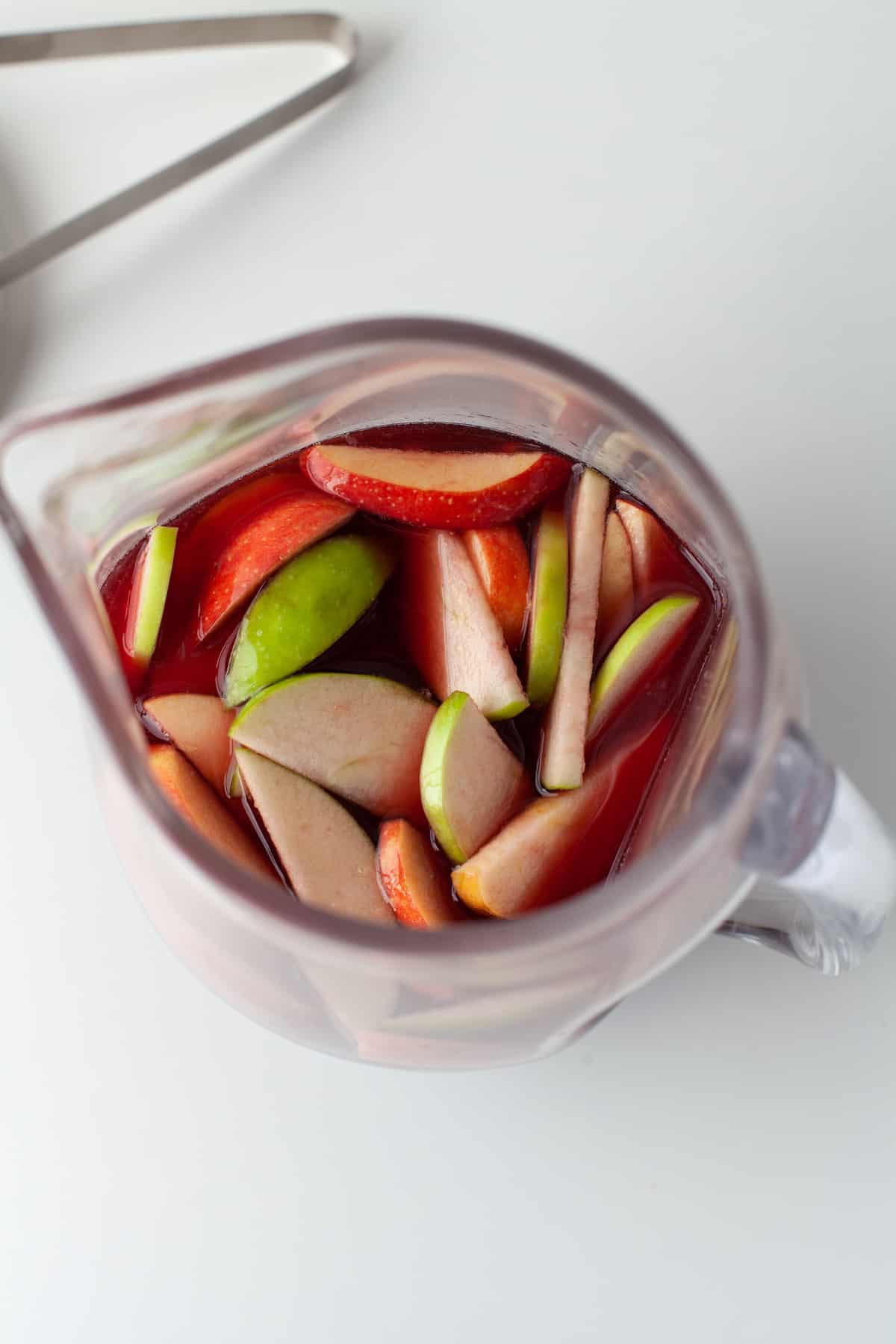 What is sangria?
Sangria is a Spanish cocktail consisting of red wine mixed with fresh diced fruit and spices.
What is the best red wine for red sangria?
Ideally, you want a red wine that is fruity but dry and low in tannins. I used pinot noir, but you can also use zinfandel, merlot, or get adventurous and choose a traditional Spanish wine, such as Garnacha (the most traditional), Rioja, or Tempranillo. Wines with a lot of tannins tend to taste astringent when chilled, so avoid cabernet sauvignon, syrah, or malbec.
How can I make red sangria less boozy?
To make sangria less boozy, omit the brandy.
Can I make red sangria with different fruits?
You sure can! This is a pretty traditional sangria recipe, but feel free to switch up the fruits with the changing seasons. We love adding cranberries during the winter months, and fresh raspberries and pears are refreshingly delicious during the summer!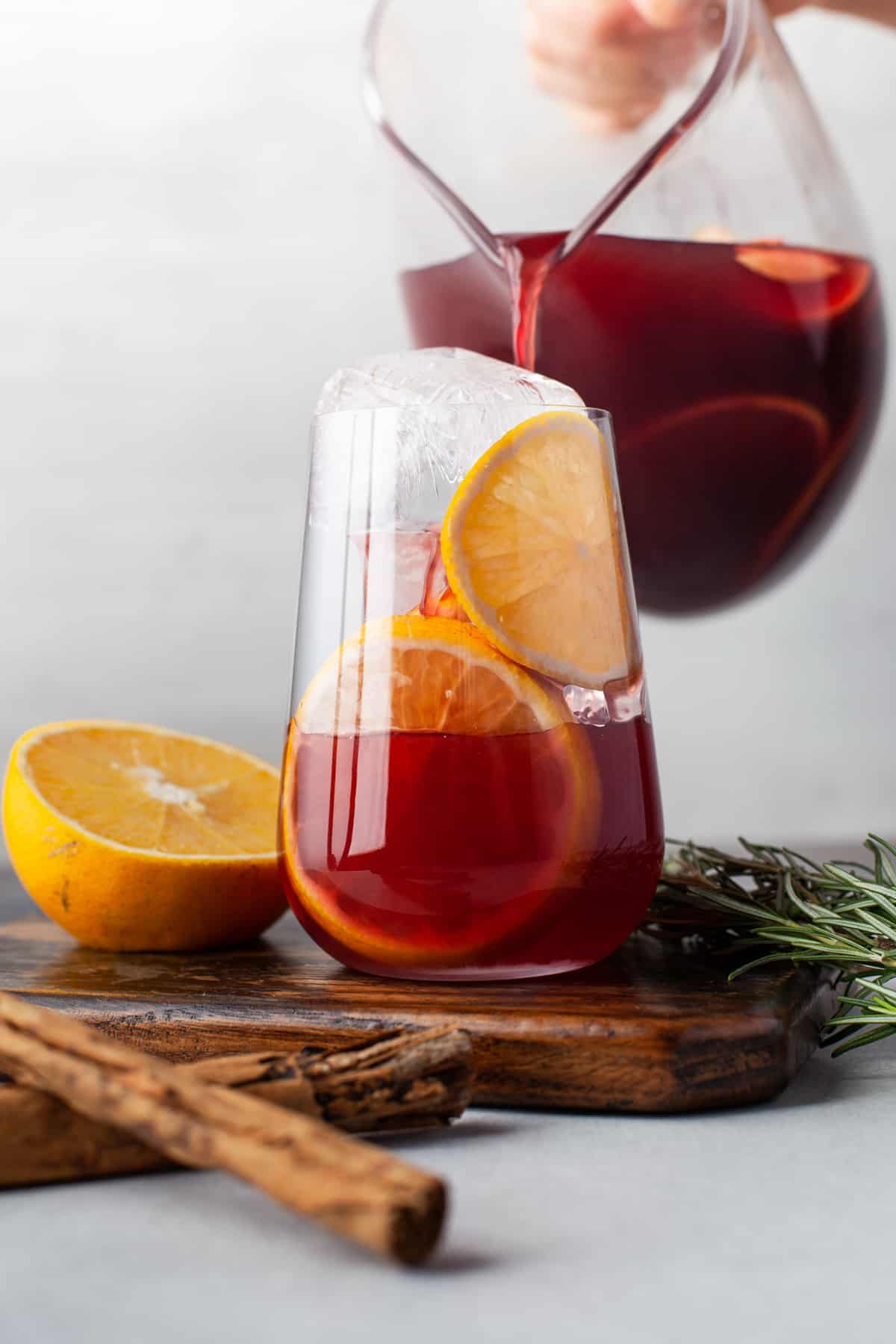 How long does sangria need to be refrigerated?
This red sangria recipe is best when the fruits and cinnamon sticks have had time to infuse into the drink. If you plan to enjoy it at night, try making it in the morning for 8 hours of soak time. If you're working on shorter notice, make sure the drink has at least 2 hours to soak in the fridge.
How to Garnish
Throw in some dried orange slices, seltzer water, and rosemary sprigs in each sangria glass to make a picture-worthy cocktail!
What to Serve with Red Sangria
This red wine sangria is perfect for any season, so serve it up as a refreshing summer cocktail, or around the holidays as a Christmas cocktail! It pairs well with a charcuterie board, or appetizers like blue cheese stuffed olives, baked provolone with grapes and walnuts, candied walnuts, baked brie, or herb-marninated mozzarella.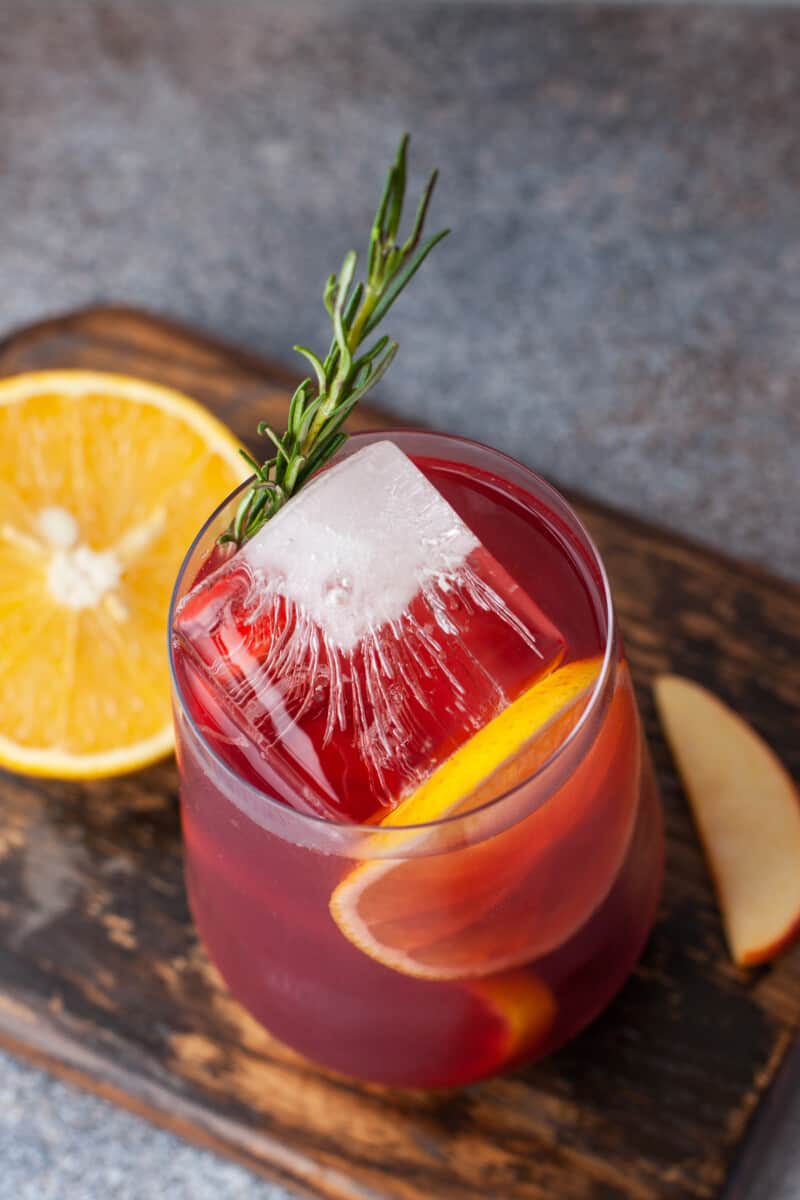 More Sangria Recipes We Love