This Mojitos Recipe is the best pitcher recipe for a crowd of people. If you're throwing a summer party, you need this mint mojito recipe. Pitcher cocktails are a lifesaver for parties. Start with a mojito simple syrup, add the alcohol, and you're ready to go!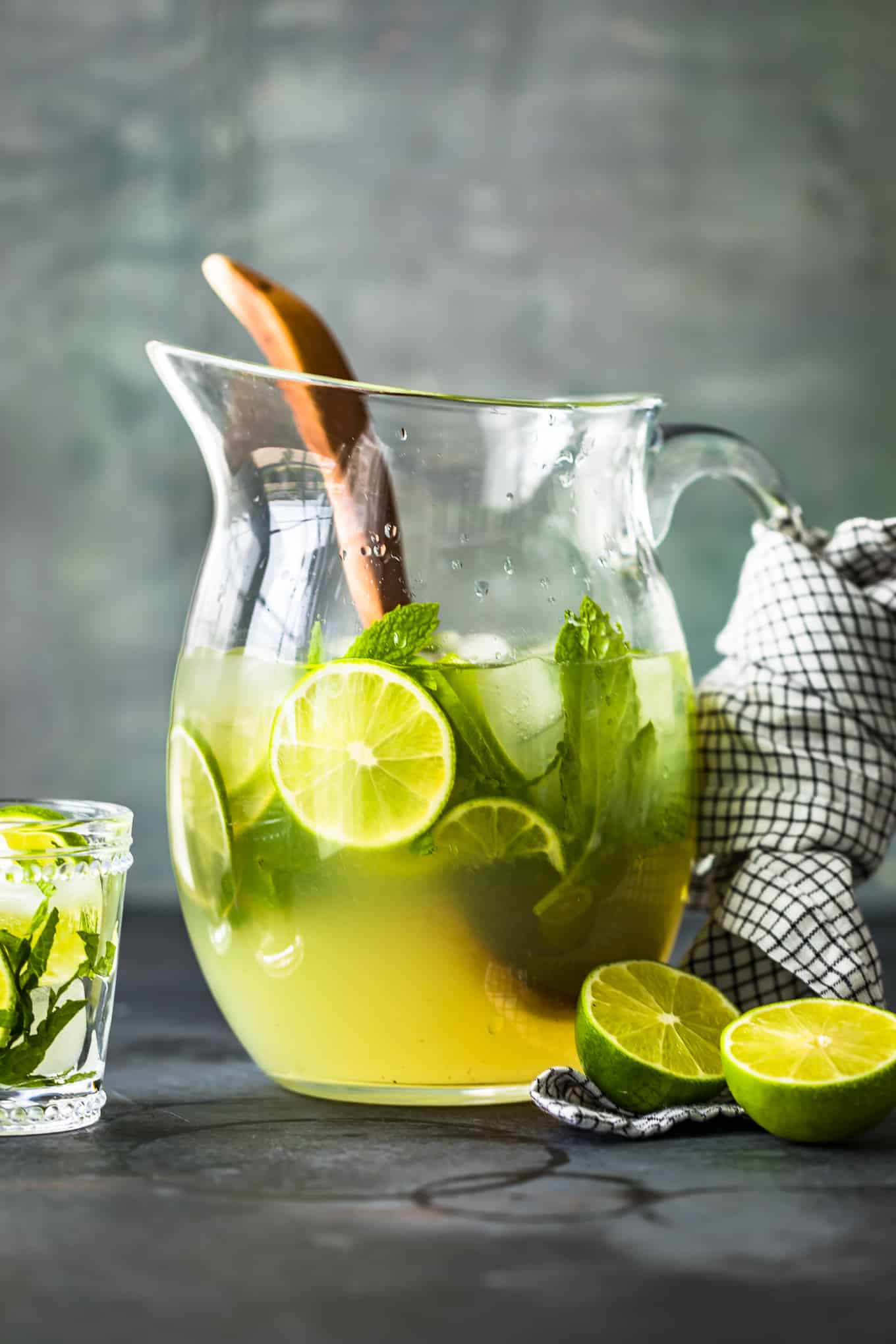 Mojito Ingredients
I just love a good mojito. The fresh mint mixed with lime and bubbly carbonated water is such a tasty combination. It's one of the most refreshing cocktails for summer (right up there with margaritas)!
Sugar: Superfine sugar is cooked down to create a simple syrup that provides sweetness and helps balance the tartness of the lime juice.
Mint: The key ingredient in mojitos that gives them their distinctive and refreshing flavor. It adds a pleasant herbal and cooling taste to the cocktail.
Rum: White rum is the primary alcohol used in mojitos. It contributes to the drink's tropical character and provides a rich and smooth base flavor.
Lime Juice: Adds tanginess and acidity to the drink. It brightens the flavors and complements the sweetness of the sugar and the freshness of the mint.
Club Soda: Gives the mojitos a bubbly and fizzy texture. It adds a refreshing element to the cocktail and helps dilute the strong flavors of rum and lime juice, making the drink more enjoyable and thirst-quenching.
Pro Tip: Muddle a bit of fresh mint in the bottom of the cocktail glasses before serving to give these mojitos an even fresher taste!
Variations on Mojitos
The type of rum you choose to use in your mojitos recipe can greatly impact the final taste. White rum (aka light rum or clear rum) is the classic choice for a mojito due to its mild flavor and light color. Gold rum or flavored rum are great choices if you're looking for a bit more flavor. I like coconut, citrus, mango, or pineapple rum when I'm feeling fruity.
You can change up the flavor profile of this drink even more by swapping out the lime juice for a different citrus, like lemon or grapefruit. The mint can be swapped for basil, rosemary, or even cilantro. And you can add a bit more flavor by swapping out the club soda for lime or lemon-lime seltzer or soda.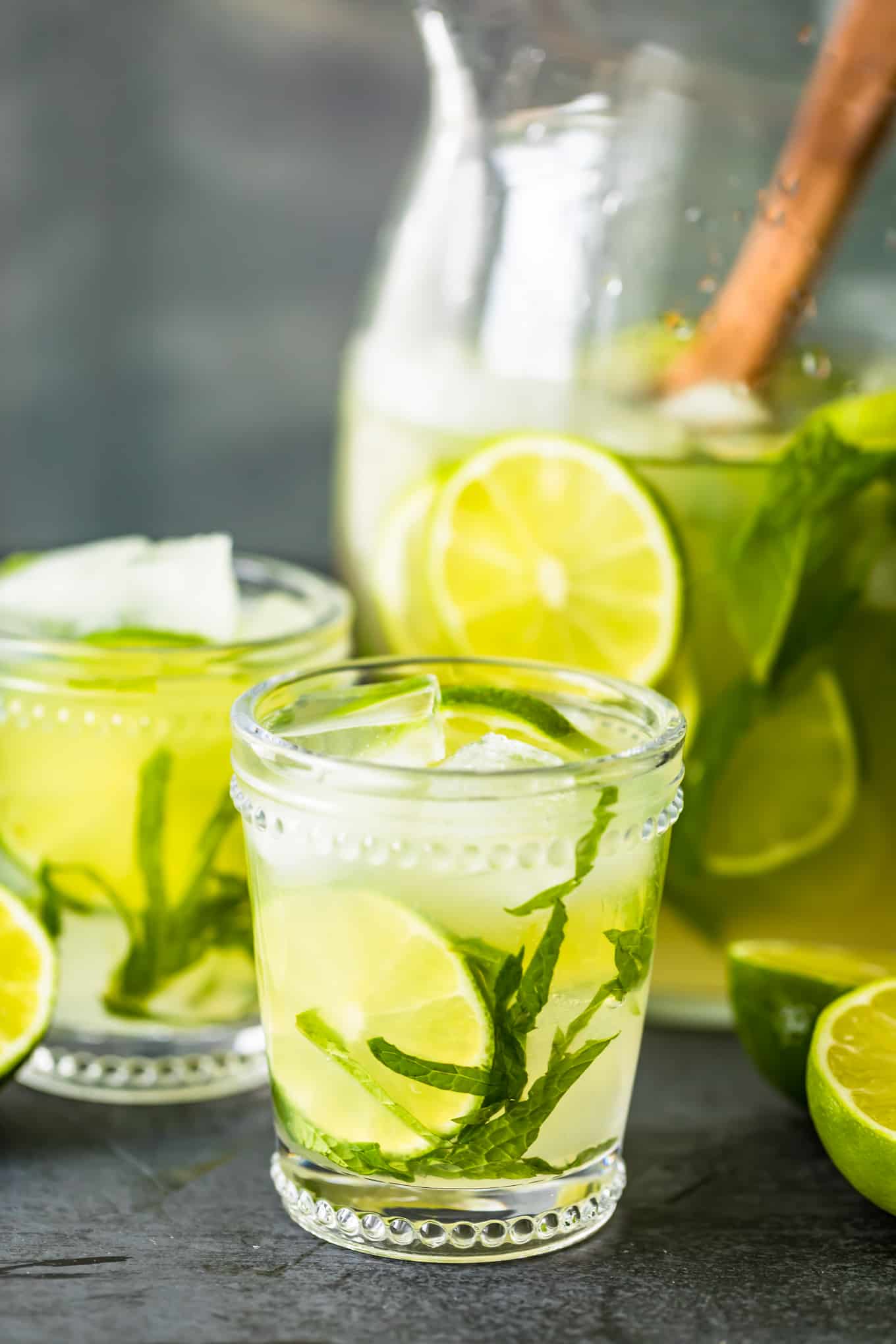 What alcohol is in a mojito?
A mojito is typically made with white rum. However, you can use any clear alcohol, such as tequila, vodka, or gin, to make a variation on a mojito.
How is a mojito traditionally served?
A mojito is traditionally served in a highball glass with muddled mint in the bottom, lots of ice, and a garnish of fresh mint and a lime wedge.
Are mojitos good for you?
Mint leaves are full of antioxidants, and lime juice contains vitamin C. However, due to the inclusion of rum and simple syrup, mojitos are also high in sugar and calories. Enjoy them in moderation as part of a healthy diet.
What soda is best for a mojito?
Club soda is the traditional choice, but plain or lime sparkling water also works well. I do not recommend using tonic water, as it can be too bitter!
What is the best mint to use?
Spearmint is the best choice for a mojito because it has a light and sweet flavor Apple mint is also a good choice. Peppermint will work, but it has a much stronger, mintier flavor that some might associate with toothpaste. If you don't have mint, try a different herb, like basil or cilantro!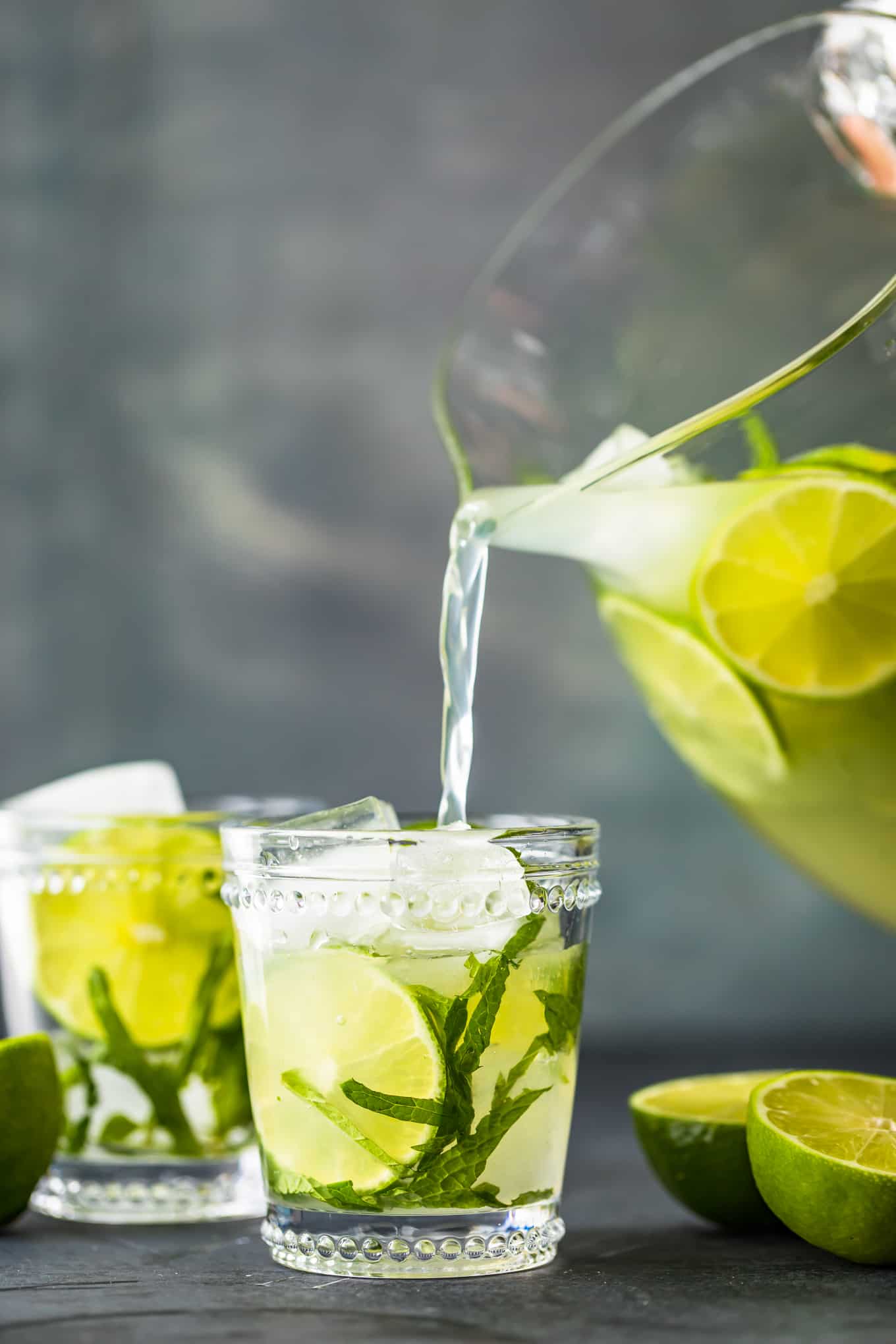 How to Store
If you want to make this mojito pitcher recipe ahead of time, you can let the pitcher of mojitos sit in the refrigerator for up to 3 days. Just give it a good stir before serving.
When you're ready to serve, stir in club soda and pour into glasses of ice. Garnish with fresh mint leaves and slices of lime, and you're ready to go!
Serving Suggestions
This mojito recipe pairs perfectly with tortilla chips and salsa, guacamole, pico de gallo, Mexican corn dip, or my favorite queso recipe. Serve it alongside baked chicken tacos or birria tacos to take taco night to the next level, or enjoy it with a Cuban classic, like mojo chicken.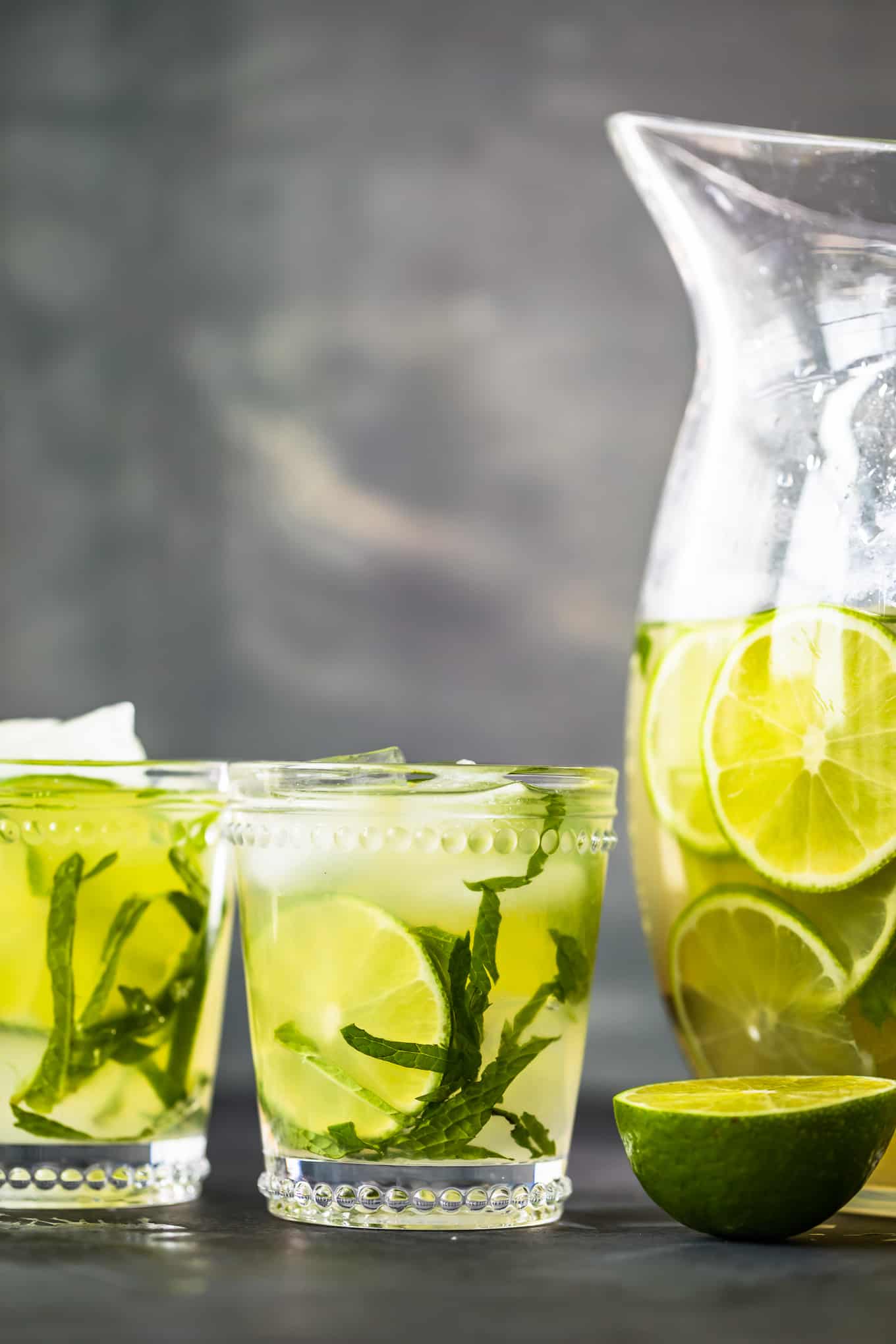 More Mojito Recipes We Love