White Cheddar Mac and Cheese is one of my favorite macaroni and cheese recipes. This large-batch skillet mac and cheese for a crowd is the perfect easy one-pot dinner for any night of the week. So much cheese and so much flavor!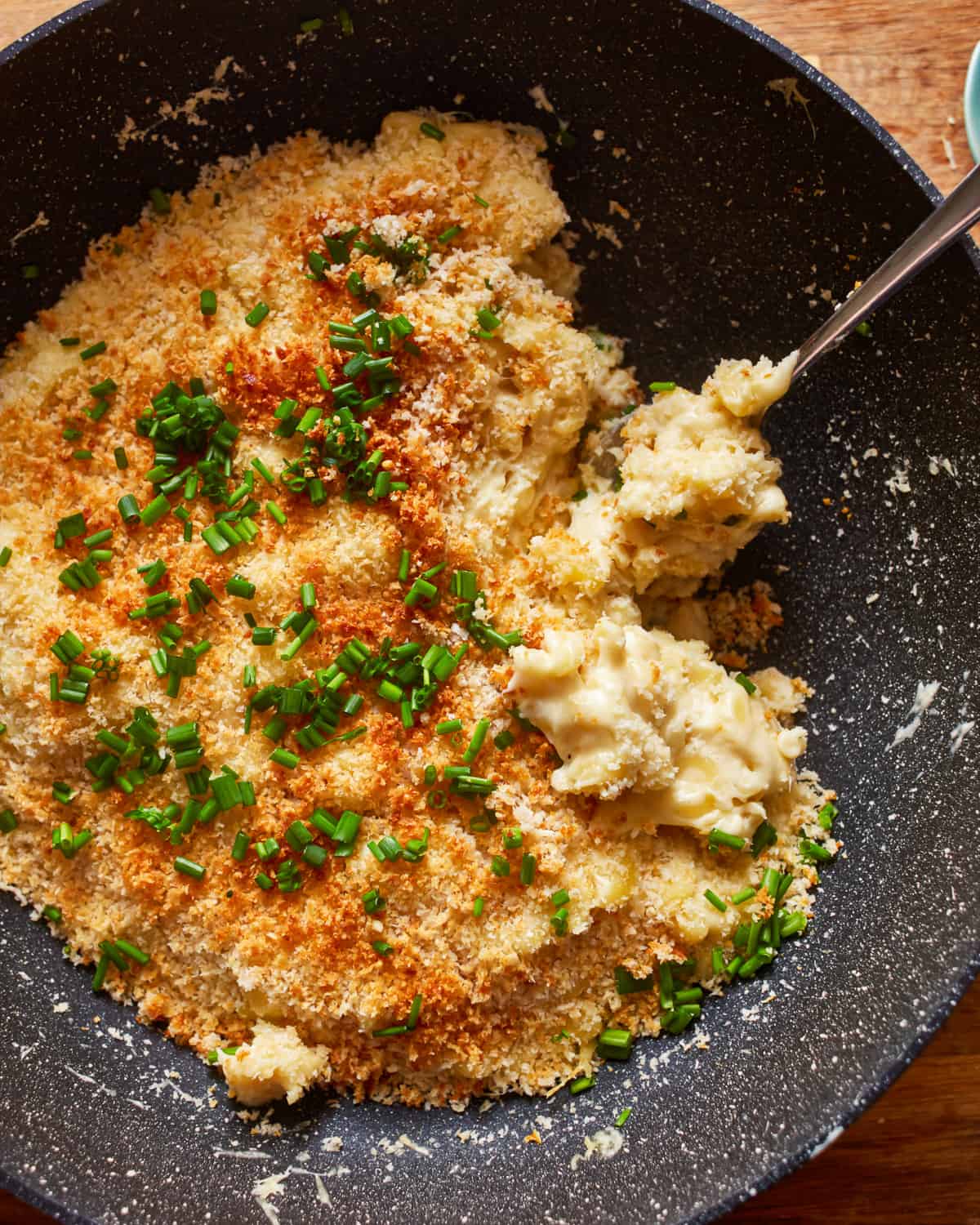 What's in White Mac and Cheese?
I can't get over how cheesy and creamy this white cheddar mac and cheese recipe is. It's the perfect combination of ingredients to create something truly crave-worthy. Grab these ingredients and get to cooking!
Butter + All-Purpose Flour: Combine to create a roux that thickens the sauce.
Milk: I'm using whole milk but skim or 2% would also work in this recipe.
Heavy Cream: Adds richness to the cheese sauce.
White Wine: Adds a touch of acidity that really enhances the overall flavor of this sauce. If you're not a drinker, you can swap this out for more milk.
Pasta: I'm using elbow macaroni in this recipe but feel free to use what you have on hand! You can of course use cavatappi, mini shells, or any medium-sized pasta shape.
Dijon mustard: Adds just a hint of warm, spicy flavor.
Salt + Pepper: Enhance the natural flavor of the cheese.
White Cheddar Cheese: Freshly shredded cheese melts so much better than pre-shredded cheese– plus it has more flavor!
Panko Breadcrumbs: Create a crispy, crunchy topping.
Parmesan Cheese: Adds a salty, umami flavor to the topping.
Chives: Add a pop of color and freshness!
Pro Tip: Use room temperature milk and cream to prevent curdling.
Variations on Mac and Cheese for a Crowd
This savory white cheddar mac and cheese casserole is great as is, but you can spice it up by adding crumbled cooked bacon, sausage, or ham; shredded chicken; broccoli florets, diced peppers and onions; Buffalo sauce or sriracha; canned beans and salsa, canned tuna, or chili. There are really so many ways to load up this pasta!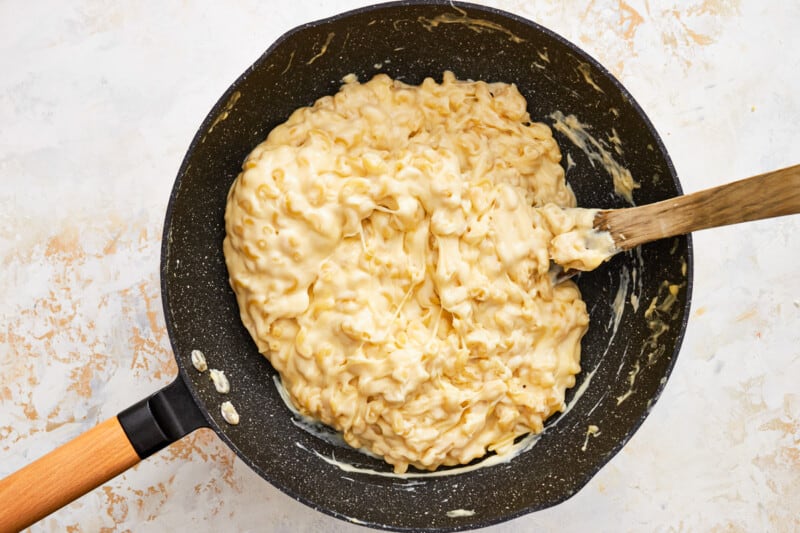 What types of white cheese are best for mac and cheese?
I love classic white cheddar, but you could use sharp white cheddar, fontina, Swiss, Monterey jack, mozzarella, or gruyere cheese.
Why does white cheddar mac and cheese taste different?
The flavor difference is usually attributed to a trick of the mind, as the only difference between white and yellow cheddar is annatto food coloring.
What spices go well with white cheddar?
You can add onion powder, cayenne pepper, Italian seasoning, crushed red pepper flakes, or Buffalo sauce to spice up your mac and cheese. A hint of nutmeg also goes well!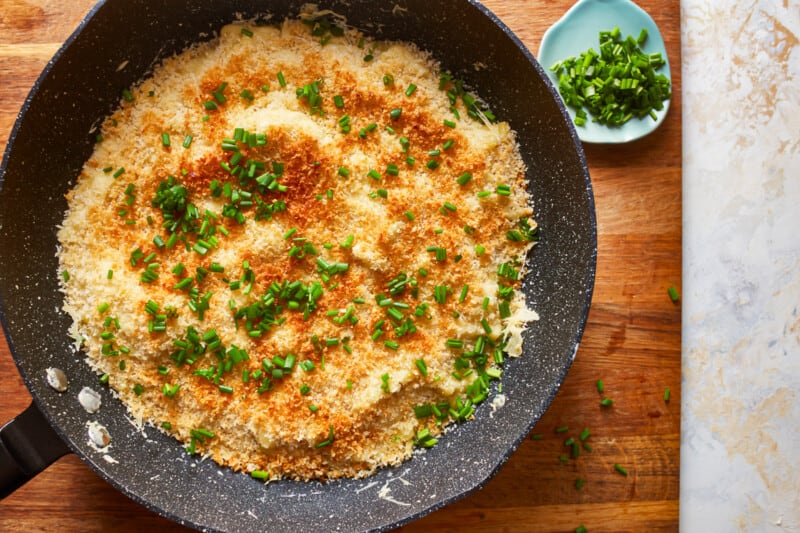 How to Store and Reheat
Store leftover white cheddar mac and cheese in an airtight container in the refrigerator for up to 4 days. Reheat covered with aluminum foil in a 350°F oven for 20 minutes, then remove the foil and bake for another 10 minutes, until hot and bubbly.
How to Freeze
Freeze leftovers whole or in individual portions in airtight containers for up to 3 months. Let thaw overnight in the refrigerator before reheating.
Serving Suggestions
White cheddar mac and cheese is a rich and hearty dish that you can enjoy as a simple main dish or a tasty side dish. The addition of Grilled Chicken Breast and Air Fryer Broccoli would make this the ultimate weeknight dinner! Or serve this pull apart cheesy bread on the side.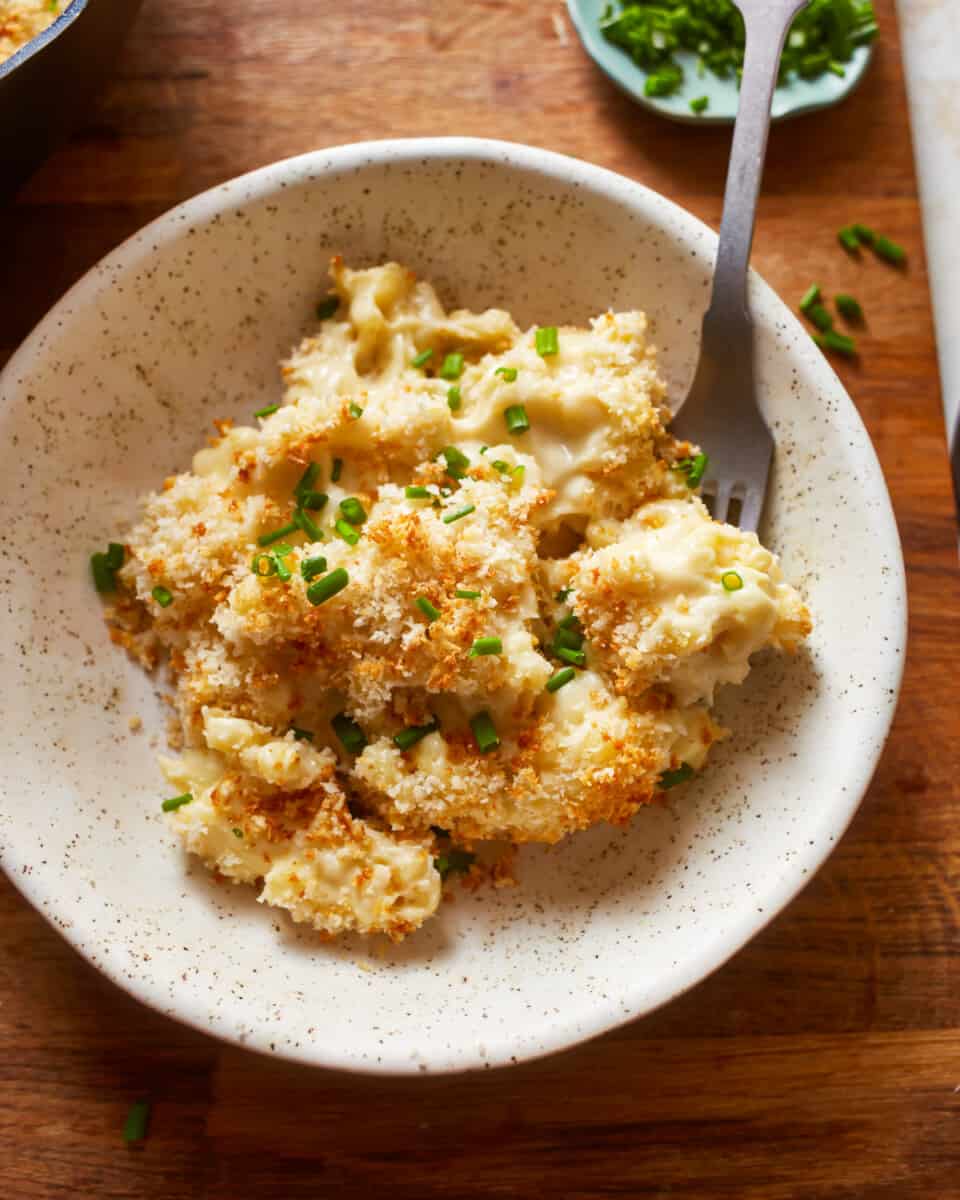 5-Star Review
"My family enjoyed this side dish today for brunch it was so good will make this for now on thank you." – Tracy
More Mac and Cheese Recipes We Love