Waffle makers come in a variety of types, including Belgian and rotating, and deliver perfect fluffy, golden-brown results. We researched and reviewed the best waffle makers based on cost, performance, ease of use, and more.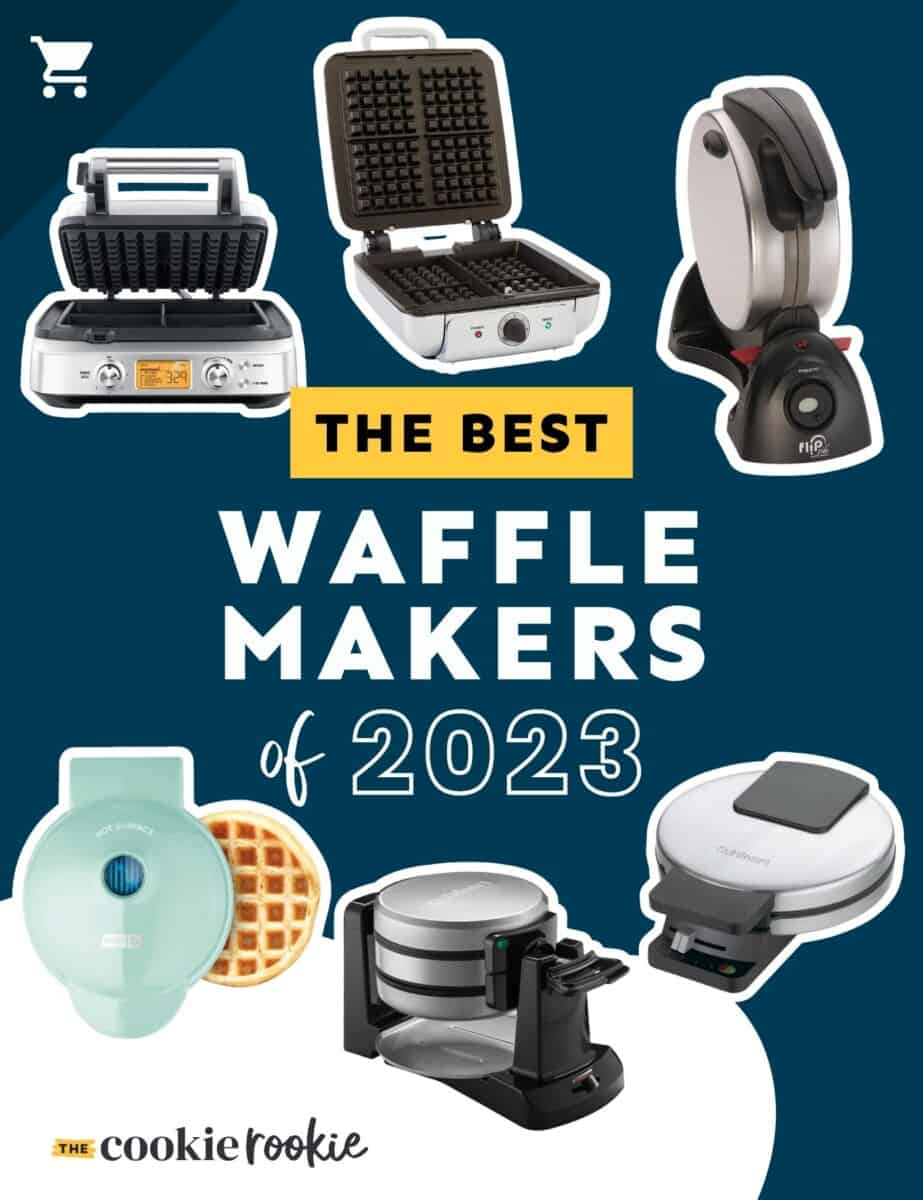 There are few smells more delicious than the scent of fresh waffles in the making (except maybe chocolate chip cookies), but whether you do it from scratch or out of a box, having a waffle maker is absolutely essential. Like air fryers, toasters and other small appliances, waffle makers now range from very basic to high-tech and complex. There's so much to consider, from browning levels to capacity to price.
When choosing a waffle maker, it is important to consider how often you will use it and what features are important to you. If you only plan on making waffles occasionally, a simple model can do the job.
However, if you are a waffle lover or plan on using your waffle maker frequently, it may be worth investing in a higher-end model with more features. Below is the list of The Cookie Rookie-approved models—no matter your budget or waffle preferences, one of these best waffle makers will happily make your breakfast dreams come true.
Our Top Waffle Maker Picks:
In this article you'll find our favorite waffle makers as listed below. Click the title to read all about it, or check out the price if you know which one best fits your needs!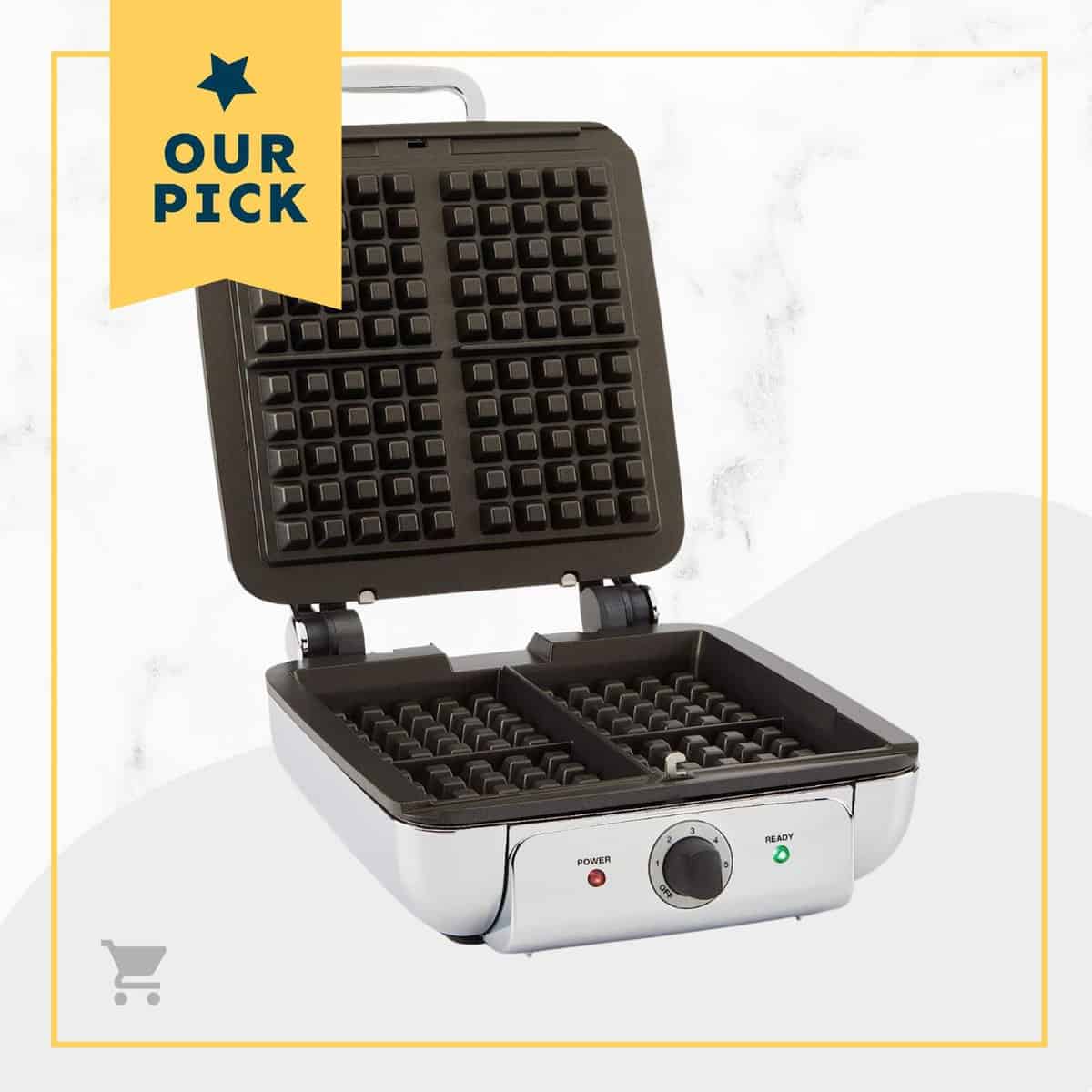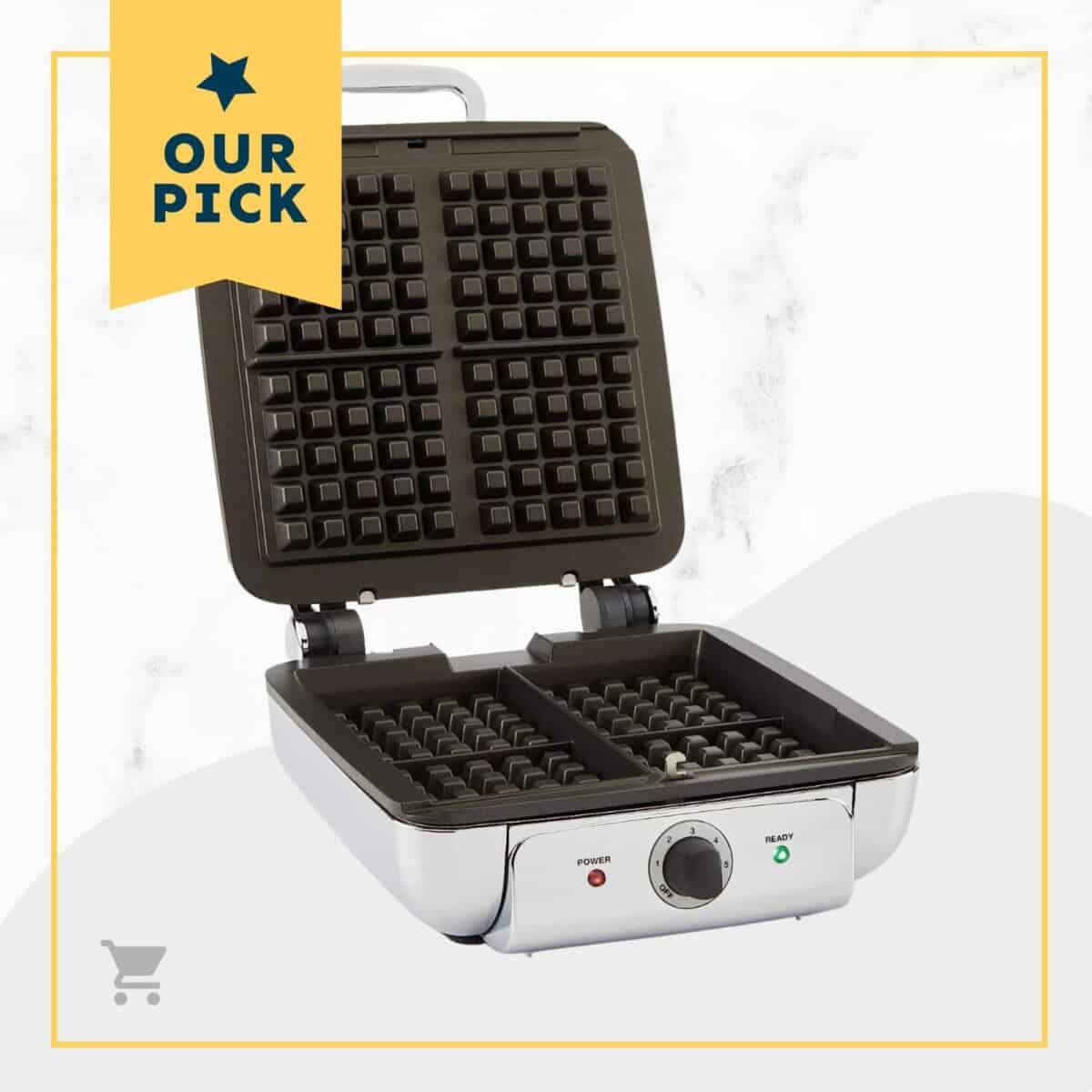 Best Overall Waffle Maker
Best Overall: All-Clad Stainless Steel Belgian Waffle Maker
Pros
Heats evenly
Removable non-stick plates are dishwasher-safe
Tray in the back to catch drips
Cons
Heavy and not easy to move around
On the pricier side
Body can get hot during cooking
All-Clad is known for its superior pots and pans, but it also has a top-notch waffle maker. Dubbed the "Cadillac of waffle makers," this good-looking appliance makes waffles that hits everything on our checklist: crispy, tender and thick with deep wells for holding syrup (or if you're not a maple person, whipped cream).
This model cooks four square waffles at a time so there's no fighting over who gets the first one and it boasts six browning levels on an easy-to-use adjustable dial. It'll beep once waffles have reached the right shade, an especially helpful function if you're prepping bacon, scrambled eggs or other breakfast foods at the same time.
The best feature is definitely the removable plates — a version without is also available, but trust us, as waffle-making enthusiasts, easy cleanup makes all the difference!
| | |
| --- | --- |
| Dimensions: | 15.59 x 10.75 x 5.94 inches |
| Weight: | 13.27 pounds |
| Shade Settings: | 6 |
| Material: | Stainless Steel |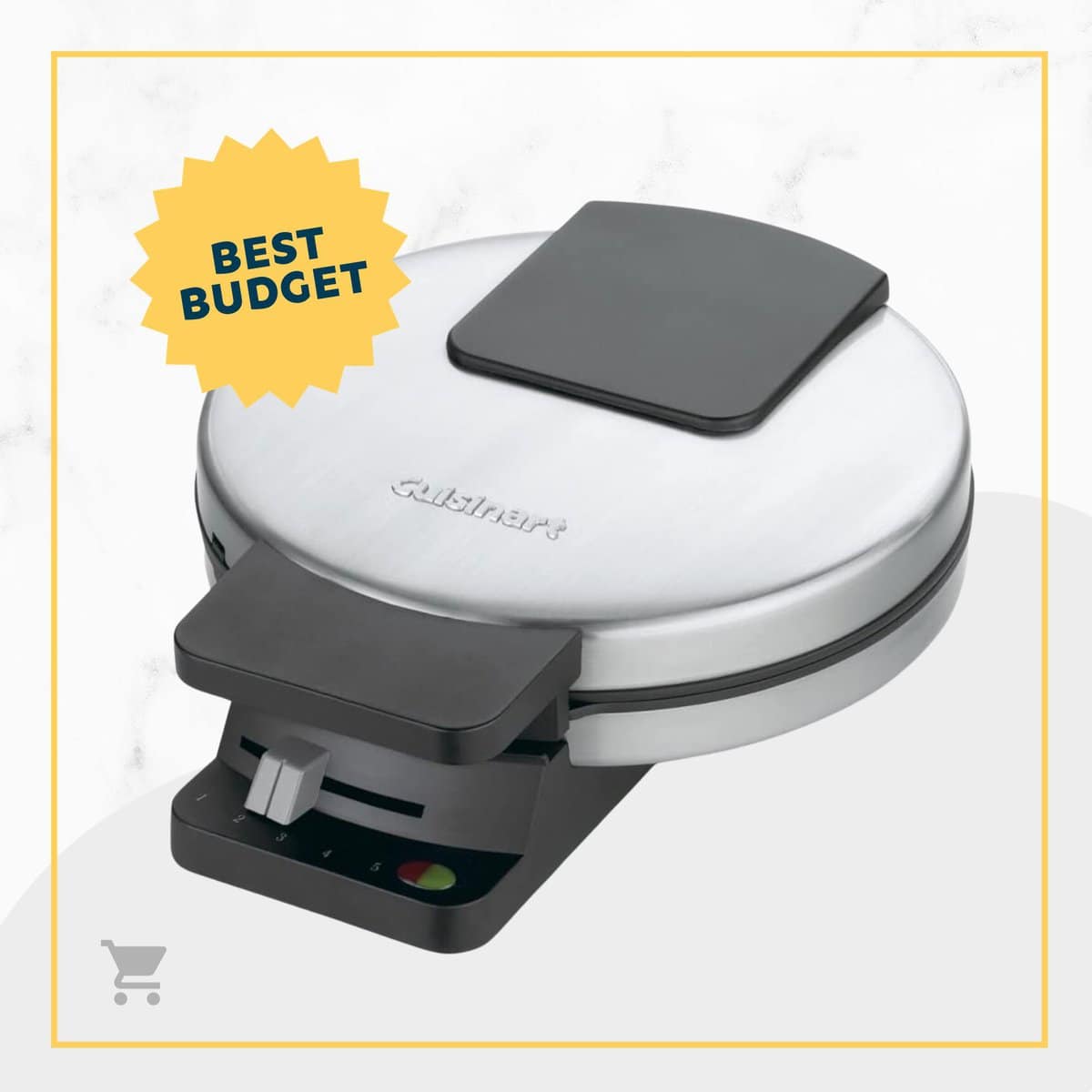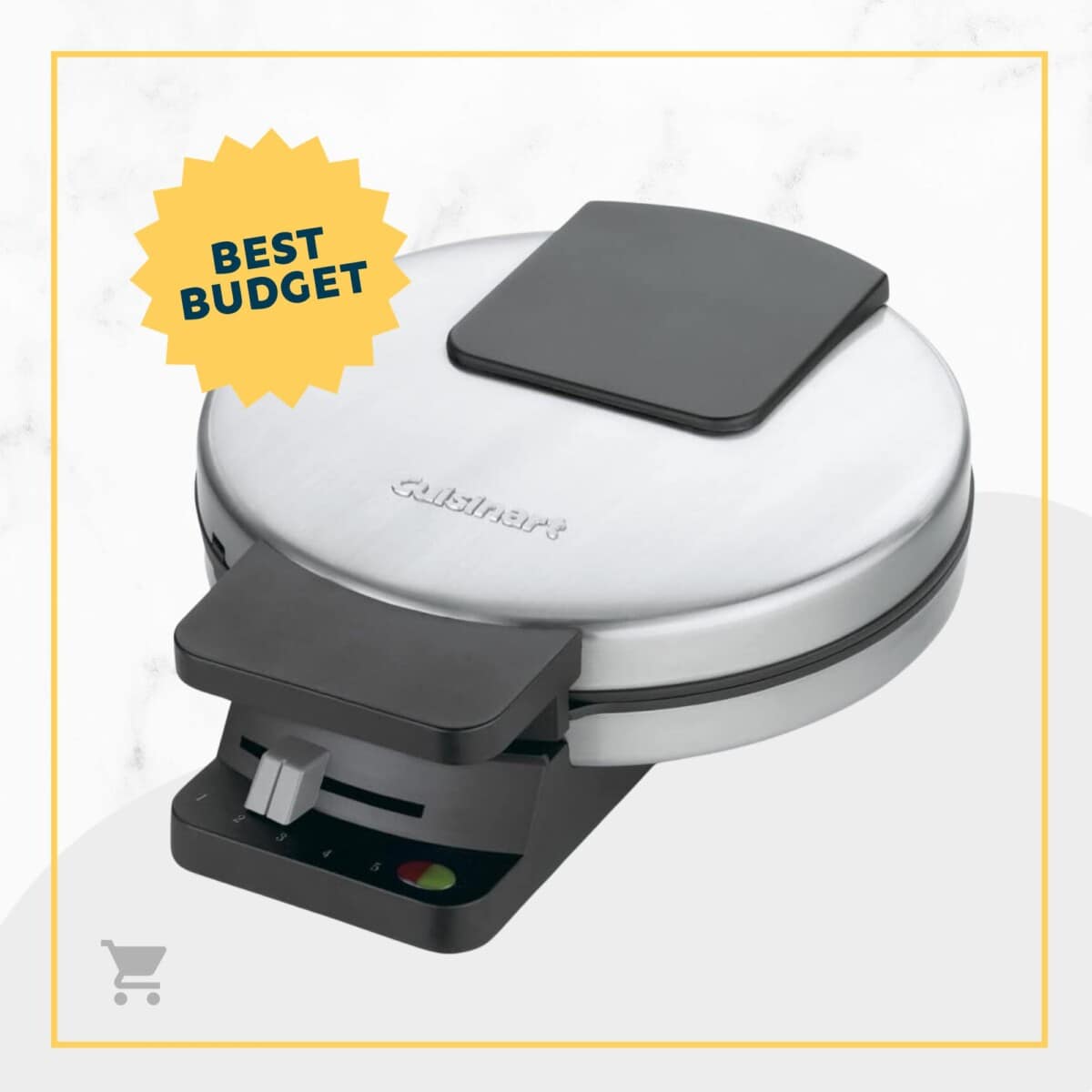 Best Budget Waffle Maker
Best Budget: Cuisinart Classic Waffle Maker
Pros:
Affordable price
Great for those who like thin, crispy waffles
Slim profile for easy storage
Cons:
No audible doneness indicator
Browning can be uneven
Only makes one at a time
When it comes to affordability, it's hard to compete with this Cuisinart waffle maker. It's a consistent performer that makes great American-style waffles, so if you love the thin and crispy type, this is definitely the one for you!
The browning can be a bit uneven at times, but it's easy to use the five shade levels to find the right one for you. The plates are nonstick, but not removable, though any stuck bits come off with a quick wipe.
Red and green lights indicate when the waffle is ready. This isn't a set-it-and-forget-it kind of machine — unlike higher-end waffle makers, the Cuisinart doesn't beep to alert you when it's done, so be sure to keep a close eye on it.
| | |
| --- | --- |
| Dimensions: | 9.69 x 7.88 x 3.31 inches |
| Weight: | 3.85 pounds |
| Shade Settings: | 5 |
| Material: | Stainless Steel |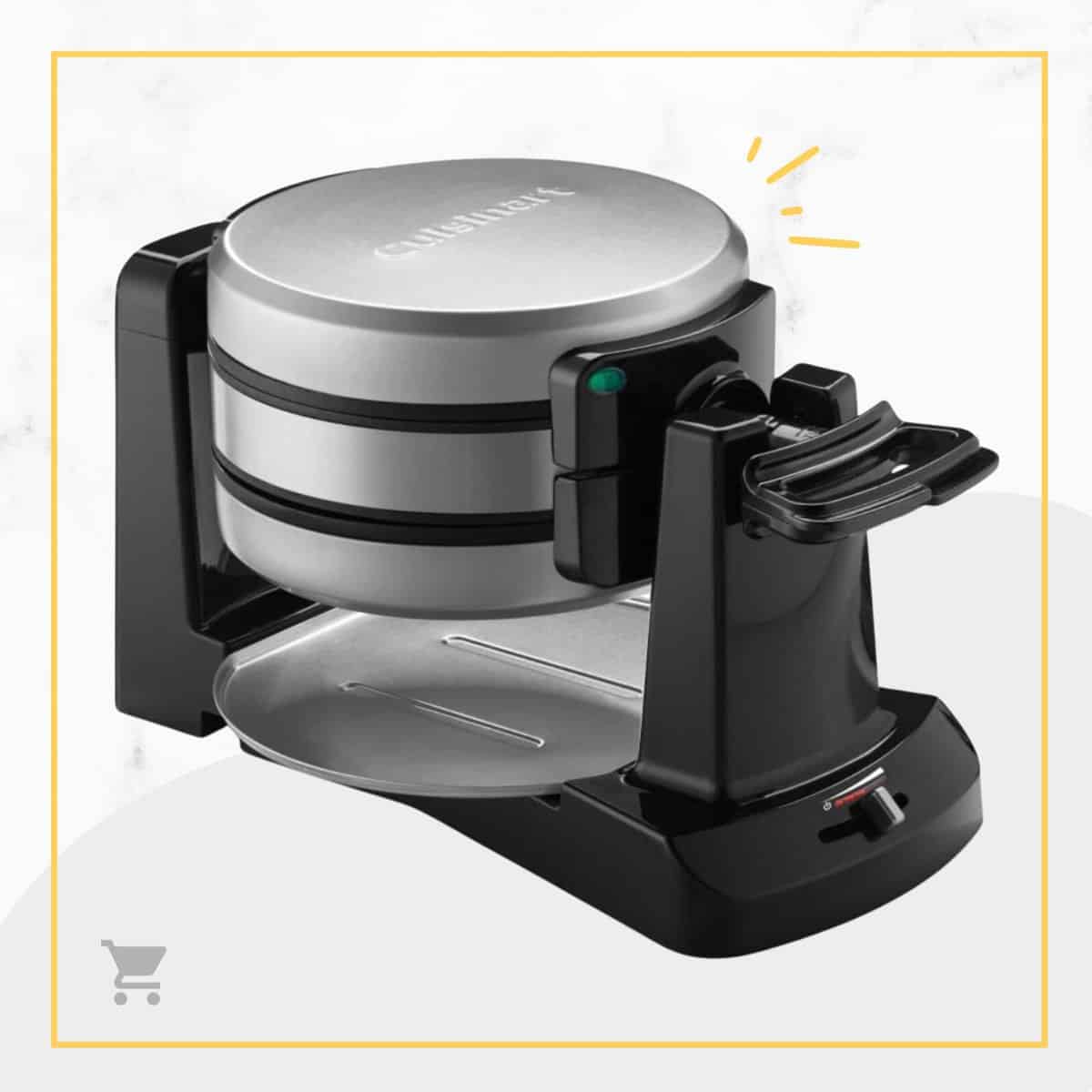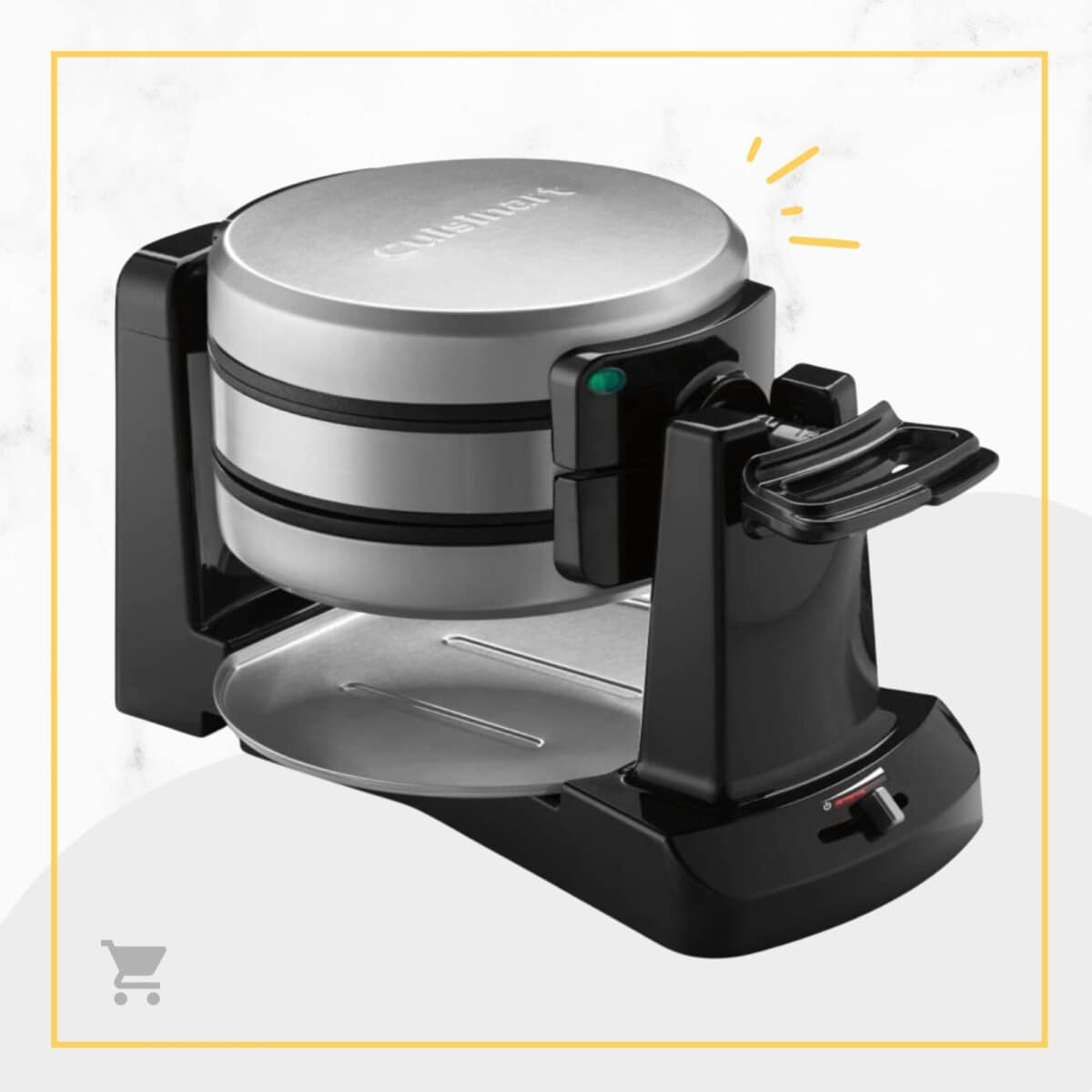 Best Belgian Waffle Maker
Best Belgian: Cuisinart Double Flip Belgian Waffle Maker
Pros:
Makes two waffles at once
Large area for catching drips
Oversized handle
Audible beep
Cons:
Bulky design
On the pricier side
Thick and fluffy Belgian waffles are one of the best ways to start the day, but having the right waffle press is important to create the signature deep pockets. Cuinsinart's double flip Belgian waffle maker is up to the job thanks to a rotating design that evenly distributes batter for perfect circles every time.
This press cooks two at once, which means no problem feeding a crowd, whether that's your large family or a holiday brunch guests.
It's easy to get a hang of: Fill the first side up with batter, close and flip, fill up the second side and rotate again to retrieve the cooked waffle. The nonstick plates make it easy to remove finished waffles and there's a dishwasher-safe drip tray that catches any excess batter.
| | |
| --- | --- |
| Dimensions: | 8.35 x 15.11 x 19.79 inches |
| Capacity: | 13.2 pounds |
| Shade Settings: | 5 |
| Material: | Stainless Steel |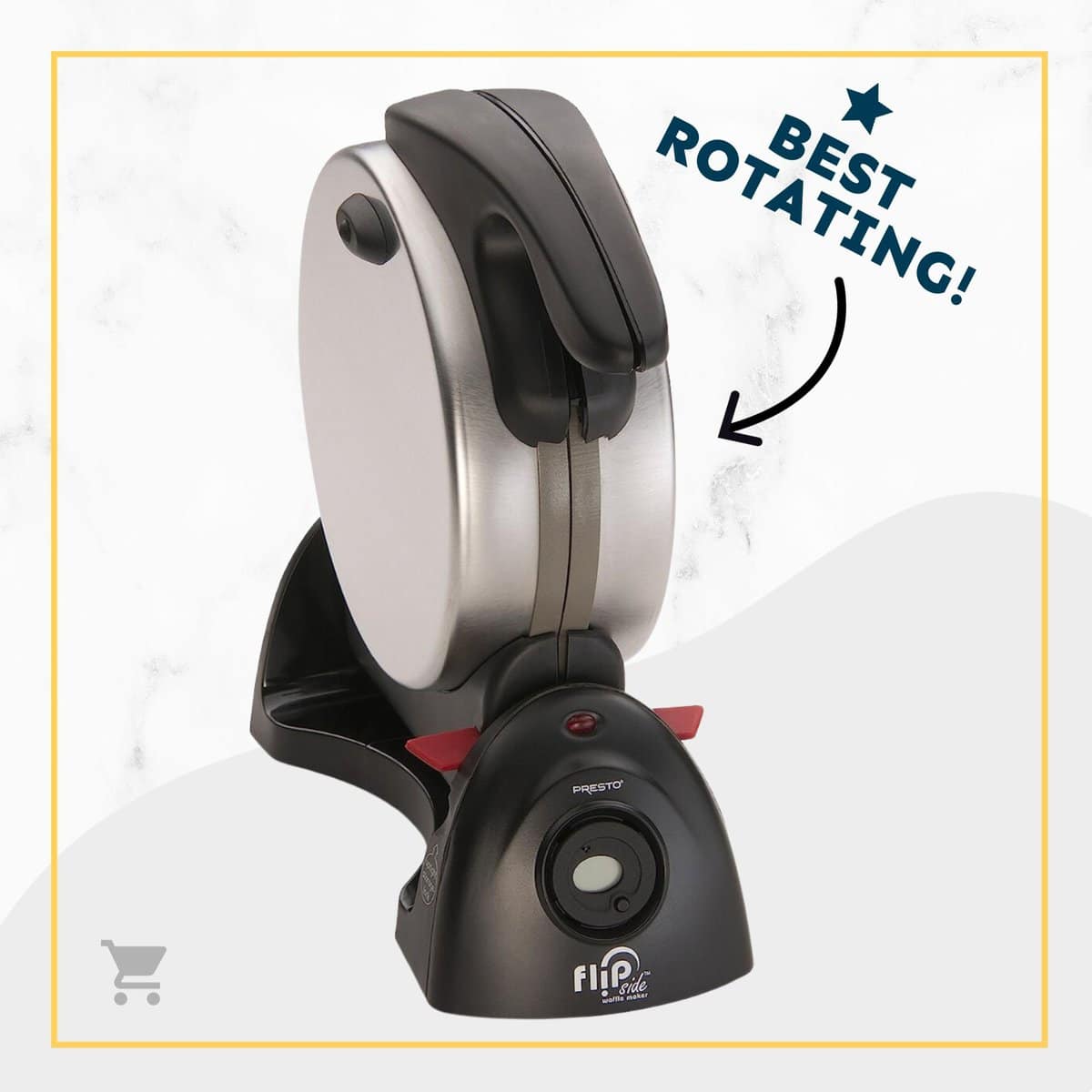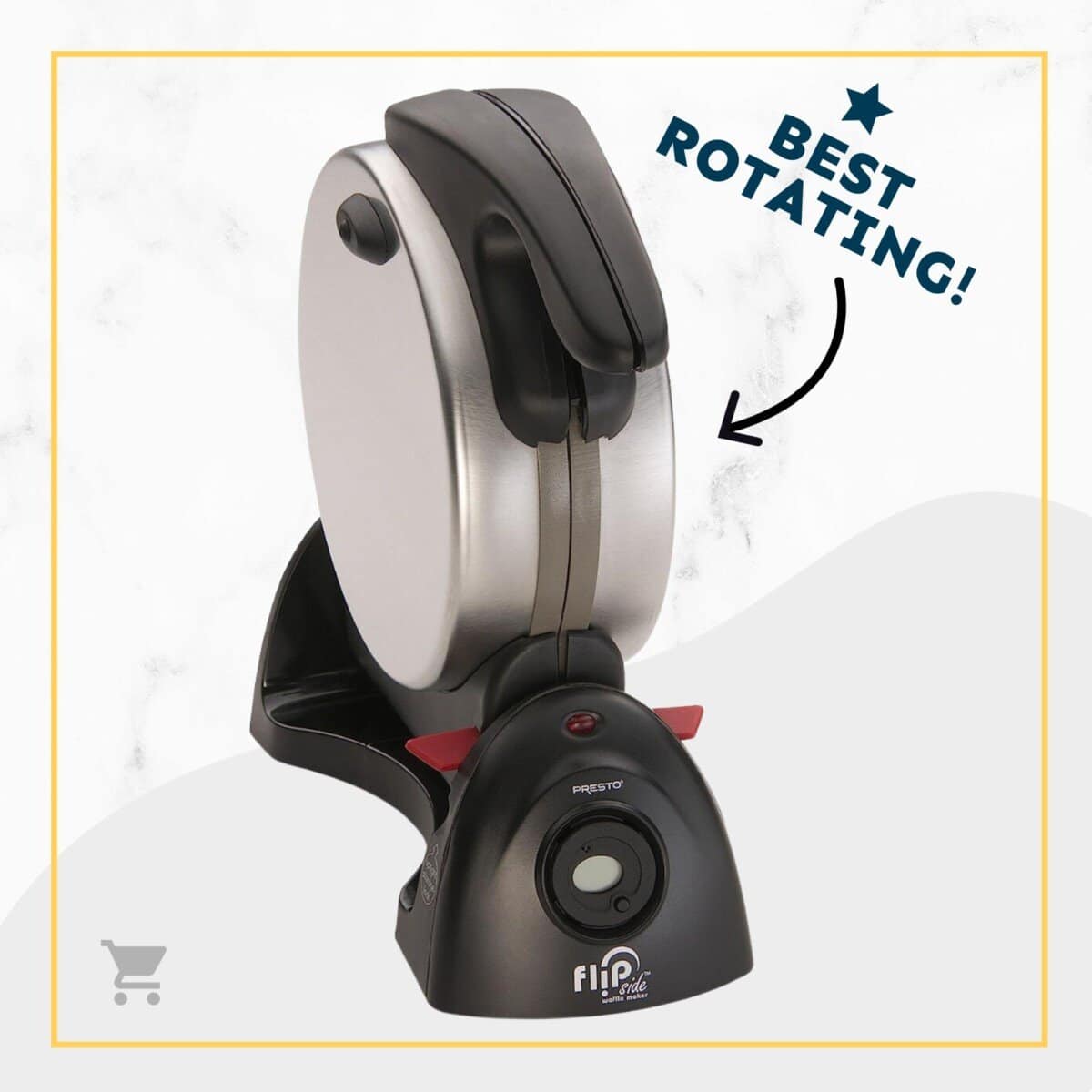 Best Rotating Waffle Maker
Best Rotating Waffle Maker: Presto FlipSide Belgian Waffle Maker
Pros:
Good browning on waffles
Can be stored vertically to save space
Ceramic plates release easily
Cons:
Only one setting
Only makes one waffle at a time
No audible alert when done
There's a lot to love about the Presto FlipSide waffle maker. It produces crispy, yet fluffy round waffles thanks to the rotating design, which allows batter to distribute evenly. The plates are ceramic, so they're naturally nonstick for easy release and cleanup. Plus, the machine can be tucked into small spaces since it stands vertically.
Price-wise, it's on the affordable end, but that means fewer bells and whistles. For example, there's a visible indicator light and countdown timer that helps you see when waffles will be done, but no audible alerts (make sure you have your cold brew nearby for waffle watching).
It only has one setting so there's not as much flexibility when it comes to the color and cook of the waffle. But if those aren't dealbreakers for you, then this budget-friendly waffle maker is a great deal.
| | |
| --- | --- |
| Dimensions: | 11.25 x 11.75 x 4 inches |
| Weight: | 4.94 pounds |
| Shade Settings: | 5 |
| Material: | Stainless steel |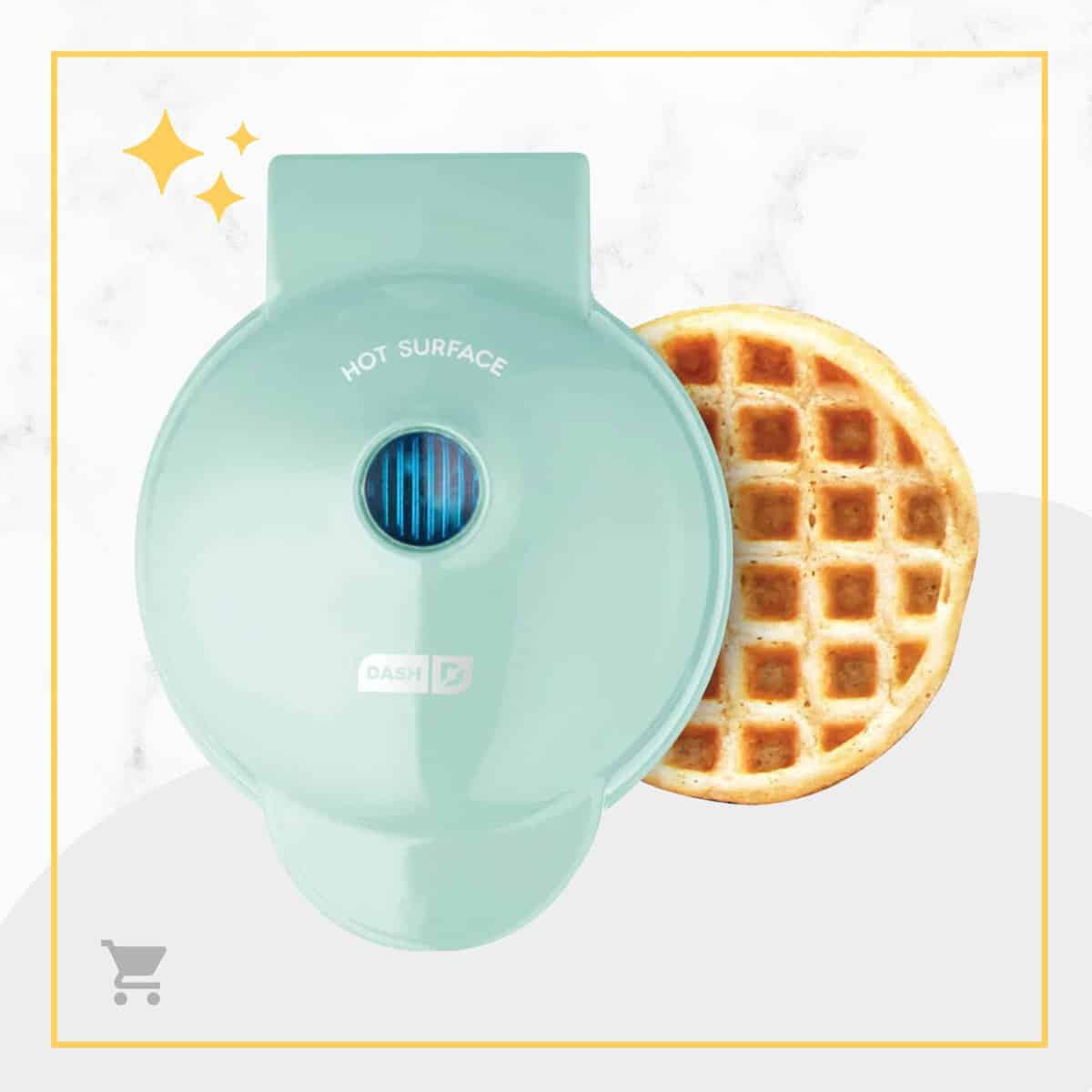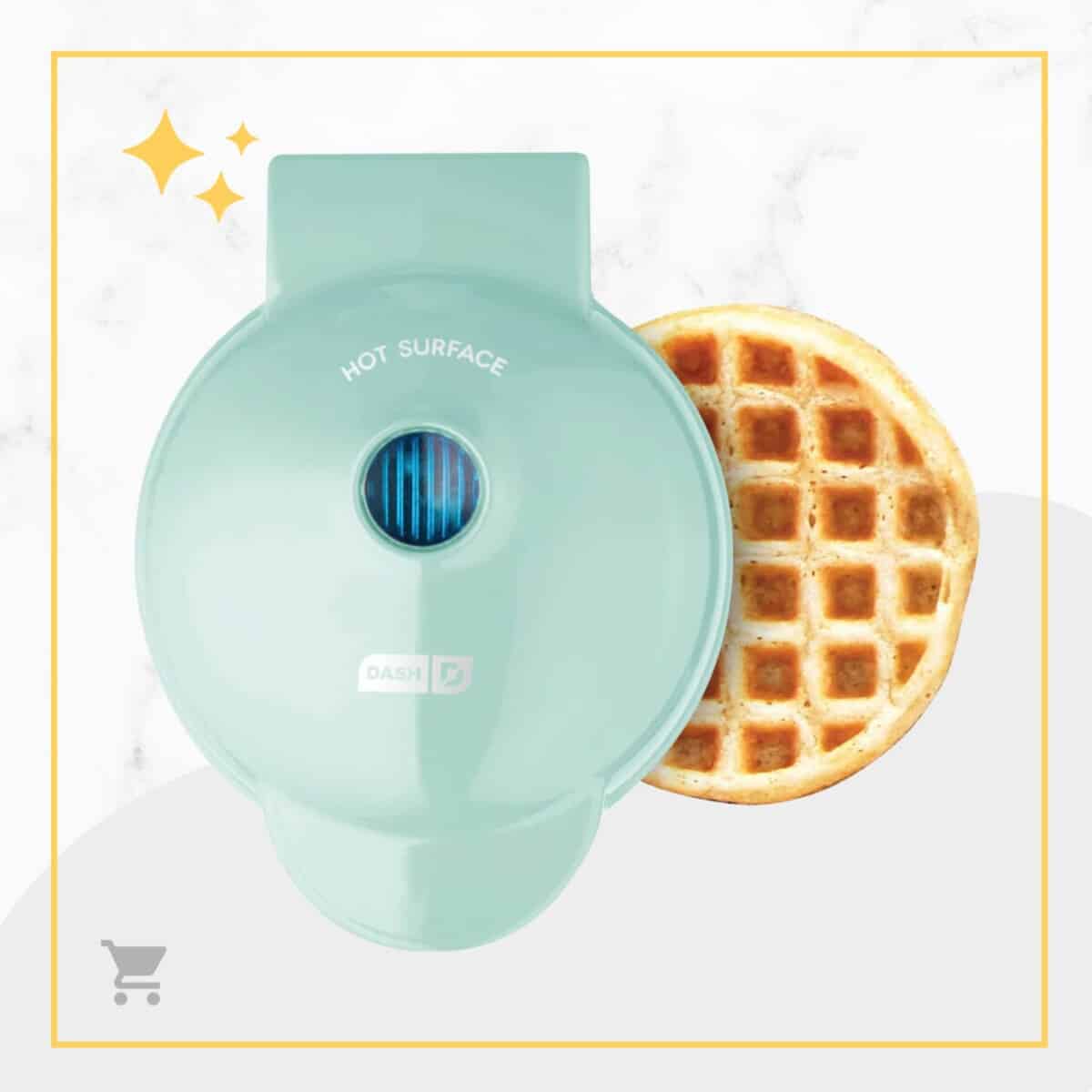 Best Mini Waffle Maker
Best Mini Waffle Maker: Dash Mini Waffle Maker
Pros
Compact size
Comes in wide array of colors
Makes adorable mini waffles
Great for dorms
Cons
Lacks doneness indicator
Inconsistent browning
The Dash may not be the most impressive appliance out there when it comes to the color or texture of its waffles, but it's definitely the most fun. Weighing just over a pound, the mini waffle maker produces adorable four-inch rounds that are great for kids, solo home cooks or college students.
Since it doesn't have a doneness indicator, cooking does require some trial and error. You'll need to test with a few rounds of batter to figure out the ideal amount to add and how long to brown it for. There's a small drip area to catch excess batter, but it's best to start with a small amount and work your way up to avoid a mess.
That said, even if the Dash isn't the most intuitive, it's worth buying if you like mini foods or need an adorable gift idea—the waffle maker comes in a rainbow of colors and shapes, plus there's a pancake griddle option available.
| | |
| --- | --- |
| Dimensions: | 5 x 6.4 x 2.8 inches |
| Weight: | 1.3 pounds |
| Shade Settings: | 1 |
| Material: | Metal |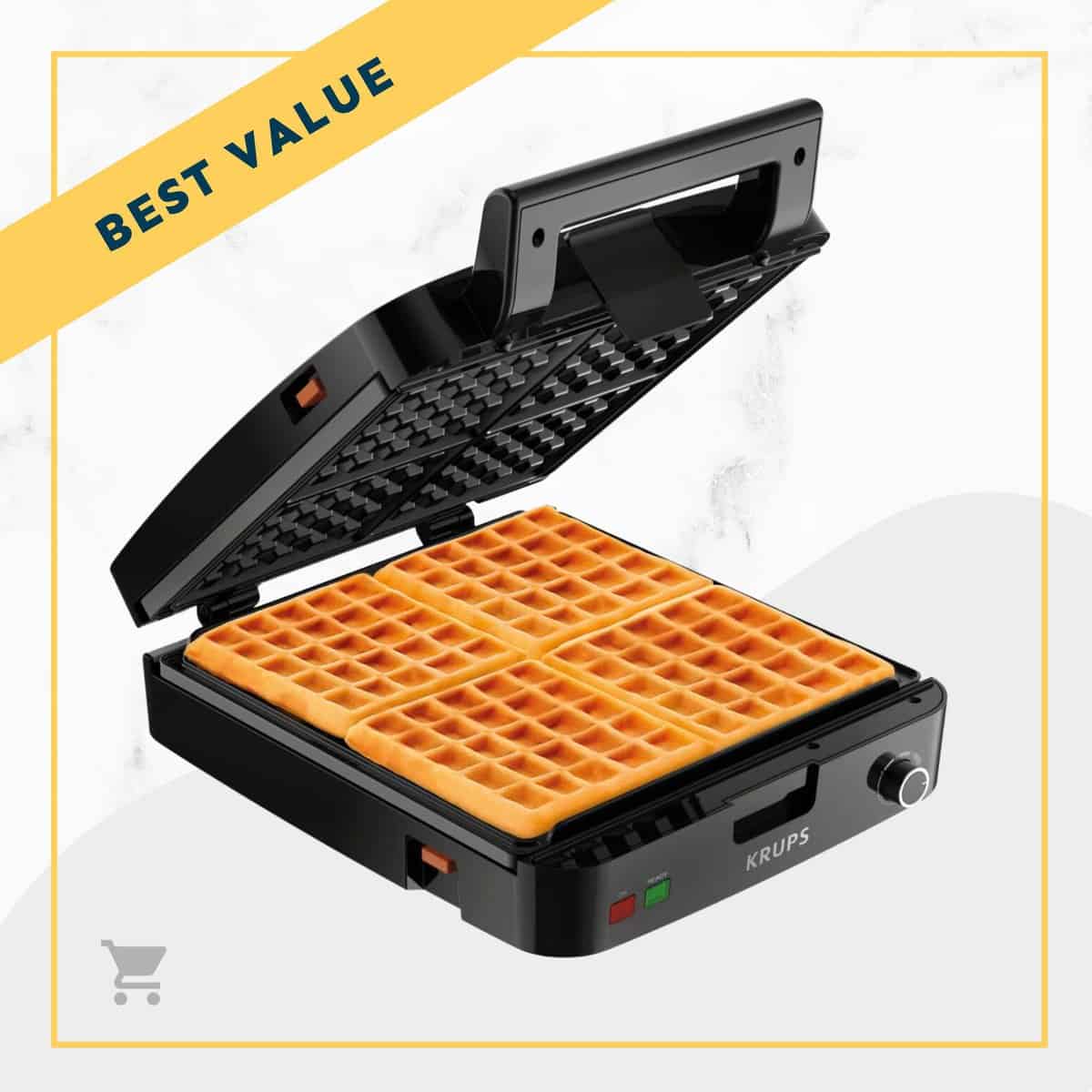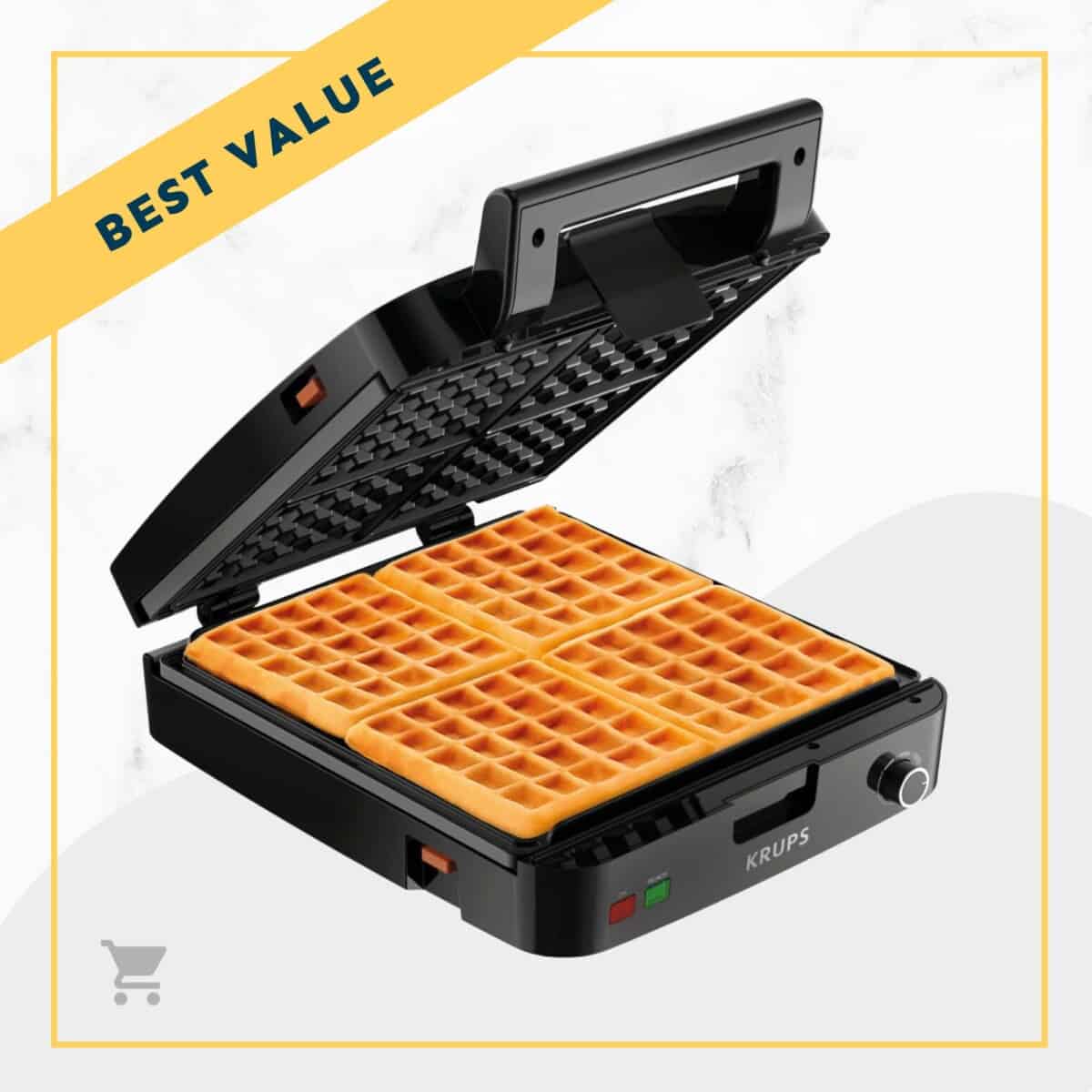 Best Value Waffle Maker
Best Value Waffle Maker: Krups Stainless Steel Waffle Maker
Pros
Removable, dishwasher-friendly plates
Great for large groups
Five browning levels
Budget-friendly price
Cons
Slow to heat up
Inconsistent cooking
The Krups waffle maker yields the same four square waffles as the All-Clad with one big difference: the price. At under $100, it's significantly easier on the wallet, making it an ideal pick for home cooks who are on a budget, but have a big family to feed.
Like the All-Clad, it has removable die-case plates that are dishwasher safe to make cleanup a breeze. There are multiple browning levels and both indicator lights and an audible beeping sound to notify you when the waffles are done. Where it doesn't stack up to its pricier counterpart is consistency.
The waffles are deep and nicely pocketed, but the cook on them can be uneven. Some batches come out crisp and golden, while others are occasionally soggy and undercooked. Still, if budget is a concern, this is a solid waffle maker with strong features.
| | |
| --- | --- |
| Dimensions: | 6.7 x 12.6 x 16.5 inches |
| Weight: | 9.1 pounds |
| Shade Settings: | 5 |
| Material: | Stainless Steel |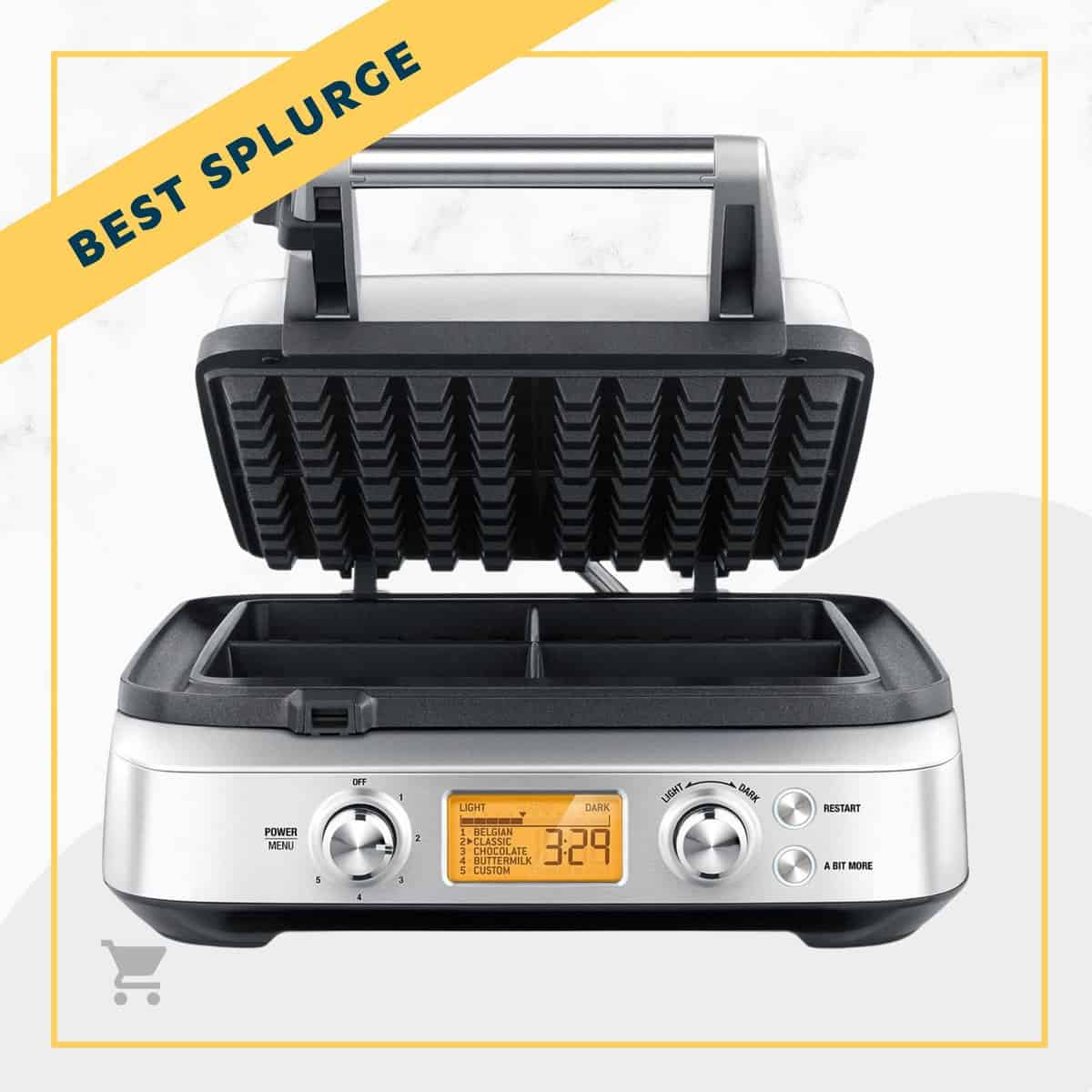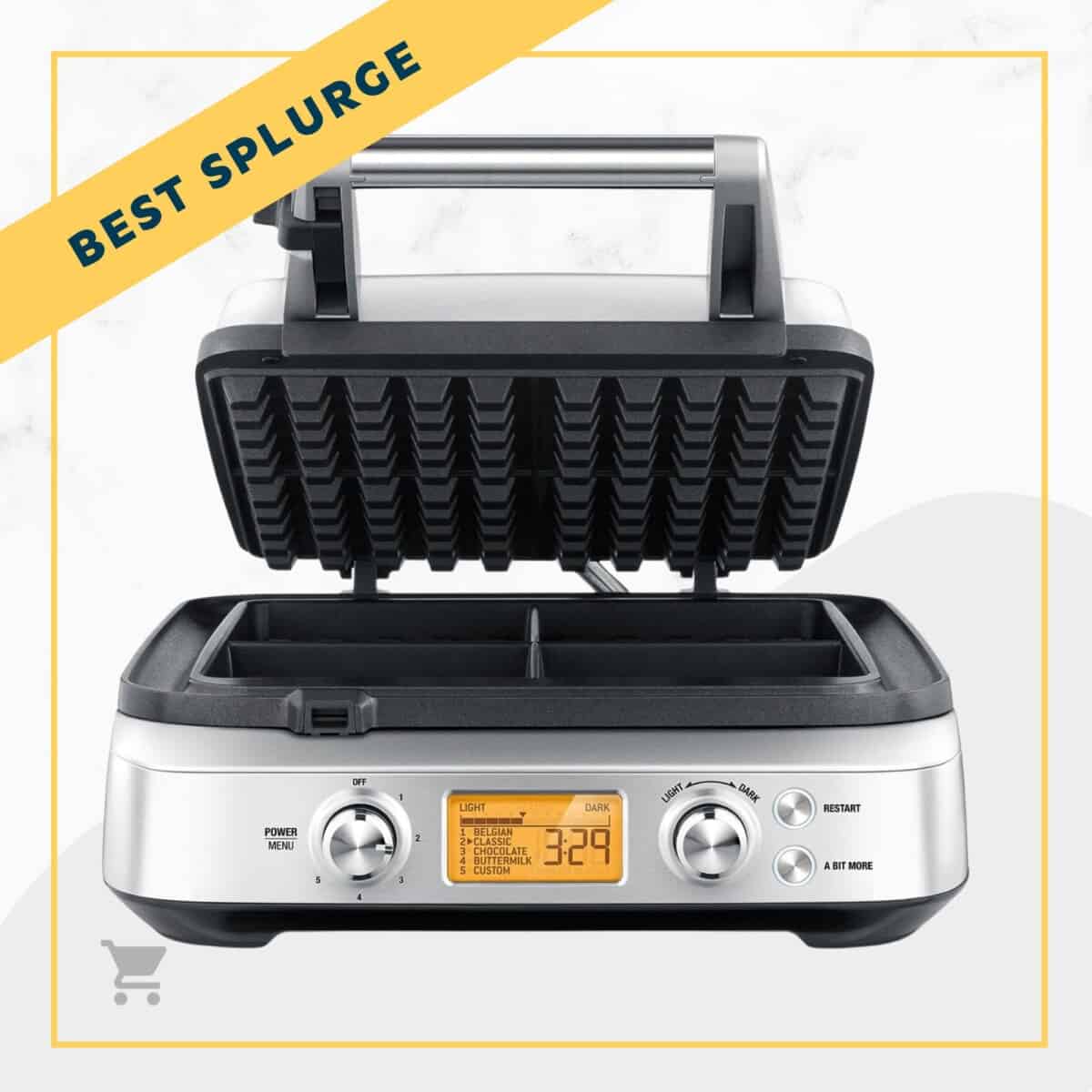 Best Waffle Maker Splurge
Best Splurge: Breville Smart 4-Slice Waffle Maker
Pros
12 shade settings
Can make multiple waffle styles
Beautiful design and material
Cons
Expensive
Heavy machine
Takes up a lot of counter space
Consider yourself a waffle connoisseur? Do you find yourself trying different recipes all the time? Then look no further than this Breville waffle maker, which not only comes with 12 different shade levels, but also has presets for four different waffle styles.
It offers the most customizable waffle-making experience (there's even "A Bit More" button if the waffle isn't quite crispy enough for your tastes) of the group and the price reflects that. A countdown timer starts as soon as you pour the batter in and close the lid; an indicator light also switches color to show that its in cooking mode.
The thermal heating elements distribute heat evenly for consistent browning and the cast-iron plates are nonstick. The Breville is an investment, but if you're big on waffles, it's well worth the money.
| | |
| --- | --- |
| Dimensions: | 8.82 x 15.75 x 18.5 inches |
| Weight: | 15.25 pounds |
| Shade Settings: | 12 |
| Material: | Stainless Steel |
The Bottom Line…
Finding the right waffle maker requires looking at a bunch of features—not only does it need to make crispy, fluffy waffles, but the appliance you pick should also make sense for your budget and space.
For those who prefer no-frills machines, a basic model makes the most sense, but if you like ones with many bells and whistles, then opt for a high-tech waffle maker. No matter what, you can't go wrong with our favorite overall pick, the All-Clad Stainless Steel Belgian Waffle Maker. It's a reliable waffle maker with just enough customizability and is also intuitive to use and easy to clean.
Features to Consider When Buying a Waffle Maker:
Waffle Type and Shape: Different models yield various types of waffles. Some make traditional Belgian waffles, while others create thinner, crispier ones. Consider what waffle type you and your family like best. If you enjoy fluffy Belgian waffles, go for a model designed for that style, but if thin and crispy is your preference, choose a model suited for making those. Also take into consideration waffle size and shape.
Waffle Output: Some waffle makers can only cook one at a time, while others can make four or more. If you're often feeding a large crowd, then a model with a large output makes more sense. On the flip side, if you're usually making breakfast for one or two people, a waffle maker that makes one at a time will do the job.
Browning Levels: A waffle maker with adjustable temperature control and browning settings allows you to customize your waffles to your desired level of crispness. This feature is particularly useful if you prefer your waffles cooked to different degrees of doneness or if you like experimenting with different batters.
Budget and Versatility: Consider whether you want a basic waffle maker or one with additional features. Some come with indicator lights to show when the waffle is ready, audible alerts, or a flip feature to ensure even cooking, but those may also make them pricier.
Types of Waffle Makers:
There are several styles to consider when shopping, both with the maker itself and the waffles they produce.
Belgian-Style vs. American-Style: Belgian-style waffles are thick with deep pockets, while American-style waffles tend to be thin and crispy waffles.
Crispy vs. Fluffy: Crispy waffles have a delicate, crunchy texture, while fluffy waffles are soft and airy with a cake-like consistency.
Rotating vs. Non-Rotating vs. Vertical: Rotating waffle makers can be flipped during cooking, ensuring even browning, while non-rotating waffle makers are stationary. Vertical waffle makers stand upright, allowing gravity to help distribute the batter.
How We Chose the Best Waffle Makers:
We took a few things into consideration when selecting the best waffle makers. The quality of the waffles was important (no one wants sad, soggy waffles!) so we chose products that have been highly-reviewed and come from reputable kitchen brands.
We also made sure to consider output and included options for big and small households. Ease of cleaning and operation were important as well since we want to avoid dealing with complicated or hard-to-clean machines at the start of the day.
Why Trust The Cookie Rookie
The Cookie Rookie is big on breakfast and waffles are an all-time favorite. We know exactly what to look for in a good waffle maker and spent hours researching models that work for a variety of waffle preferences, spaces and family size. We're confident that there's a waffle maker here that'll help you cook up a delicious breakfast or brunch!
How Much Do Waffle Makers Cost?
Waffle makers can cost anywhere from $20 to $200 depending on the brand, features and overall quality. A basic model that only makes plain waffles will be on the low end of that range, while a high-end model with features like adjustable browning settings and a removable tray can cost over $100.
How Do I Clean a Waffle Maker?
Cleaning your waffle maker is a very easy and straightforward task! First, be sure to unplug the appliance and let it cool completely. Wipe down the exterior with a damp cloth and use a paper towel or brush to loosen crumbs. To clean the plates, you can use a bit of dish soap and wipe it clean with a towel. If the plates are removable, wash in soapy water or place in the dishwasher if that's an option.
Do Waffle Makers Need Oil?
Yes, even waffle makers with nonstick plates need a bit of oil to prevent sticking. You should always grease a waffle maker before using it or you may end up dealing with a sticky, caked on mess! A vegetable oil such as canola is great and you don't need a lot. Just brush a bit on before each waffle to help make sure you can easily remove the waffle. If your waffle maker has nonstick plates, avoid using cooking sprays, which can build up on the surface.
How Do I Know When to Flip a Waffle Maker?
If you're using a flip waffle maker, you rotate it as soon as the batter is in and the lid is closed. This will help the batter spread (thanks, gravity!) and cook the waffle more evenly.
Are Vertical Waffle Makers Better?
It all depends! Some cooks prefer vertical waffle makers because they cook more evenly and since batter is poured in via a spout, they're easy to fill. It also takes up less space since it stands, making it an ideal option for apartment dwellers or those with little countertop space since it can easily be tucked away in a cabinet or shelf.
Are Waffle Makers Toxic?
Waffle makers are generally safe to use. In the past, Teflon was used in nonstick coatings, but most brands now use PFOA- and PTFE-free materials. It's always best to check each product's description to make sure this is the case. You can also look for waffle makers with ceramic or cast iron plates, both of which are naturally nonstick and free from PFOA and PTFE.