They Chocolate Chip Cookies are easy to make from scratch, and baked to perfection in less than 30 minutes. These homemade cookies come out so soft and chewy, with the most amazing flavor and texture. Learn how to make the best chocolate chip cookies, simple enough to bake any time!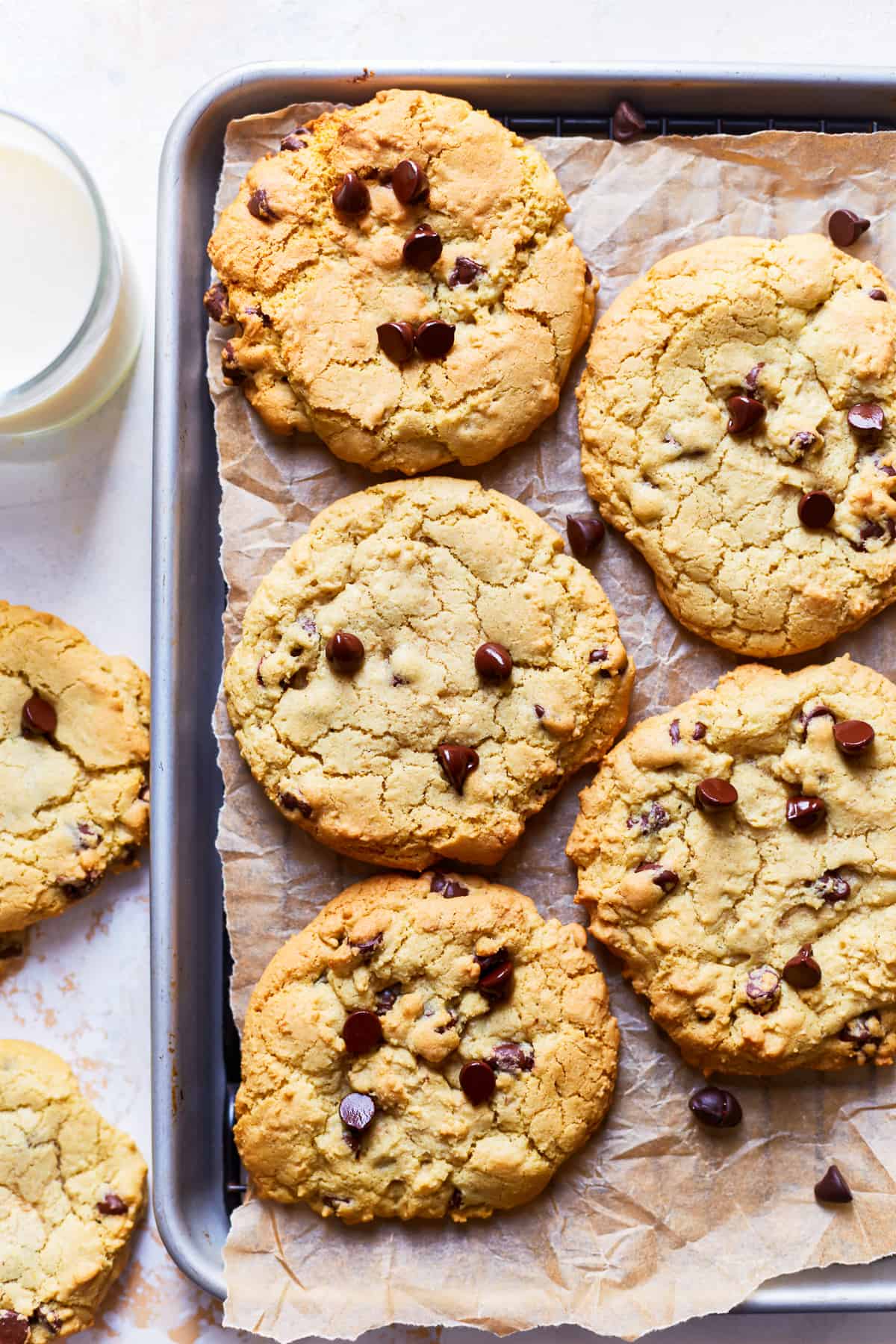 The Best Chewy Chocolate Chip Cookies
Looking for the best-ever chocolate chip cookies? Then you've come to the right place!
Everyone needs a good, simple, classic chocolate chip cookie recipe they can return to time and time again. These are the cookies you'll want to make on a random weeknight after dinner. This is the baking recipe you'll turn to when you just want a quick dessert to satisfy your chocolate craving.
This is the BEST chocolate chip cookie recipe because it's easy, it's absolutely delicious, and you can make it any time. It makes the perfect cookie, with the perfect soft and chewy texture!
Why You'll Love the Best Chocolate Chip Cookie Recipe:
QUICK & EASY: You only need a few simple ingredients to make these cookies, and less than 30 minutes until they're hot, fresh, and ready to eat!
SOFT & CHEWY: The perfectly soft and chewy texture is what makes these the BEST chocolate chip cookies. That melt-in-your-mouth, homemade, soft-baked cookie is what we all dream of!
FAMILY FAVORITE: Absolutely everyone will love these cookies! Kids of all ages will devour them, but the adults will be sneaking an extra cookie too.
Make the best chocolate chip cookies for the holidays! They're a great Christmas cookie, and great for Easter or Valentine's Day too. But the great thing about this simple recipe is that you can make them every single weekend, for no reason at all!
You can even make the cookie dough ahead of time, and freeze it so you always have some ready to bake.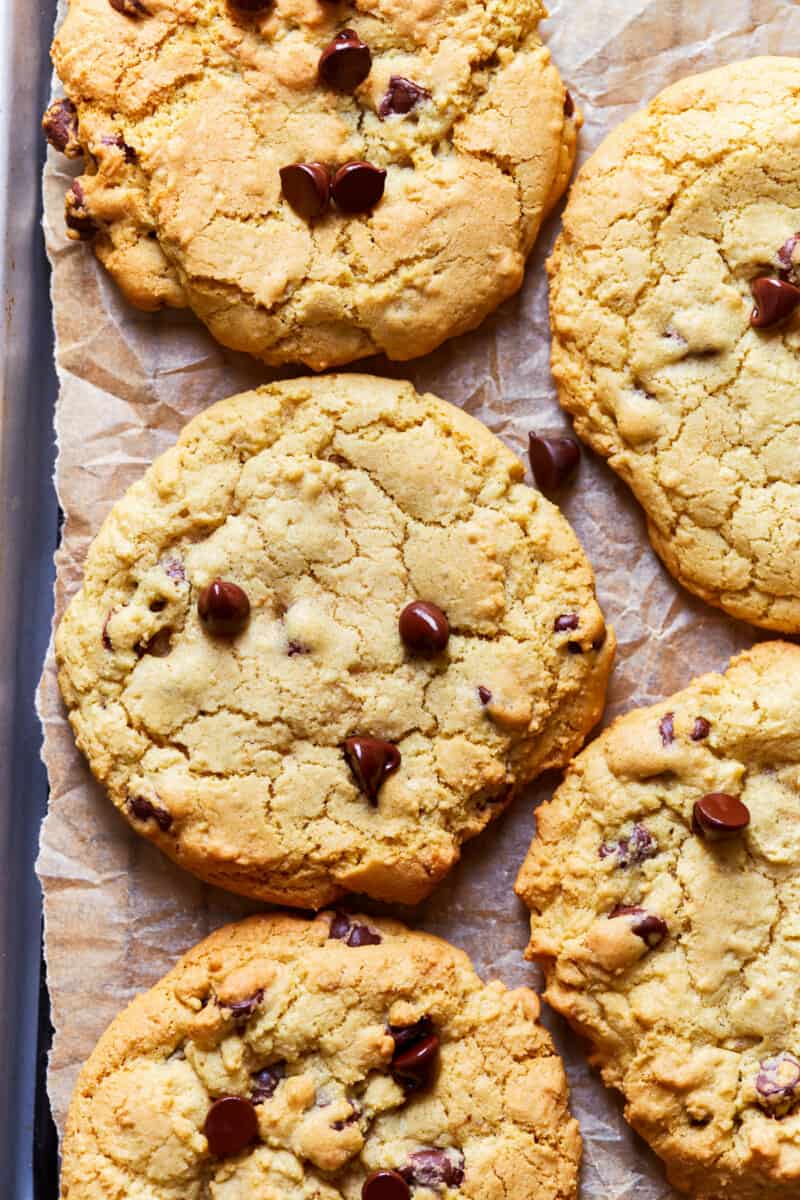 Ingredients
Flour: Use all-purpose flour for these cookies.
Oatmeal: A packet of maple brown sugar oatmeal adds the perfect amount of flavor. Plus the oats create a great texture!
Baking Soda: Baking soda adds a deliciously chewy texture.
Salt
Cornstarch: Cornstarch makes cookies more tender! So you get a slightly crispy bite around the edges, but it stays soft and chewy inside. It also helps prevent spreading.
Pure Vanilla Extract
Brown Sugar: The molasses in the brown sugar helps to add more moisture to these cookies, which creates a softer texture.
Granulated Sugar: White sugar tends to create a crispier texture in chocolate chip cookies. A little bit is good here, but only about 1/2 as much as the brown sugar.
Eggs
Half-and-Half: A small amount of half-and-half adds a little bit of creaminess to the cookie dough, to create the right consistency.
Butter: Butter should be room temperature when you cream it with sugar. So make sure to take the butter out of the fridge 30 minutes to an hour before baking.
Chocolate Chips: Semi-sweet chocolate chips are the best kind for the best chocolate chip cookies! (But you can substitute dark chocolate chips if you prefer.)
How to Make the Best Chocolate Chip Cookies
You can jump to the recipe card for full ingredients & instructions!
Preheat oven to 375°F, then combine the dry ingredients in a small bowl.
Cream the butter and sugars together. Then whisk in the eggs, vanilla, and half and half.
Add the dry ingredients into the wet ingredients, and mix just until combined.
Fold the chocolate chips into the dough.
Scoop cookie dough into 1-inch balls, and place on a cookie sheet lined with a silicone baking mat.
Bake for 11 minutes, then let them cool to set.
Serve and enjoy! Or place them in an airtight container for later.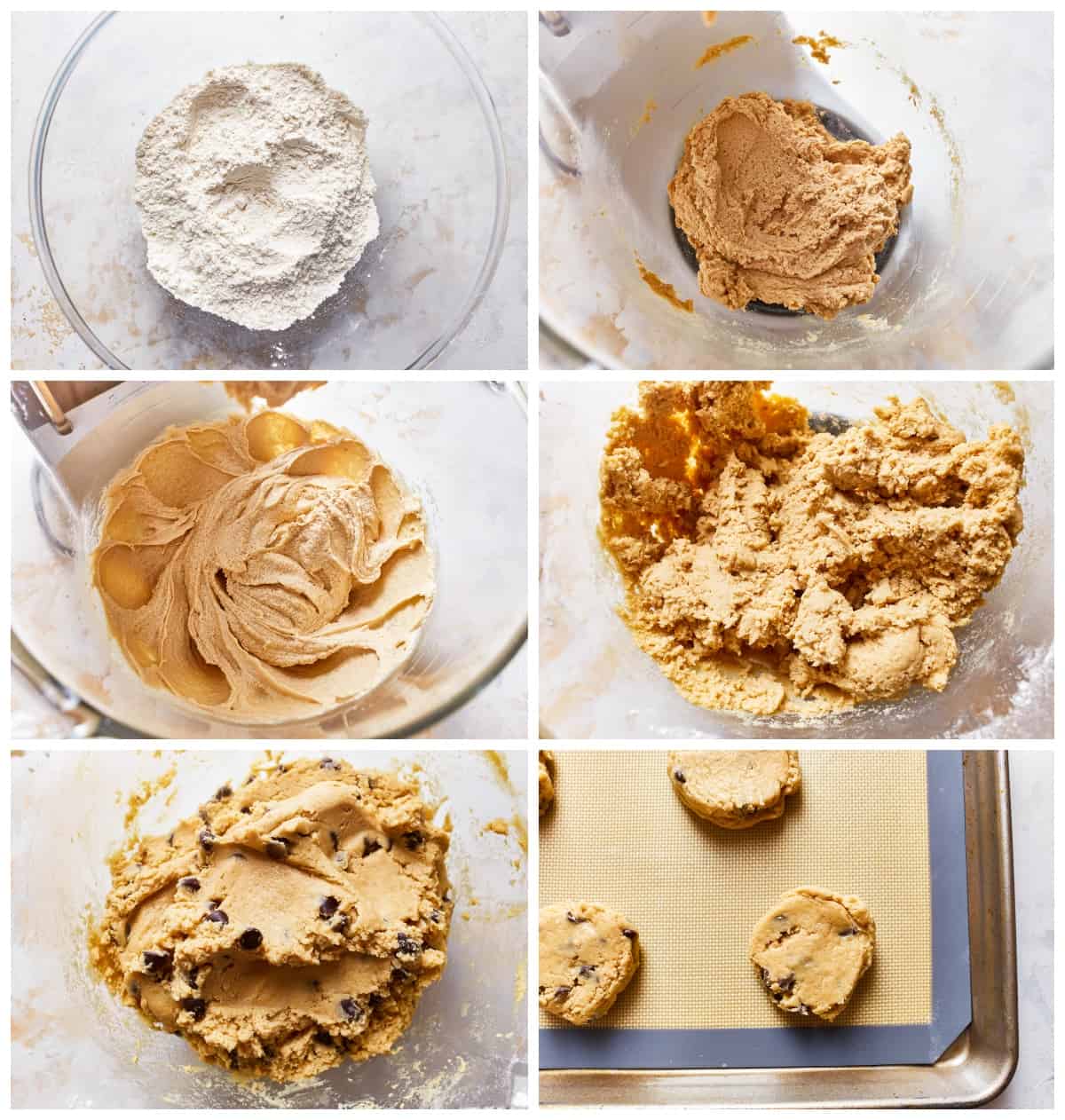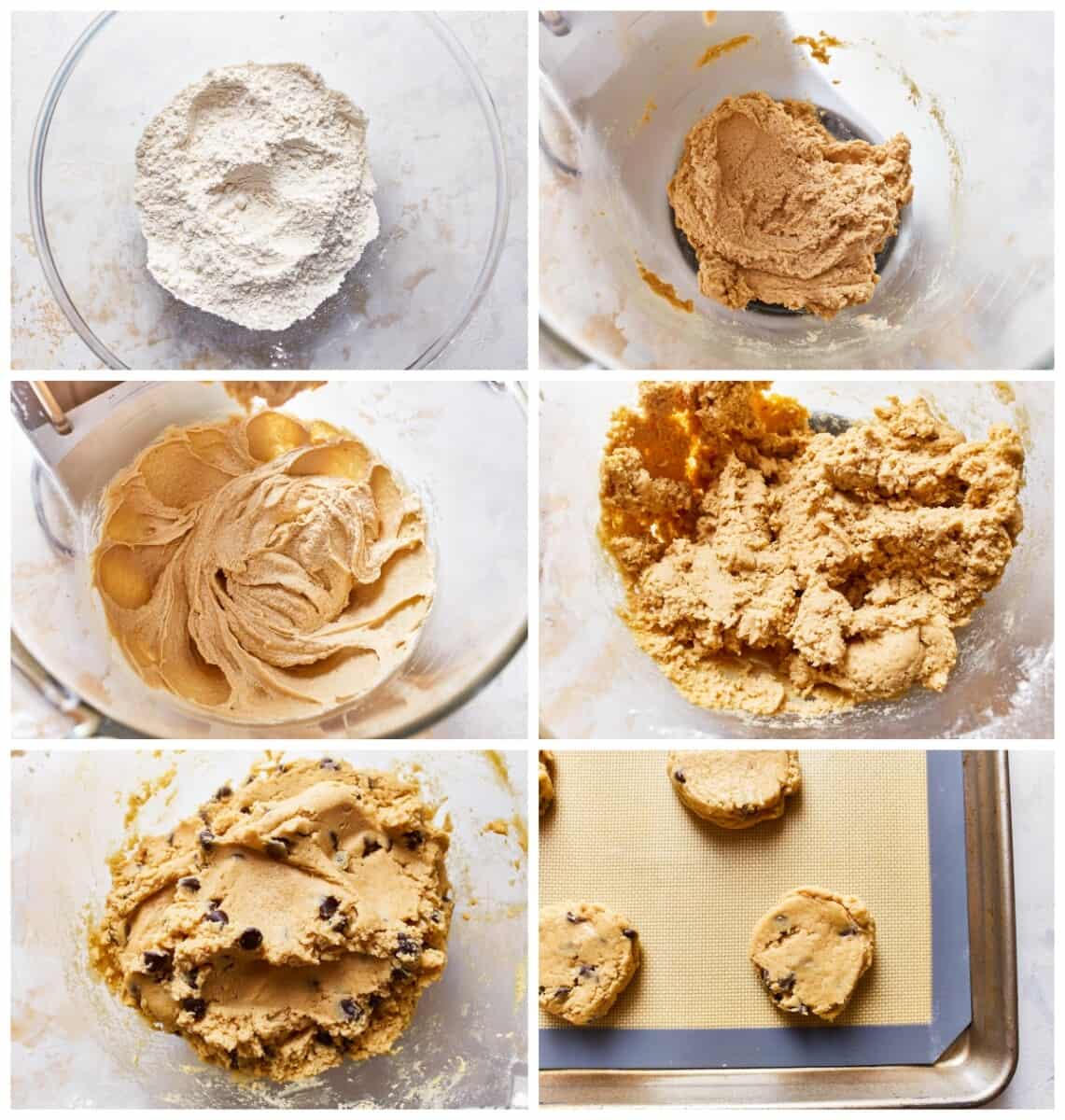 Should I use butter or margarine for cookies?
Generally, butter works much better for baking. Butter has a higher fat content, which makes for richer flavor and better results. Margarine can leave cookies a little thinner.
Why are my chocolate chip cookies flat?
It could be due to butter that has become too soft or even melted before creaming. This is why it's important to have room temperature butter, not warm or melted butter. Not enough flour, or overmixing the dough, could also lead to flat cookies.
How do I stop my cookies from spreading?
We add cornstarch to this recipe to help prevent spreading. Another issue is warm dough. If you're baking on a warm day (or just have a warm kitchen), you might want to chill your dough before baking.
What makes chocolate chip cookies hard vs soft?
The main factor in creating cookies that are crispy vs soft is the moisture content. More moisture creates a soft and chewy texture (use brown sugar and butter). While less moisture creates a crispier texture (use white sugar and shortening).
How do you know when chocolate chip cookies are done?
Cookies don't need very long to bake! Take them out when they just start to look baked, with a crisp, golden brown edge. They will still look quite doughy in the middle, but they will harden and darken a bit more as they cool.
Do I need to refrigerate the cookie dough before baking?
With this recipe, you don't need to refrigerate the dough first. Because it's such a quick recipe to prep, the dough shouldn't get too warm. However, if it does seem like your dough is getting warm and melty, you can pop it in the fridge for 15 minutes.
Can you freeze chocolate chip cookie dough?
If you want to make the cookie dough ahead of time to freeze, you absolutely can! This means you'll have the best chocolate chip cookies ready to bake at any time.
Make the dough as instructed in the recipe.
Scoop dough into individual cookies, and place on a baking sheet with a silicone mat.
Place the tray of cookie dough directly in the freezer for 30 minutes to an hour. This freezes the dough into individual cookies, so you can grab exactly as many as you want to bake at a time!
Once frozen, place the dough into a freezer-safe container or resealable freezer bags.
Freeze chocolate chip cookie dough for up to 3 months.
To bake, thaw the dough to room temperature.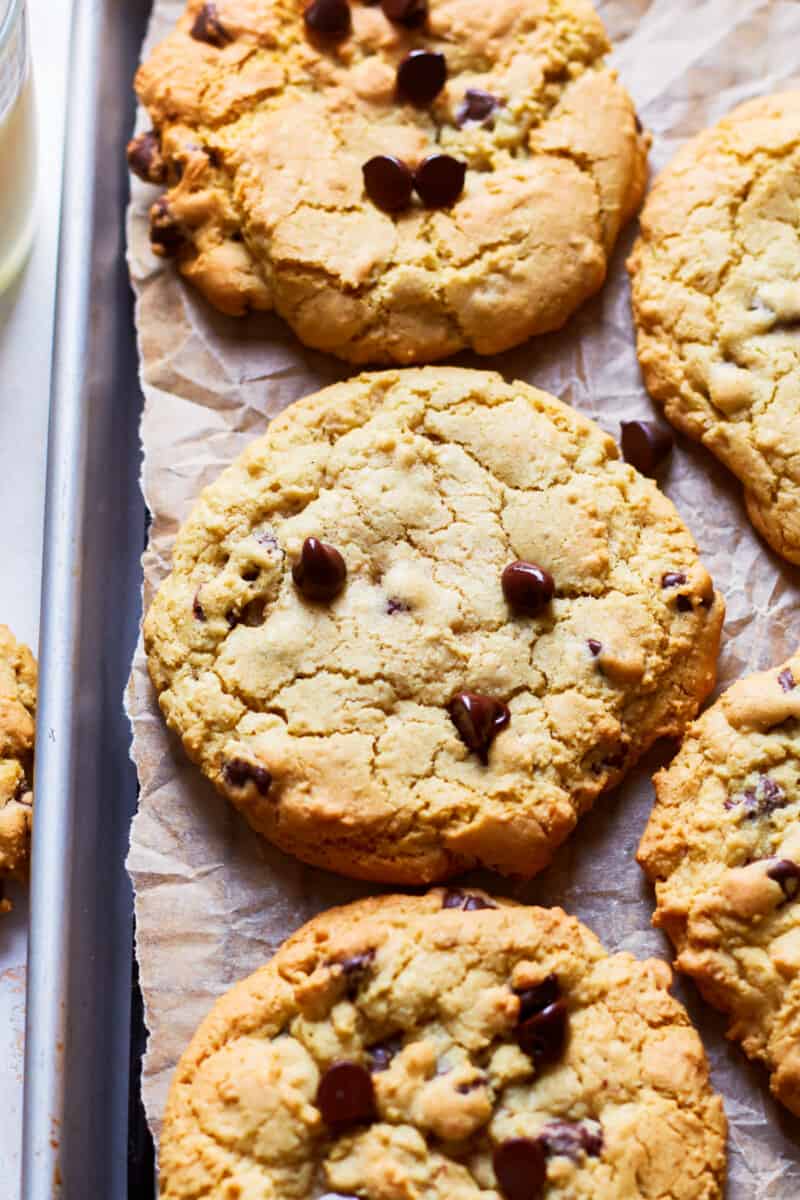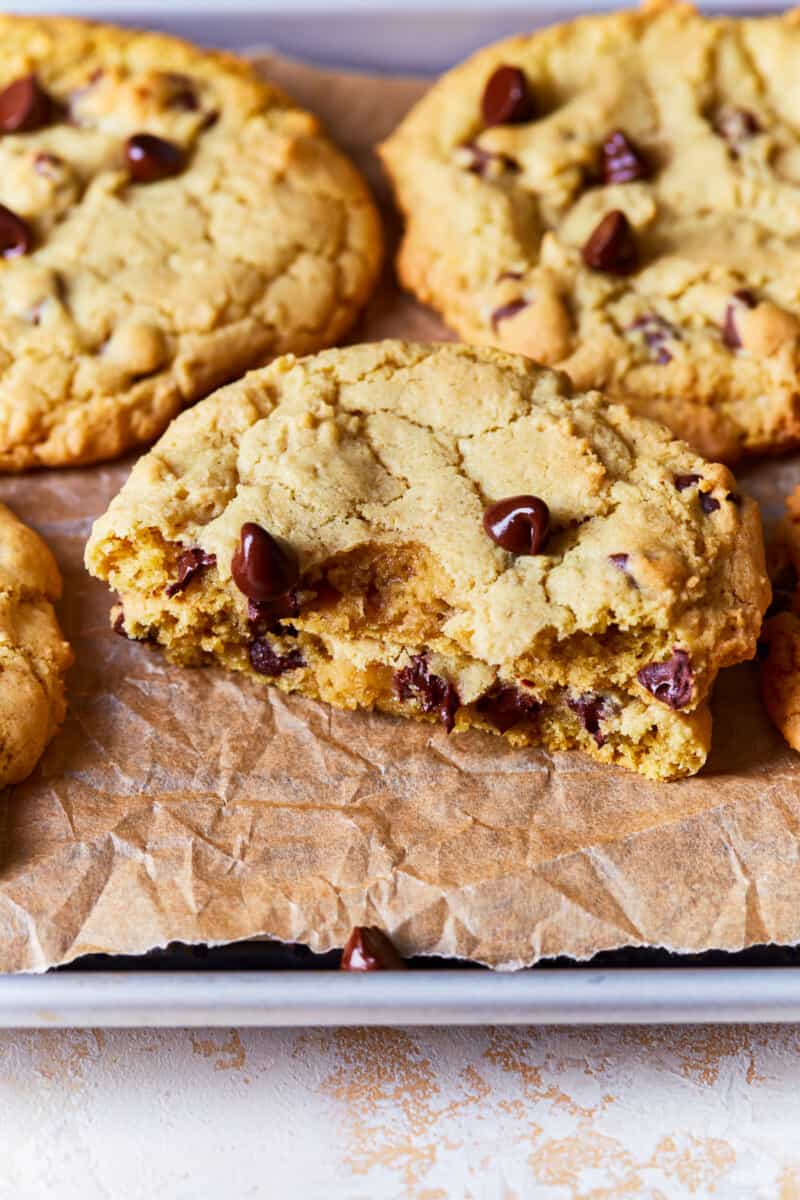 Tips!
I like to use a stand mixer to get the dough nicely combined, but you can mix them fully by hand.
Accurately measuring ingredients will give you the best results when baking.
Remember to take the butter out of the fridge ahead of time to let it come naturally to room temperature. Microwaving will quickly lead to butter that is TOO warm or soft.
Do not overmix the cookie dough. It's unnecessary, and it will lead to flat, tough cookies. Mix just until ingredients are fully combined, and there are no dry spots.
Chocolate chip cookie dough should not be dry, sticky, or crumbly. You want all ingredients to be moistened and mixed, but not runny.
Use a cookie scoop or spoon to get uniformly-sized cookies. This ensures that they will bake evenly.
For best results, bake the chocolate chip cookies in a fully pre-heated oven.
Freeze the dough so you can bake a batch of these any time!
Simply double or triple the recipe if you want to make multiple batches.
This is the ULTIMATE easy recipe when you're craving milk and cookies. There's nothing quite as satisfying as the best (soft and chewy) chocolate chip cookies washed down with a glass of milk!
How long do these keep?
Once baked, you can store these chocolate chip cookies at room temperature, or freeze them to keep them longer.
Room Temperature: Once the cookies have cooled completely to room temperature, place them in an airtight container. They will keep at room temp for up to 5 days (but they'll be best if eaten within 3 days).
Freeze: These will keep for up to 3 months in the freezer. Freeze the baked cookies solid on a baking sheet before transferring to a freezer bag or safe container. Thaw frozen cookies at room temperature for 30 to 40 minutes before enjoying.
What's the secret to the best chocolate chip cookies?
If you want to know how to make the best chocolate chip cookies ever, you're going to want in on the secret to soft and chewy cookies. Well, it has a lot to do with the brown sugar!
I use a mix of brown and white sugars–more brown than white. Regular granulated sugar makes your cookies crispier, while brown sugar makes them softer, lighter and a little chewier.
It's also important that you don't overmix the dough, or overbake the cookies.
Chocolate Chip Cookie Variations
I consider this the best chocolate chip cookie recipe. They're the go-to, classic cookies. But if you're looking for a variation on this (maybe you want to use a different ingredient, or you're looking for a specific dietary recipe), then I have plenty more recipes for you to try!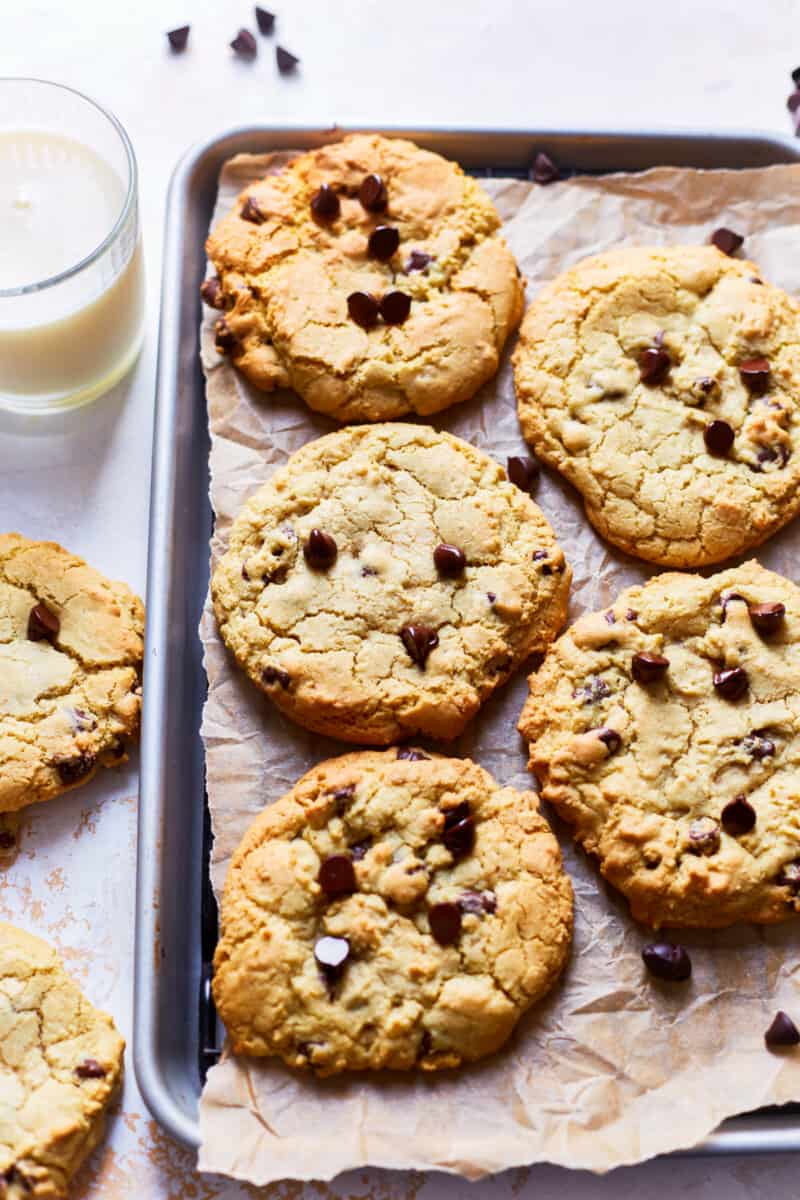 These are the best chocolate chip cookies, and you'll understand why as soon as you try them. Make these easy cookies for any occasion, and you'll see how much everyone loves them. It's the perfect texture, the perfect flavor, and overall the PERFECT cookie recipe!
If you make this recipe be sure to upload a photo in the comment section below or leave a rating. Enjoy! You can also jump to recipe.