These Sauteed Carrots are a wonderful quick and easy vegetable side dish perfect for Thanksgiving, Christmas, and beyond. A simple and vibrant dish to accompany your main holiday feast. Sauteed with scallions and thyme, these carrots are perfectly cooked every single time.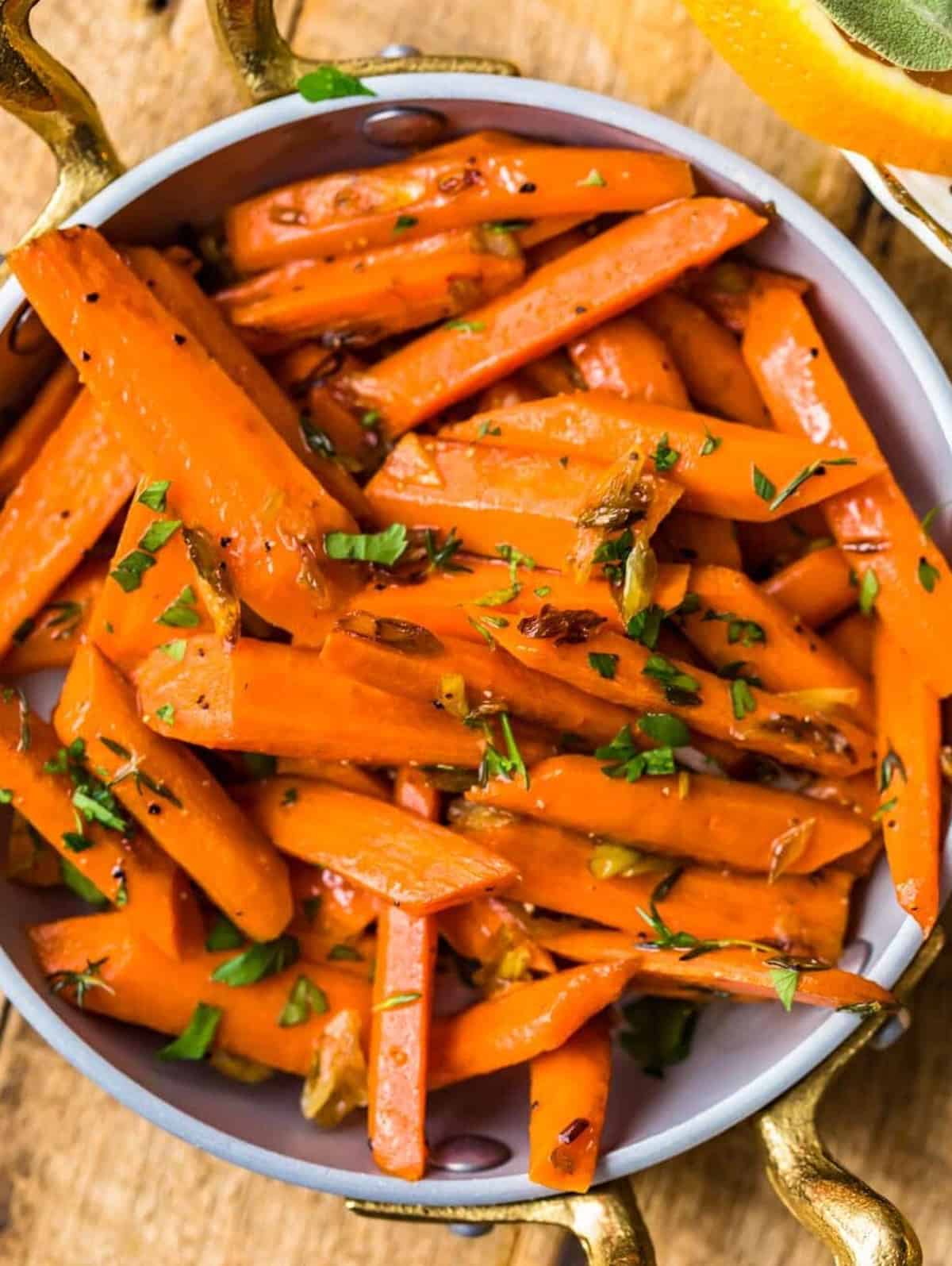 What's in this Sauteed Carrots Recipe?
How is your Thanksgiving and holiday menu planning going? If you are still on the hunt for a tasty side dish, then I've got the perfect treat for you! These carrots are fresh and vibrant, the perfect addition to any table!
Carrots: Peel, trim, and halve them lengthwise, and cut ¼-inch diagonally. Large carrots will need to be quartered lengthwise.
Scallions: Add a pop of color and a slight onion flavor.
Unsalted Butter: Adds richness to the carrots.
Canola Oil: Helps the carrots cook without burning.
Garlic: Adds an earthy flavor and a pungent aroma.
Thyme: Adds a fresh and herbal flavor.
Chicken Broth: Adds moisture and a salty and umami flavor.
Salt + Pepper: Enhance the natural flavor of the carrots.
Pro Tip: Use an unsalted/low-sodium chicken broth for this recipe. If you use a salted stock, omit the salt.
Variations on Sautéed Carrots
You can add just about any fresh herbs to this dish to change the flavor. Sage, rosemary, and parsley are all great choices. You could also play up the sweetness of the carrots by adding some brown sugar or maple syrup, cinnamon, and ground ginger.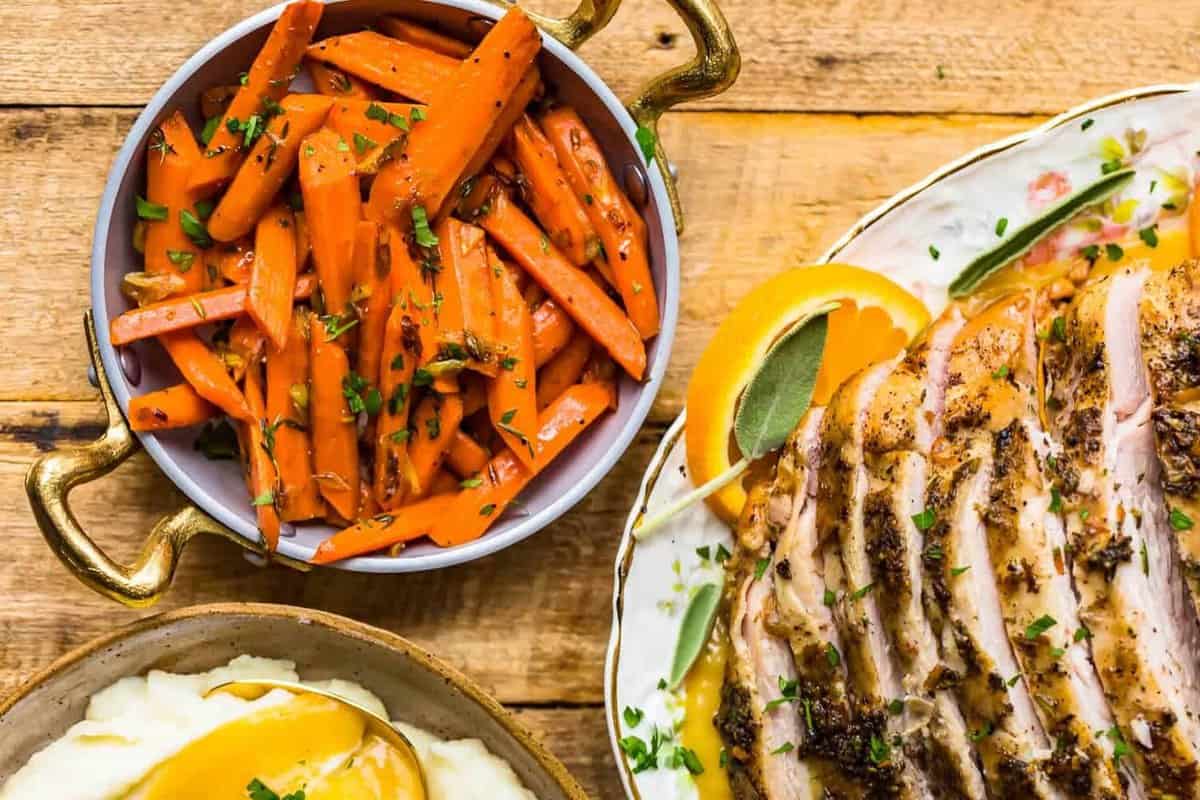 What is the best cooking method for carrots?
You really can't go wrong with any cooking method, but I prefer to roast or sauté them to add that delicious browning.
Are sauteed carrots healthy?
Yes! Sautéing is one of the healthiest ways to cook carrots, and carrots are full of vitamins and minerals.
Do you have to peel carrots before sauteing?
I personally like to peel my carrots, but you can wash and scrub the carrots well without peeling them if you prefer.
Should I boil carrots before frying?
There's no need to boil these carrots before cooking them since we are cutting them into small enough pieces. If you boil them beforehand, they may turn out soggy or mushy.
What can I add to carrots for flavor?
I added scallions, garlic, and thyme, but any fresh herbs will work.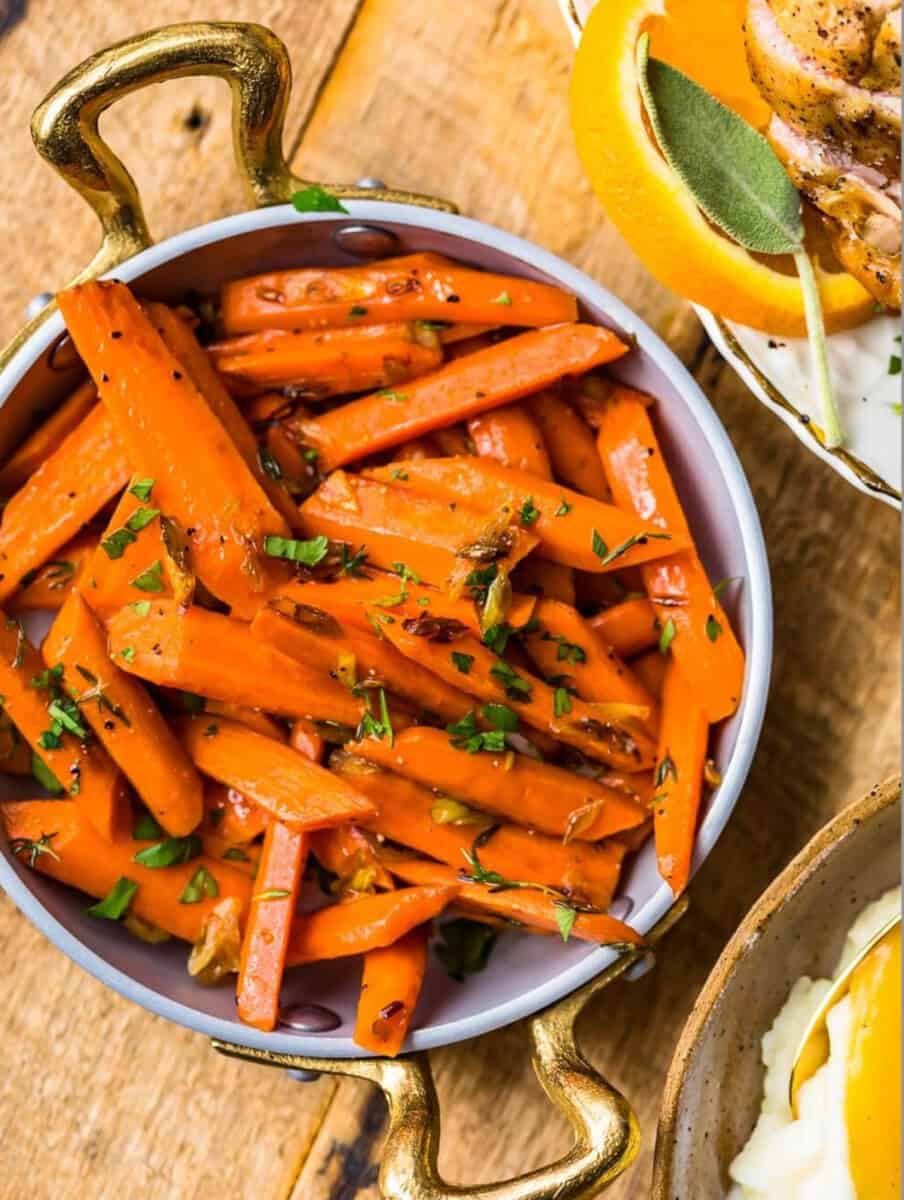 How to Store and Reheat
Store leftover sauteed carrots in an airtight container in the refrigerator for up to 5 days. Reheat in a pan set over medium-low heat until warmed through.
How to Freeze
Freeze sauteed carrots in an airtight container or Ziplock bag for up to 3 months. Let thaw overnight in the refrigerator before reheating.
Serving Suggestions
These sauteed carrots are a great side for both weeknight meals and fancy holiday dinners. Try them with baked pesto salmon, beef tenderloin, instant pot turkey breast, or crispy chicken parmesan.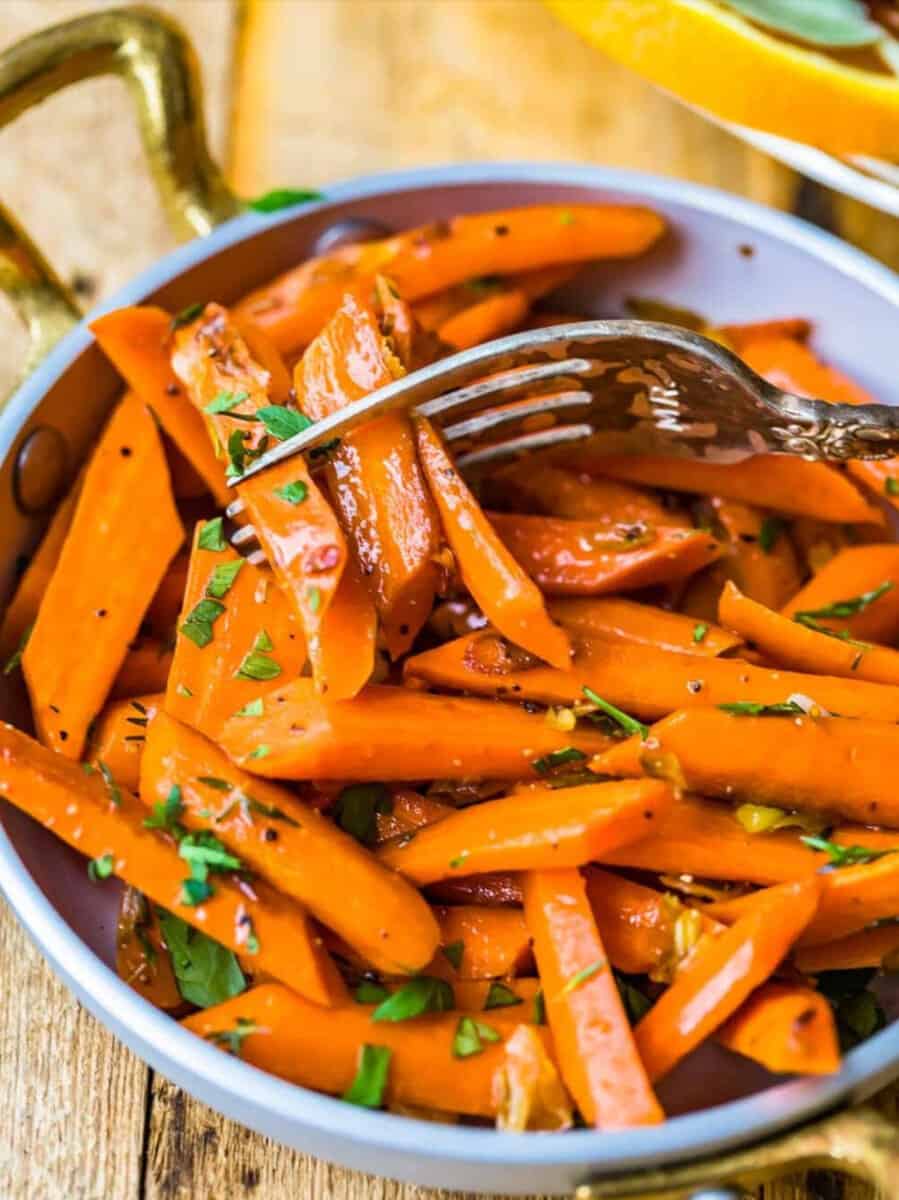 5-Star Review
"These are the perfect side dish!" – Rachael Yerkes
More Carrot Recipes We Love