Chicken Parmesan is a classic dish that seems to be loved by all. This crispy chicken parmesan recipe is the BEST ever. It's so easy and so delicious. Make it for an easy weeknight dinner, or a special occasion!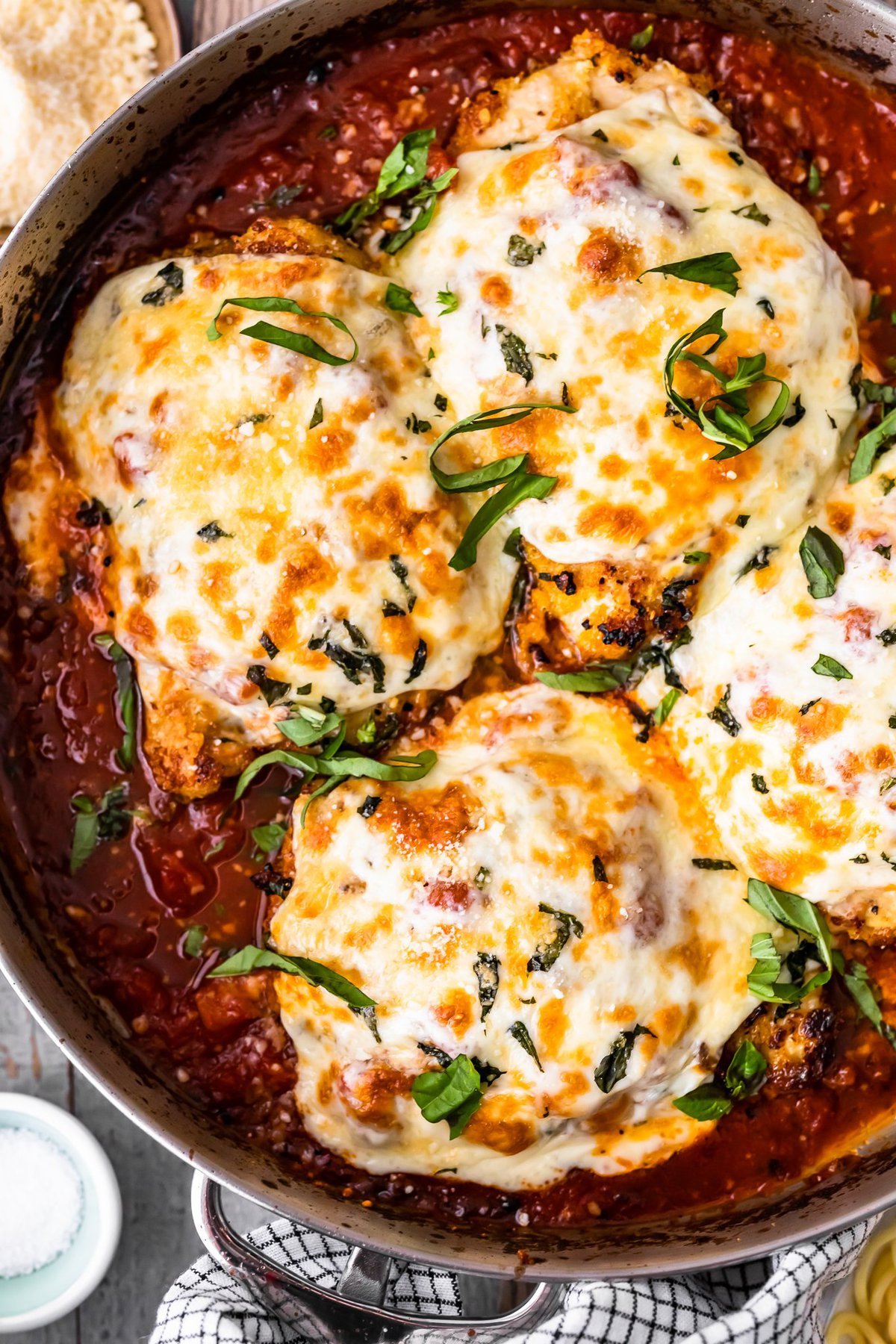 Best Chicken Parmesan
Chicken Parmesan is one of my all time favorite dishes. It's crispy, cheesy, and absolutely delicious! I've made plenty of recipes inspired by this classic dish, but this one is the real deal.
This is the BEST Chicken Parmesan recipe, the one that needs to become your go-to.
Breaded chicken breasts are cooked up in marinara sauce and topped with mozzarella cheese, then served over a plate of spaghetti.
This Chicken Parm is SO good (and very filling). This recipe makes the perfect crispy chicken parmesan, just the way I like it.
If you're looking for a nice but easy Italian dinner, this is the dish for you! It makes a really good weeknight dinner, but it's also nice enough for special occasions.
Anniversary? Dinner party? Date night? Make this chicken recipe and you're golden!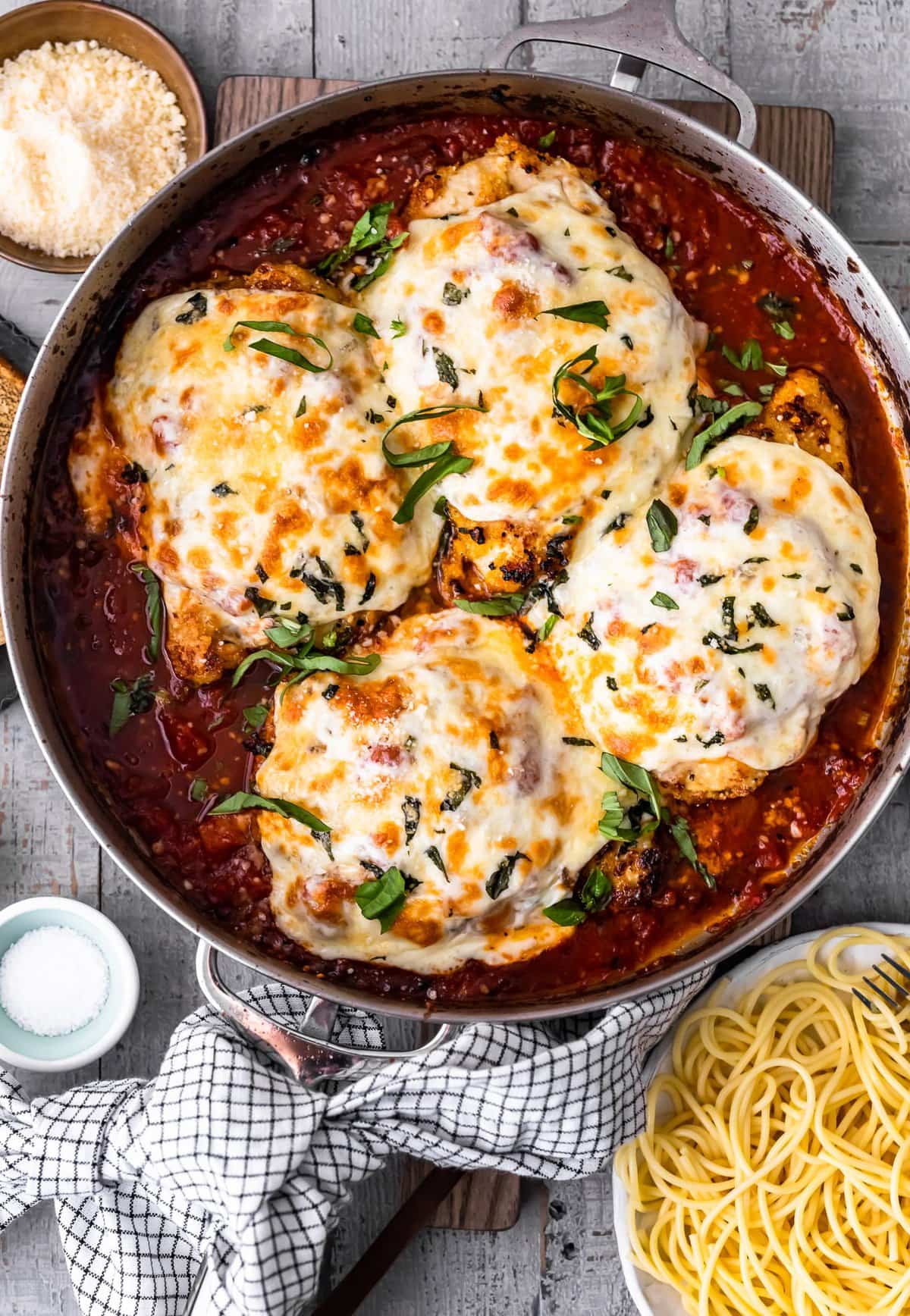 How to Cook Chicken Evenly
A big part of why this Chicken Parmesan works is that the chicken cooks quickly and evenly, because of how thin it is! We take two large chicken breasts (about 8 ounces each), cut them in half lengthwise (butterfly), and then pound them to even thickness (about 1/2 inch thick).
Pounding chicken can be messy, but not with Reynolds Kitchens Quick Cut Plastic Wrap! This new plastic wrap from Reynolds Kitchens is a total game changer, with a built in slide cutter ensuring you can cut the plastic wrap cleanly and swiftly each time!
It makes wrapping food tightly SO MUCH EASIER and I'm obsessed. It also has grip strips in place, ensuring your wrap is ready to use at all times. No more finding the end stuck to the roll!
Reynolds Kitchens is known for their long lasting seal, helping food to last longer as well. It's ALWAYS my choice when freezing or keeping leftovers, like with this easy Chicken Parmesan recipe.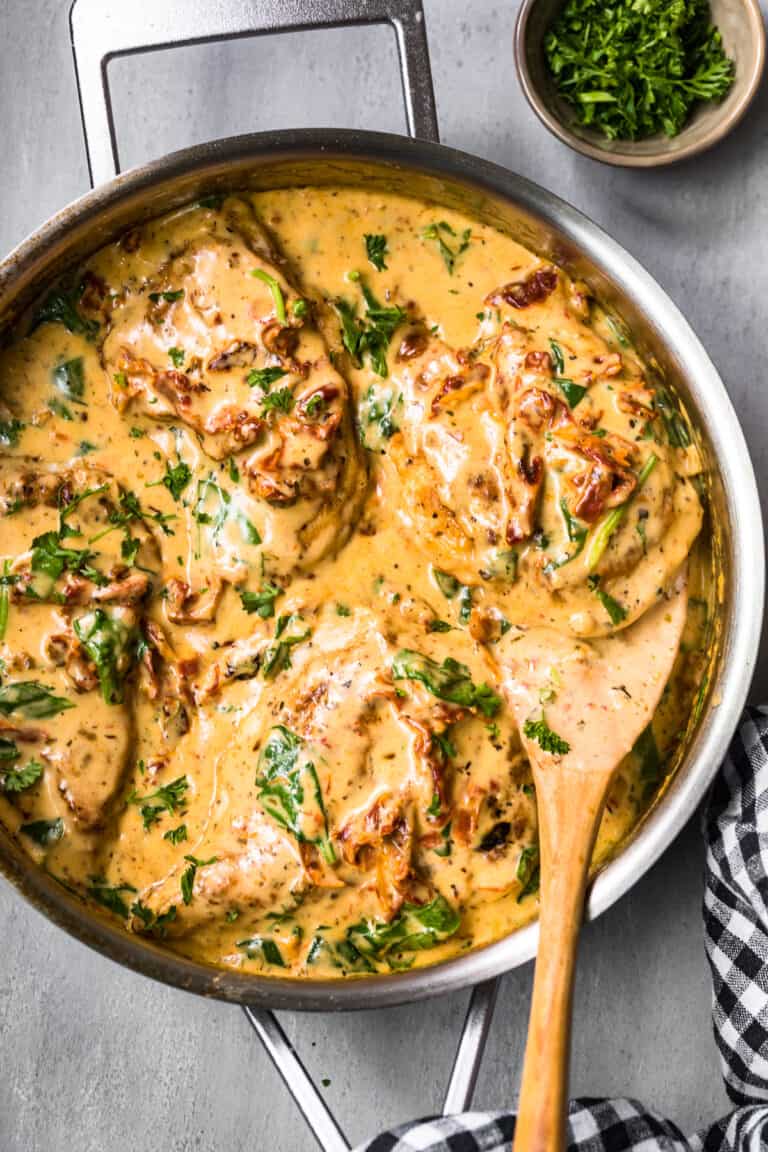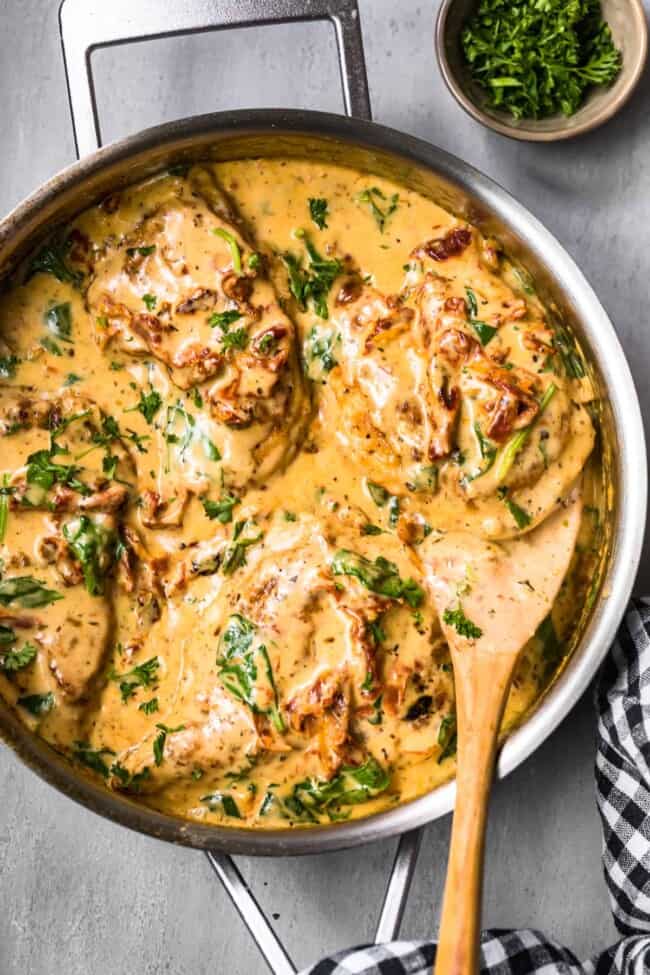 Winner Winner Chicken Dinner
72+ Chicken Dinner Recipes
See our Chicken Guide for all the best chicken recipes plus tips and tricks for juicy chicken every time.
Chicken Dinner Recipes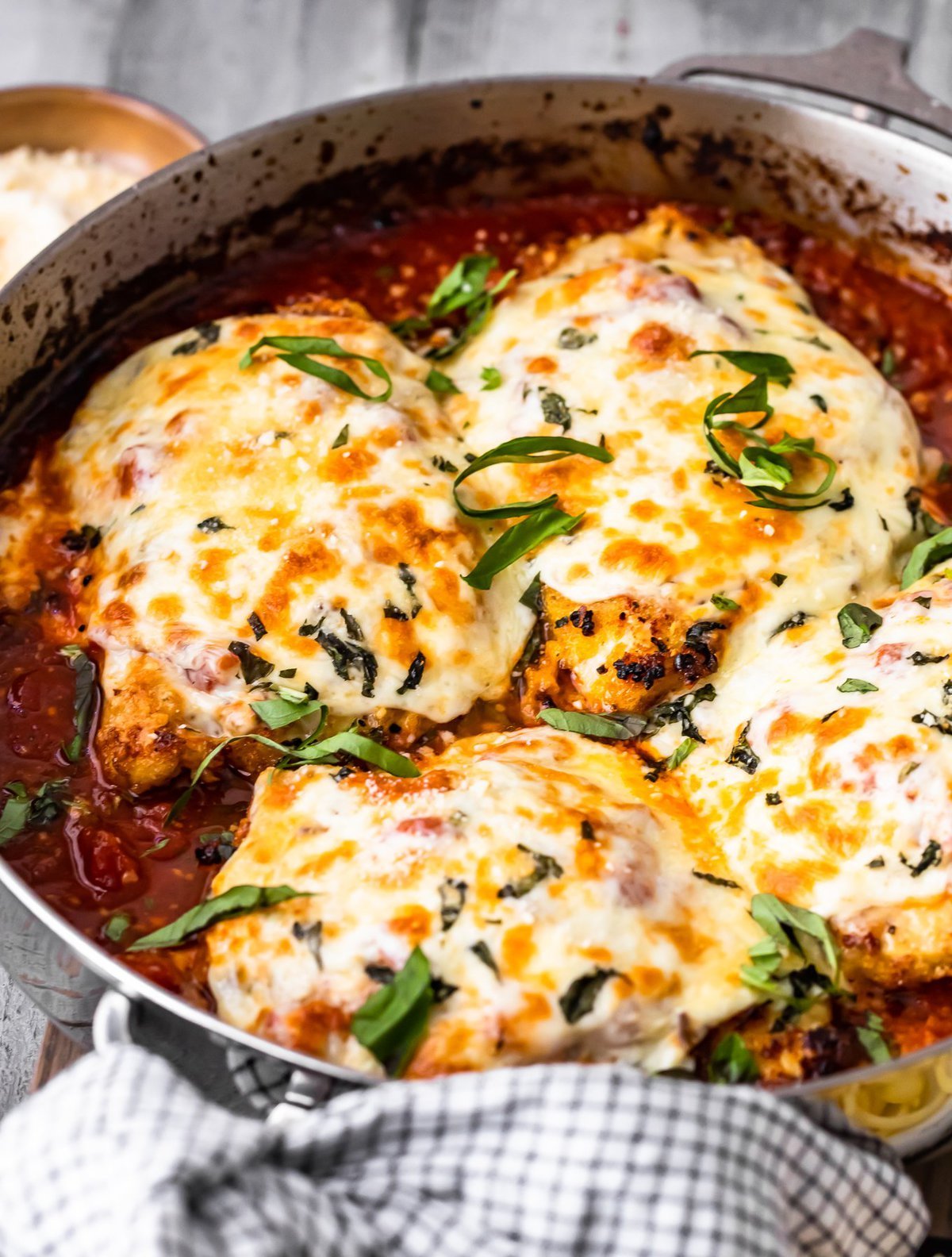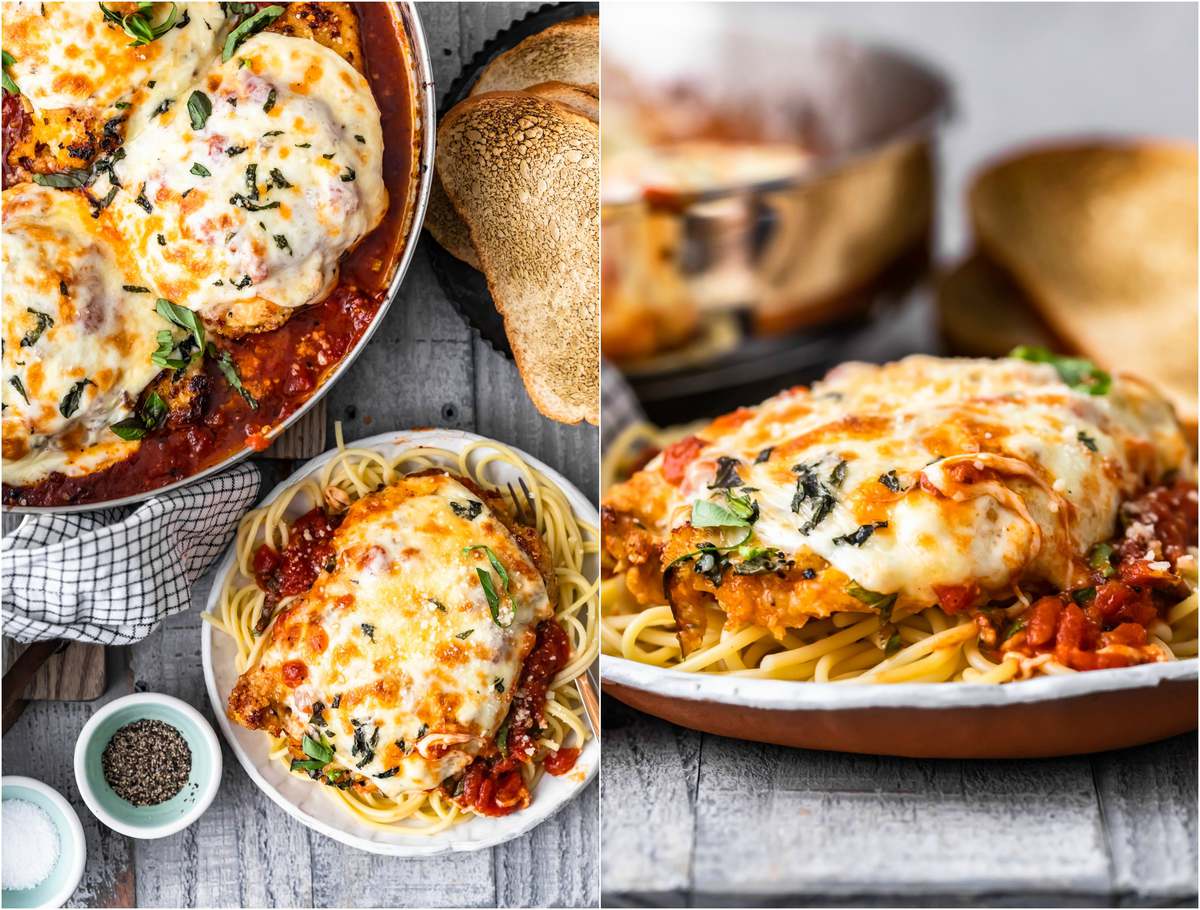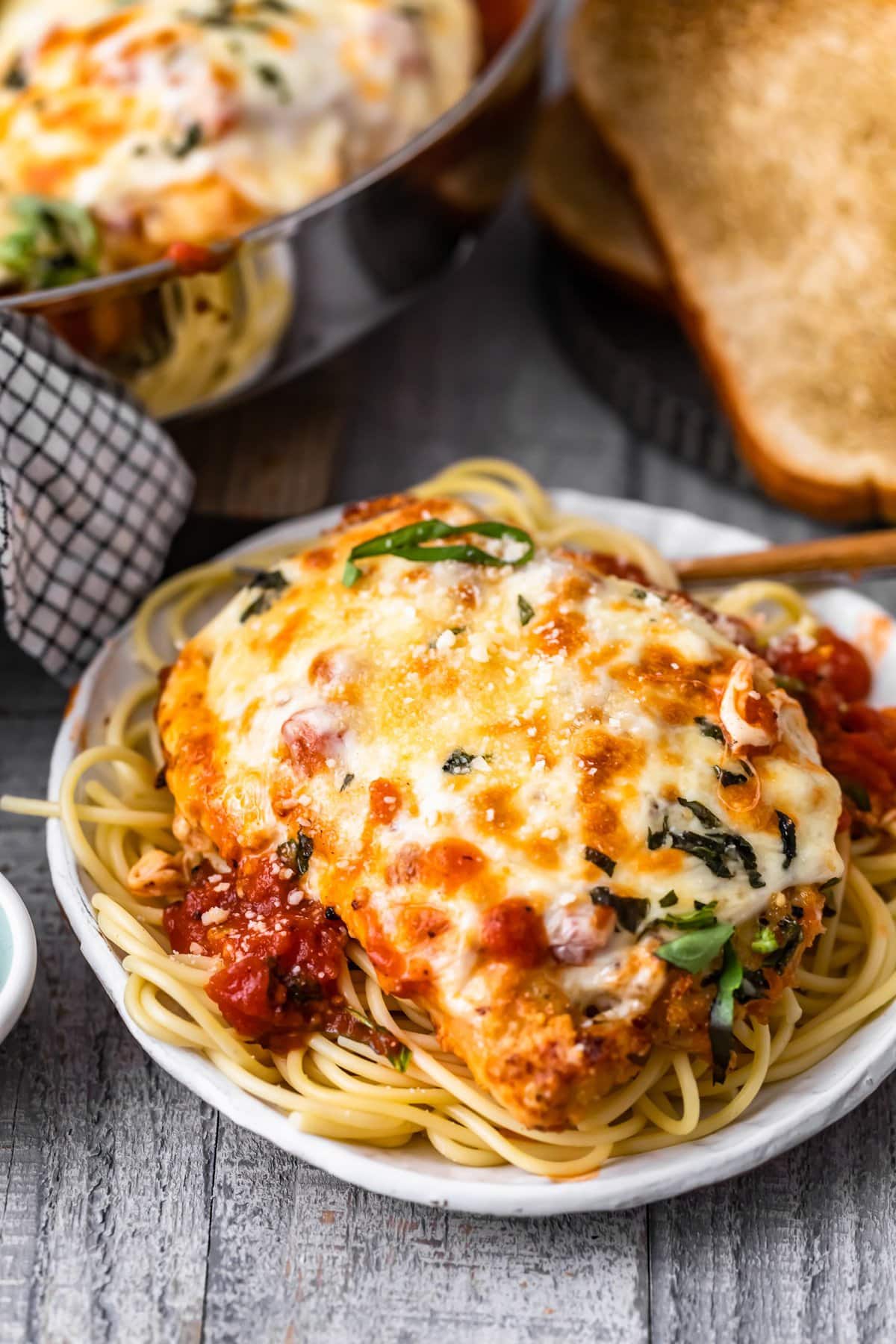 How to Make Chicken Parmesan
Chicken Parmesan is one of those dishes that I always assumed was hard to make. When something is THIS good, you just kind of assume it's complicated, right? Luckily, this crispy chicken parm recipe is really easy, and it doesn't take long to put together either!
You can jump to the recipe card for full ingredients & instructions!
Start by preheating the oven to 400°F.
Cut the chicken breasts in half lengthwise to make 4 chicken cutlets, then place them between two layers of plastic wrap and pound them into 1/4-1/2 inch thickness. Season them with salt & pepper.
Whisk two eggs in a shallow bowl. In another bowl, mix the breadcrumbs and Parmesan cheese. (For dredging the chicken)
Heat olive oil in an oven-safe skillet (you will be putting this in the oven to bake), then add in the garlic and cook for 2-3 minutes.
Dredge each chicken breast in the eggs, then the breadcrumb mixture. Then place them in the skillet, and cook for 3-4 minutes on each side. When it's done cooking, remove the chicken from the skillet and turn off the heat.
Now pour half of the jar of sauce into the bottom of the skillet, and place the chicken back in. Top each chicken breast with another spoonful of sauce and two slices of Mozzarella cheese (each), grated Parmesan, and basil.
Place the skillet in the oven, and bake the chicken parmesan for 10-12 minutes at 400°F.
To serve, place each chicken cutlet over a plate of spaghetti (you can boil the pasta while the chicken parm bakes). You could also serve it without pasta if you prefer, and instead opt for rice, veggies, or greens…but spaghetti is the classic way to eat it (and the tastiest!).
Be sure to watch the video to see the step by step process!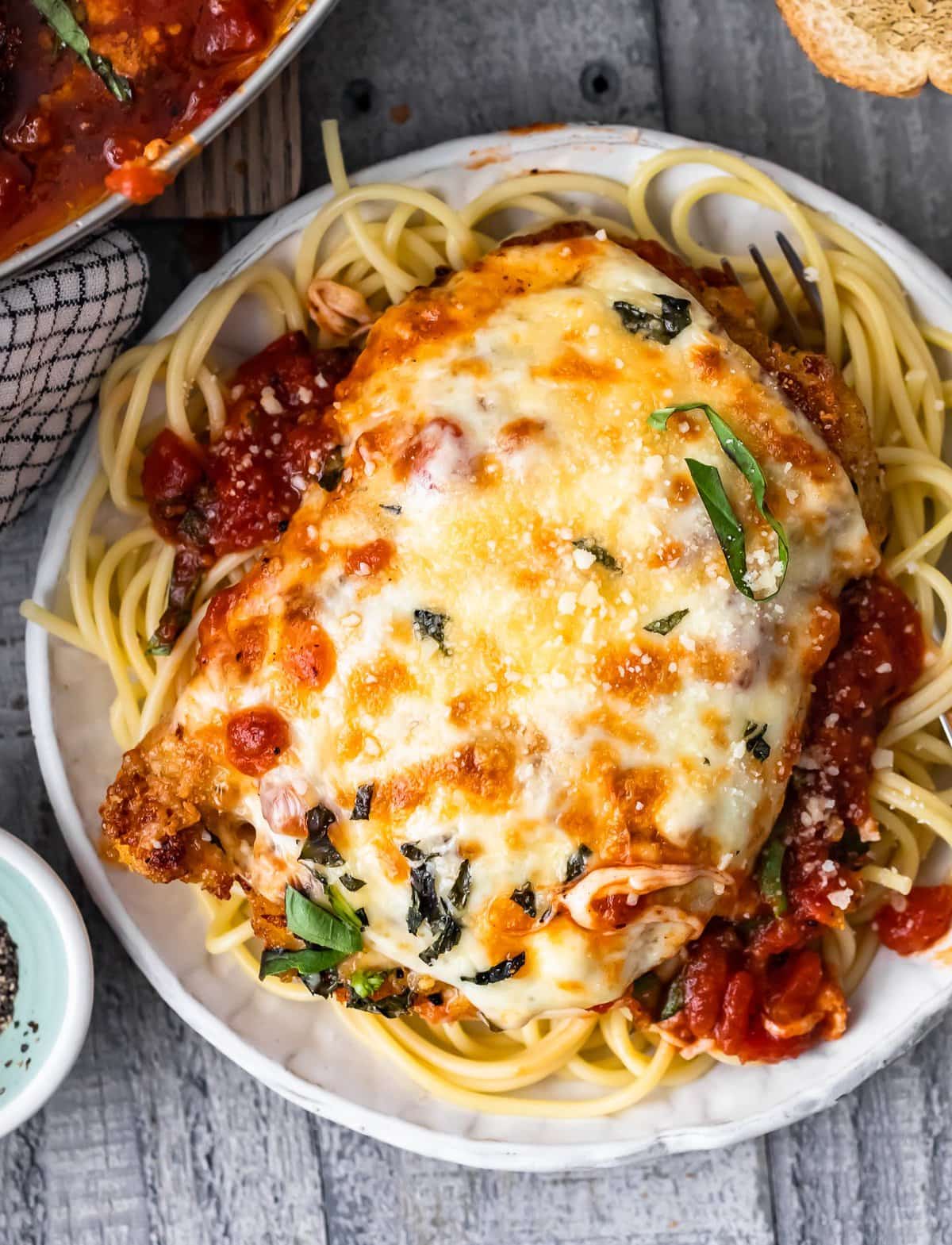 More Chicken Parmesan Recipes
Be sure to try all our takes on chicken parmesan!
What to Serve with Chicken Parmesan
Classic Chicken Parmesan is served with spaghetti for a nice filling meal. It's an Italian favorite, and the pasta really makes it what it is. It's always nice to serve with a bit of bread too, whether you choose a simple baguette or some homemade garlic bread.
If you feel like you don't really need the pasta with it, you could also steam or roast some broccoli to go along with it.
Broccoli just tastes so good mixed into the marinara along with the chicken…and I guess it's a healthier option (compared to more carbs), but are we really worried about that here?
Freezing and Make Ahead Tips
Yes to both! This recipe can be made ahead of time AND it freezes really well if you have leftovers.
To prepare it in advance: you could simply prep the chicken, bread it, and cook it in the skillet. Cover the skillet with Reynolds Kitchens Quick Cut Plastic Wrap and refrigerate it. When you're ready to serve it, pop it in the oven along with the sauce and cheese to reheat and crisp it up.
To freeze: wrap the chicken breasts in Reynolds Kitchens Quick Cut Plastic Wrap and store them in an airtight container. Easy, right?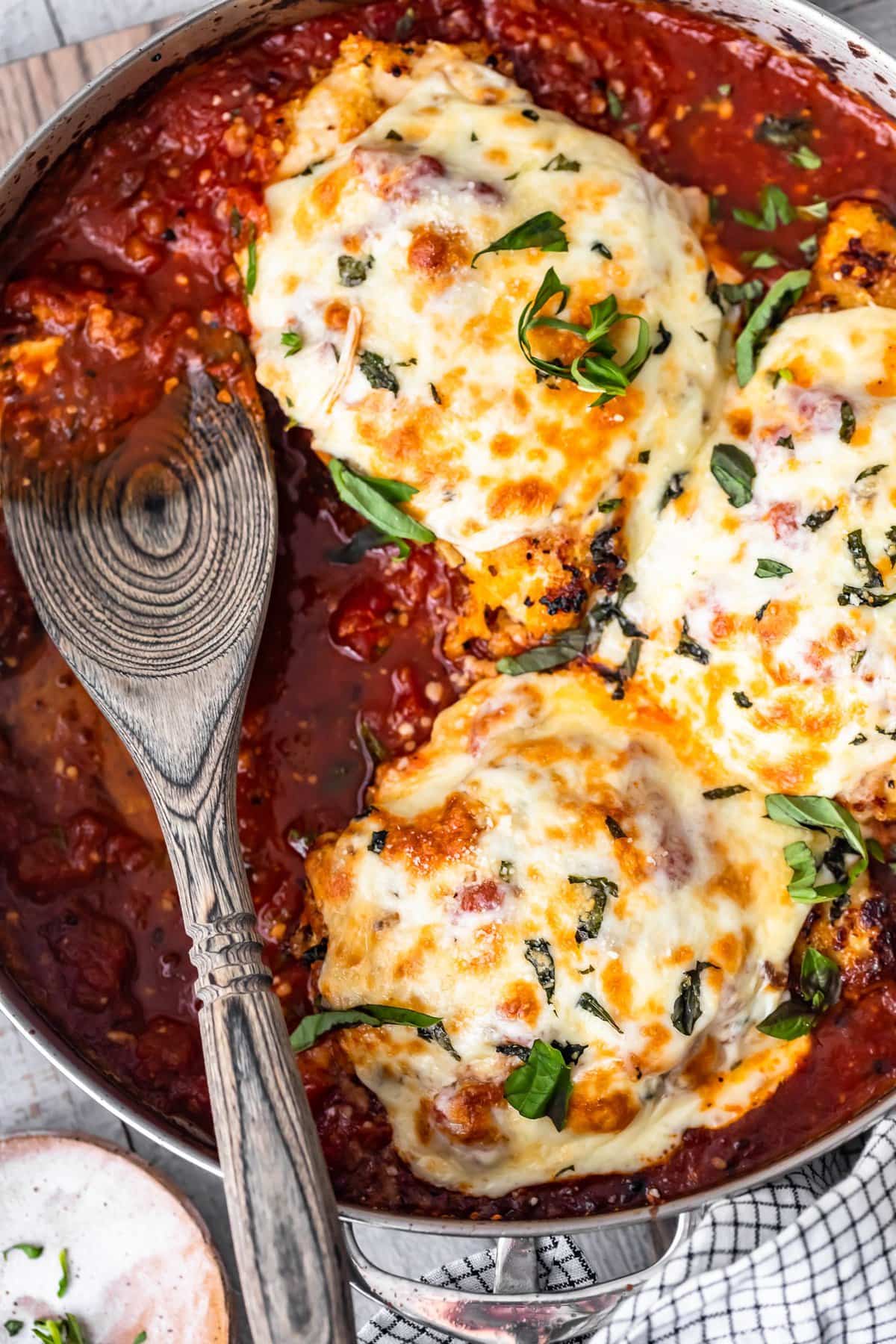 I hope you love this dish as much as I do! It really is one of my favorite meals of all time, and I think it works for so many different occasions too.
More Chicken Recipes for Dinner
This Crispy Chicken Parmesan is just one of our favorite ways to prepare chicken for dinner. Be sure to try them all!
See All Chicken
If you make this recipe be sure to upload a photo in the comment section below or leave a rating. Enjoy! You can also jump to recipe.