Baked Salmon with Basil Walnut Pesto is our favorite simple yet elegant seafood dinner. This Pesto Salmon Recipe is bursting with flavor and good fat. The tender flakey salmon is basted in butter, white wine, and lemon juice before baking and then topped with an amazing nutty and rich Basil Walnut Pesto. Best Salmon Recipe ever!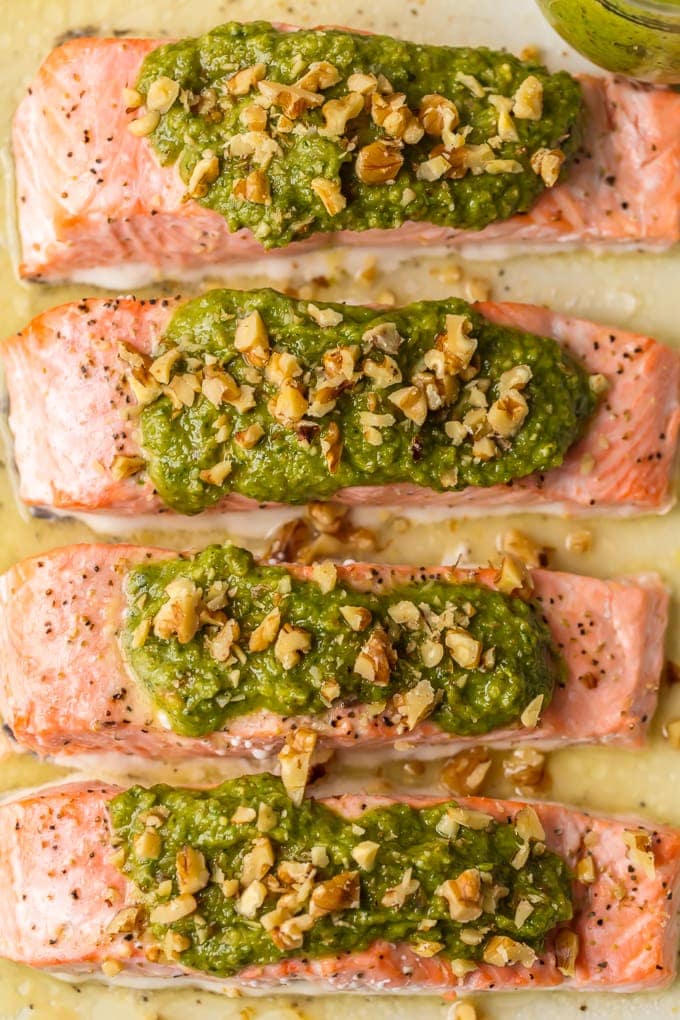 This Baked Salmon with Basil Walnut Pesto is a heart healthy dinner made in under 20 minutes.
Baked Salmon with Basil Walnut Pesto is one of our new favorite healthy seafood dinners. Pat is always begging me to do more healthy recipes, requesting I make recipes like our Grilled Salmon with Avocado Salsa, Cilantro Lime Shrimp Scampi, Bang Bang Shrimp, and Weight Watchers Lasagna again and again. This Baked Salmon is next in the rotation to be one of our go-to healthy recipes. I might just give up decadent recipes after all.
Salmon is an absolutely amazing fish with so much healthy fat. Mixed with this delicious Basil Walnut Pesto, you're sure to love this good for you seafood feast. SO MUCH FLAVOR, made in under 20 minutes, and only one pan to clean. Is this heaven?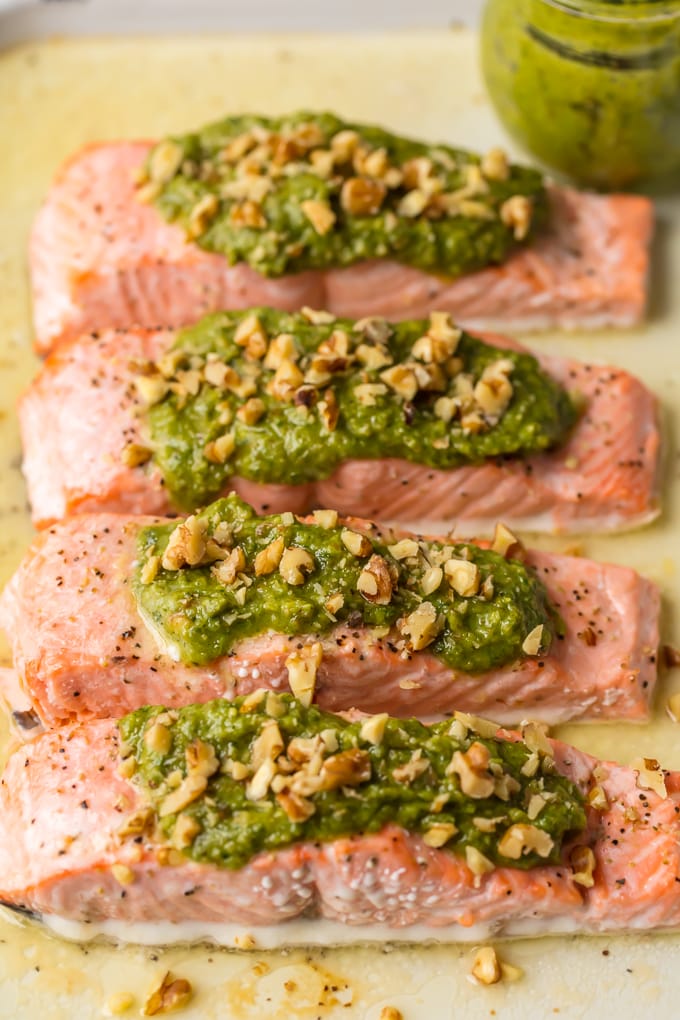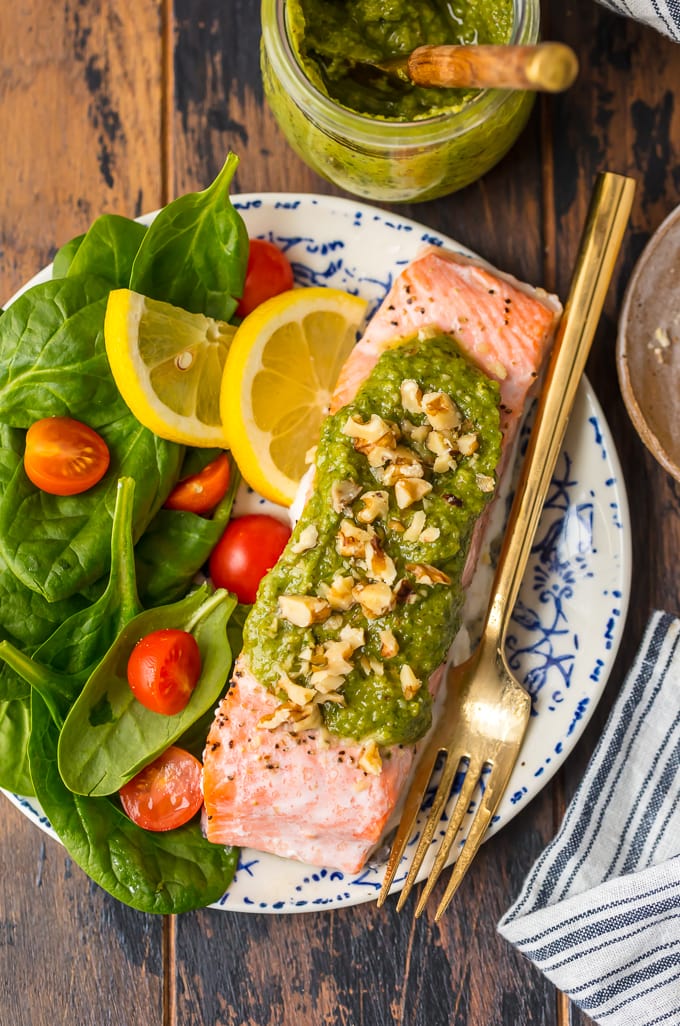 Pesto Salmon is full of flavor and so simple. It's an easy seafood recipe we love to make again and again.
We used the ultimate Baked Salmon Recipe for the base of this delicious meal. It's the best and most fool-proof way I know to prepare salmon. For the Basil Walnut Pesto, I simply layered the ingredients in a high powered blender and let it do its work. SO EASY! We save the extra pesto to put on everything from toasted bread to steak and chicken. Delicious!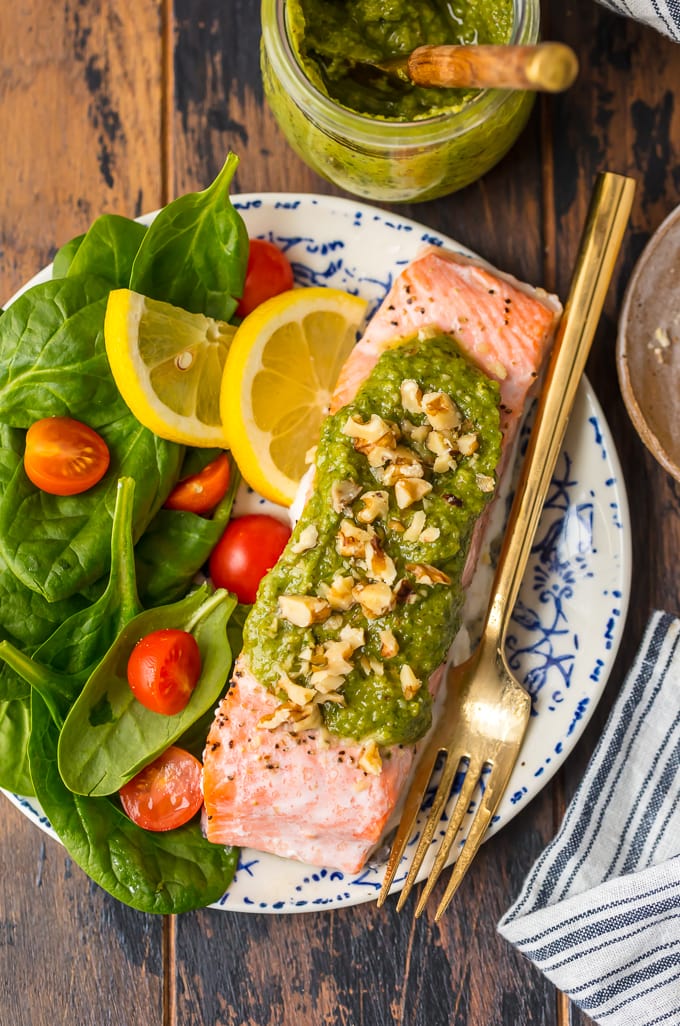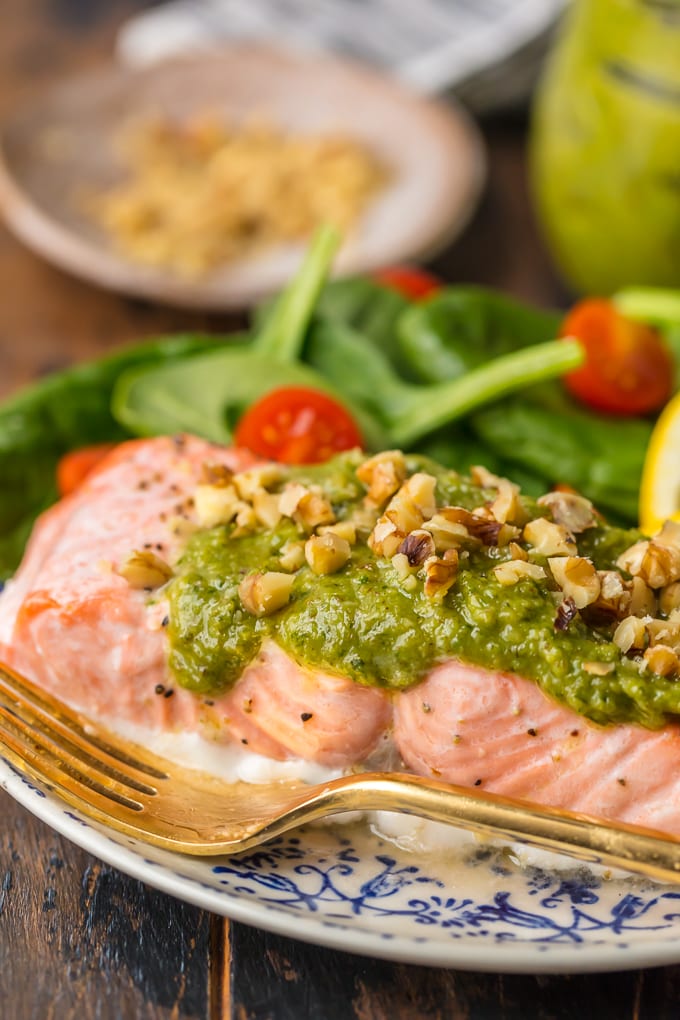 Baked Salmon with Basil Walnut Pesto is a heart healthy meal you can feel great about feeding your family.
This Pesto Salmon wouldn't be complete without the Basil Walnut Pesto. The Basil Walnut Pesto wouldn't be complete without WALNUTS! Talk about DELICIOUS! I'm so excited to be partnering with California Walnuts this year, and this heart healthy salmon recipe is the 4th of my 6 recipes. Did you know just 1 ounce of walnuts is packed with 4 grams of protein, 2 grams of fiber, and 2.5 grams of plant based omega alpha-linolenic acid (Walnuts are the only nut that contain significant amounts of this beneficial nutrient!).
Walnuts add such dimension and nutrition to any dish they're added to. In this Pesto salmon they're blended into the pesto and also chopped and sprinkled onto the top as garnish. The rich nutty flavor and subtle crunch are the perfect complement to the flakey and tender salmon. YUM!
A common misconception when eating healthy is that all fat is bad. Your body needs "good fat" to run and good fat is actually quite nutritious! This Pesto Salmon has all the right kinds of fat thanks to the Salmon, olive oil, and of course, walnuts!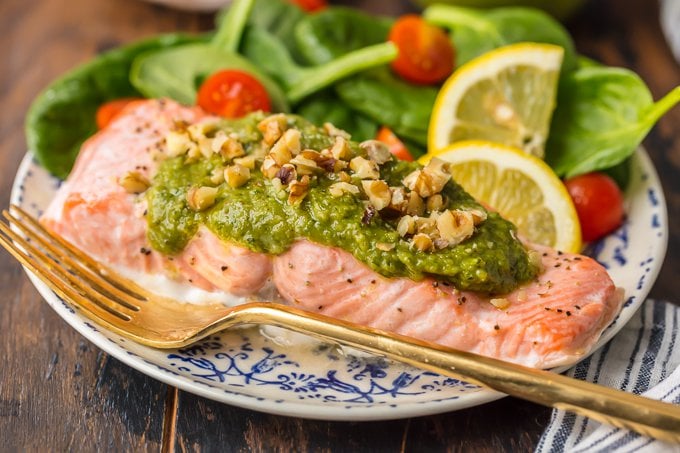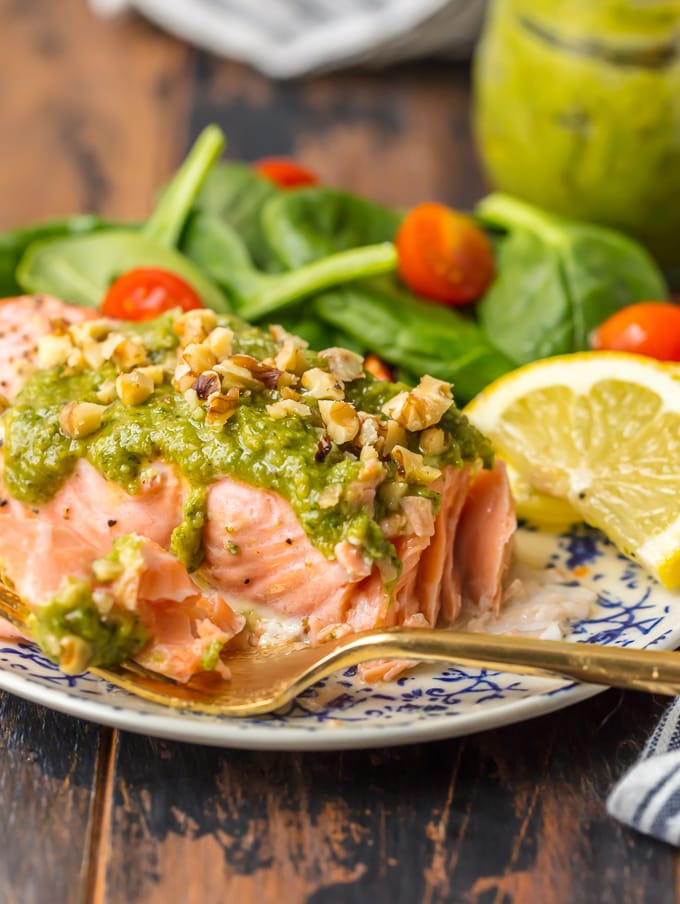 What is the internal temperature for baked salmon?
The USDA recommends an internal temperature of 145F for Baked Salmon. Some sites like Epicurious or Serious Eats say 125-130F is perfect for salmon. It's really whatever you're comfortable with, but try to not overcook. When the fat starts baking out of the salmon and the skin becomes pink/white, you're good to go.
Can you grill the salmon instead of baking? If so, how long do you grill?
You can! If you prefer to grill your salmon, you can use an electric grill for 5-7 minutes per side or until cooked through. That's also a delicious way to cook salmon.
What are some good side dishes for Pesto Salmon?
Everything from a simple salad recipe to herb roasted potatoes are amazing with this Pesto Salmon. Some other ideas are Lemon Butter Grilled Asparagus, Roasted Lemon Parmesan Broccoli, or Mandarin Orange Salad. It pairs beautifully with white wine as well…if you were wondering. :)
How do you make Walnut Basil Pesto?
We've got you covered with a full post devoted to this DELICIOUS sauce that you can pair with anything and everything…veggies/steak/chicken/pasta/ANYTHING! Walnut Basil Pesto is great on this Salmon and great from a spoon :). Be sure to check out the link in the recipe card.
See the recipe card below for full details on how to make Pesto Salmon. Enjoy!
Looking for more Salmon Recipes? Check out these faves!