Honey Glazed Carrots with Ginger are sweet, aromatic, and absolutely tasty. This easy carrot side dish goes well with chicken, pork, or any holiday meal. I love these healthy honey roasted carrots because the flavor is so simple yet so amazing. This honey glazed carrots recipe should definitely be your next side dish!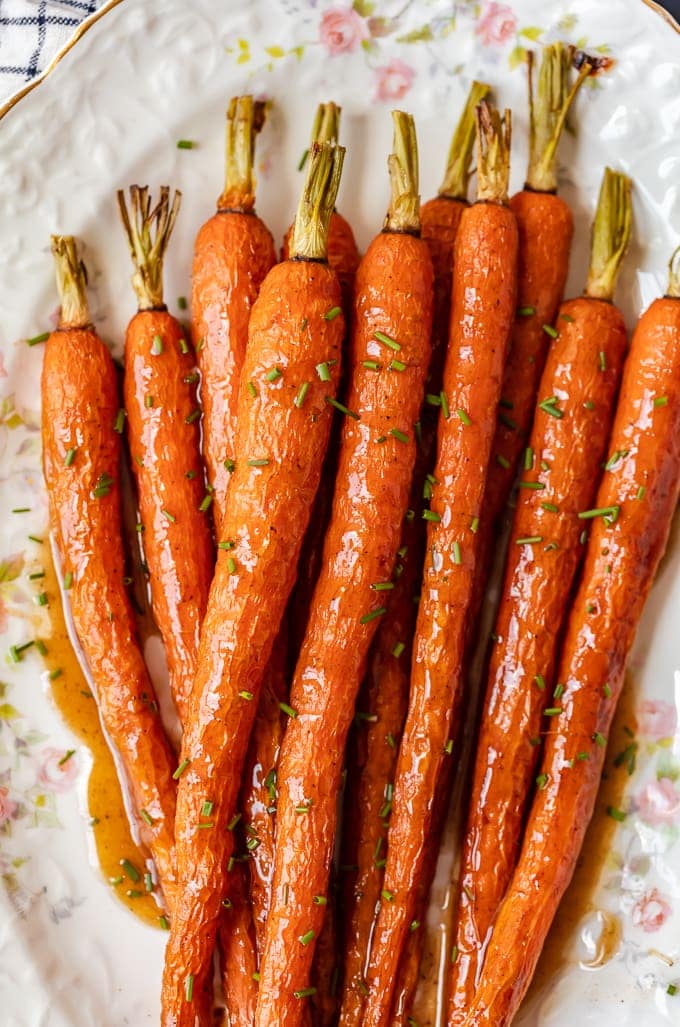 Honey Glazed Carrots Recipe
Honey Glazed Carrots are so simple yet so tasty. I love the sweet flavor of this honey roasted carrot side dish recipe!
This honey glazed carrots recipe is my new go-to side dish recipe for simple dinners. Make a delicious baked chicken recipe, add on these flavorful roasted carrots, and you've got the perfect weeknight meal!
Fresh carrots have a naturally sweet, aromatic flavor that often gets lost during cooking. But with this honey glazed carrots recipe, we're just enhancing that natural flavor! Roasting carrots in honey, butter, brown sugar, ginger, and more creates the most delicious taste and I just can't get enough if it. They are sweet but have just a hint of spice from the ginger for an extra kick.
This easy carrot side dish recipe is perfect for any meal, but I think it fits in so well with Easter dinner, Christmas sides, and Thanksgiving side dishes. While the rest of the table is filled with potatoes and creamy, cheesy recipes, it's nice to balance things out with straight up vegetables that happen to be SO TASTY. And aren't they just so pretty? They definitely add something to table!
These sweet Honey Glazed Carrots will be right at home on your Thanksgiving table, but they taste just as good with any simple weeknight meal!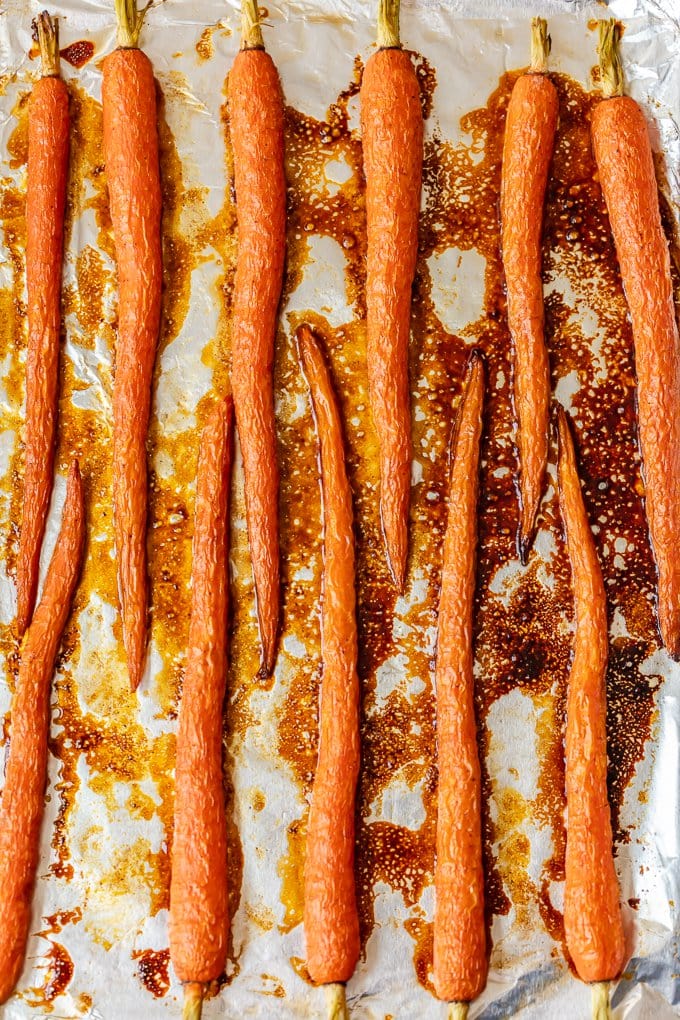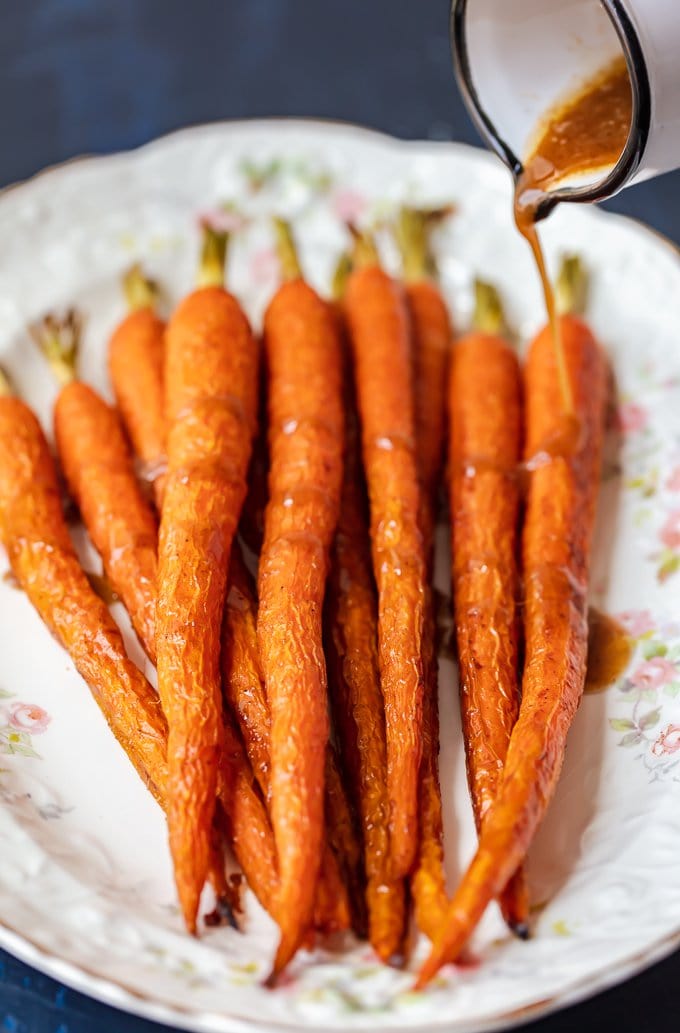 Simple Carrot Side Dish
As much as I love preparing amazing side dishes to go along with my meals, sometimes keeping it simple is best. Nothing complements a well-cooked main dish quite like a simple vegetable dish! Whether you're cooking poached chicken, pork chops, or something else, roasted carrots are the way to go.
These honey glazed carrots have so much flavor on their own without doing anything too crazy. Just roast them in the oven with the most delicious glaze and you've got one seriously awesome (and healthy) carrot side dish to serve with your meal. It's so easy to get your veggies in for the day when you can eat something that tastes this good!
If you like carrots, try our Red Wine Glazed Carrots and Honey Balsamic Roasted Carrots too!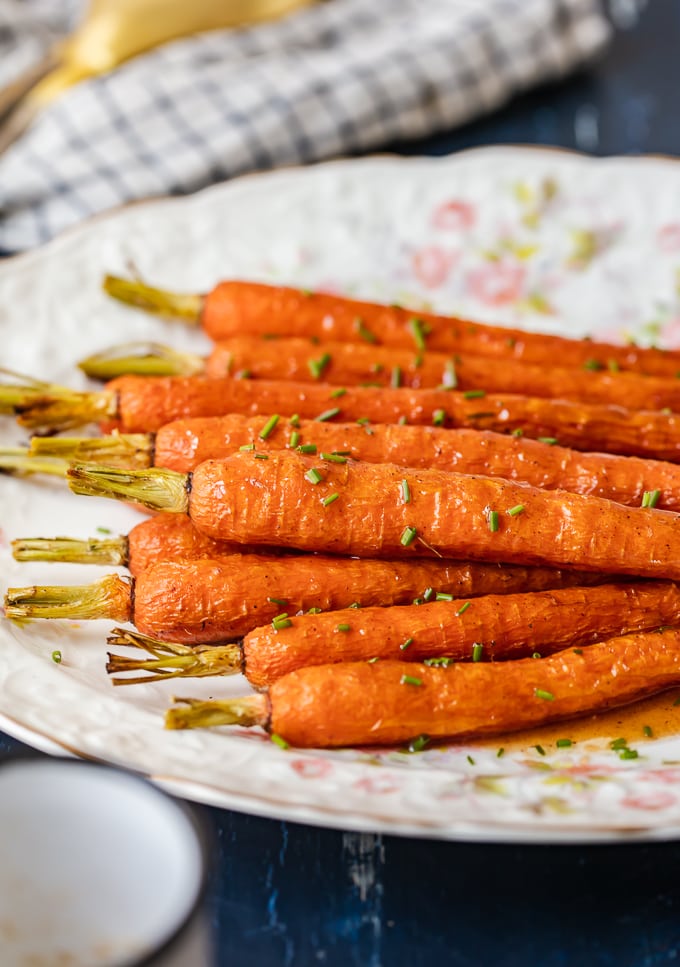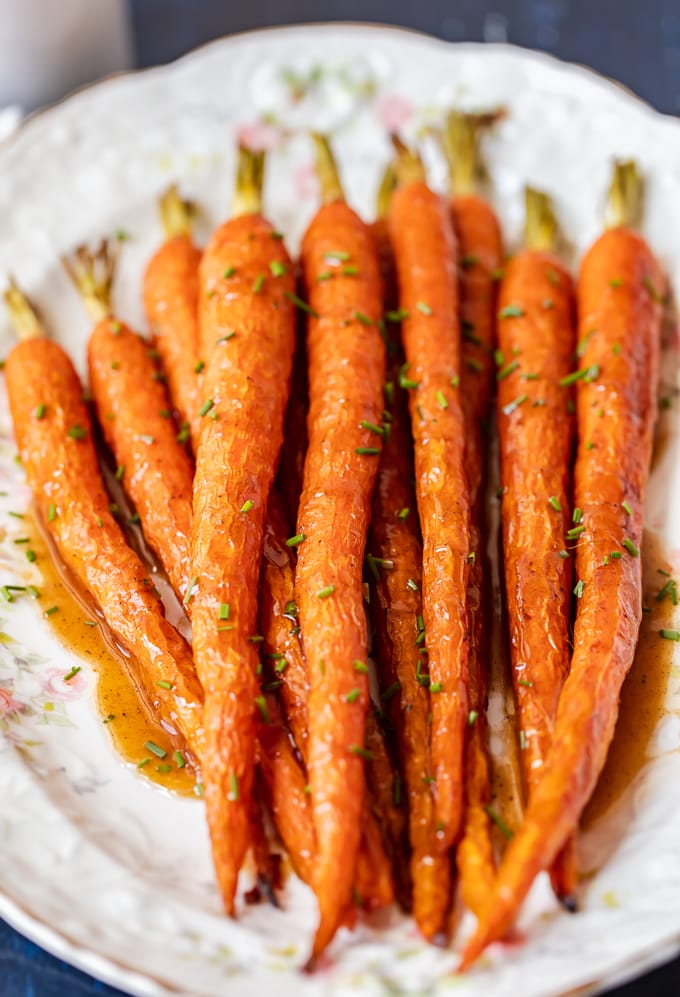 How to Make Honey Glazed Carrots
This honey glazed carrots recipe is almost too good to be true. Sometimes it's hard to believe that such a perfect side dish can be so easy to make. Just roast whole carrots in a simple honey glaze and you're done! The glaze is made up of honey, butter, brown sugar, ginger, cinnamon, nutmeg, and salt & pepper. That's where all that sweet yet warm flavor comes from.
How to Make Honey Roasted Carrots:
Whisk together all glazed ingredients
Place whole carrots onto a baking tray and pour the glaze over them
Mix the carrots around to make sure they're all covered, and then arrange them in a single layer
Roast Carrots at 400°F for 20-30 minutes
After carrots are done cooking, drizzle the remaining honey glaze over them and serve
These delicious honey roasted carrots will please everyone at the table with their sweet and aromatic flavor! Be sure to watch the video to see the step by step process.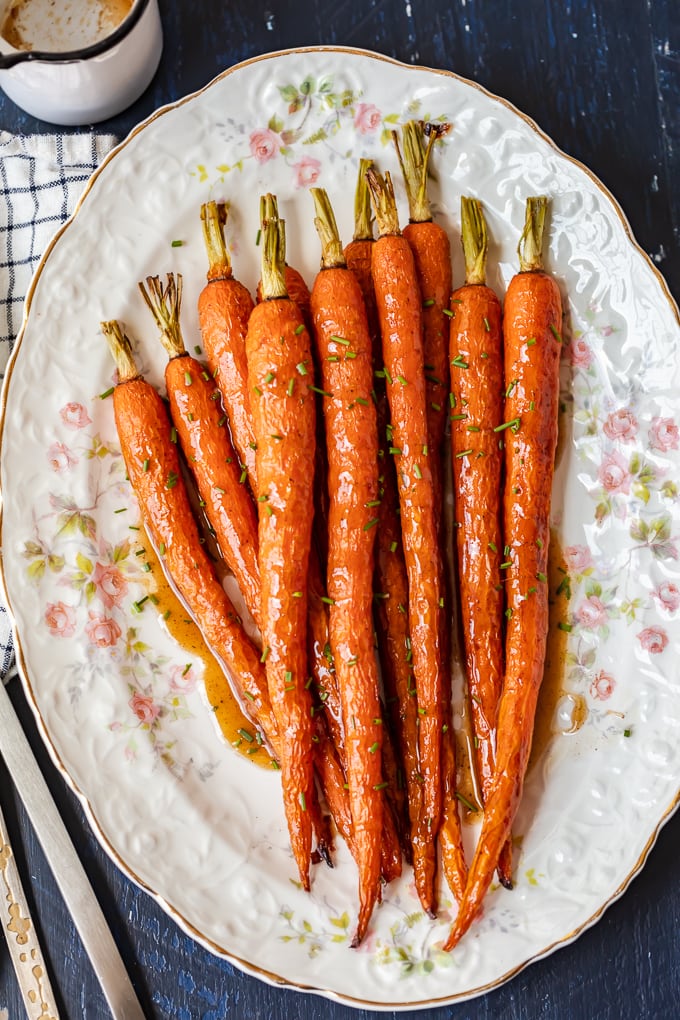 This simple Honey Glazed Carrots recipe is so perfect for any meal. I love simple dishes like this that are delicious AND healthy. This amazing carrot side dish recipe can be served on holidays or for any weeknight meal. I know you'll love these aromatic glazed carrots just as much as I do!
Watch the Video and See the recipe card below for details on how to make Honey Glazed Carrots. Enjoy!
If you like this carrot side dish recipe, try these other great vegetable side dishes too: