These Honey Glazed Carrots are sweet, aromatic, and absolutely tasty. I love these ginger carrots because the flavor is so simple yet so amazing. This honey glazed carrots recipe should definitely be your next side dish!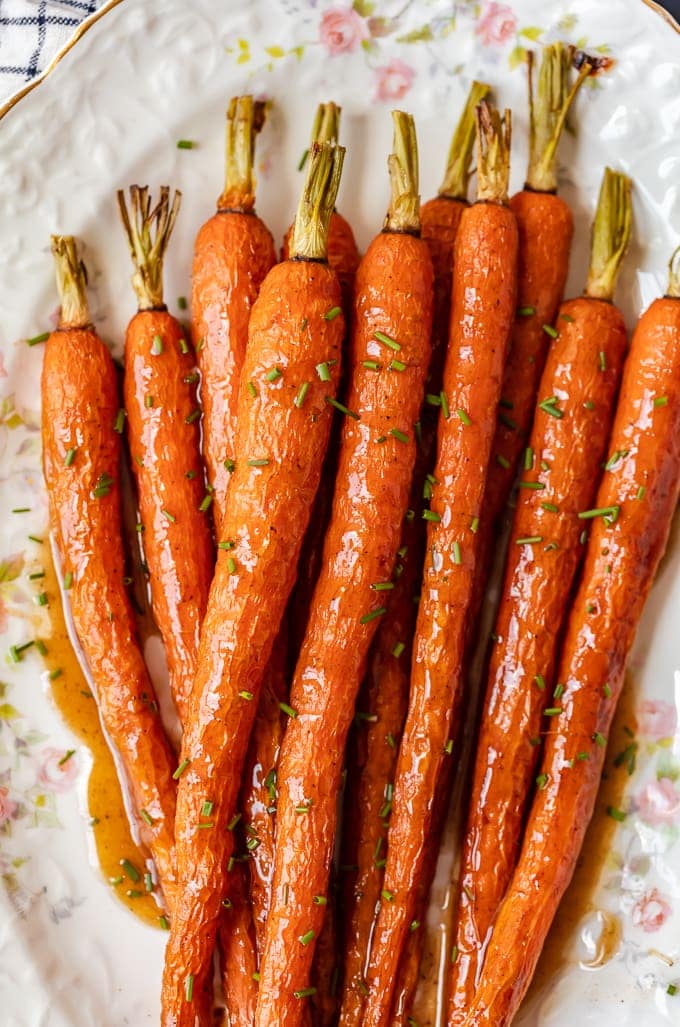 What's in this Honey Glazed Carrots Recipe?
Fresh carrots have a naturally sweet, aromatic flavor that often gets lost during cooking. But with this honey glazed carrots recipe, we're just enhancing that natural flavor! Roasting carrots in honey, butter, brown sugar, ginger, and more creates the most delicious taste and I just can't get enough if it. They are sweet but have just a hint of spice from the ginger for an extra kick.
Unsalted Butter: Adds richness to the carrots and helps them brown in the oven.
Honey: Adds a floral sweetness to the glaze.
Dark Brown Sugar: Adds a deep, rich, and sweet flavor.
Spices: Kosher salt, ground cinnamon, ginger, nutmeg, and black pepper create a warm and spicy flavor.
Carrots: Choose medium-sized carrots of relatively uniform thickness so they all cook at the same rate.
Chives: Add a pop of color and slight onion flavor that balances the sweetness of the dish.
Pro Tip: You can swap out the honey for 100% pure maple syrup for a slightly different flavor!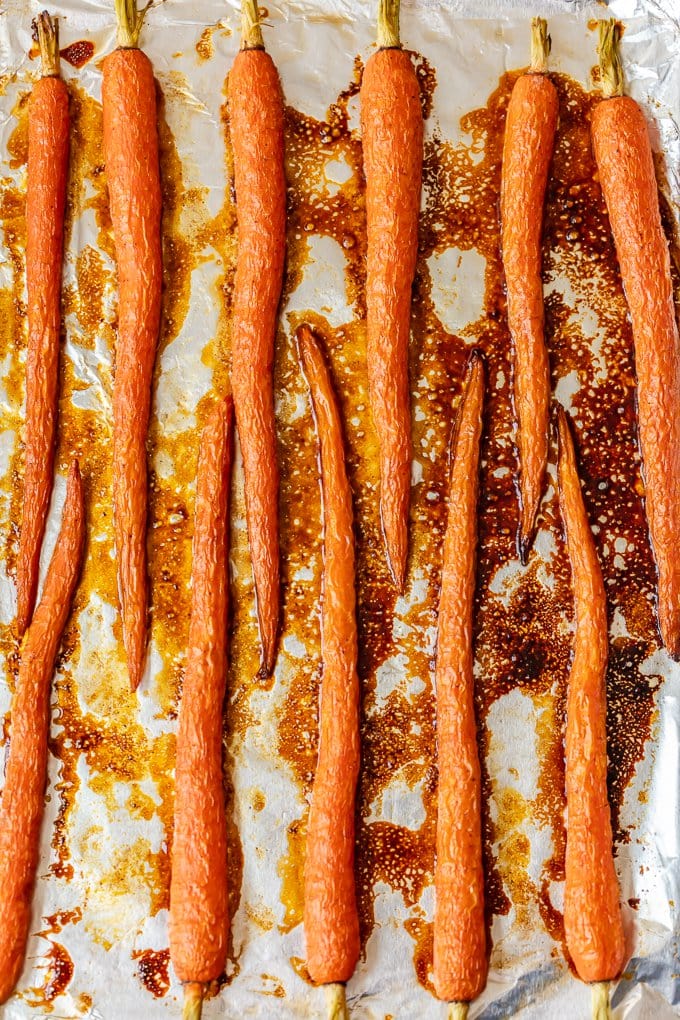 Variations on Ginger Carrots
I just love the warm, spicy flavor of these glazed carrots. If you're a real ginger lover, you can also add some grated fresh ginger to the glaze for an even spicier flavor. Yum!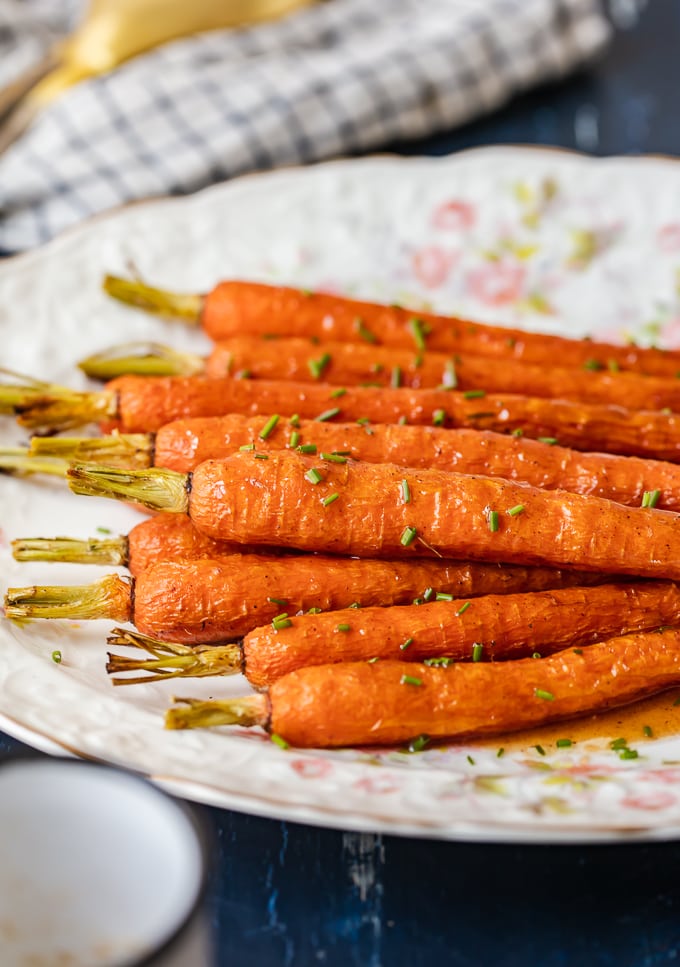 How to Store and Reheat
Store leftover honey glazed carrots in an airtight container in the refrigerator for up to 5 days. Reheat in a 350°F oven for about 10 minutes.
How to Freeze
Freeze honey glazed carrots in an airtight container for up to 3 months. Let thaw overnight before reheating.
Serving Suggestions
These ginger carrots are perfect for any meal, but I think they fit in so well with Easter dinner, Christmas sides, and Thanksgiving side dishes. It's nice to balance all the heavy, creamy, cheesy sides with some healthy vegetables! And aren't they just so pretty? They definitely add something to the table!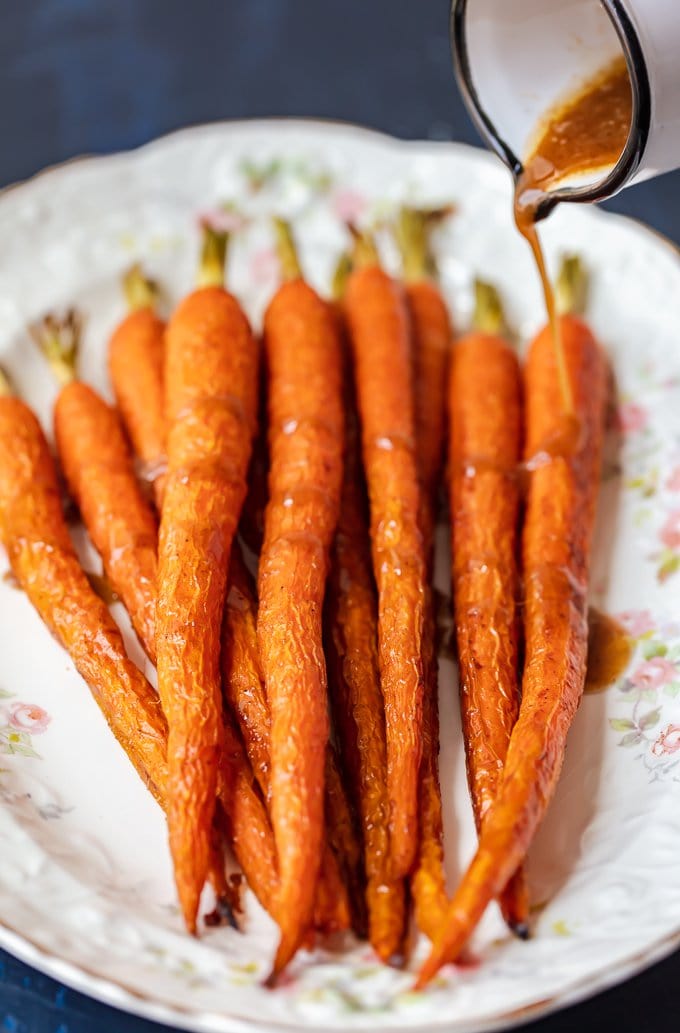 5-Star Review
"I made this recipe with 5 lbs carrots for Thanksgiving…They were a HUGE hit and we had none left over. Not a single one. The sauce was both savory and sweet and complemented the sweetness of the carrots perfectly." – Leigh S
More Glazed Carrot Recipes We Love