Made with tender, marinated beef strips, these Sheet Pan Steak Fajitas are such a delicious and easy weeknight meal! Loaded with mouthwatering seasonings, as well as vibrant veggies, this feels like a treat while being a breeze to make.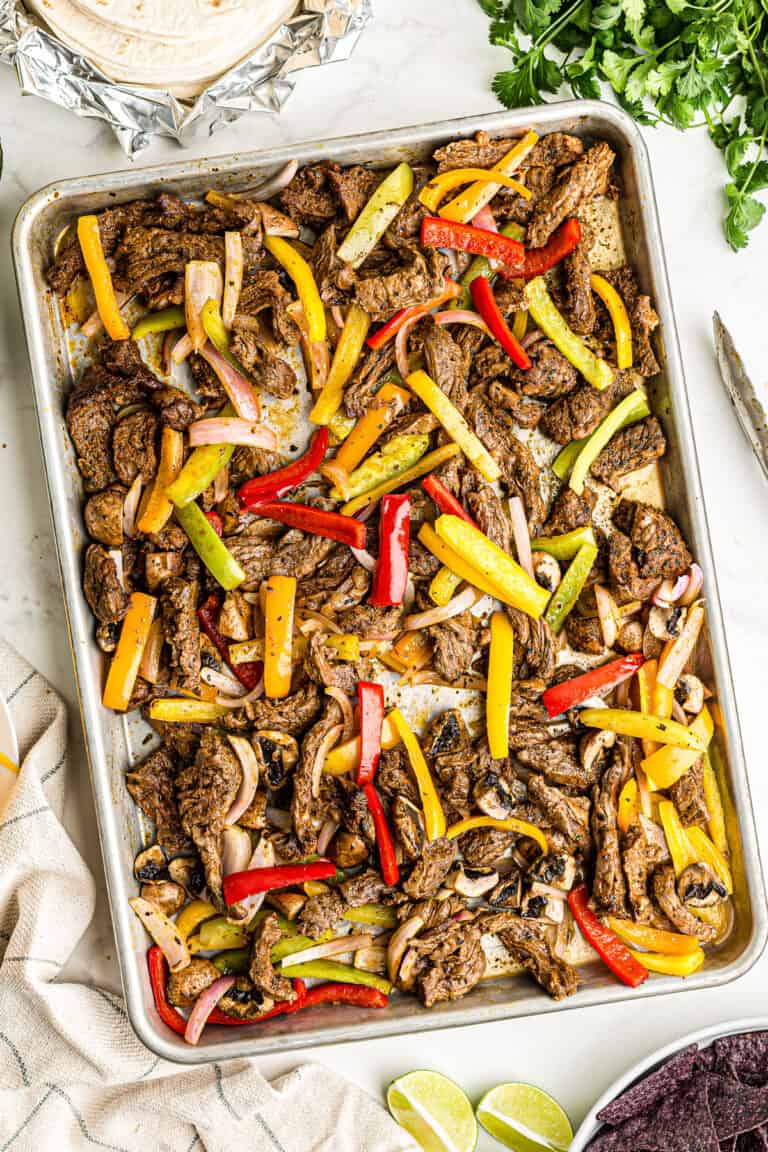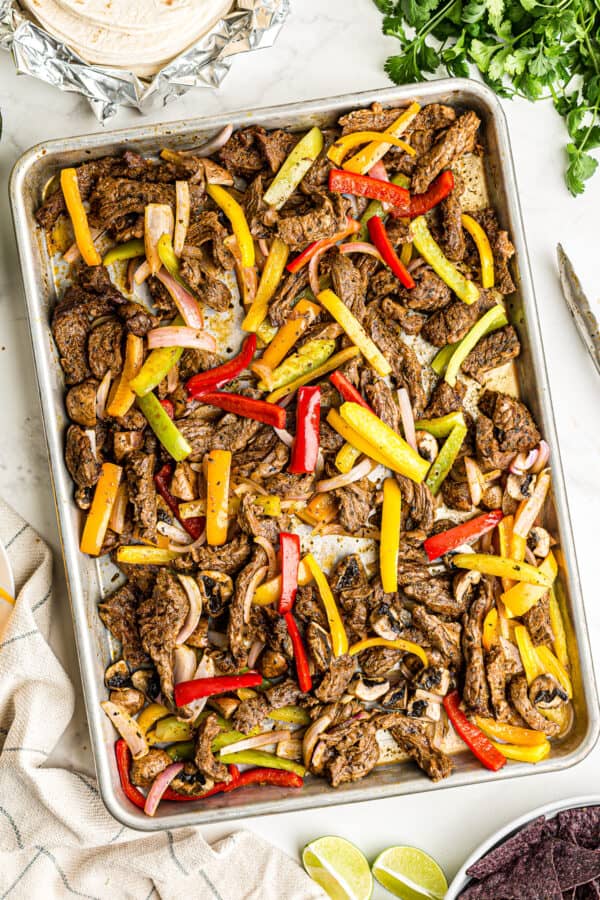 Loaded up with all your favorite toppings, Sheet Pan Steak Fajitas are a lip smacking addition to your weekly meal rota. Bell peppers, mushrooms, onions and tender beef strips are oven baked to perfection and wrapped in fluffy warm tortillas – so good and so easy.
If you're looking for other delicious sheet pan recipes, why not also try my Sheet Pan Greek Chicken and Cauliflower or my Healthy Baked Sheet Pan Chicken Fajitas!
Why you'll love these Sheet Pan Steak Fajitas
Melt in the mouth steak. Beef strips made tender by a delicious lime marinade.
An easy fajita recipe. It all comes together in one pan, no need to frying up batches of ingredients – these steak fajitas go from pantry to table in just 30 mins.
A fun weeknight meal for the whole family. Who doesn't love loading up a warm tortilla with all these goodies and topping them with your fave toppings.
How to make these Sheet Pan Steak Fajitas
Be sure to scroll down to the bottom for the full recipe
Marinate the steak – Place your sliced steak in a ziplock baggie with the marinade ingredients and marinate while you slice your veggies.
Bake – Place your vegetables on one side of the sheet and the sliced steak on the other side. Cook at 400°F for about 20 minutes, or until veggies are tender and meat is browned on the outside.
Prep your other ingredients – While the fajita mix cooks, prep your tortillas and toppings.
Serve on sheet pan and build your own fajitas!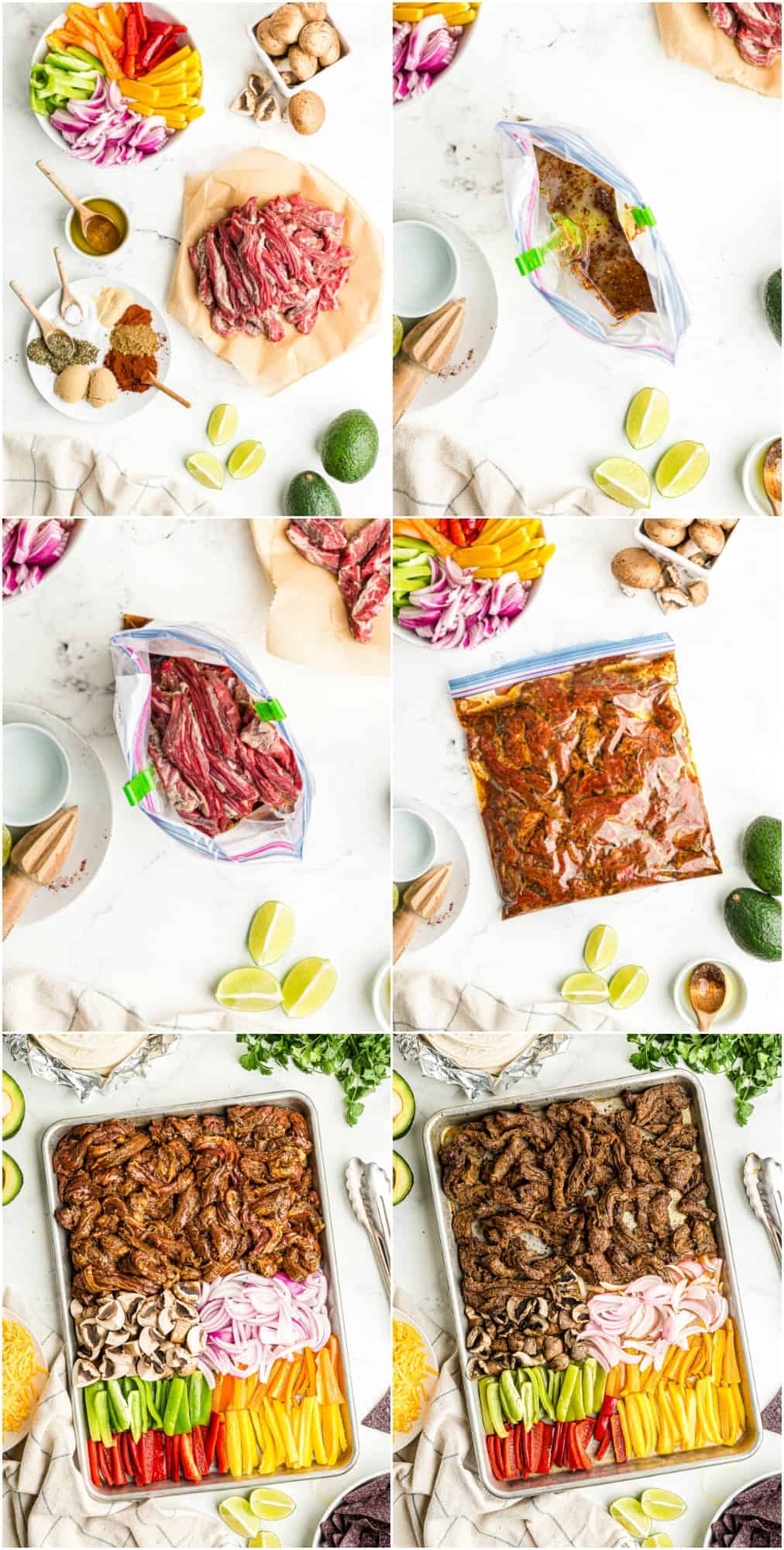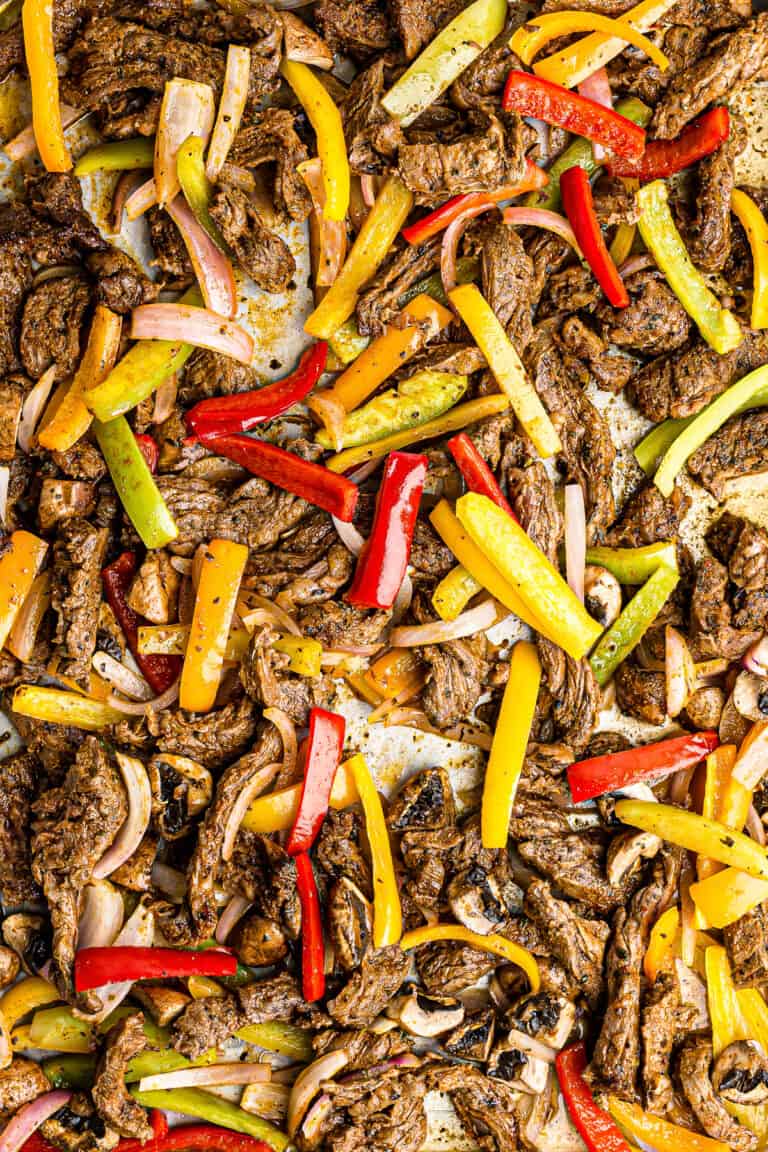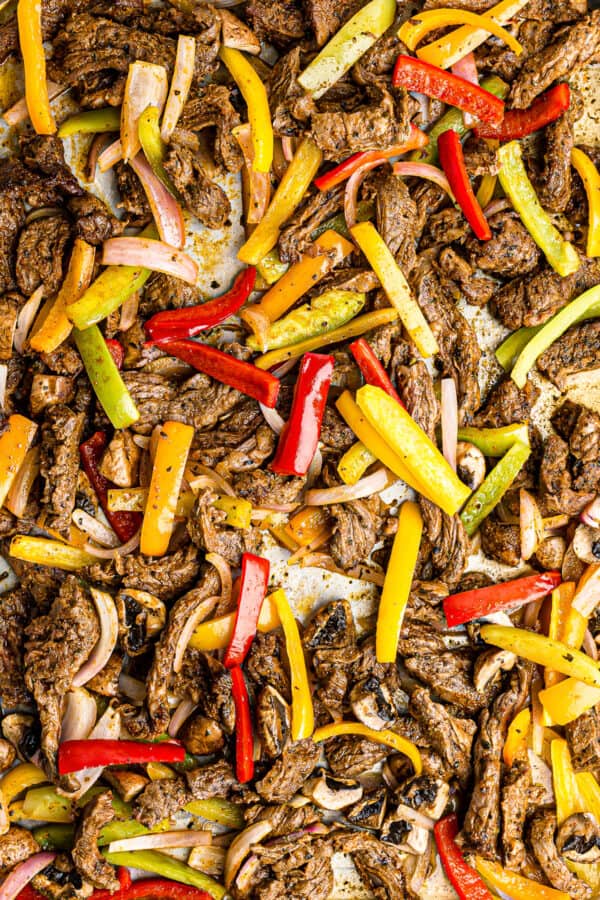 What are the best toppings for these Sheet Pan Steak Fajitas?
We all have our faves, from creamy cooling to ho and spicy, here are some of the most popular fajita toppings.
Sour cream
Guacamole
Sliced avocado
Pico de gallo
Salsa
Salsa Verde
Shredded cheese (cotija is great!)
Chopped cilantro
Fresh lime wedges
What's the best steak to use in this Sheet Pan Fajitas?
Skirt, rump or flank steak are great cuts for fajitas. Skirt steak (pictured), is especially good. It's more tender and flavorful than flank and can be cooked well done – if you prefer it well done – without getting chewy and tough. Flank steak is more lean and is better cooked rare to medium.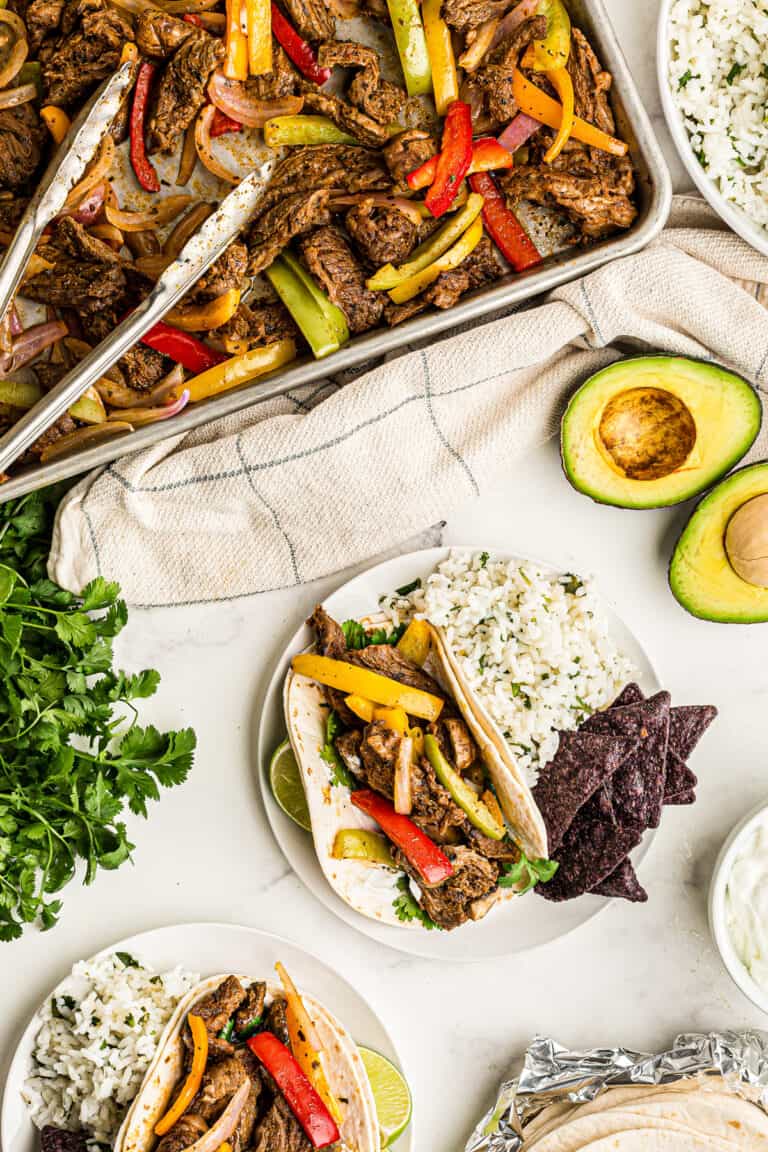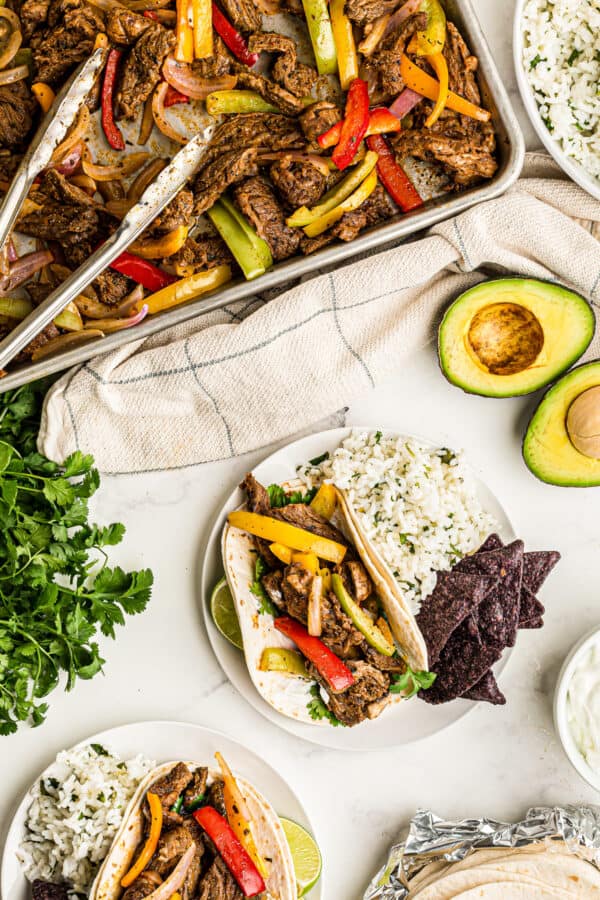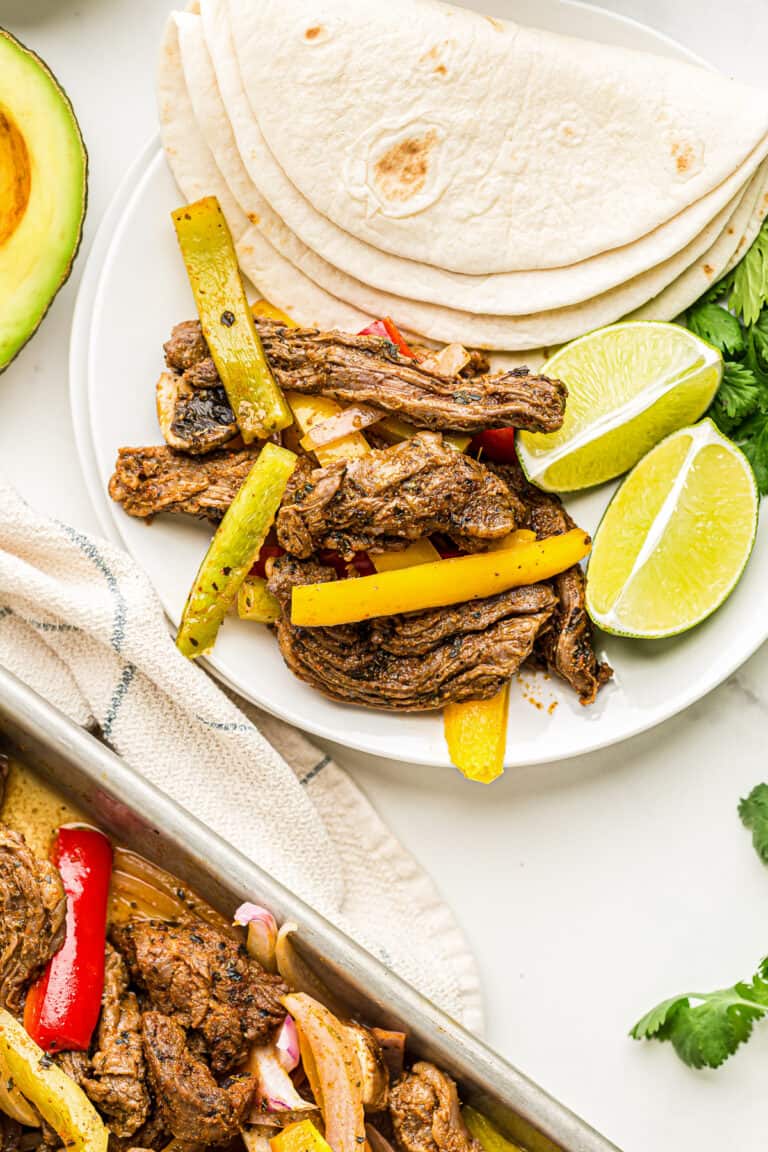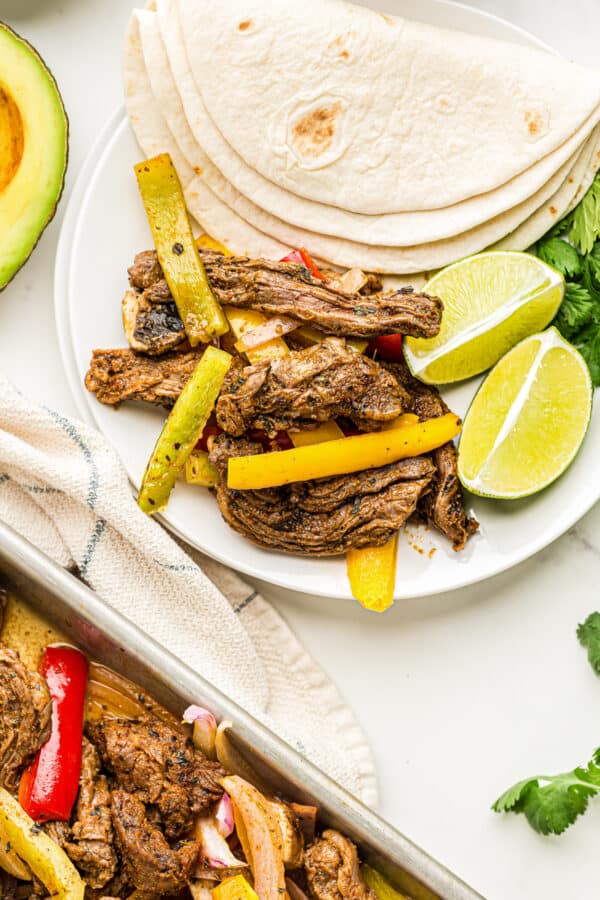 How do I get tender beef strips?
The marinade will help tenderize the meat, but for super melt in the mouth steak you need to cut across the grain.
To do this, slice the meat perpendicular to (across) the grain of the meat. The grain of the meat refers to the direction that the muscle fibers are running on a piece of meat. The grain of the meat is easier to identify in cuts of meat with more sinew—like skirt, flank and hanger steak.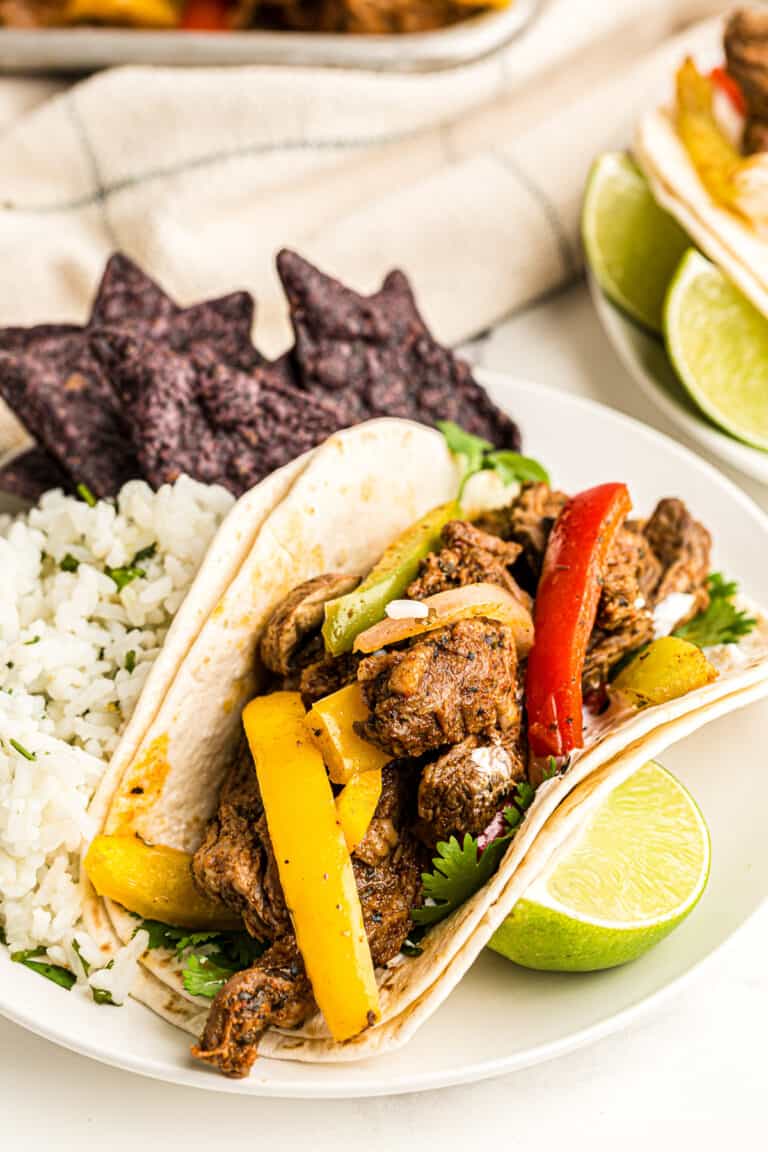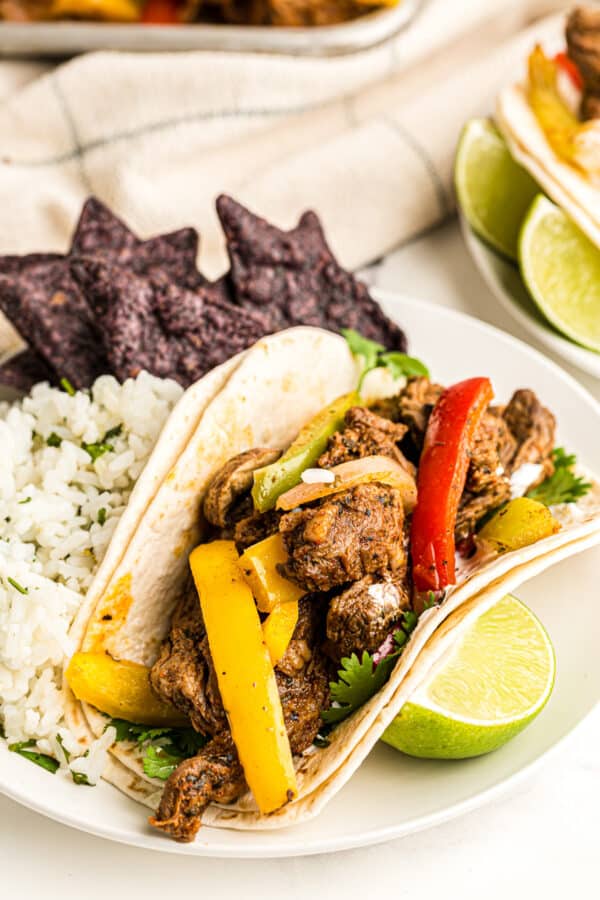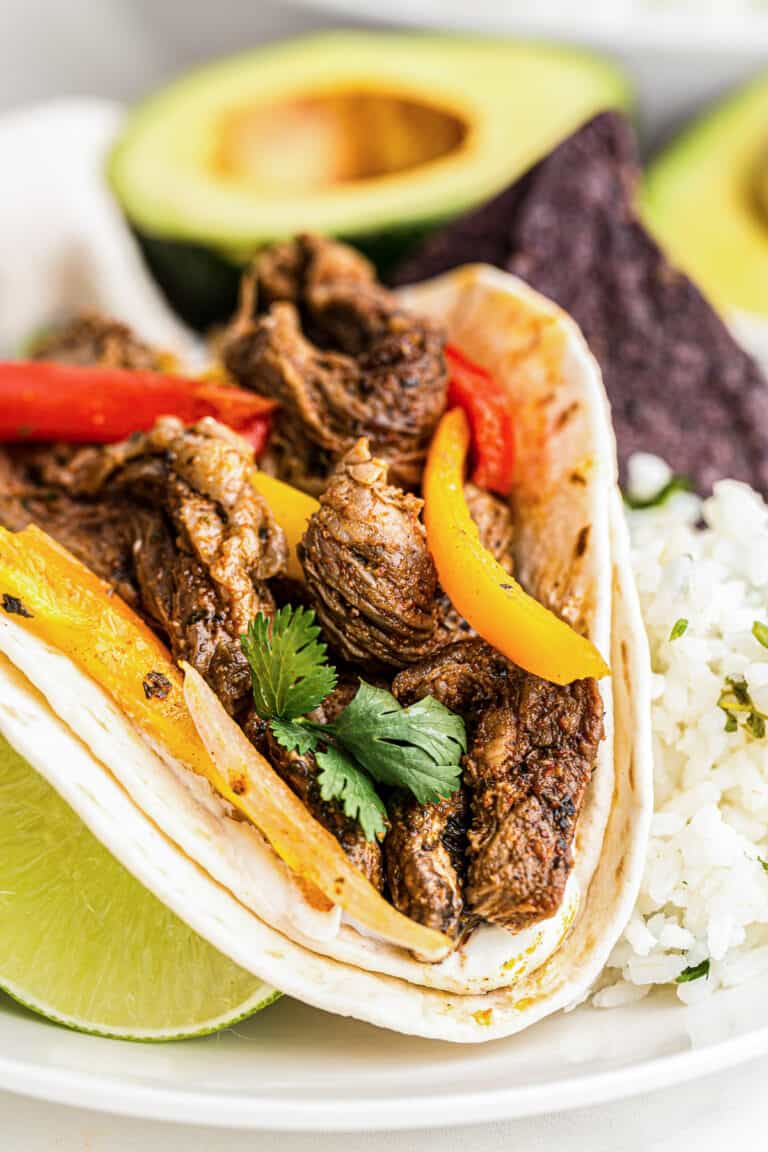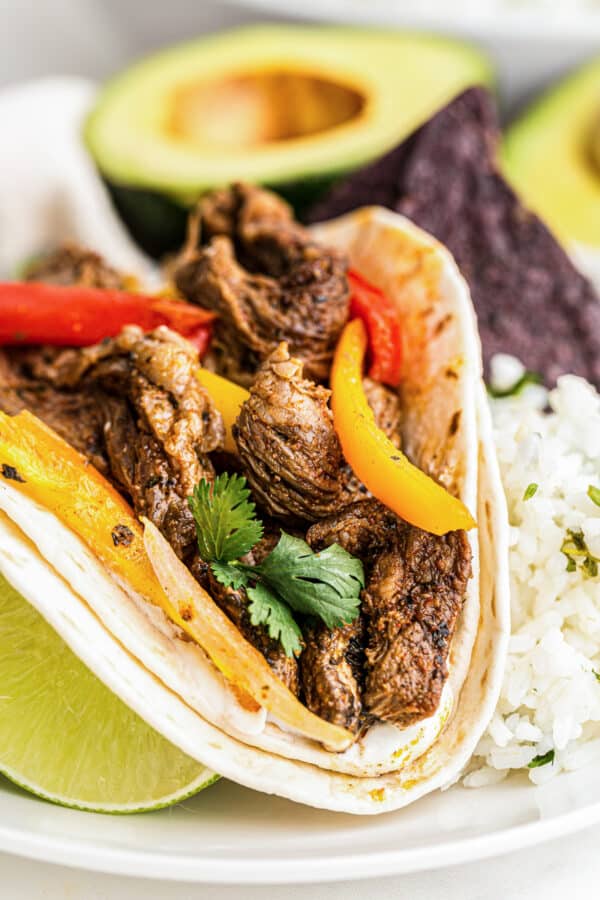 Recipe notes and tips
Use a preheated oven.
If you prefer more heat add more chili powder and some red chili flakes.
You can save time by slicing the vegetables the night before.
Add up to 5 more minutes if needed to finish cooking the meat to your preference.
If you like tortillas with char marks, warm them on the stove if you have a gas range.
You can serve this straight from the sheet pan, saves on washing up and make it more fun!
Portion up into container, with some rice, for a great meal prep idea.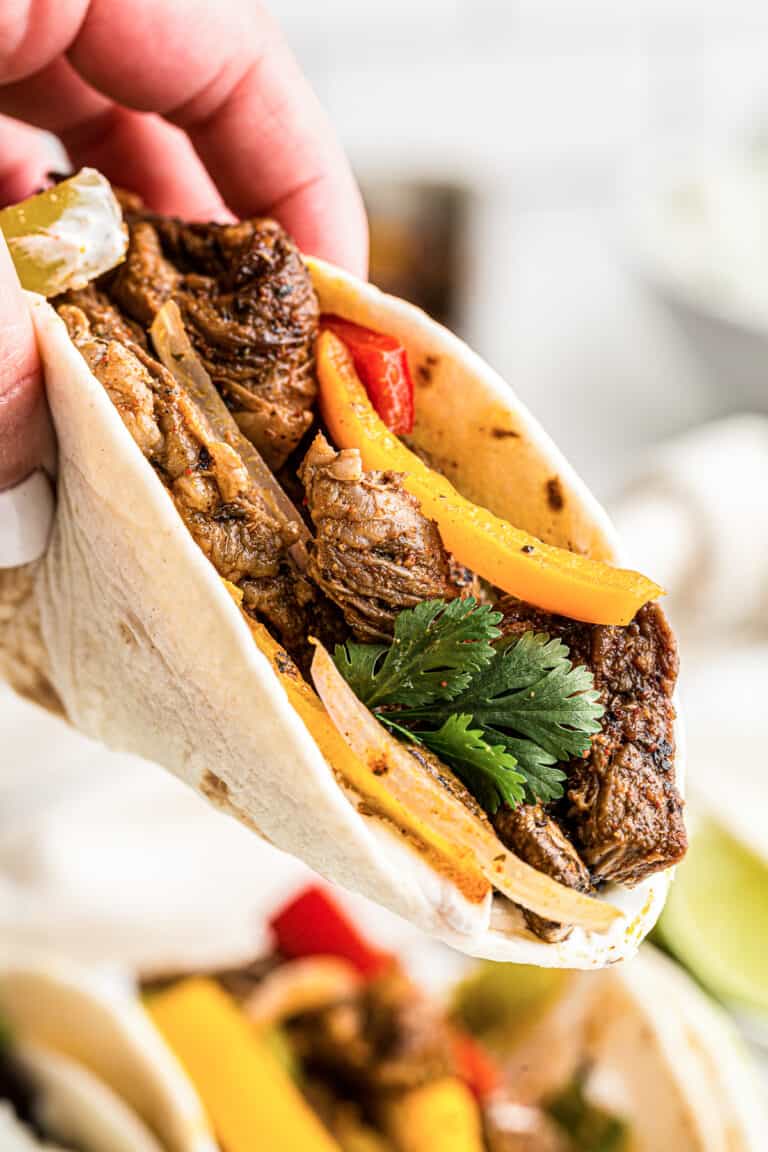 Other Mexican inspired recipes