Spicy, hearty and tasty, this Mexican Tater Tot Casserole is pure comfort food! Everything you love about tacos is layered into one dish, and topped with fluffy, delicious tater tots.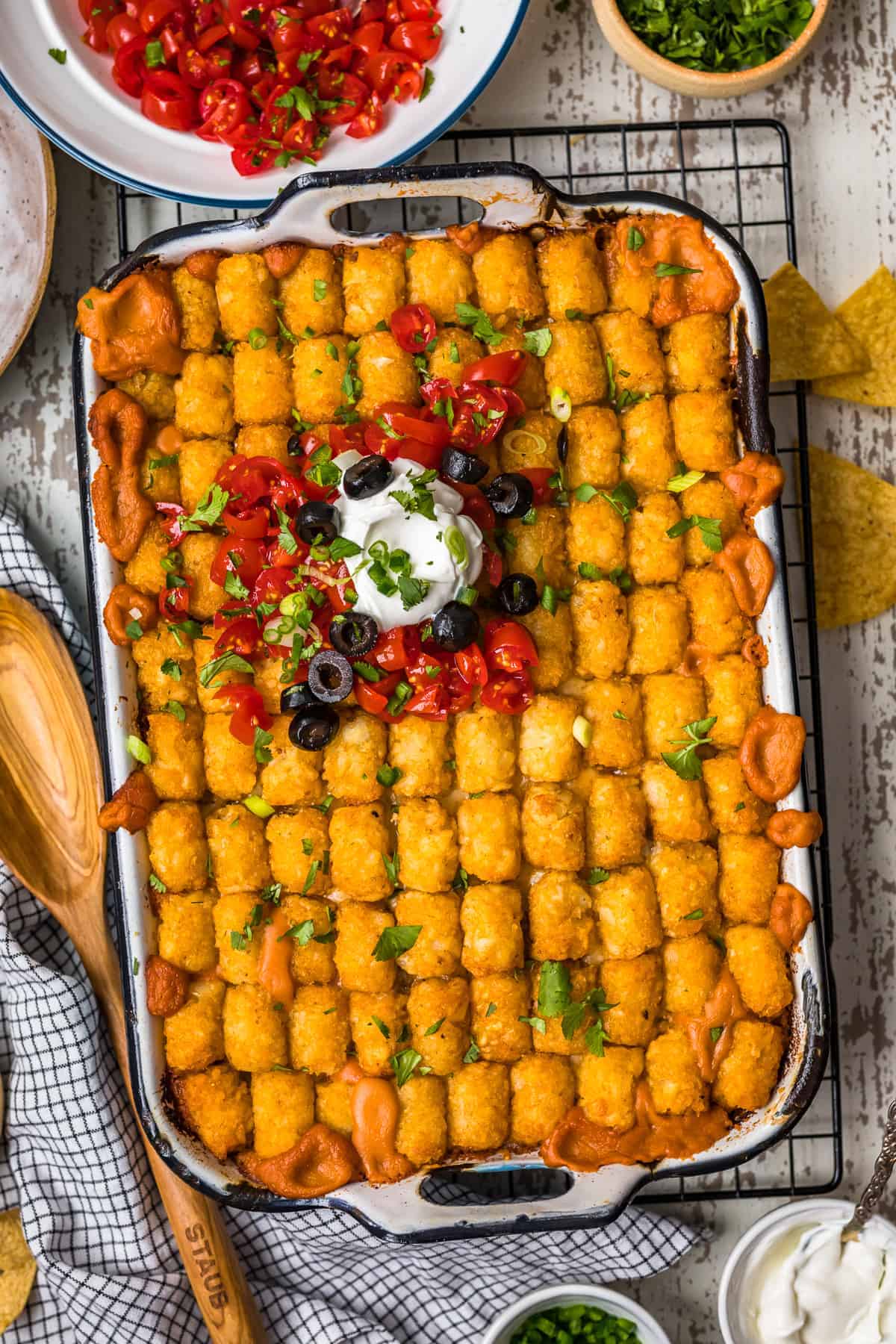 Tater Tot Casserole
A lovely twist on the classic tater tot casserole, this Mexican Tater Tot Casserole is a mixture of taco meat, beans, corn, and cheese topped with tater tots and enchilada sauce.
The family will love this ground beef casserole idea, with a spicy kick!
How To Make This Mexican Tater Tot Casserole – Step By Step
You can jump to the recipe card for full ingredients & instructions!
In a medium bowl, combine refried beans, Ro-tel tomatoes and cilantro; set aside.
Then, place beef in a large skillet set oven medium heat. Cook until brown throughout, about 6-8 minutes, breaking apart the meat while it cooks. Drain into a colander; set aside.
Add onions and oil to the skillet and set over medium heat. Cook until translucent and tender. Then, add garlic, chili powder, cumin, coriander, and oregano and cook, while stirring, an additional 1-minute.
Then, add browned beef, ) Ro-tel tomatoes, vinegar, brown sugar, and juice of 1 lime. Season to taste with kosher salt and black pepper; stir well. Stir and cook until juices reduce and mixture thickens.
Spread the bean/tomato mixture evenly into the baking dish, and sprinkle 2 cups cheese over the top. Then spread the beef mixture evenly over the bean mixture and top with the remaining cheese. Cover the cheese layer with a single layer of tater tots and press down gently.
Place the casserole dish (set inside the rimmed baking sheet) on the middle rack of the oven and bake at 425°F for 30-40 minutes or until bubbly and the tater tots are dark golden brown.
Transfer dish to a cooling rack and cool 5-10 minutes before serving.
Garnish with your favorite toppings.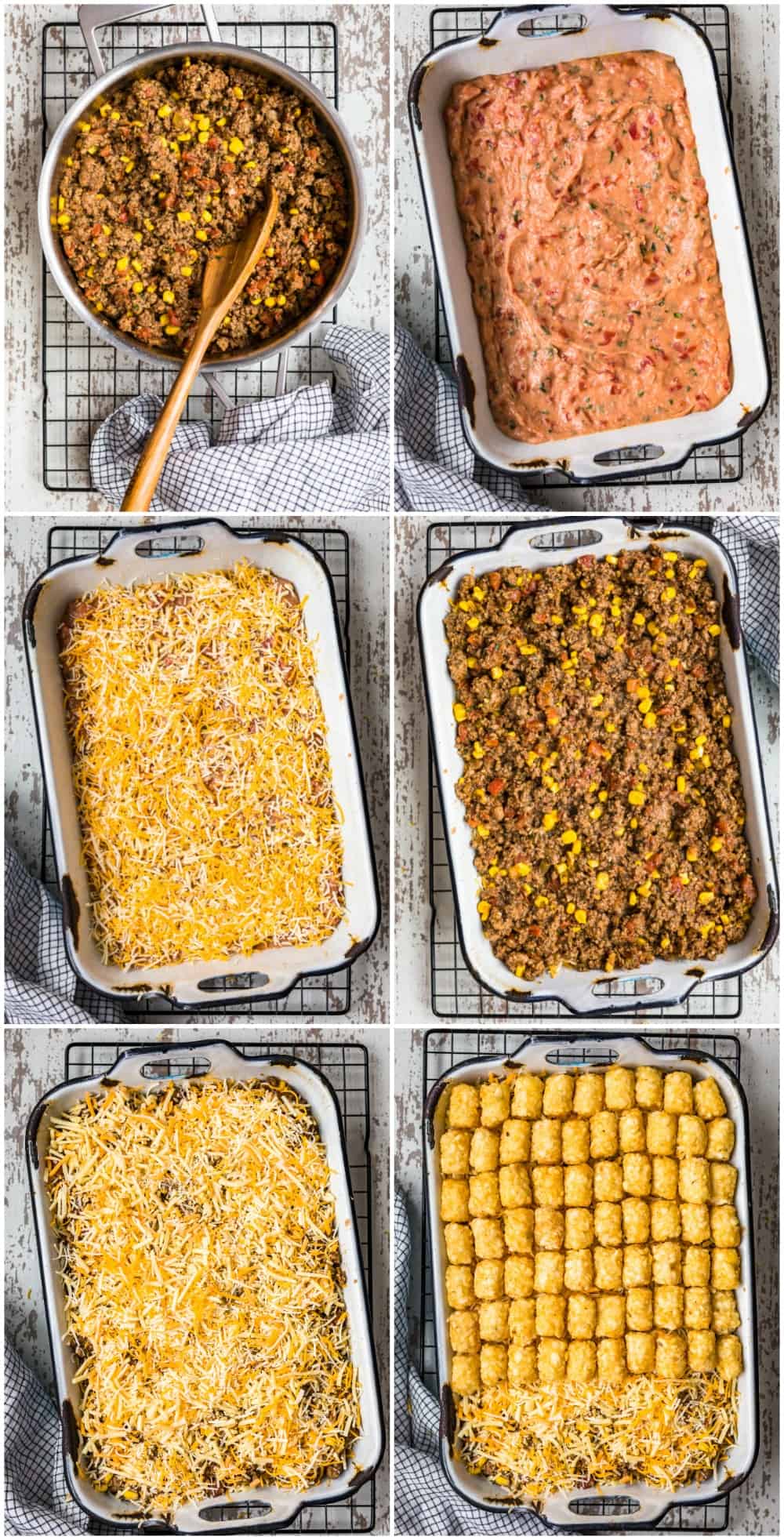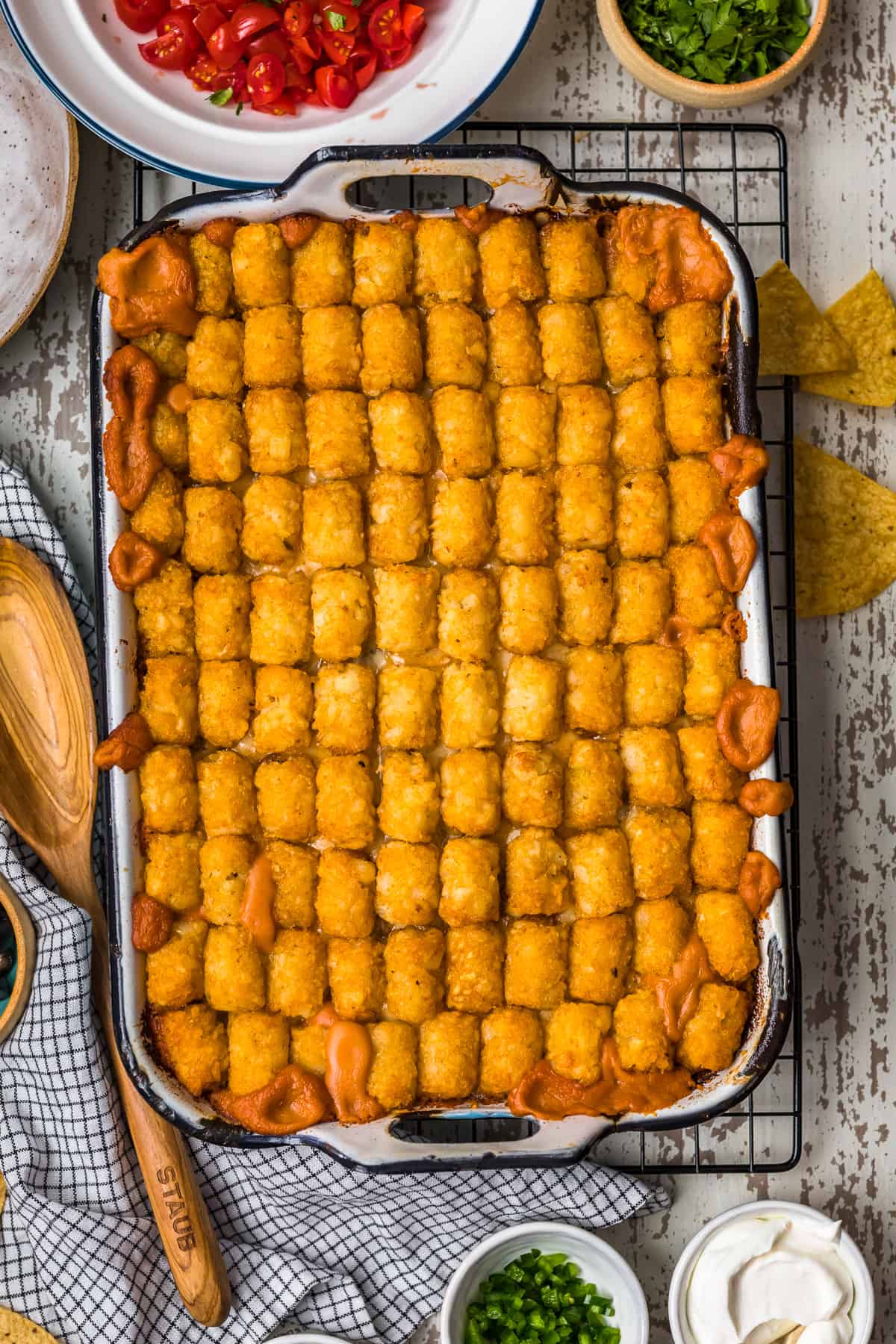 A Spicy Twist On The Classic Casserole
If you're after a casserole fix but craving something a little different, whip up this Mexican-inspired Tater Tot Casserole. It's an addictive mix between tacos and a casserole.
With spicy taco beef, tomatoes, corn, cheese, and of course, a layer of crispy browned tater tots on top, this casserole is always a hit!
Toppings Ideas
One of the best parts of this casserole recipe is actually the toppings! You can load the finished casserole with all kinds of goodies; chopped tomatoes, avocados, sour cream, and cilantro.
The veggies and cilantro give the casserole such a great fresh flavor.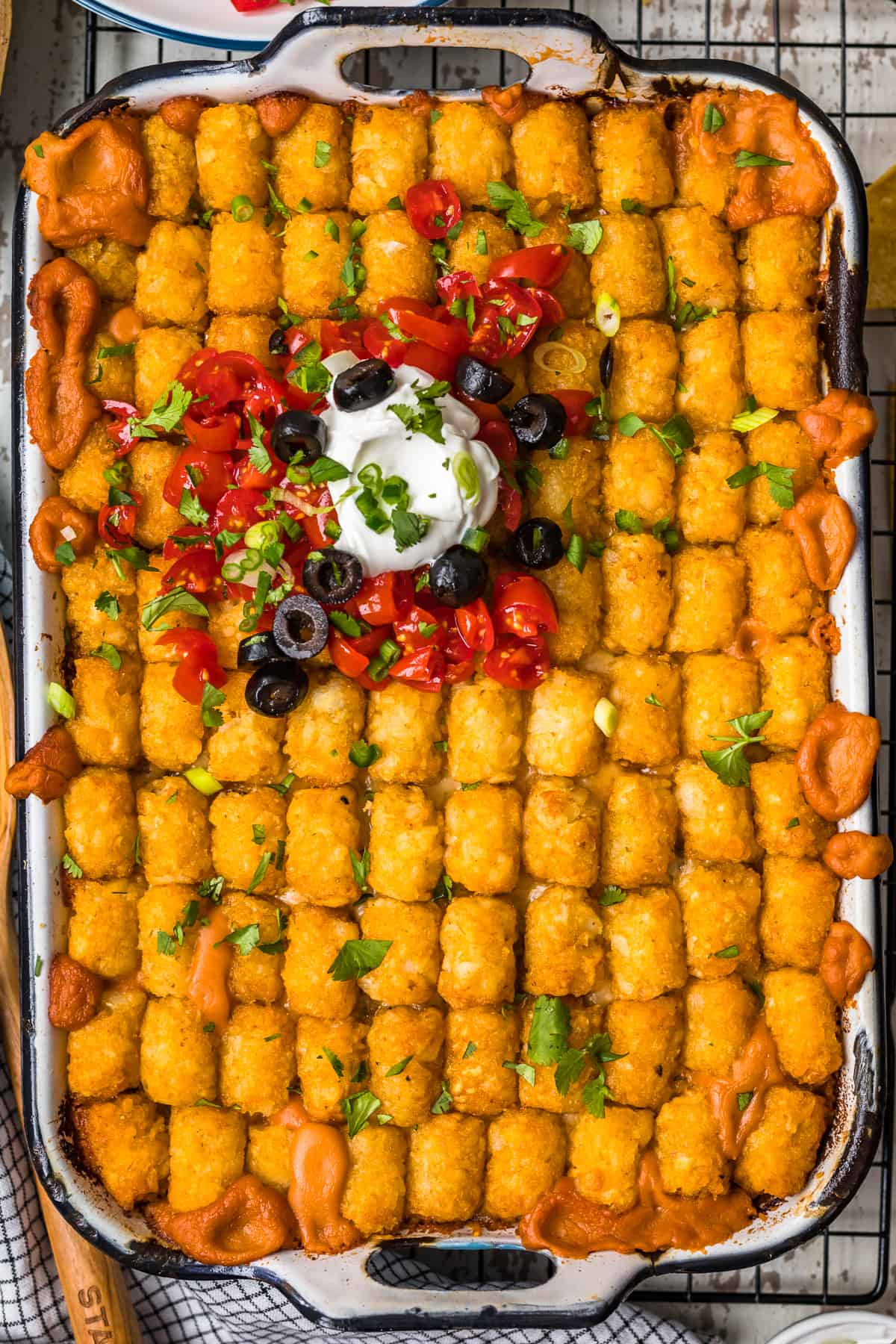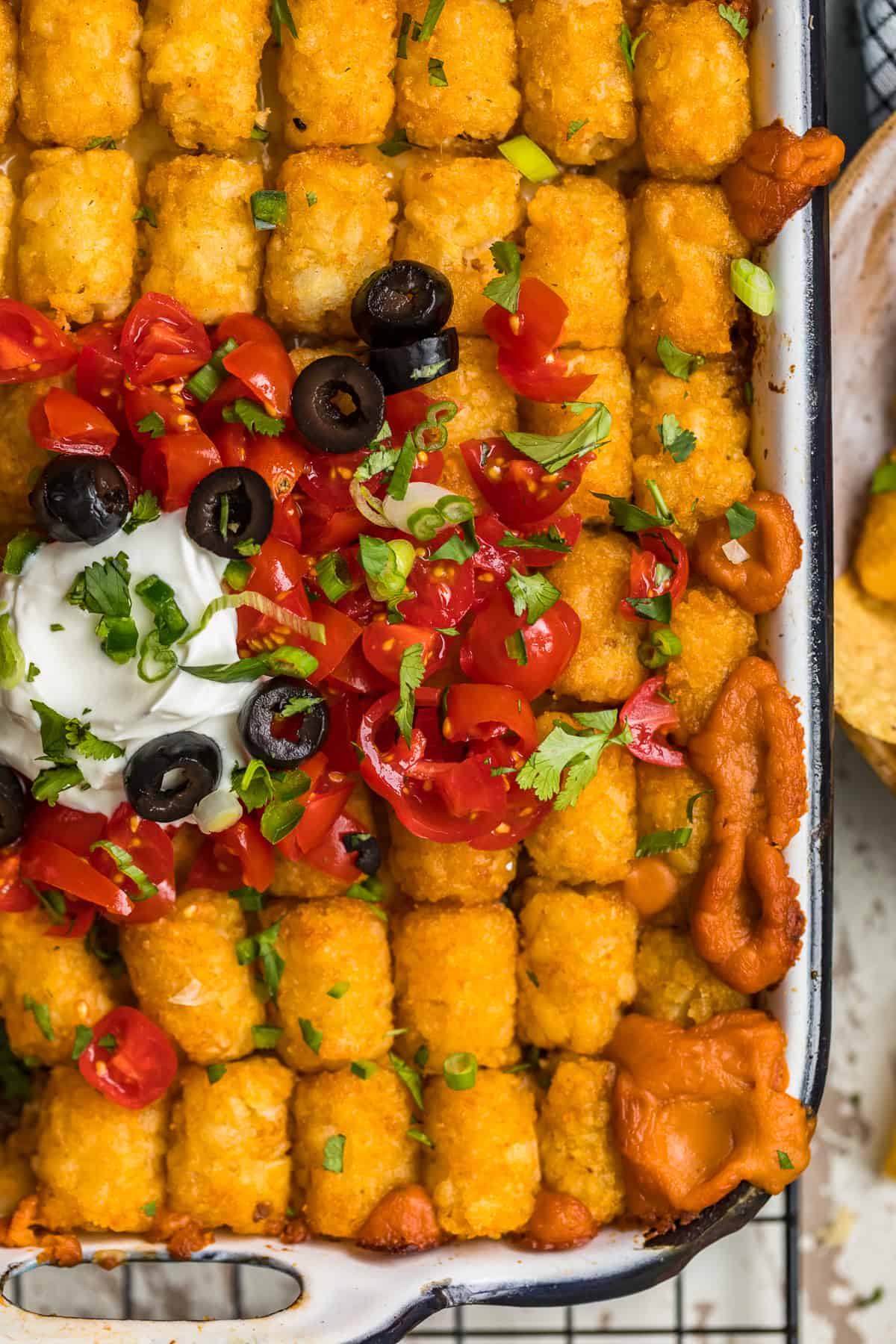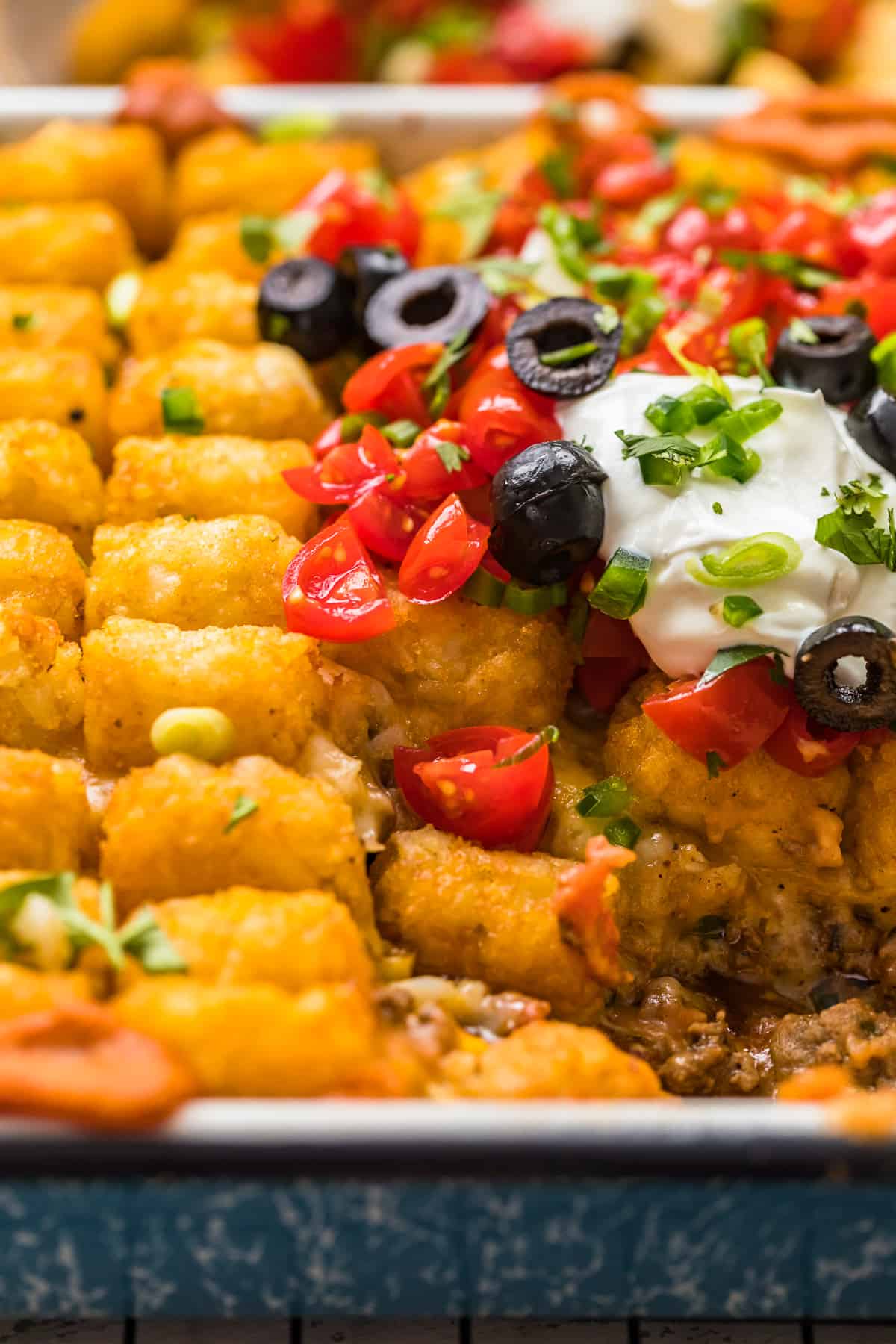 How to Freeze
Yes, you can freeze this Mexican Tater Tot Casserole. You can either prepare it ahead of time and freezer to eat later, or just freeze any leftovers if you don't plan to eat them in the next few days.
To Freeze:
Let the casserole cool, either at room temperature (don't leave it sitting out more than an hour to cool), or place it in the fridge overnight.
Cover the casserole tightly, or transfer it to another freezer-safe container with a tight-fitting lid.
Place it in the freezer and it will keep up to 3 months.
This is a great freezer meal to make for a large family. Find more meal prep tips if you want to make this ahead of time.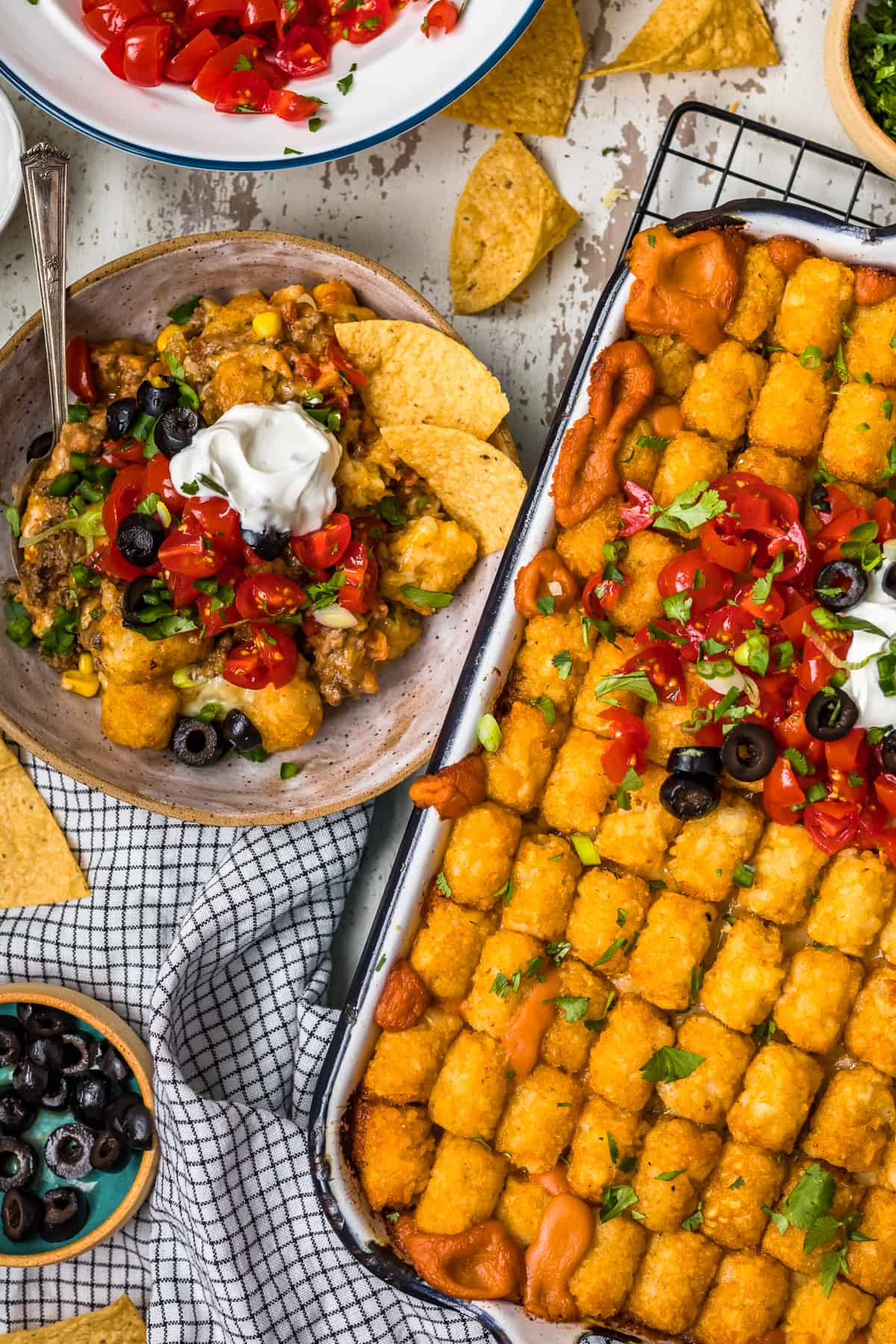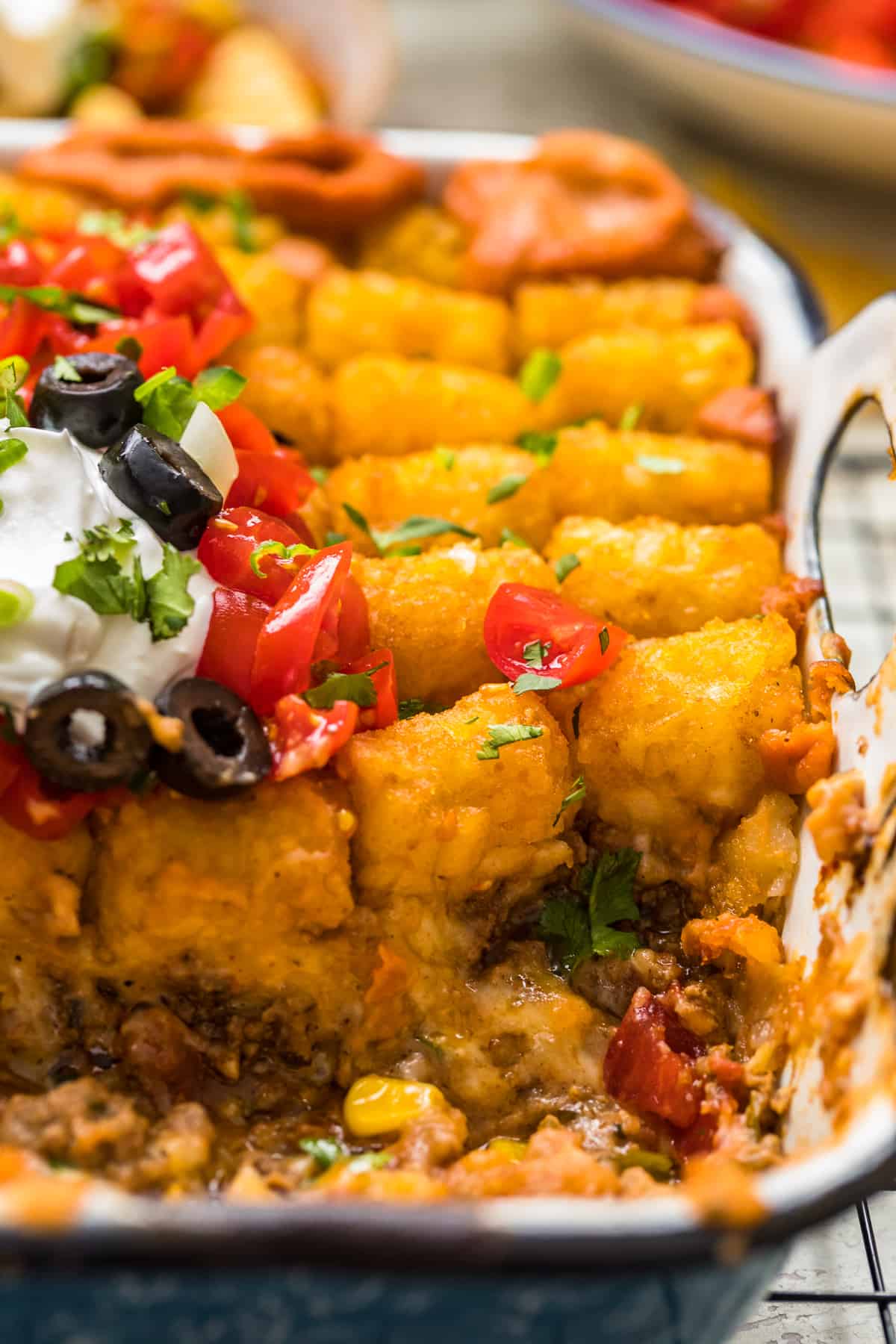 Tips!
Drain any excess fat off the ground beef, you can use a colander.
Use a preheated oven.
Let it cool for 5-10 minutes before serving.
Top with garnishes such as chopped olives, tomatoes and cilantro!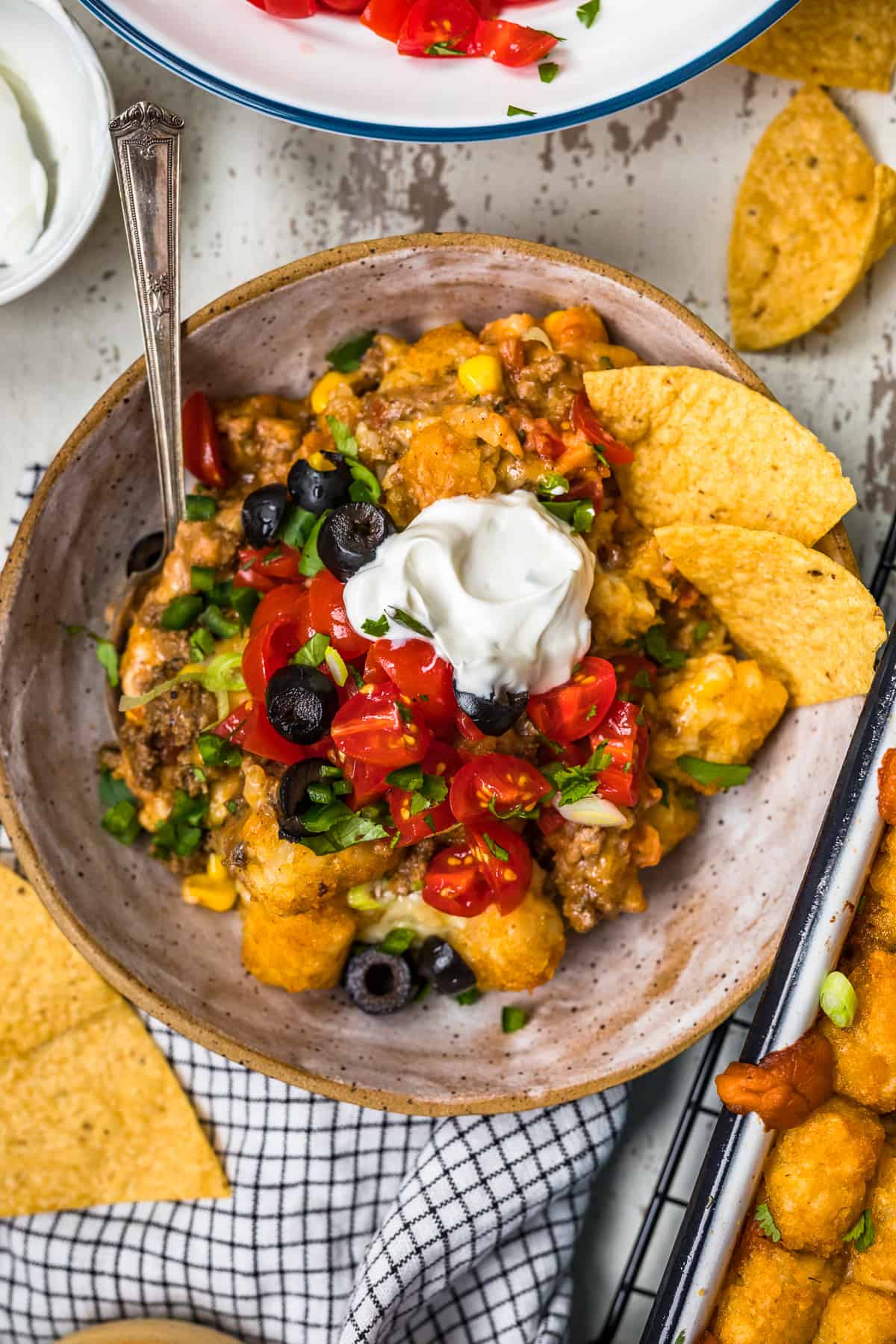 If you make this recipe be sure to upload a photo in the comment section below or leave a rating. Enjoy! You can also jump to recipe.