BE SURE TO CHECK OUT AN UPDATED (AND SKILLET!) VERSION OF THIS FAMILY FAVORITE HERE.
this smokey sherry chicken is my all-time favorite chicken.  hands down.  i would always request this chicken and my brother would always request hawaiian chicken (which i'll make soon, don't worry).  i was scared to make it, because i was worried i would mess it up.  NO MESSING THIS ONE UP.  it is SO easy, and SO delicious.  i've literally eaten the leftovers at work for 2 days now.  i'm sad its about to be gone.  but since its so easy to make i'll just have to try it again :).  Pat was skeptical, as always, but he loved it as well.  he even ate it twice in one night as a late night snack.
what i love most about his recipe now that i've made it, is that there is barely any prep.  you mix together the sauce, pour over the chicken, and bake.  its that easy.  below are pics of the prep.  you lay the dried beef in a single layer on the pan, put your chicken on top, pour over your sauce (the sauce is relatively thick, so you might want to spread it over the chicken evenly) and then add your prosciutto or bacon.  this step is mostly for taste.  i prefer prosciutto but bacon is also very tasty.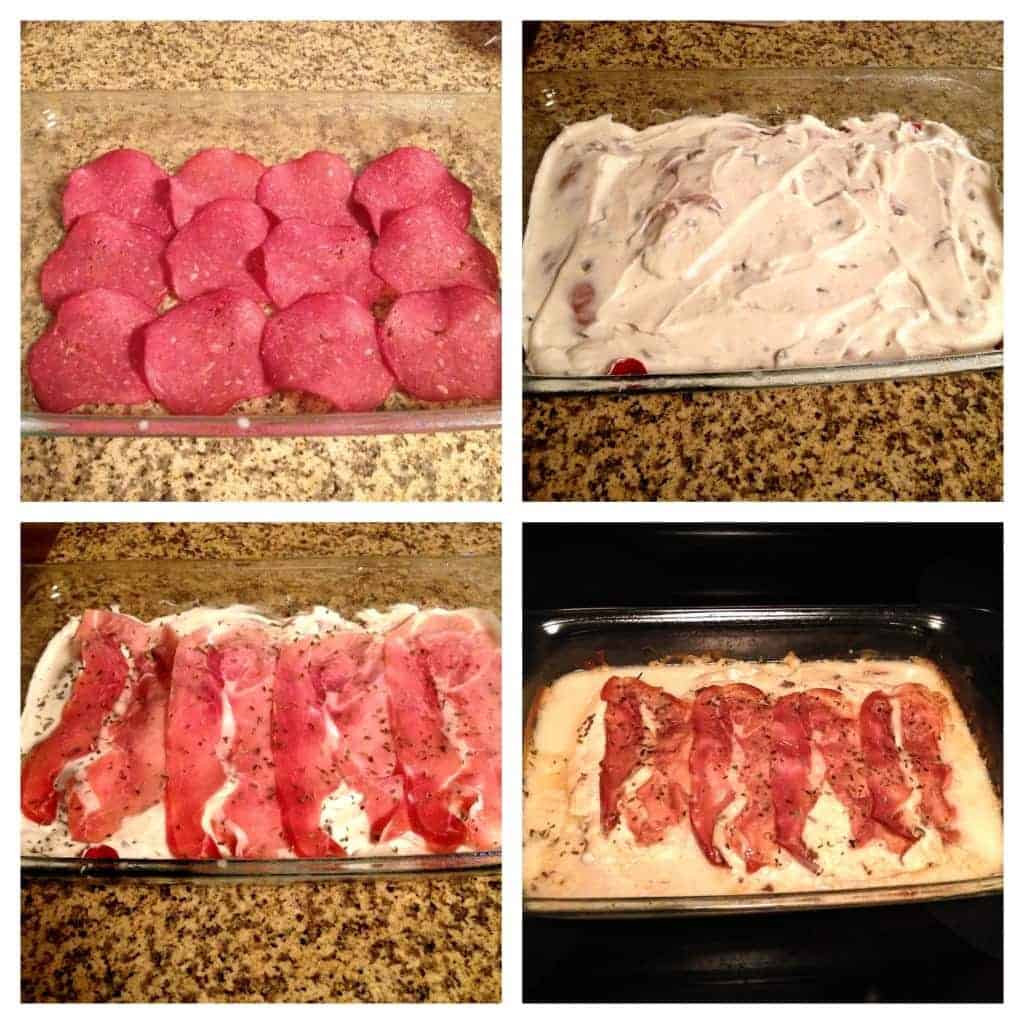 now you're ready to serve! minute rice or baked potato are the perfect compliments to this dish.  i love to use the extra sauce on my baked potato.  um…amazing.  i know i say i love everything i've made so far…but this is my all-time favorite.  throw our your dinner plans and make this tonight.  (pat and i are on the wedding diet.  substitute low-fat sour cream if you wish to make this slightly healthier!)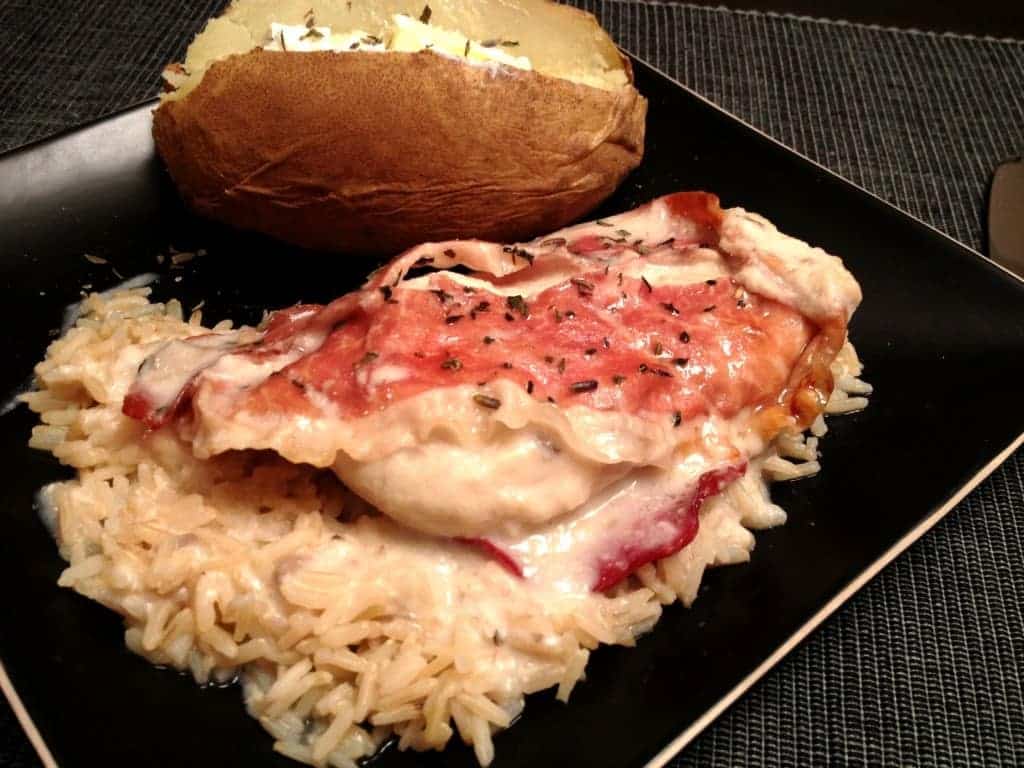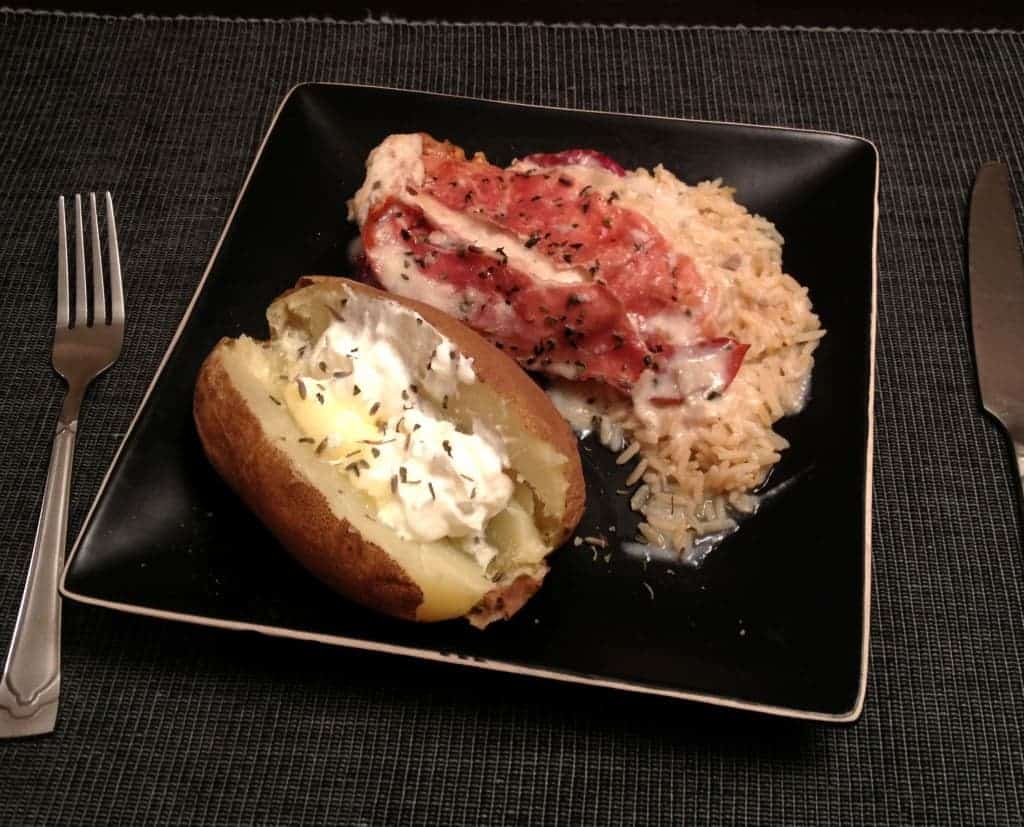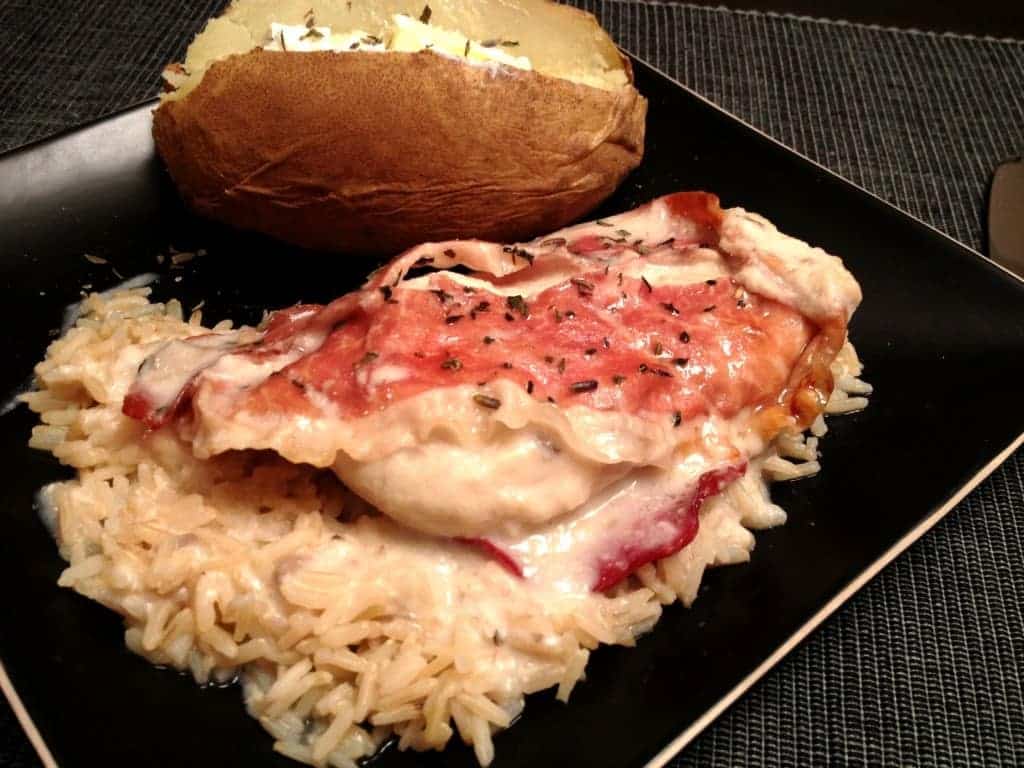 Ingredients
8 Chicken Breasts or 10-12 Chicken Strips* - Boneless and Skinless
1 pkg. Dried Beef
8 oz. Sour Cream
1 can Cream of Mushroom Soup
1/4 c. Dry Sherry
3-4 Slices of Bacon or Proscuitto
Instructions
Preheat the oven to 325 degrees.
Spray a 8 x 10 casserole dish with cooking spray.
Cover the bottom of the pan with the Dried Beef in a single layer.
Place the chicken on top of the Dried Beef.
Mix together: sour cream, soup and sherry.
Pour the sour cream mixture on the chicken.
Place the bacon or proscuitto strips on top.
Cover losely with aluminum foil and bake for 1/2 hour.
Take off the foil and continue baking 45-60 minutes more.

If using Chicken Strips, reduce the baking time to 1 hour.

This is delicious served with rice or a baked potato.
ENJOY!!
7.8.1.2
2109
https://www.thecookierookie.com/sherry-chicken/
BE SURE TO CHECK OUT AN UPDATED (AND SKILLET!) VERSION OF THIS FAMILY FAVORITE HERE.