Iced Pineapple Tea is a fruity, refreshing drink for hot days. So cheers to summer with SKINNY PINEAPPLE SWEET TEA! This iced tea recipe is sweetened with a dash of Stevia and uses 100% pineapple juice for just the right amount of flavor. This is the perfect guilt-free refreshment for those hot summer days!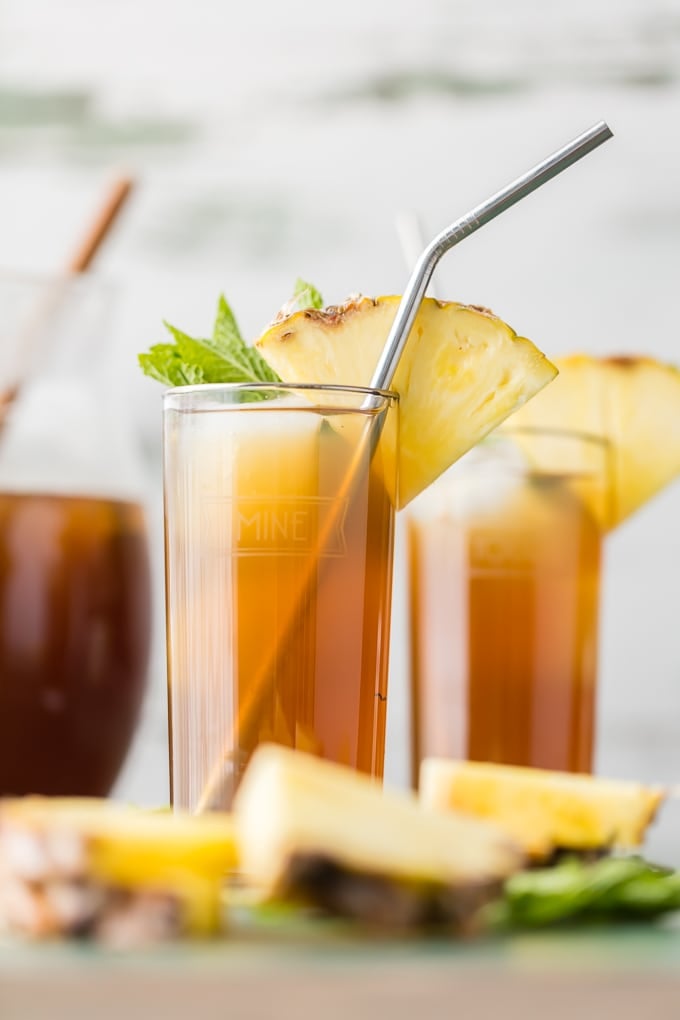 Pineapple Sweet Tea
Iced pineapple tea is the ideal summer refreshment! And this skinny iced tea recipe uses Stevia to keep it light but just as flavorful!
Summer is all about sitting on the porch, back yard bbqs, and spending time with friends and family. I love summer, but I'm always looking for ways to beat the intense heat. Everyone loves a good sweet tea, but hates the calories that come along with every sugary sip.
This Skinny Pineapple Tea takes the guilt out of the equation while still letting you enjoy Summer to the fullest! I love the light, fruity flavor of the pineapple mixed with the iced tea, and it sure helps that I don't have to feel the need to brush the sugar off my teeth afterwards. Skinny Pineapple Iced Tea for the win!
I love this iced tea recipe for late summer evenings, afternoons out in the backyard, or even as something fun to drink with dinner. It's got all the flavor of sweet tea without the calories.
Skinny Iced Pineapple Tea is the perfect summer refreshment. This sweet tea recipe has all of the flavor without all of the sugar!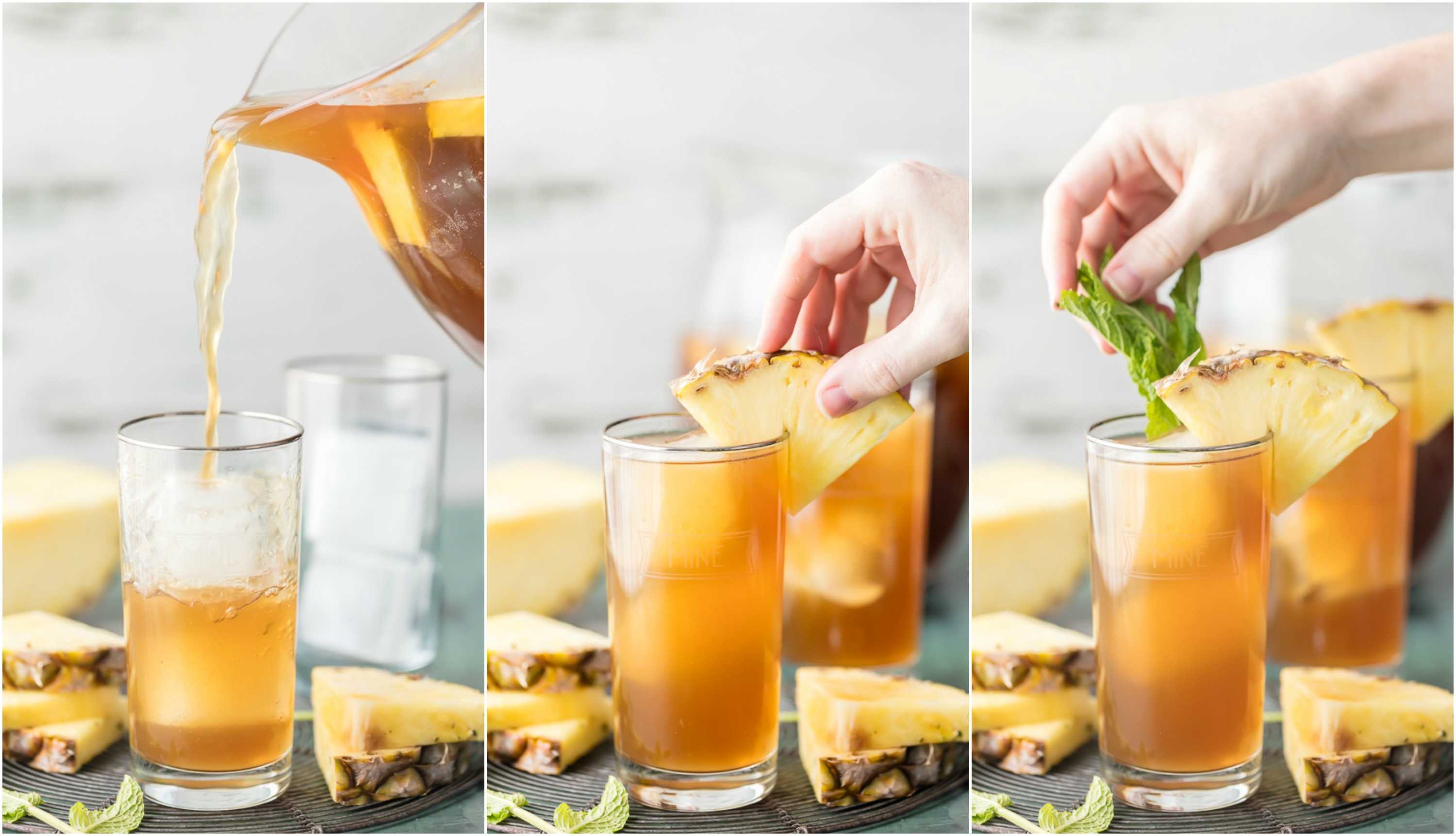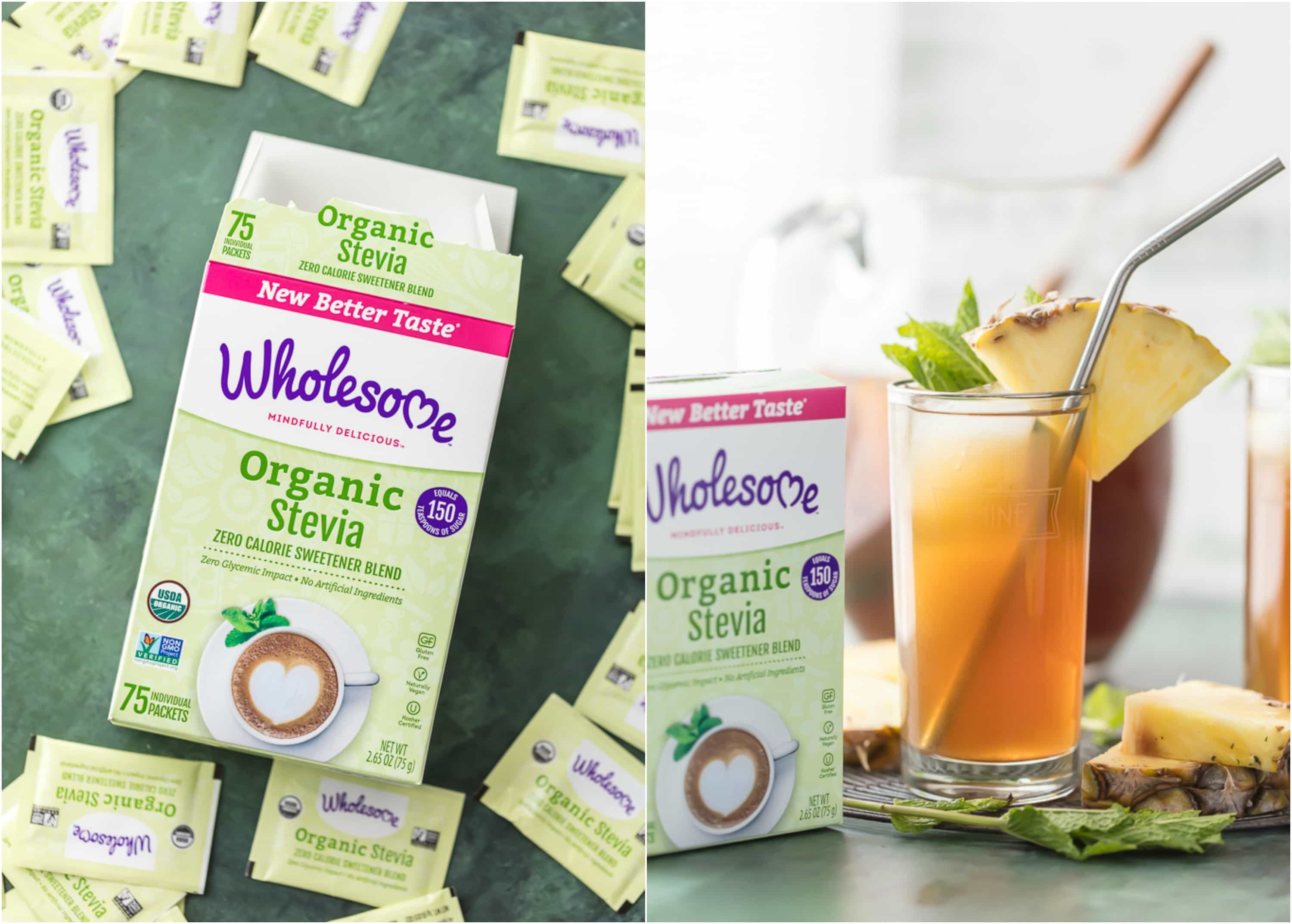 Skinny Iced Tea Recipe
For this Skinny Iced Pineapple Tea, Wholesome Organic Stevia was the absolute no brainer way to sweeten it. It's deliciously sweet with ZERO bitter after taste and even better, ZERO calories. It's organic, non-GMO, vegan, and kosher. It's absolutely awesome in drinks, and especially this pineapple sweet tea recipe. A little goes a long way and you can feel great about your porch-sipping drink!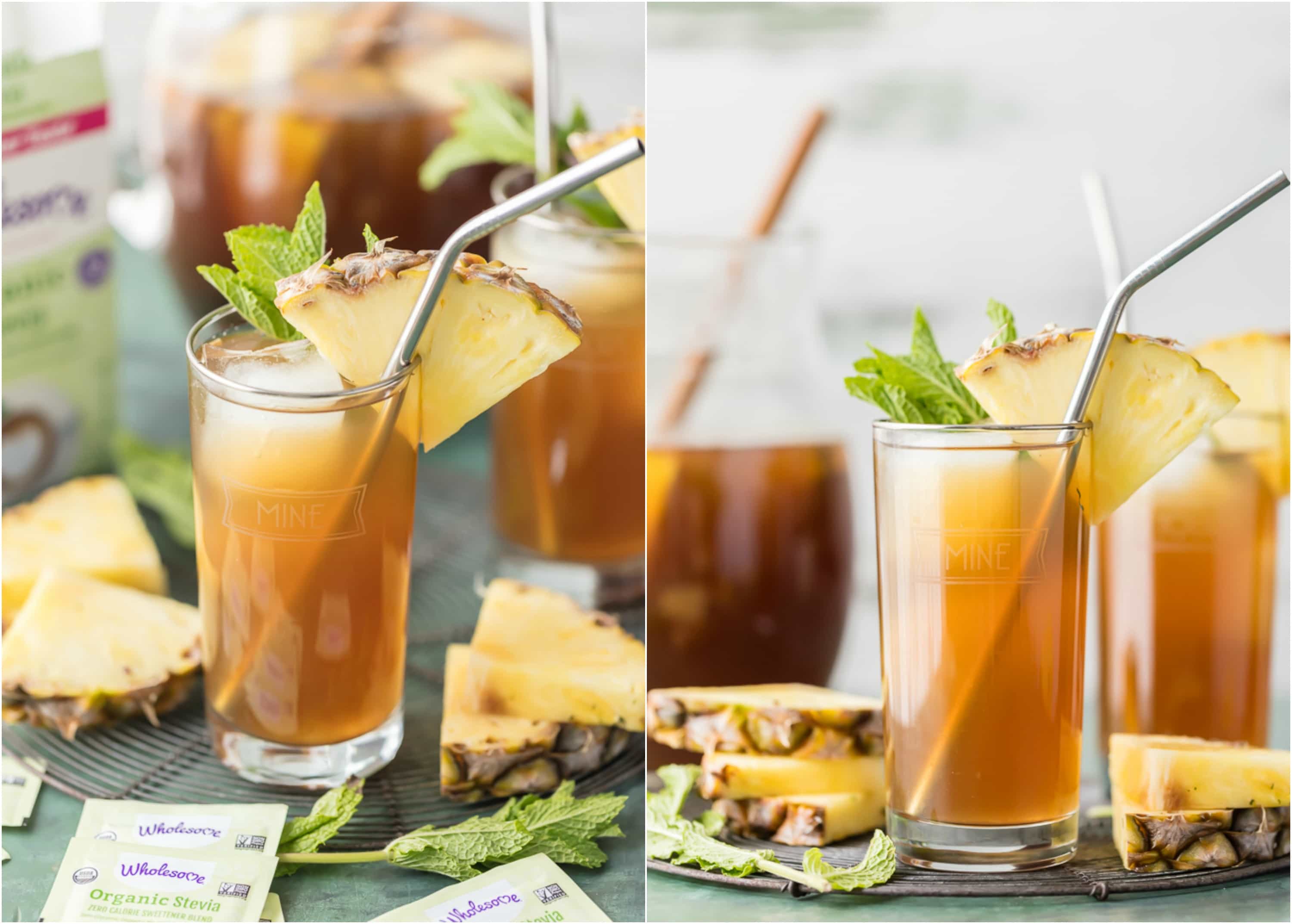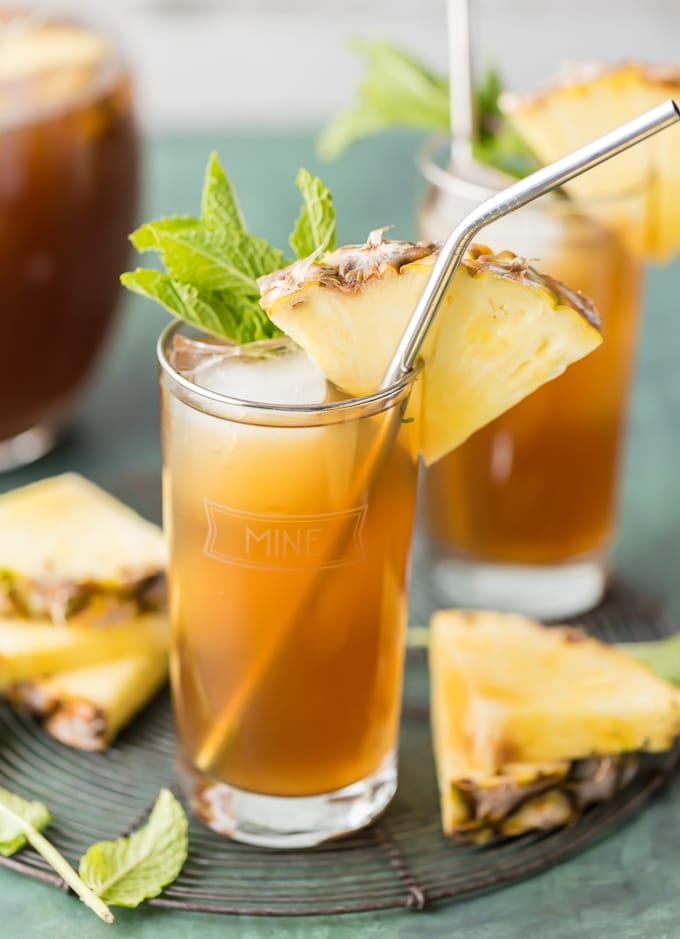 How to Make Pineapple Iced Tea
This Iced Pineapple Tea is so light, fruity, and refreshing. It's something I could make (and drink) every single day, especially when the sun is out and blazing down in the middle of summer. It's a pretty straightforward iced tea recipe, with a few little things that make it absolutely perfect!
How to Make Skinny Iced Pineapple Tea:
Boil 8 cups of water, then remove from heat
Let 2 family size tea bags steep in the water for 15-20 minutes
Pour tea into a pitcher, and stir in the Stevia and baking soda
Then stir in the fresh pineapple juice
Store the pineapple tea in the refrigerator until it is chilled
Serve over ice and garnish with a pineapple slice or mint
If you're nervous about slicing pineapple, DON'T BE! It's one of the irrational fears I had before developing this recipe, and it was so much easier than I thought. Check this post to see how to do it!
If you don't have family size tea bags, you can use 6-8 individual size tea bags instead.
Make these simple syrup ice cubes for your sweet tea! You could even make pineapple ones to keep the flavor.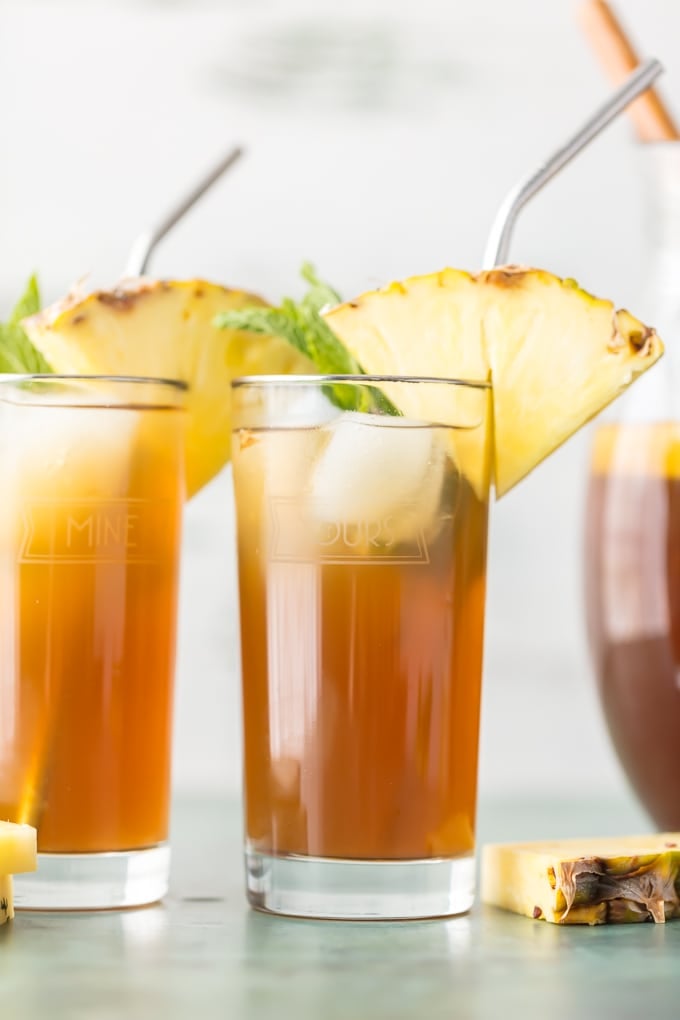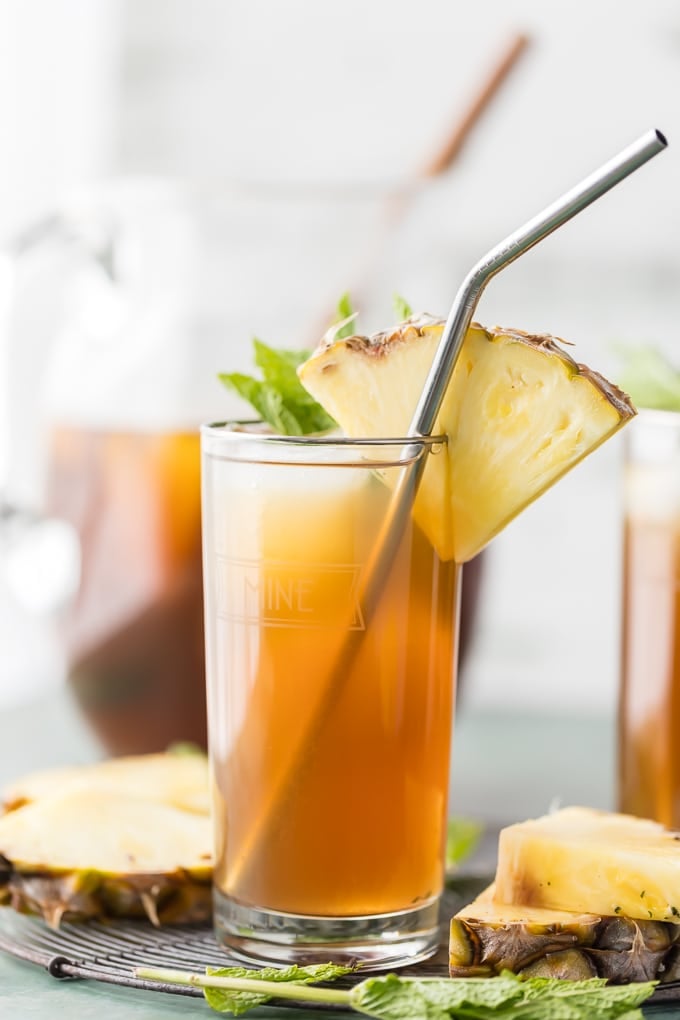 Why do you add baking soda to iced tea?
Adding a bit of baking soda to iced tea helps to give it a smoother taste. Tea can taste bitter sometimes, and this helps to solve that issue!
How many tea bags does it take to make a gallon of iced tea?
A general guideline is to use 1 tea bag (individual size) per cup of water, but when making larger amounts of iced tea (like a gallon or 1/2 gallon), you should do more like 1 bag per 2 cups of water. So for a full gallon, use 8 individual size tea bags. I used family size tea bags for this recipe, which are equal to about 4 individual size tea bags. For a gallon of iced tea, use about 2-4 family size tea bags.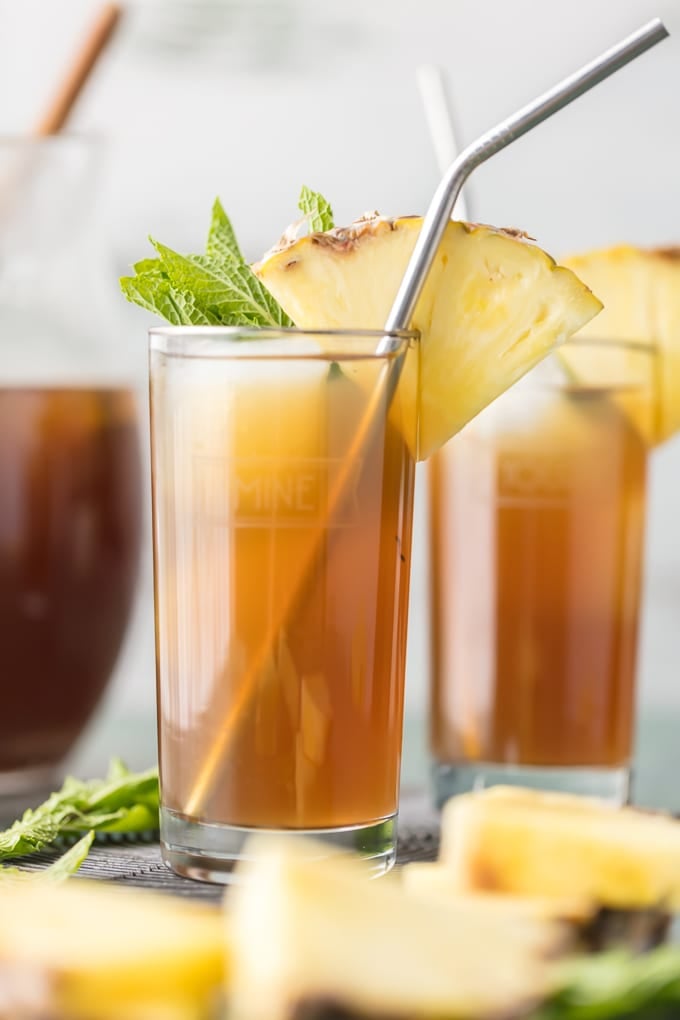 I hope you give this Skinny Pineapple Tea a try this Summer. This iced tea recipe couldn't be more refreshing or perfect for those neighborhood BBQs. Bring a pitcher of this and you'll be the cul-de-sac celebrity!
See the recipe card below for details on how to make Skinny Pineapple Sweet Tea. Enjoy!
If you like this sweet tea recipe, try these other refreshing drink recipes:
Peach Tea Ice Cream Floats
Berry Jam Lemonade Freeze