Spiked Raspberry Sweet Tea is just made for sunny porches and lazy afternoons. This sweet tea cocktail is out of this world! There is nothing better on a hot summer day than good, homemade sweet tea!! I take that back…. nothing better than good, homemade Spiked Raspberry Sweet Tea!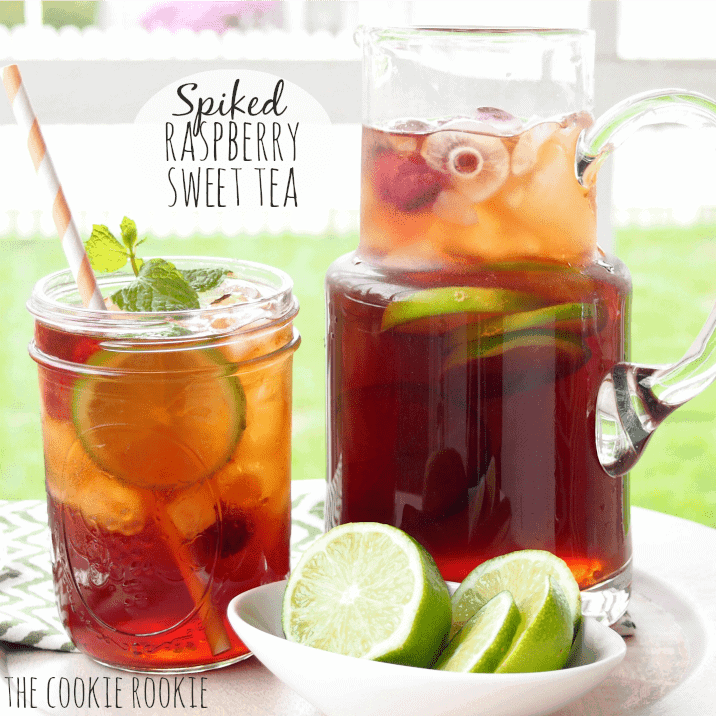 A Summertime Iced Tea Cocktail
I hate it when sweet tea is too sweet; it has to be just right. Most fast-food sweet tea….wayyyy too sweet. But our Homemade Sweet Tea recipe is just right. Add in raspberry liquor, garnish with your favorite fruits, and pour over ice? It's the perfect summer cocktail. Sip it on the front porch? Even better! This is summertime bliss.
Why you'll love this Spiked Raspberry Sweet Tea:
Just right: A sweet tea cocktail that's just the right level of sweetness!
Refreshing: A super quenching tipple, with deliciously fruity notes from the tangy raspberries. It's perfect for hot summer days in the garden.
A great batch cocktail: Serve up a pitcher in no time.
Ingredients
Tea bags – either 2 family-sized or 8 regular-size tea bags. I prefer Luzianne.
Sugar – adjust for sweetness.
Chambord liquor – It's a berry-flavored liquor that adds real depth to the tea (optional).
Vodka – Go for a good-quality vodka, for a smoother drink.
Baking soda – A pinch of baking soda makes a world of difference in a pitcher of freshly brewed sweet tea. It neutralizes the tannins in black tea, giving it a smoother taste.
Garnish – mint, raspberries, or orange slices add the perfect final touch.
Trademark note: In the spirit of transparency, please note that some of these ingredients are trademarked products. Luzianne Tea and Chambord liquor are proprietary brands that I want to acknowledge and give credit to.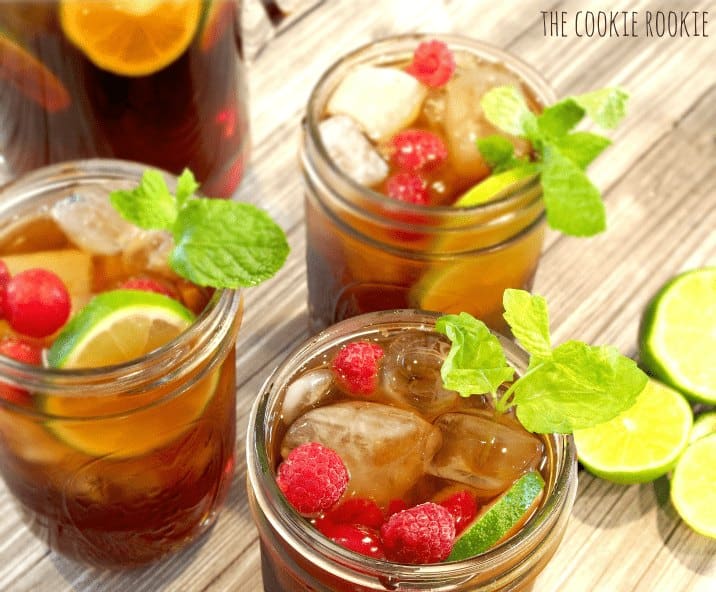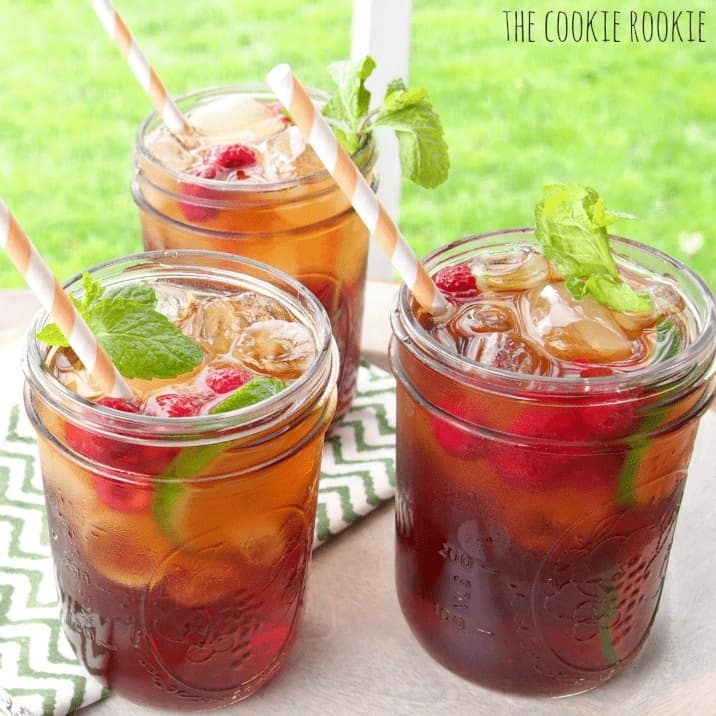 How to Make Spiked Raspberry Sweet Tea
Boil water, pour into a pitcher and add tea bags. Let steep.
Remove the tea bags, add sugar, baking soda, and stir.
Optional: add raspberry liquor and vodka.
Let the tea cool. Serve over ice with a garnish.
Be sure to see the recipe card below for full ingredients & instructions!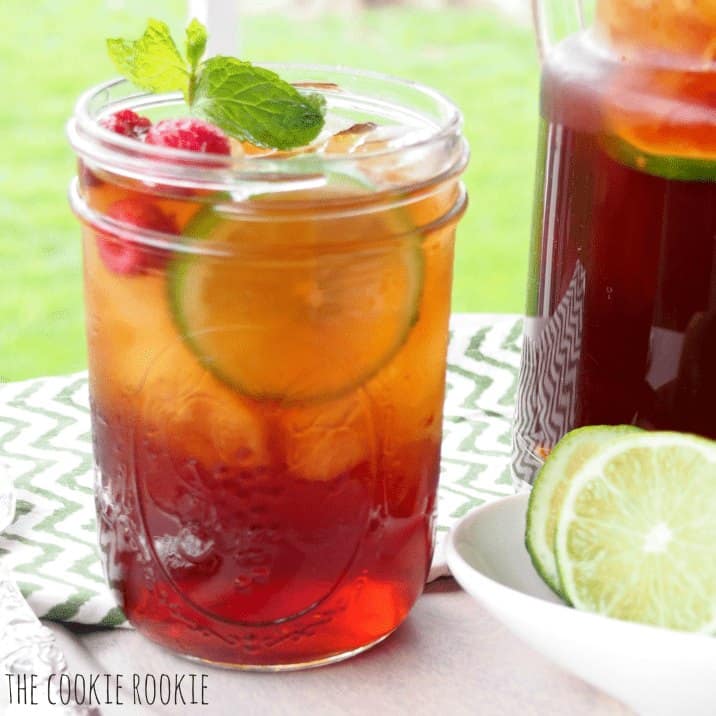 Is There Caffeine in This Sweet Tea?
Yes, this Raspberry Sweet Tea is made with black tea which has caffeine. You can use decaf, or you can use use double strength tea in this recipe to have the tea stand out against the raspberries.
Doesn't this drink just scream SUMMER? There's nothing more refreshing or satisfying than good sweet tea. Or, like I said, the spiked raspberry kind!
It's a super-refreshing drink, especially when you garnish with fresh mint and a few raspberries!
How Much Sugar is in This Sweet Tea Cocktail?
There are one and a half cups of sugar in this recipe for Raspberry Iced Tea. You can adjust the amount to suit your taste. If you prefer a sweeter tea, add a little more.
If you prefer less, just reduce the amount of sugar. It's perfect for everyone!
How Long Do You Steep The Tea?
That's what's so great about this recipe. You control the strength of the tea. Fifteen minutes is a good average time to let the tea bags soak in the hot water.
But if you like really strong–or really weak–tea, you can easily adjust the time accordingly.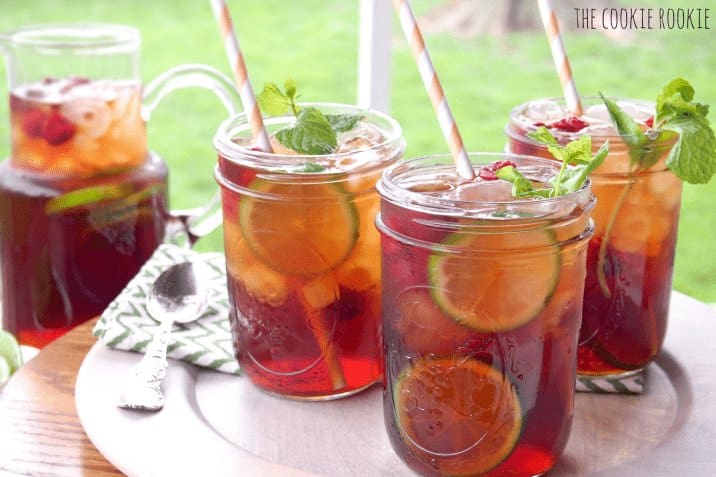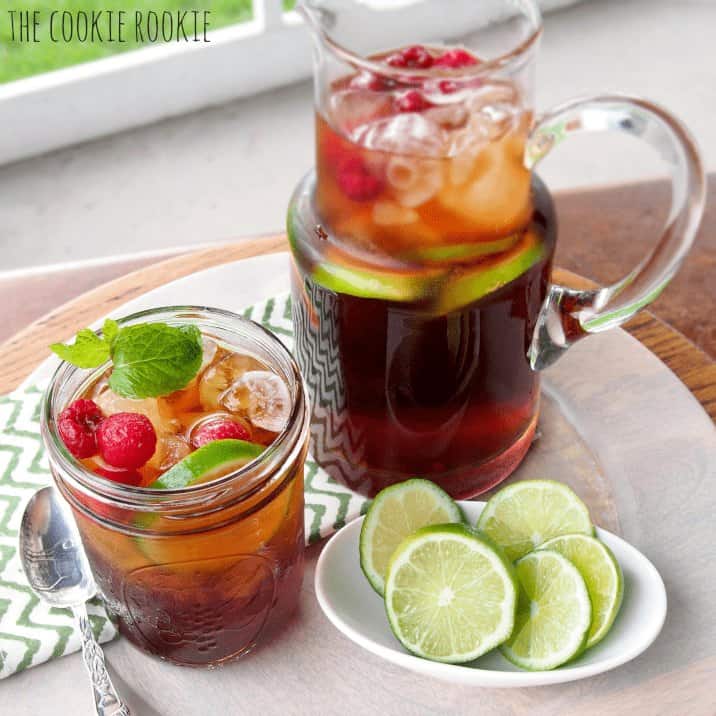 Check out These Other delicious Cocktails
If you make this recipe be sure to upload a photo in the comment section below or leave a rating. Enjoy!