SKINNY SLOW COOKER CARAMEL APPLE CIDER!!! The BEST drink recipe for fall. Make it a cocktail or mocktail, both are DELISH! I crave this comforting sip all year round!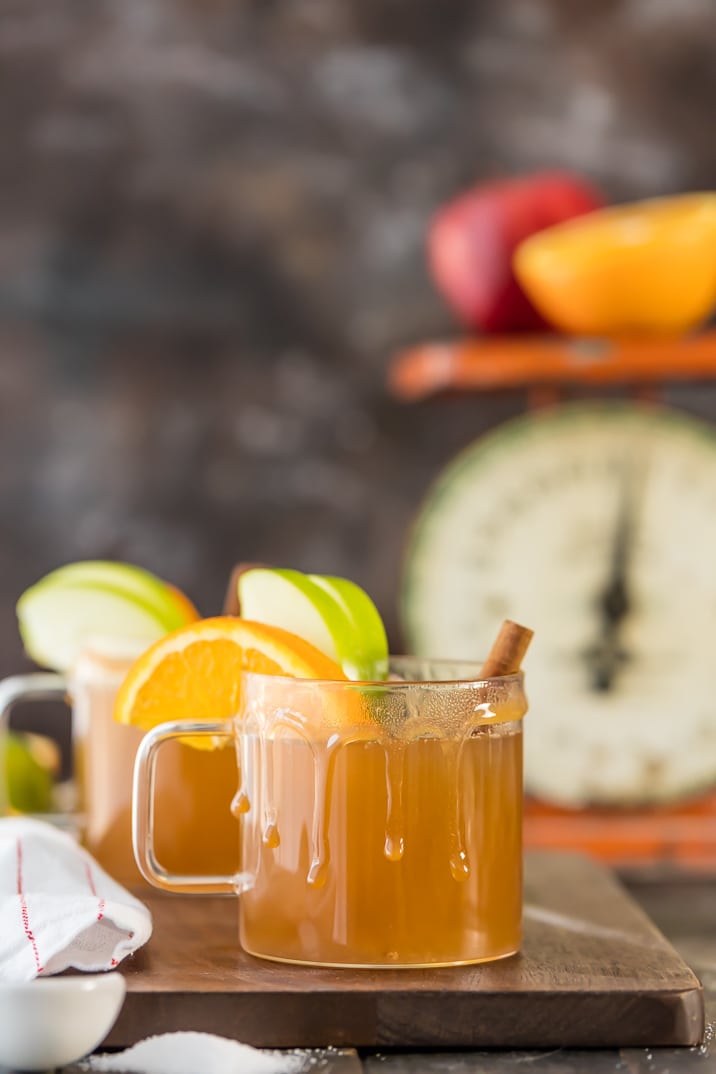 I know it's almost November, but things didn't officially feel like Fall until my first sip of Homemade Cider. Skinny Slow Cooker Caramel Apple Cider to be precise. The leaves are changing, the weather is crisp, and our house is filled with the amazing smells of Autumn coming straight from my crockpot. It's a good day. Pull up a seat!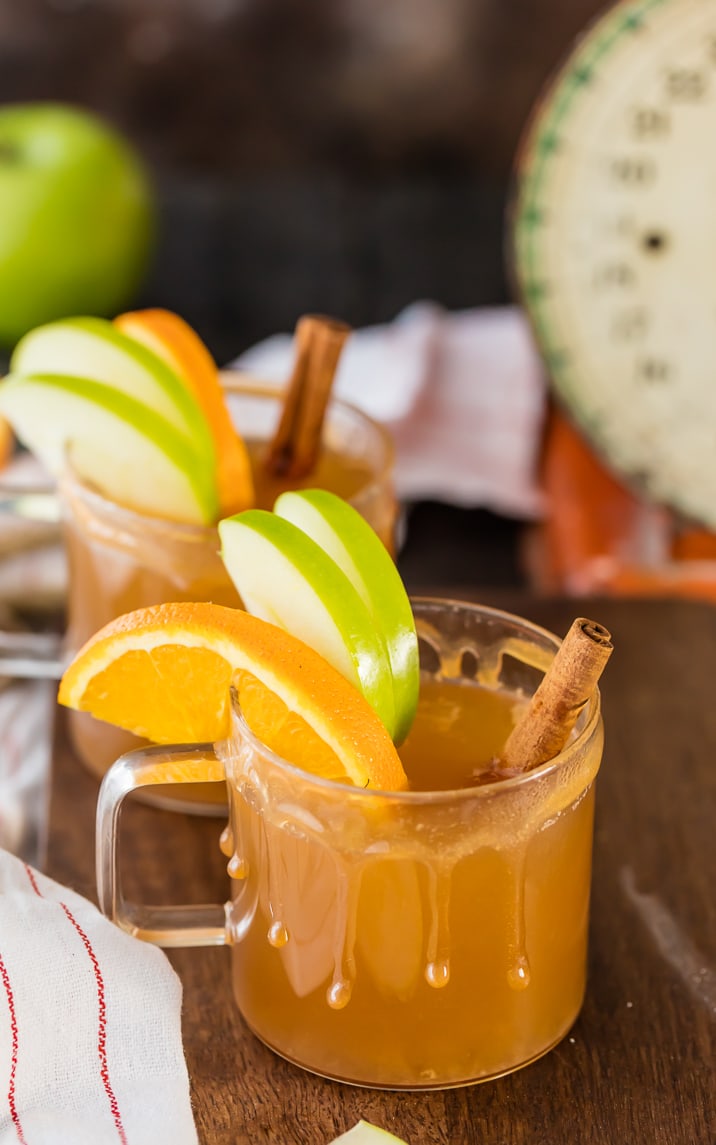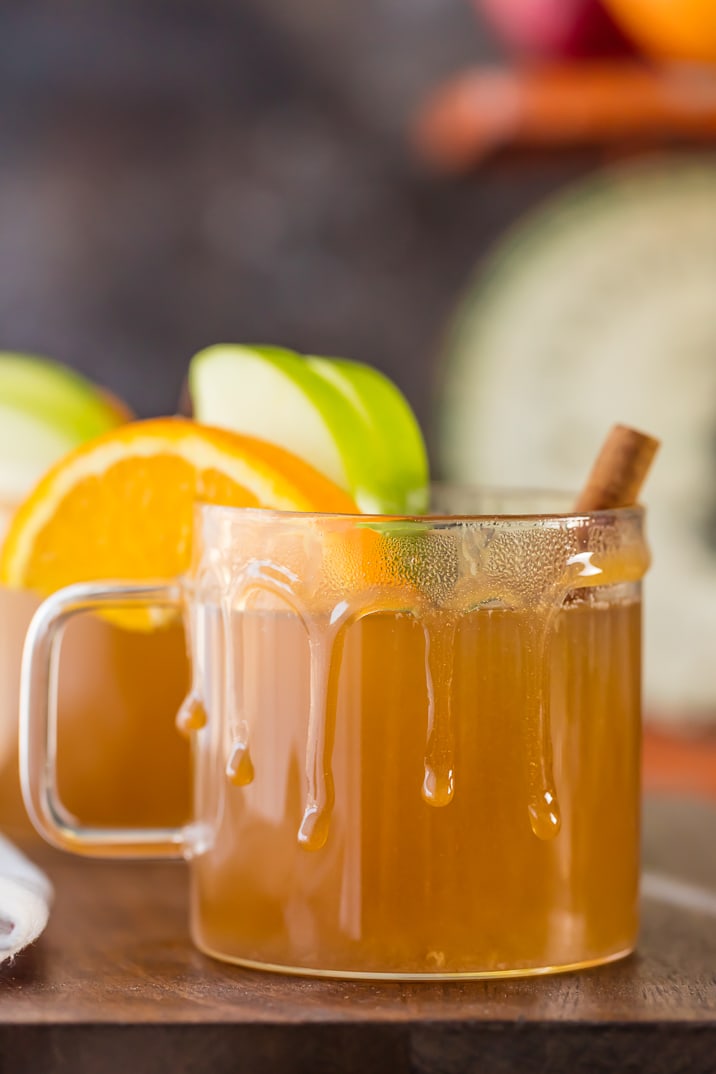 This learning to cook journey has taken me all kinds of places. So many things that I assumed took tons of time or effort have turned out to be SO EASY. This Apple Cider takes the cake for easy. WHO KNEW. You can make it in a SLOW COOKER and you literally cannot mess it up. It's heaven I tell you!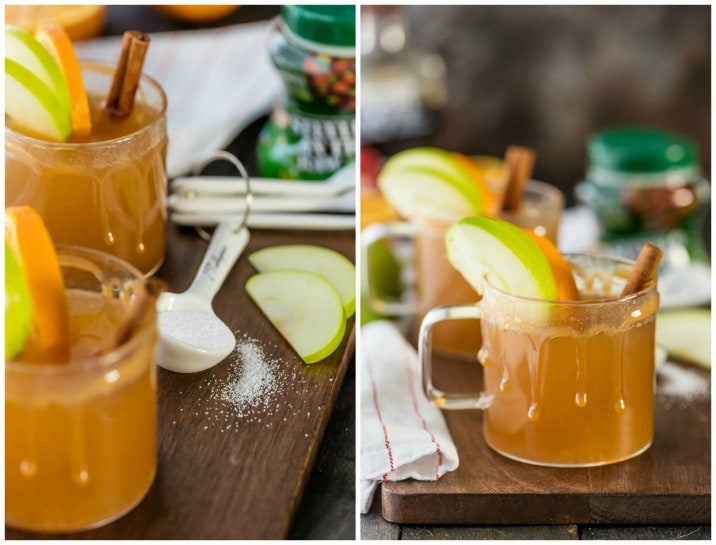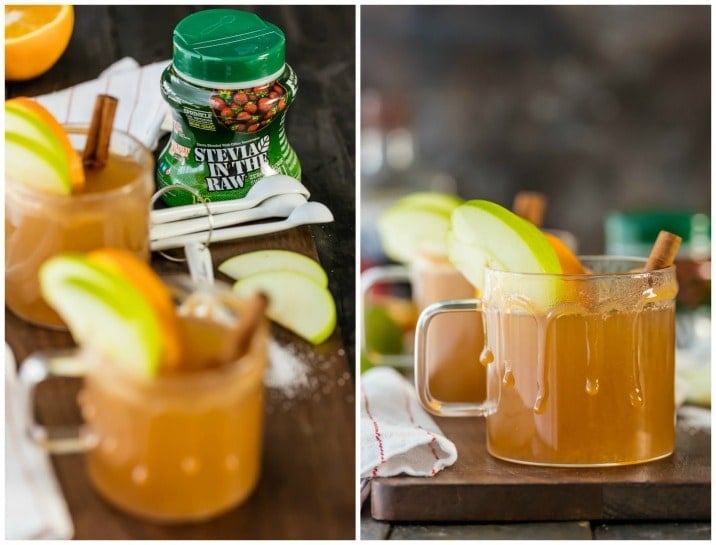 I made this pot extra skinny by sweetening it with sugar free caramel and In The Raw Sweeteners. I have LOVED working with In The Raw this year, and have learned so much about alternative sweeteners. I have made ice cream, drinks, energy bites, and even popsicles using their products. It's been a fun and delicious year! What's great about stevia as a sweetener is that it has ZERO CALORIES. And it comes in lots of convenient forms. You can bake or cook with it, or use it to sweeten drinks like this Slow Cooker Caramel Apple Cider. I'm in love. Click HERE for all the options and HERE to find out where to buy (plus COUPONS!)!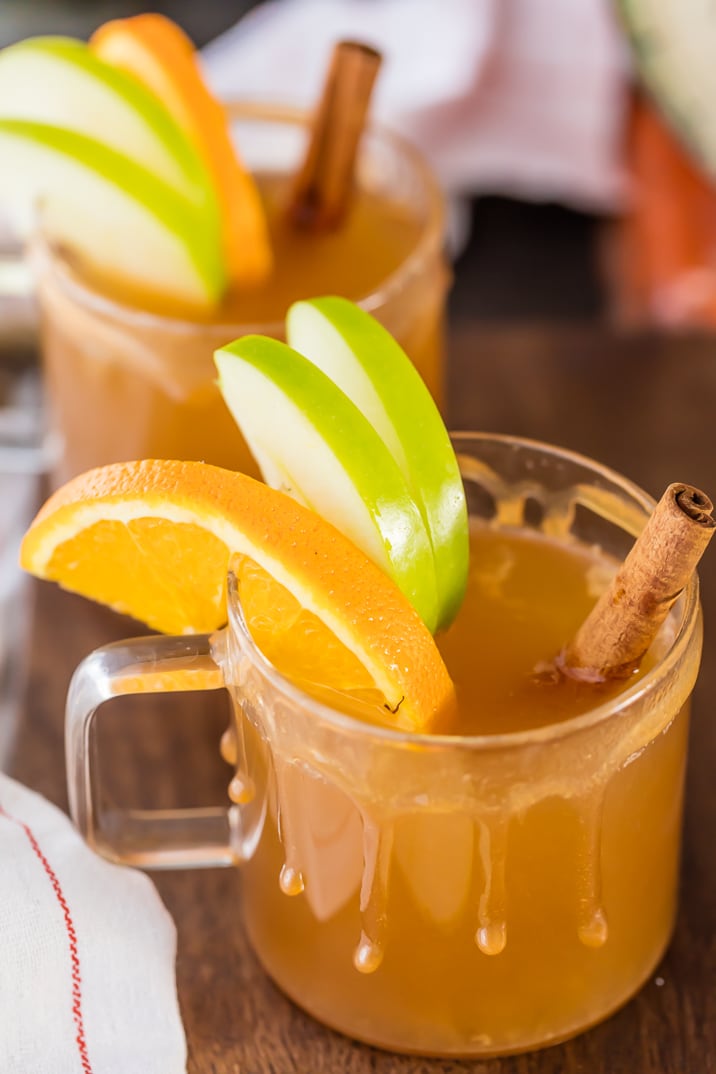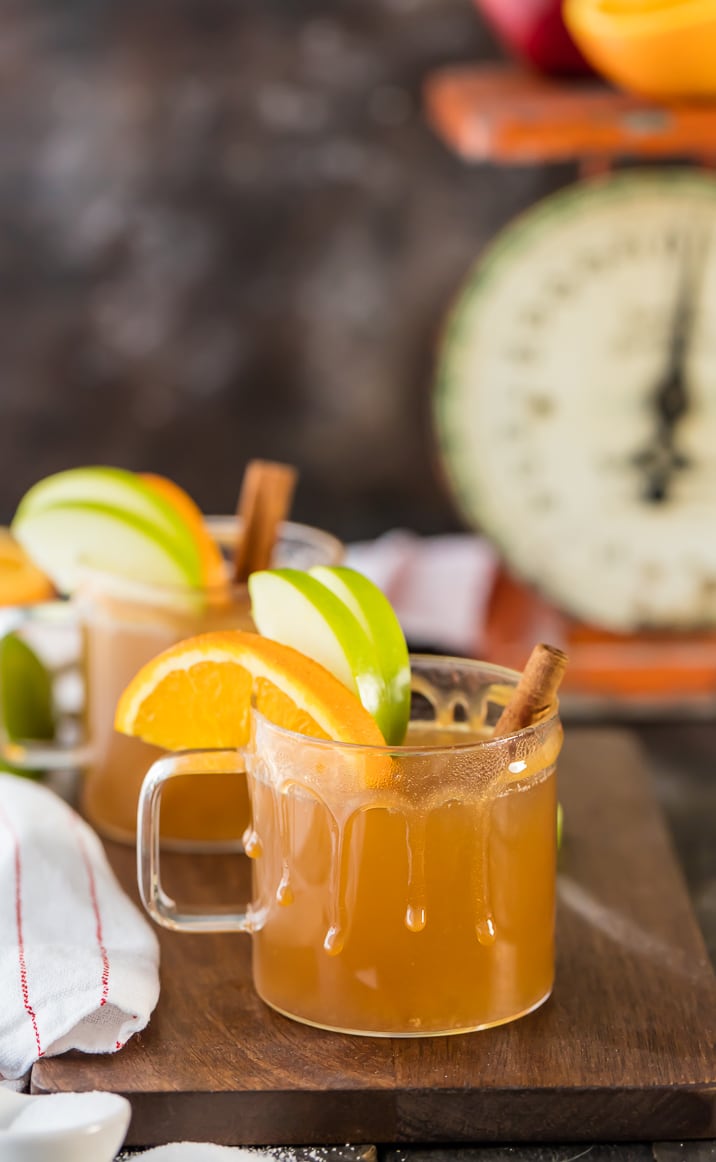 I hope you're enjoying this cooler weather as much as I am, with a cup of this Caramel Apple Cider. It's so much easier than you think, YOU CAN DO IT! Enjoy :)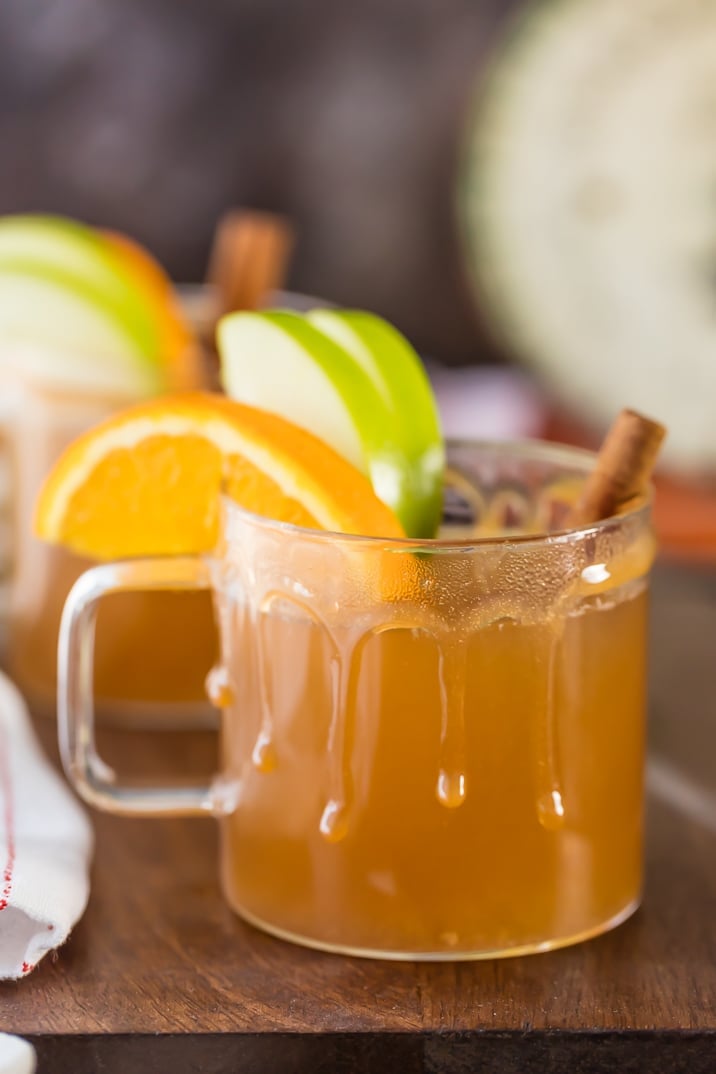 Ingredients
10 apples (I used Granny Smith and Red Delicious), quartered. (Don't worry about peeling, you will strain later)
1 orange, quartered (Don't worry about peeling, you will strain later)
4 cinnamon sticks
1 1/2 teaspoon nutmeg
2 teaspoons whole cloves
14 cups water
1/3 cup In The Raw Stevia
1/4 cup In The Raw Agave Nectar
1/4 cup sugar free caramel sauce
1/2 cup caramel vodka (optional)
cinnamon sticks, apple slices, and orange slices for garnish (optional)
Instructions
Add sliced apples and oranges to large slow cooker. Don't worry about peeling them, you will strain later. Add cinnamon sticks, nutmeg, and cloves to the slow cooker. Fill the slow cooker with water almost all the way to the top. For me it was about 14 cups, but you can use more or less.
Cover slow cooker and cook on low 8 hours or high 4 hours.
After the cooking time, take a potato masher and mash the fruit fully in the slow cooker. Go slowly so you do not spill the water over the sides.
Pour cider through a strainer to remove any of the large fruit chunks and spices.
Follow by straining again through a fine-mesh strainer to make even more refined. Press the mixture through the mesh to get all the juice out that's possible. Return the remaining cider to the slow cooker.
Stir in stevia, agave nectar, and caramel. Stir in alcohol if desired.
Keep on low while serving, or refrigerate for up to 4-5 days in an airtight container.
Serve hot, garnished with apple slices, orange slices, and cinnamon sticks. I dipped the rim of the glass in caramel sauce for some extra fun.
Enjoy!
7.6.4
1903
https://www.thecookierookie.com/slow-cooker-caramel-apple-cider/
I'm in a working relationship with In The Raw Sweeteners. I'm so honored to showcase their products. All opinions are 100% my own. As always, thank you so much for supporting the brands that help support The Cookie Rookie!

JOIN OUR MAILING LIST
TO GET COOKING!
Subscibe to recieve all the latest, greatest, and EASIEST recipes sent straight to your email inbox. If we post something yummy, you'll be the first to know.