Crockpot Apple Cider is the easiest way to make delicious apple cider from scratch! This Caramel Apple Cider is the BEST drink recipe for fall. Make it a cocktail or mocktail, both are DELISH. I crave this comforting sip all year round!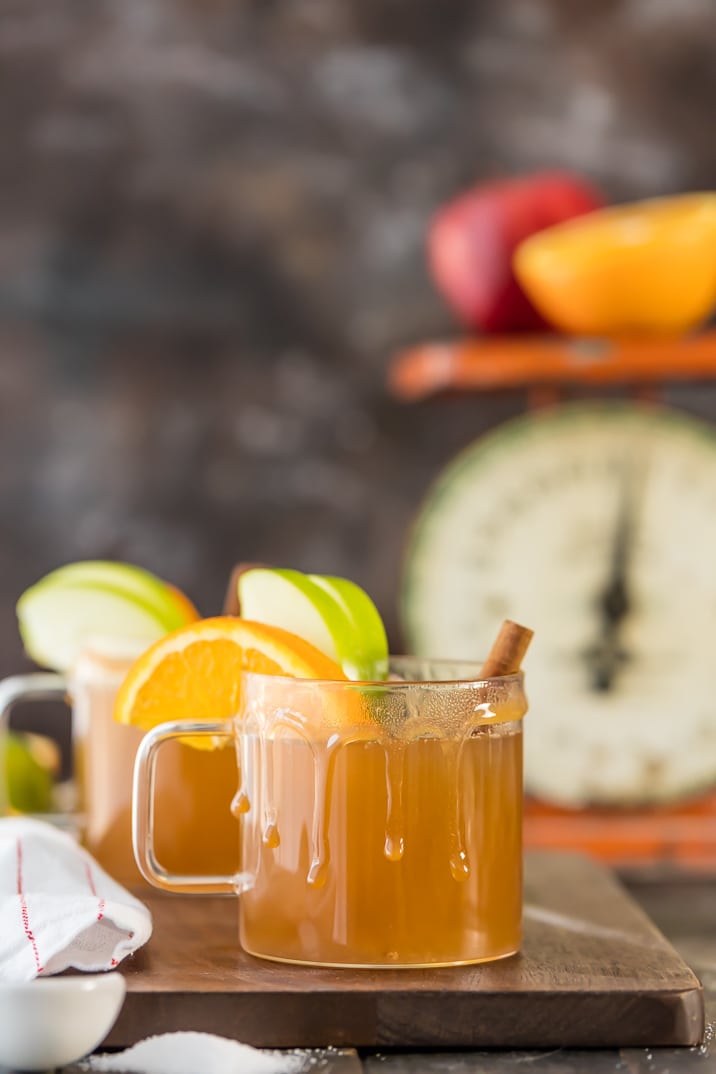 Crockpot Apple Cider Recipe
Crockpot Apple Cider makes it easy to create this tasty fall drink from scratch. I love the added flavor of this Caramel Apple Cider recipe, and it's a skinny version!
I know it's almost November, but things didn't officially feel like Fall until I had my first sip of this Caramel Apple Cider. Skinny Crockpot Apple Cider to be precise. There is so much to love about this fall drink recipe and I'm so excited to share it with you!
Making apple cider from scratch is such a fun and festive way to celebrate fall. And making crockpot apple cider is the easiest way to do that! Just put your ingredients in a slow cooker and let it simmer. It's easy to make, and it keeps the cider nice and warm throughout any autumn parties you might have.
This caramel apple cider is also a "skinny" recipe that has less sugar without losing the flavor, so you don't have to feel guilty about indulging in this delicious beverage. You can make this recipe with alcohol or without alcohol, so it's truly something everyone will love! Add the vodka for parties, or leave it out for family gatherings.
The leaves are changing, the weather is crisp, and our house is filled with the amazing smells of Autumn coming straight from my crockpot. I love this slow cooker apple cider and I know you will too!
Make Crockpot Apple Cider from scratch to celebrate the fall season. This skinny Caramel Apple Cider recipe will put a smile on everyone's face!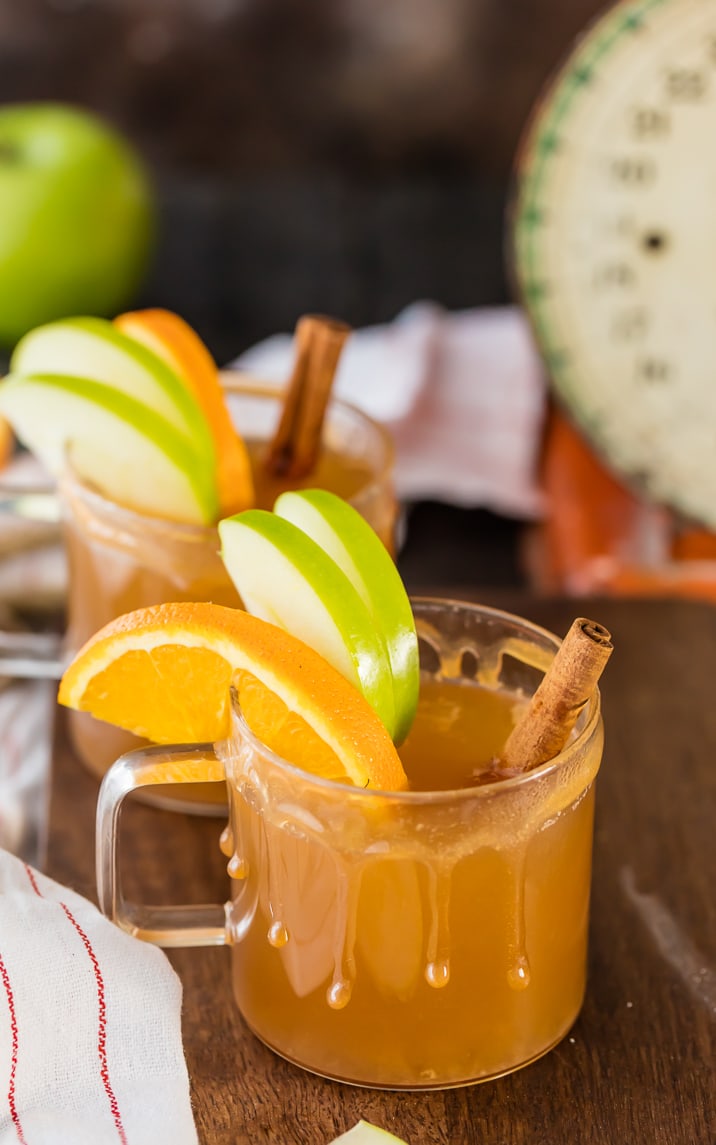 Slow Cooker Apple Cider for Fall
This learning to cook journey has taken me all kinds of places. So many things that I assumed took tons of time or effort have turned out to be SO EASY, and this Crockpot Apple Cider takes the cake for easy. You can make it in a SLOW COOKER and you literally cannot mess it up. It's heaven I tell you!
I decided to make a Caramel Apple Cider because, well…caramel and apple are a match made in heaven. I love apple everything, but it doesn't really say AUTUMN IS HERE until you throw in that sweet caramel flavor. And since we're using a sugar-free caramel sauce, we don't have to add any sugar or calories to get that added flavor. Win win!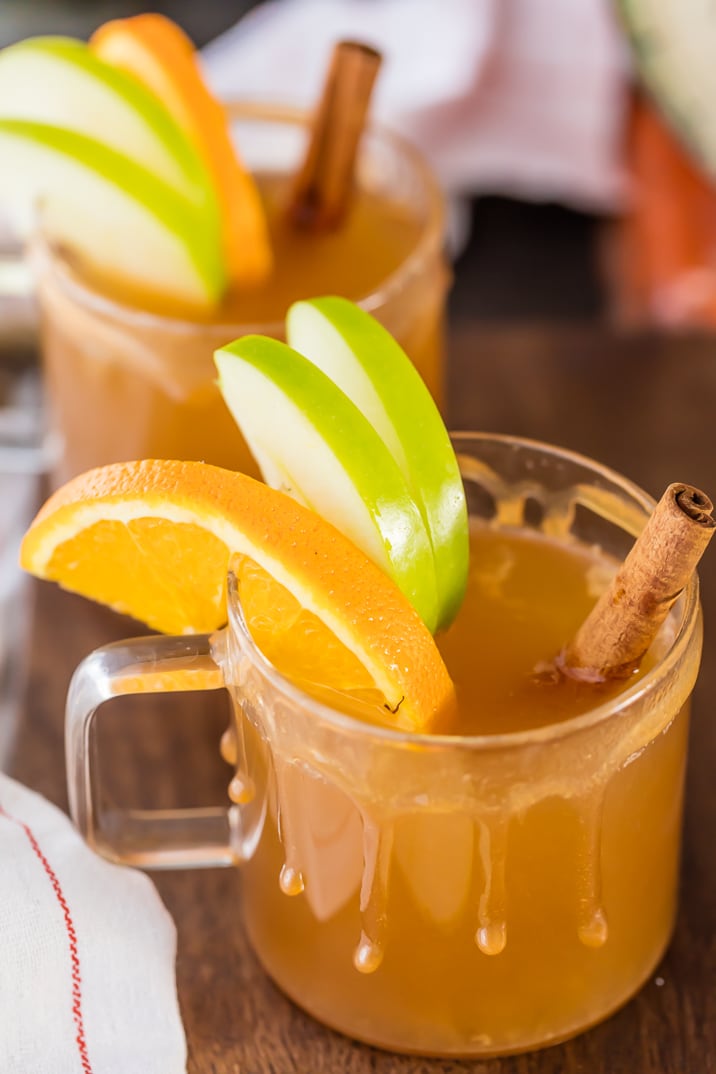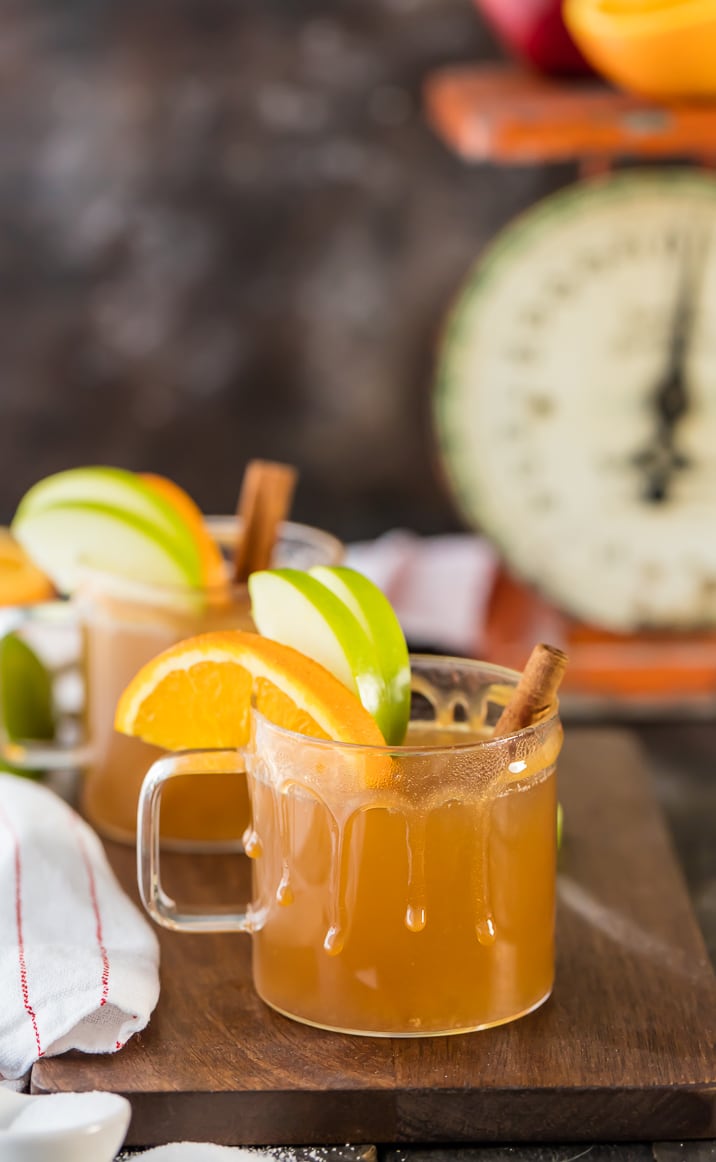 How to Make Crockpot Apple Cider – Step by Step
Making apple cider in a slow cooker has really changed the game for me. Now that I know how easy it is to make apple cider from scratch, I'm going to be making this Caramel Apple Cider for me and my family every fall!
You can jump to the recipe card for full ingredients & instructions!
Cut the apples and orange into quarters (no need to peel them)
Place apples, oranges, cinnamon sticks, nutmeg, and cloves into the crockpot, and fill it up with water.
Cover the slow cooker and let it cook on low for 8 hours OR or on high for 4 hours.
When it's done cooking, use a potato masher to mash up the softened fruit (do this while the cider is still in the slow cooker). Then pour the cider through a strainer.
Run it through a fine-mesh strainer for a second time, and then put the caramel apple cider back in the crockpot.
Stir in the sweeteners (stevia, agave nectar) and the caramel sauce. (If you want to add alcohol, add it in during this step).
Your crockpot apple cider is ready! Keep it in the slow cooker on low to keep it warm while serving. Garnish is with apple slices and cinnamon sticks, and create a caramel rim for your glass for some extra fun! If you have any leftovers, store it in an airtight container in the refrigerator for 4-5 days.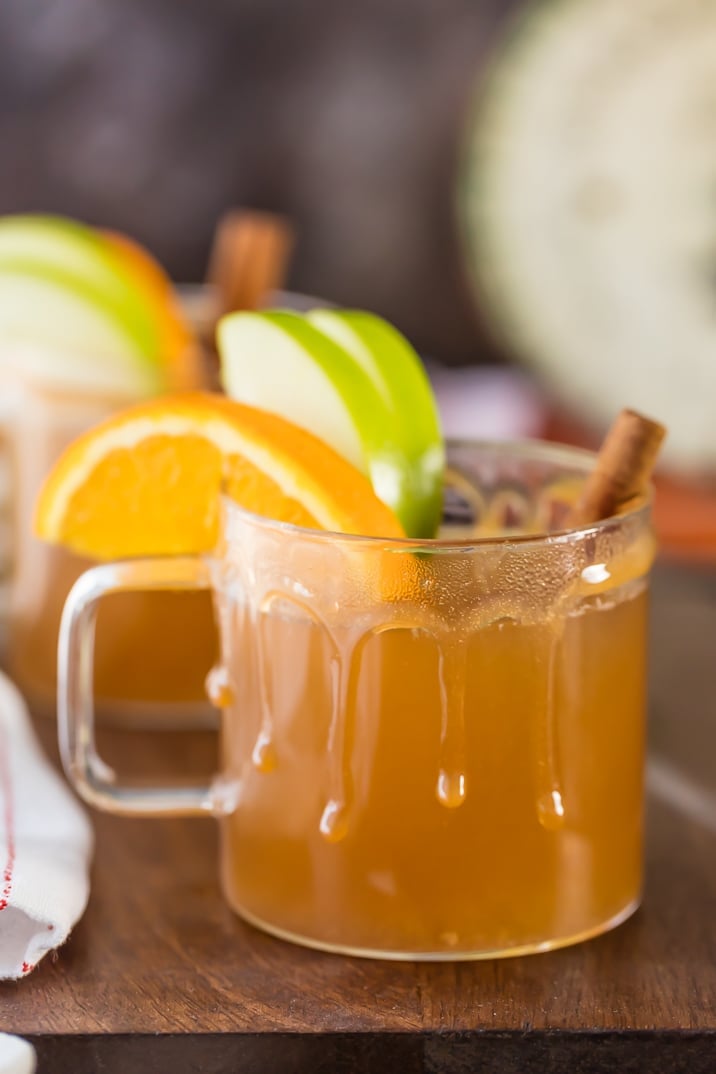 I hope you're enjoying this cooler weather as much as I am. A cup of this Caramel Apple Cider is just the thing you need for this time of year. Crockpot Apple Cider is so much easier than you think, so make a batch of it ASAP. You can do it!
If you like this caramel apple cider recipe, you'll love these fall drink recipes too:
If you make this recipe be sure to upload a photo in the comment section below or leave a rating. Enjoy! You can also jump to recipe.