These S'mores Bars are soft and gooey, chocolatey, and utterly addictive! Layers of sweet mini marshmallows, Hershey's chocolate, and graham crackers sit atop a cookie dough base. It's an easy to make dessert that everyone from toddlers to grandparents love!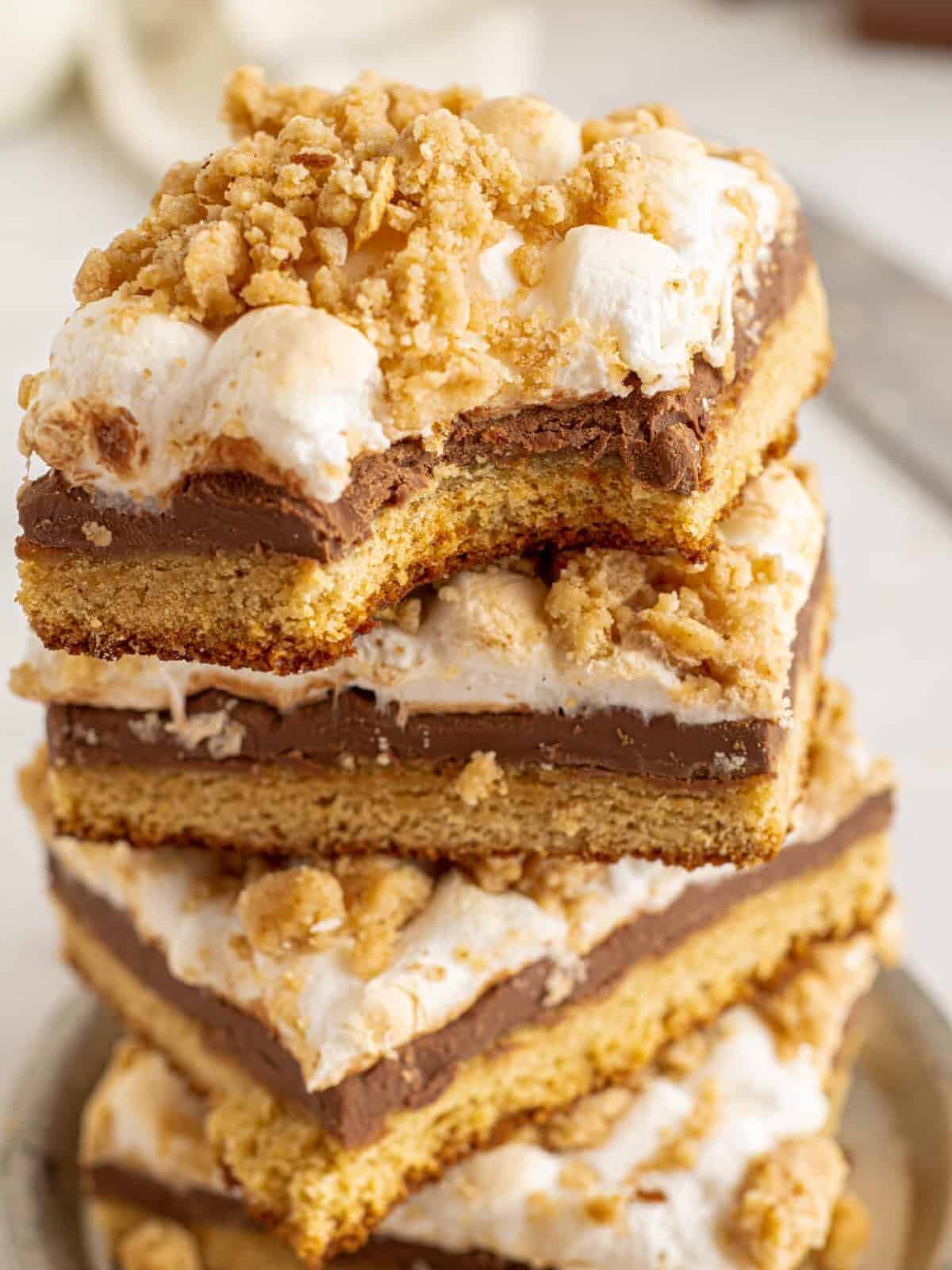 What's in this S'mores Bars Recipe?
These chocolate, marshmallow, and graham cracker cookie bars are a deliciously easy treat that taste as good as a campfire s'more.
All-Purpose Flour: This is what gives the cookie dough base structure. Some of the flour will need to be heat-treated for the graham cracker crumble.
Butter: Remember to leave it out at room temperature so it's softened. Some of the butter will also need to be melted for the graham cracker crumble.
Sugar: You'll need both brown and white granulated sugars for this recipe.
Egg: You'll need one large egg and one separate egg yolk, both at room temperature.
Vanilla: It's always best to use pure vanilla extract and not imitation if possible.
Salt: Just a pinch will get the job done!
Baking Soda: Measure with care! Too much or too little will ruin the consistency of the cookie bars.
Chocolate Bars: I like to use Hershey's for that classic s'mores flavor, but you can use any other brand that you prefer.
Mini Marshmallows: Use these for a marshmallow topping that comes out beautifully browned on top of these s'mores bars.
Graham Crackers: You'll need to crush about 9 graham cracker sheets for the right amount of crumbs.
Pro Tip: The marshmallows will brown slightly in the oven. If you'd like more browning, place the bars under the broiler for a few minutes or use a kitchen torch to toast the marshmallows even more. Watch carefully, as they can burn quickly.
Variations on S'mores Cookie Bars
There are plenty of ways to make these bars perfect for your tastes!
You can use 3 cups of semisweet chocolate chips (or the chocolate chips of your choice) in place of the chocolate bars. If you are feeling adventurous, you could try your favorite candy bar, like cookies and cream bar, Heath bar, Mr Goodbar, or Hershey's milk chocolate with almonds.
You could use regular-sized marshmallows in place of the mini marshmallows; however, I would recommend cutting them at least in half.
You can use marshmallow creme in place of the mini marshmallows, but the bars may be more difficult to slice.
Instead of graham crackers, use your favorite cookies for the crumble, such as Oreos or vanilla wafers.
Top s'mores bars with peanut butter chips or chopped up Reese's peanut butter cups for peanut butter s'mores bars.
Make minty s'mores by using a mix of chocolate chips and mint baking chips in place of the Hershey bars, and top with crushed candy canes.
Add walnuts or pecans to the cookie base for nutty s'mores bars.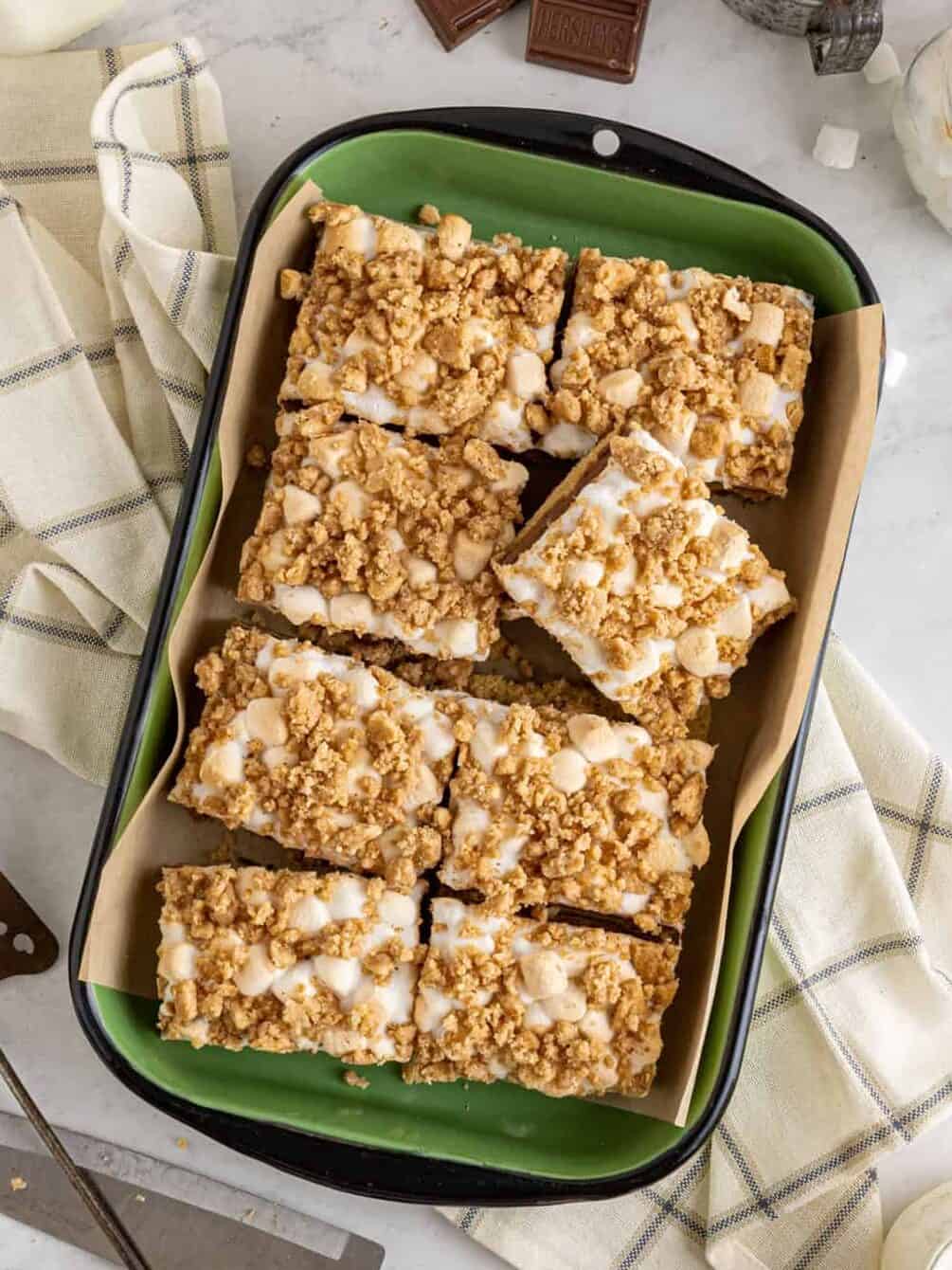 How do I get clean slices?
To get the cleanest slices, chill the bars in the refrigerator overnight to firm up the marshmallows.
Can I use fluff instead of mini marshmallows?
Yes, you can use marshmallow creme. Spread it in an even layer over the chocolate and bake until it begins to brown. Using marshmallow creme may make the bars gooier and more difficult to slice cleanly.
Do I have to make s'mores bars with Hershey's chocolate?
No. In place of the Hershey's chocolate, you can use another chocolate bar of your choice or 3 cups of semisweet chocolate chips.
How to Store
Store leftover s'mores bars in an airtight container at room temperature for up to 5 days, or in the refrigerator for up to 1 week. Enjoy the bars cold, room temperature, or gently heated in the microwave.
How to Freeze
Freeze s'mores cookie bars tightly wrapped in plastic wrap for up to 3 months. Let thaw in the refrigerator overnight before reheating.
More S'mores Recipes We Love