Buttermilk Fried Chicken Recipe (BEST EVER!)
BUTTERMILK FRIED CHICKEN RECIPE is the best buttermilk chicken you will ever sink your teeth into. Fried Chicken can be tricky, but we have broken it down to the PERFECT easy recipe anyone can make. This Fried Chicken Recipe will become the favorite chicken of your life! Buttermilk Fried Chicken is a recipe everyone needs to know how to make. Your family will thank you!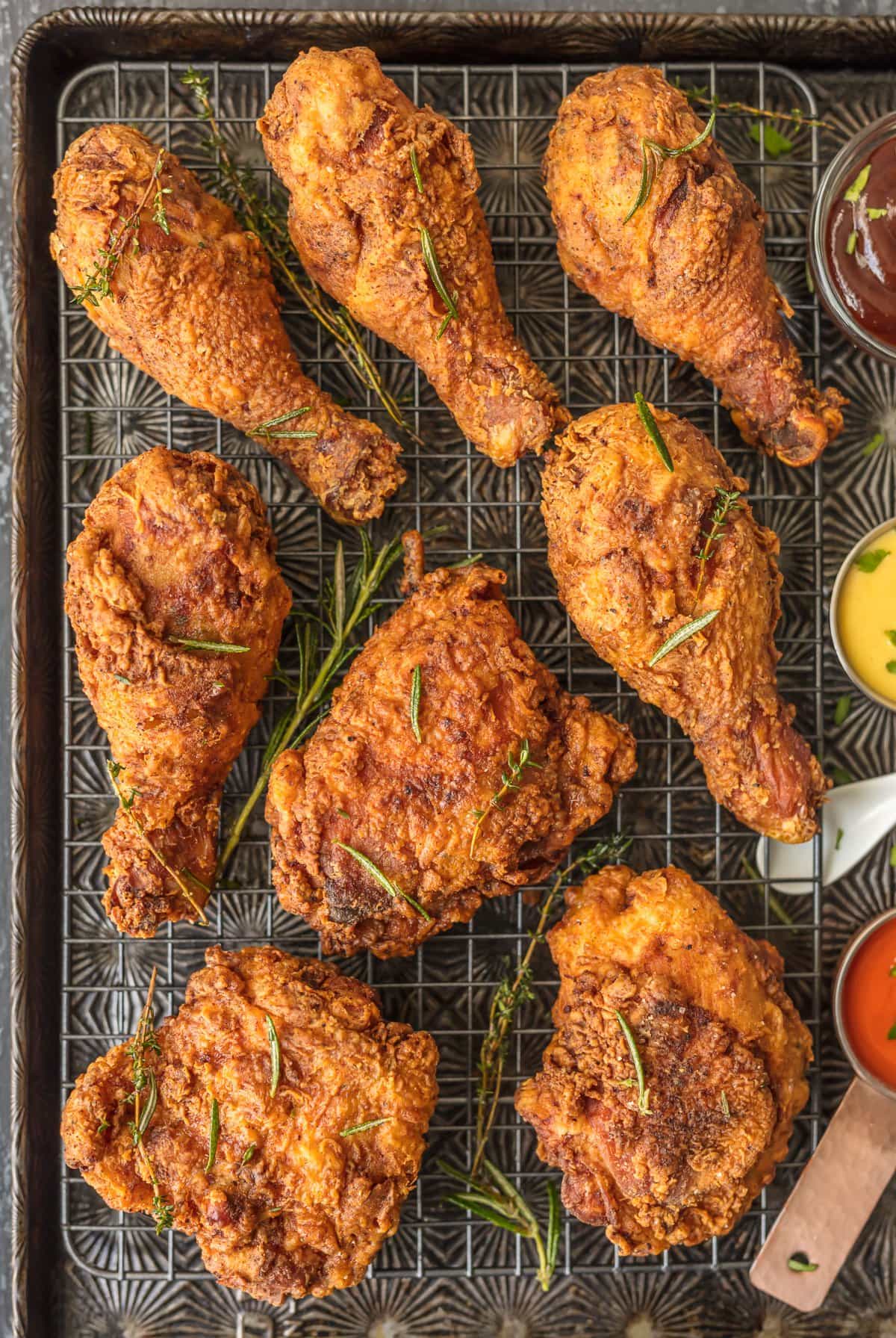 Buttermilk Fried Chicken is my favorite indulgent recipe to make for family.
I think everyone should know how to make amazing fried chicken, even if it's just once in life. Once you try this BEST EVER BUTTERMILK FRIED CHICKEN recipe, you'll be hooked. Even though it's a bit time consuming, it's SO worth it, and I know you'll want to make it for your family again and again. You can wow your family with all your skills!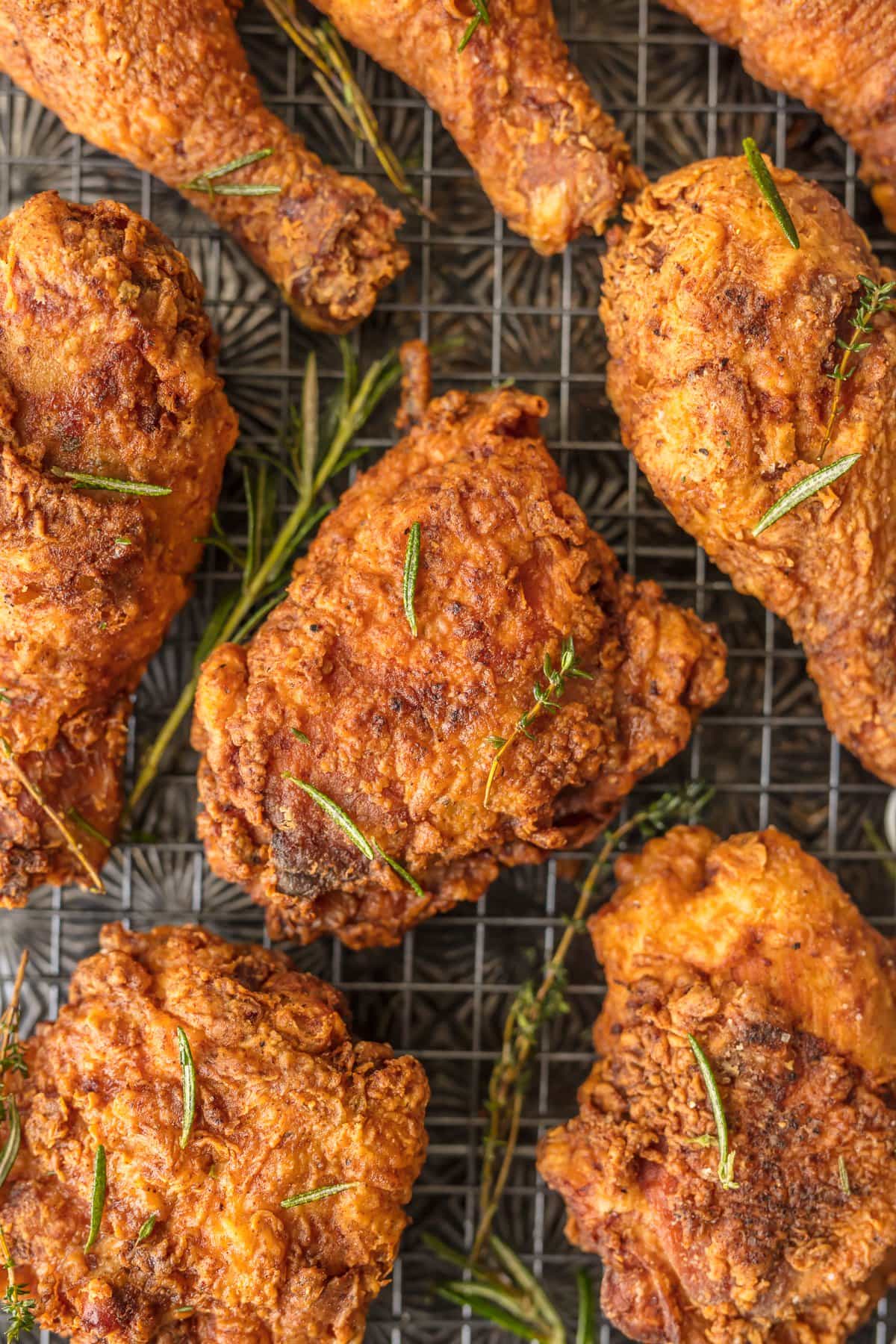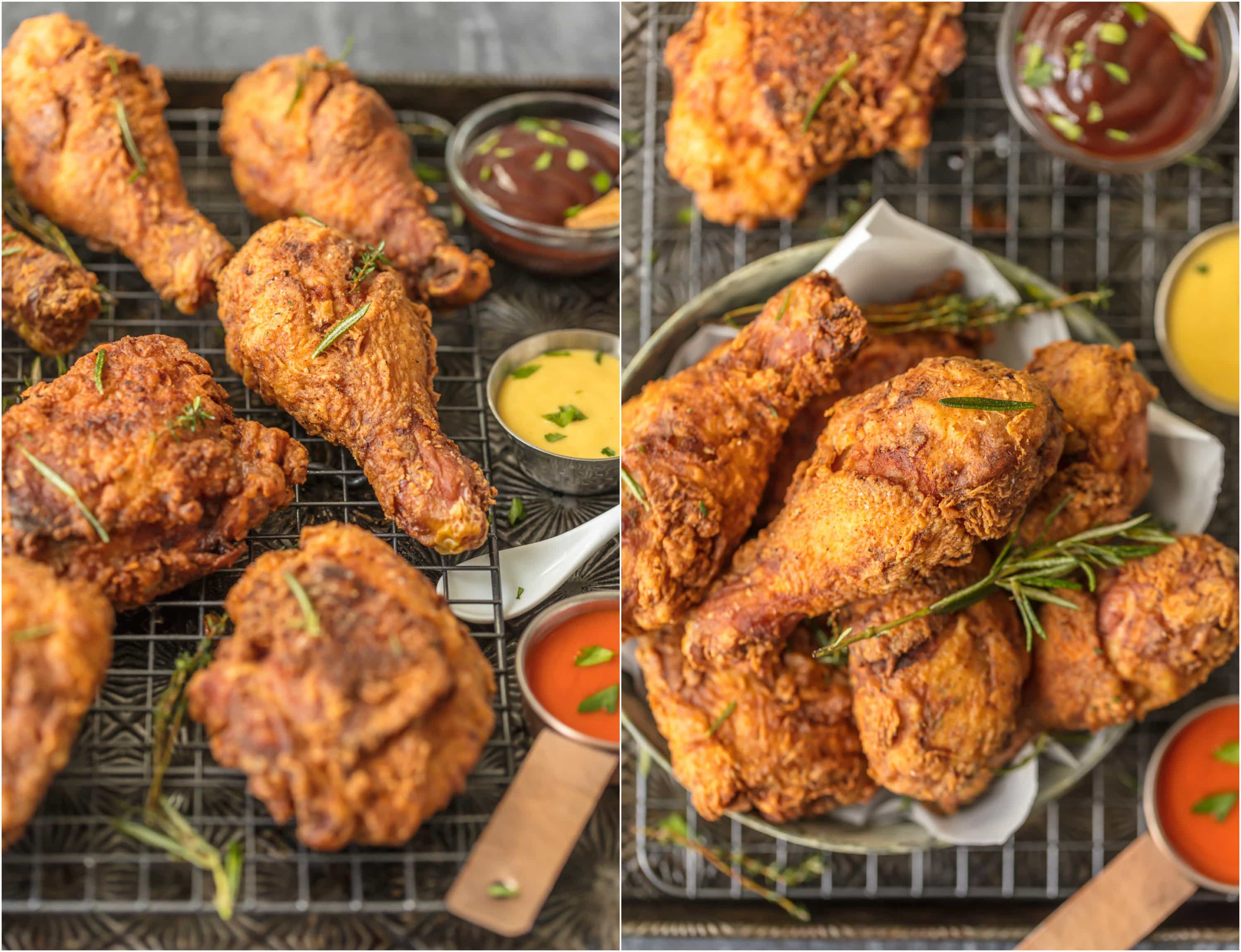 Fried Chicken really is a labor of love, and this Best Ever Buttermilk Fried Chicken is no different. It's a bit of work. But like I said before, so worth it. My mom came over to help me with this first ever batch of fried chicken (can you believe that? I'm 34!!), and it was so fun to learn from her. She's a master in the kitchen, and I'm very lucky to have her as a resource.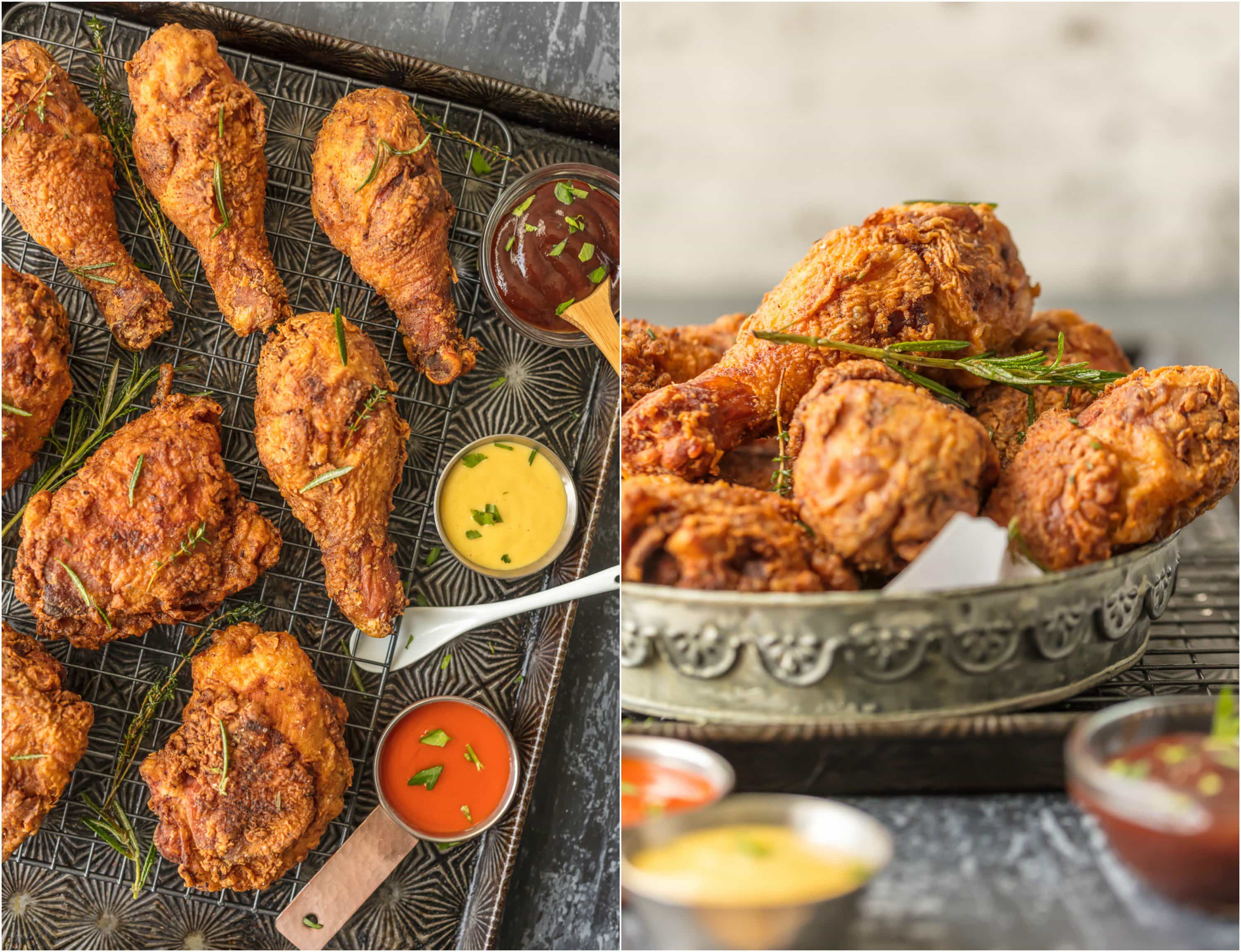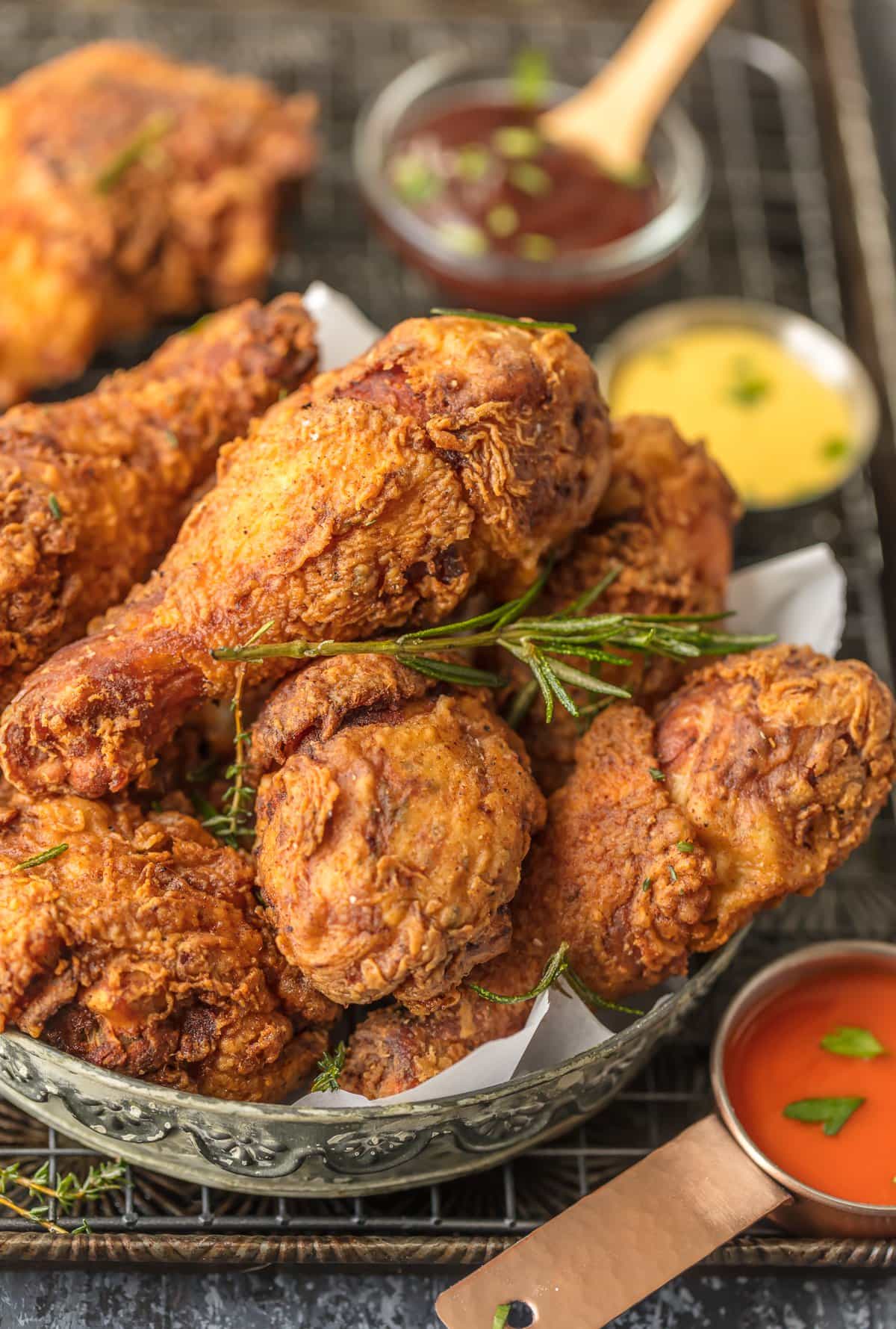 Buttermilk Fried Chicken is the type of recipe that says "I LOVE YOU" to those you feed. It makes people feel special.
To say Pat was excited about this recipe would be an understatement! There's nothing quite like perfect fried chicken. I just can't wait for you to try this recipe!! Next stop, slathering it in buffalo sauce and making the best sandwich ever. Stay tuned!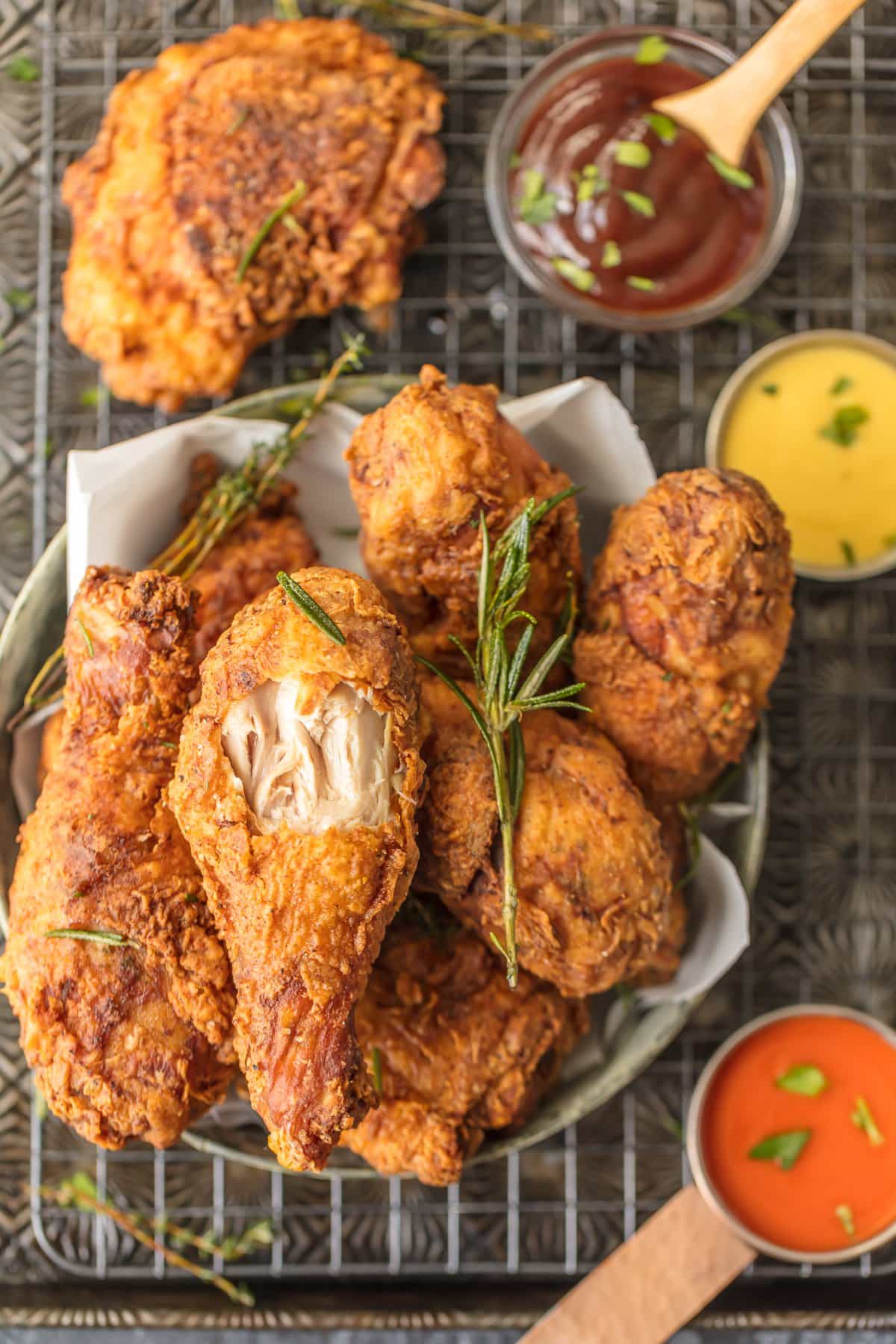 Some reader questions:
How long do you soak the chicken in buttermilk before frying?
Traditionally, you would soak the chicken in buttermilk for at least 30 minutes, but we have added a brining process to this fried chicken. We brine the chicken first, then dip in buttermilk before frying. Get ready for the juiciest Fried Chicken EVER!
Why do you soak the chicken in buttermilk?
It's been proven (by all those food scientists that are much smarter than me) that chicken is plain old better when soaked in lactic acid before cooking. Buttermilk is one way to do that. The result is the juiciest and most flavorful fried chicken you'll ever eat!
Can I use milk instead of buttermilk to soak the chicken?
You can! The result isn't quite the same, but it will work in a pinch. See below how to make your own buttermilk using milk! :)
Can I make my own buttermilk to use in this Buttermilk Fried Chicken?
YOU CAN! And it's simple. Simply stir in 1 tablespoon lemon juice or white vinegar into 1 cup plain milk to make your own buttermilk. Easy peasy!
Pair this Buttermilk Fried Chicken Recipe with some of our favorite side dishes such as Parmesan Crusted Potato Wedges, Slow Cooker Garlic Butter Mashed Potatoes, or Chopped Caprese Salad. YUM.
Enjoy!
Best Ever Buttermilk Fried Chicken
Original Recipe from Thomas Keller in his cookbook AdHoc at Home ("Buttermilk Chicken")
9 hr, 30 Prep Time
30 minCook Time
10 hrTotal Time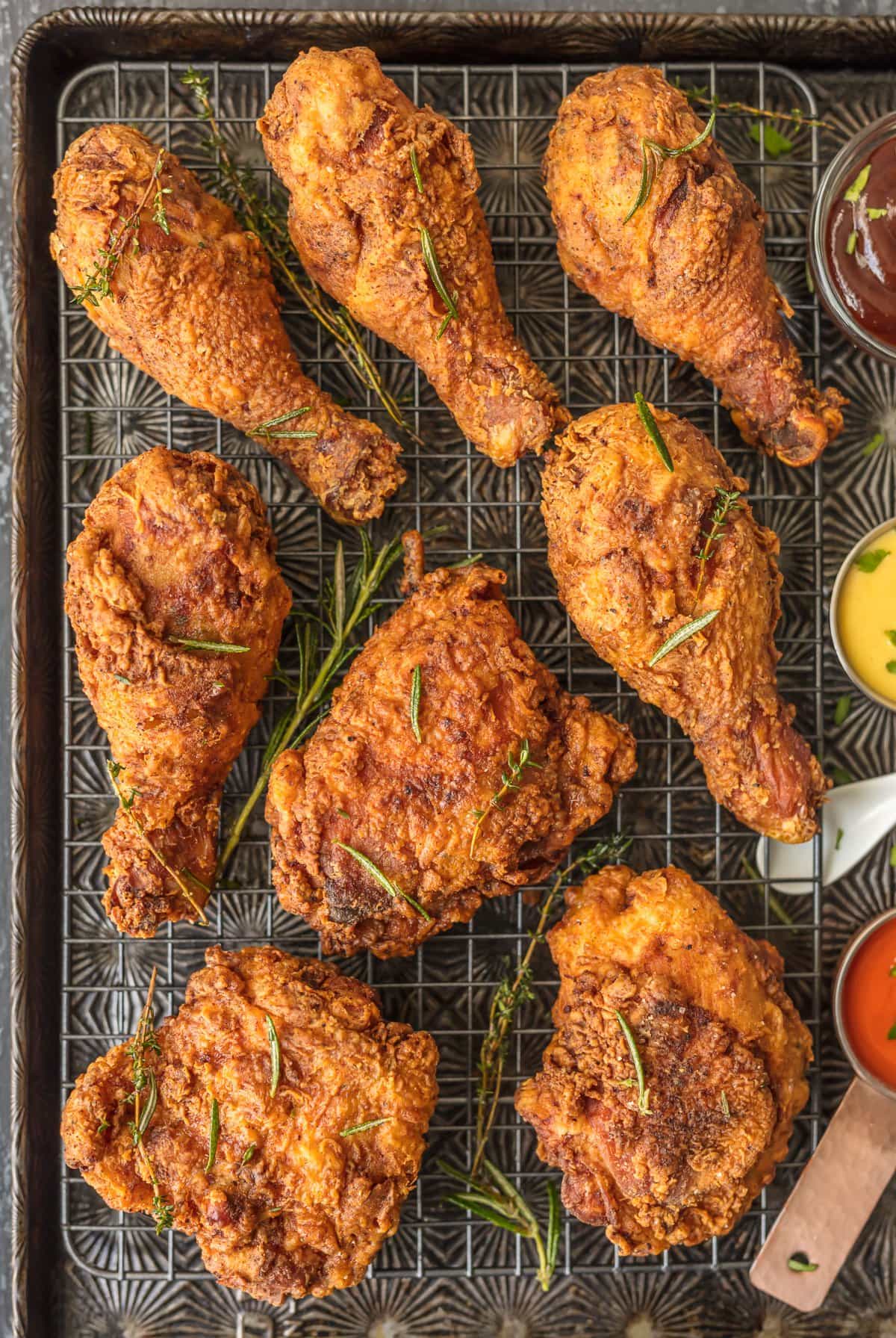 4.8 based on 5 review(s)
Ingredients
For the Brine:

8 cups (½ gallon) cold water
½ cup kosher salt
1 lemon; grated zest & sliced
6 bay leaves
1 tablespoon black peppercorns
¼ cup flat leaf (Italian) parsley
2 sprigs rosemary
4 sprigs thyme
3 tablespoons honey
1 head garlic; cloves smashed, and skin left on

For Frying the Chicken:

10 pieces chicken, skin-on and bone-in (whole breast cut in-half)
2 cups all-purpose flour
1½ tablespoons garlic powder
1½ tablespoons onion powder
1½ teaspoons sweet paprika
1½ teaspoons cayenne pepper or 1 teaspoon red pepper flakes
1 teaspoon kosher salt
½ teaspoon freshly ground black peppe
1 quart buttermilk
10 cups Peanut, Canola or Vegetable Oil, for frying (peanut is best, but is the most expensive)
Instructions
For the Brine:

Place all brine ingredients in a pot and bring to a boil. Boil 1 minute or until the salt dissolves, then chill completely.
When the mixture has chilled, add the chicken pieces and brine for 8 hours. Do NOT brine more than 8 hours or the chicken could be too salty.
After 8 hours, transfer the chicken pieces to a paper towel-lined plate and pat completely dry with other paper towels. Allow the chicken to rest at room temperature for 1 hour before deep frying and while prepping to cook.

For Frying the Chicken:

Mix together flour, garlic powder, onion powder, paprika, cayenne, salt & pepper. Divide the flour mixture into 2 bowls.
Place the buttermilk in a third bowl and set it between the bowls with the flour mixture.
Preheat the oil, in a large Dutch oven, to 330 degrees F. Immediately before frying, dip the chicken legs and thighs (dark meat) into the flour mixture, the buttermilk and then the 2nd flour mixture. Fry 10-13 minutes until golden brown, and the internal temperature is 175-180 degrees F. (The temperature of the oil will decrease so adjust the heat to keep the oil at 325.) Place only 3-4 chicken pieces in the pot – do NOT overcrowd the pot. The chicken will be cooked in batches. When chicken is cooked through, transfer it (skin-side up) to a cooling rack placed over a baking sheet and sprinkle lightly with coarse salt.
Repeat the process with the wings and breasts (white meat). Fry 7 minutes (depending on the size of the breasts) until internal temperature is 170 degrees F. Transfer the chicken to a cooling rack and sprinkle it lightly with coarse salt.
While the chicken rests, add the herb sprigs to the hot oil and cook until crisp. Serve the chicken on a large tray and garnish it with crisp herbs.
Per Thomas Keller (and me), ENJOY the best fried chicken of your life!
*NOTE: For best result, if buying a whole fryer chicken, buy one smaller than 4 lbs to ensure the pieces don't get too brown before cooking through.
7.6.7
2401
https://www.thecookierookie.com/best-ever-buttermilk-fried-chicken/
Around the web: Some of our friends have some great fried recipes you need to check out like Beer Battered Coconut Shrimp, Deep Fried Strawberries, and of course Fried Pickles.