BUTTERMILK FRIED CHICKEN is the best fried chicken recipe you will ever sink your teeth into. Fried Chicken can be tricky, but we have broken it down to the PERFECT easy fried chicken recipe anyone can make. This Buttermilk Chicken Recipe will become the favorite chicken of your life! This Buttermilk Fried Chicken recipe is one everyone needs to know how to make. Your family will thank you!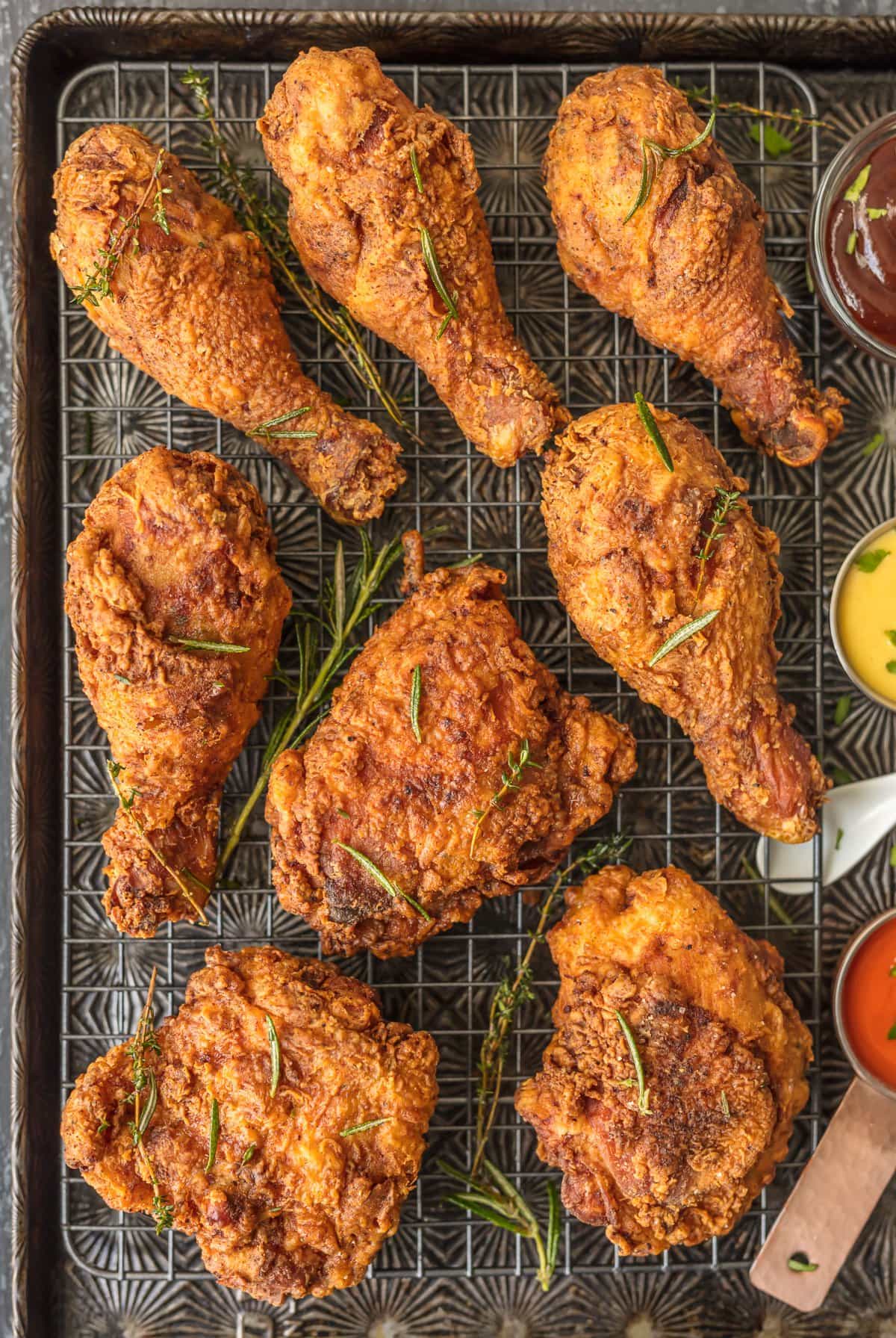 Buttermilk Fried Chicken
Buttermilk Fried Chicken is one of the BEST FRIED CHICKEN RECIPES I've ever tried. I think everyone should know how to make amazing fried chicken, even if it's just once in life. Once you try this recipe, you'll be hooked.
Even though this fried chicken is a bit time consuming, it's SO worth it, and I know you'll want to make it for your family again and again. You can wow your family with all your skills!
Keep reading to find our secret to making the juiciest fried chicken ever. This recipe is just so amazing, I can't wait for you try it.
This is the PERFECT fried chicken recipe. So moist, so flavorful, and SO good!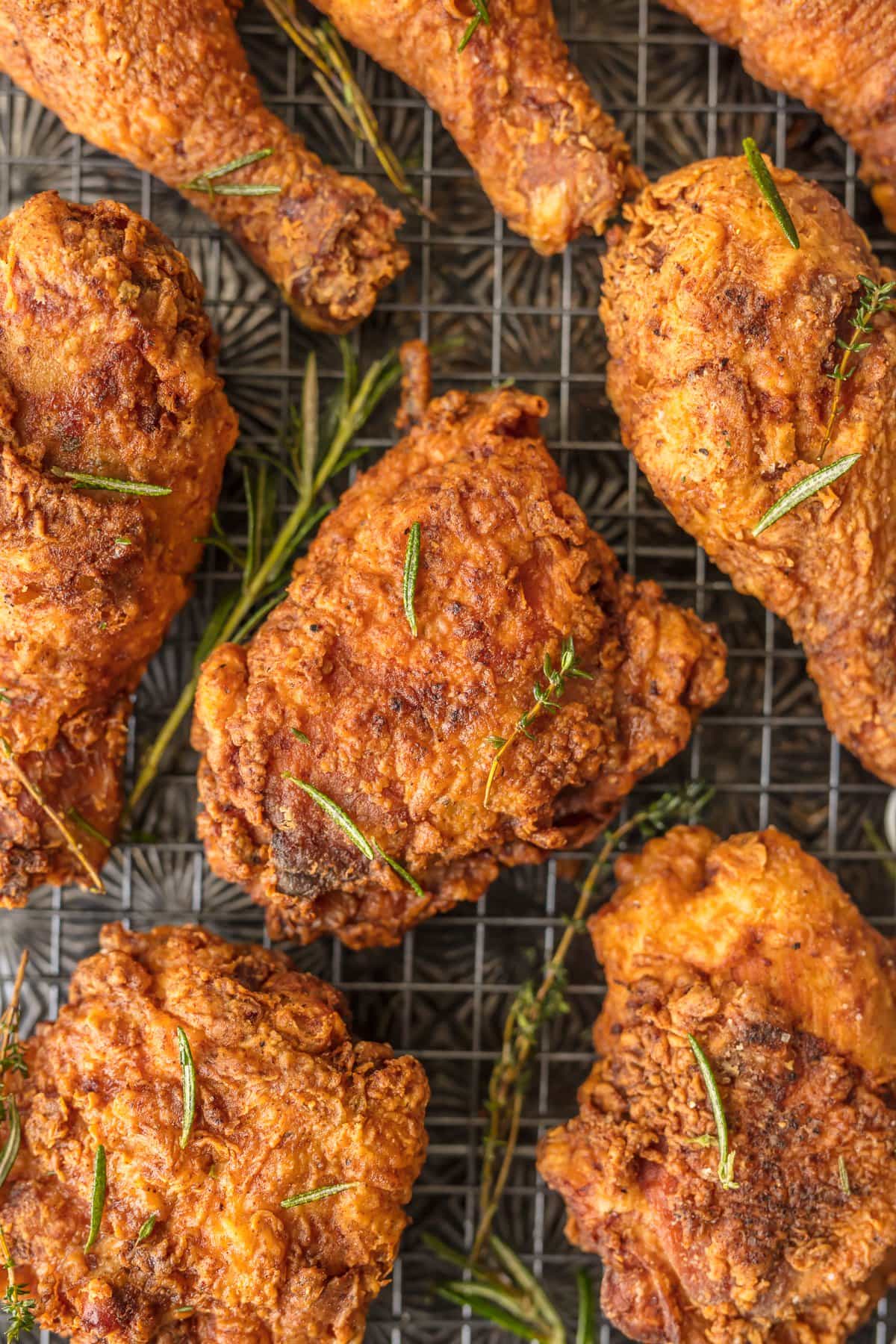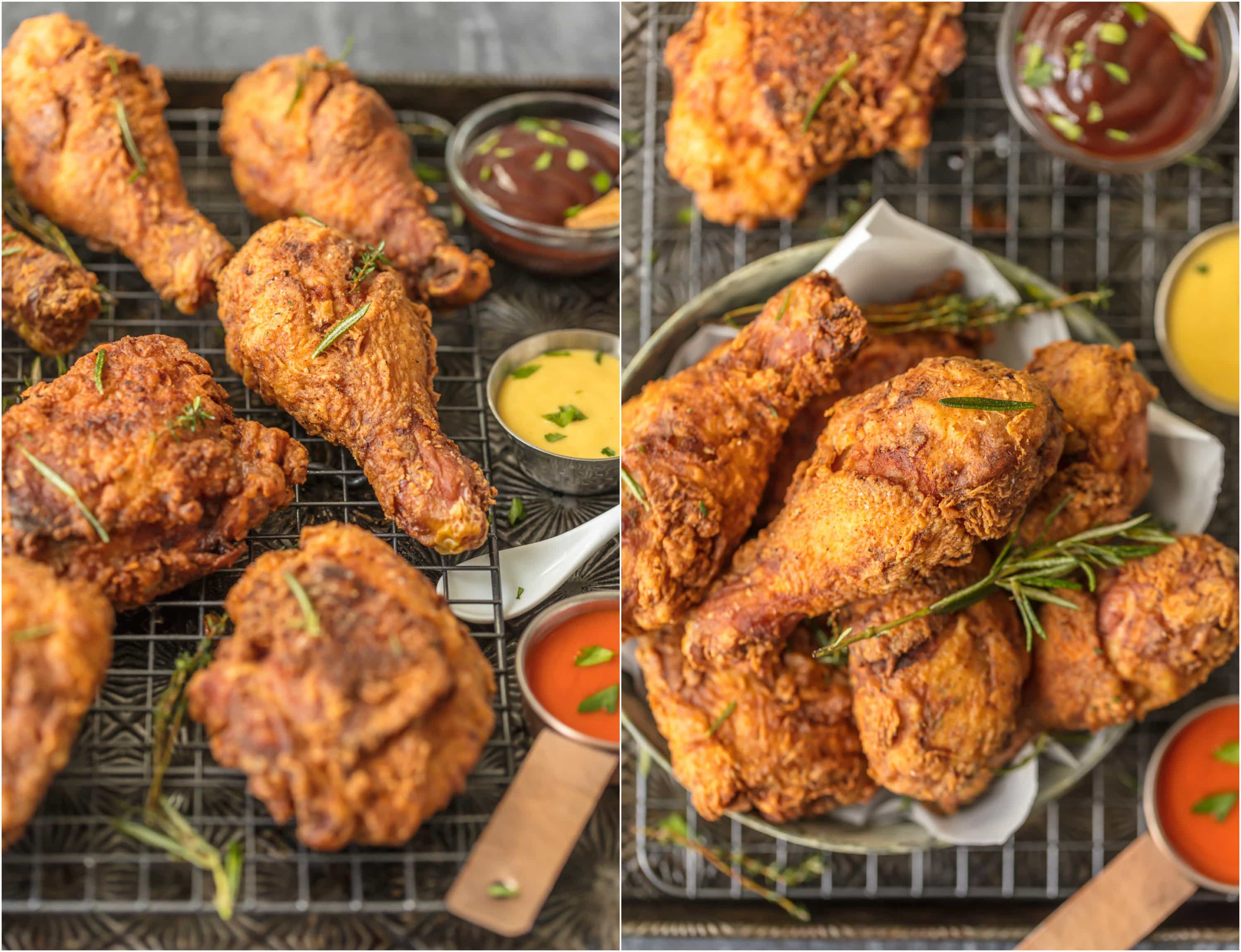 Best Fried Chicken Recipe
This buttermilk fried chicken recipe is a bit of work, but it's so worth it! My mom came over to help me with my first ever batch of fried chicken, and it was so fun to learn from her. She's a master in the kitchen, and I'm very lucky to have her as a resource.
In general, you don't have to brine chicken before frying it, but we do in this recipe because it's our little secret to making the best fried chicken ever! By soaking the chicken in the brine (for up to 8 hours), the chicken absorbs some of the water so that it's extra moist and juicy (and gets some extra flavor). Yum!
Buttermilk Fried Chicken Brine
To make the brine for this buttermilk fried chicken recipe, you'll need:
8 cups of cold water
Kosher salt
Lemon
Bay leaves
Black peppercorns
Flat leaf parsley
Rosemary
Thyme
Honey
Garlic
Combine all the ingredients in a large pot, boil it, then let it cool. Then just place the chicken in the brine for about 8 hours (any longer and it will get too salty). Easy!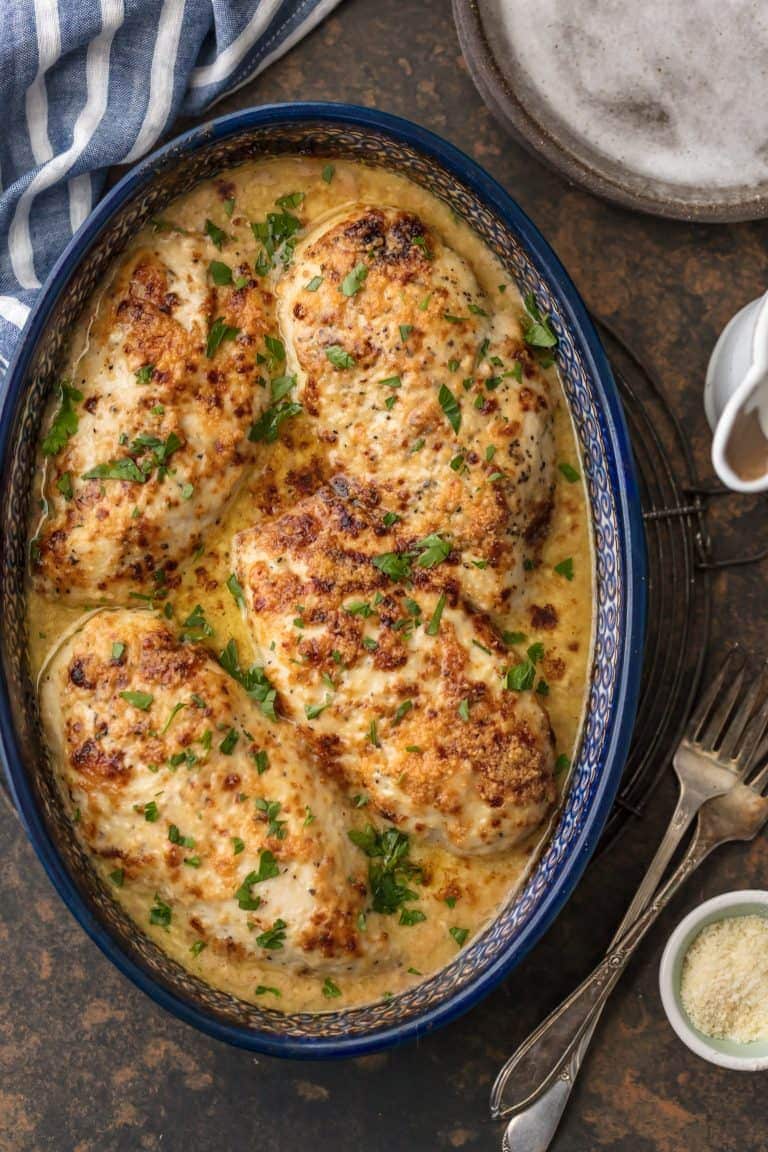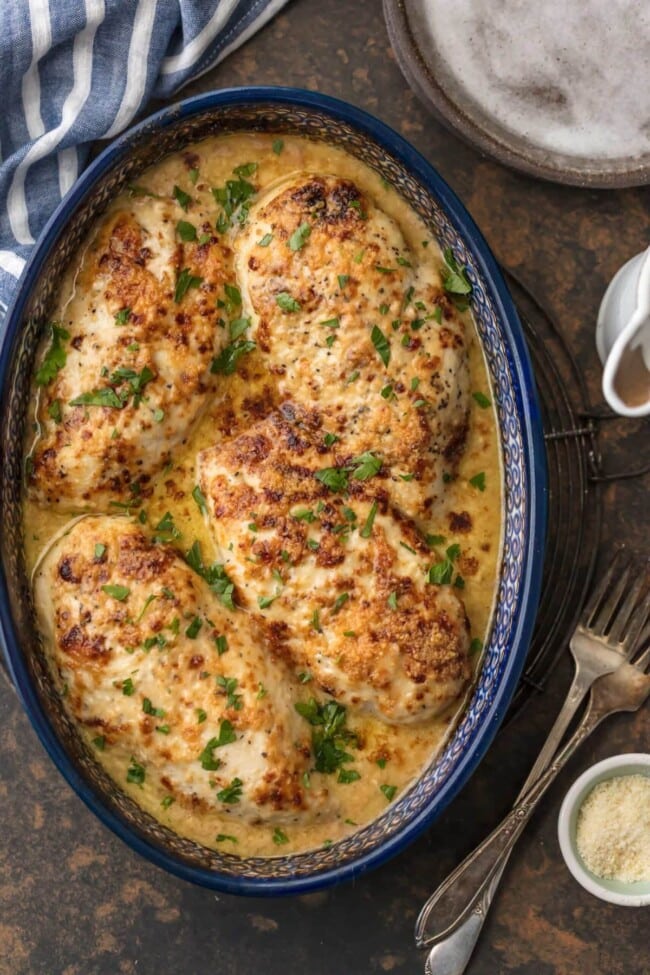 All our Best Chicken Recipes
72+ Chicken Dinner Ideas
We specialize in chicken recipes! See our guide of the best meals + tips and tricks for juicy chicken every time.
See Chicken Guide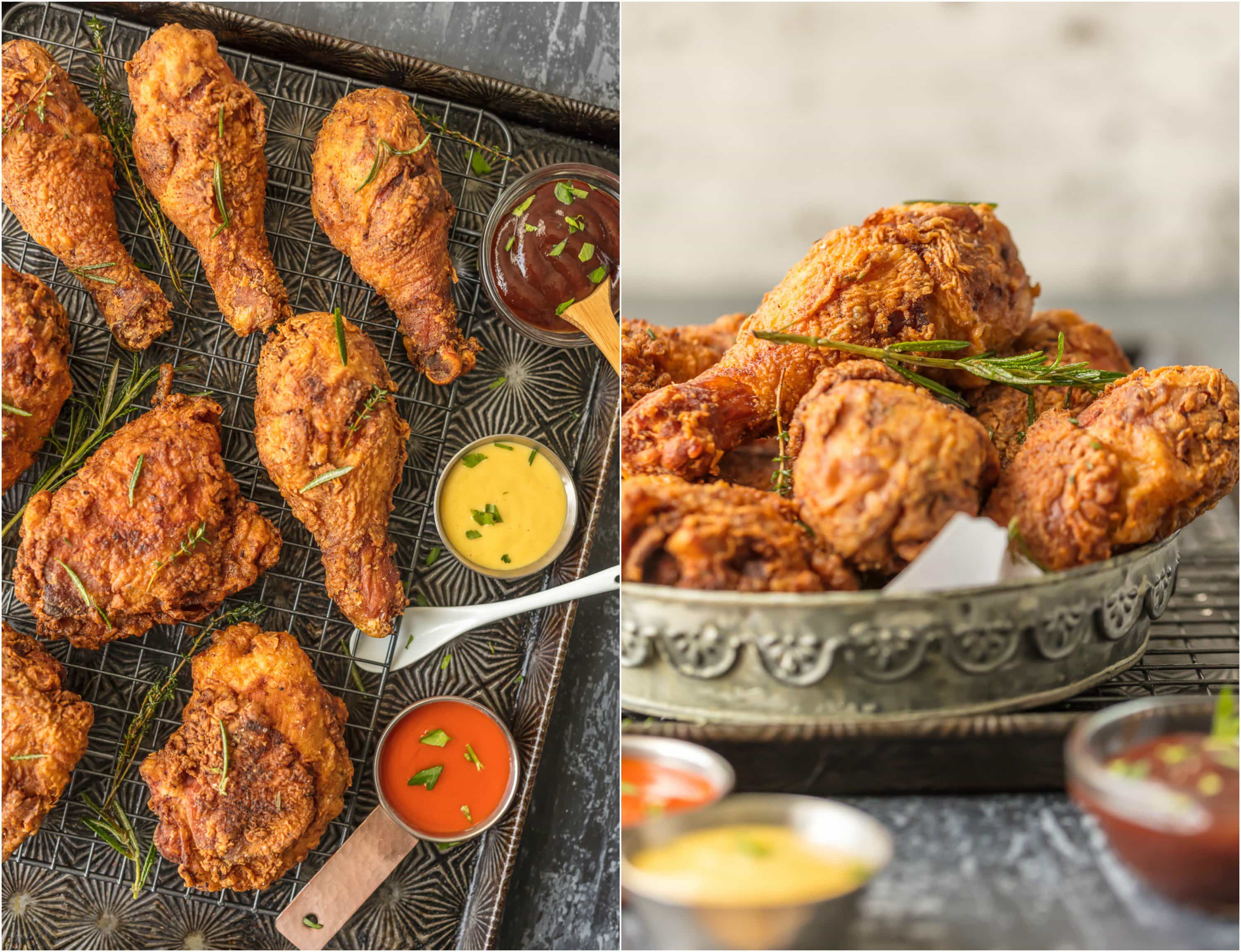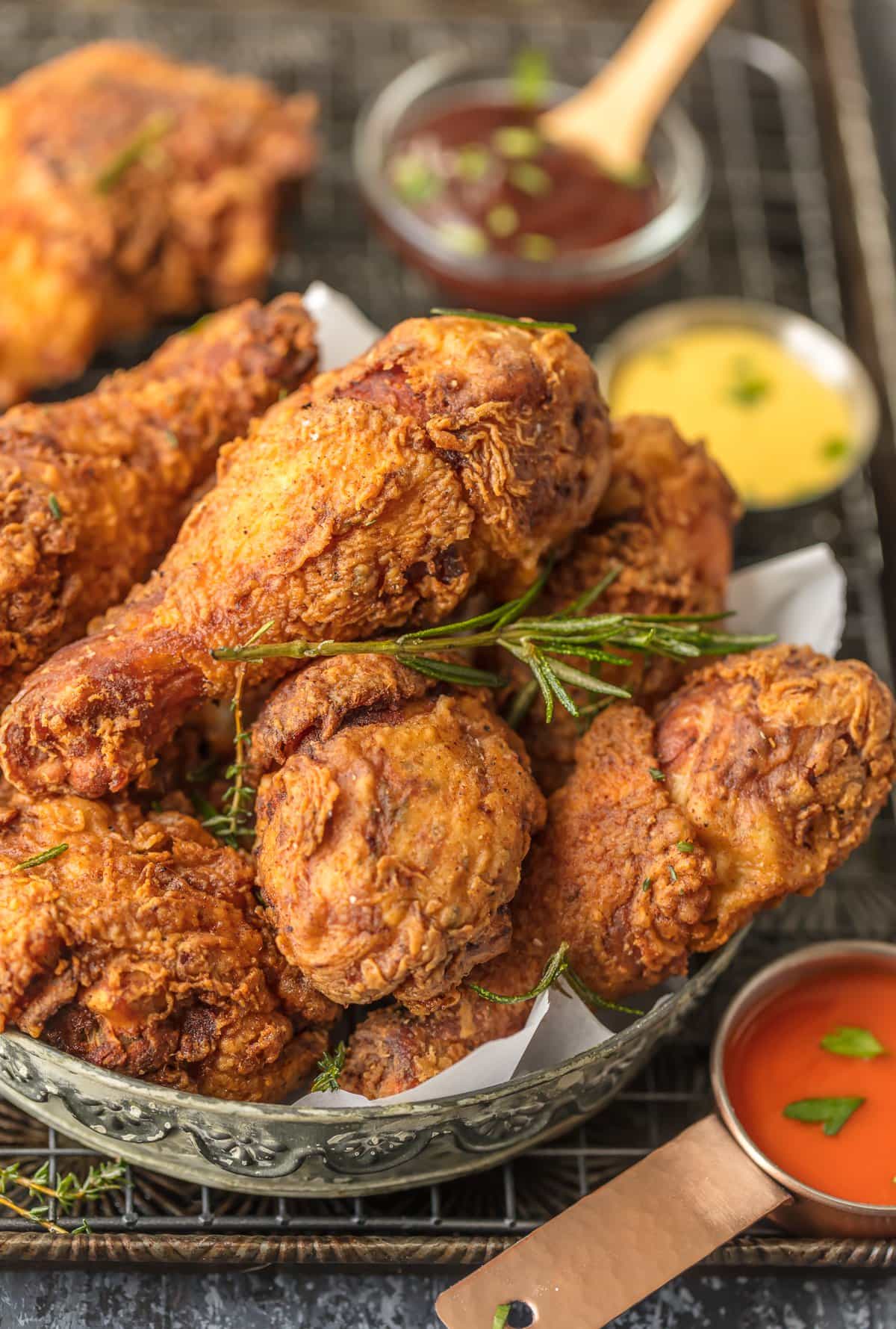 How to Make Buttermilk Fried Chicken
To say Pat was excited about this recipe would be an understatement! There's nothing quite like the perfect fried chicken, and I have to say, THIS IS IT. I just can't wait for you to try this recipe!
This buttermilk fried chicken recipe is one you're going to have to plan. It's easy to make, but it's not quick. Start by brining the chicken, then you can move on to making the fried chicken coating, dipping it in buttermilk, and frying it up.
The chicken will need to reach an internal temperature of 165°F. Check the recipe card for the full how to.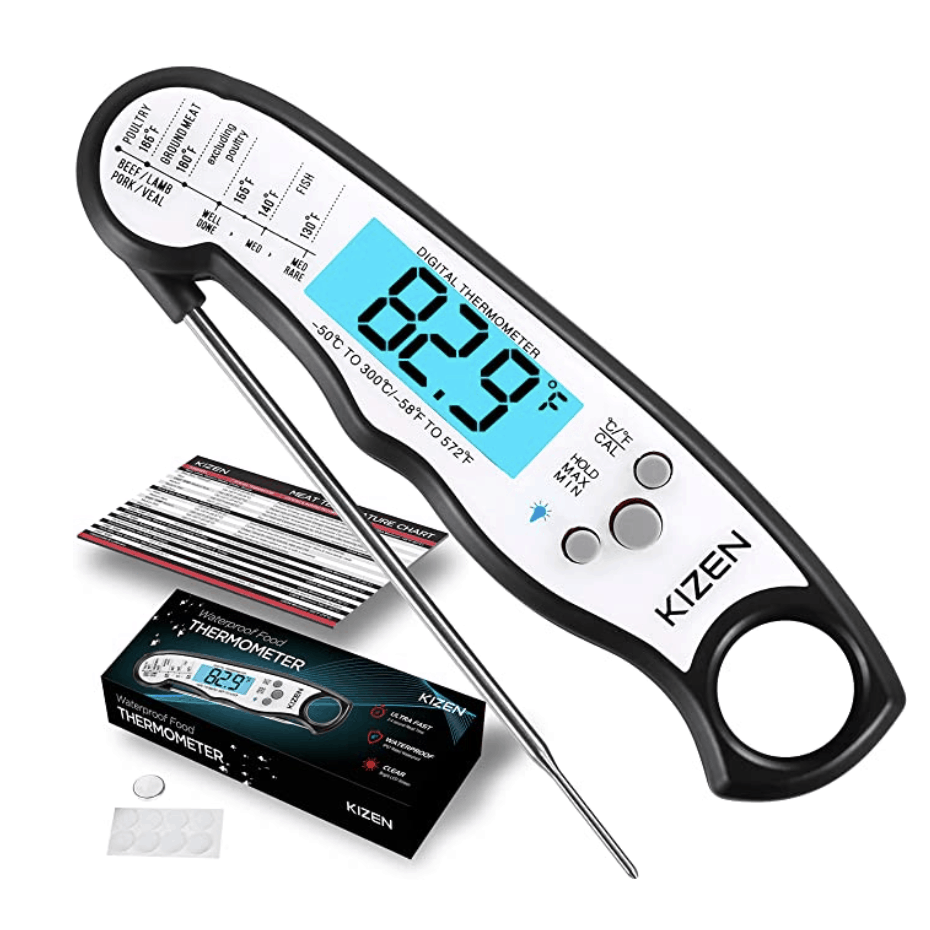 The Best meat thermometer!
I love using this meat thermometer for making sure the meat is at 165 degrees! Easy for beginners & totally worth the $10 cost!
Best Side Dishes for Fried Chicken
For the perfect fried chicken meal, you got to have the best sides. A nice full dinner of mashed potatoes, baked beans, bread…yes, load up on ALL the carbs.
There's no point in trying to make a healthy meal here. Just indulge and ENJOY. Pair this Buttermilk Fried Chicken Recipe with some of our favorite side dishes.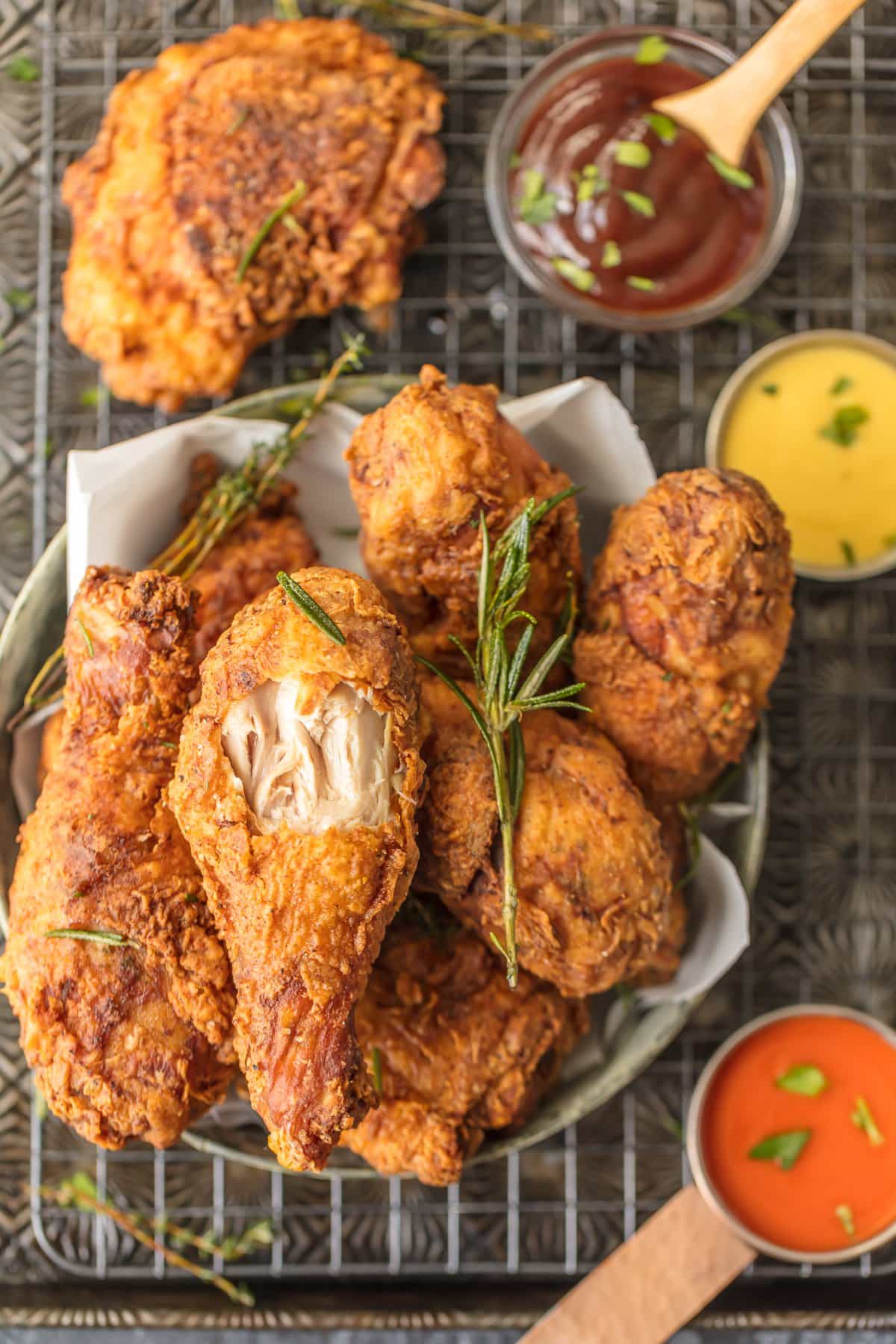 Tips for Making Buttermilk Chicken
This buttermilk fried chicken recipe is the BEST EVER. I'm not kidding. But it does take a bit of work to make something this delicious.
Here's everything you need to know about buttermilk chicken (how long to soak, why we use it, and how to make your own buttermilk!).
How long do you soak the chicken in buttermilk before frying?
Traditionally, you would soak the chicken in buttermilk for at least 30 minutes, but we have added a brining process to this fried chicken.
We brine the chicken first, then dip in buttermilk before frying. Get ready for the juiciest fried chicken EVER!
Why do you soak the chicken in buttermilk?
It's been proven (by all those food scientists that are much smarter than me) that chicken is plain old better when soaked in lactic acid before cooking. Buttermilk is one way to do that. The result is the juiciest and most flavorful fried chicken you'll ever eat!
Can I use milk instead of buttermilk to soak the chicken?
You can! The result isn't quite the same, but it will work in a pinch. See below how to make your own buttermilk using milk if you don't have any on hand.
Can I make my own buttermilk to use in this Buttermilk Fried Chicken?
Yes you can, and it's simple. Simply stir 1 tablespoon of lemon juice or white vinegar, into 1 cup of plain milk to make your own buttermilk. Easy peasy!
More Easy Chicken Recipes
This Buttermilk Fried Chicken is just one of our many favorite chicken recipes. Take your pick below!
See All Chicken
This was one of our most popular recipes of 2017, and it continues to be a reader favorite! If you make it please let us know by uploading a pic in the comments or leaving a star rating. Enjoy.