Skillet Green Beans are an easy way to make some veggies for your meal. These Bourbon Green Beans with Bacon add some spice, flair, and beauty to any holiday table! It's the ultimate Thanksgiving side dish that's SO full of flavor, you'll be blown away!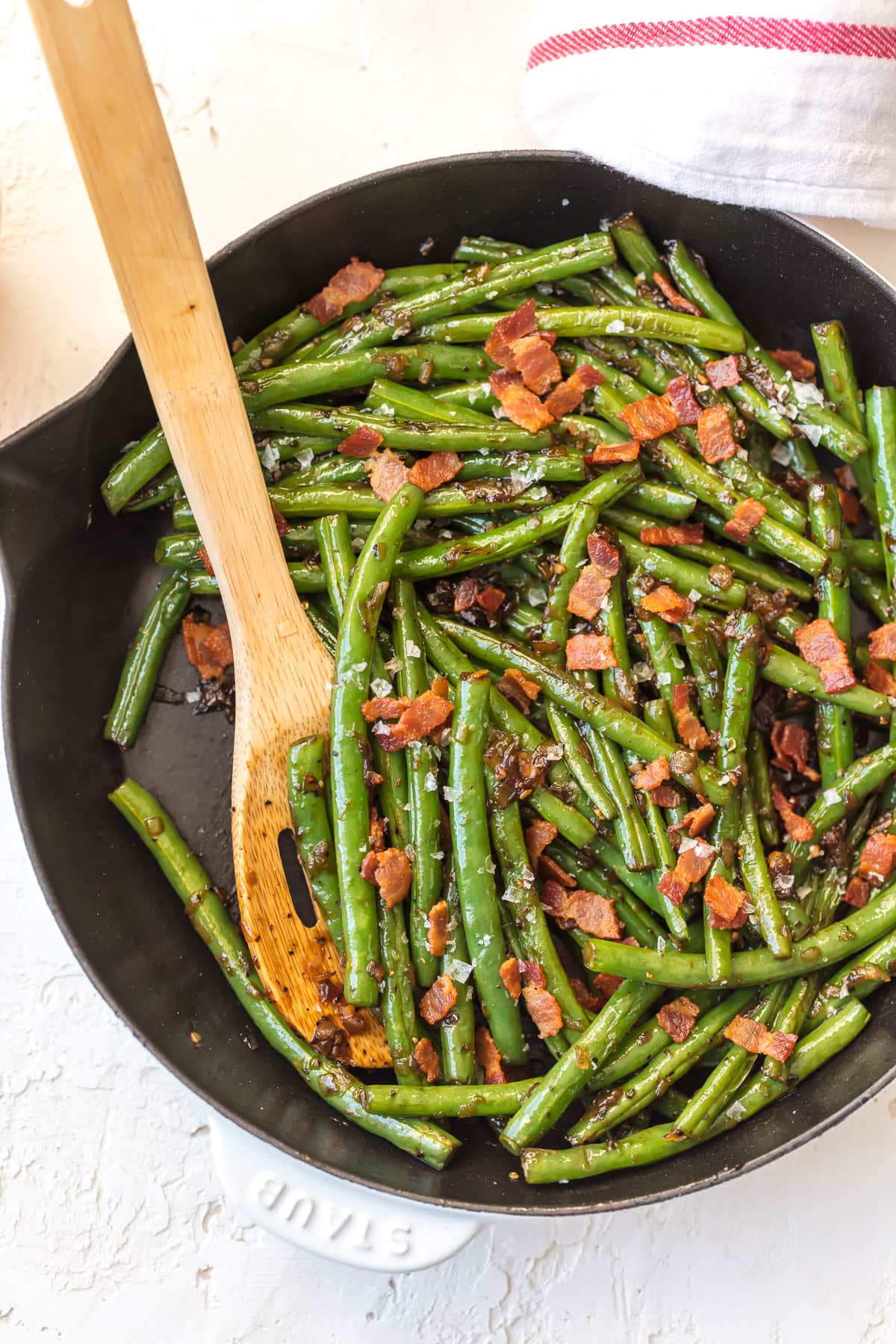 Skillet Green Beans with Bacon
Bourbon Green Beans with Bacon are a savory, flavorful side dish perfect for the holidays. This skillet green beans recipe is just so simple!
Every single Thanksgiving table needs a good green bean recipe. Don't even try to fight me on this, it's just a MUST! Everyone has their holiday favorites, but it's also fun to try out new things and new flavors. These Bourbon Green Beans with Bacon are fun, beautiful, EASY, and full of so much flavor. You definitely need to give them a try!
These simple skillet green beans have an element of spicy, salty, and sweet, running the full gamut of flavor! I want only the best for you guys, and this green beans recipe with bacon is just perfect.
Mom came over and helped me formulate this green beans recipe after I had the idea of using bourbon, and they turned out so well! We kept reaching in and "sampling" and before we knew it we had eaten almost the entire skillet of green beans as a mid-day snack. These will be making an appearance at our Thanksgiving this year for sure!
Bourbon Green Beans with Bacon are the perfect savory side dish for the holidays or any time. This skillet green beans recipe is so easy to make too!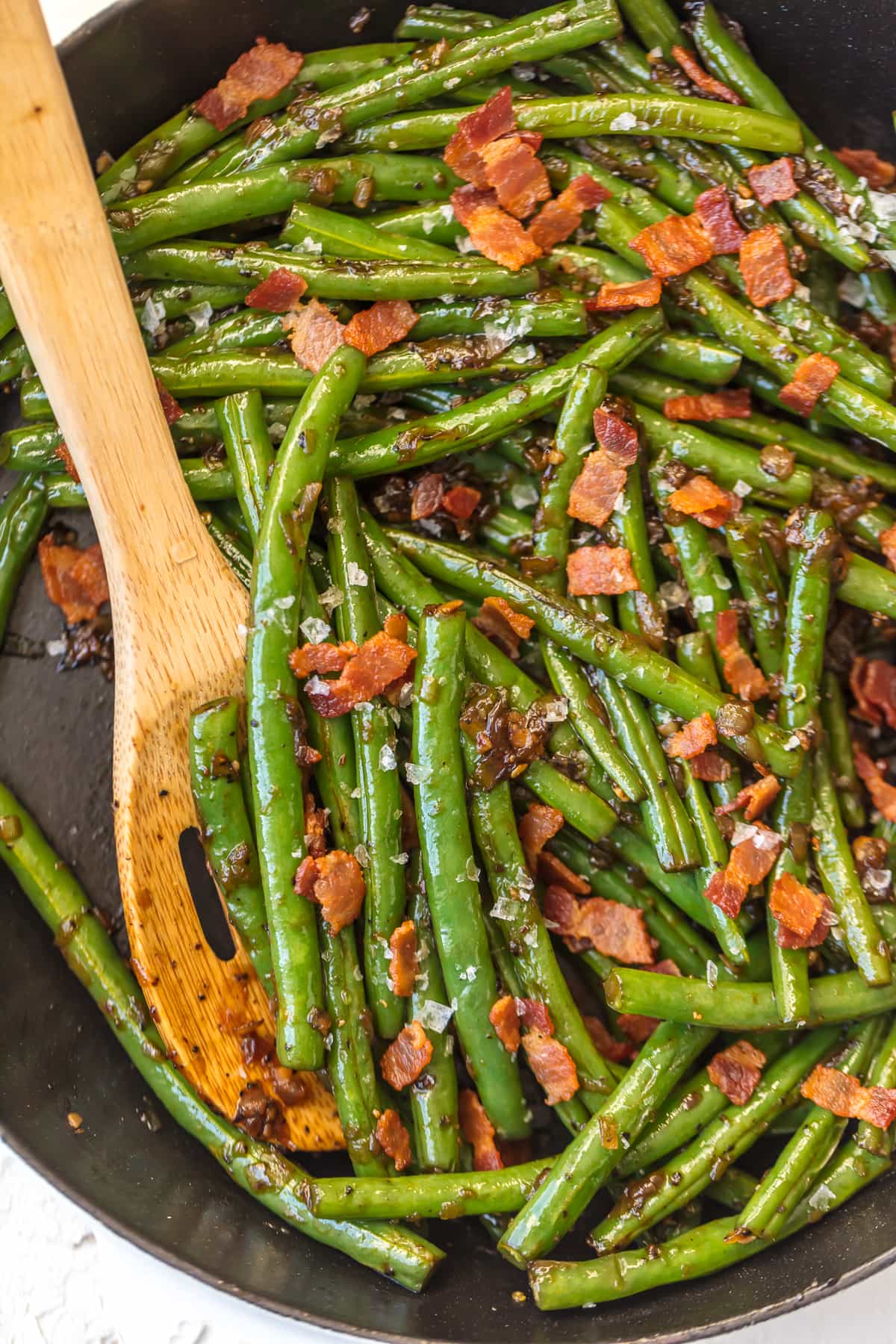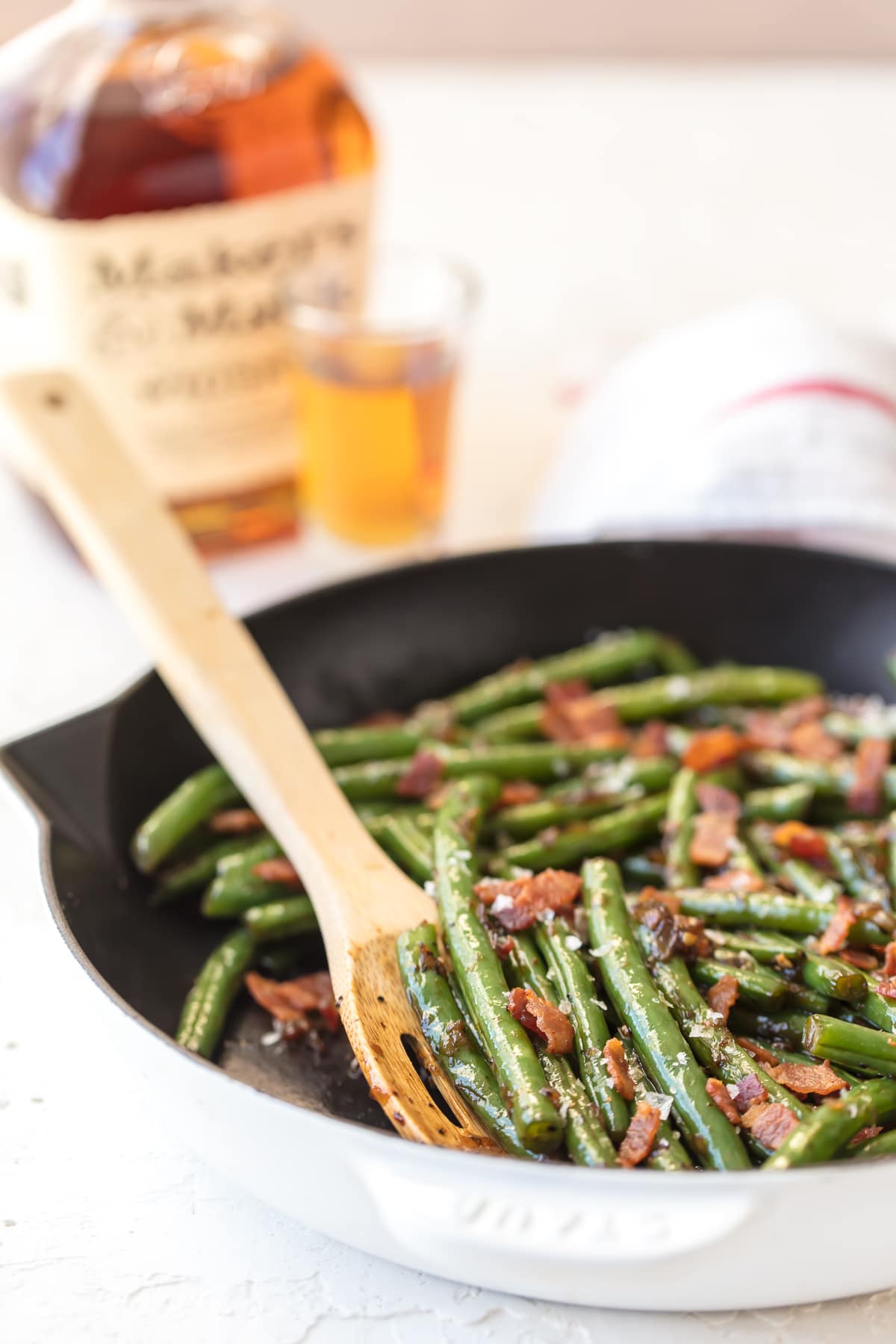 Skillet Green Beans Recipe
These Skillet Green Beans with Bacon really truly have all of my favorite flavors.
Bourbon (duh)
BACON
Salt
Brown Sugar
Onions
All the best for you! We made them a little spicy with some red pepper flakes, and I loved the flavor combo of the brown sugar and red pepper. They are perfectly spicy and sweet, what's not to love?
And to make these Bourbon Green Beans even better, it's all made in one skillet. That means ONE (count it…only one) pan to clean up after cooking. On holidays like Thanksgiving and Christmas, the LAST thing I want to do is worry about a bunch of dishes. No thank you. I want to enjoy my food, enjoy my friends and family, and then enjoy my post turkey nap. No dishes please!
How to Make Bourbon Green Beans with Bacon
This Bourbon Green Beans recipe with bacon is sooooooo delicious, and super simple to make. That's the perfect side dish equation, right? Get your veggies with a bit of bacon in one skillet.
How to make green beans in a skillet:
Cut bacon into small pieces then cook them in the skillet until crisp. Set bacon aside and keep the grease in the skillet.
Add onions to the skillet and saute, then add the garlic and cook about 30 seconds.
Add in the green beans, salt & pepper, and red pepper flakes, and cook about 6-8 minutes.
Pour in 1/4 cup water, cover skillet, and cook 2 minutes.
Add in bourbon and brown sugar, and cook uncovered 4-5 minutes.
Sprinkle in the bacon bits at the end before serving.
These skillet green beans with bacon are just so delicious. I love them for the holidays, but I'll eat them any time of year! The flavors are just incredible.
Serving Suggestions
These make a great side dish for any main! Serve green beans with chicken, beef, pork, or any of your favorites meals.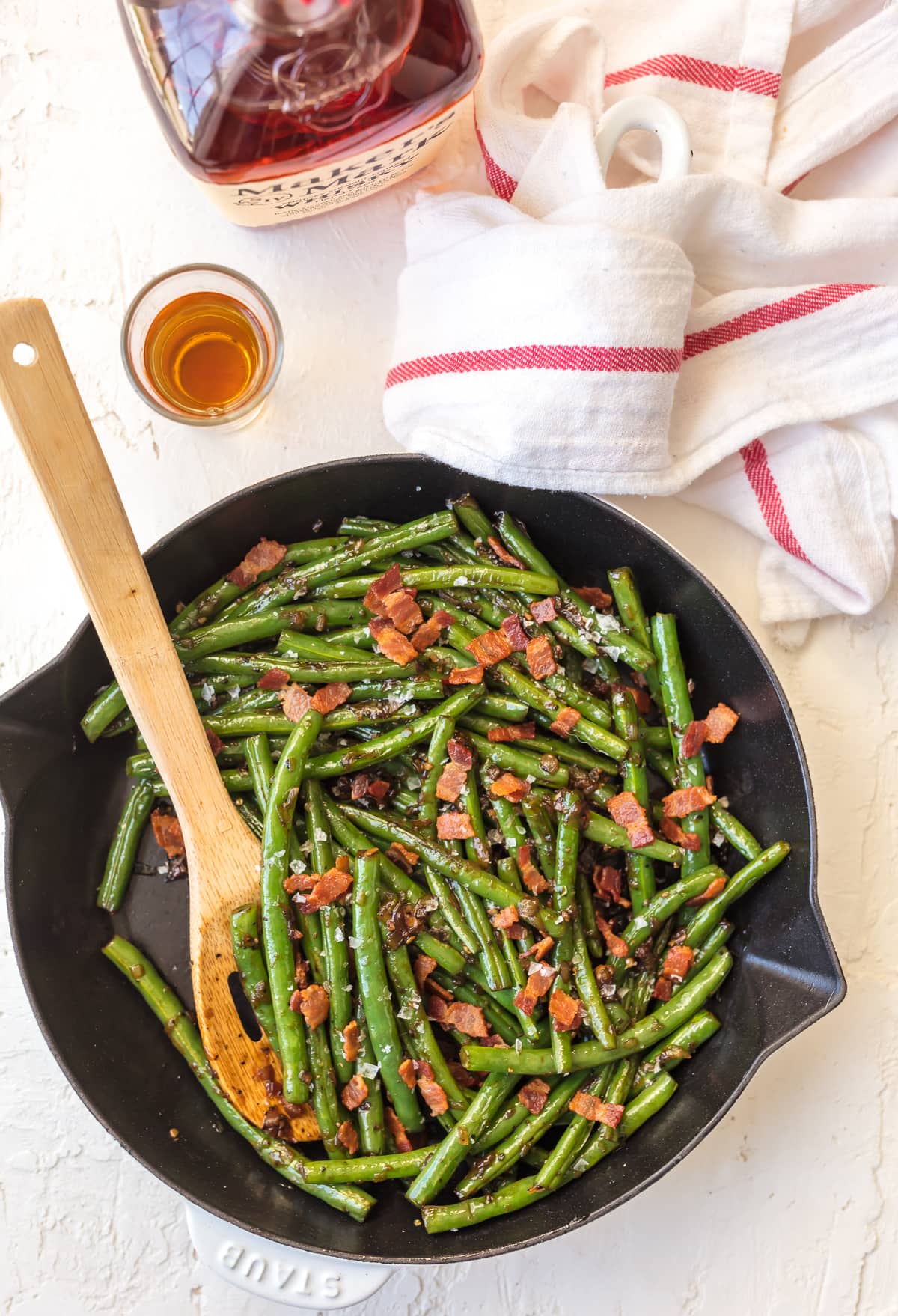 Bourbon Green Beans with Bacon are a fun recipe to serve during the holidays. Swap out your classic green beans recipes for this one and you won't be disappointed. The Bourbon and Bacon mix so perfectly, and add the best flavor to this skillet green beans recipe. I can't wait for you to try them!
See the recipe card below for details on how to make Skillet Green Beans with Bacon. Enjoy!
If you like this skillet green beans recipe, try some other favorite veggie side dishes: