Homemade Dinner Rolls are the perfect thing to serve with any meal. These yeast rolls are soft and fluffy, with just a hint of sweetness. You only need a few ingredients to make this dinner roll recipe, and it'll complete the meal beautifully.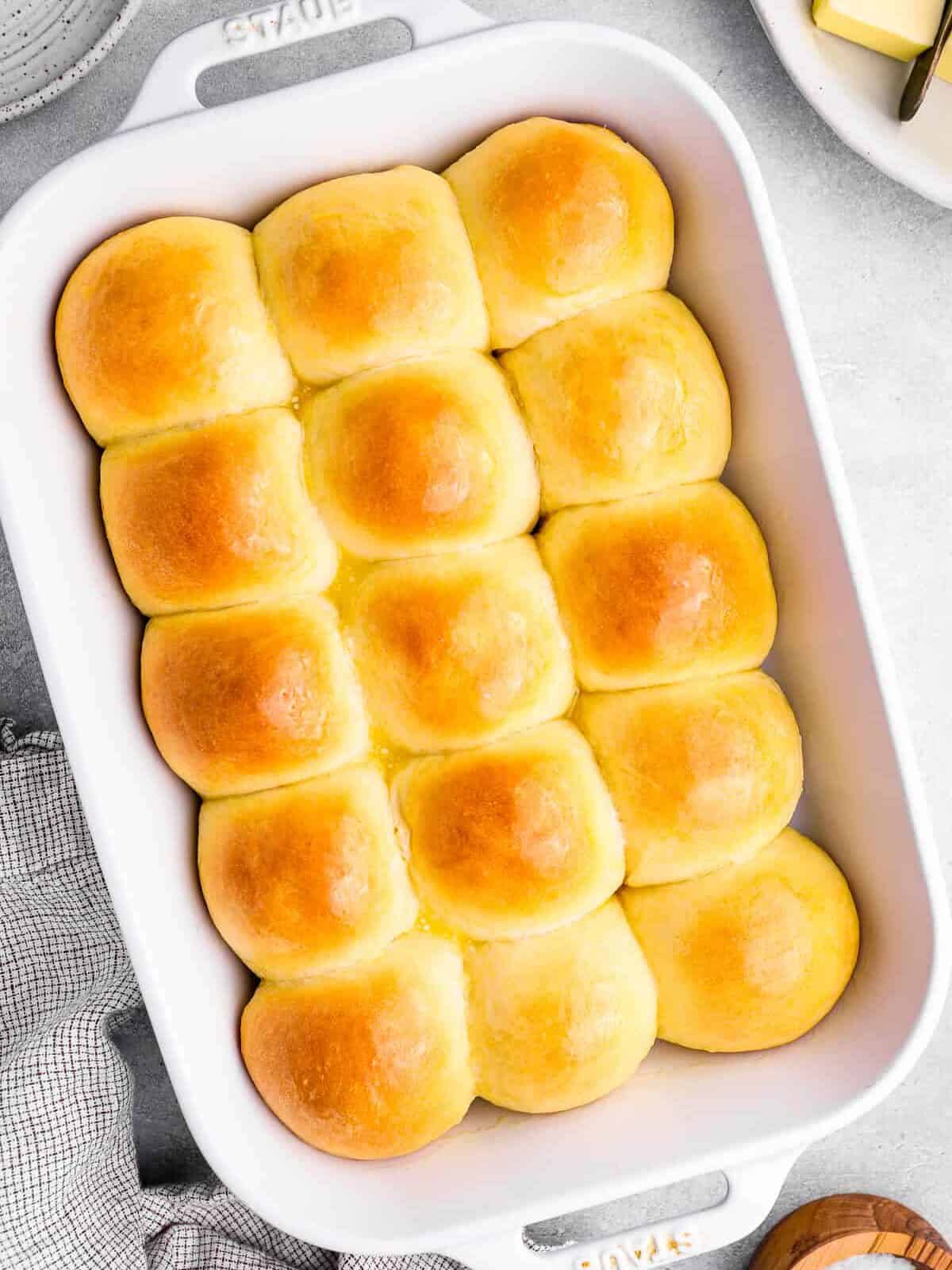 What's in this Dinner Rolls Recipe?
These are the absolute best dinner rolls because they're simple and delicious, and they go with everything. No meal is complete without these soft rolls on the table!
Bread Flour: Gives the rolls a great chew, but you can substitute all-purpose flour.
Instant Yeast: Helps the rolls rise in the oven. You can use active dry yeast instead of instant. Simply warm the milk to 110°F, dissolve the yeast, and let stand for 5 minutes before mixing into the dough in step 3.
Kosher Salt: Enhances the natural flavor of the rolls.
Milk: Adds moisture to the rolls. You can use plant-based milk if you prefer.
Unsalted Butter: Adds richness to the rolls. You can use plant-based butter if you prefer.
Granulated Sugar: Adds a touch of sweetness to the rolls.
Eggs: Give the rolls structure and add richness.
Pro Tip: Measure your flour using the spoon-and-level method to avoid dense, hard rolls.
Variations on Dinner Rolls
Liven up the dough for these homemade dinner rolls by mixing in 1 teaspoon of garlic powder, 1-2 tablespoons of freshly chopped herbs, or ½ cup of freshly grated cheddar or cheese!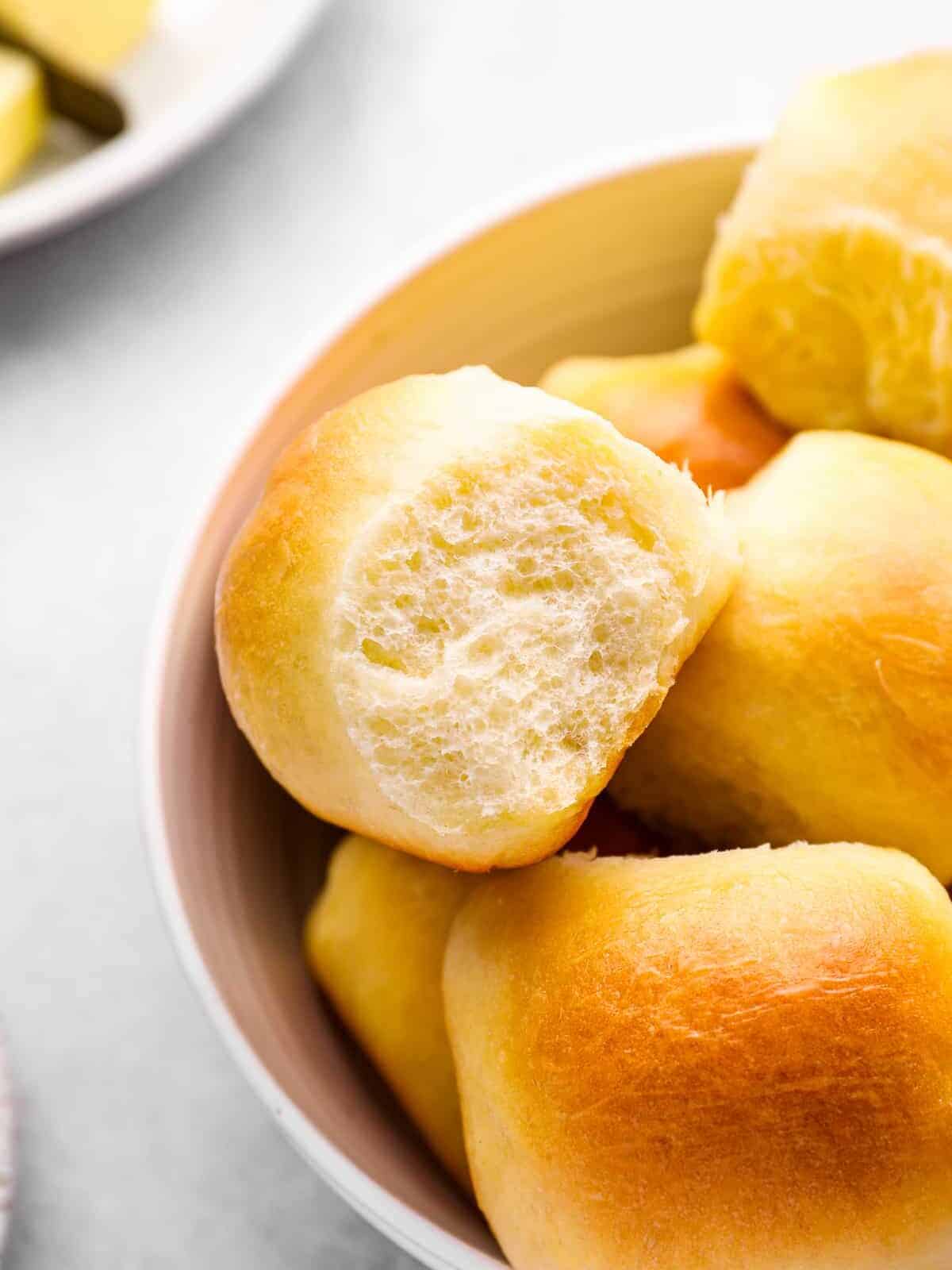 Why are they called dinner rolls?
Dinner rolls are named after their purpose, which is to be an easily-passed side dish to accompany a meal!
What's the difference between instant yeast and active dry yeast?
Instant yeast is ready to be used right out of the package, whereas active dry yeast is coated to preserve its freshness. Because of this coating, you need to dissolve active dry yeast in warm (105-110°F) water before using it.
How can I tell if my yeast is still good?
When using instant yeast, your best bet is to check the expiration date. As long as the package is sealed and within the date, the yeast should be good to go. If your bread dough doesn't rise after the first proofing, your yeast may be old!
Can I make dinner rolls if I don't have a stand mixer?
Absolutely! To make these dinner rolls by hand, stir together the step 1 and 2 ingredients until well combined. Knead the dough for about 15 minutes, then continue to follow the recipe as written.
Why are my dinner rolls not light and fluffy?
Dense or heavy rolls are usually caused by not kneading the dough long enough. Be sure to knead the dough until it is smooth and elastic. If your dough is properly kneaded, it should slowly spring back when pressed with one finger. If it springs back too quickly, it is under-kneaded, and if it does not spring back at all, it is over-kneaded. The same tips can be used to tell if the dough has been proofed enough. Too springy means under-proofed and not springy enough means over-proofed.
Why are my homemade rolls tough?
There are a few culprits for hard dinner rolls. First, you may have added too much flour. Be sure to measure your flour using the spoon-and-level method to avoid using too much. Second, the dough may be over-mixed. Over-mixed dough will not spring back when pressed gently with a finger. Finally, the rolls may simply be overbaked. Perfectly baked rolls should be golden brown on top and 190°F internally.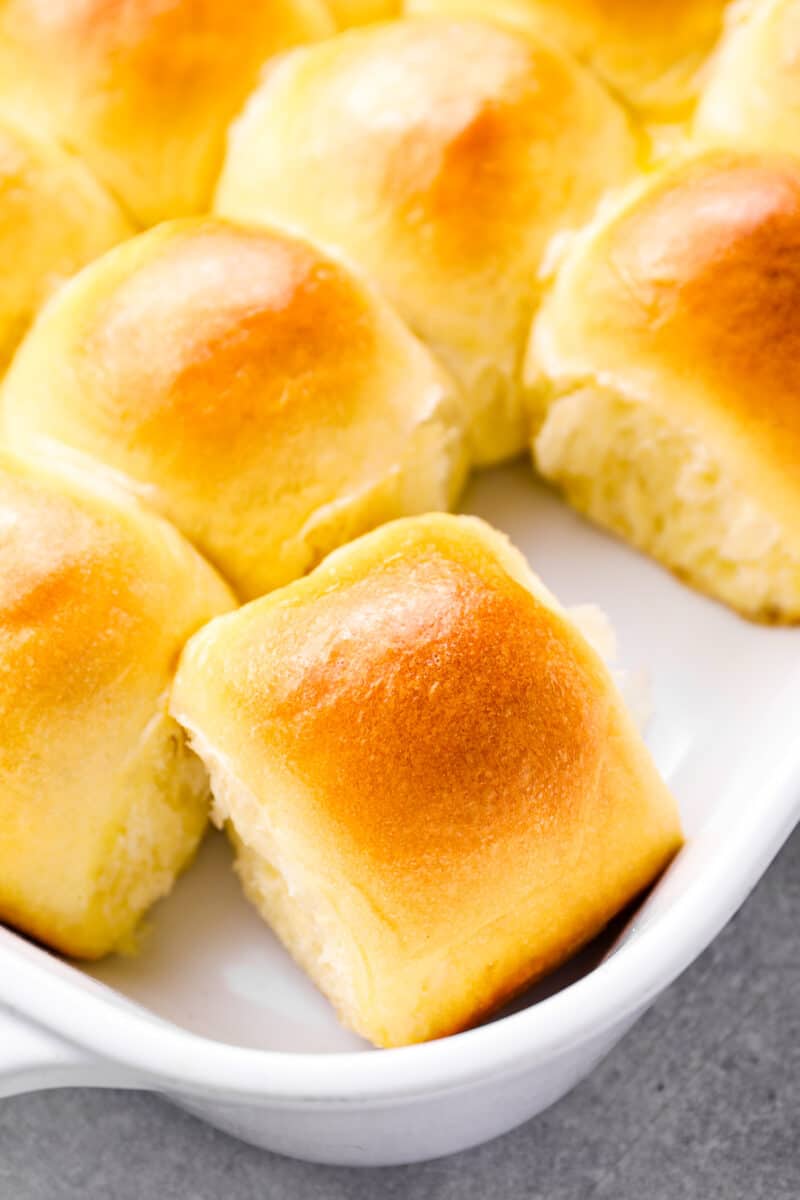 How to Make Ahead and Store
These dinner rolls are a great make-ahead recipe. You can prepare the dough through step 6, then place it in the refrigerator overnight to proof slowly. Continue the recipe as written the next morning!
Store leftover dinner rolls in an airtight container at room temperature for up to 3 days or in the refrigerator for up to 5 days.
How to Freeze and Reheat
You can freeze these rolls shaped, risen, or fully baked.
Shaped: Shape the rolls and place them on a baking sheet with space between them. Freeze for 8-12 hours, then transfer to a Ziplock bag and store for up to 3 months. Thaw at room temperature for 3-5 hours, until risen. Bake as directed.
Risen: Let the rolls rise completely, then freeze in a Ziplock bag for up to 3 months. Thaw at room temperature until soft, about 2 hours. Bake as directed.
Fully Baked: Freeze fully-baked dinner rolls in a Ziplock bag for up to 3 months. Thaw at room temperature for about 2 hours and reheat in a 350°F oven for 10-15 minutes before serving.
Serving Suggestions
Every meal will be better off once you add these dinner rolls to the plate. They truly go with everything, so whatever you're cooking, this is sure to be the best side dish. I especially love them with Coq au Vin, Air Fryer Beef Tenderloin, Turkey Meatloaf, or Instant Pot Pineapple Brown Sugar Ham.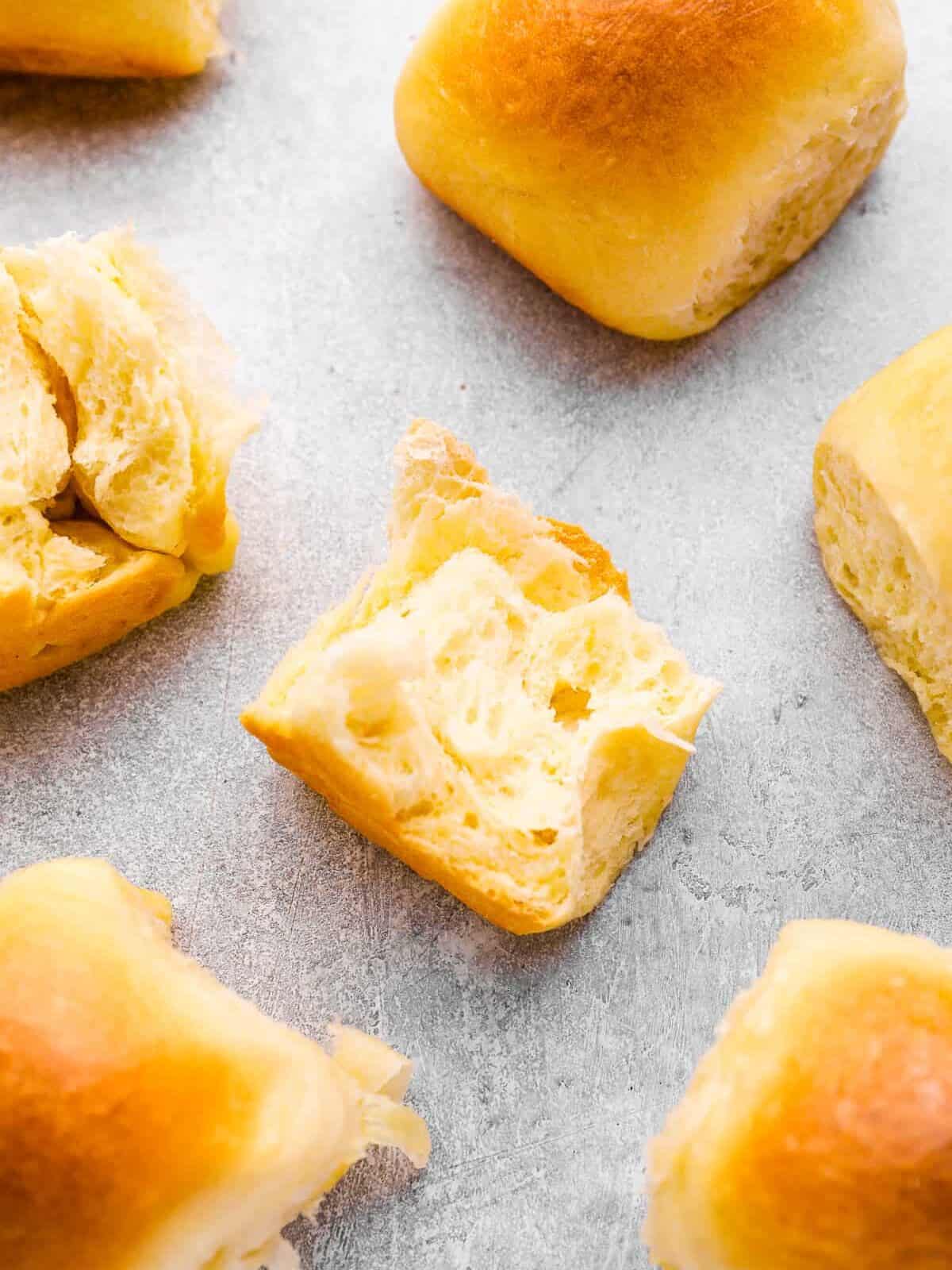 More Dinner Roll Recipes We Love