Stuffed Pork Loin is a delicious main dish option for holidays and special dinners! This rolled stuffed pork loin roast is juicy, savory, and absolutely beautiful. It's stuffed with rosemary, garlic, and breadcrumbs, and roasted to perfection.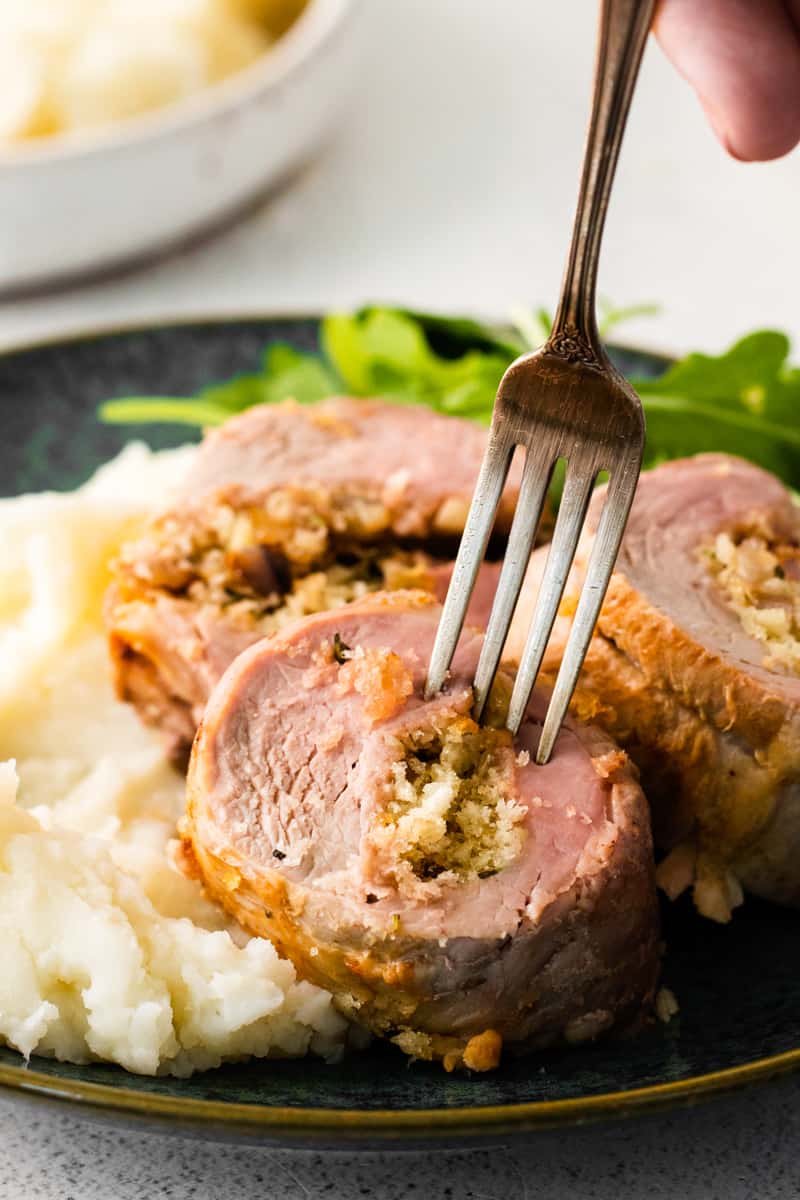 Stuffed Pork Loin Roast
This stuffed pork loin recipe is filled with a delicious breadcrumb mixture made with rosemary and garlic. It's so savory, herby, and tasty.
I love this main dish for holidays and special occasions. It looks beautiful on the table surrounded by lots of side dishes, and it is perfectly delicious!
Why You'll Love this Pork Loin Recipe:
DELICIOUSLY STUFFED: This pork loin is stuffed with delicious ingredients, rolled up, and roasted to perfection.
HOLIDAY DINNER: Stuffed pork loin makes a great main dish for Christmas, Easter, or Thanksgiving.
ONE PAN: Make this dish with just one skillet, from the stovetop to the oven!
Everyone will love this garlic rosemary stuffed pork loin roast no matter when you serve it!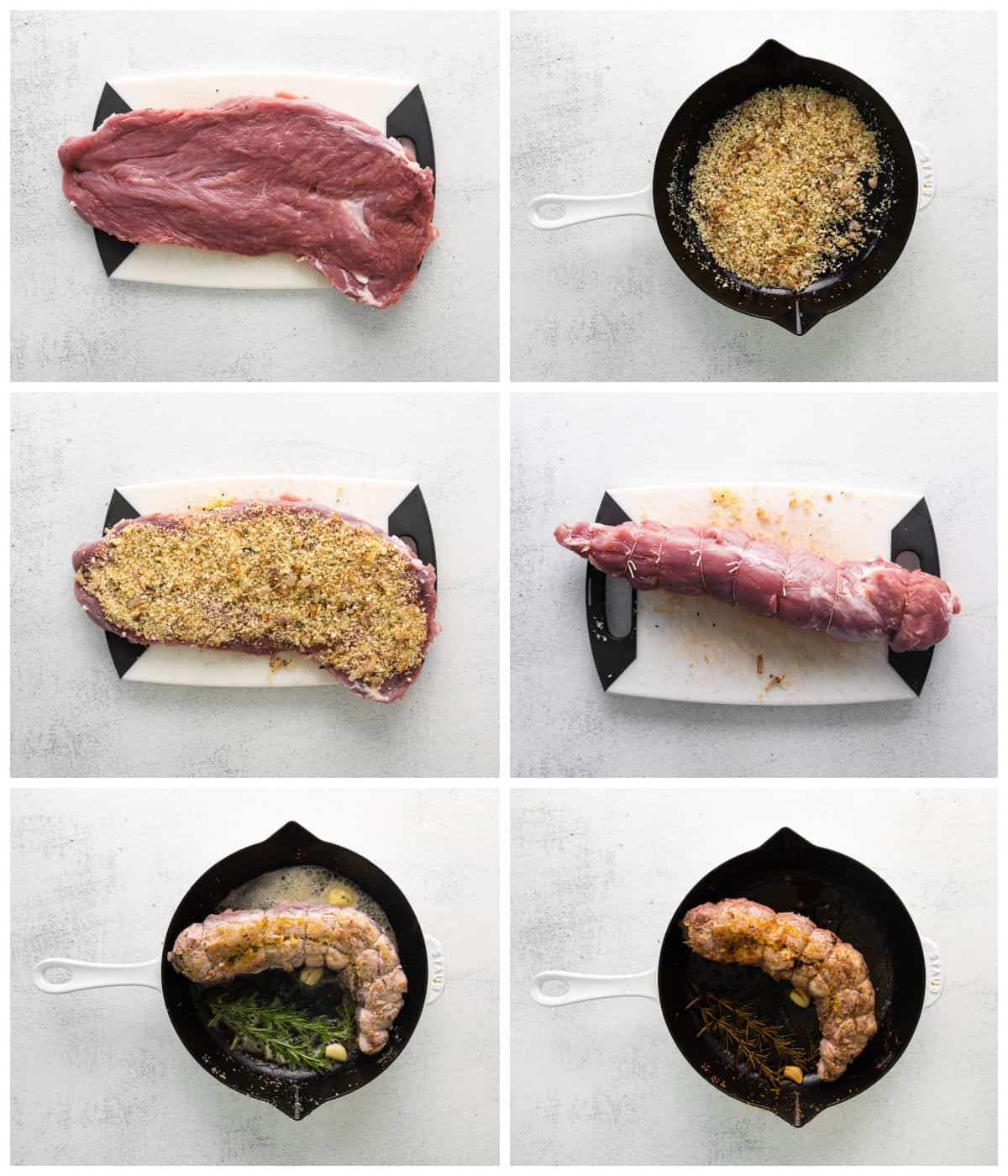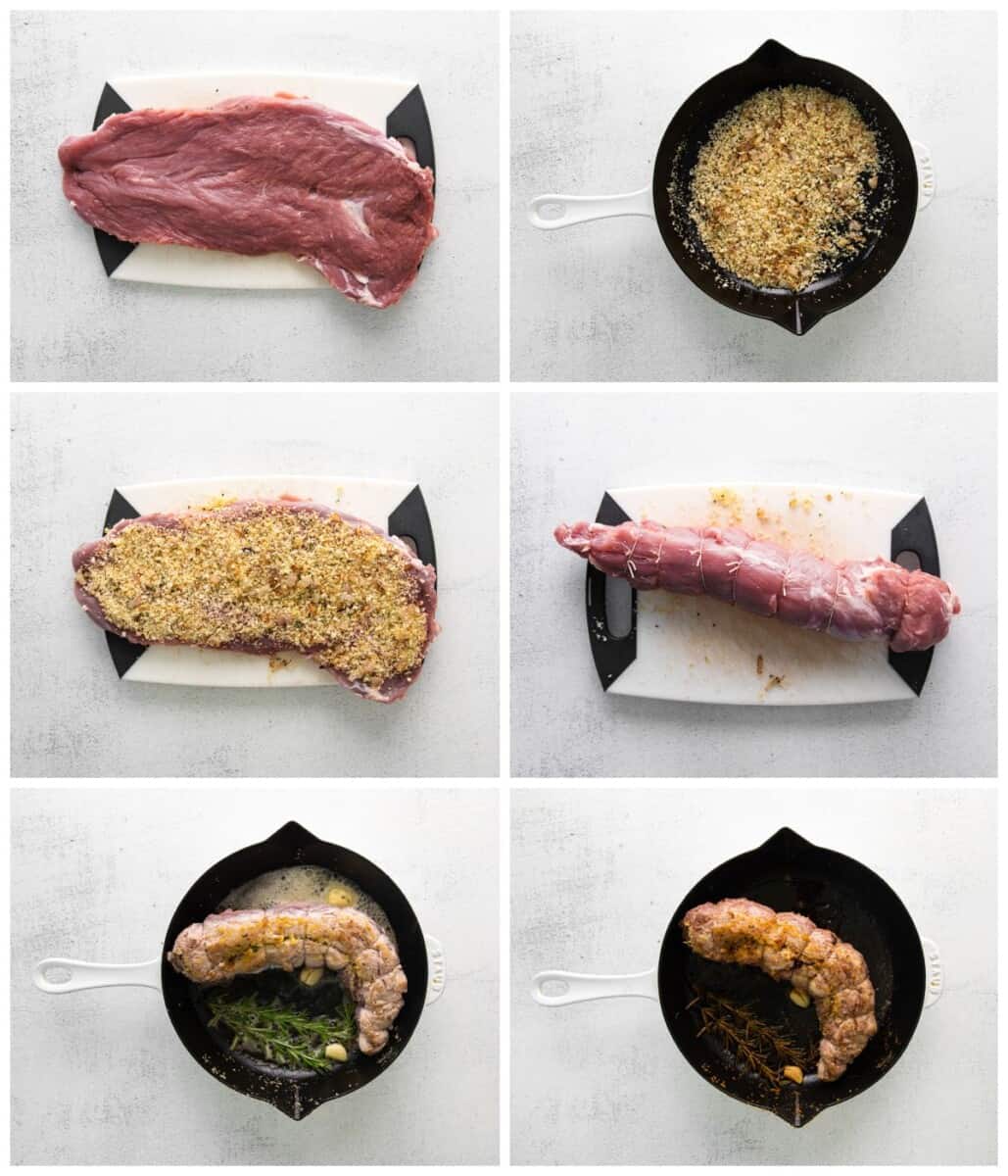 How do you butterfly pork loin for stuffing?
We start this stuffed pork loin recipe with a butterfly cut. This is a simple way of cutting a piece of meat (almost in half) so that it is thinner, and has a larger surface area. When you open it up after cutting, it will resemble the shape of a butterfly.
This is ideal for this recipe because we want the loin to be thin enough to roll up around the "stuffing" ingredients.
How to Butterfly pork tenderloin:
Place meat flat on a cutting board, and trim any excess fat.
You will be cutting it in half, lengthwise, parallel to the board. So instead of cutting down through the meat, position your knife blade to cut straight into the side of the loin.
Cut most of the way through, but not all the way through. You want to leave the meat connected on one side, so that you can open it up.
Note: The point of this cut is to open it up and make it thinner. So that little bit that you keep connected will allow you to create a larger piece of meat, that is still all one piece.
How to Make Stuffed Pork Loin
You can jump to the recipe card for full ingredients & instructions!
Butterfly and pound the tenderloin, then dry it and season it.
Cook shallots in a skillet, then add the breadcrumbs and other ingredients to make the stuffing mixture.
Spread the breadcrumb mixture over the surface of the pork loin. Then roll it up and secure with kitchen twine.
Briefly pan sear the pork in the skillet, and add the butter mixture.
Then roast the stuffed pork loin about 15-20 minutes.
Remove from the oven, cover with foil, and let it rest until it reaches 145F.
Slice, serve, and enjoy!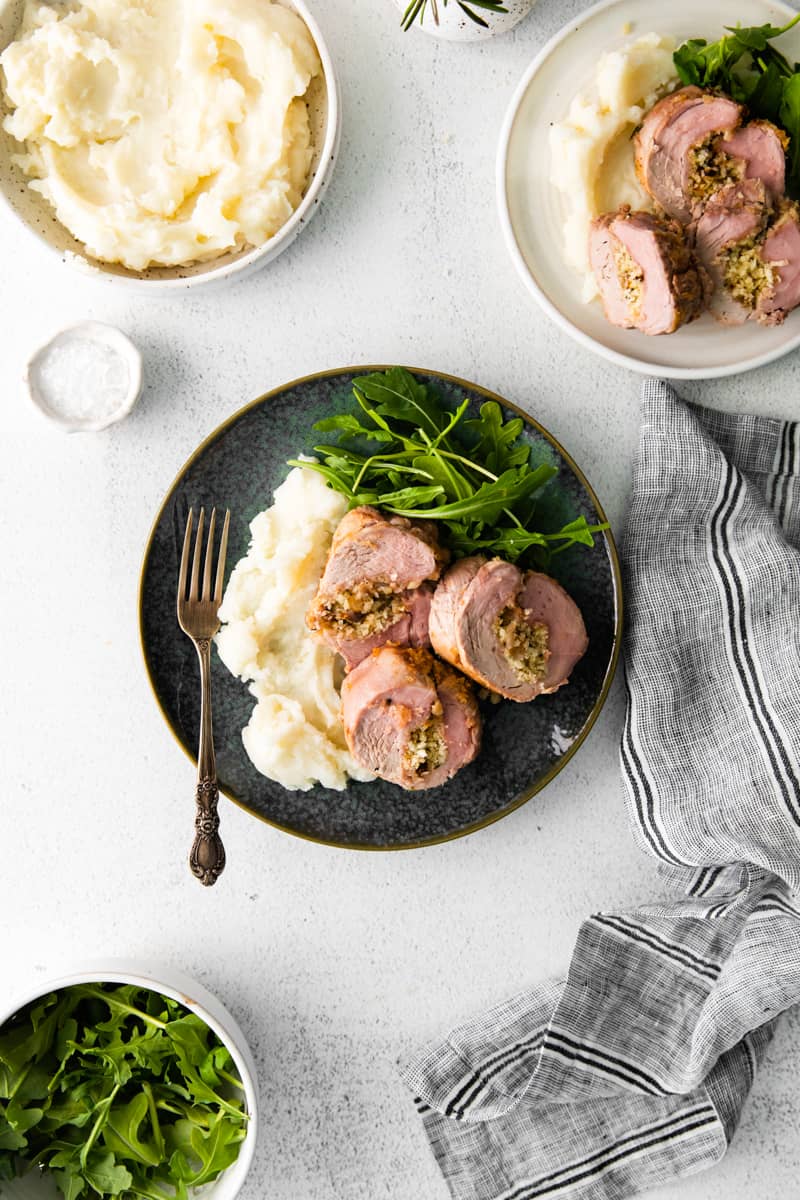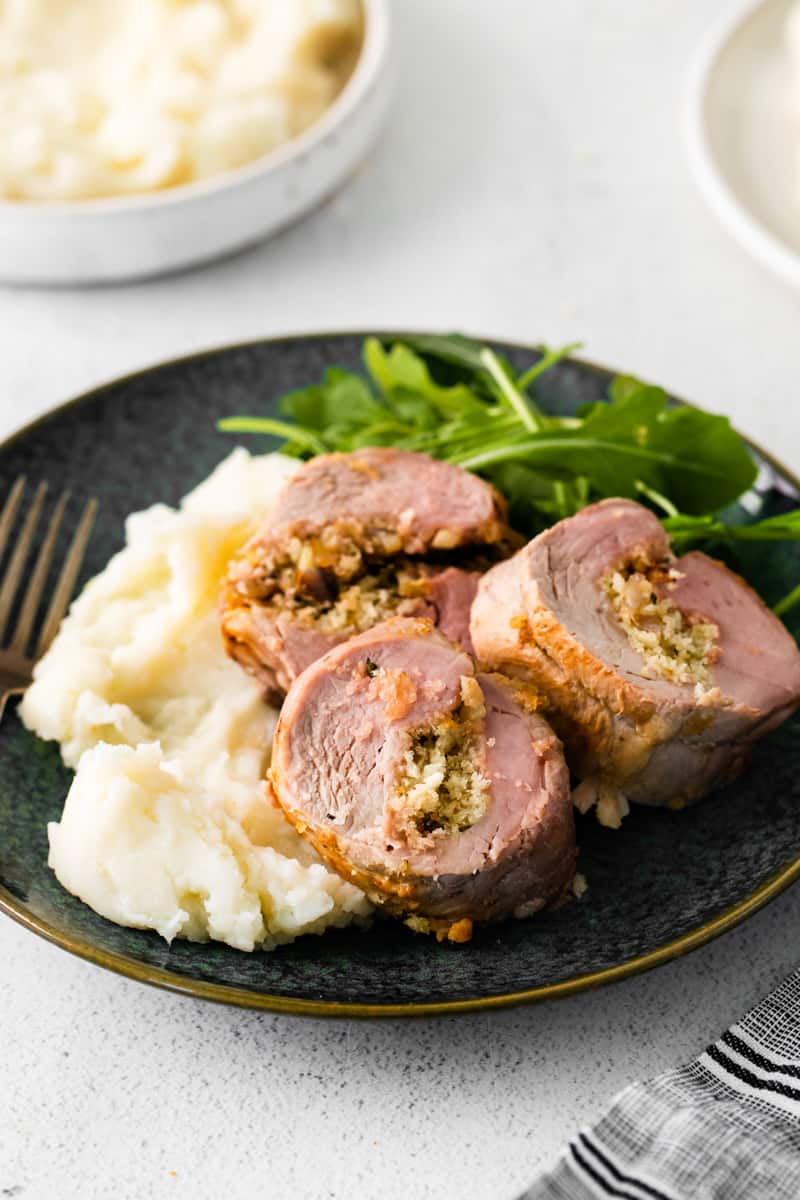 What oven-safe skillet is best for this recipe?
You can use any oven-safe skillet you have to make this stuffed pork loin recipe. A cast iron skillet works great for this recipe. It's the perfect pan to move from the stove to the oven.
What are Panko breadcrumbs?
Panko breadcrumbs are a flaky breadcrumb mixture that adds a crunchy, crispy texture.
How do I know the pork is cooked through?
The best way to make sure it's fully cooked is to use an instant read thermometer. Insert it into the thickest part of the meat to check the temp.
Can I stuff pork loin ahead of time?
If you want to prep this dish ahead of time, you can cut, pound, stuff, and tie up the pork loin the day before. Store it in the refrigerator until you're ready to roast. Take it out of the fridge up to 1 hour before cooking so that it's not cold when it goes in the oven.
Can I freeze stuffed pork loin?
Yes you can. Place it in airtight, freezer-safe containers and freeze up to 3 months. Thaw stuffed pork loins in the refrigerator overnight before reheating to serve.
Serving Suggestions
Whether you're preparing this stuffed pork loin for holidays, a special occasion, or just a fancier dinner at home, you're going to want some side to serve with it. Veggies, potatoes, and some kind of bread always makes a ice meal!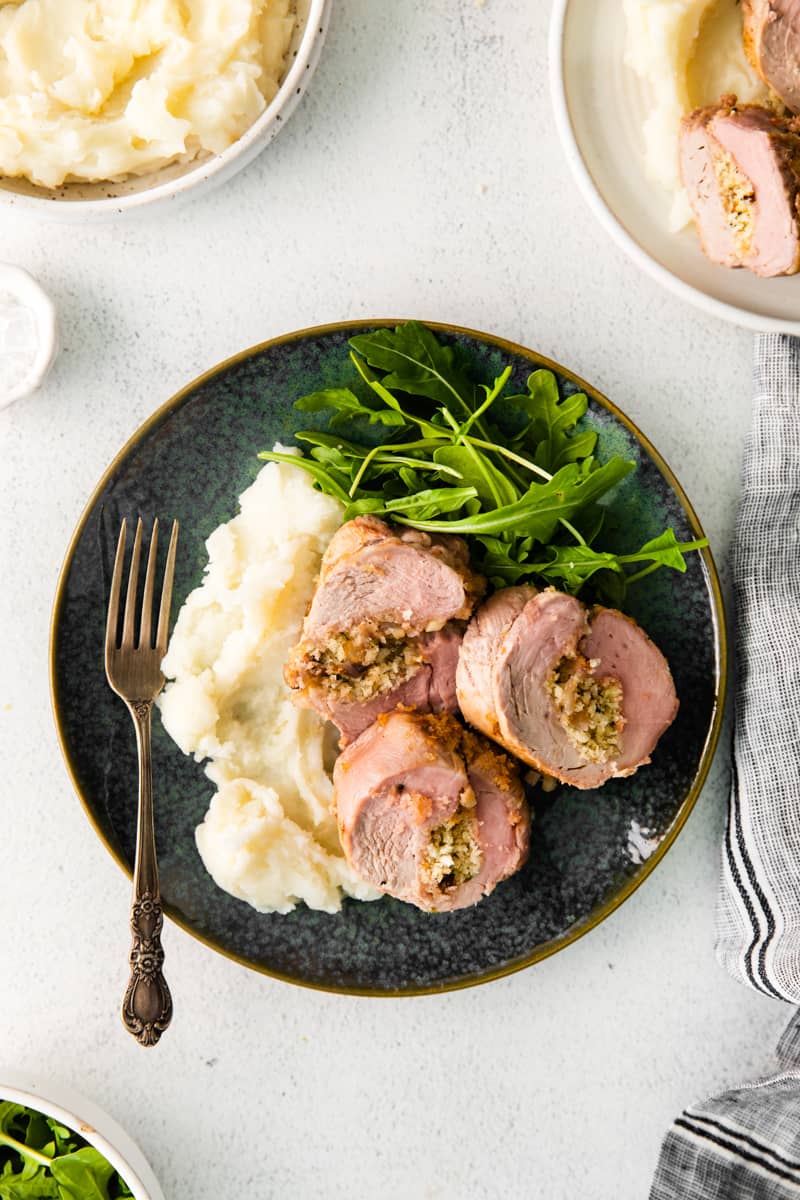 Tips!
You can make this dish with one skillet, so there's no need to get a second pan prepared. Just gently wipe before adding the pork loin.
You only need a couple minutes per side to sear the pork before roasting.
Internal temperature should reach 145F before consuming. It will rise slightly while resting, so remove it from the oven at 140F.
Store leftovers in the refrigerator up to 3 days. Or freeze up to 3 months.
Can I double this recipe?
Yes, doubling this recipe is simple. Double the ingredients exactly. Just make sure not to overcrowd your pan while searing the pork so it gets a good crust.
How do you pound pork tenderloin?
After you butterfly the pork, place a sheet of wax paper or plastic wrap on top of the meat. Then use a meat pounder, meat mallet, or a sturdy, heavier utensil to pound (like a wooden rolling pin). Just hit generously until the meat reaches a pretty uniform thickness (½ inch).
Can I use different ingredients to stuff pork loin?
This stuffed pork loin recipe is easy to change up. Following the same basic recipe, you can create any kind of mixture you like to stuff inside. Try different herbs, like thyme or sage. You could make a cream cheese mixture instead, if you want something creamy. Or add spinach or minced veggies.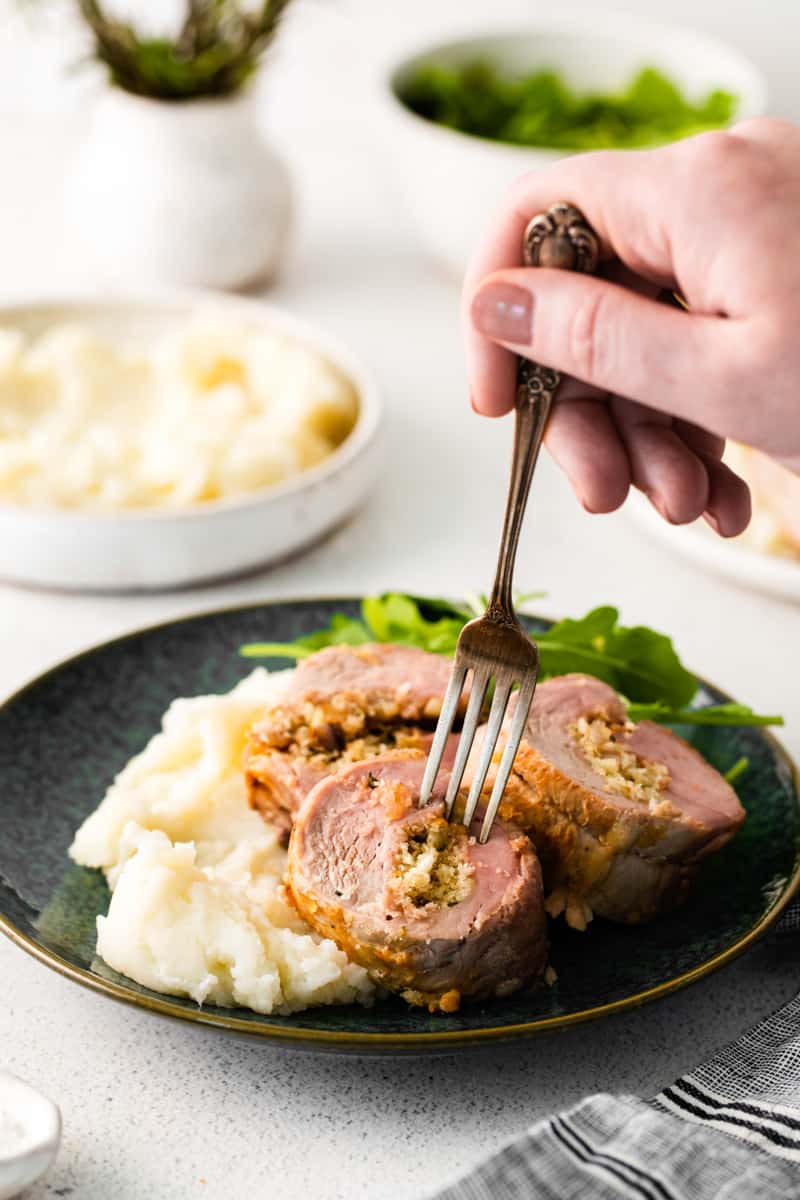 This garlic and rosemary stuffed pork loin roast is sure to be a holiday favorite! It's succulent and flavorful, and it never disappoints!
If you make this recipe be sure to upload a photo in the comment section below or leave a rating. Enjoy! You can also jump to recipe.