Instant Pot Brisket is so much easier than you think! I'm obsessed with this THAI STYLE INSTANT POT BEEF BRISKET! The flavor of this Pressure Cooker Brisket is so delicious and the meat is so tender. This is a winning recipe that our family will make again and again. We garnish with an amazing marinade (made all together), green onions, fresh mint, and fried shallots. The flavor of the instant pot Beef Brisket Recipe is out of this world.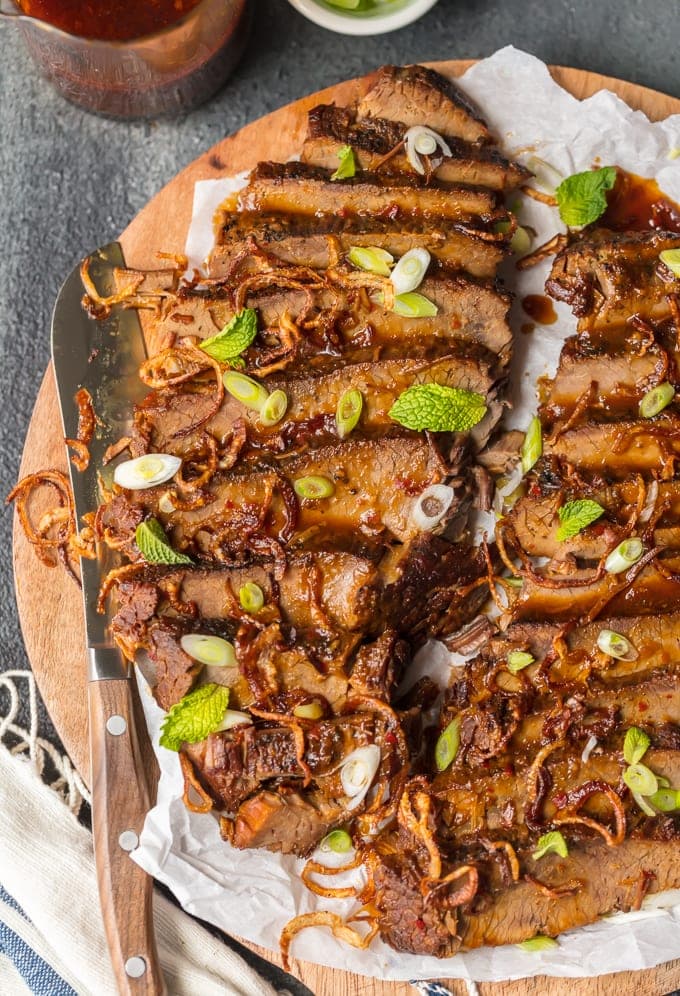 Instant Pot Brisket – Pressure Cooker Brisket
This Instant Pot Brisket is made in under 2 hours from start to finish!
Everyone loves a nice, juicy Beef Brisket recipe. And now it's even easier to make with this Instant Pot Brisket.
You guys, I have been LOVING my Instant Pot (click for my favorite, or see my two favorites below in the Shop This Post section!). We have made everything from Spiral Ham to Zuppa Tuscana and we are just getting started. The pressure cooker is an incredible tool for making cooking easier, ESPECIALLY for meats that typically take a long time to cook.
This Pressure Cooker Brisket Recipe is a stunner! If you're just getting used to your Instant Pot, then this is an awesome recipe to get your feet wet. So what are you waiting for?
You've got to try this Instant Pot Brisket recipe! Thai Style Pressure Cooker Brisket is so full of flavor, unique, and DELICIOUS.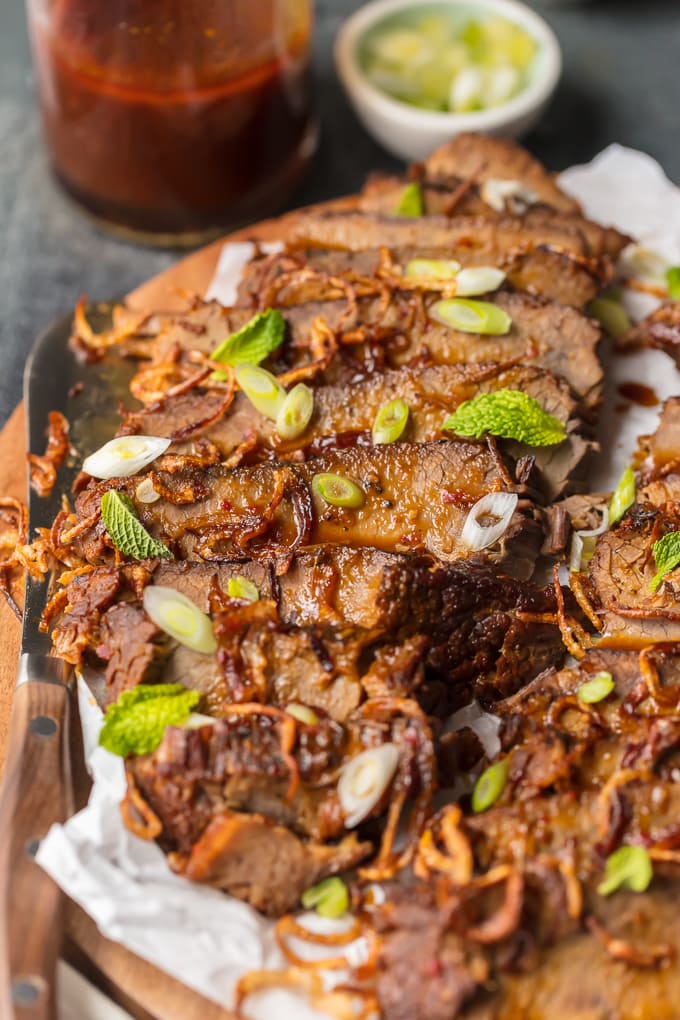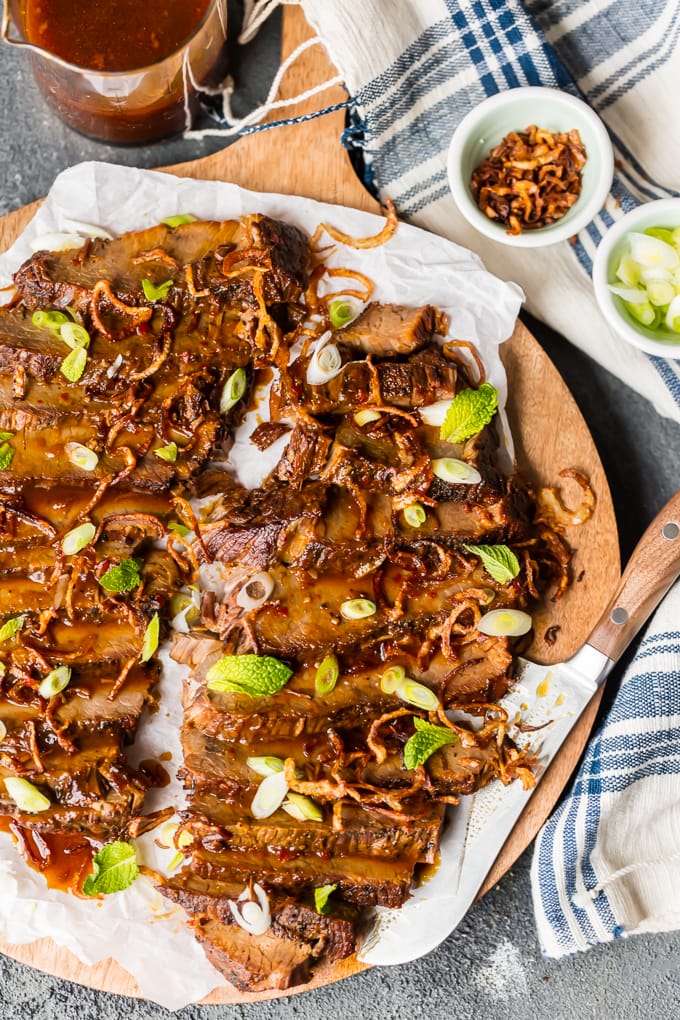 Thai Style Instant Pot Brisket
Thai Style Instant Pot Brisket is a unique spin on a classic recipe. Your family will love this recipe!
I was so blown away by the flavors in this Thai Beef Brisket recipe. Pressure cooker brisket is great with the fried shallots and sauce, but the fresh mint completely kicks it up a notch. Flavor explosion! It would be awesome in tacos, on sliders, on its own with mashed potatoes, or even on nachos! The great thing about making Instant Pot brisket is you're sure to have leftovers and can get creative. The sky is the limit with this special recipe. I can't wait to see what you come up with.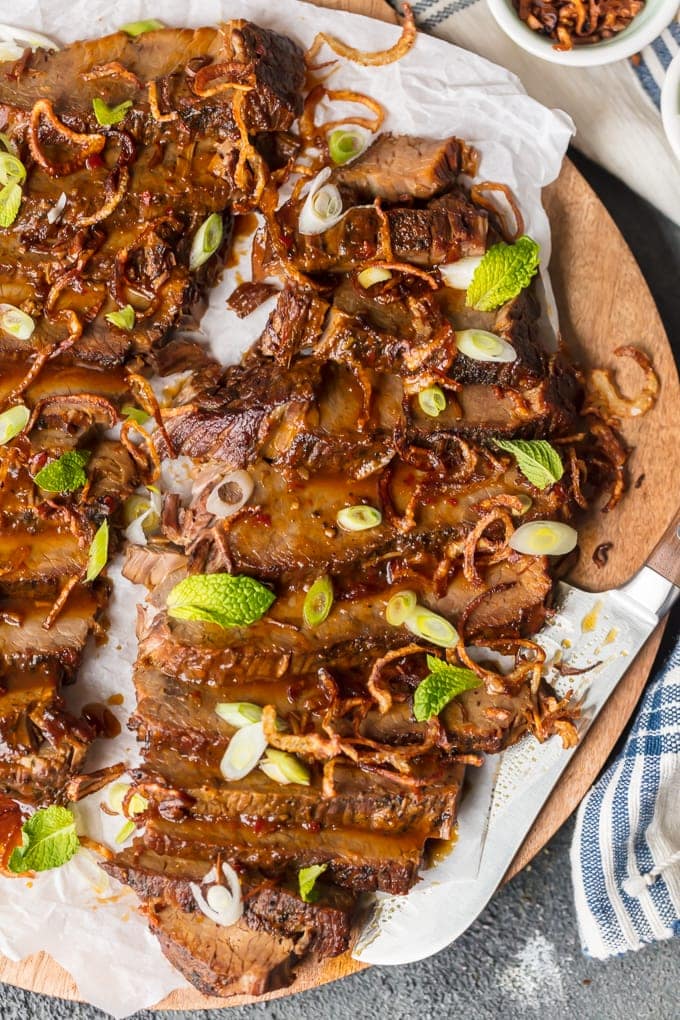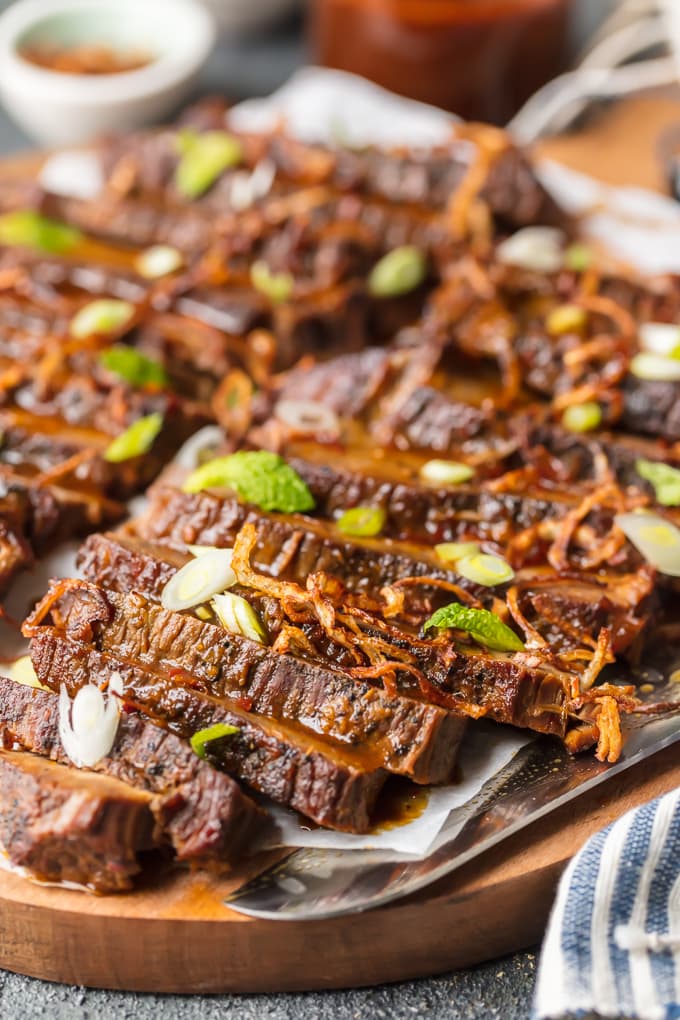 Instant Pot Thai Brisket
If you're looking for unique and amazing Instant Pot recipes, you've come to the right place! We have been making Instant Pot Recipes left and right. This Pressure Cooker Brisket recipe is definitely a front runner for our new favorite Instant Pot Recipe. THE SAUCE IS INCREDIBLE! You have to try it.
This Beef Brisket Recipe is such an easy option for feeding your family or friends. You're gonna love it, I just know it. And don't skip the fresh mint. We almost didn't add that in and we would truly be missing out. You've gotta taste it all together to really enjoy it to its full potential.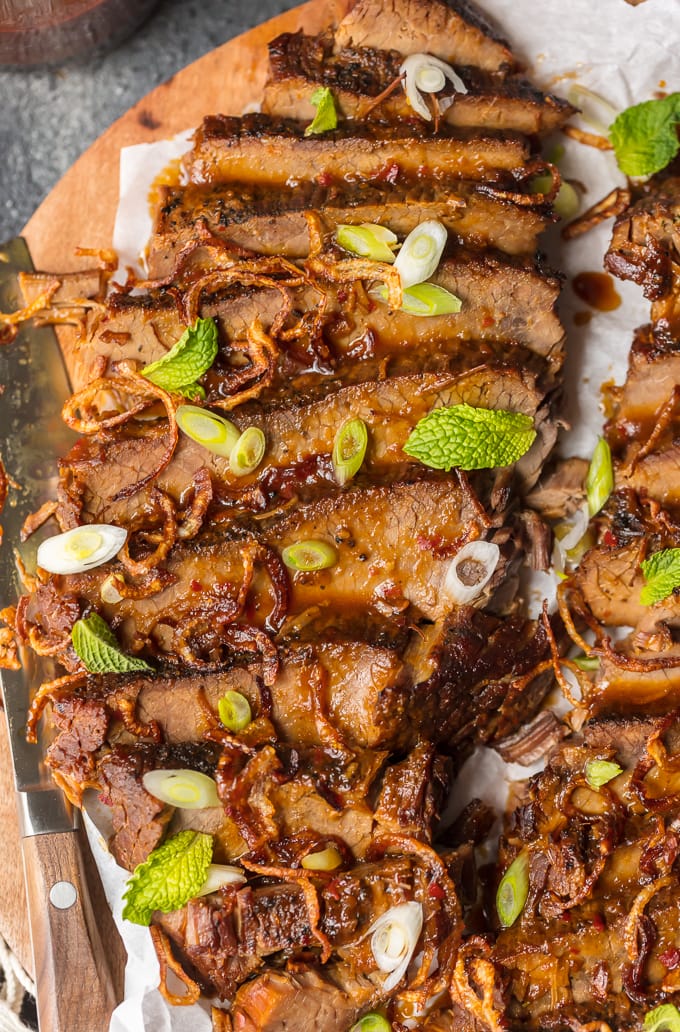 What goes well with Pressure Cooker Brisket?
There are SO MANY great side dishes to serve with this Beef Brisket Recipe. We love it with Melting Potatoes, Cheesy Mashed Potatoes, Pear and Blue Cheese Brussels Sprouts, or Honey Balsamic Roasted Carrots. You can't go wrong, the possibilities are endless.
How long does it take to smoke a brisket versus this Instant Pot Brisket Recipe?
Typically it takes over an hour to smoke each pound of brisket. Our 3 lb. cut below would take over 3.5 hours to cook traditionally. With the Instant Pot, this Beef Brisket Recipe takes under 2 hours from start to finish. LOVE IT!
What cuts of meat can be substituted for Beef Brisket?
If you can't get your hands on a quality beef brisket, you can substitute a boneless chuck roast in its place. Not quite the same flavor, but still delicious.
See the recipe card below for full details on how to make Instant Pot Brisket. Enjoy!
Be sure to try these other brisket recipes: