Pulled Beef Burritos are the perfect way to enjoy summer outside! BBQ has never been better than in a HUGE burrito! These grilled brisket burritos are stuffed with cilantro lime rice, black beans, and tons of cheese. YUM!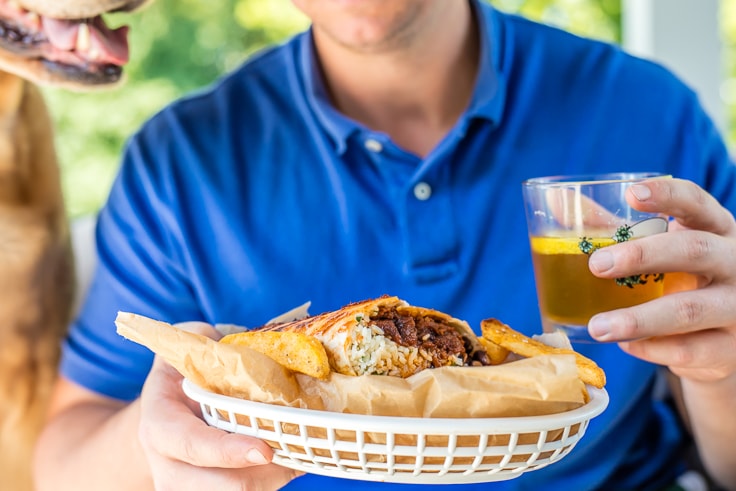 Pulled Beef Burrito
These BBQ pulled beef burritos are my new favorite summer meal. Amazing grilled brisket wrapped up into a burrito with even more delicious ingredients!
Pat and I have never met a burrito we didn't like. There's just something about how simple they are, the way the flavors blend together, and how you can literally make them in any variety! They're fun, FILLING, and delicious! This weekend we decided to get crazy and make HUGE Grilled BBQ Brisket Pulled Beef Burritos, and we were not disappointed!
Each of these grilled brisket burritos can feed 1-4 people (you guys, they're massive)! They are stuffed with all the good things in life (bbq brisket, cilantro lime rice, black beans, and of course CHEESE), basted in bbq sauce, and then grilled to perfection.
These BBQ Beef Burritos are the perfect easy summer meal, fit for a king (or queen) and completely craveworthy. What's not to love?!
Make these gigantic BBQ Grilled Brisket Burritos for a fun summer meal. They're SO filling, but so worth it!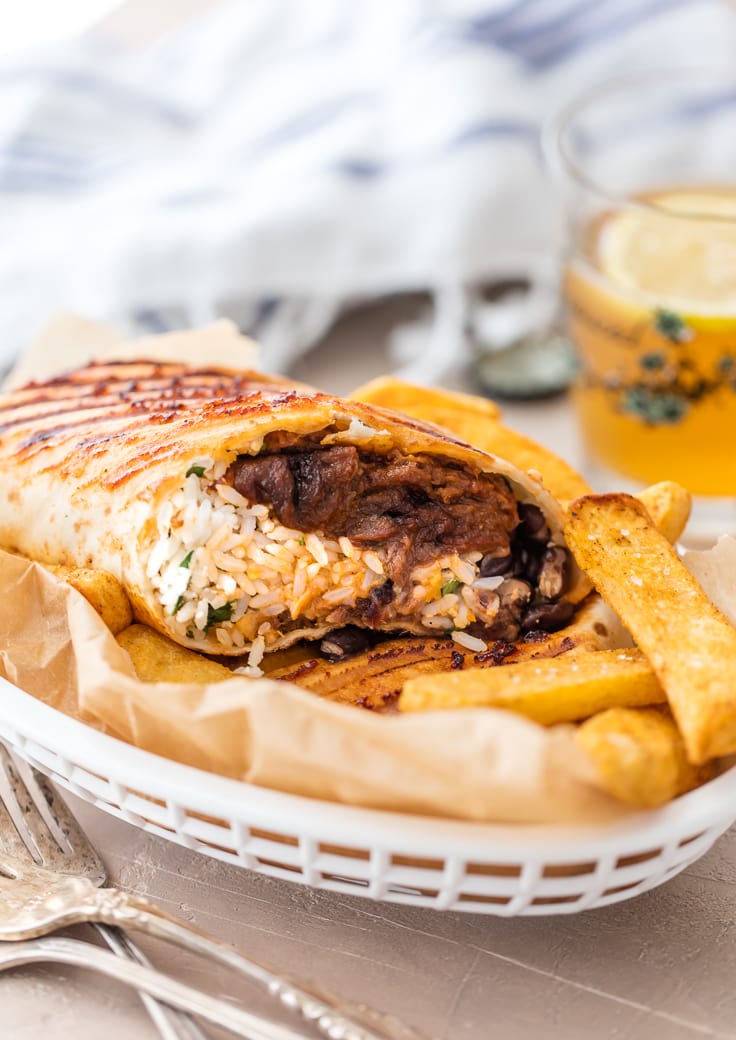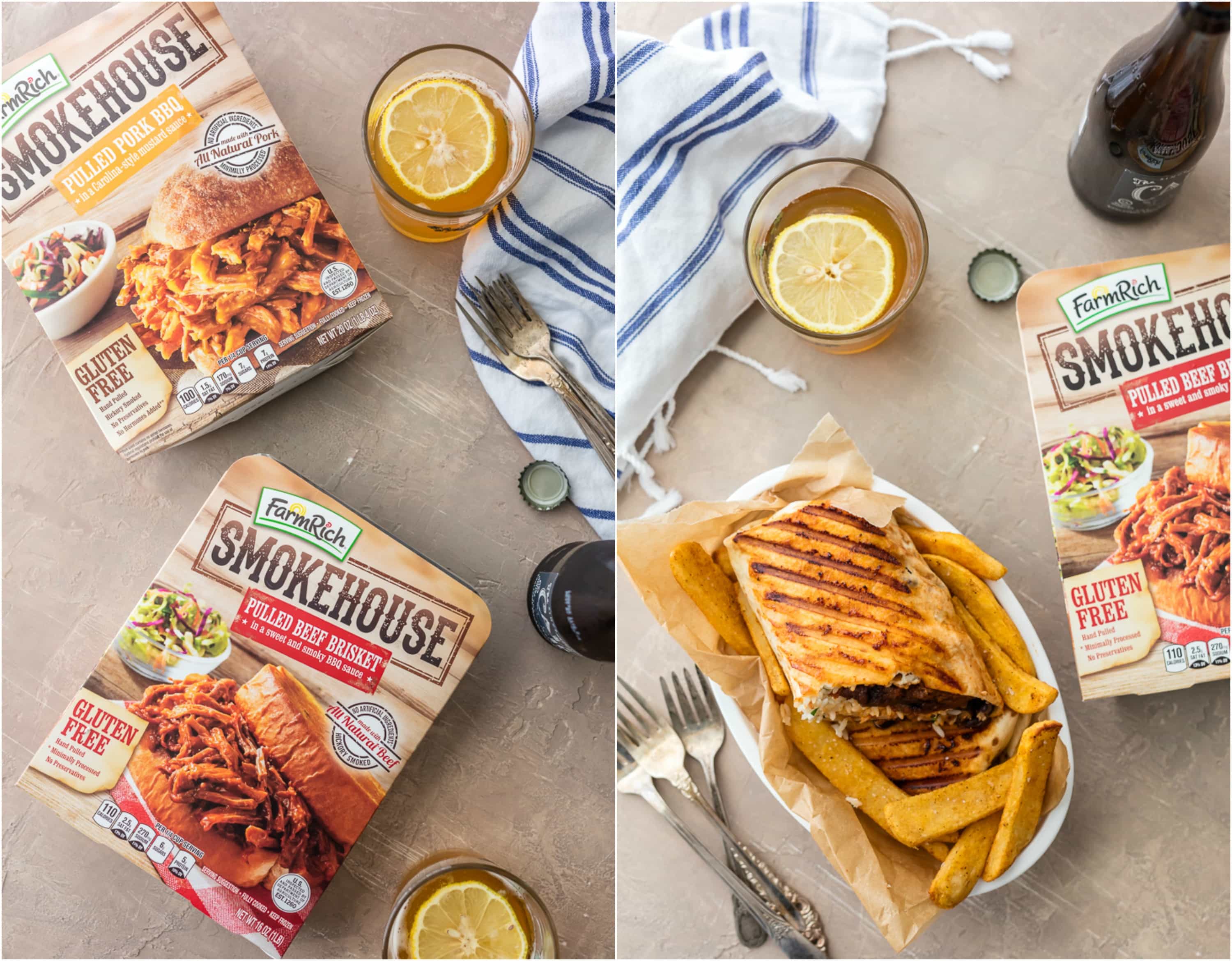 Pulled Beef BBQ Brisket
I've been feeling a little under the weather lately, so not only did I need a delicious dinner, I needed an EASY dinner. Lucky for us I found new Farm Rich Smokehouse! I didn't have time to smoke an entire brisket before making these pulled beef burritos, so Farm Rich was to the rescue!
Farm Rich Smokehouse is REAL BBQ, made with real meats, smoked for hours, plus it's gluten-free and made without artificial ingredients. You can feel good serving it to your family. It comes in awesome flavors like Mustard Pulled Pork, Pulled Chicken BBQ, and our clear favorite, Pulled Beef Brisket. It's easy to prepare, SO DELICIOUS (I'm actually eating leftovers as we speak!) and perfect for those busy nights. The perfect way to make HUGE Grilled BBQ Brisket Burritos!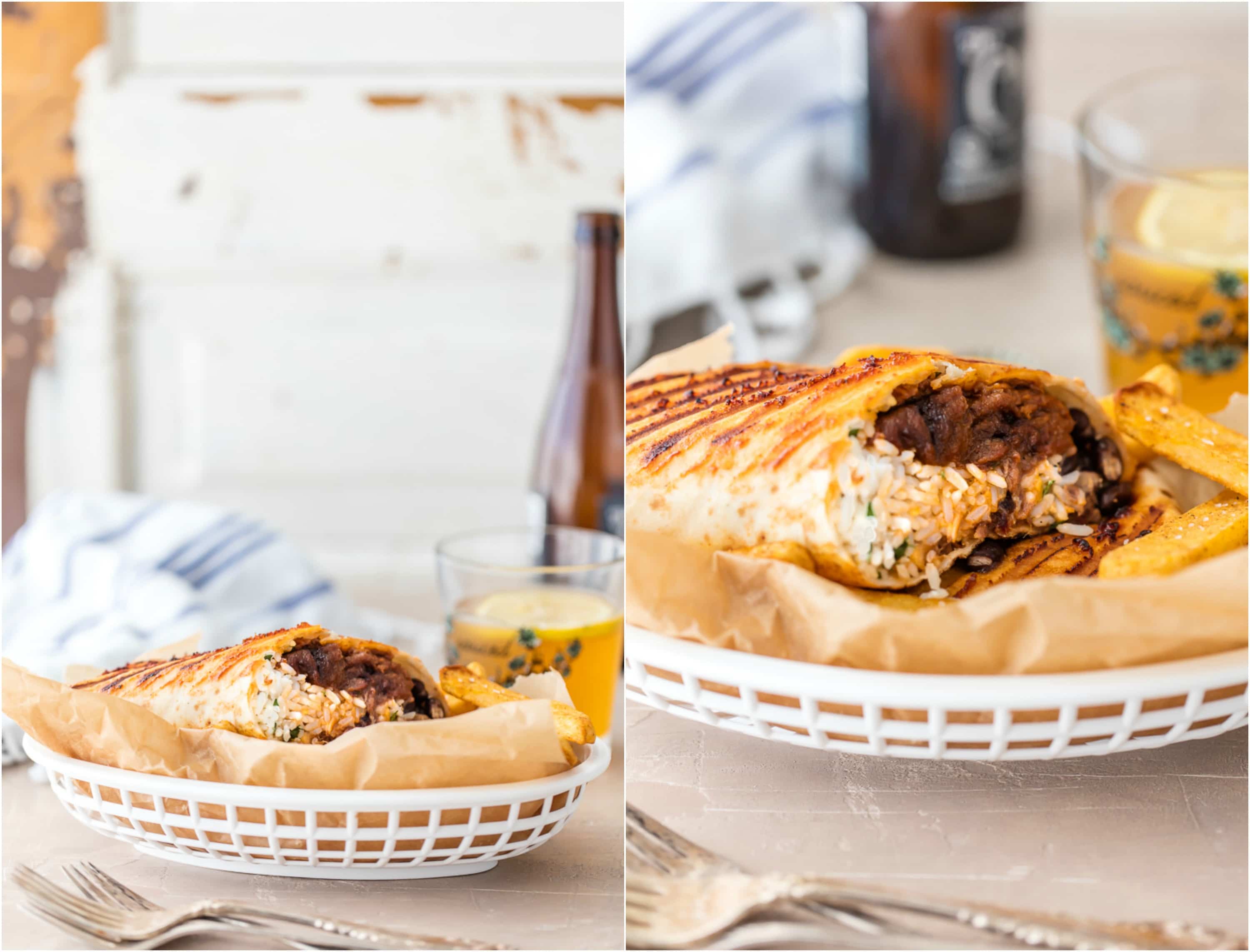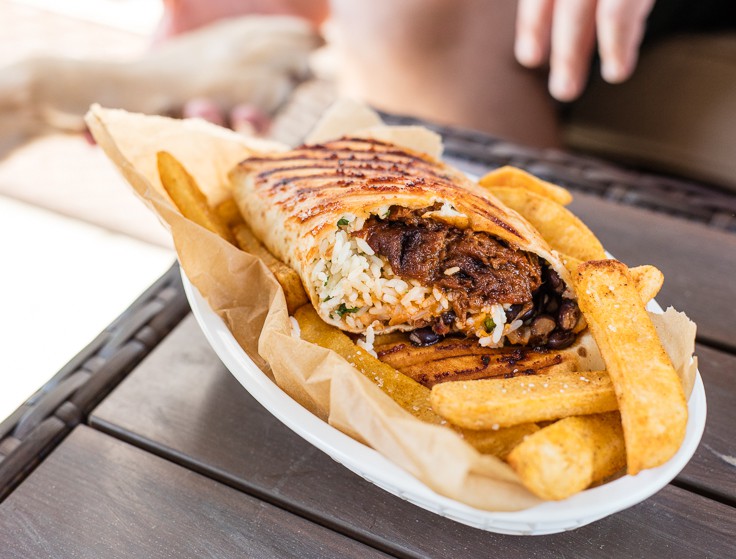 How to Make Grilled Brisket Burritos
These grilled pulled beef burritos are filled with some amazing ingredients: pulled beef brisket, rice, black beans, cheese, sour cream, and BBQ sauce. I love mixing BBQ with traditional burritos to make one fun and delicious recipe.
Start by cooking the rice, then combine it with cilantro, lime juice, and sour cream. Stir until everything is fully combined and set aside.
Cook the brisket according to package instructions.
Since we are making GIANT burritos, use half of the rice, beans, brisket, and cheese to fill each tortilla. (If you prefer to make them a little smaller, divide the ingredients into four tortillas instead.)
Roll up the tortillas into burritos, tucking in the ends.
Grill the burritos over medium heat for 5-7 minutes on each side. All the ingredients are cooked, so just grill until you get your burritos to a nice warm and crispy texture.
These huge BBQ burritos are perfect for sharing, so cut one in half and dig in. Wash it all down with a good beer for the ultimate refreshing summer meal! Like I said, you can also portion out the filling into 4-6 tortillas instead of 2 tortillas if you want to make smaller burritos (but somehow that doesn't seem quite as fun).
Fire up the grill, enjoy your summer, and dive into these HUGE BBQ Brisket Pulled Beef Burritos! I know you won't regret it.
See the recipe card for details on how to make Grilled BBQ Pulled Beef Burritos. Enjoy!
Be sure to try these others delicious recipes: