This HONEY BAKED HAM RECIPE is made in an INSTANT POT! We love this Baked Honey Baked Ham Copycat for Thanksgiving, Christmas, Easter, or any day in between.  This Instant Pot Ham will make any holiday a breeze and is a beautiful addition to any family get together.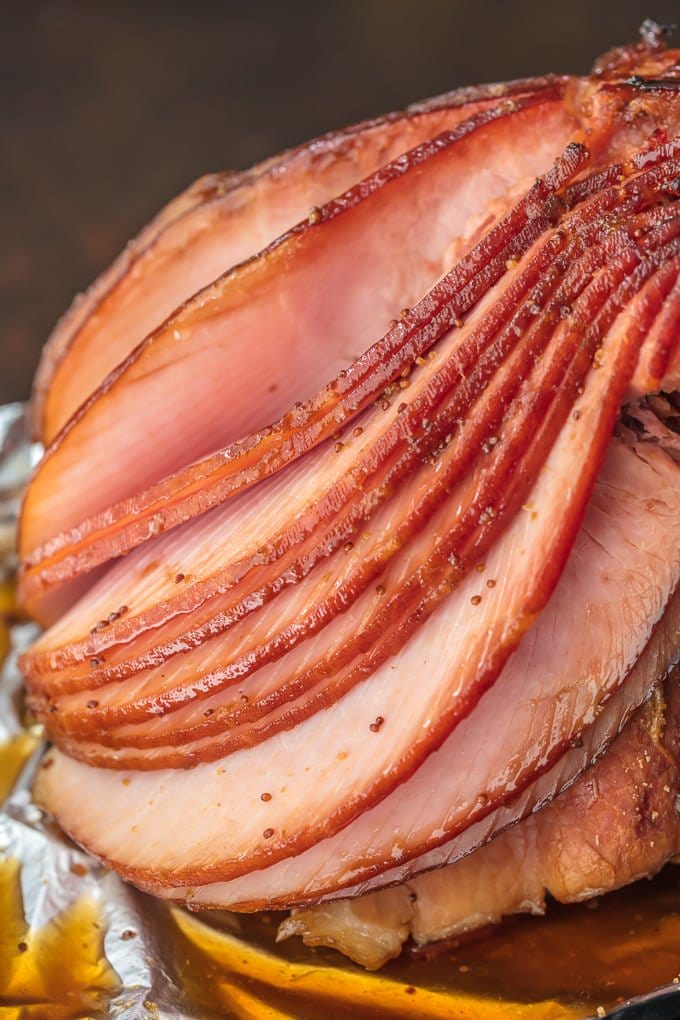 Instant Pot Honey Baked Ham Recipe
This Honey Baked Ham Recipe tops the list for our favorite holiday recipes. It's so easy, crusted with the best Honey Baked Ham Glaze, and made in an Instant Pot! So much to love.
Before learning to cook, buying a main course (or even side dishes, let's just be honest) from Honey Baked Ham was my go-to. There's absolutely nothing wrong with that, and it served our family plenty of delicious meals, but c'mon guys…you can make it at home!
It's just as good, cheaper, and now SUPER easy because of the Instant Pot. I might not have tackled it before…but I'm all about it now. The Instant Pot has changed my life and I want to shout it from the rooftops! If you're new to electric pressure cooking, there's a great tutorial on getting started with an electric pressure cooker that has really helpful tips.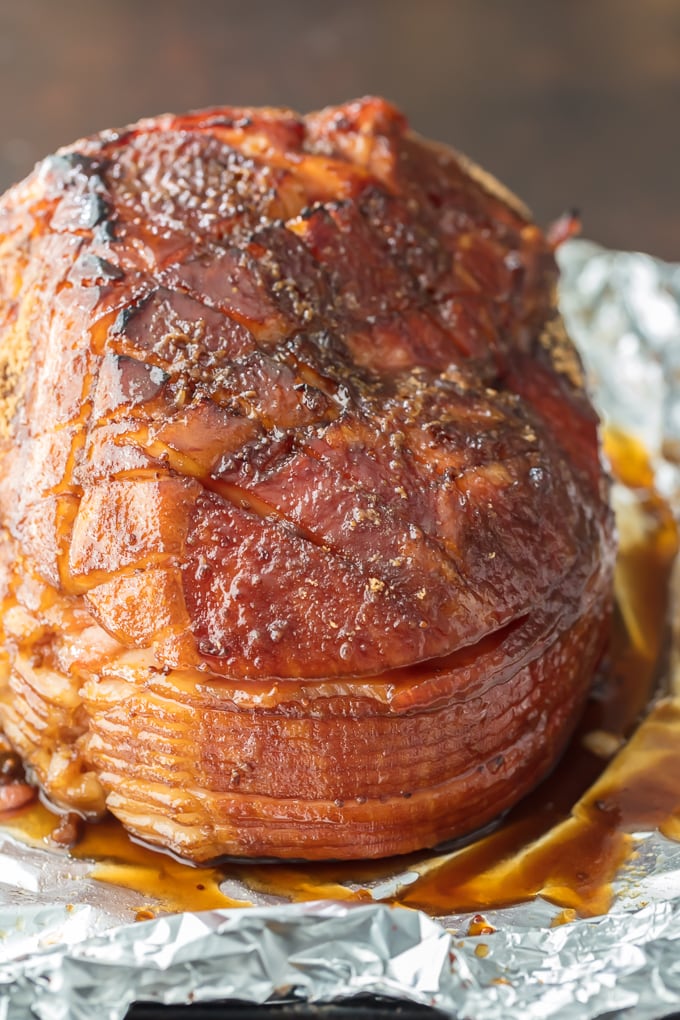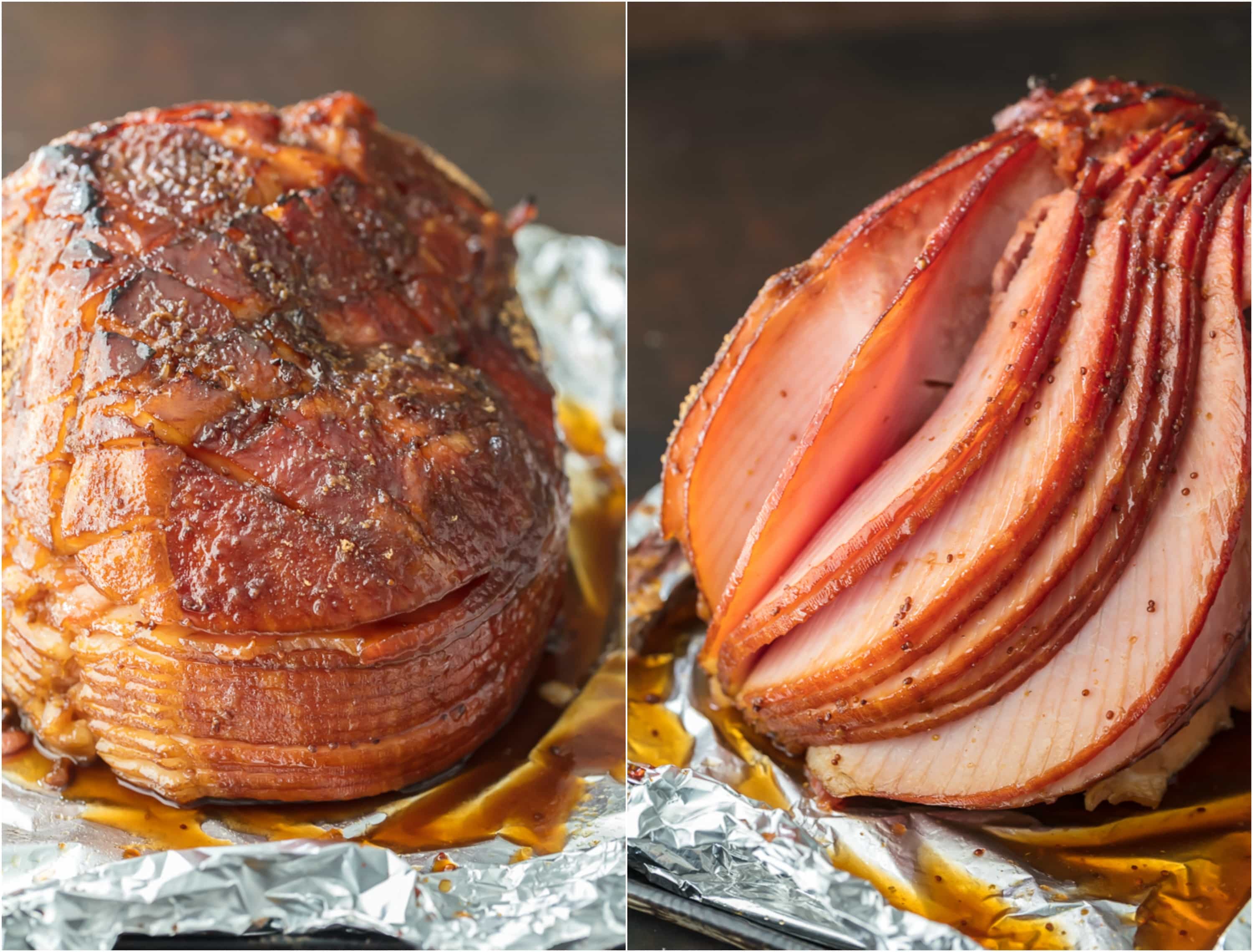 Instead of ordering a Honey Baked Ham this Thanksgiving, Easter, or Christmas, you can make your own! Baked Ham Recipes are so much easier than you might think, especially in a pressure cooker!
Thanks to the Instant Pot (which you can and should buy HERE (aff link but not sponsored. I just am OBSESSED), we have made recipes including Apple Pie Oatmeal and even Thanksgiving Turkey.
I have so many more things I want to try, but this Honey Baked Ham was at the top of my list. With Christmas coming up it was just meant to be. Make it with Creamed Corn, Pineapple Pretzel Salad, Garlic Herb Cheesy Scalloped Potatoes…SO many options. But just make it.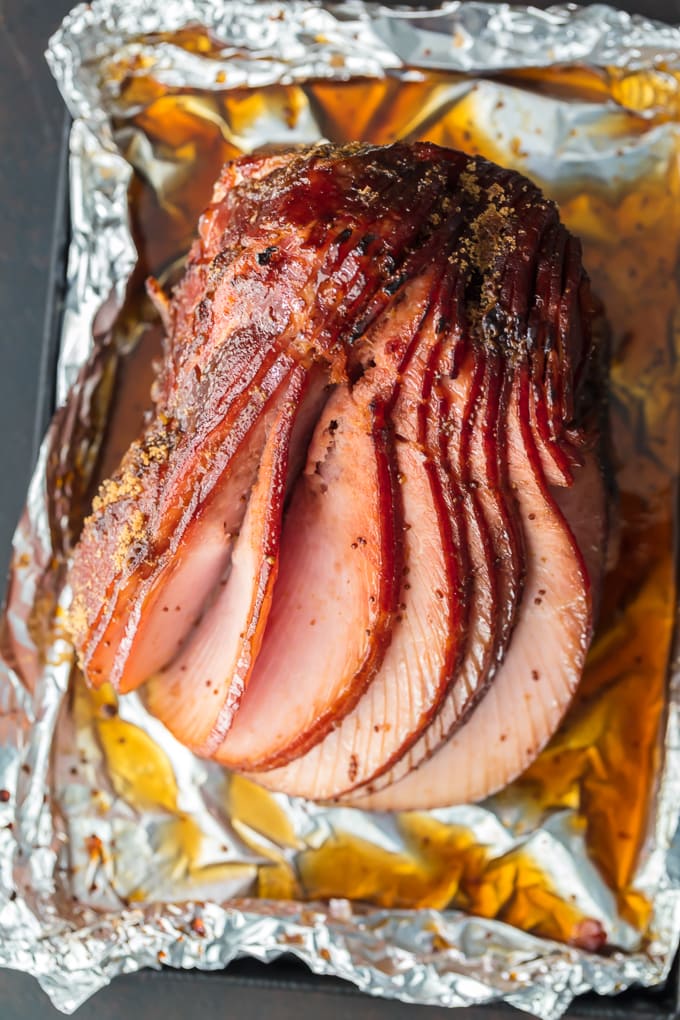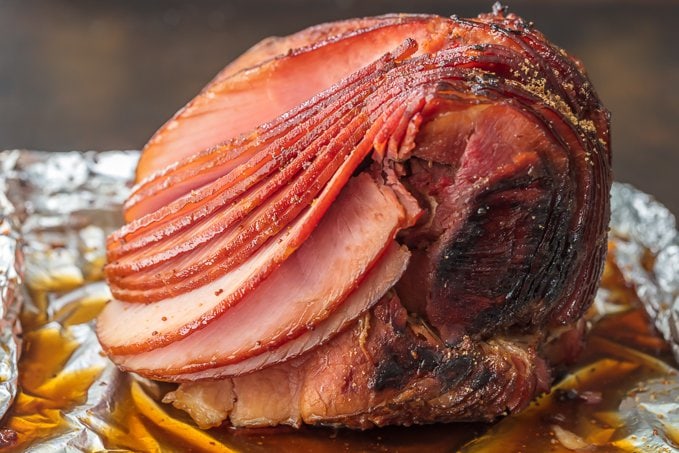 This Instant Pot Ham has the best crunchy sugary glaze and the ultimate most amazing juicy flavor. I want to make this for every holiday, not just Christmas. Especially since its so simple. Done in 30 minutes?! Check!
You'll totally be the star of the kitchen with this recipe. It's the perfect main course that pretty much goes with anything and everything. And it makes KILLER leftovers. Heats up like a dream. Delish delish delish!!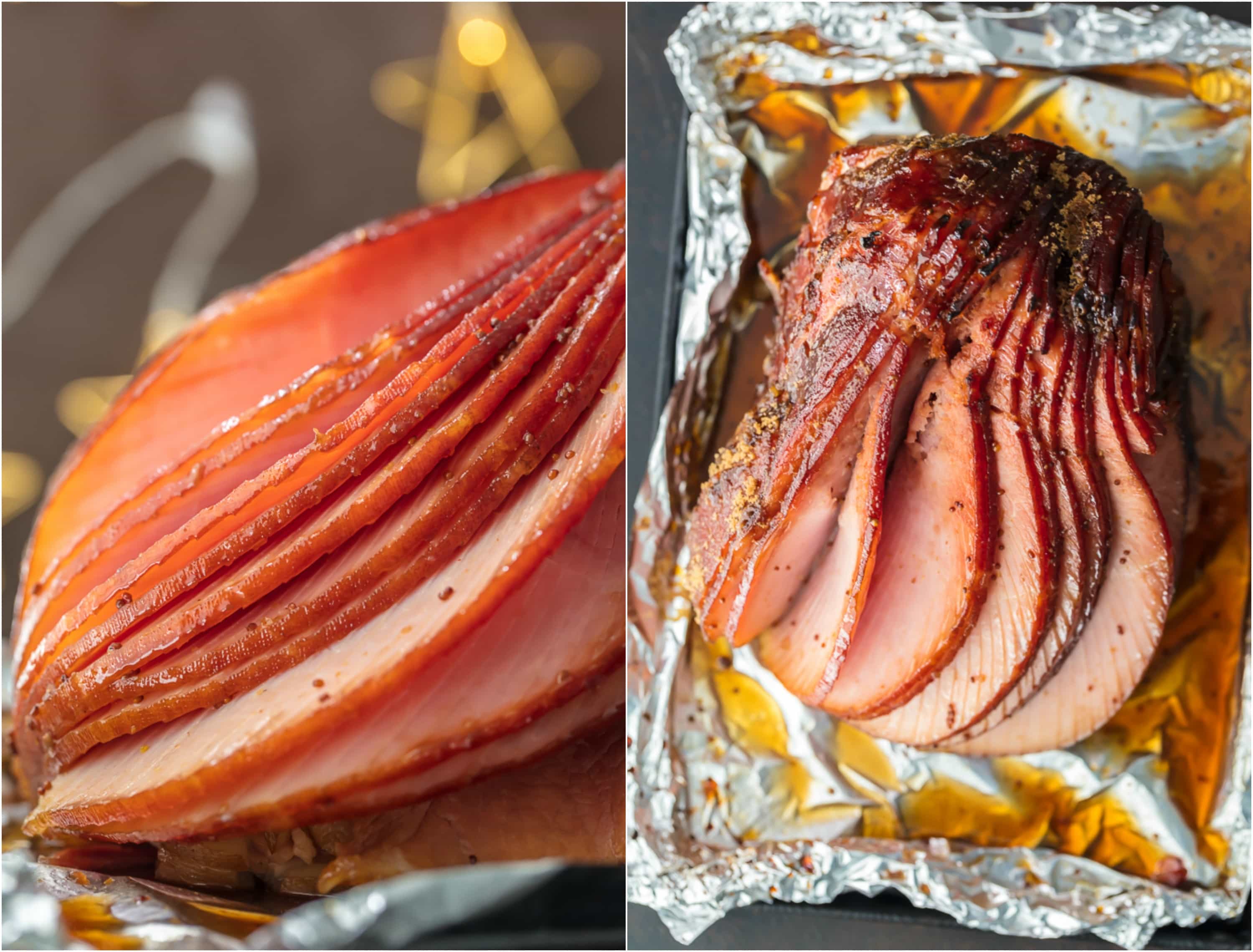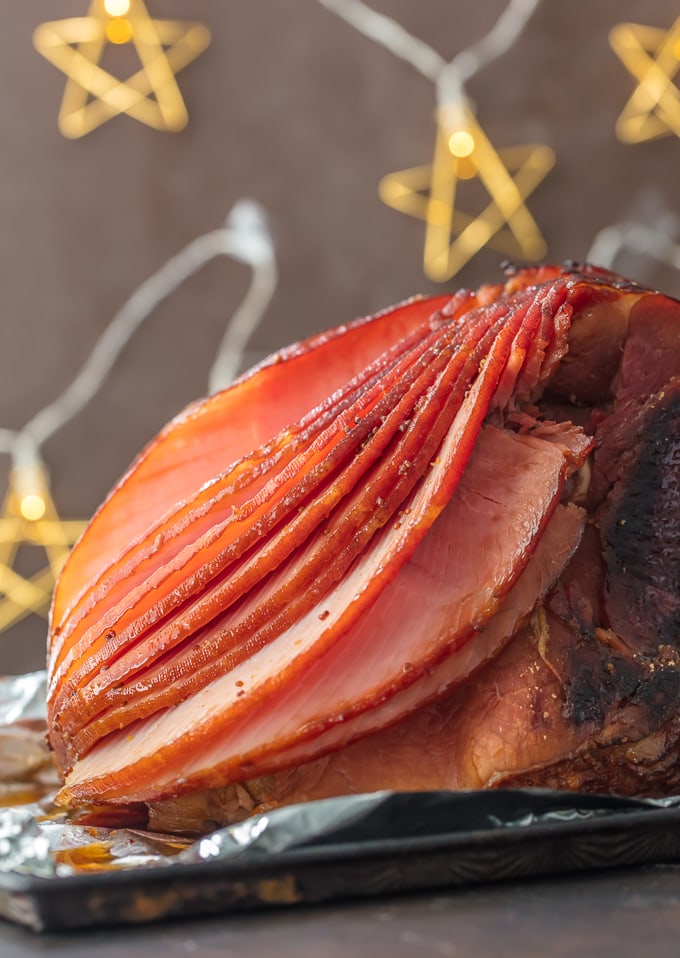 If this Honey Baked Ham Recipe (Instant Pot Ham) doesn't make an appearance on your next holiday table, I'll be disappointed. Give it a try and let me know what you think. Be sure to tag me on Instagram!
So to recap…you don't need to buy your main course when you can easily make it at home in your instant pot. Click here to check out my favorite one (or check out the "shop this post" section below). You need it in your life, trust me!
Enjoy!
How to Make the Honey Baked Ham Recipe:
Instant Pot Copycat Honey Baked Ham
This INSTANT POT COPYCAT HONEY BAKED HAM will make your Christmas both easy and delicious! Made in minutes and just like the real thing.
10 minPrep Time
30 minCook Time
31 minTotal Time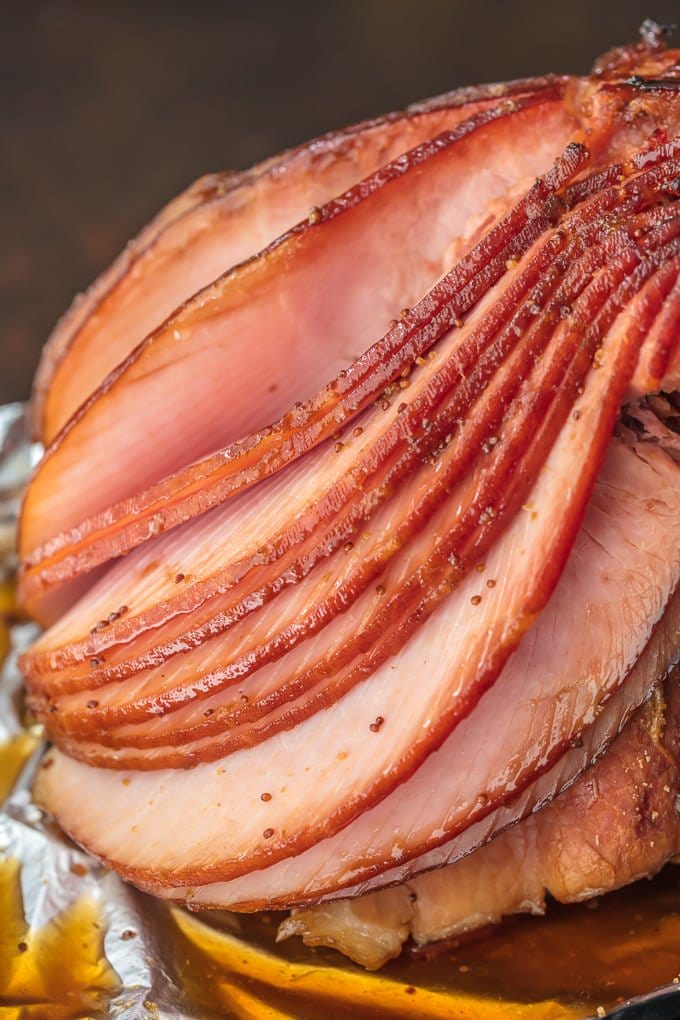 Ingredients
6-7 lb. fully cooked, spiral, bone-in ham
2 cups apple juice or apple cider, divided into two, ½ cup portions and one, 1-cup portion.
2 cups brown sugar, divided into two 1-cup portions
¼ cup coarse ground mustard, divided into two 2-tablespoon portions
¼ cup honey, divided into two 2-tablespoon portions
Instructions
In a medium mixing bowl, whisk together ½ cup apple juice, 1 cup packed brown sugar, 2 tablespoons coarse ground mustard and 2 tablespoons honey.
Place the ham in a rimmed dish and pour the apple juice mixture over the entire ham. Rub it in and around the ham – being sure to get in-between the slices of ham (as much as possible).
Spray the 8 Qt Instant Pot pan insert with cooking spray and pour 1 cup apple juice in the bottom. Place the ham in the Instant Pot and pour any leftover juices that had drained off the ham back over the ham. Cover and lock the lid in place with the vent closed. Set the Instant Pot on manual and on high pressure for 20 minutes. Allow the steam to release naturally (unless you are in a hurry, then do a quick release of the steam).
While the ham is cooking, cover a rimmed baking sheet with foil, and spray the foil with nonstick spray.
Set the oven to broil.
Remove the ham from the pressure cooker and place it on the prepared baking sheet.
Combine ½ cup apple juice, 2 tablespoons coarse mustard and 2 tablespoons honey in a small bowl. Brush the apple juice mixture over the cooked ham. Rub (and press) 1-cup brown sugar into the top surfaces of the ham, and place the ham under the broiler 5-10 minutes or until the glaze is bubbly and caramelized.
Transfer the ham to a cooling rack and cool for a few minutes. Serve warm or cold. It is delicious either way.
Enjoy!
7.6.7
2492
https://www.thecookierookie.com/instant-pot-copycat-honey-baked-ham/