Slow cooker brisket is the best way to get super tender beef. This crockpot brisket recipe is just a few ingredients, then let it slow cook to perfection.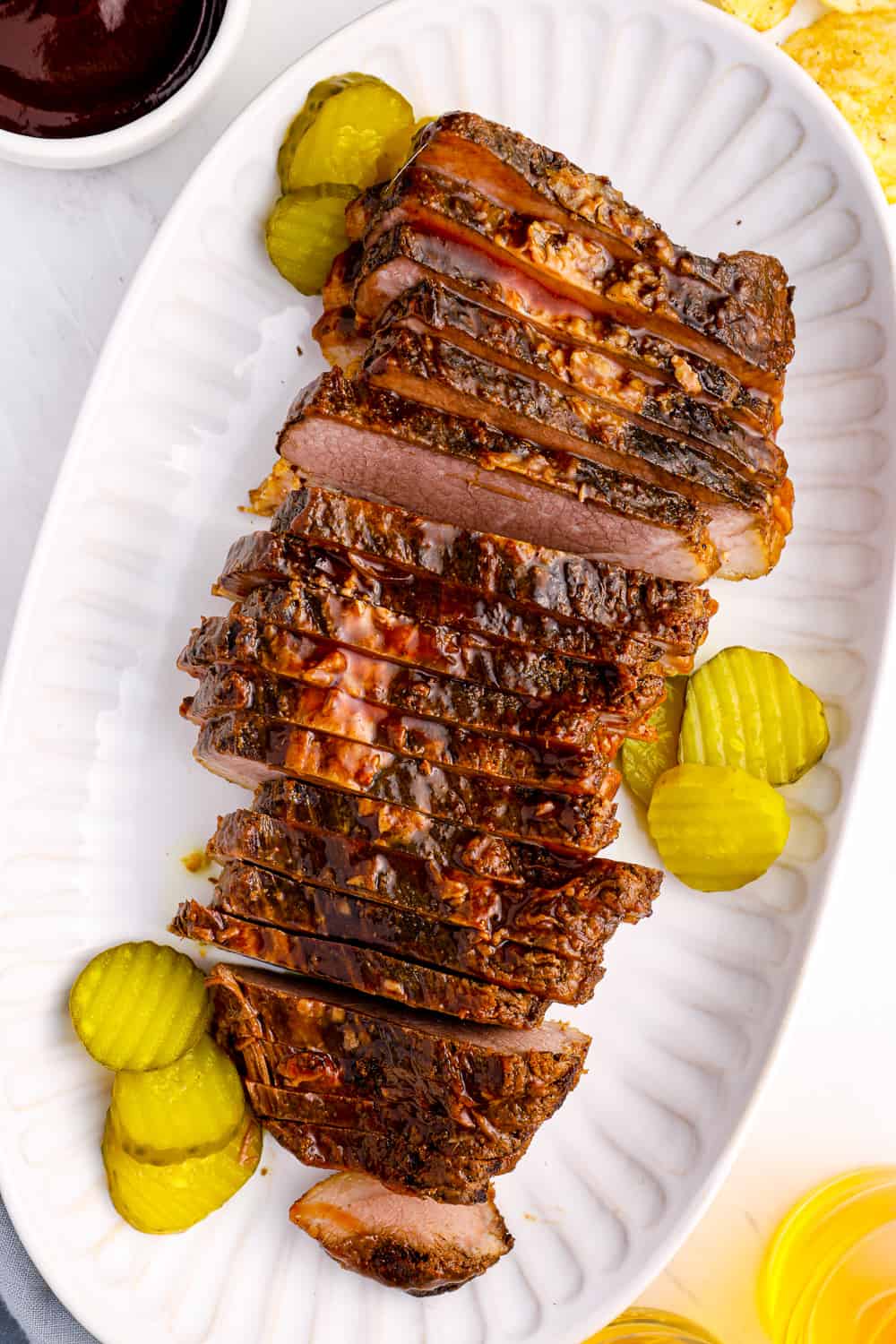 Slow Cooker Beef Brisket Recipe
This crock pot brisket is a favorite for holidays, big family gatherings, and dinner parties!
It's such a great main dish to serve sliced up with your favorite sides. The juicy beef brisket is melt in your mouth and so delicious.
You can just as easily use leftovers from this slow cooker brisket recipe to make tacos, burritos, and sandwiches. So be sure to save those extras!
Why You'll Love this Crock Pot Brisket Recipe:
TENDER BEEF: Slow cooking beef brisket in a Crock Pot leads to super moist and ender meat.
MAKE AHEAD: This cook time is quite long, but this is a dish that benefits from being made ahead of time. That means you can have your main dish ready the day before, and focus on the sides to serve.
READY FOR GUESTS: This beautiful brisket recipe is perfect for guests! Whether you're hosting for the holidays, or just making a nice meal, this will surely impress everyone.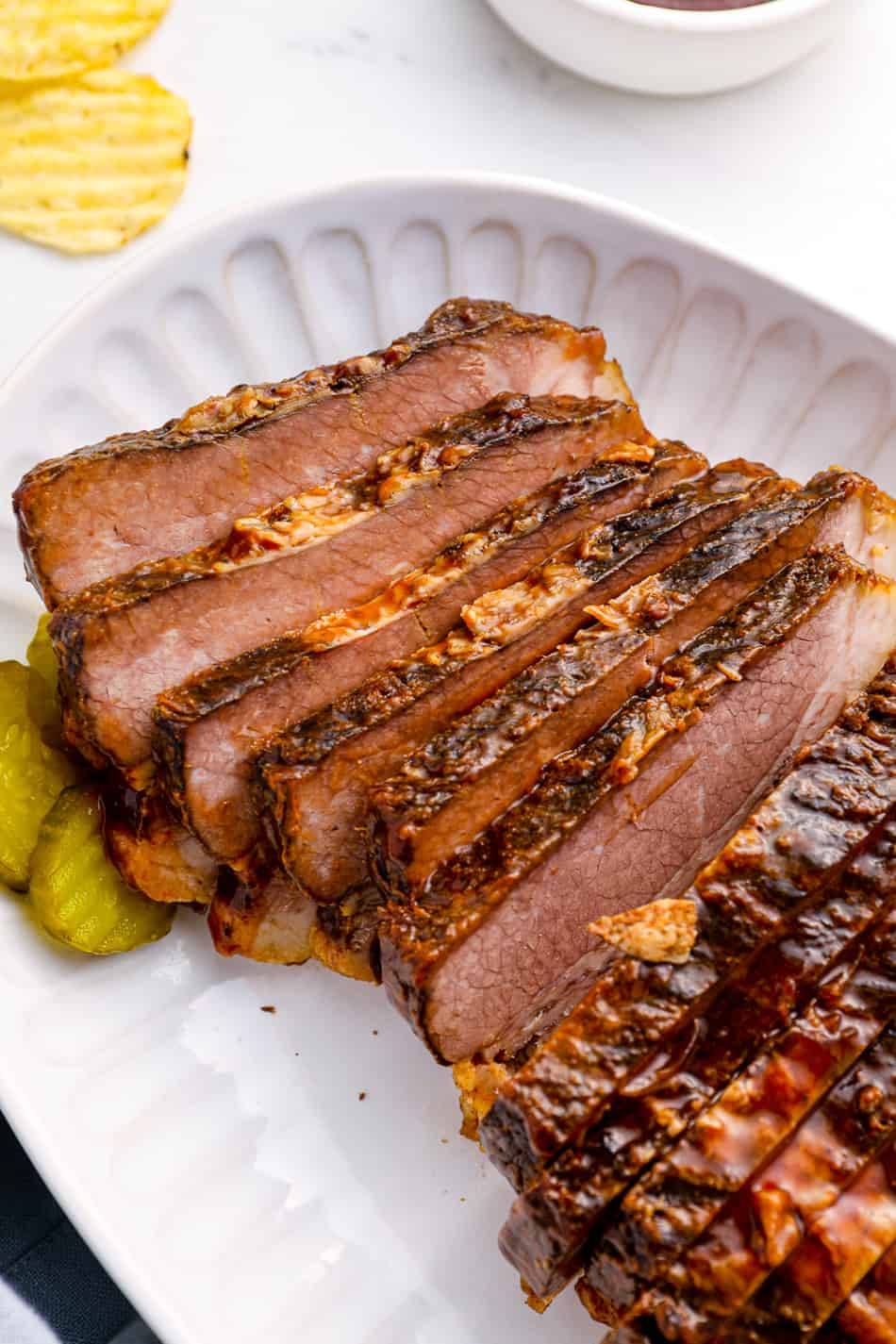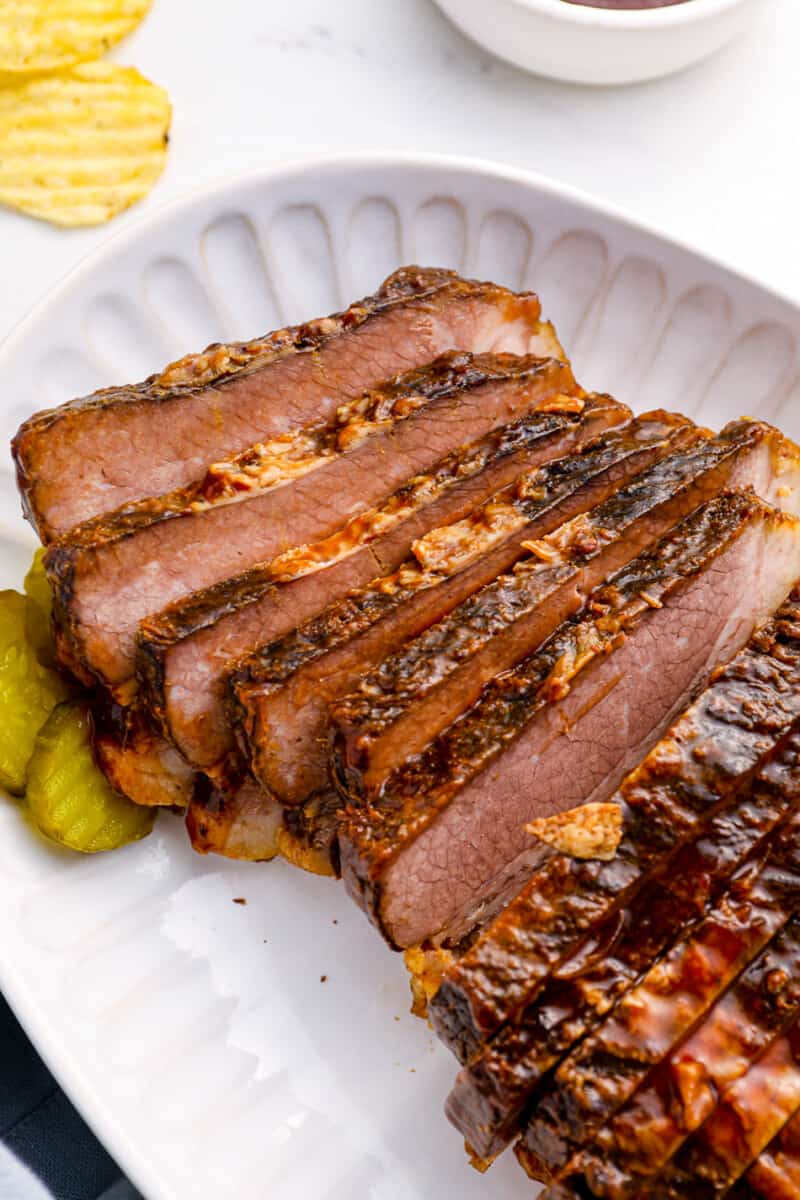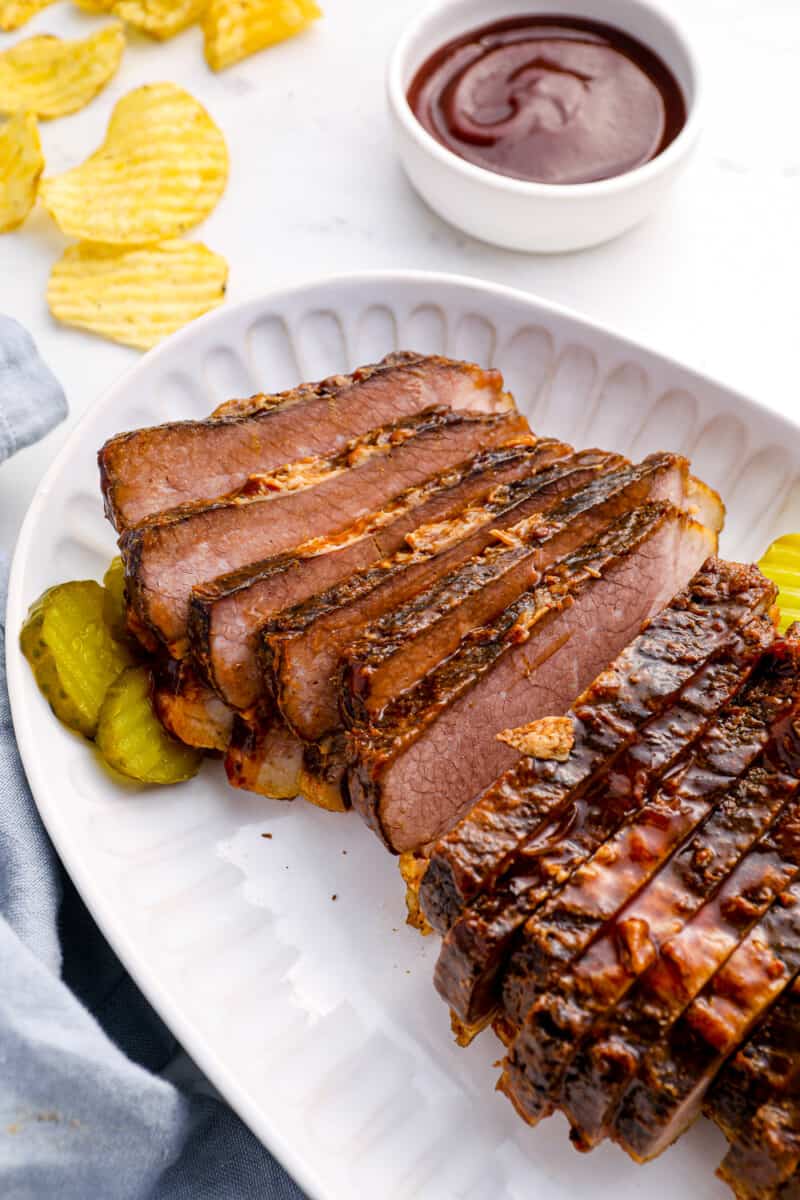 How to Cook Brisket in a Slow Cooker
Be sure to see the recipe card below for full ingredients & instructions!
Spray cooker with non-stick spray.
Pierce sides of the brisket with a fork, then sprinkle with seasonings.
Combine liquid ingredients in a mixing bowl.
Cut brisket in half, and place it in the slow cooker, and cover it with the liquid mixture.
Cover and set crock pot to LOW, then cook for 6 hours.
Switch the position of the brisket halves, then cook another 3-5 hours.
Move brisket to a large pan and cover it with foil to cool. Spoon the juices into a separate bowl.
Refrigerate overnight.
Slice and warm to serve!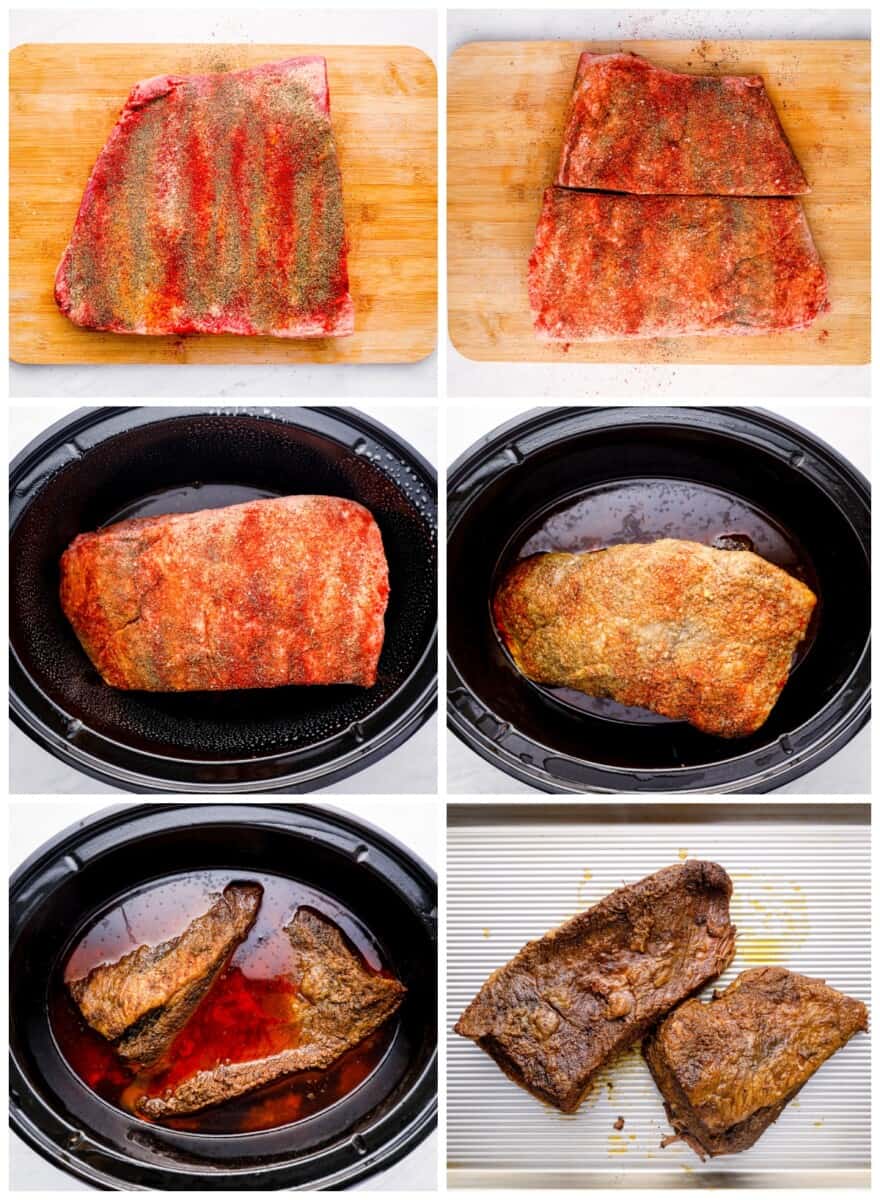 How do you make brisket tender?
Beef brisket is a tough cut of meat, so to transform it into a tender piece of meat it requires a long and slow cook. That's why we're making brisket in a crock pot! You can let it cook for hours without thinking about it. This is a great dump and go recipe and it results in a perfectly juicy piece of beef that the whole family will love.
What temperature do you cook brisket to?
Beef brisket should be cooked to an internal temperature of anywhere from 180-195 F. Once it goes over 200F, it starts to break down and get mushy.
Can you overcook brisket?
Yes, it's possible to overcook it! As I mentioned above, once it reaches 200F, it can get mushy, which is not a great texture. Keep an eye on it the last couple hours of cooking, and check the internal temp.
Do you cook brisket fat side up or down?
Place brisket into the crock pot fat side up.
Serving Suggestions
This slow cooker beef recipe makes the perfect centerpiece for any holiday menu or celebration. It's a great alternative to turkey for your Thanksgiving, and it's great for Christmas or Easter. Serve it up with all of your favorite sides!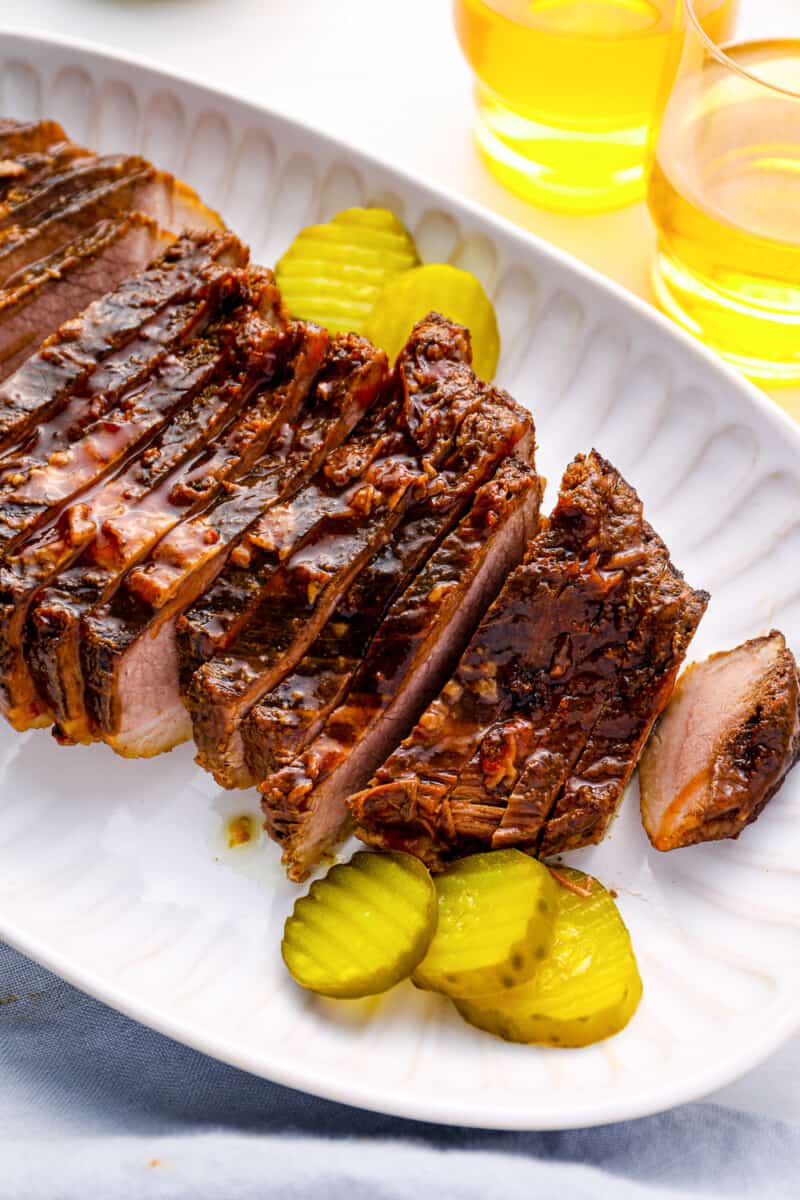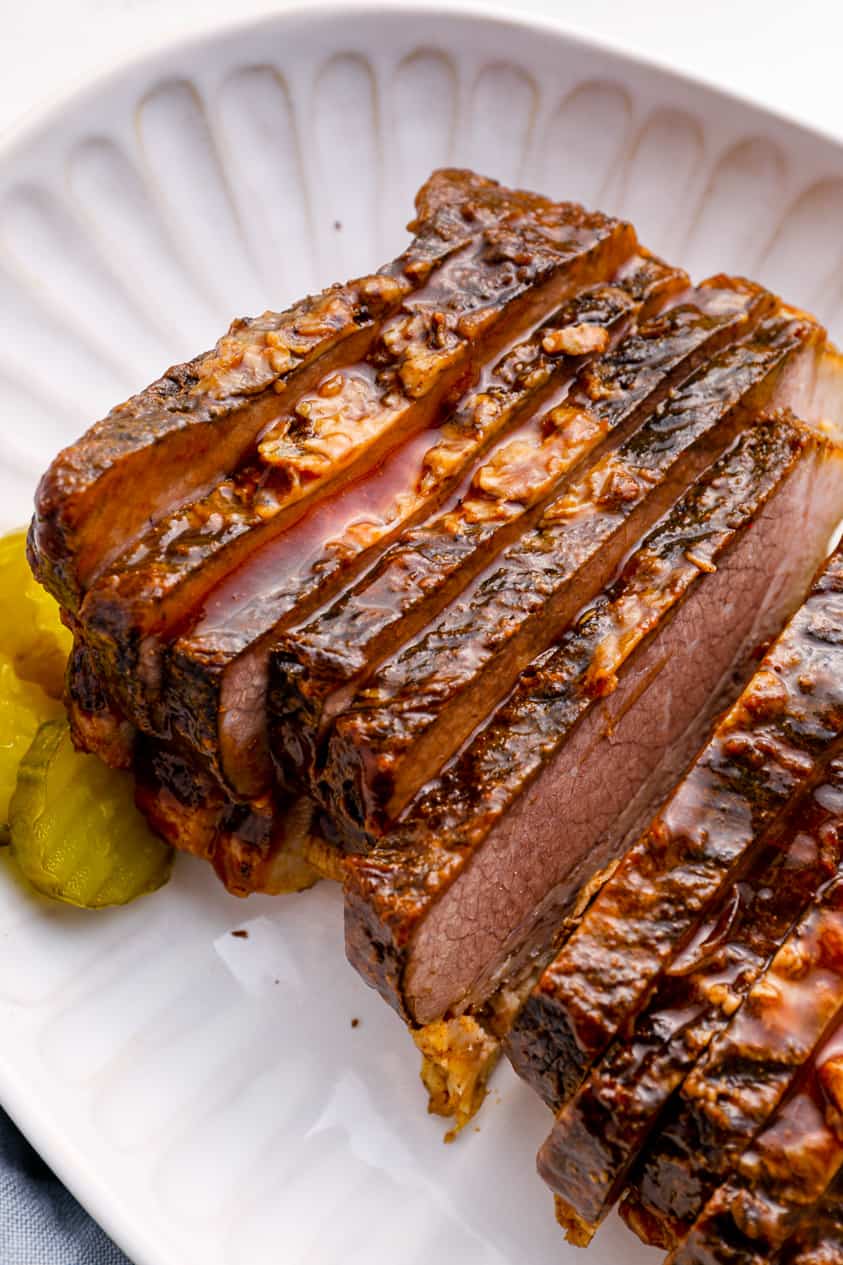 Tips!
Spray your slow cooker with cooking spray before adding the ingredients.
The brisket is ready when it is tender enough to cut with a fork.
Be sure to save the juices after the beef is cooked.
Gently reheat the brisket in the oven before serving.
How long do you cook beef brisket in the slow cooker?
A 6 pound piece of brisket will take around 9 to 11 hours to cook in the crock pot. It is possible to over cook the brisket so be sure to check it several times during the last part of cooking. The beef should be fork tender, but not falling apart, we want to slice it not shred it!
I love how easy and hands off it is to create such a tasty piece of beef!
What's the best cut of brisket to use in this recipe?
Brisket comes in two cuts, flat and point. For the best results, you want to get flat cut, also known as first cut. It's leaner and slices well, so be sure to ask for this cut if you don't see it immediately at your butchers.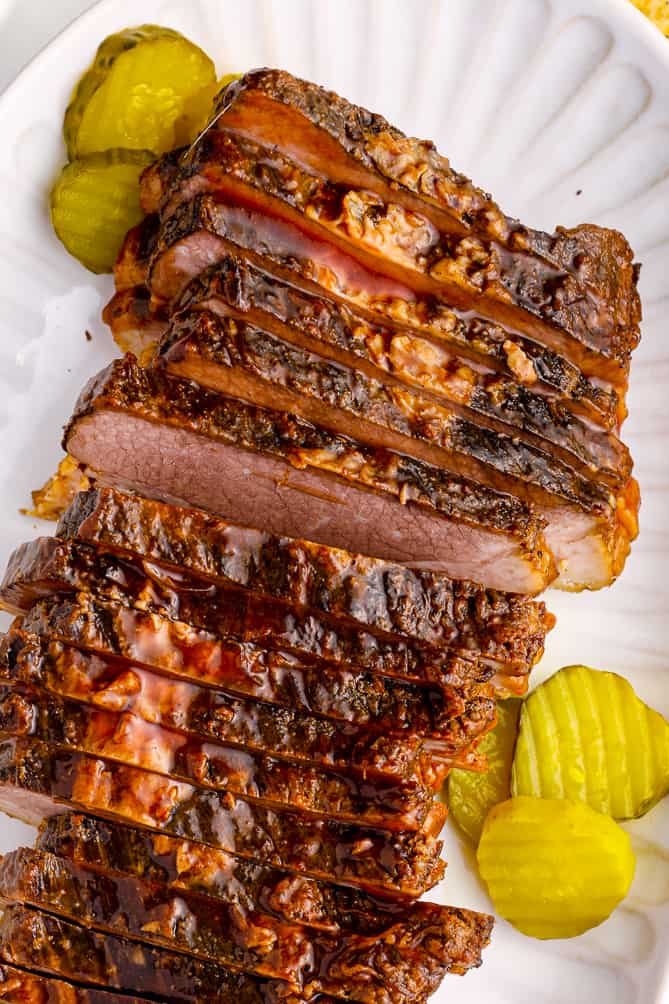 This easy slow cooker beef brisket recipe is definitely a favorite for bigger family meals and holidays. It's so easy to make with a crock pot!
More Easy Beef Recipes
If you make this recipe be sure to upload a photo in the comment section below or leave a rating. Enjoy!