BBQ Beef Brisket in the oven if our best brisket recipe! You can make BBQ brisket in the oven for a super tender, delicious result. This oven baked brisket is made even better with my special BBQ brisket sauce!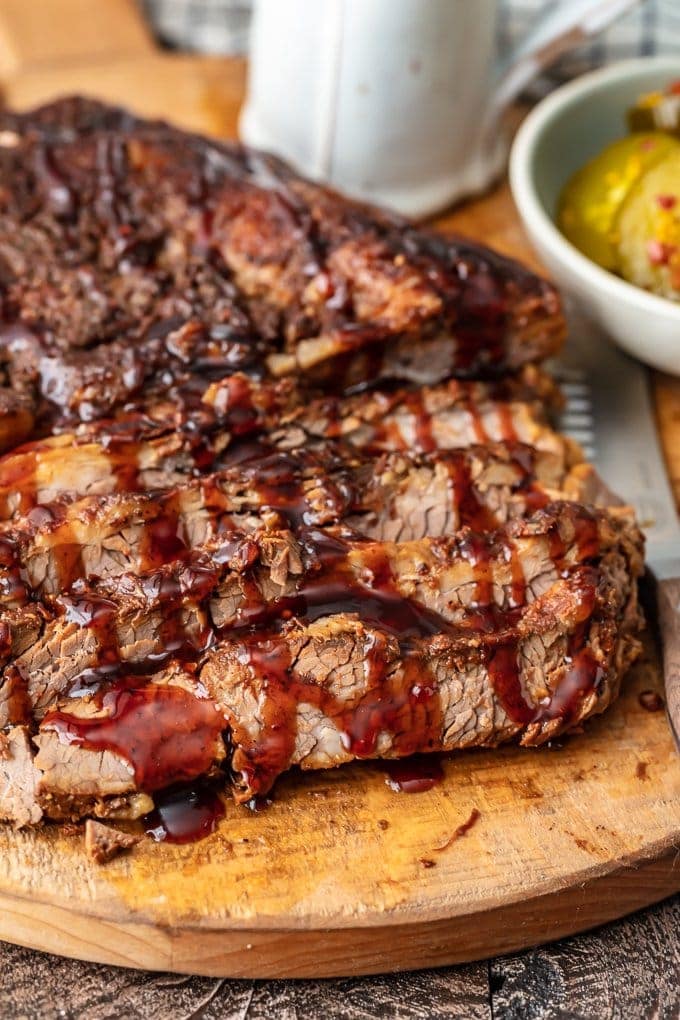 Brisket in Oven
This baked beef brisket recipe is the perfect main dish for any meal. Make BBQ brisket in the oven for the most tender and tasty result!
If you're looking for a delicious dish to serve for dinner, holidays, or special gatherings, this beef brisket recipe is it! No need to get the grill out either, because we're cooking this brisket in the oven. It definitely takes some time, but the result is tender, delicious BBQ brisket that everyone will love!
This was my Grandma Gall's recipe and one that brings back so many amazing memories around her table. My Mom has also made it for years and I'm so honored to be sharing it today!

This isn't a simple last-minute meal kind of recipe, so make sure you plan for this one. You'll need to prep the beef brisket up to a day in advance so that it has plenty of time to marinate before cooking. But I promise this oven baked brisket is well worth the effort!
I love this BBQ brisket recipe for holidays because you know when they're coming. You know you need something special to cook for Christmas, Easter, 4th of July, or whatever day you make this. So you'll have plenty of time to prep this a day ahead, or even a couple days ahead.
Best of all, I'm topping this recipe off with the best BBQ sauce for brisket. It's my favorite way to spice up this baked brisket recipe!
This oven baked brisket is so tender and so delicious. Make this BBQ beef brisket recipe for your next holiday meal!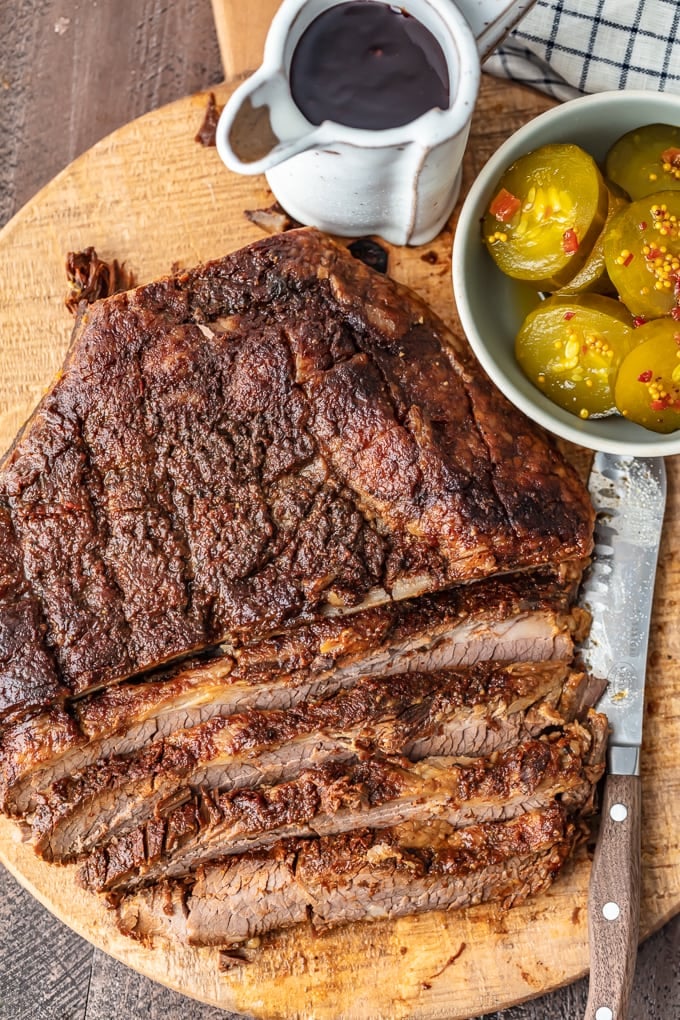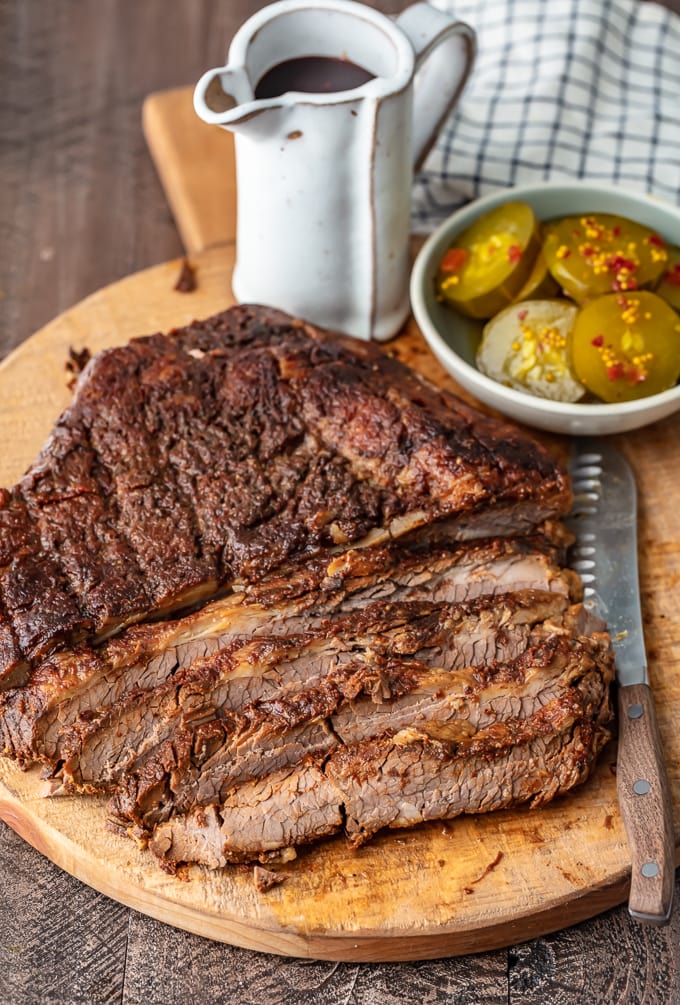 Best Brisket Recipe
I love this oven baked brisket because it has all the flavor of BBQ with the juiciness that can only come from roasting. It's the best BBQ brisket recipe for any occasion.
Now that I know how to cook brisket in the oven, I can make it any time of year, and so can you!
We use both store bought BBQ sauce as well as our special "Homemade" BBQ Sauce on this recipe. I hope you'll try it with both!
More Beef Recipes
This BBQ Brisket Recipe is just one of our go-to beef recipes. Be sure to check out these other recipes we love.
See All Beef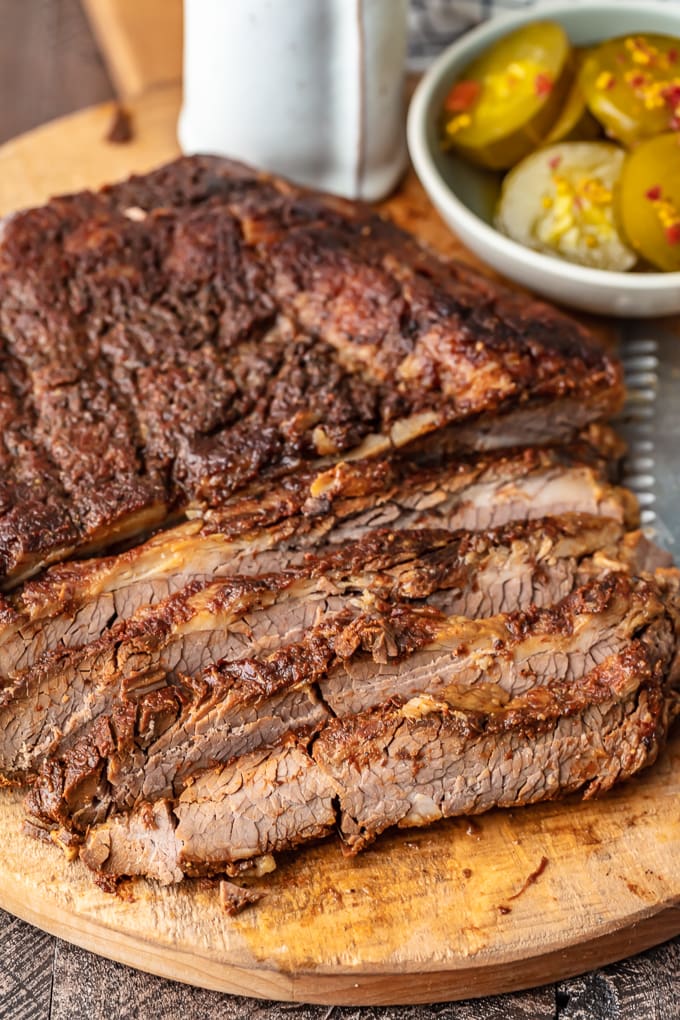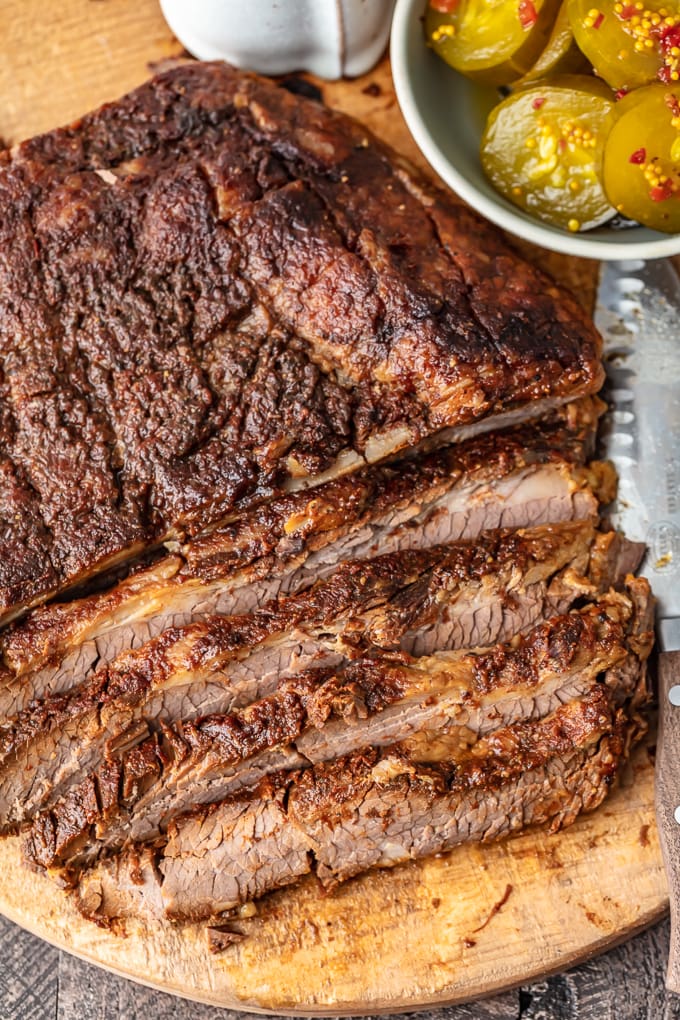 How to Cook Brisket in Oven
Before we even get to cooking brisket in the oven, remember that you need to get a head start on this beef brisket WAY ahead of time.
The brisket will need to be prepped and sit in the refrigerator 8-24 hours before cooking. So this is definitely a recipe you need to plan for.
You can jump to the recipe card for full ingredients & instructions!
How to prep the brisket before baking:
Remove the white film and trim the fat from the brisket.
Line a large baking pan with foil and spray it with non-stick spray.
Place the brisket in the pan and sprinkle all sides with seasoning.
Mix the BBQ sauce and liquid smoke together, then pour it directly over the brisket.
Pour water into the pan around the brisket (but not on it).
Cover the pan with foil and refrigerate it for 8-24 hours.
Take the brisket out of the fridge about 30 minutes before cooking.
How to make baked BBQ brisket:
Keeping the brisket covered, place the pan in the oven and cook for 5 hours at 275°F.
The baked brisket is done cooking one the internal temperature reaches 200°F.
When it's done, place the entire pan on a cooling rack and uncover the brisket to let the steam vent.
Give it 30 minutes to cool before slicing, and then serve with our brisket sauce. You can make this ahead of time if you don't have time to cook the day of serving (which is especially helpful for holidays or big gatherings). Just wrap the brisket in foil once it has cooled and refrigerate it.
Pair this bbq beef brisket with: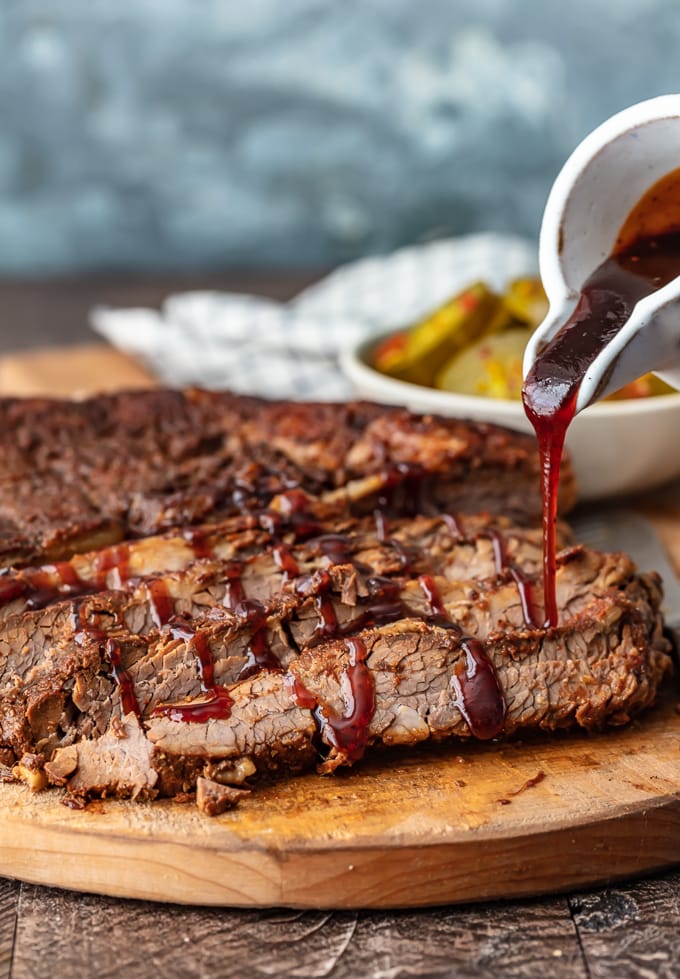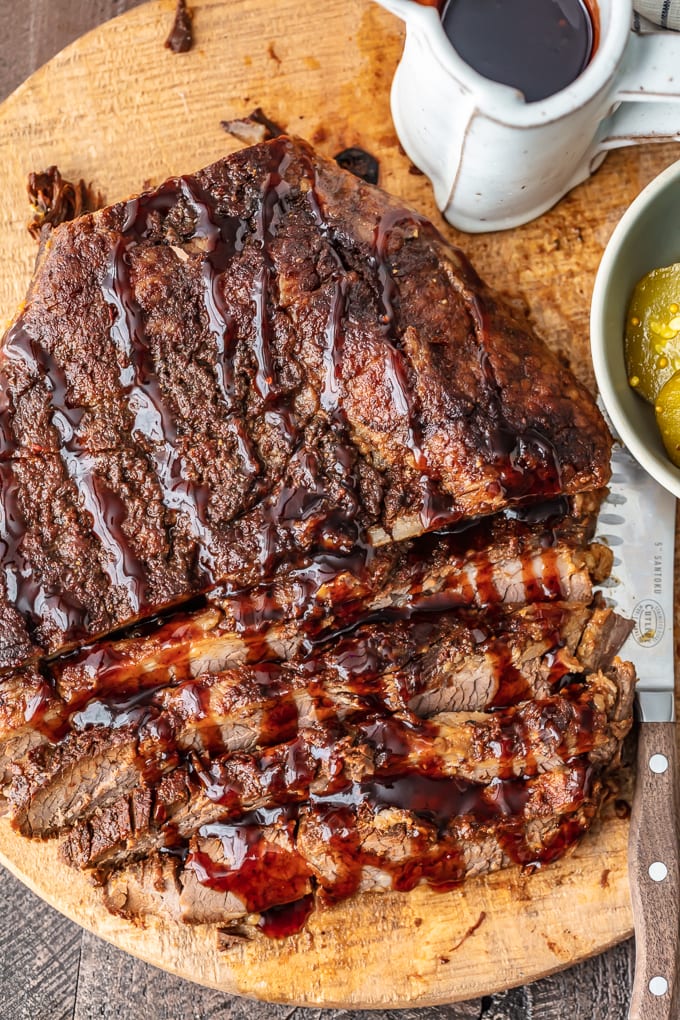 Best BBQ Sauce for BBQ Brisket
This oven baked BBQ brisket isn't complete without the PERFECT brisket sauce. I used my "homemade" BBQ sauce recipe to add some extra flavor.
You can use your favorite BBQ sauce to marinate, but I highly recommend drizzling my brisket sauce over it before serving. It just adds so much flavor!
How long to cook brisket in the oven?
How long to cook brisket in the oven can vary based on your oven. For this recipe, we're cooking the beef brisket at 275°F for about 5 hours. At 5 hours, remove the brisket from the oven and use a meat thermometer to check the internal temperature.
It's done cooking once it reaches 200°F. If it still hasn't reached 200°F, put it back in the oven and continue cooking, checking the temperature every half an hour.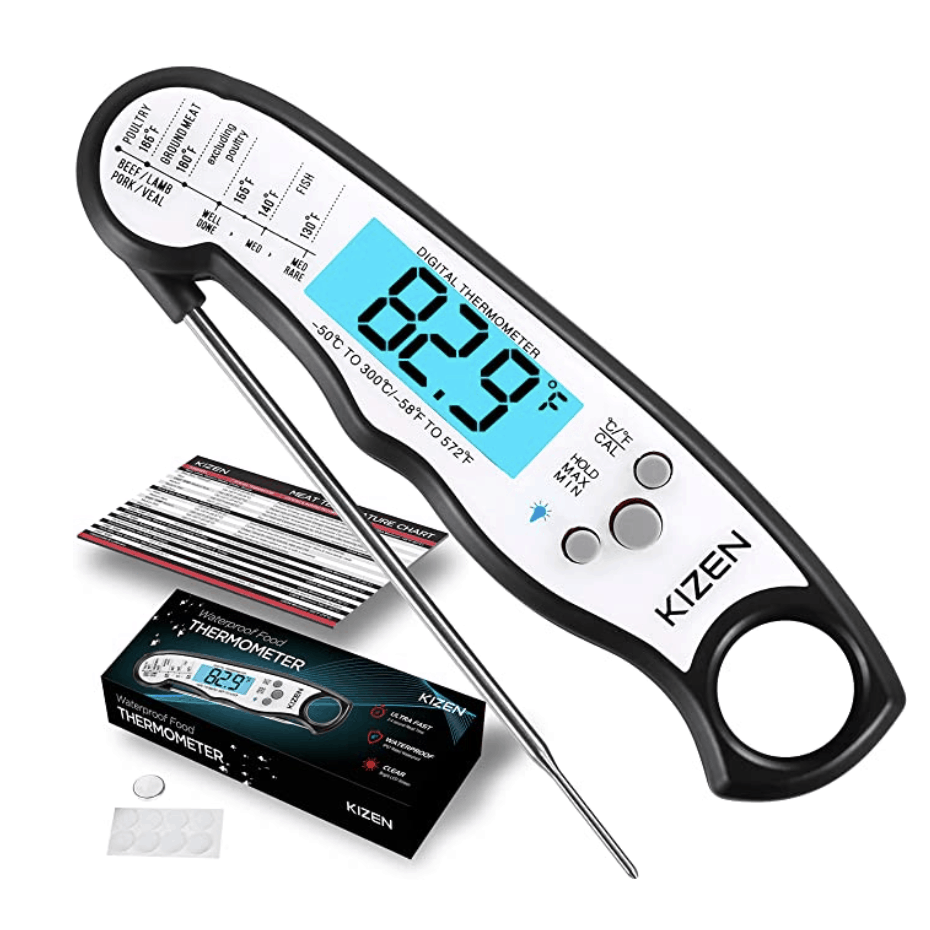 The Best meat thermometer!
I love using this meat thermometer for making sure the meat is at 165 degrees! Easy for beginners & totally worth the $10 cost!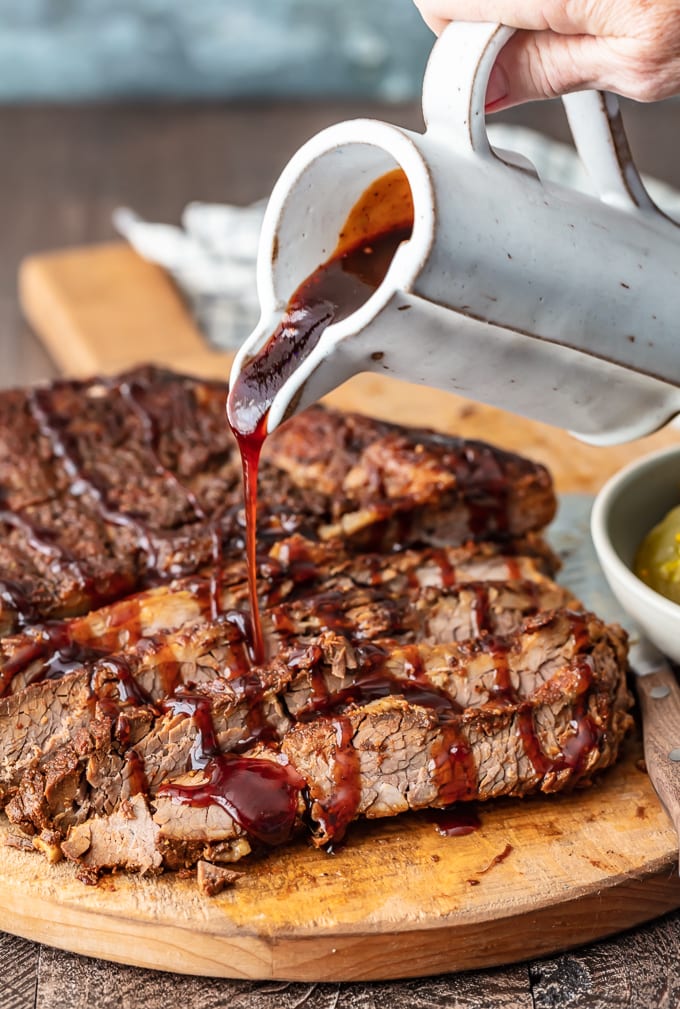 I hope you enjoy this baked BBQ brisket as much as we do! Add in some BBQ Bacon Baked Beans or some our other favorite side dishes for BBQ.
More Easy Main Course Recipes
If you're looking for easy dinner, you've come to the right place! See some of our favorite main course recipes after trying this brisket in the oven.
See All Easy Dinners
If you make this brisket in the oven with our special brisket sauce, let us know by uploading a photo in the comments below or leaving a rating. Enjoy!