Cooking BBQ Beef Brisket in the Oven is the best way to get tender, slow-cooked meat, and this easy BBQ beef brisket recipe is my favorite. All you need is BBQ sauce, liquid smoke, and some spices to give it the best flavor. So skip the smoker and get the most delicious beef with this oven-cooked recipe!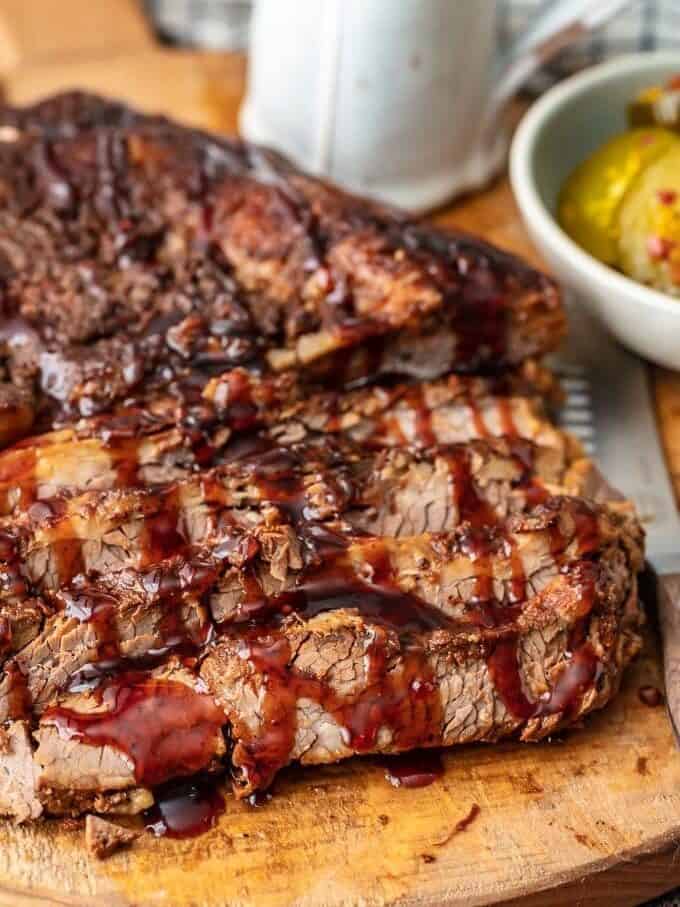 What's in this Beef Brisket Recipe?
All you need to cook the juiciest, most flavorful beef brisket is BBQ sauce, liquid smoke, and some spices for seasoning. It's such an easy recipe to follow!
Beef Brisket: I used a 6 pound point cut for this recipe. This is a smaller, thicker piece with more marbling, which means more fat to add tender flavor. Trim the fat cap to ½ inch.
BBQ Sauce: Use your favorite barbecue sauce to achieve the flavor you want. I always use my homemade BBQ sauce for this brisket recipe.
Seasonings: To season the beef, use a mix of garlic powder, onion powder, celery powder, ground nutmeg, and salt & pepper. You can whisk everything together to create a dry rub before applying, or simply sprinkle with each seasoning.
Liquid Smoke: This is a liquid ingredient that gives you the same smokey flavor you'd get from using a smoker. Find bottles of it near the condiments and BBQ sauces at the grocery store.
Water: Use water to fill the roasting pan. This creates steam in the oven to keep the brisket moist and tender while it slow cooks.
Beef Brisket Variations
I love adding a classic BBQ flavor to this oven baked brisket recipe, but you can create a different flavor with some easy tweaks. Instead of BBQ sauce, you can mix Worcestershire or soy sauce with the liquid smoke to marinate.
You can also use a beef broth or lager beer in place of the water in the roasting pan. If you want to change up the spice rub slightly, try adding cayenne pepper or brown sugar.

What oven temperature is best for cooking brisket?
Set your oven to 275F. Brisket is best when cooked very slowly at a low temperature–this means it will cook through without drying out.
What's the correct internal temperature for beef brisket?
Beef brisket should reach an internal temperature of 195-205F. I recommend taking it out of the oven as soon as it reaches 200F, or even at 195F. The temperature will rise slightly as it rests.
How long do you cook brisket in the oven?
At 275F, brisket will take about 5 hours to cook in the oven. Be sure to check the internal temperature and wait until it reaches the right temp.
How long do you marinate brisket before cooking?
We're marinating this beef brisket in a mix of BBQ sauce and liquid smoke. Let it marinate in the fridge for at least 8 hours, or up to 24 hours.
What kind of liquid should I cook brisket in?
I use water in the bottom of the roasting pan, but you can use beef broth, cider, beer, or another liquid.
Should brisket be covered while cooking?
Yes, fully cover the pan with aluminum foil through the full cooking time.
How do you cut brisket for serving?
Let brisket rest for at least 30 minutes after taking it out of the oven. Then slice it against the grain to create the most tender pieces.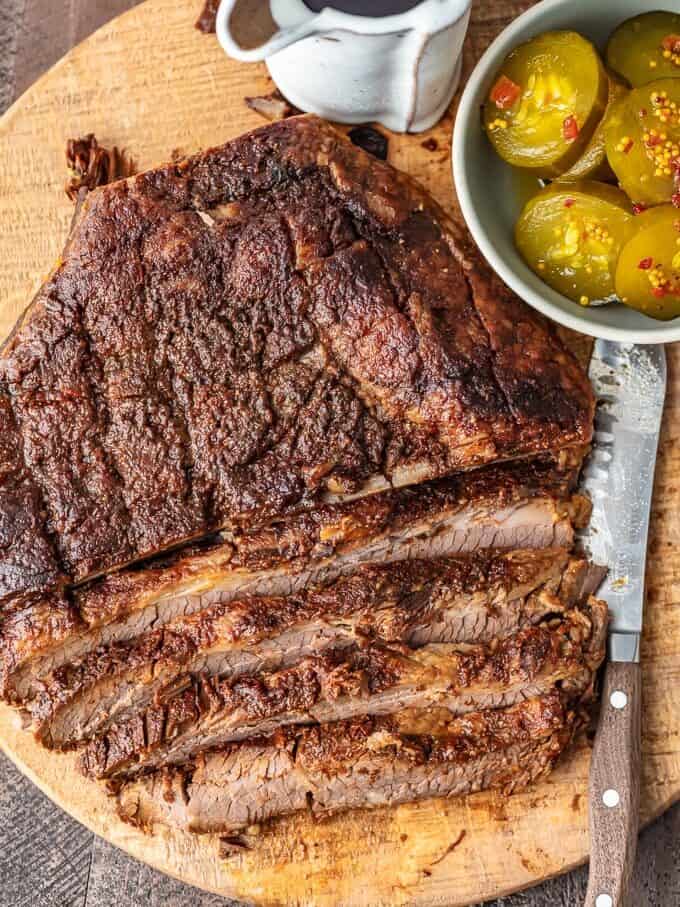 How to Store and Reheat
After cooking, let beef brisket cool to room temperature. Place leftovers in an airtight container or resealable bag, and keep in the refrigerator for 3-4 days.
Reheat brisket in the oven for best results. Let it rest on the counter while the oven preheats at 300F. Place it in a roasting pan, cover with beef broth or more BBQ sauce, cover with foil, and bake until it's fully heated through (it should take about 20-30 minutes).
How to Freeze
Let leftover BBQ brisket cool to room temperature, then place it in an airtight container or freezer-safe resealable bag. I recommend wrapping it in aluminum foil as an extra precaution to prevent freezer burn. Freeze for 3 months. Defrost overnight in the refrigerator before reheating in the oven.
What to Serve with Oven-Cooked Beef Brisket
This BBQ beef brisket recipe is best served with lots of classic BBQ side dishes! Make corn on the cob, coleslaw, potato salad, cornbread, and BBQ baked beans. It also pair well with creamed green beans, Air Fryer baked potatoes, parmesan potato wedges, and lots more.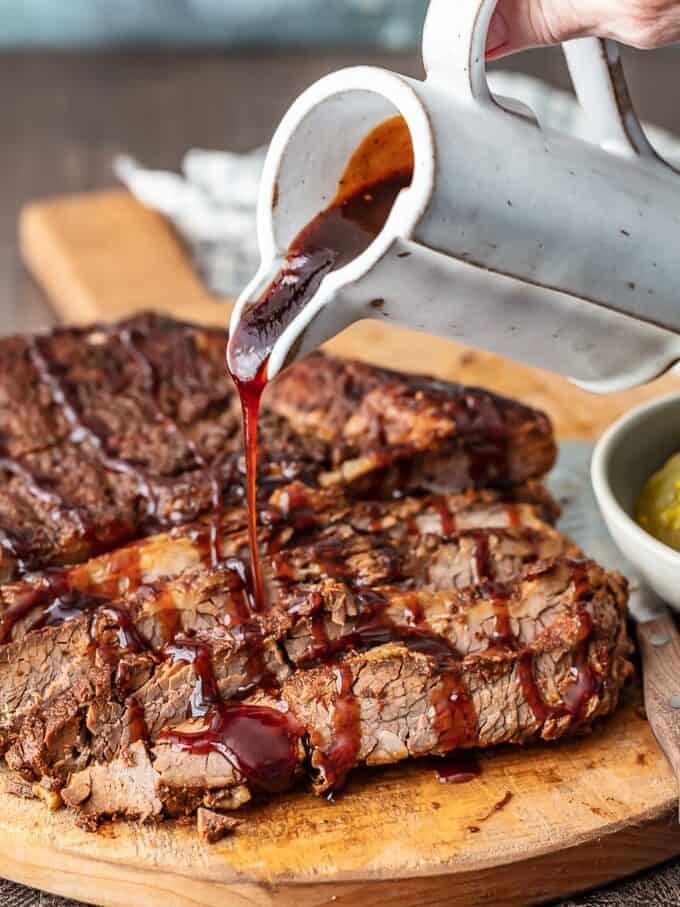 If you make this brisket in the oven with our special brisket sauce, let us know by uploading a photo in the comments below or leaving a rating. Enjoy!
More Brisket Recipes We Love