TROPICAL MIMOSAS are the perfect year round cocktail! This delicious mimosa recipe is made with coconut simple syrup, orange, mango, and pineapple juice, and of course champagne. This easy coconut water cocktail is SO TASTY and it will keep you hydrated.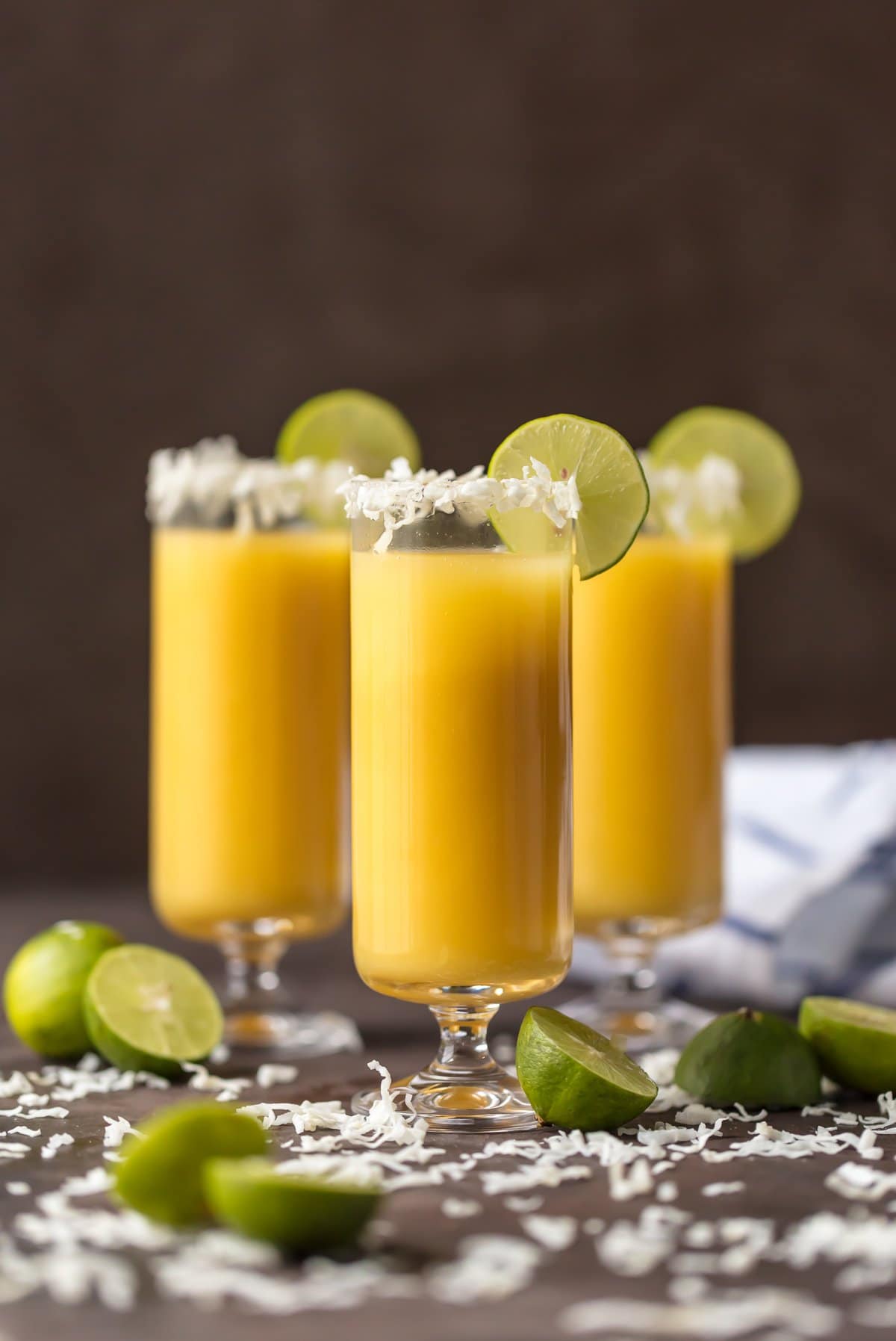 Tropical Mimosas
This tropical mimosa recipe is deliciously fruity and super easy to make. Try out this coconut water cocktail for something fun to sip on any time of year!
I don't know about you, but I'm not about to let any winter blues get me down! The cold weather can just zap us all into forgetting about fun in the sun, or being outdoors socializing and having fun. So let's bring the relaxation to ourselves year round with this TROPICAL MIMOSA recipe!
This mango pineapple cocktail is super simple, SO delicious, and even a tad healthier than your typical cocktail. I love this coconut water cocktail because it helps to keep you hydrated while you drink, and we can all use that extra boost of healthy coconut water!
This tasty tropical mimosa is my kind of sip for sure, and definitely meant to be enjoyed no matter what the weather channel predicts. I can be on vacation in my mind any day with this fruity drink!
Have a vacation any time with this delicious Tropical Mimosa Recipe! A fun coconut water cocktail mixed with orange, mango, and pineapple juice. Yum!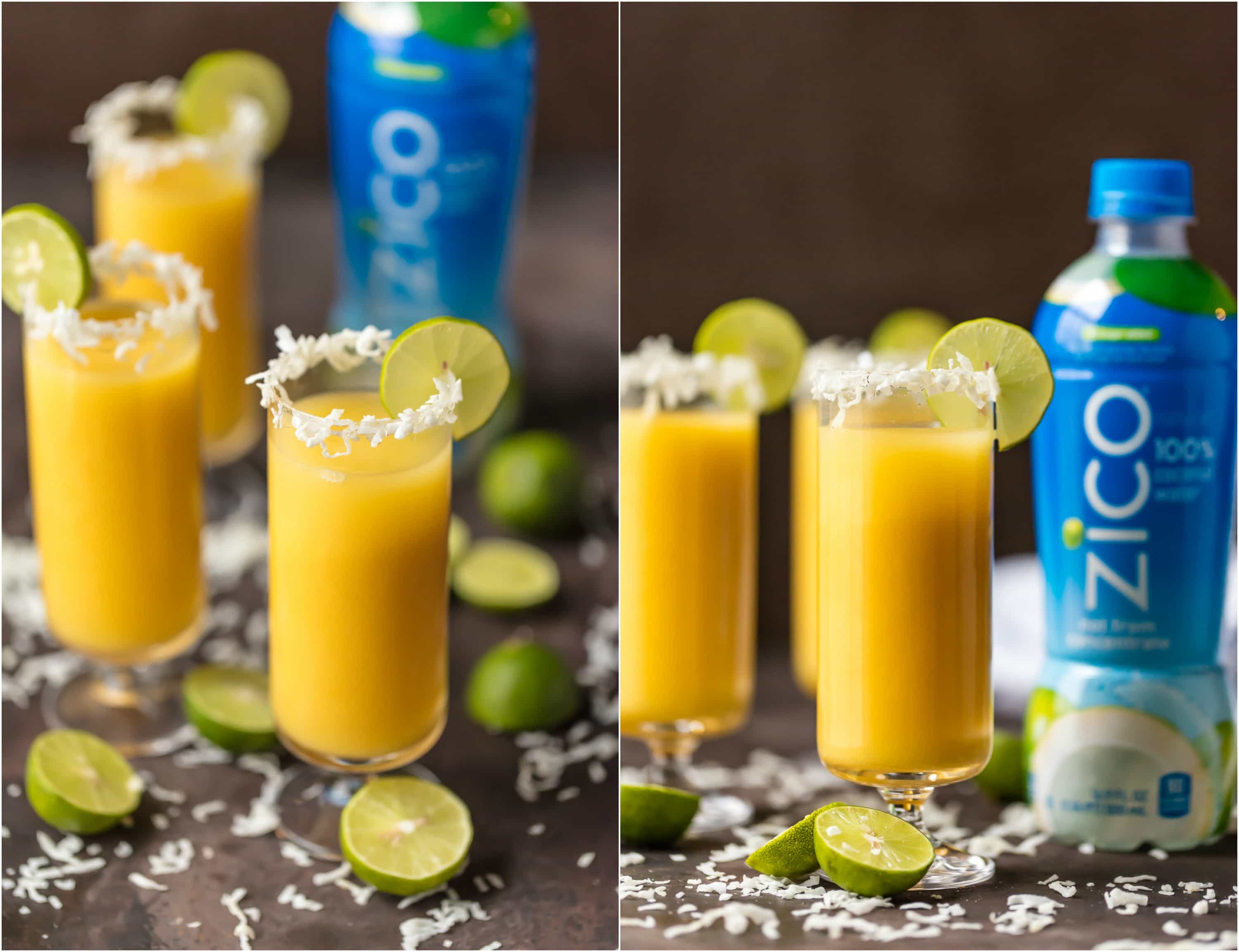 Coconut Water Cocktail Recipe
I chose to use Coconut Water in this Pineapple Mango Mimosa recipe because it's made with ONE ingredient…coconut! No sugar added is a great thing and you won't miss it at all. Not all coconut waters are created equal, so be sure to read labels when you're shopping. This is the best option for an easy and fun coconut water cocktail that you can enjoy year-round!
I made an easy Coconut Simple Syrup using the Zico and some agave nectar, and I was so pleased with the result. It makes these tropical mimosas just the right amount of sweet and unique…sure to add something special to any celebration! I also used their Chilled Coconut Water and Pineapple Mango Juice Blend in the mimosa itself, which was BEYOND yummy!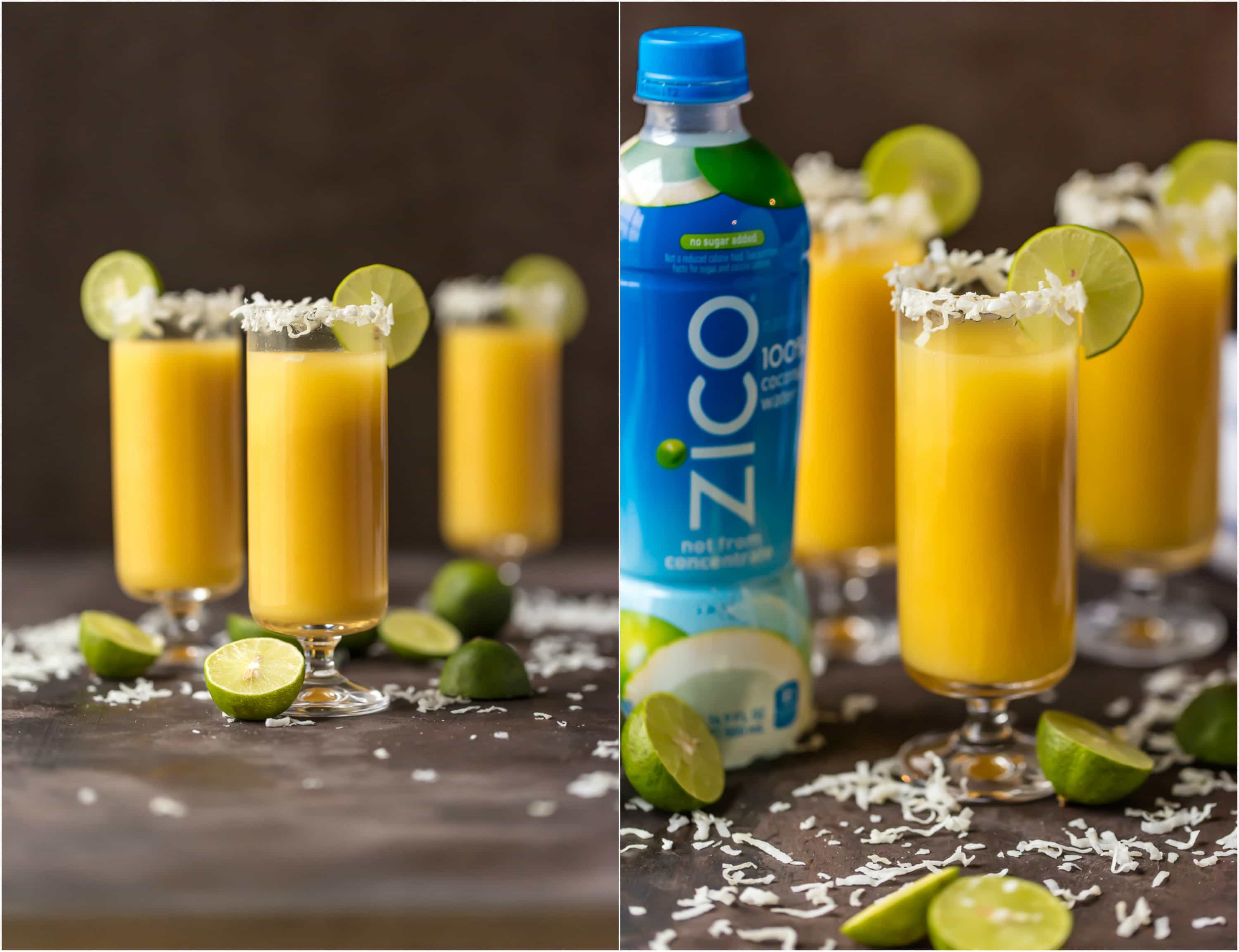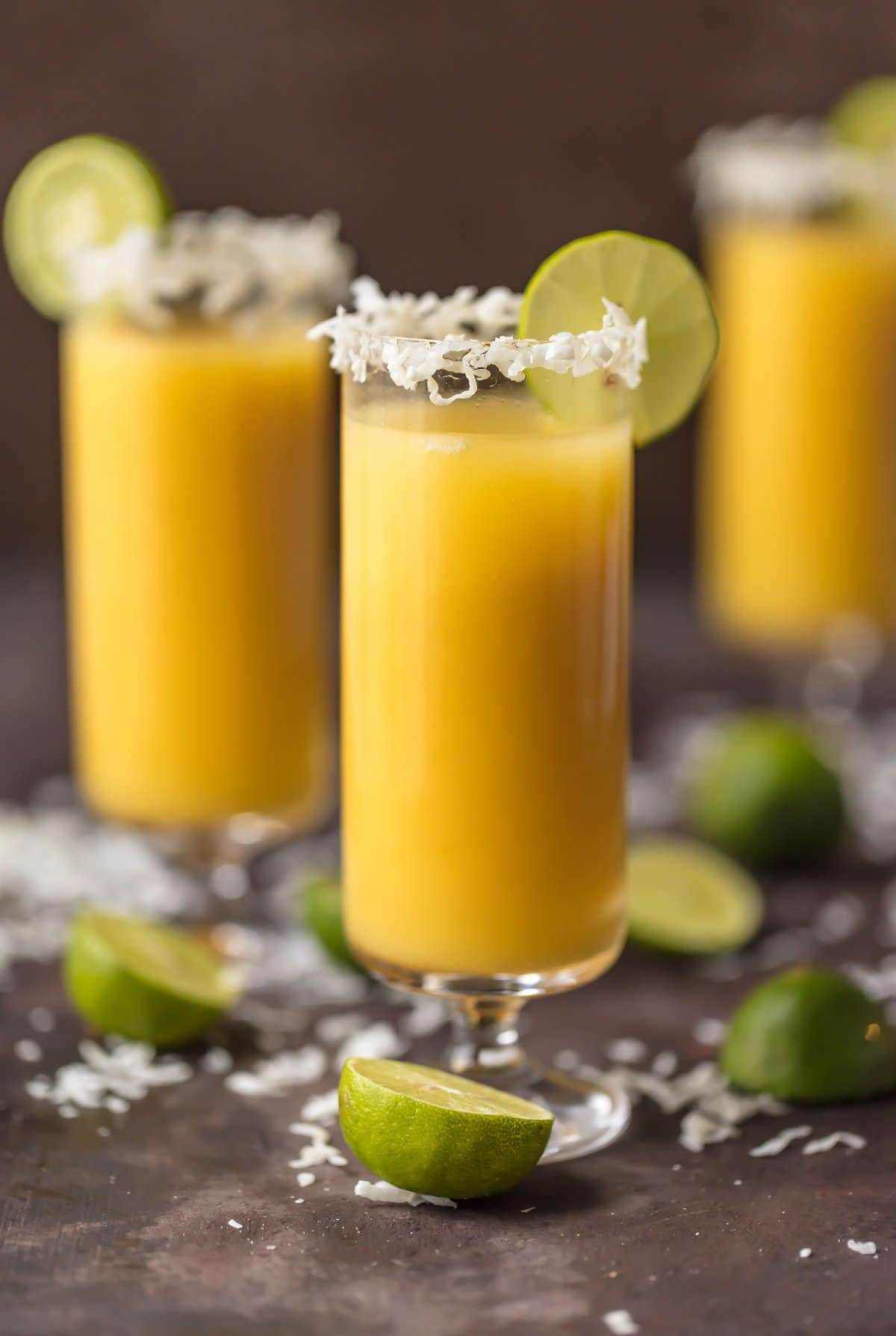 Mango Pineapple Cocktail
I just love the flavor combo in this Tropical Mimosa recipe. The way the coconut water, orange juice, and pineapple juice pair together is a real treat! This hydrating coconut water cocktail is sure to brighten any day, especially these dreary winter days that we are in the thick of. It helps to feel good about the food and drinks you make, and this sip makes it easy!
What's in this amazing mimosa recipe:
Coconut Water
Orange Juice
Pineapple and Mango Juice Blend
Agave Nectar
Champagne (or Prosecco)
Coconut Flakes and Lime Wedges (for garnish)
How to Make a Mimosa with Coconut Water
This isn't your classic mimosa recipe, but it's so delicious and so fun! It feels a bit healthier since we're using coconut water to add hydration, plus sugar-free options to add sweetness without calories. Agave nectar and coconut water with no added sugar are fresh, feel-good options for this tropical cocktail!
How to make Tropical Mimosas:
Begin by making a simple syrup with the coconut water and agave nectar. Combine them in a sauce pan and bring to a boil, then reduce heat & simmer for 10-15 minutes. Stir occasionally.
If you want to garnish your glasses, dip each glass into the simple syrup and then into the coconut flakes to get that beautiful coconut rim. (Do this before filling the glasses, of course)
Fill 1/4 of the glass with the simple syrup, then fill another 1/4 with the orange juice and pineapple/mango juices, then top off with champagne.
This tasty coconut water cocktail is so easy to make. It's got the flavor of a tropical vacation rolled up into one simple drink. I can't think of a better way to bring that summertime feeling into short winter days.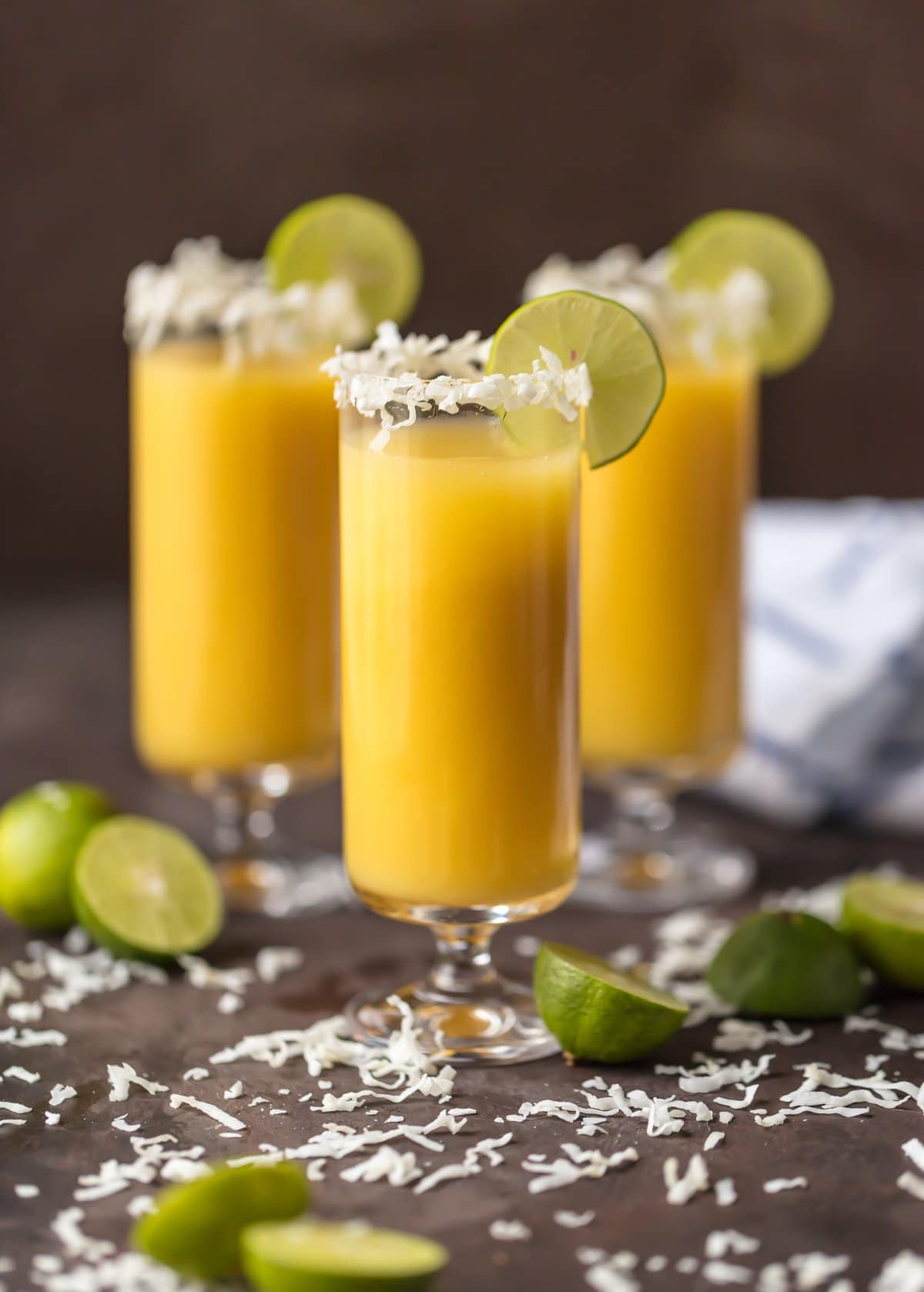 This summery Tropical Mimosa recipe is so fruity, delicious, and sweet. It's easy to make and perfect for any time of year. A flavorful and hydrating coconut water cocktail that you can enjoy during the heat of summer or the dreary days of winter. Any time you make this pineapple cocktail, you'll be in your own private vacation!
See the recipe card below for details on how to make this Tropical Mimosa Recipe with Coconut Water. Enjoy!
If you like this coconut water cocktail, try these other great cocktail recipes: