TURTLE CAKE is a chocolate lovers dream. This Turtle Brownie Cake recipe is a dense and moist chocolate brownie cake with walnuts and topped with the most incredible ganache and caramel drizzle. It simply doesn't get better than this Chocolate Turtle Cake! Crave worthy baking!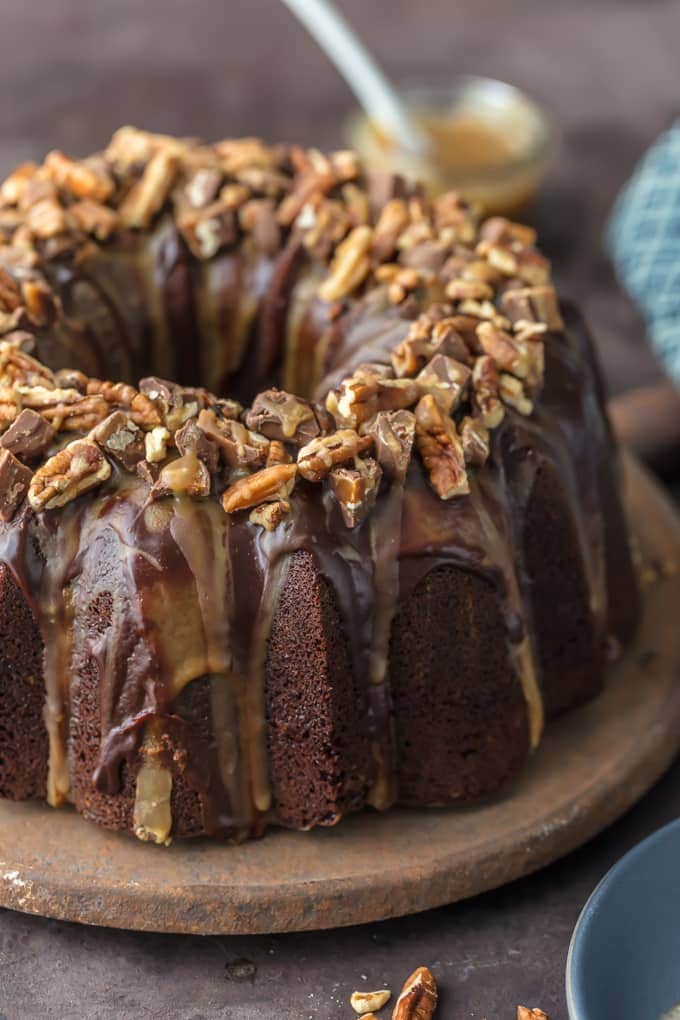 Brownie Cake Recipe: Chocolate Turtle Cake
Brownie Cake is one of my all-time favorite chocolate dessert recipes and this chocolate turtle cake recipe really…takes the cake!
Turtle Brownie Cake is taking over our house one slice at a time. If there's one dessert I love and never tire of, it's BROWNIES! Brownies were my #1 craving while I was pregnant with Henry (well, and Coca-Cola). Pat came home at one point to another batch on the counter and he tenderly said "Wow I just haven't ever seen this many brownies made this many days in a row…" BACK OFF I'M STARVING AND GROWING A HUMAN.
Anyways…now that Henry is here, 6 months later I still crave the chocolaty goodness of a moist brownie more than I'd like to admit. This Chocolate Turtle Cake feels just a little bit classier than a boring (but delicious) brownie and I cannot get enough.
This Chocolate Brownie Cake is a mix of German Chocolate Cake Mix and Brownie Mix to make the most decadent bundt cake in history! The chocolate and caramel icing is OMG and the walnuts add such a nice crunch and flavor. If you love turtle candies, you'll love this cake!
This Chocolate Turtle Cake is one of my favorite desserts. You really have to try this turtle brownie cake right away!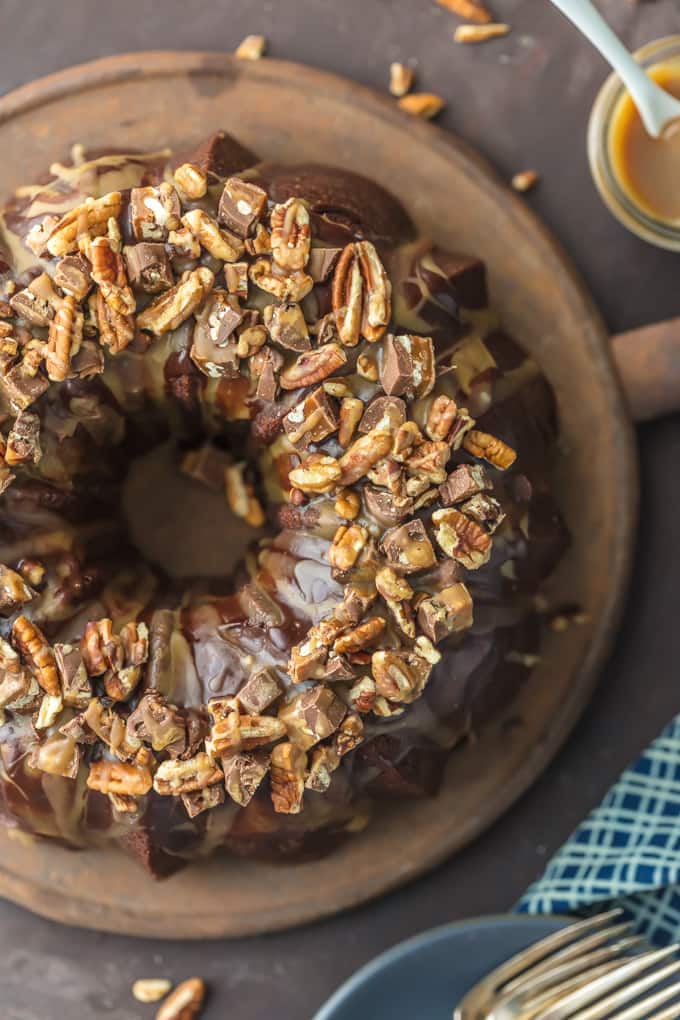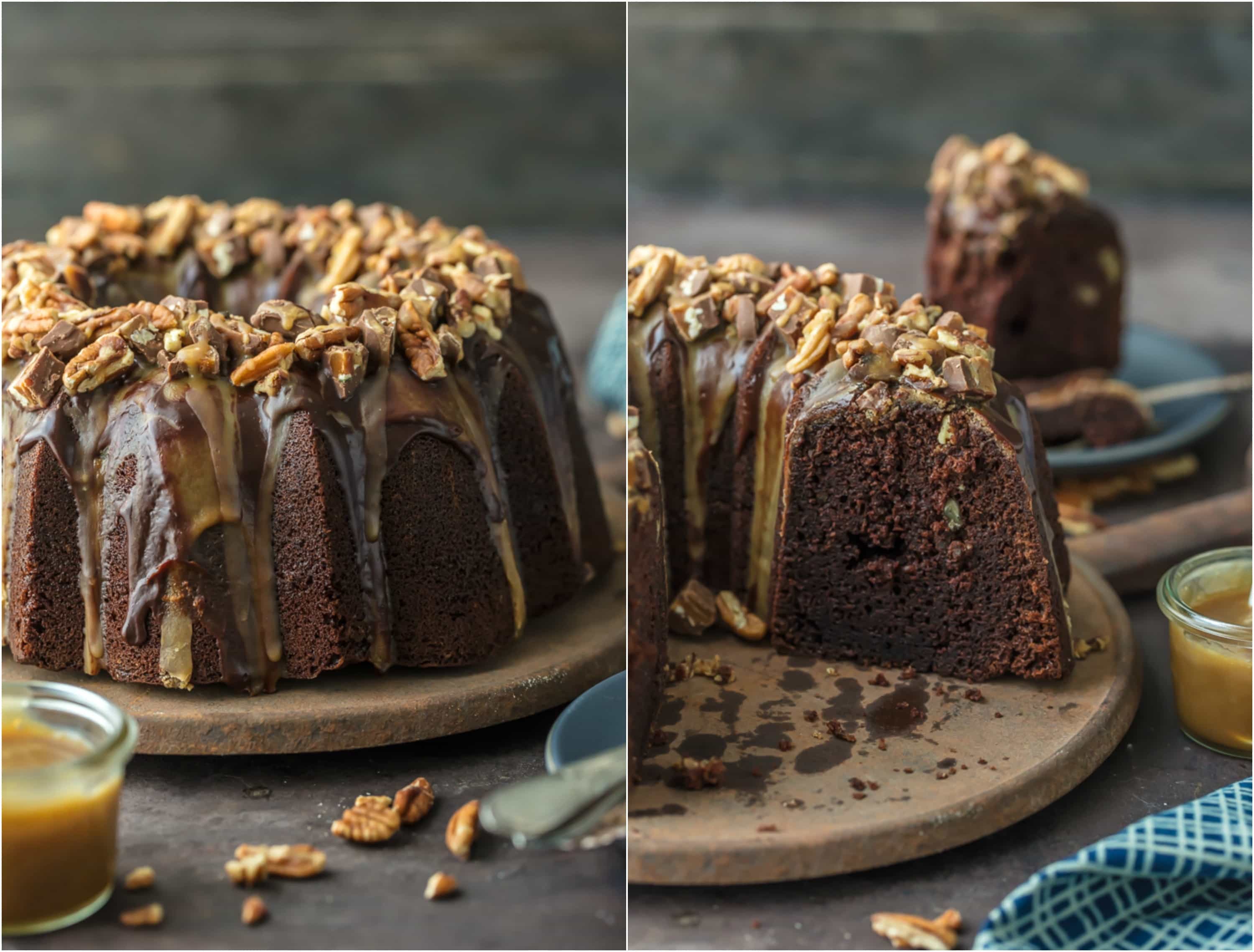 Tips for making this Turtle Brownie Cake recipe
If you're going to make this Turtle Brownie Cake recipe, you might as well chop up some turtle candies and douse that cake in as much chocolate and caramel as you can. I mean, why not. At this point there's no hope in this recipe being healthy, so just go for the gold. There's no scrimping on this amazing chocolate turtle cake. And you better cut yourself an extra-large slice! You won't regret it. Put on some stretch pants, it's fine.
You can never go wrong with chocolate. When I'm craving chocolate I make this Turtle Cake, our Easy French Silk Pie, Chocolate Truffles, Oreo Poke Cake, or Chocolate Gooey Butter Cake Cookies!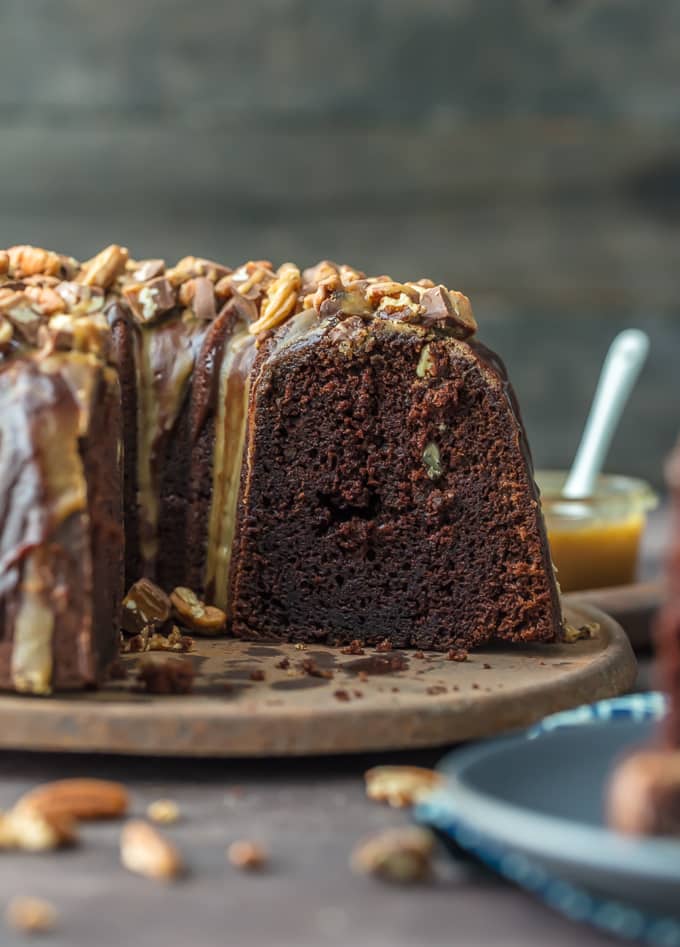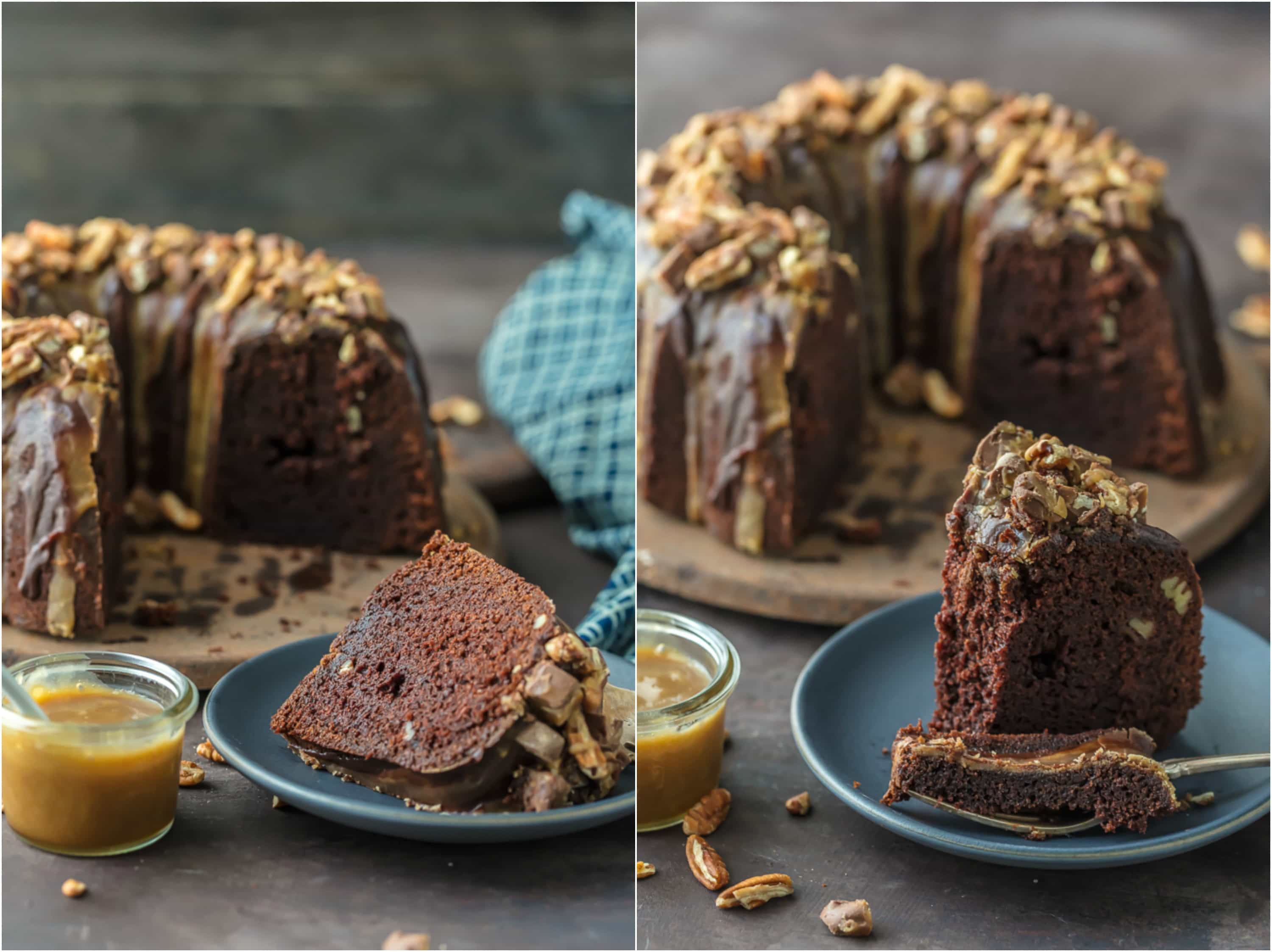 Chocolate Turtle Cake
This chocolate Turtle Cake is bound to change your life because you'll be addicted with the first bite!
If you're able to make this Turtle Chocolate Brownie Cake and NOT dip into the chocolate and caramel with a spoon, then I commend you. I was not that controlled. Pat caught me with a slice with some extra caramel on the side actually dipping each bite before I ate it. SORRY.
It's stressful some days having a 6-month-old and I won't apologize for extra caramel. I just won't. Chocolate Brownie Cake is the ultimate chocolate dessert recipe. I cannot wait for you to try it!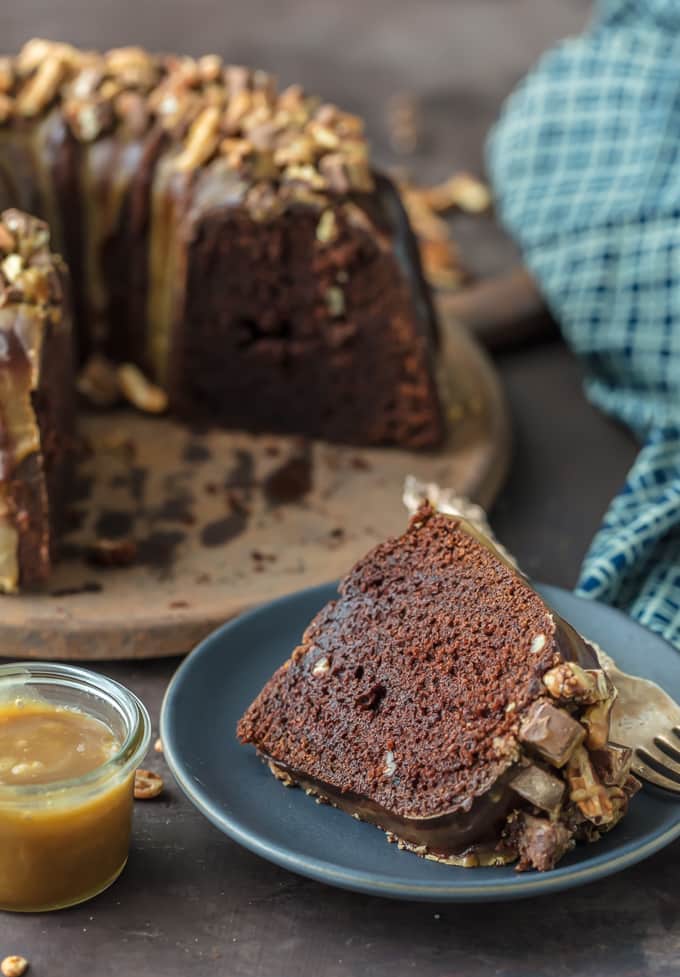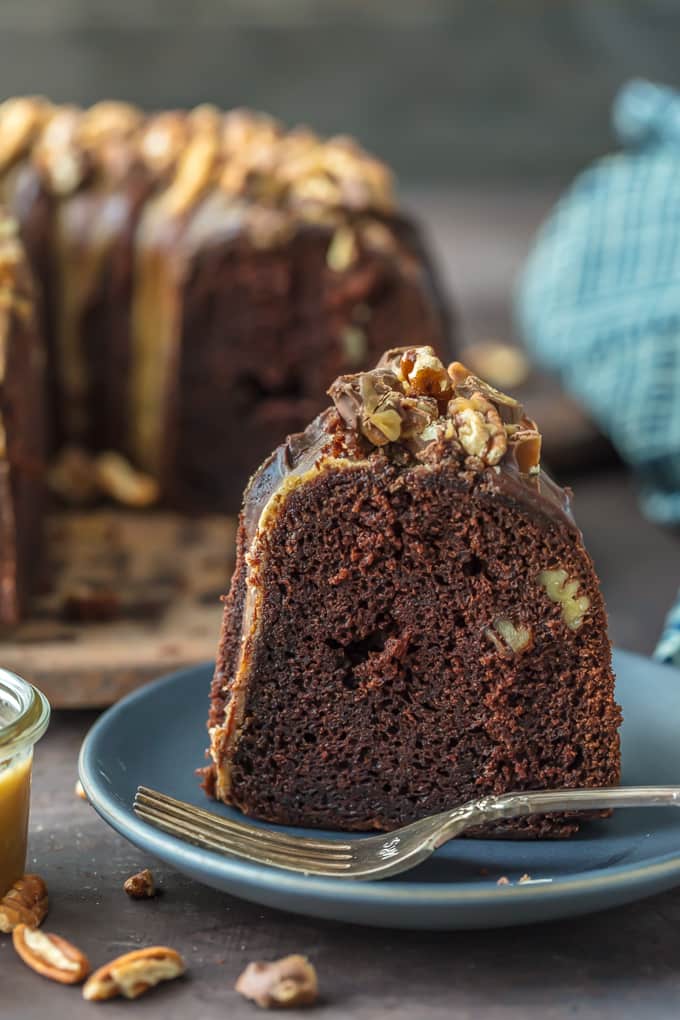 This Turtle Brownie Cake recipe is truly the best of both worlds. Fudgy, chewy brownie meets the ultimate moist chocolate cake. It doesn't get better than this for chocolate lovers! I hope you enjoy this chocolate Turtle Cake and savor it like I do. A little (A LOT) of chocolate goes a long way. If brownies are more your thing be sure to make our BEST EVER Homemade Brownies from Scratch.
See the recipe card below for full details on How to Make Turtle Brownie Cake. Enjoy!
If you like this turtle cake, try some of our other favorite desserts too: