Zuppa Toscana made on the stovetop is a homemade comfort food that will warm up even the coldest of days! This classic Italian soup is boldly flavored with ingredients like garlic, white wine, red pepper flakes, sweet sausage, and more.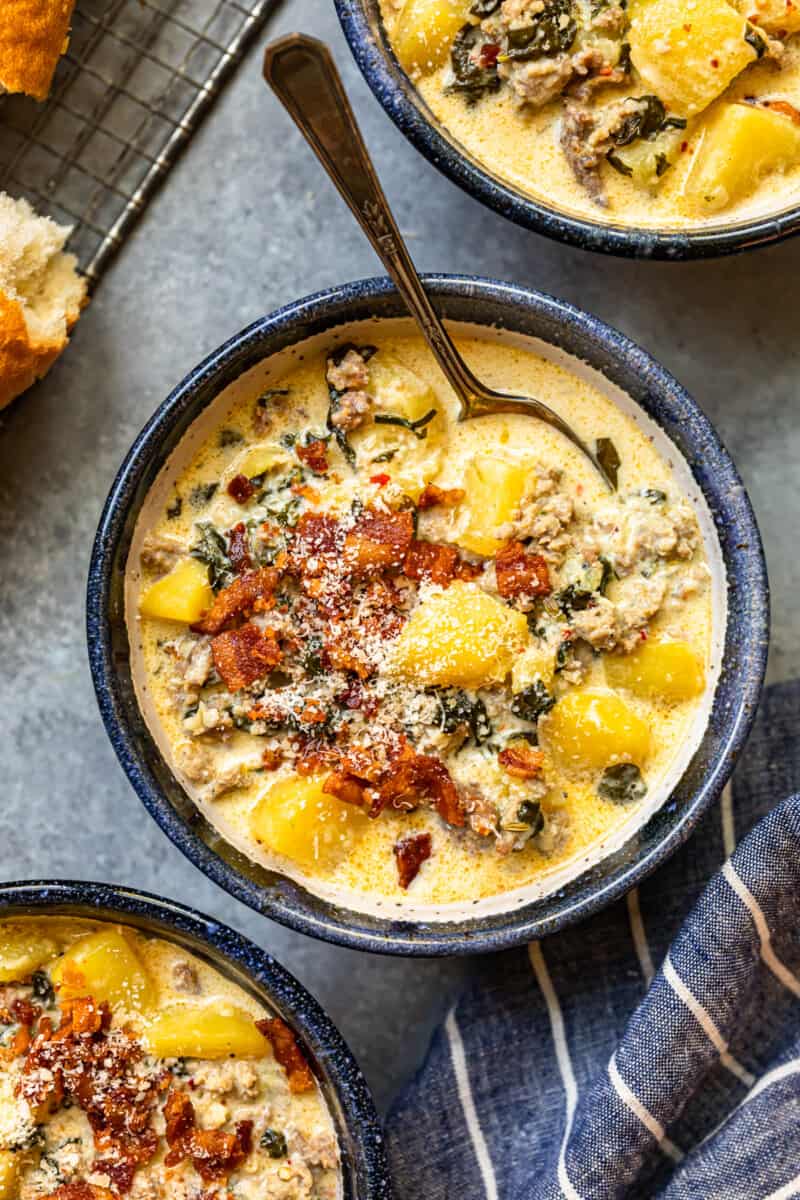 Olive Garden Zuppa Toscana
Move on over, Olive Garden. There's a new Zuppa Toscana recipe in town that's going to blow your mind! Many of us first fell in love with this creamy, filling, and flavor-packed soup at Olive Garden, and I'm here to tell you… This homemade recipe is even better. Yes, really!
What I love most about making copycat recipes is that I can enjoy my favorite restaurant dishes in the comfort of my own home. And, I can stick to the true recipe or switch things up and make it my own. There's so much to love about copycat recipes, that's for sure!
Why You'll Love this Copycat Soup Recipe:
FILLING: I love a soup that actually serves as a meal and Zuppa Toscana does just that. Filled with sausage, bacon, and potatoes, this is about as hearty as a soup can get.
FLAVORFUL: Bland soups, be gone! Zuppa Toscana is packed with a bounty of bold ingredients that are sure to make your mouth water.
EASY: With just a few simple steps, this soup is a total cinch to whip up on a chilly, lazy day!
Once you make this soup at home, you'll have a hard time ordering it again at Olive Garden. After customizing it to your own tastes and perfecting it to your liking, it's not easy going back to the restaurant stuff!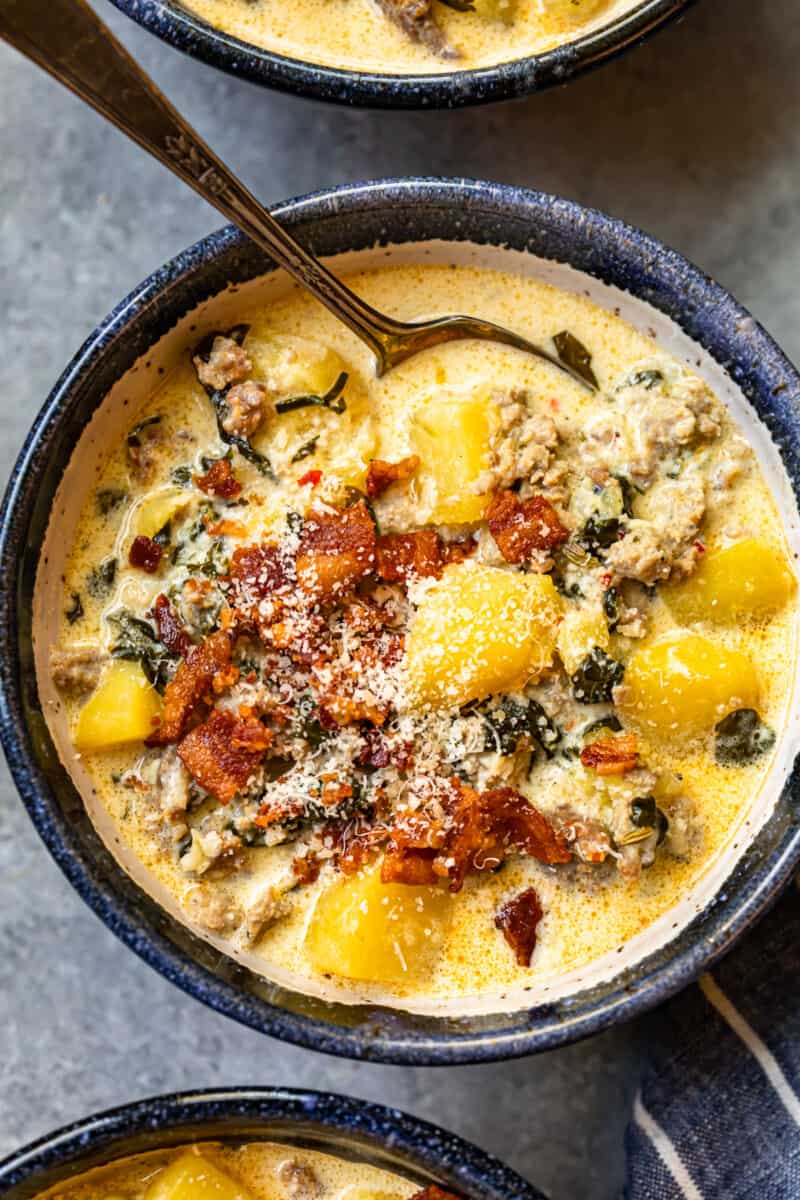 How to Make Zuppa Toscana
You can jump to the recipe card for full ingredients & instructions!
Crisp up the bacon.
Cook the Italian sausage.
Sauté the garlic and onions.
Add the broth, spices, and potatoes. Boil, then lower the heat.
Add the browned sausage, heavy cream, white wine, and spinach.
Chop up the cooked bacon, and sprinkle it atop individual servings of the soup.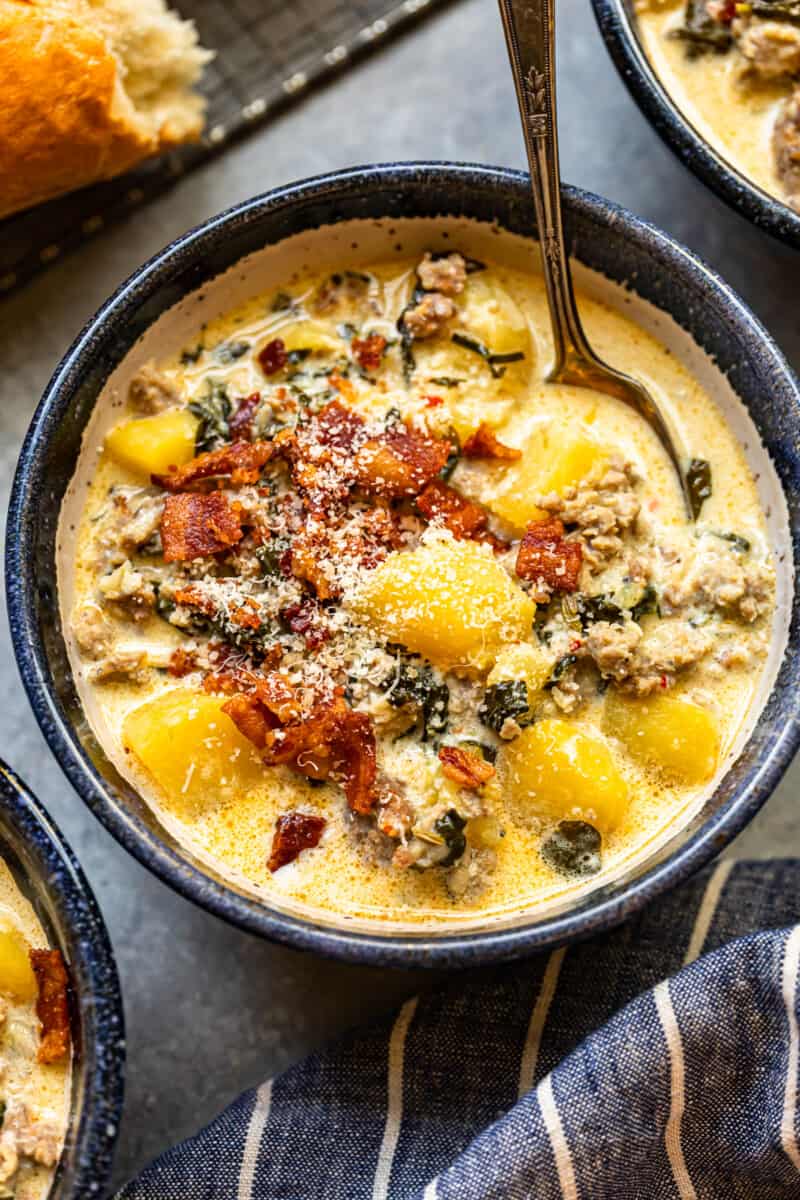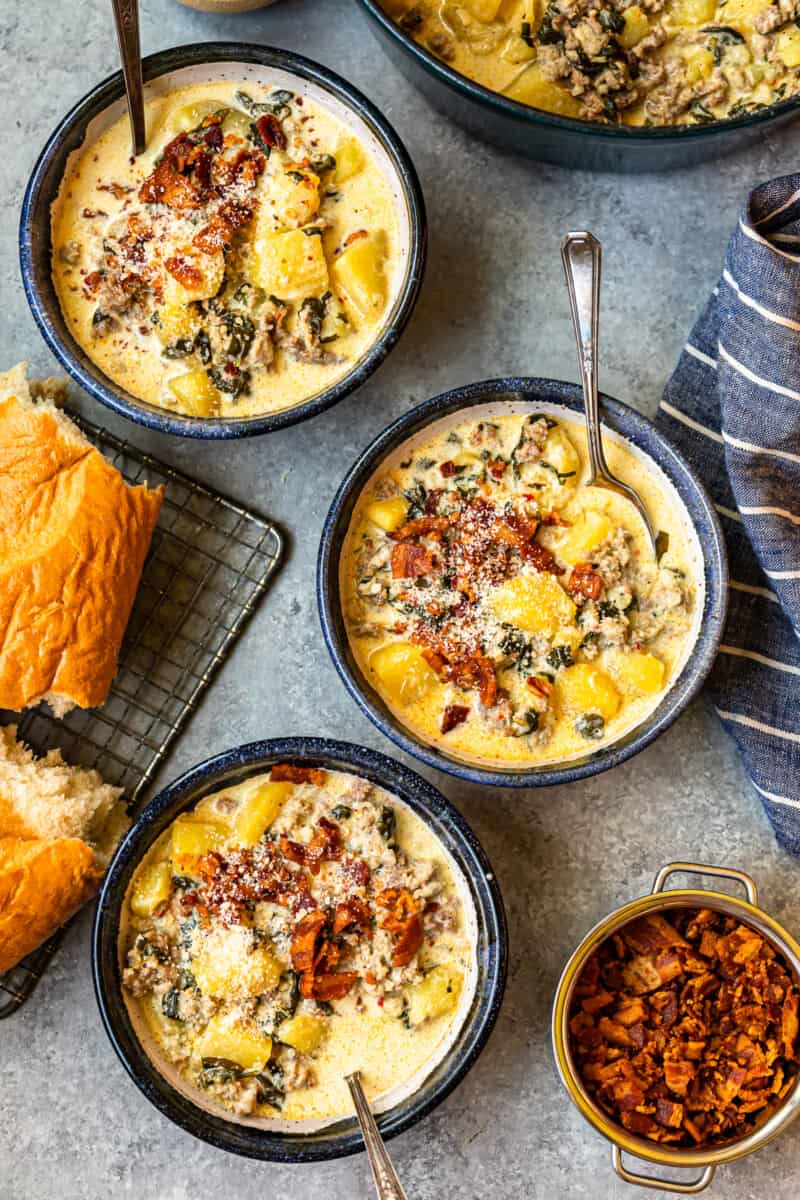 What is Zuppa Toscana?
In Italian, the name of this soup translates to "Tuscan soup." It's fitting, since this creamy potato and meat filled soup is originally from Tuscany.
What potatoes are best for this soup?
Yukon gold potatoes are perfect for this soup. They're soft and have a creamy consistency when cooked with the other ingredients.
How can I make Zuppa Toscana vegetarian?
Use vegetable broth and substitute the bacon and sweet Italian sausage with plant-based alternatives. Or, skip the plant-based substitutes altogether and use cannellini beans in place of the sausage (add to the soup in step 5) and omit the bacon.
Can I freeze this soup?
Yes! This soup will stay fresh in the freezer for up to 3 months. Just be sure to let it fully cool before transferring it to a freezer friendly food storage container. Get more tips on how to freeze soup correctly.
Serving Suggestions
My favorite way to serve Zuppa Toscana is with:
Freshly grated Parmesan cheese
Chopped fresh parsley
And a delicious, crusty piece of bread. A baguette works perfectly!
With the best toppings and bread on the side, this soup is pretty irresistible.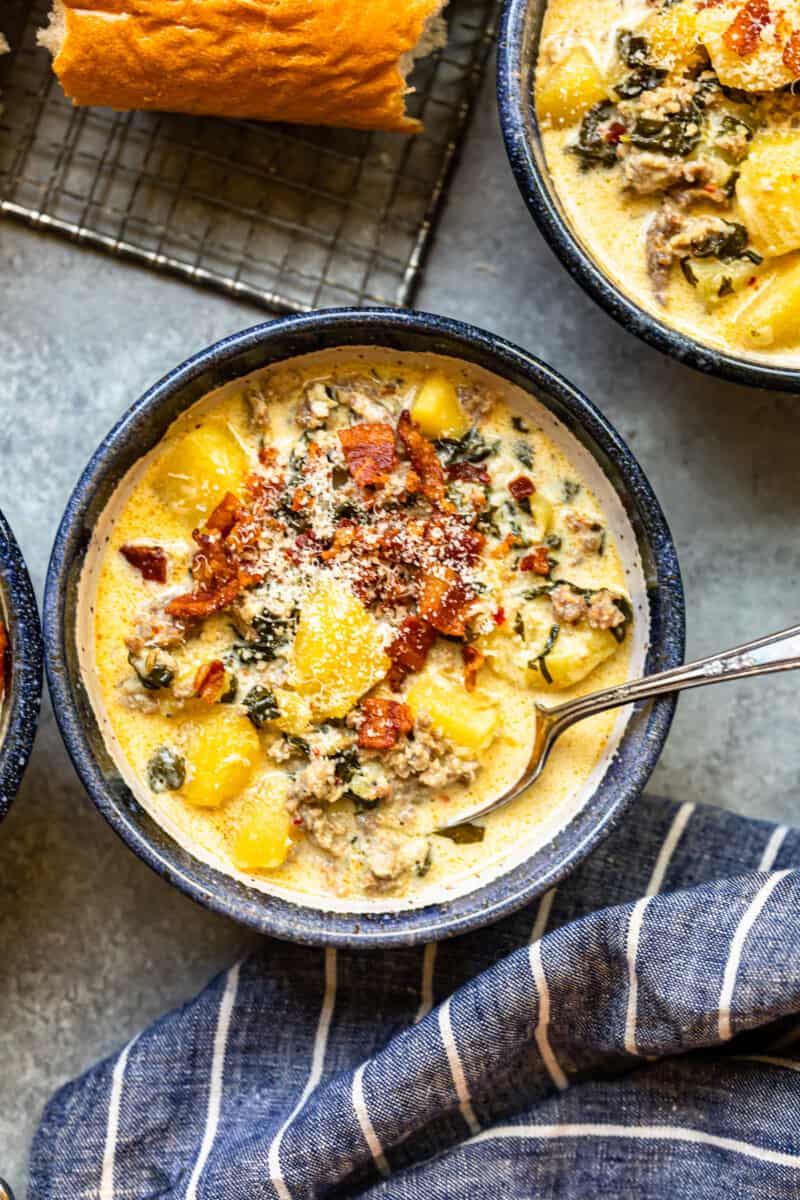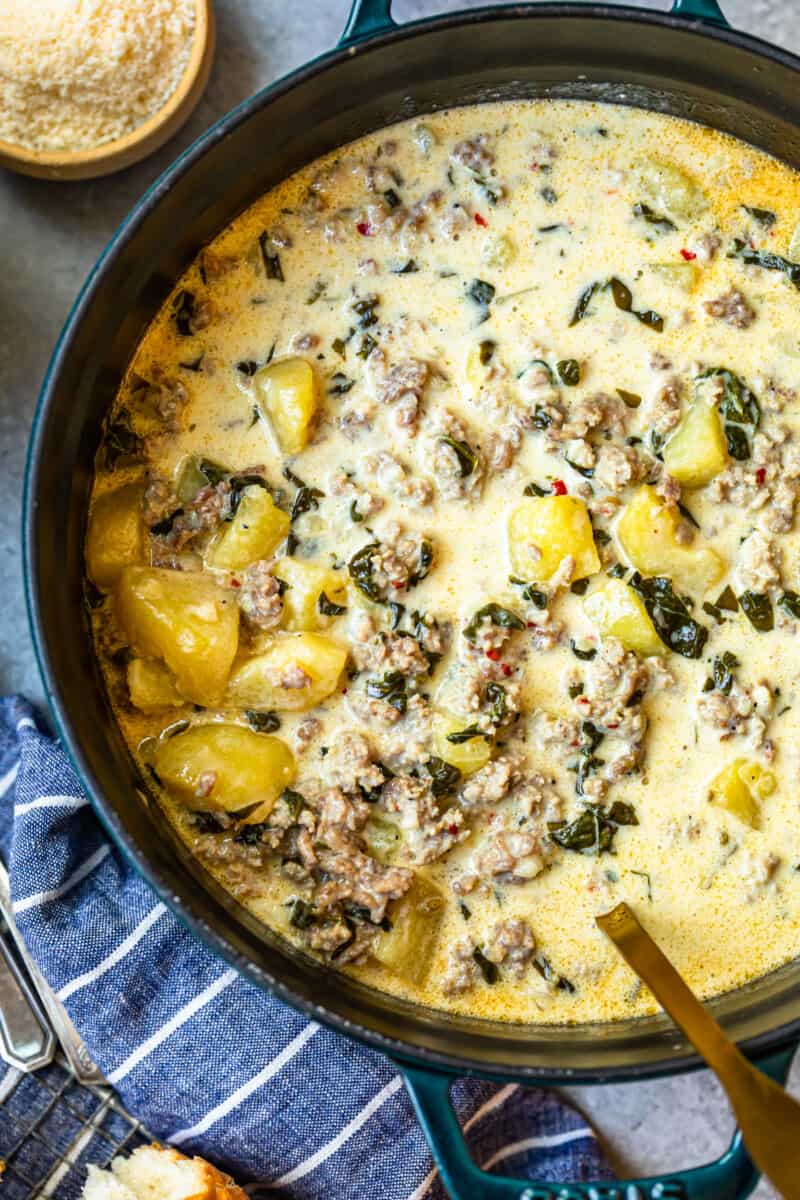 Tips!
Make sure the bacon is really nice and crispy! It should have a good crunch to it.
Instead of pork bacon and sausage, you could always use chicken, turkey, or a plant-based alternative.
A dry white wine, like sauvignon blanc, is best. Try to avoid using a sweet white wine, like riesling, which can sweeten the soup a little too much.
Make sure you use the bread on the side to soak up every last drop of that creamy broth!
Should I peel the potatoes?
There's no need, but you can if you'd like. When cooked, the skin on Yukon gold potatoes stays very soft and adds a delicious texture.
Can I use kale instead of spinach?
Definitely! Cut the leaves off of the vein so there aren't any hard chunks in the soup.
How can I thicken this soup?
If the soup is too thin, whisk together 2 tablespoons of cornstarch with ¼ cup cold heavy cream and stir this into the soup after step 5. Bring back to a low boil and cook for 1 minute, then reduce heat to low and simmer until the soup has reached the desired consistency.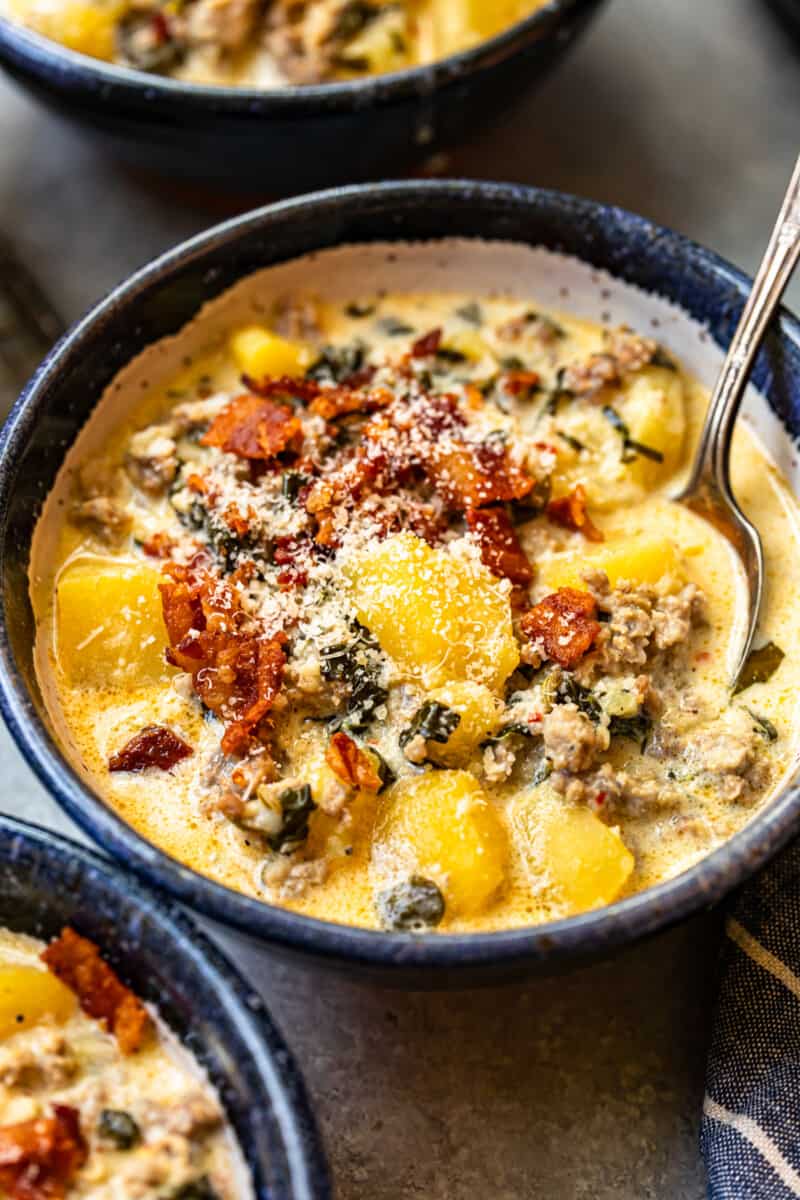 While I do enjoy Zuppa Toscana year-round, it's most comforting after a chilly day when I'm craving something warm, cozy, filling, and flavorful!
If you make this recipe be sure to upload a photo in the comment section below or leave a rating. Enjoy! You can also jump to recipe.