Enjoy the incredibly flavorful taste of juicy, tender chicken with barbecue sauce that will satisfy your tastebuds and leave you coming back for seconds. The chicken is full of flavor and perfect to prepare with some of your favorite sides for a full meal.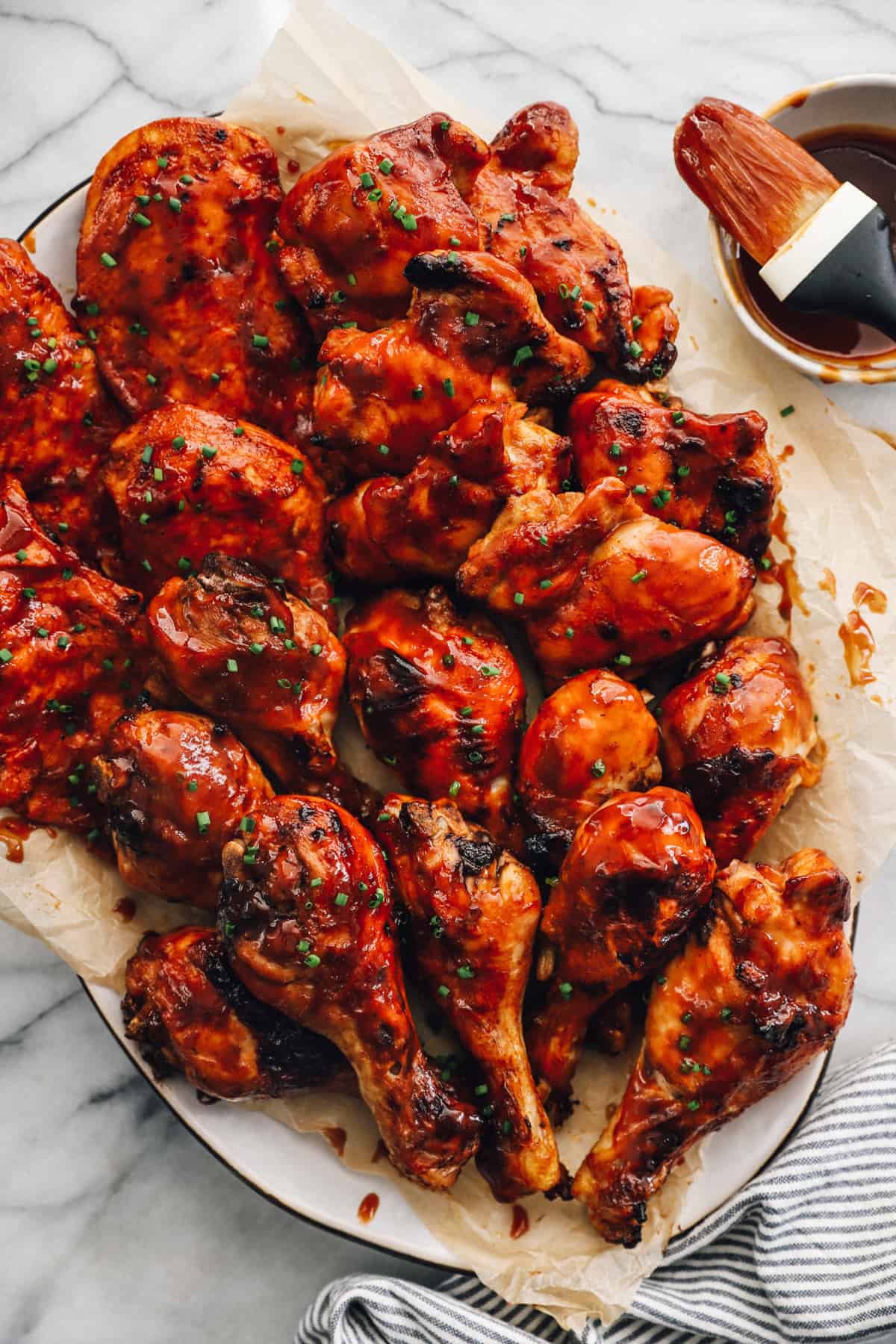 Oven Baked BBQ Chicken
If you've had trouble baking your chicken in the oven because it always seems to come out dry and flavorless, be sure to try this Baked BBQ Chicken recipe. It's such a simple yet absolutely delicious recipe that will keep you coming back for seconds and thirds.
And, Baked BBQ Chicken goes great with so many sides, such as mashed potatoes, baked potatoes, and even baked macaroni cheese. You can pair it with anything you like!
Why You'll Love this BBQ Chicken Recipe:
IT'S EASY TO MAKE: You only need a few ingredients, including a handful of seasonings, some chicken, and barbecue sauce to prepare this recipe.
THE CHICKEN TASTES AMAZING: No more dry, flavorless chicken when you follow this recipe. It's absolutely delicious.
IT'S SO VERSATILE: You can do a lot with this chicken after you've prepared it, such as serving it on a bed of lettuce in a salad, using it to make a burrito bowl, or even pairing with some of your favorite side dishes.
The Baked BBQ Chicken is, by far, one of the easiest recipes you'll ever come across. Whether you're new in the kitchen or not, you can enjoy making this delicious entree.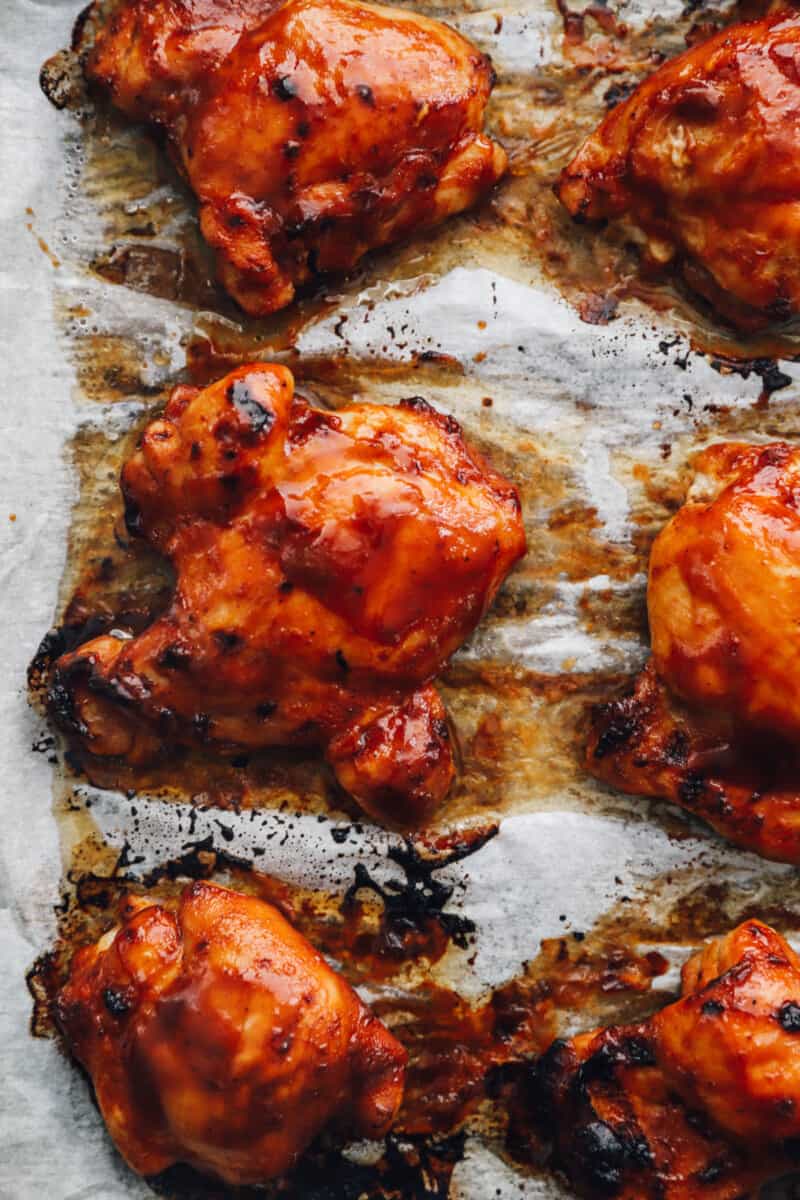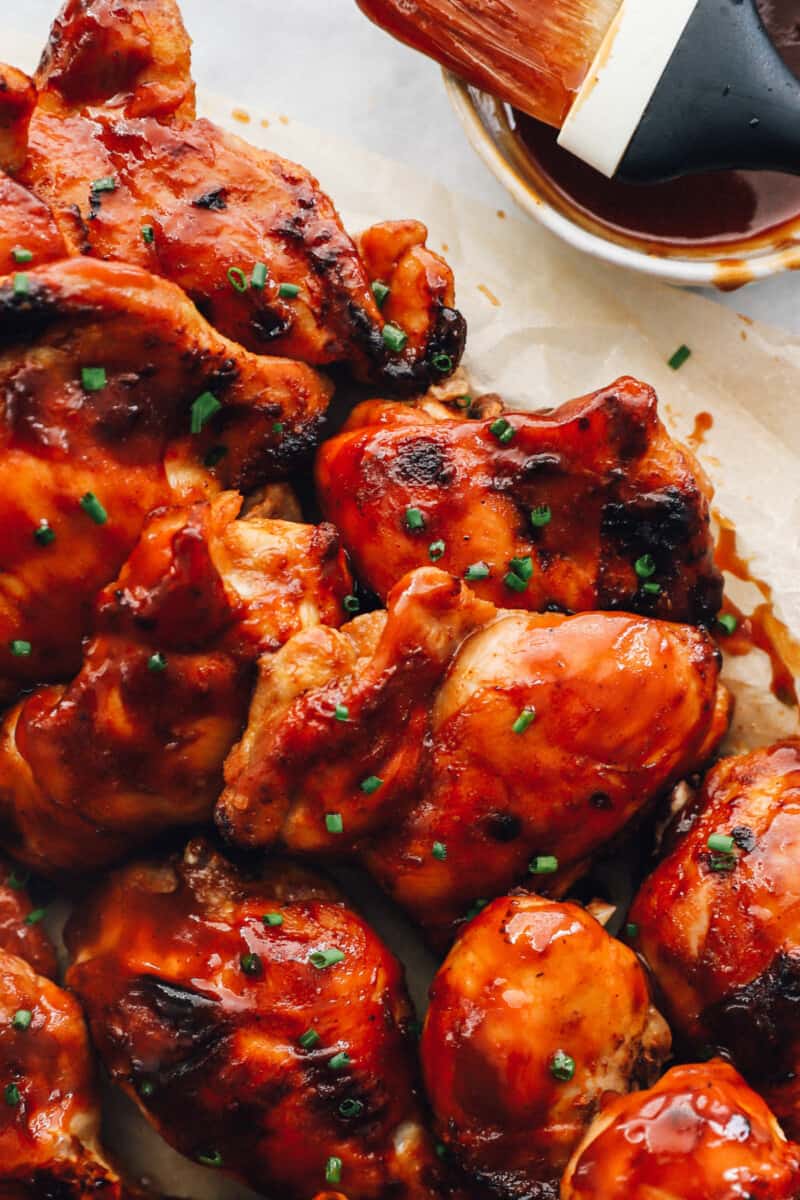 How to Make Baked BBQ Chicken
You can jump to the recipe card for full ingredients & instructions!
Set your oven to 400 degrees F and line your 9×13 baking dish with parchment paper.
Combine your seasonings in a small bowl and then rub them on your chicken breasts covered in a bit of olive oil, coating on both sides.
Place your chicken in the baking dish, brushing half of your barbecue sauce on top of it.
Place the dish in the oven, bake for up to 20 minutes, and then broil for that last minute for extra crispiness.
Remove from the oven, spread the rest of the sauce on top, and enjoy!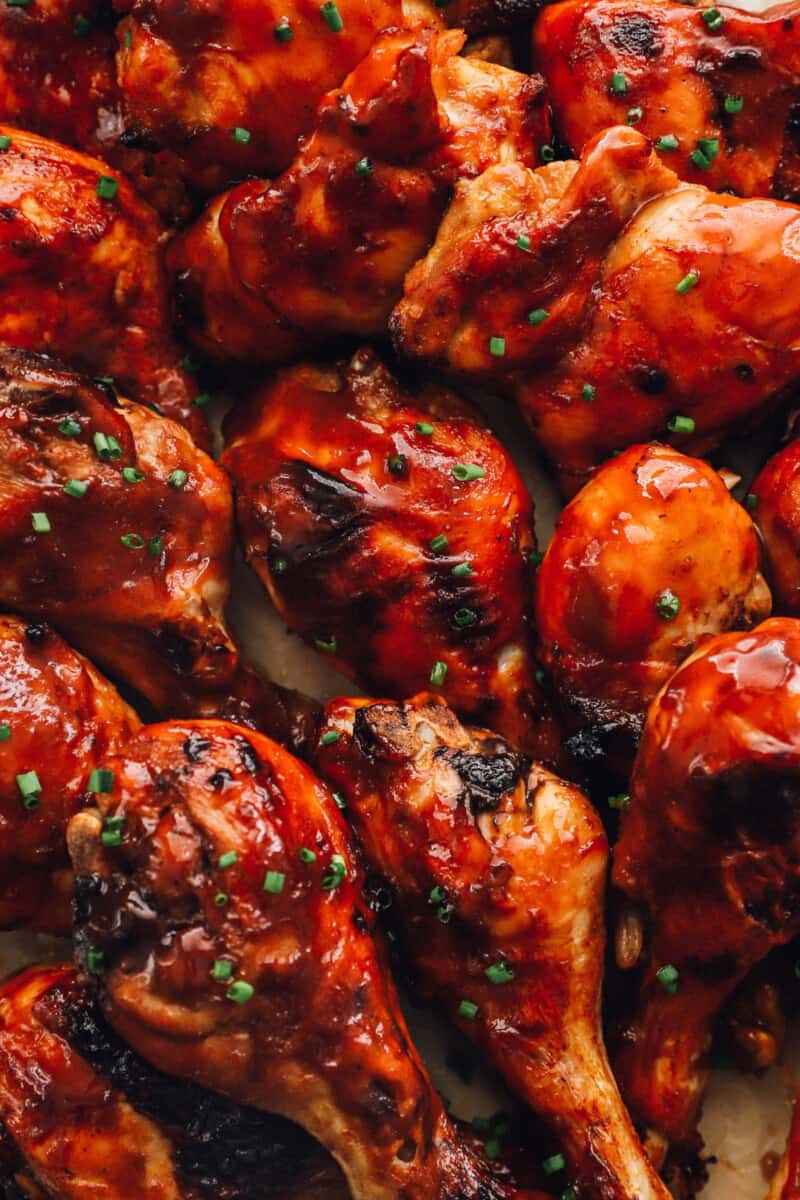 What kind of chicken should I use?
It's best to use boneless, skinless chicken breast for this recipe. However, you can use chicken thighs if you're in a pinch and want to make this recipe!
Can I use frozen chicken?
While it's possible to use frozen chicken, the cooking time would take a lot longer because the chicken would need to defrost and then bake. Be sure to keep that in mind before you get started.
What kind of pan should I use?
A 9×13 baking pan would be ideal because it offers more than enough space for you to place the chicken out without overlapping pieces. You don't want to overlap pieces because then not all pieces will cook through all the way.
How do I know when the chicken is cooked through?
Use a meat thermometer. It's cooked through when the temperatures reaches 165 degrees F. Be sure to place the thermometer in the thickest piece of the chicken to play it safe.
Serving Suggestions
This BBQ chicken can be served with all kinds of things. Pair it with any of these classic BBQ sides:
Mashed Potatoes: Who doesn't love some homemade mashed potatoes with BBQ chicken?
Baked Potatoes: You can prepare your baked potatoes in the oven in advance and have them ready to enjoy with this chicken.
Corn on the Cob: It doesn't hurt to throw a veggie in the mix!
Rice: If you're not a potato lover, feel free to serve this chicken with some rice.
Enjoy the savory flavor of this BBQ baked chicken. It's super easy to make with a blend of seasonings and your favorite sauce.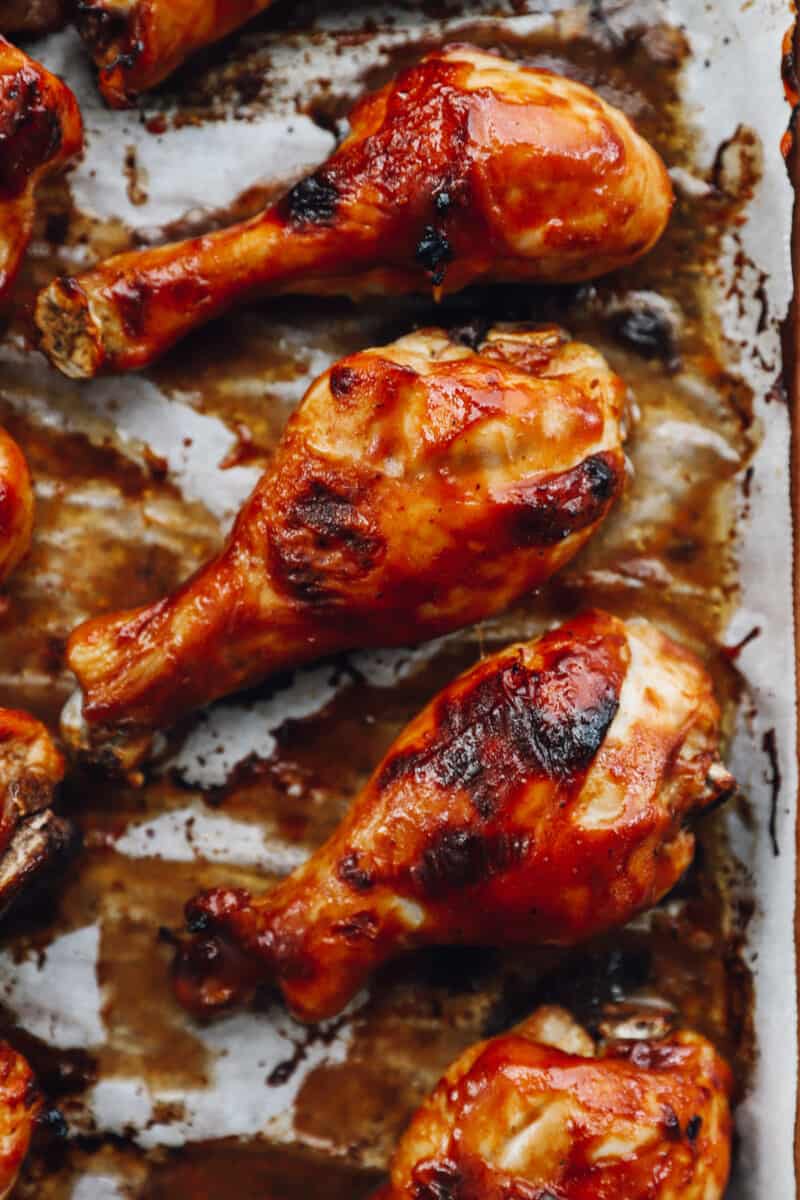 Tips!
Avoid overcooking your chicken. If you leave it in too long, it's going to taste dry!
Feel free to use any barbecue sauce that you personally prefer to make this chicken taste its best. Sweet Baby Ray's makes an excellent variety of BBQ sauces to use.
If you have bone-in chicken that you'd like to prepare, follow this recipe, extend the cooking time a bit because chicken with the bone often takes longer to cook.
When you're in the mood for juicy, flavorful chicken, this is the perfect recipe to try. It's easy, stress-free, and absolutely amazing.
What kind of BBQ sauce should I use?
You have the option of using your favorite type of BBQ sauce here, anything you like. You can choose between tons of great options, including Hawaiian-style, honey BBQ, spicy BBQ, or try our homemade BBQ sauce.
Can I grill this BBQ chicken instead?
Of course. If you prefer the flavor from the grill for your chicken, feel free to toss it on the grill instead of baking it in the oven.
Is this recipe gluten free?
As long as the BBQ sauce you choose is gluten free, yes, this is a naturally gluten free recipe.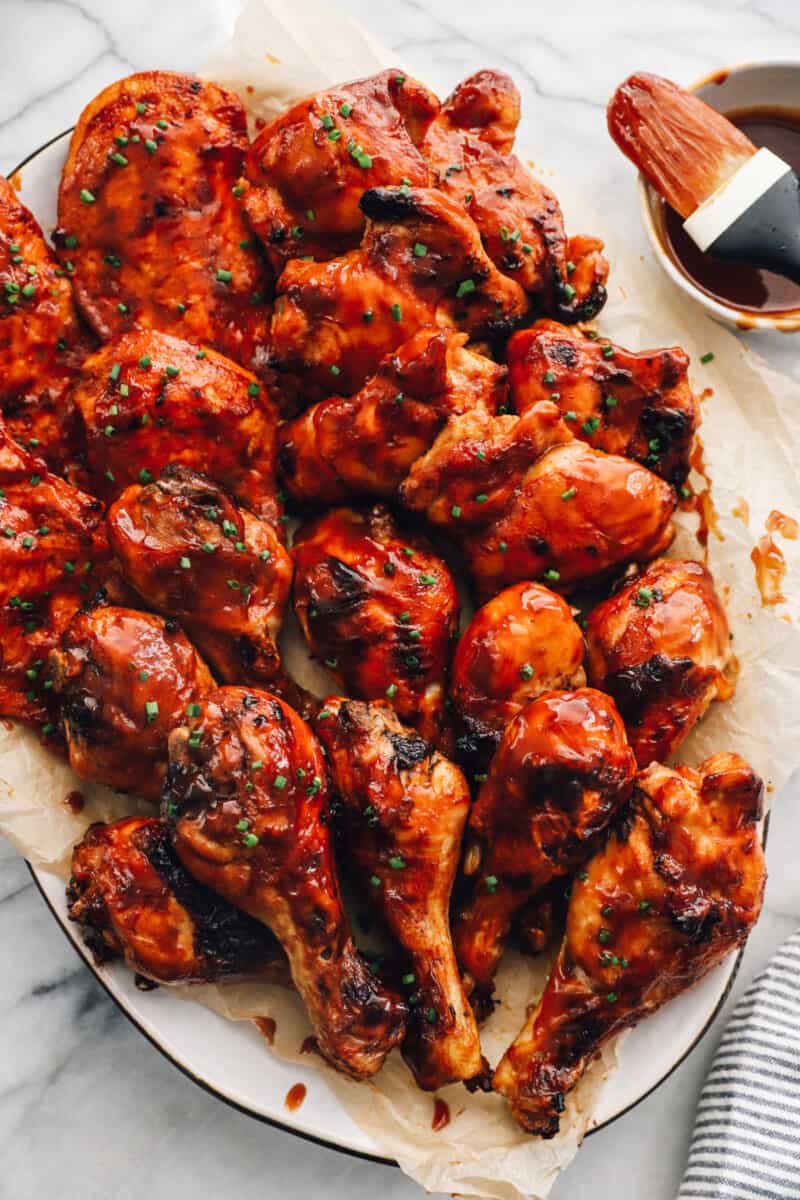 If you love the Baked BBQ Chicken, be sure to check out some of our other recipes. These recipes are easy, flavorful, and family-friendly.
If you make this recipe be sure to upload a photo in the comment section below or leave a rating. Enjoy! You can also jump to recipe.