This creamy grape salad recipe is about to be your new favorite dish for spring, summer, and holidays. Grapes mixed with sour cream, cream cheese, brown sugar, and pecans make a delicious salad!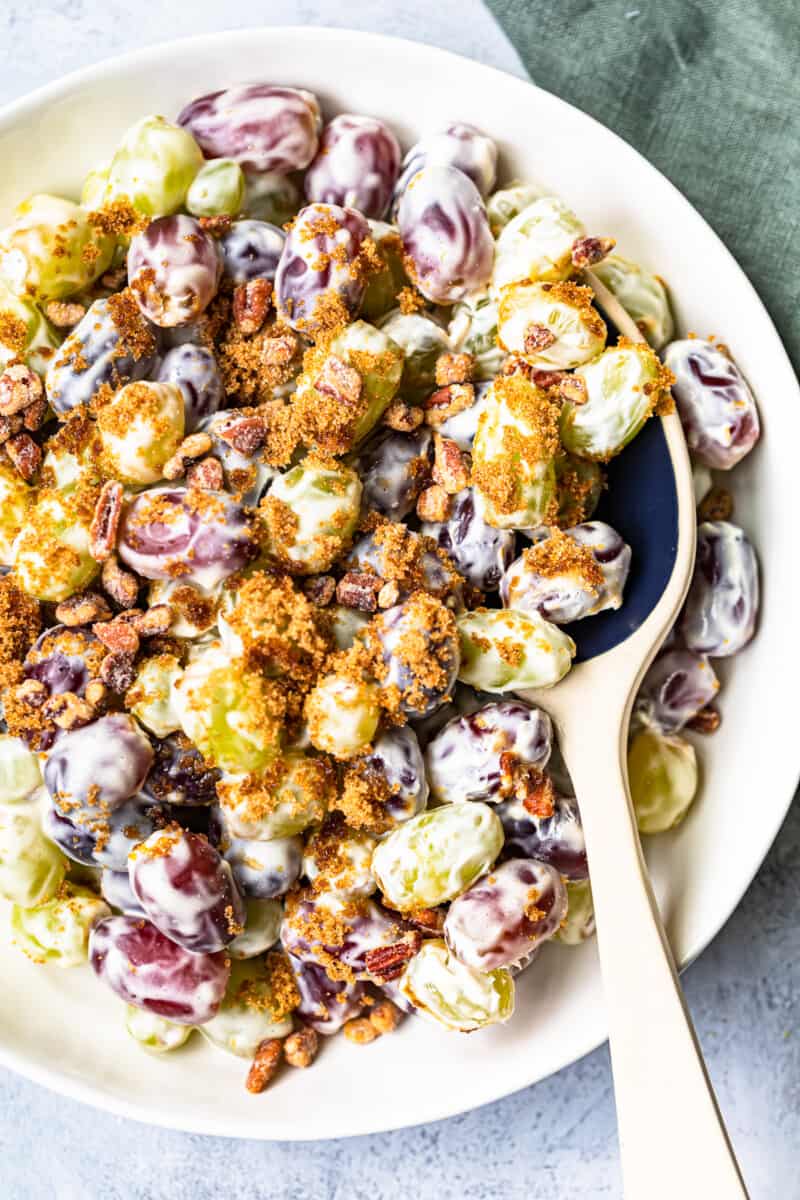 Creamy Grape Salad Recipe
Grape salad is sweet (thanks to the brown sugar), creamy (with all that cream cheese), crunchy (topped with sugared pecans), and just a little tangy (from the sour cream). It's such a delicious mix of flavors and textures!
This salad is one that everyone is sure to love, even the kids. It's super refreshing in the summer, and looks beautiful on the table on holidays.
This is a great recipe to try if you have a lot of grapes you need to use up!
Why you'll love this Crunchy Grape Salad recipe:
QUICK & EASY: This recipe couldn't be any easier! There's no cooking required, just toss and refrigerate.
MAKE AHEAD: You can make this up to 24 hours ahead of time, so no last minute prep is required.
SUMMER SALAD: This chilled, sweet, fruity salad is perfect for summer potlucks and relaxed outdoor meals.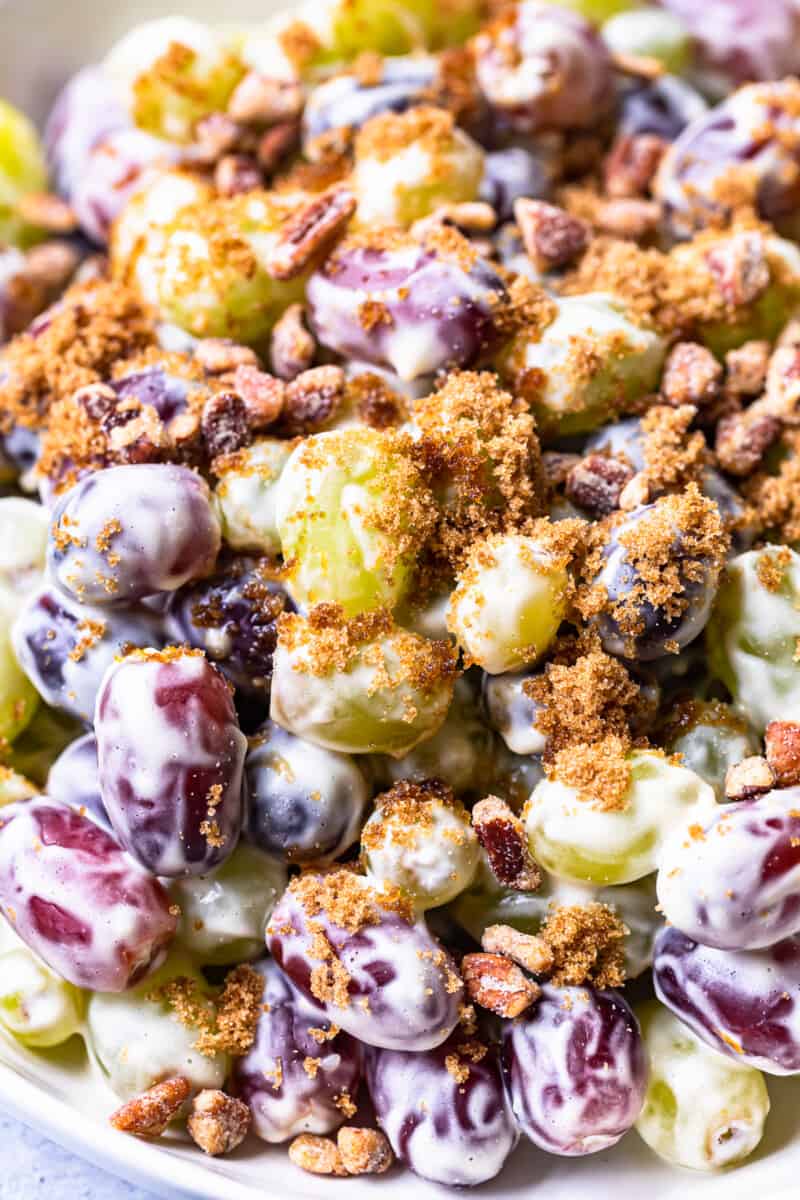 How to make Grape Salad
You can jump to the recipe card for full ingredients & instructions!
Wash and dry the grapes. Cut them in half or chop them up if you prefer (or keep them whole).
Add softened cream cheese, sour cream, brown sugar, vanilla extract, and orange zest into a large mixing bowl. Combine all ingredients.
Add the grapes into the bowl and toss so that gapes are fully coated.
Cover the bowl and refrigerate, up to 24 hours ahead of time.
1-4 hours before serving, sprinkle with brown sugar. Put it back in the fridge, uncovered, until ready to serve.
Top it off with nuts and serve.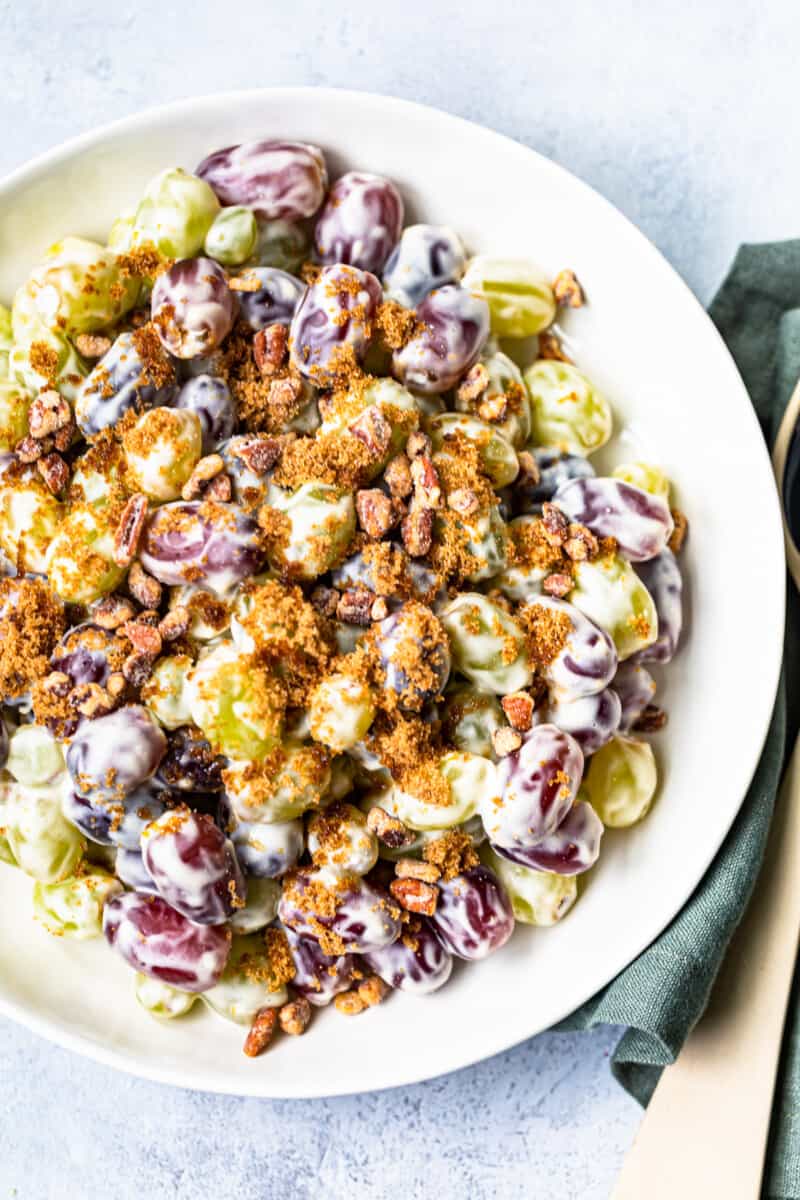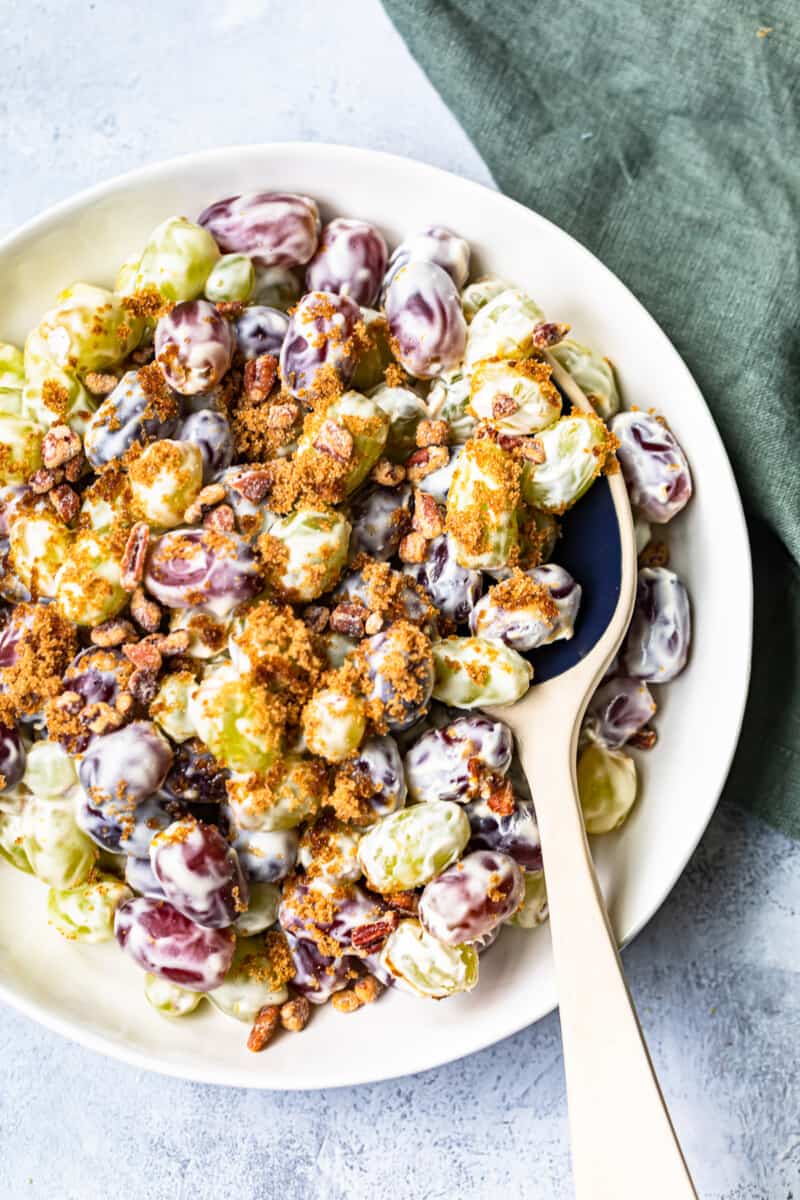 What kind of grapes should I use?
Be sure to get seedless grapes for this salad. I like using a mix of red and green grapes, both for the color (it looks extra pretty) and for a mix of sweet and tart.
However, you can use whatever grapes you prefer or have on hand. You can certainly use all one type or color of grape as well.
Can I use yogurt to make this instead?
Yes, plain Greek yogurt would work as a great substitute for the sour cream here. You'll get that same light, creamy, tangy flavor.
You could also use yogurt instead of cream cheese, but it will give you a different flavor and consistency. It would certainly taste delicious though if you want an even sweeter grape salad.
How should I serve this creamy grape salad?
This dish is surprisingly versatile! It works as a salad before the meal, a fruity side dish, and even tastes indulgent enough to serve as a light dessert.
I love serving this grape salad on holidays (it's a great Christmas or Easter dish), or as a summer side dish with burgers. It's also a hit at brunch along with sweet breads and eggs!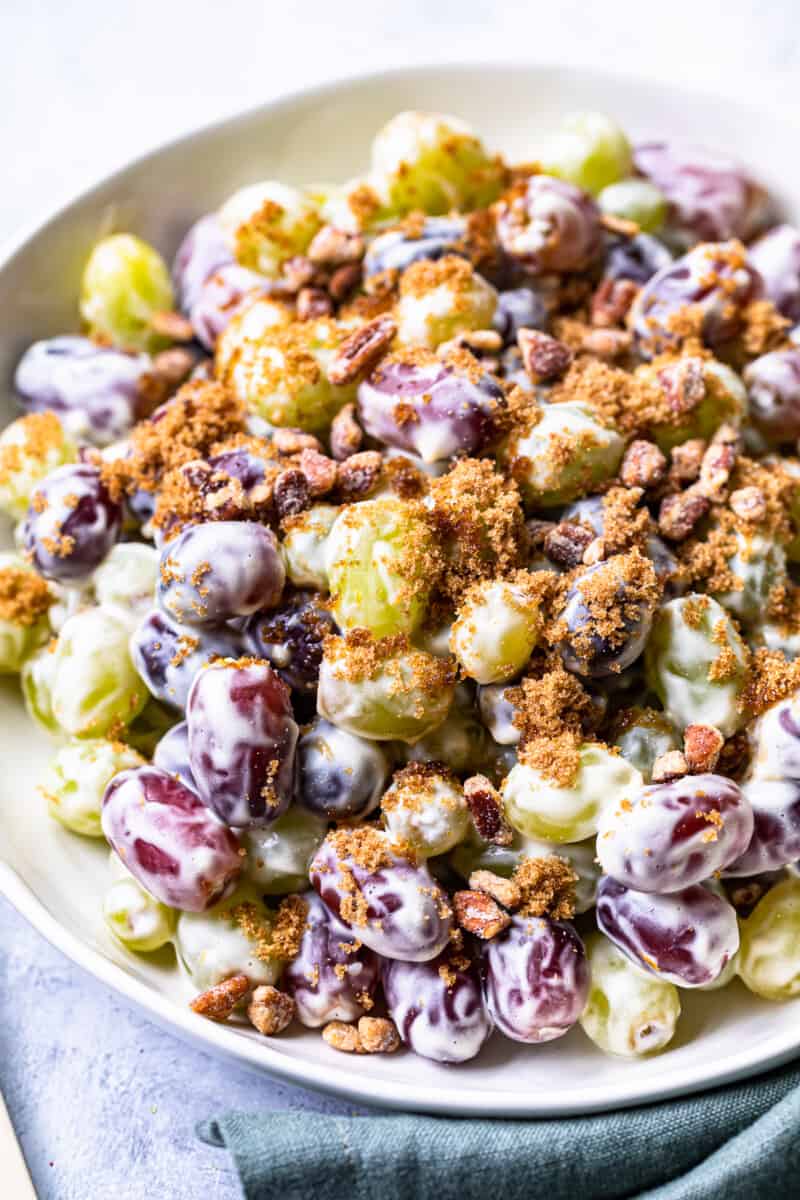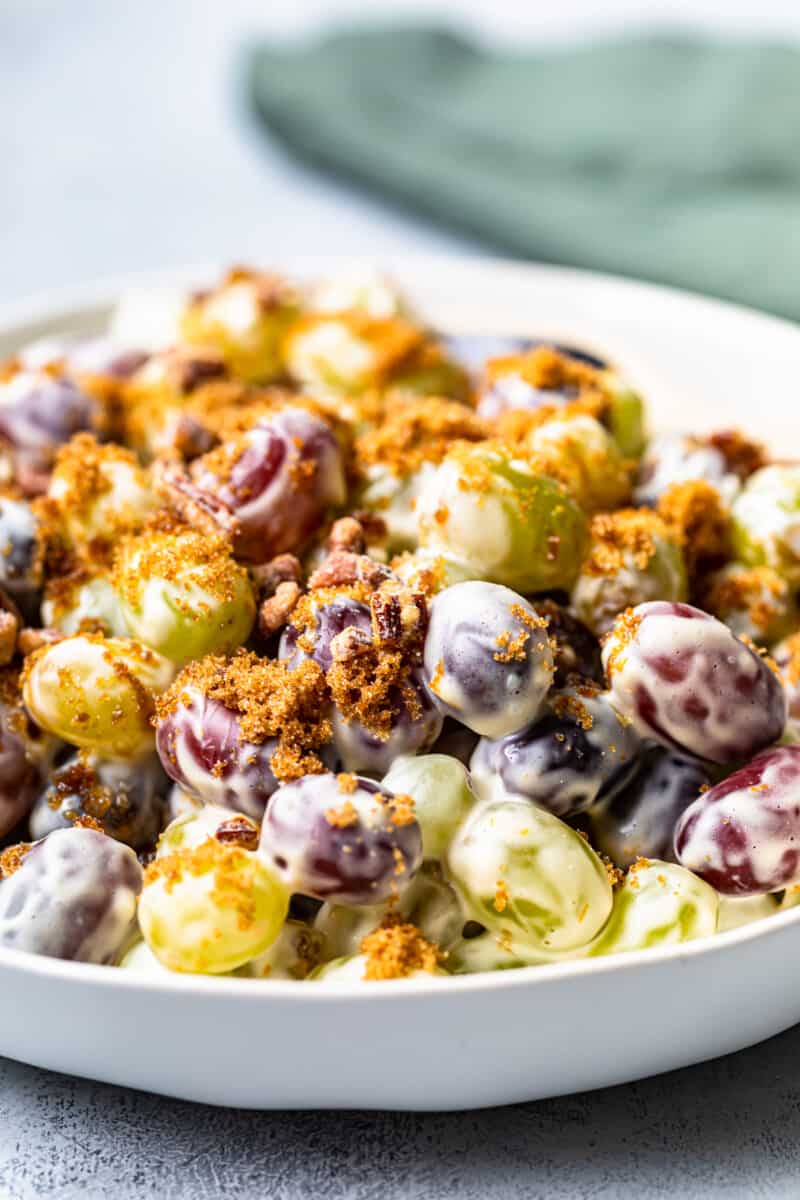 Tips!
Rinse all the grapes and give them some time to dry out before making the salad.
If you have larger grapes, you can cut them in half to make it easier to eat for the kids.
This recipe calls for 4 pounds of grapes, which will be between 8-10 cups.
You can soften the cream cheese on the counter at room temperature for about 30 minutes. Cut it into cubes to help it soften faster, and make it easier to mix with the other ingredients. (If you're in a hurry, pop it in the microwave for about 10-15 seconds.)
You can make and refrigerate this grape salad up to 24 hours ahead of time. If you are making it the day of, I recommend giving it AT LEAST 2 hours in the refrigerator before serving.
Serve it straight out of the refrigerator. It tastes best while still chilled!
Store leftovers in an airtight container in the fridge.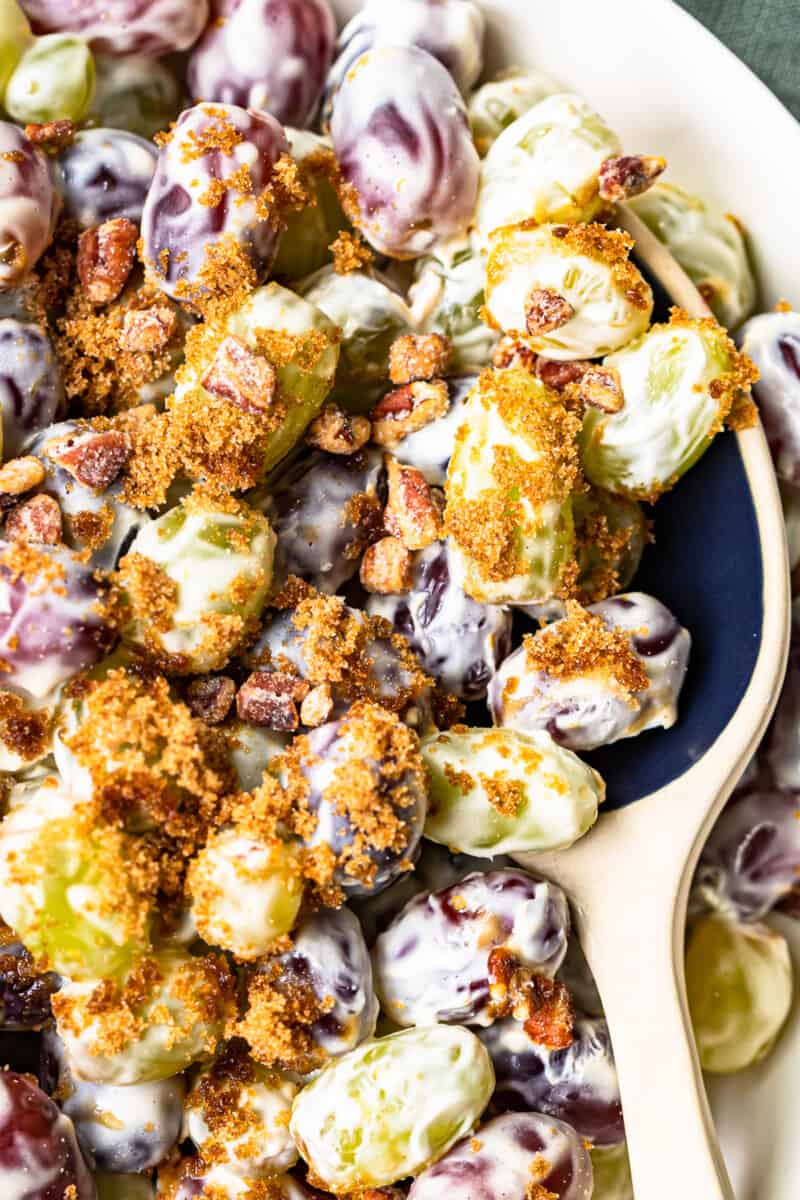 Everyone will love the flavor of this creamy grape salad. It's such an easy recipe and it's undeniably delicious!
If you make this recipe be sure to upload a photo in the comment section below or leave a rating. Enjoy! You can also jump to recipe.