There's nothing quite like a classic Whiskey Sour! This bar favorite cocktail has been around for what seems like forever and it's only getting more popular with time. It's got a tasty sour note from fresh lemon juice, a note of sweetness from simple syrup, and just the right amount of whiskey to hit the spot.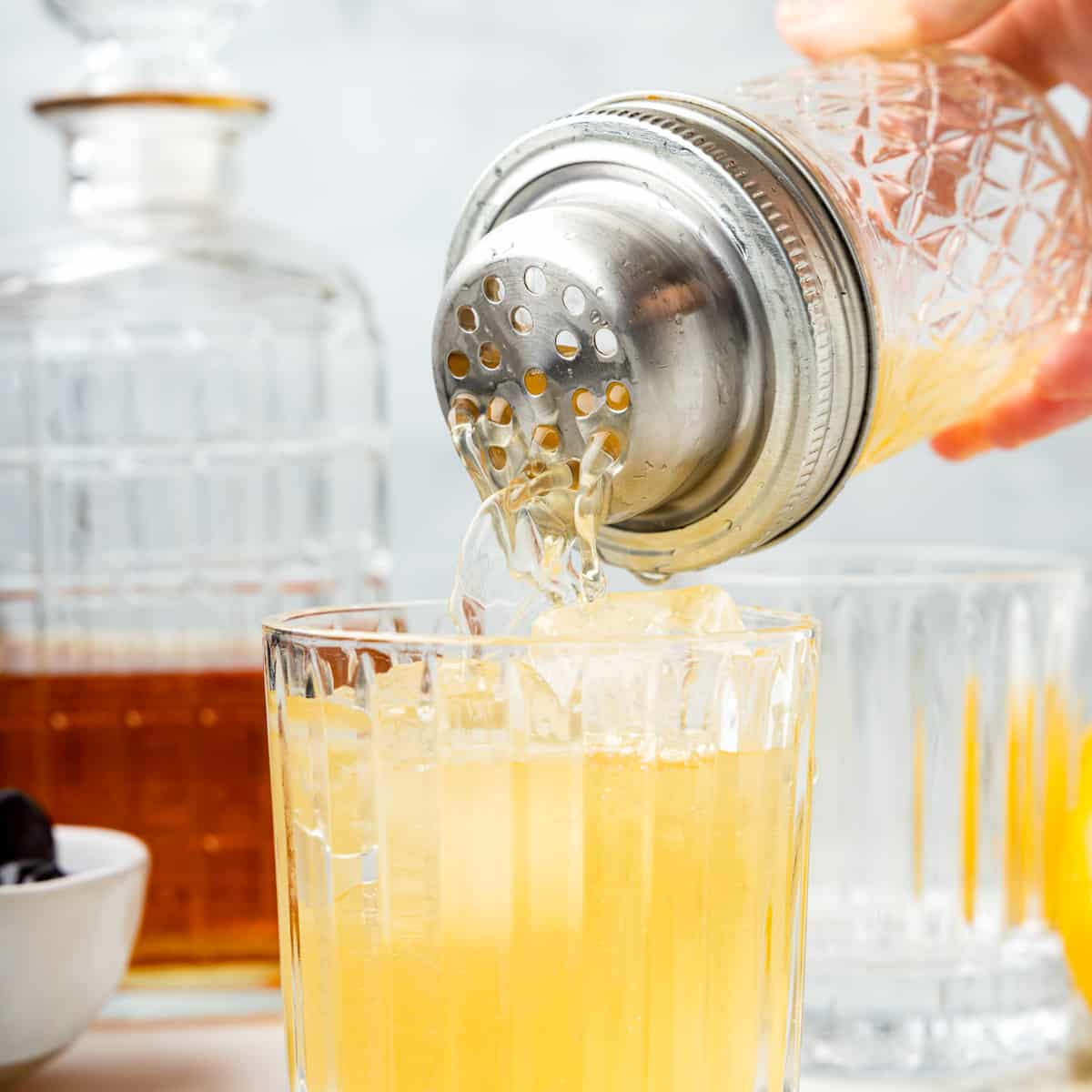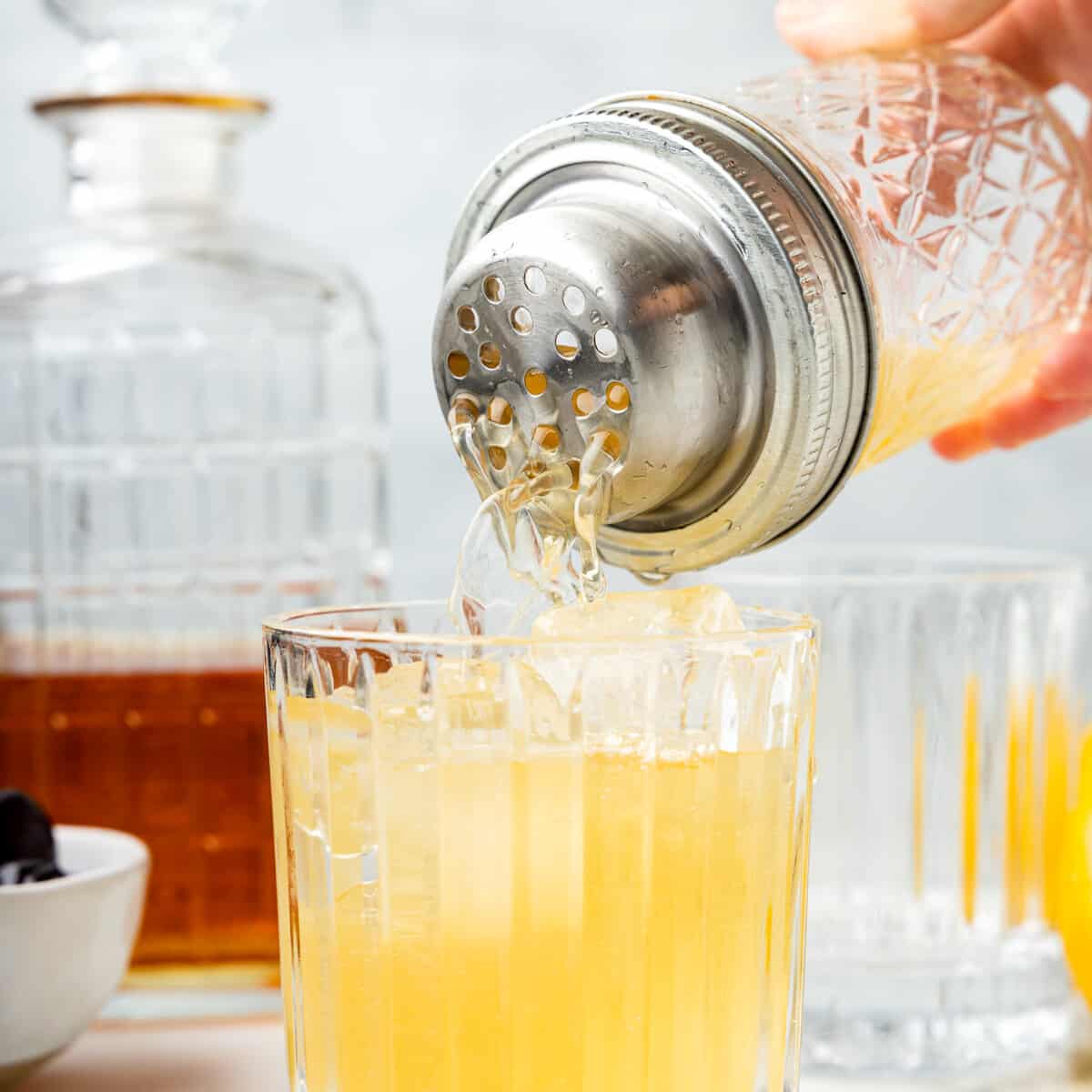 Classic Whiskey Sour
No need to head to your local bar and overpay for your favorite classic cocktail when you can mix one up right at home! A Whiskey Sour is truly timeless and so easy to make. It's concocted with simple ingredients you love, and none of the frills you don't need.
Oh, and you can't forget the cherries! There's something about a Whiskey Sour garnished with cherries that's just so simple and stunning. Plus, the cherries get to soak up the tangy and sweet notes of the cocktail while you sip on it, so they're even tastier to eat right at the end.
Why You'll Love this Whiskey Sour Recipe:
Classic: You know those over the top cocktails that are super expensive and just impractical? A Whiskey Sour is the opposite of that! This simple cocktail is delightfully timeless.
Sour and Sweet: While the name might have "sour" in it, that doesn't mean it's not also sweet! There's just enough simple syrup in the mix to balance out the tangy lemon juice and bold whiskey.
So Easy: Shake it, serve it, and enjoy. This cocktail couldn't be easier to make!
Extra cherries in my glass, please!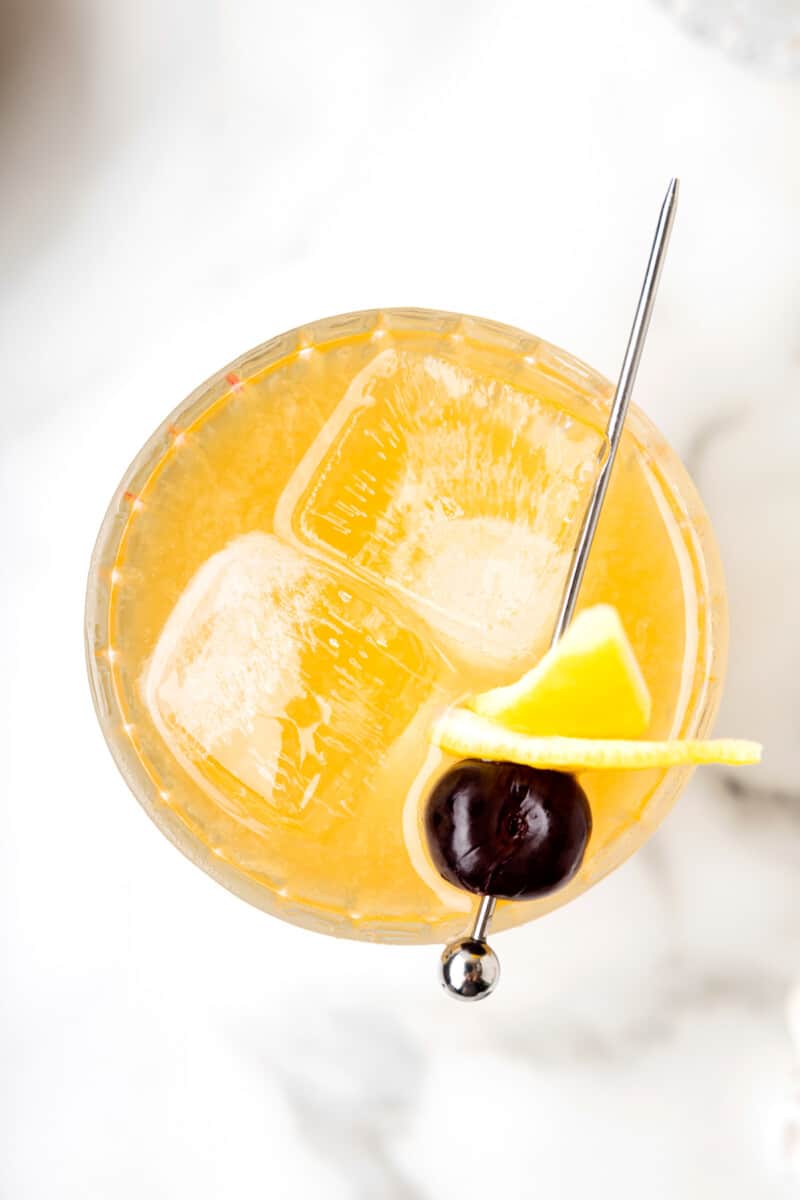 How to Make a Whiskey Sour
You can jump to the recipe card for full ingredients & instructions!
Measure all of the ingredients and pour them into a cocktail shaker.
Shake for a few seconds, then strain the drink into a glass filled with ice.
Garnish with a cherry and a lemon peel.
Recipe Notes
Whiskey: Forms the base of this drink. Be sure to use a high-quality, high-proof whiskey that you know you like! I recommend bourbon for the most traditional taste.
Lemon Juice: Adds acidity and balances out the sweetness of the whiskey and simple syrup.
Simple Syrup: Adds sweetness and balances out the acidity of the lemon juice.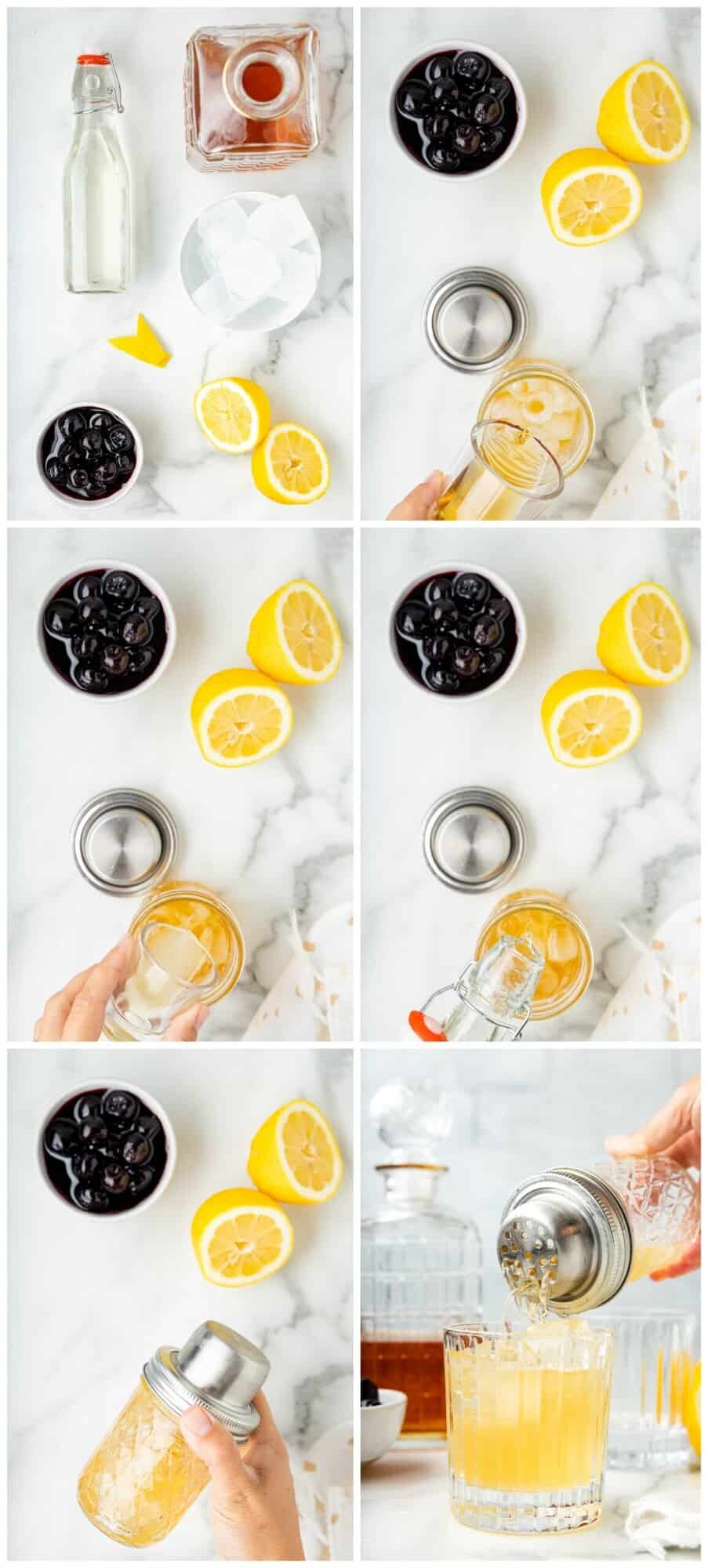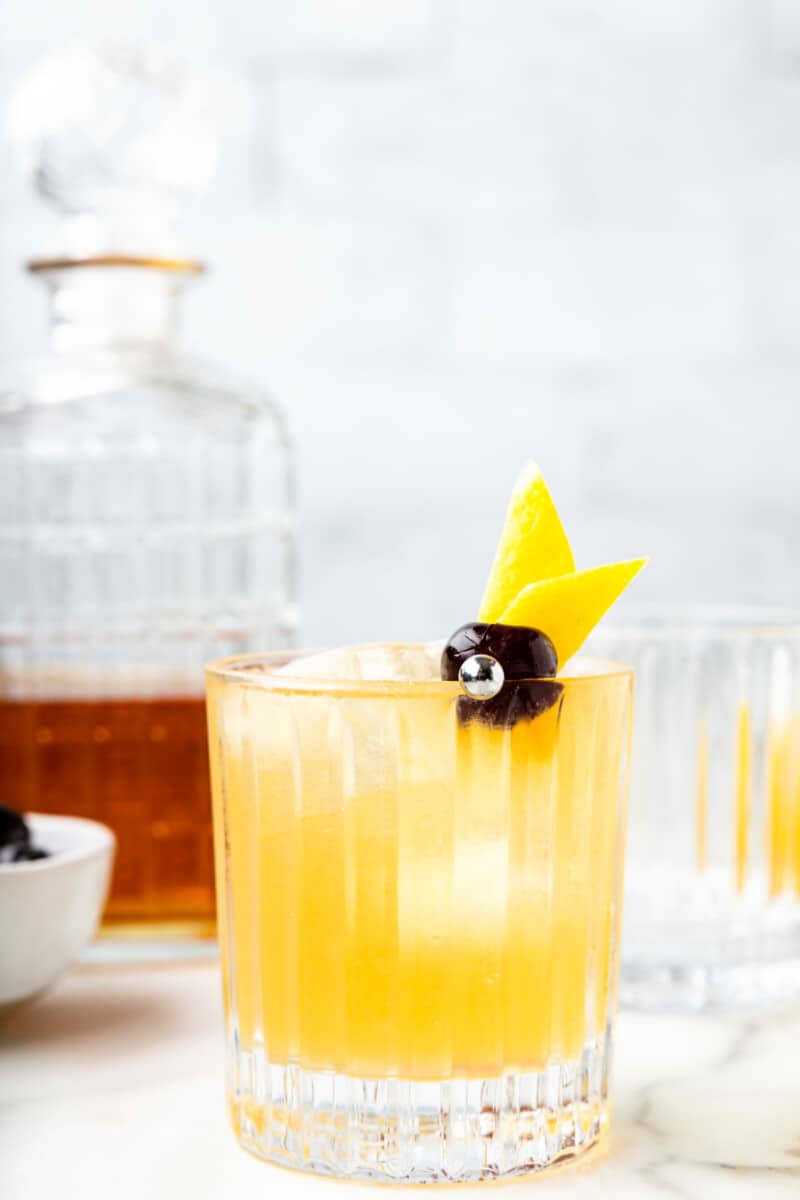 What is a whiskey sour?
A whiskey sour is a mixed drink containing whiskey, lemon juice, and sugar or simple syrup.
Why is it called a whiskey sour?
The whiskey sour gets its name from its usefulness. In the 1800s, sailors did not have much access to potable water, so they would bring alcohol instead. Furthermore, they often brought lots of citrus fruits onboard to combat scurvy. The whiskey sour was the perfect combination of scurvy-fighting citrus and thirst-quenching whiskey.
What's the difference between a whiskey sour and an old-fashioned?
While both drinks contain whiskey, that's where the similarities end. A whiskey sour contains lemon juice and simple syrup, while an old-fashioned contains bitters and a sugar cube.
What is the best whiskey for a whiskey sour?
The best whiskey for a whiskey sour is your favorite high-proof whiskey! Look for one that is 80-100 proof. Many people prefer bourbon whiskey, as it has a sweeter taste, but you can use scotch, Irish whiskey, Canadian whiskey, Japanese whiskey, Tennessee whiskey, or rye whiskey.
Isn't a whiskey sour supposed to have foam on it?
No, it's called a Boston sour when you shake a whiskey sour with an egg white to get a foam.
What is simple syrup, and where can I get it?
Simple syrup is a sugar syrup that you can buy where you would traditionally find cocktail mixers in the grocery store, or you can easily make it yourself. You will want to bring equal parts of water and sugar to a simmer until the sugar has dissolved.
Can I make a whiskey sour with bottled lemon juice?
While you can, I don't recommend using it because it doesn't carry the same flavor.
What's the difference between cocktail cherries and maraschino cherries?
Maraschino cherries are neon red with more artificial sweetness to them, while cocktail cherries are a deep red color with a better flavor. They are sometimes called Bing or Luxardo cherries.
How do I make the pretty lemon peel garnish for a whiskey sour?
You will run a pairing knife around the outside of the lemon, just peeling off the outer layer of the lemon. Then you will just cut the peel into these pointed rectangle shapes.
Sweet, sour, and oh so smooth. There's so much to love about a classic Whiskey Sour!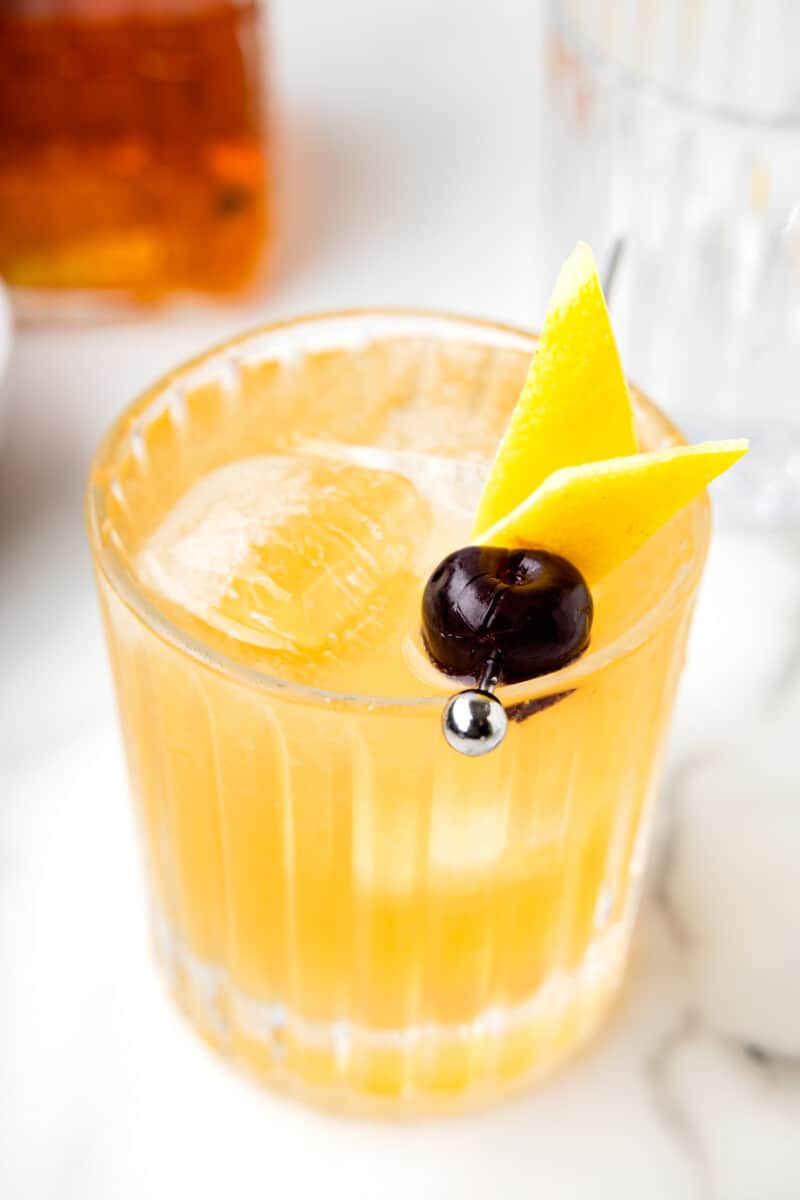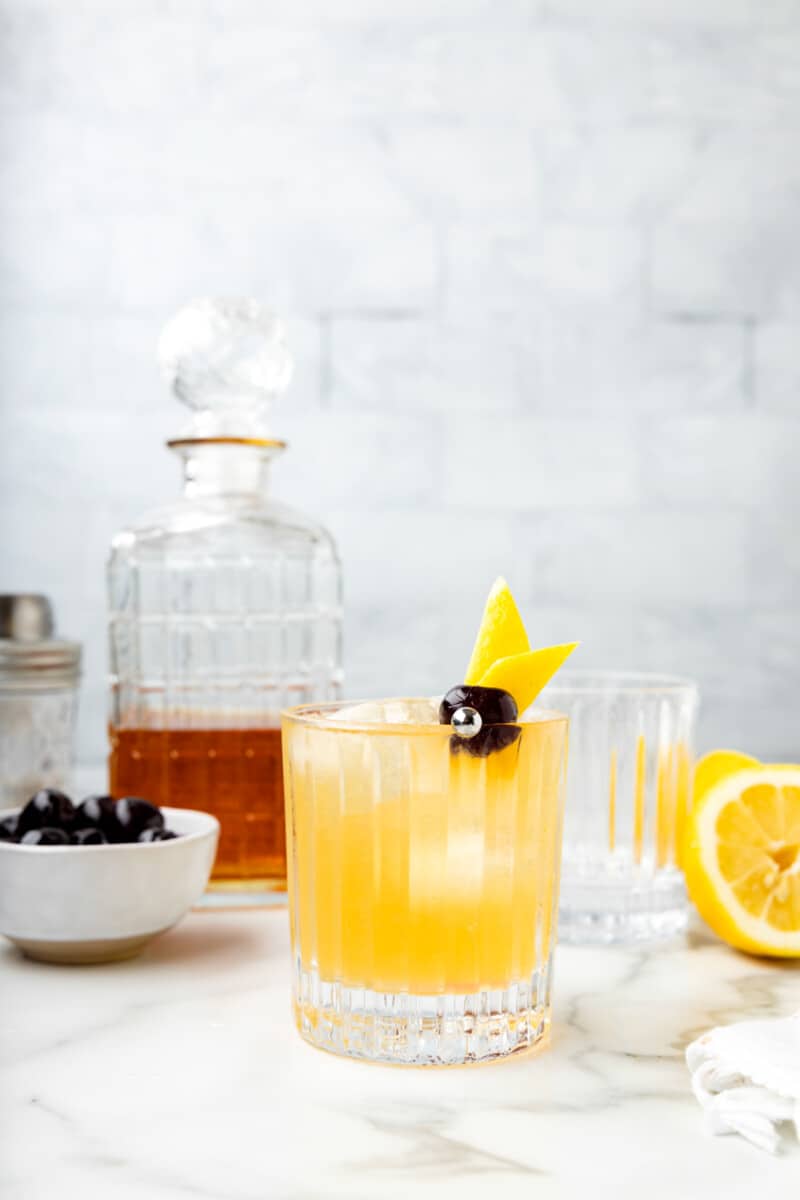 Make Ahead Instructions
You can make the simple syrup up to 1 month in advance and store it in an airtight container in the refrigerator until you are ready to use it.
You can also juice the lemon up to 1 day in advance and store the juice in an airtight container in the refrigerator until you are ready to use it.
You can make your own sour mix by stirring together the lemon juice and simple syrup. This will keep for up to 1 week in the refrigerator.
Substitutions
You can use any variety of whiskey that you like. Just be sure it is good quality and high proof.
You can use a different citrus, such as lime juice or grapefruit juice.
You can use sugar or honey in place of the simple syrup.
Scaling Up
This recipe is easily scalable. Simply multiply the ingredients by the number of drinks you'd like to make. For example, to make 8 whiskey sours, you'll want to use
16 ounces (2 cups) whiskey
8 ounces (1 cup) lemon juice
8 ounces (1 cup) simple syrup
Whiskey Sour Variations
Boston Sour: Add whiskey, lemon juice, simple syrup, and 1 egg white to a cocktail shaker without ice. Shake for 15 seconds, then add ice and shake for 30 more seconds. Strain into a glass and garnish with a lemon peel and a cocktail cherry.
Gold Rush: Replace the simple syrup with honey.
Amaretto Whiskey Sour: Add 1 ounce of amaretto.
New York Sour: Add 1 egg white (if desired), strain into a cocktail glass, and slowly pour ½-ounce of red wine over the back of a bar spoon so that it floats on top of the drink.
Tips for the Best Whiskey Sour
Use a high quality, high-proof whiskey for the best taste.
While you can use bottled lemon juice, fresh lemon juice will yield the best flavor.
Adjust the sweetness to your taste.
Don't slack on shaking. This helps dilute the alcohol and balance the flavors.
Serve up or over one large ice cube. This will dilute the drink slowly while keeping it cold.
Serve immediately for the best results.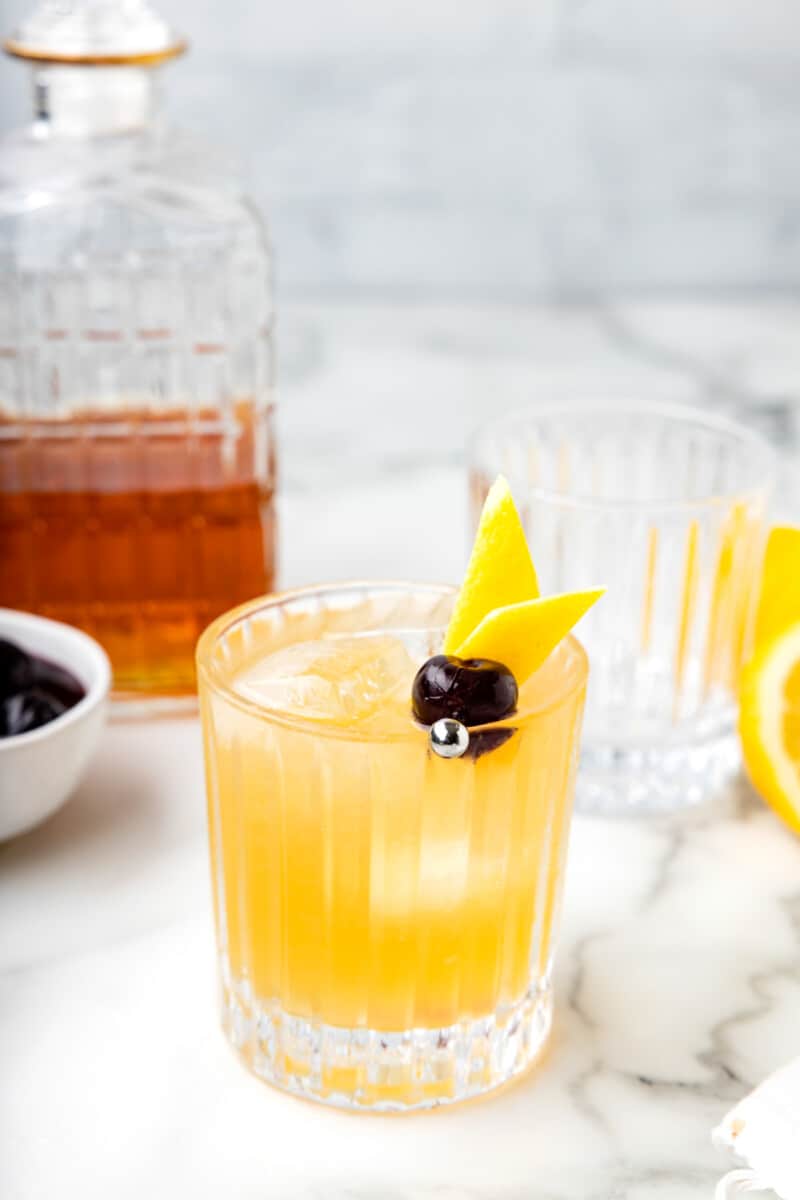 This easy to make Whiskey Sour recipe perfectly balances the tangy and sweet flavors you're looking for in this classic cocktail. Cheers!
If you make this recipe be sure to upload a photo in the comment section below or leave a rating. Enjoy! You can also jump to recipe.