Chocolate Gooey Butter Cookies are the perfect combination of gooey butter cake, chocolate brownies, and soft cookies! Being from St. Louis, we are big fans of gooey butter cake. It's even better when you add chocolate and make it into cookie form! Chocolate Cake Cookies just got an upgrade. This Chocolate version of the Gooey Butter Cookies Recipe is one of my favorite Christmas cookie recipes!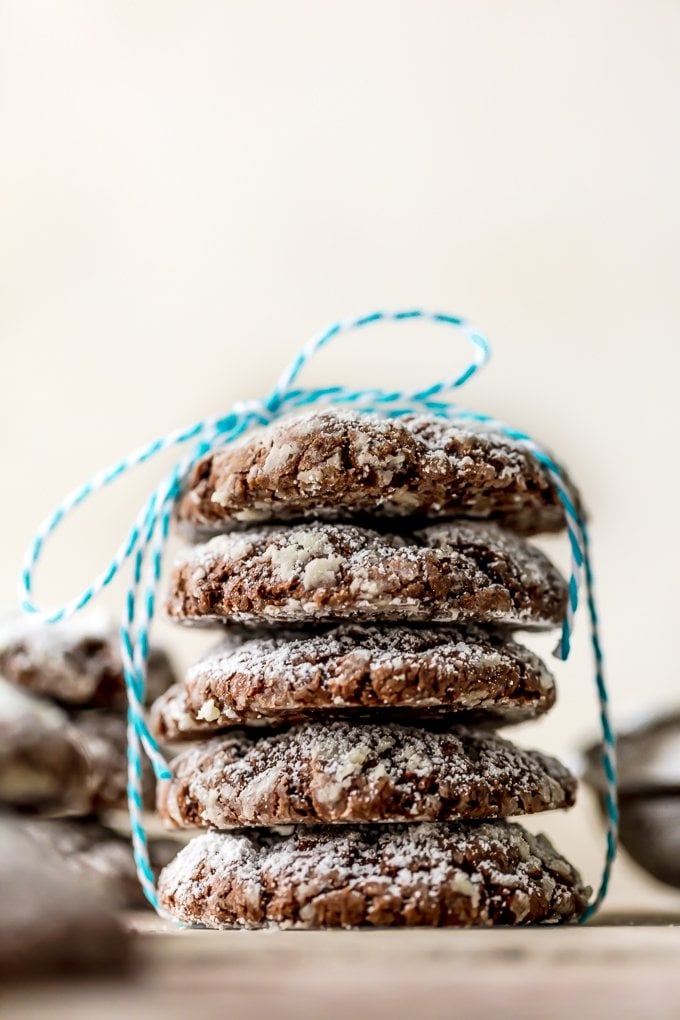 Easy Chocolate Gooey Butter Cookies Recipe
Chocolate Gooey Butter Cookies are a must-make for any Gooey Butter Cake lover!
Chocolate Gooey Butter Cookies had me at hello. Here in STL, we have a favorite dessert, ooey Gooey Butter Cake! We served it at our wedding and some out-of-town friends were so blown away I had to ship them some a few months later.
These Gooey Butter Cookies are ooey, gooey, buttery (yep…the title works), and just oh so addicting. I love it, but I wanted to see if I loved it just as much with chocolate and in cookie form. Spoiler alert, I DO!
This CHOCOLATE GOOEY BUTTER COOKIES RECIPE is out of this world and the perfect easy (Hello, they're made from cake mix!) baking recipe for the holidays. You can make a batch to take to work, one to take to family Christmas, and a couple to keep at home and chip away little by little.
If you're a fan of gooey butter cake, then you're gonna LOVE these Chocolate Gooey Butter Cookies!
Be sure to also try our Gooey Butter Cookies, Pumpkin Gooey Butter Cake, and Gooey Butter Cake Martinis!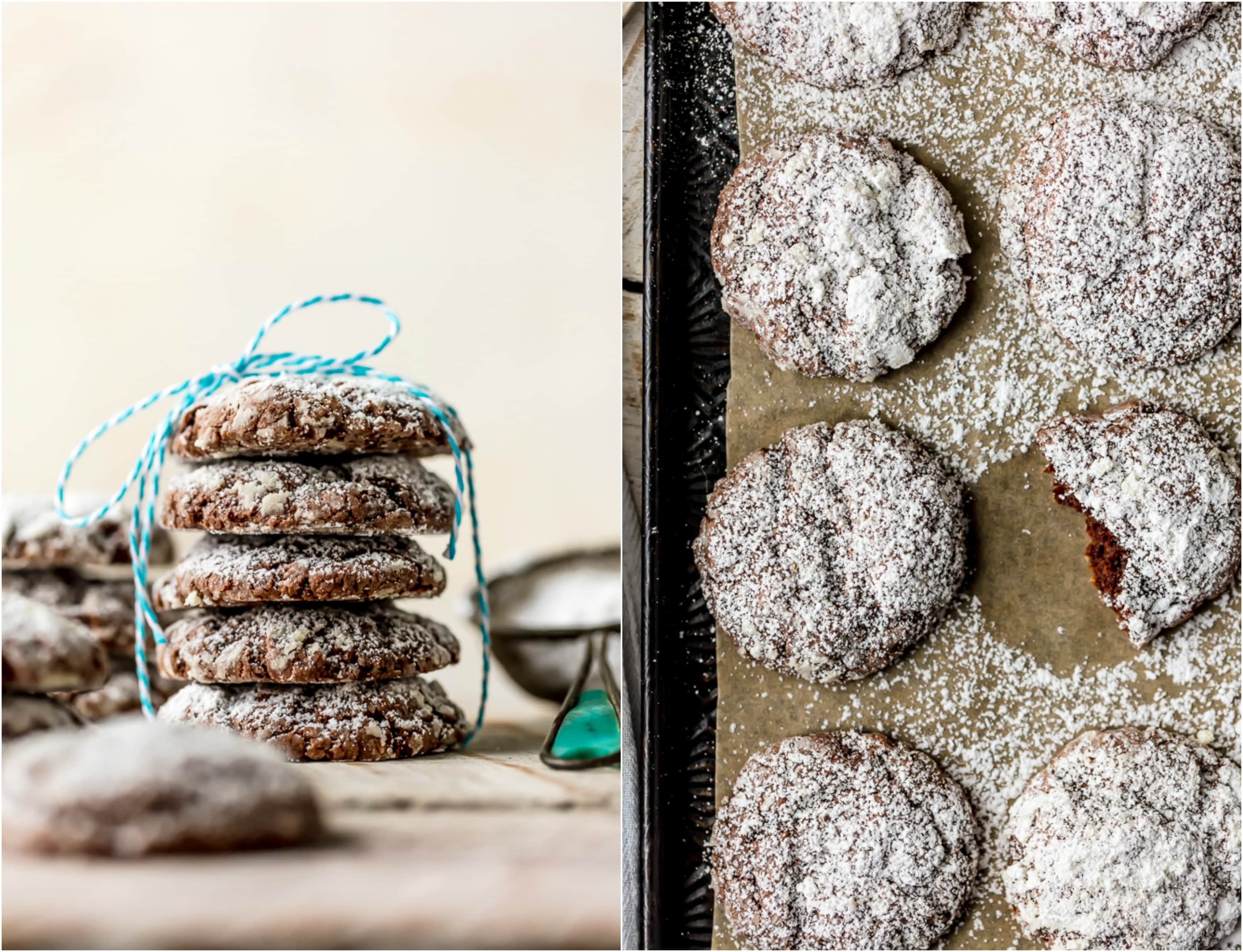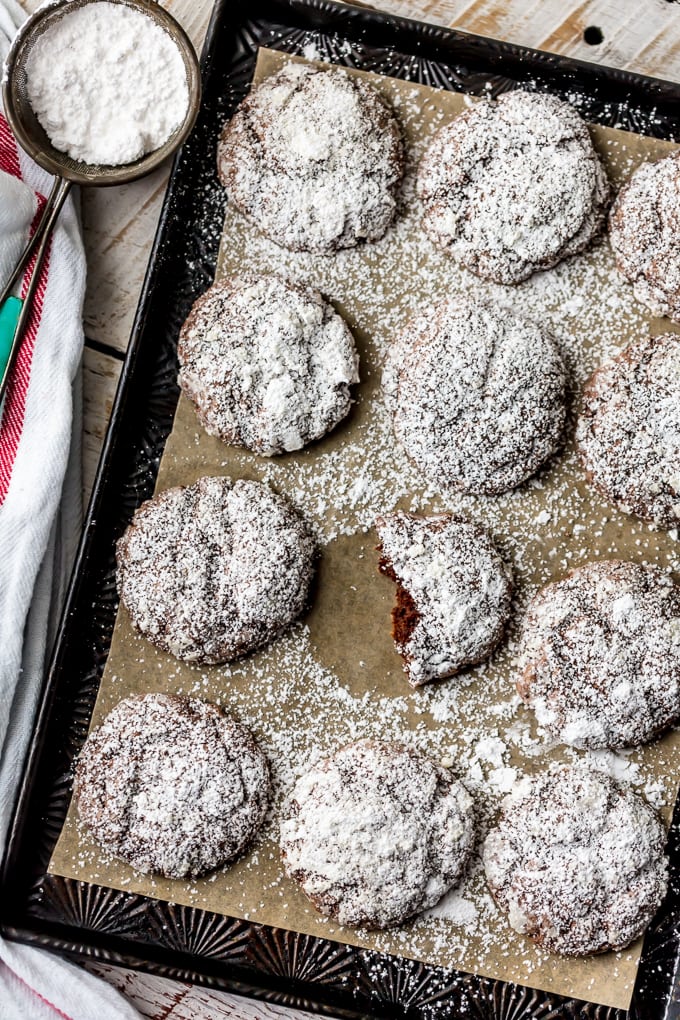 Chocolate cookies with gooey texture
These gooey butter cookies have the same great texture as Saint Louis Gooey Butter Cake, but with CHOCOLATE! I'm a huge fan of chocolate and if I have my choice, that's what I'll always pick. Slightly crispy outside and (you guessed it) gooey inside. Are these the ultimate Christmas cookie?! Just maybe! And they're a great Valentine's Day dessert too!
If you make a dozen of these for Santa I do believe you'll get all your heart desires this year. No one making these lands on the naughty list. These cookies can win over anyone and everyone.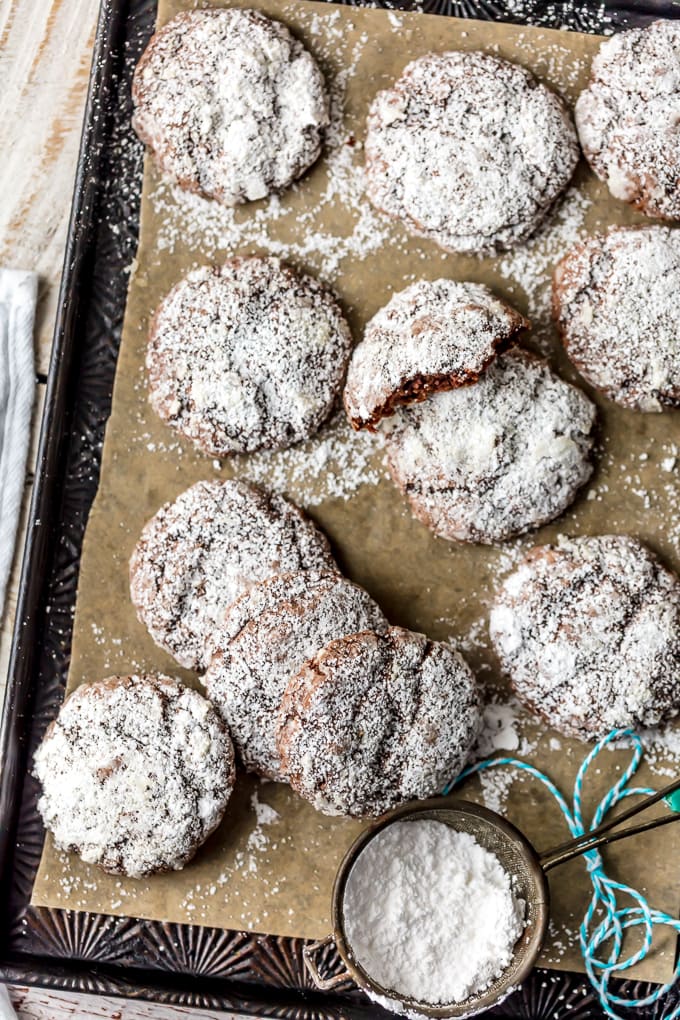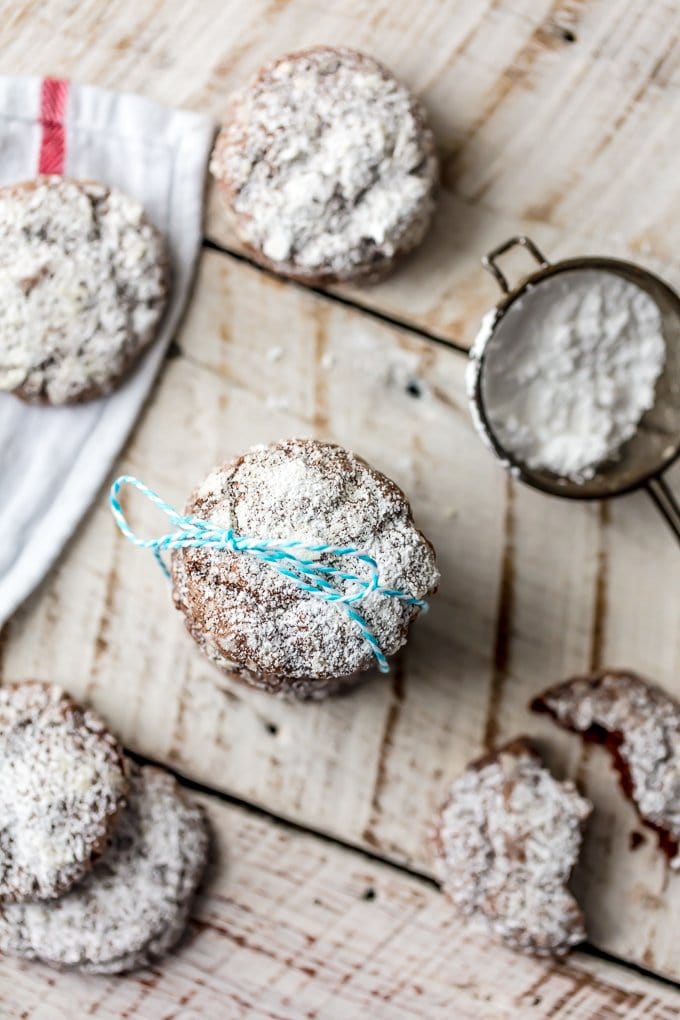 Chocolate Cake Cookies – Cake Mix Cookies
Chocolate Cake Cookies are an awesome Cake Mix Cookie Recipe to make for Christmas or any celebration.
Pat and I polished off more of these than I care to admit in less time than I care to admit. Hey, we are chasing around a crawling baby. A very fast crawling baby. My iPhone step counter doesn't account for scooting across the floor at the speed of light. LOTS of calories burned around here.
I love that these Chocolate Gooey Butter Cookies are made from CAKE MIX! Our Strawberry Cake Mix Cookies are one of my favorite backing hack recipes and these are just as easy and unique. A cake mix cookie recipe takes a lot of the measuring out of the equation which is great for new bakers. I want these cookies as fool-proof as possible. We are just learning around here!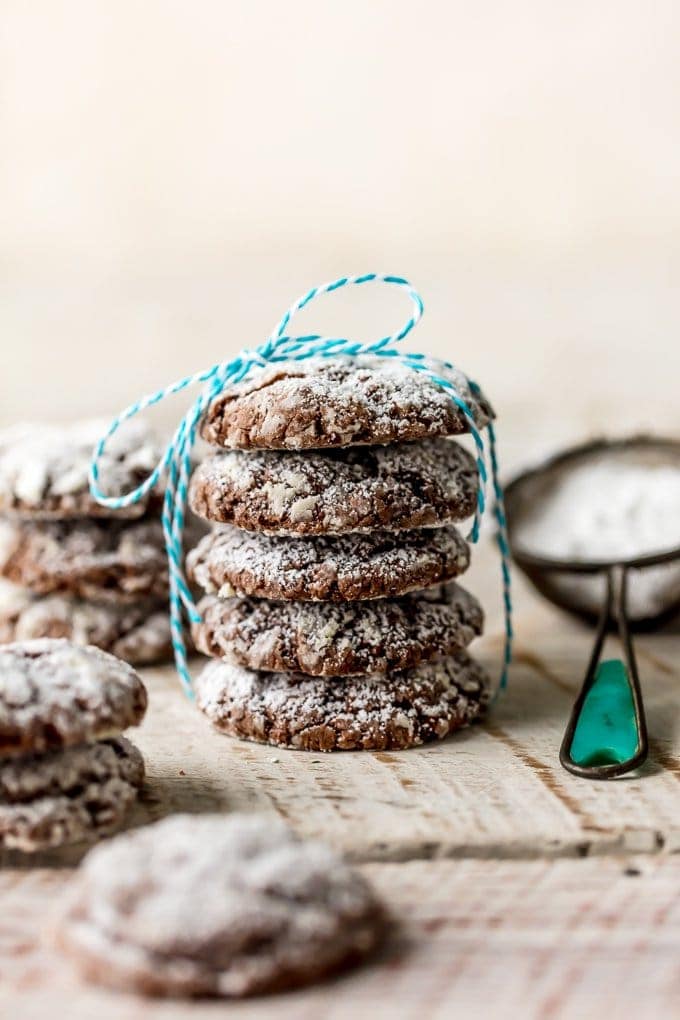 Christmas Baking doesn't have to be intimidating…it's definitely possible to create AMAZING holiday desserts while still saving time and without being a pastry chef. I like to keep things EASY around here. I'm here to make holiday entertaining simple and still very delicious. We want to impress with the least amount of effort possible!
Chocolate Gooey Butter Cookies are the type of cookie recipe that could make you famous. I hope generations from now my great great grandkids are talking about Grandma Becky's famous Chocolate Cake Cookies! I have a feeling they will be. Brownie meets cookie meets cake. What on Earth could be better?!
Looking for more chocolate recipes?